A Flock Sunday Lunch At The Three Horseshoes, Clay Cross
---
Published On Wednesday 12 Aug 2020 by Sticky Beak
See Recent Dining Out Reviews | See All Recent Reviews


Lockdown's been tough for everyone, and it's been no different for My Flock. The Tribal Elders were at extra risk so The Man Bird and I began to do their weekly shopping for them when we went to do ours. Yes, we could've booked an online delivery slot but we decided to let those more vulnerable without family to help have the potential to have the slot we would've used for convenience. Anyhow, it's been a fair while now and at the first opportunity to go out and eat as a family, Daddy Bird said he wanted to treat us all to a good old Sunday Roast. Funnily enough, there was no protest or complaint from myself, His Nibs or Fledge!
The Tribal Elders and Chickadee have been to The Three Horseshoes in Clay Cross before (The Man and I were off gadding elsewhere I think) and really enjoyed it, so they were keen for us to pay a visit and proffer our opinion. Now to paraphrase Frank Gallagher in Shameless' opening credits "no-one's pretending that Clay Cross is the Garden of Eden", but I have learned in the course of doing this blog that appearances can be deceptive and it turned out to be the case here.

We parked up across the road from the venue and headed inside. There is plenty of hand sanitiser at the door as well as a screen up at the bar, and the tables are socially distanced. Landlord Craig and his partner have extended the canopy in their outdoor terrace so there's additional seating here too. The Three 'shoes is a lovely traditional pub that happens to do a varied range of food and there're specialty nights on, including Steak and a bottle of wine for £29.99 on Fridays. It was lovely to see families with young children in eating together and I have to say that the children we saw were all very well behaved.




As well as the Sunday roast there were some specials to choose from (we didn't) including slow-roasted Lamb Shank, Cod Mornay served with mash and fresh veggies and a cheeky sounding Goats Cheese and Caramelised Red Onion Tart with baby Potatoes. There are several starters to choose from too if you want to push the boat out on Sunday, but having been pre-warned about the size of the roast we decided to play safe for our first visit and stick to the main event. Having said that, His Nibs went for the mixed meat option (£10.95) rather than the standard option (£9.95) on the roast, greedy little grunter that he is!.

Craig came over to say hello to The Elders so we introduced ourselves, although we had met a fair while back at The Plough one evening. Whilst he was chatting to us Craig took the drinks orders and when he came back we were ready to order our food: Chick and Mummy Bird had Turkey, Daddy Bird and I had the Topside of Beef and His Nibs had Beef, Pork and Turkey as his mixed meat option. There is also a small version of the roast priced at £8.95 if you prefer this.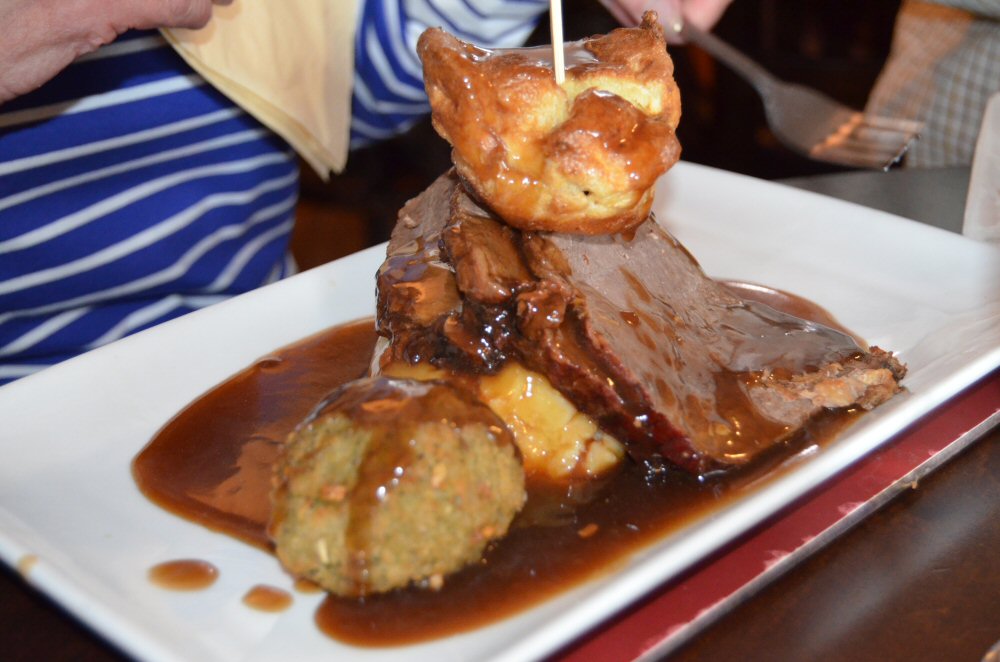 Alongside the meats, Craig and his team serve roast and mashed Potatoes, homemade Yorkshire pudding, stuffing , mixed vegetables (we had Carrots, Cabbage, and Garden Peas) , Leeks in Ham and Cheese sauce and an extra jug of meat-juice gravy – although there was plenty already poured over the meat.

When the meals arrived I was astounded at the belly busting plateful, despite Daddy Birds previous warning! The smell was amazing and we all eagerly tucked in. The Beef slices were lovely and thick and nicely moist, with that darker edge of 'meat candy' that comes from being basted whilst roasting. Flavour-wise there were no causes for complaint and it wasn't necessary to hack away at the meat to cut bits off, although you did have to cut smaller pieces than usual due to the thickness!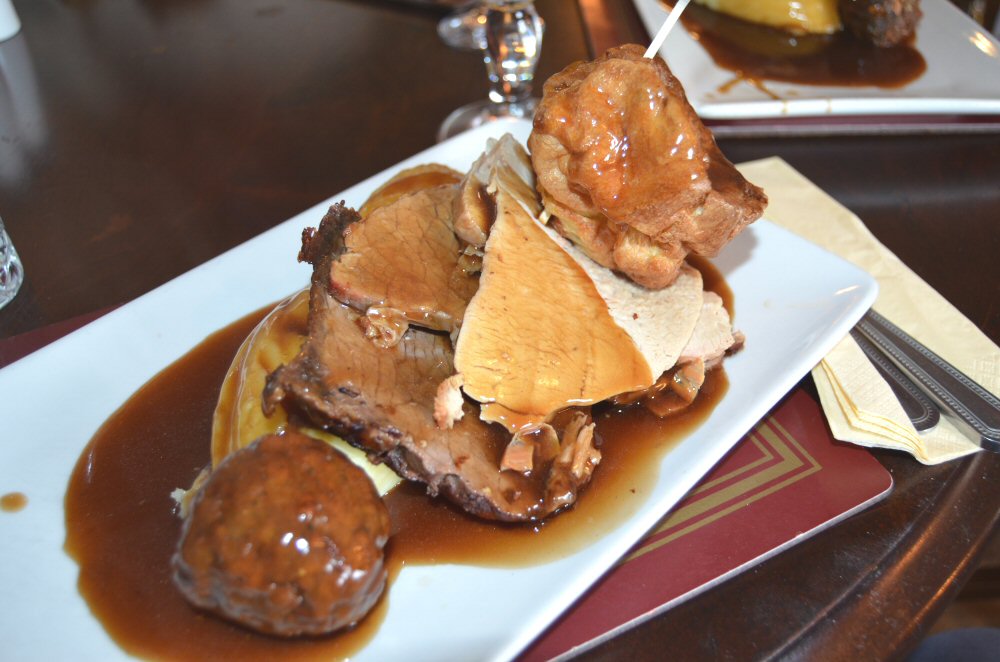 We all liked the stuffing balls; they had fab crispy outers and then were comfortingly soft (not soggy, don't confuse the two states) on the inside. You can't beat a good herby stuffing and the one Craig serves has plenty of taste to it; I always feel somewhat disappointed at an insipid tasting stuffing mix. Give it some oomph is my mantra; better still, pimp up packet stuffing mixes with some fresh herbs if you can get your mitts on some.

One of the lovely serving team brought out a trio of dishes containing our veggies, all of which were hot and there were plenty to share around. None of the vegetables were over-cooked and soggy, but they were on the softer side to cater for the children and older people partaking of the Sunday lunch within the venue. Always cater to your audience they say, and that's what the team do at The Three Horseshoes in Clay Cross.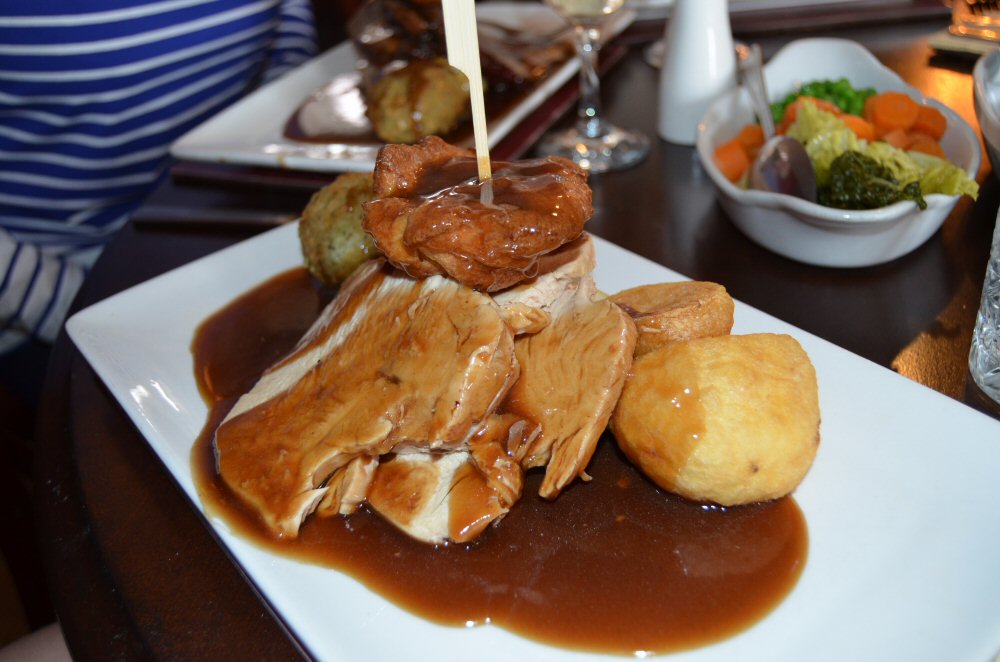 Another trio of bowls contained the Leeks in Ham and Cheese sauce and I must admit to helping myself to seconds and small thirds of this beautiful side dish, it was delicious! I liked the punch of the Cheese in it, I loved the thicker consistency (it didn't drip everywhere) and the texture of the Leeks was bang on the money – what wasn't to adore?

We were asked if we wanted extra gravy (we said yes please) and nearly fainted at the size of the gravy boat that was brought to the table. It was massive, so much so, it probably had its own postcode! Thankfully it wasn't heavy or unwieldy to use and we avoided disgracing ourselves by spilling it everywhere (it has been known to happen, believe me!). I drew the short straw when it came to the Yorkie though: at the side of everyone else's mine was distinctly squashed, but it didn't detract from the lovely taste of it though and that's what matters at the end of the day.




The mash was beautifully smooth and tasted gorgeous, as did the roasties with their fab crisp outers and soft inners. I'm not the biggest fan of Potato (I can take or leave them) but any decent Sunday lunch has to get these right; they're one of the cornerstones of any self-respecting roast.

Our table had been hushed for quite a while and there was a studied concentration coming from His Nibs' position at the table as he determined to finish all the food on his plate. In the end he had to admit defeat, leaving a slice of Turkey and some Potato. The meat got wrapped up for the pooch – not much goes to waste if we can help it!




We didn't have pudding; none of us had any room left in our tummies. Drinks are very reasonably priced too: my large Merlot cost a fiver (and Mummy Bird's Pinot was roughly the same), and a pint of Stella was £3.30 which had been the tipple of Daddy Bird and The Man. Chickadee had some council pop (tap water) with ice and Lemon and there was no charge for this.

I knew the food was going to be reasonable thanks to the recommendation of Daddy Bird, but I was pleasantly surprised by just how good it was – y'know, with it being from a Clay Cross venue. Like I stated earlier: "don't judge a book by its cover".

Hot Wings happily awarded to Craig and the team at The Three Horseshoes in Clay Cross If you're thinking of paying them a visit, I would strongly recommend booking a table because when we went it was very popular.
No incentive was provided to visit this venue
read more