All You Can Eat At The Lotus Lounge in Alfreton
---
Published On Thursday 23 Jul 2020 by Sticky Beak
See Recent Dining Out Reviews | See All Recent Reviews


We visited Lotus Lounge in March 2020 before lockdown
The Man Bird and I had had a busy day up at the Fine Food Show North in Harrogate, and really couldn't be bothered to cook, so he suggested we go to The Lotus Lounge for their scrummy buffet. We thought that it had been a while since our last visit, but couldn't believe that it had been 4 years!! Thankfully, nothing had changed much; we were greeted warmly, seated at our table and a basket of Prawn Crackers set down before us as we perused the menu.
His Nibs was in the mood for Tsing Tao lager and I had a glass of Rosé wine; it had been a full-on day walking around an exhibition centre and talking to folks, so we were parched to say the least. One of the great things about the Lotus Lounge is its price structure; there are two prices for the all you can eat buffet that it offers: £10.95 per person at lunchtimes, and £15.50 per person in the evenings. No confusion whatsoever.

For our first lot of starters we decided to order Satay Chicken Skewers, Yuk Sung, and Spare Ribs in Spices and Garlic. The skewers were delicious with plenty of moist chicken breast on each skewer, and the Satay sauce was delightfully punchy. You got the lovely peanut taste characteristic of Satay, but the extra layer of taste provided by the spices was superb.




Yuk Sung is a brilliantly simple dish, and I've always said that it's the simple things that are the best. We had the meat containing version, comprised of finely minced, spiced Pork wrapped in cool, crisp Iceberg Lettuce leaves. You get the fabulous taste of the meat and spices first on the palate and then the crunch of the lettuce stimulates the senses, as well as having a cooling effect on the tongue.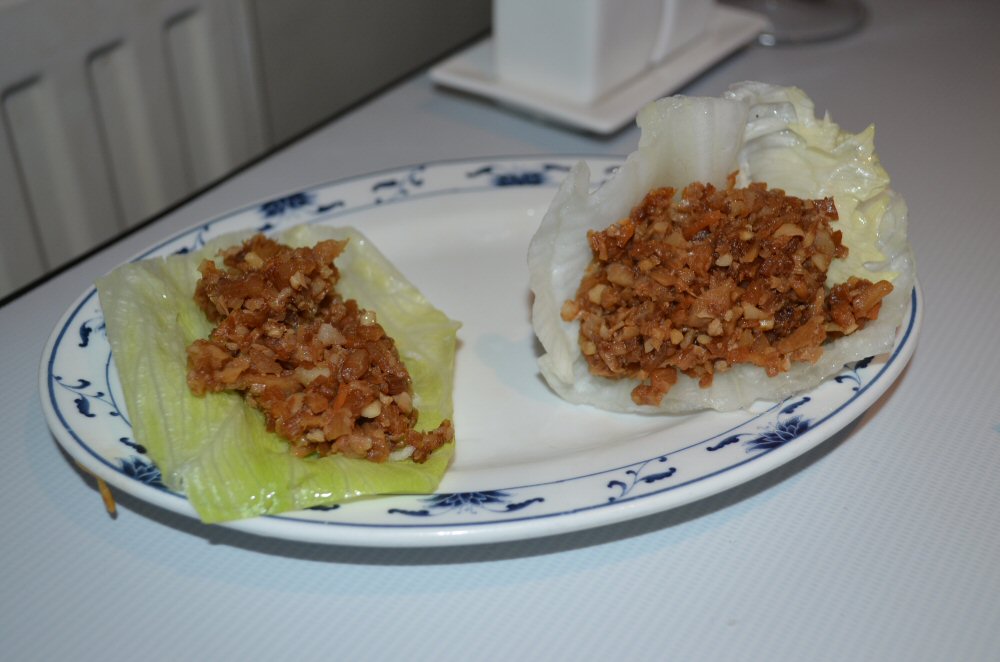 You can't go to a Chinese restaurant and not partake of some Spare Ribs; you just can't, it's the law! Quality-wise there can be a lot of variety between venues, but the ones at Lotus Lounge are lovely. There was plenty of meat on each rib (some were meatier than others, but that's down to the anatomy of the animal) and it was nice and tender, not gristly or chewy. We often go for the tangy, smoky BBQ sauce- smothered ribs, but on this occasion we fancied something different which was why we'd chosen the spice and garlic ones. You certainly get both the spicy and garlic notes coming through – there's no subtlety about them whatsoever! The outers of the ribs were lightly crisped too, giving a pleasing sound when we bit into them.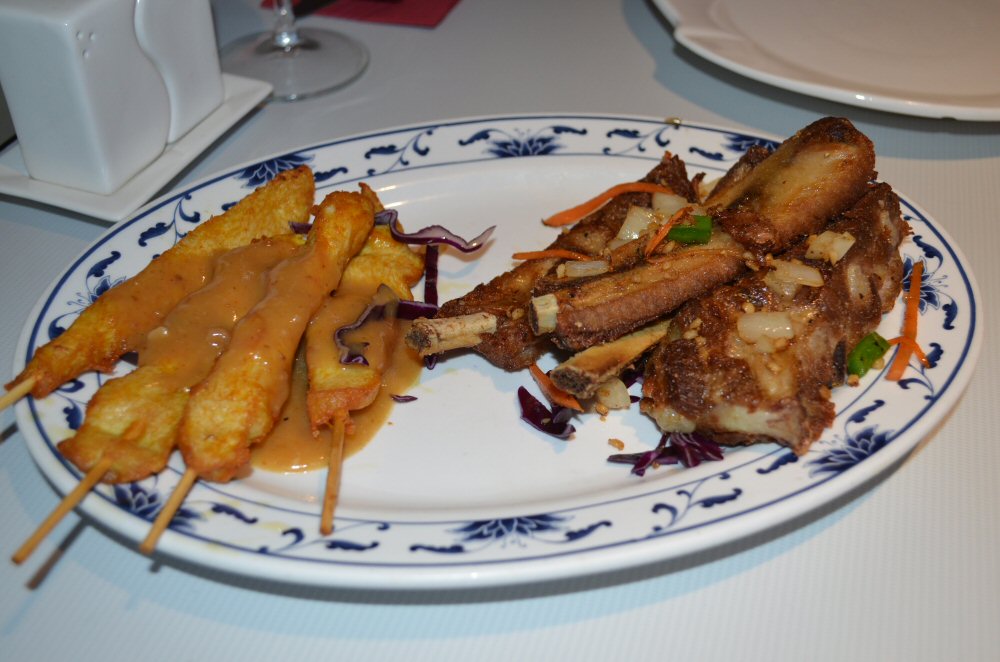 The first round of starters had gone down very nicely and we were soon ordering some more: Crispy Aromatic Duck with Pancakes (only available in the evenings), Deep Fried Crispy Seaweed, and Crispy Vegetarian Pancake Rolls. I'll be honest, the Crispy Seaweed was for me - I love it! I know it isn't the healthiest thing on the menu but I just had a hankering for it, so that was all the justification I needed to enjoy its fine crunchy shreds.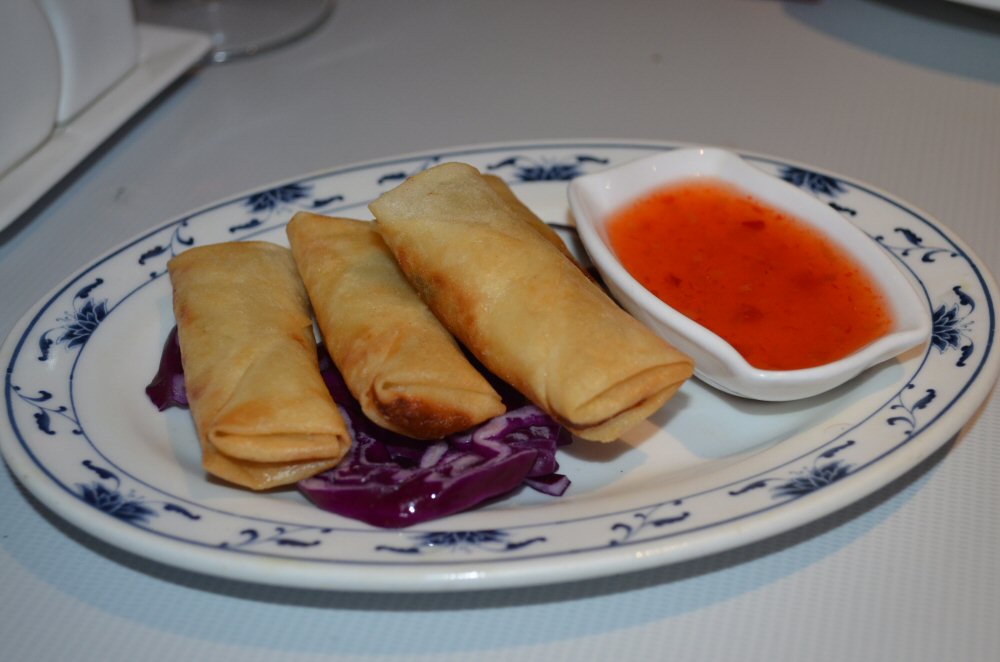 The Man Bird loves a good pancake/spring roll and the ones at Lotus Lounge were scoring points for deliciousness, no doubt about it. The Filo outers were lovely and crunchy, and not at all greasy or oily to taste, and their crunchy vegetable filling was certainly plentiful. I did manage to bag one of these beauts for myself, and took great delight as I dipped it into the Sweet Chilli dipping sauce that came with it.




We both like shredded Duck and pancakes, and there was plenty of sliced Cucumber and Spring Onion to pop on the pancakes with the duck before smothering the lot in piquant Hoisin sauce. They don't skimp on the amount of duck that comes with the pancakes, so we both piled plenty on to give the morsels some real substance as we bit into them.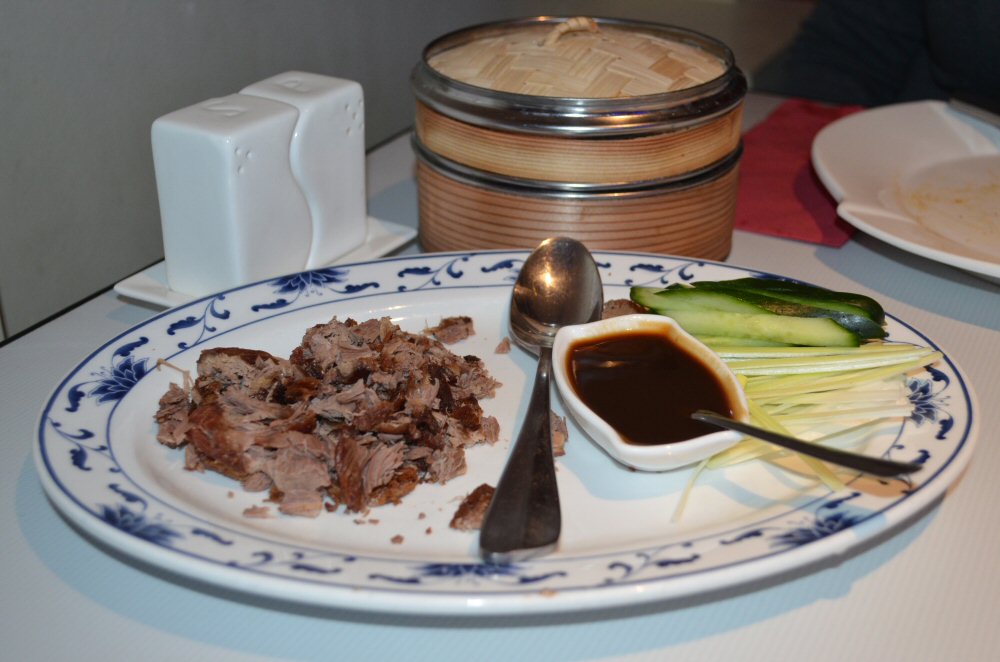 At Lotus Lounge you can order as many starters as you want before you go on to the main courses – all they ask is that you finish the food rather than leaving it and wasting any. Obviously they don't mean literally every last scrap; for instance we left some of the Cucumber and Spring Onion in the duck dish.

For the initial set of main courses we ordered the Mongolian Lamb, Chicken Szechuan, and King Prawn Sambal Thai style, as well as a portion of Green Pepper and Spring Onion Egg Fried Rice.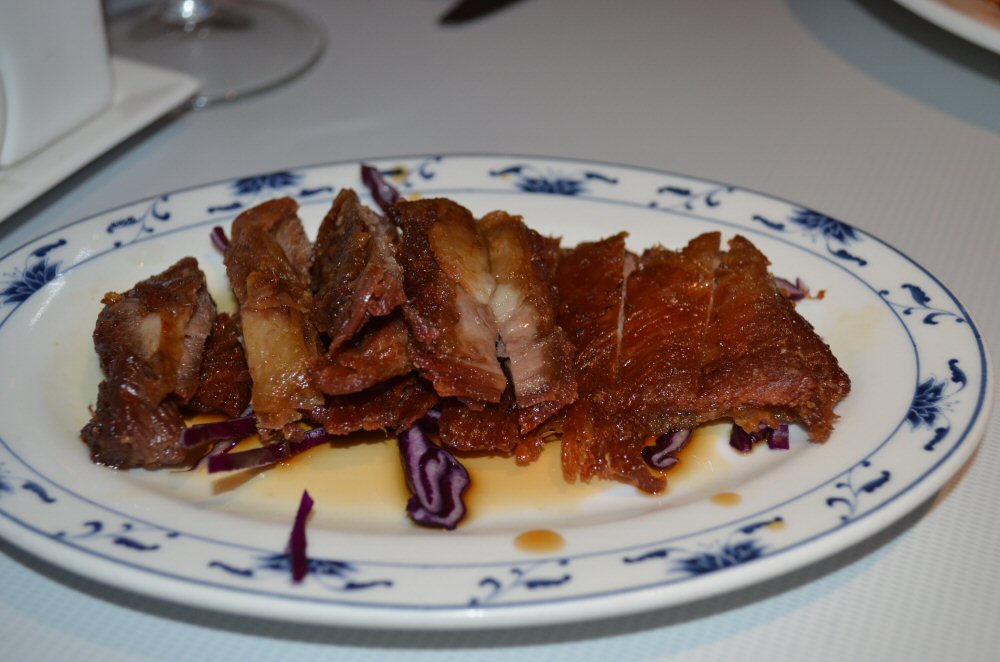 You get a lovely big bowl of rice, so we dug into that as our Mongolian Lamb was being placed in front of us. The rice wasn't greasy or oily so the delicate rice taste could be discerned on the palate, then you got a fab crunch from the vegetables. The Lamb had been carefully sliced and then laid out on a platter, and it smelled incredibly good as the steam carried its aroma up to our nostrils. We both liked the rich taste of the tender Lamb and the skin was wickedly crispy with a gentle taste of spices on it.




His Nibs was merrily tucking into his spicy Szechuan Chicken, loving the way it hit his taste buds smack between their eyes, so to speak. This dish had no shortage of colourful, crunchy vegetables in it (Carrot and Peppers) as well as baby Sweetcorn, Bamboo and Onion.

I was equally chuffed with my choice of dish; the King prawns were lovely and plump, nicely cooked and plentiful. You do sometimes worry that when you're paying a fixed price that the size of the dishes is going to be smaller and with less meat in, but this isn't the case at Alfretons Lotus Lounge at all. Thai food is characteristically spicy and this dish had a fab tingle factor to it – definitely not one for the faint-hearted. As well as the seafood element, there were Straw Mushrooms, Bamboo, Onion, and Green Pepper in the dish to enjoy and add some crunch and texture.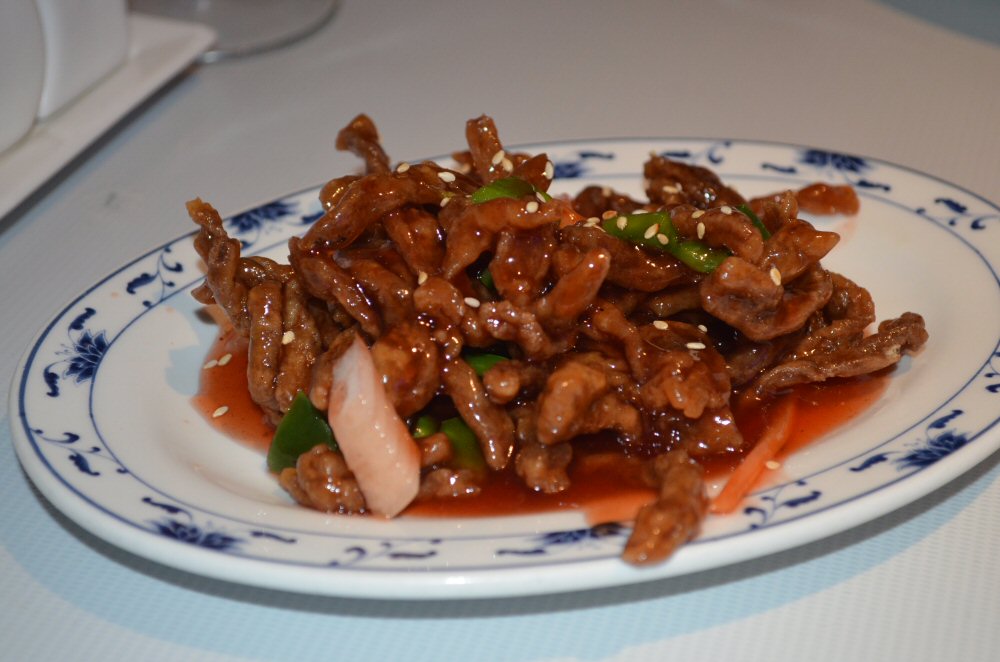 With all that lot polished off, we ordered Crispy Chilli Beef, Aubergines in Black Bean Sauce and a portion of Chilli Chips! I do like Aubergine, although I can appreciate that it isn't to everyone's liking. It's easy to make Aubergine greasy when you cook it in oil, as it's like a sponge and just soaks the oil up; clearly chef has a way with this veg, because it wasn't greasy at all; it had soaked up the salty, rich Black Bean sauce though The Aubergine had been cut into fabulously chunky pieces so you really got its intrinsic taste coming through, and Green Pepper had been finely diced just to add some colour to the dish.




I got a couple of bits of the Crispy Chilli Beef – this is one of The Mans' fave dishes, so I let him hog the lion's share. Chef at The Louts Lounge slices the Beef fairly thinly and coats it in a spiced batter before deep frying it to gloriously crunchy perfection, and His Nibs was loving the result of his labours. Covering the beef strips was a tangy Chilli sauce that clung to each piece, ensuring that it got its fifteen minutes of fame in the mouth too.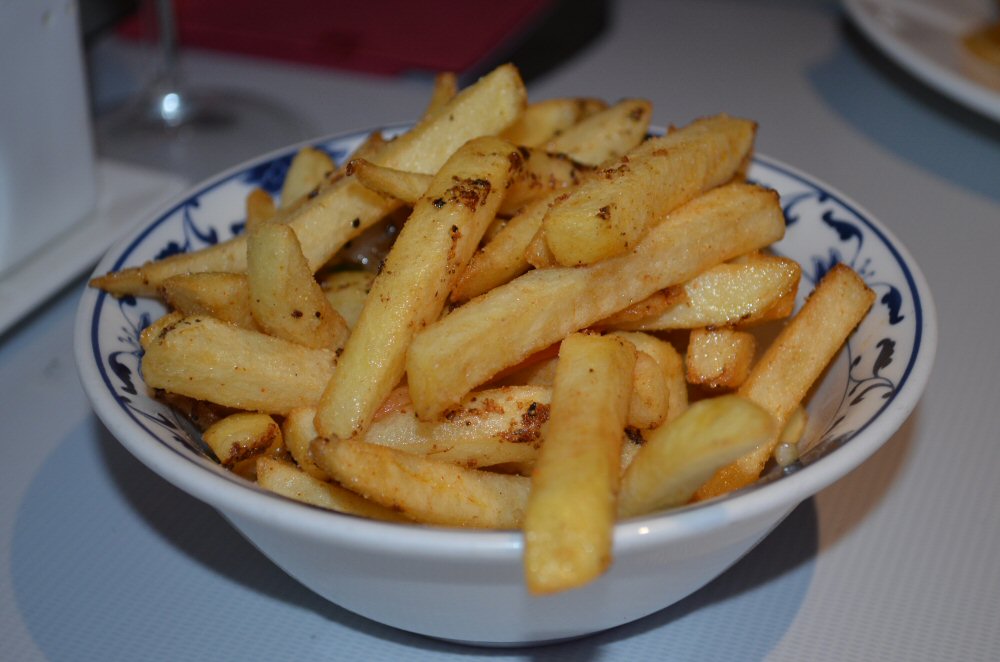 I was fairly stuffed at this point, so I let Him Indoors have the majority of the chips. Don't get me wrong, they were lovely chips (crisp outers, soft inners) and they'd certainly got plenty of Chilli on them, but I just couldn't summon up the appetite to properly attack them.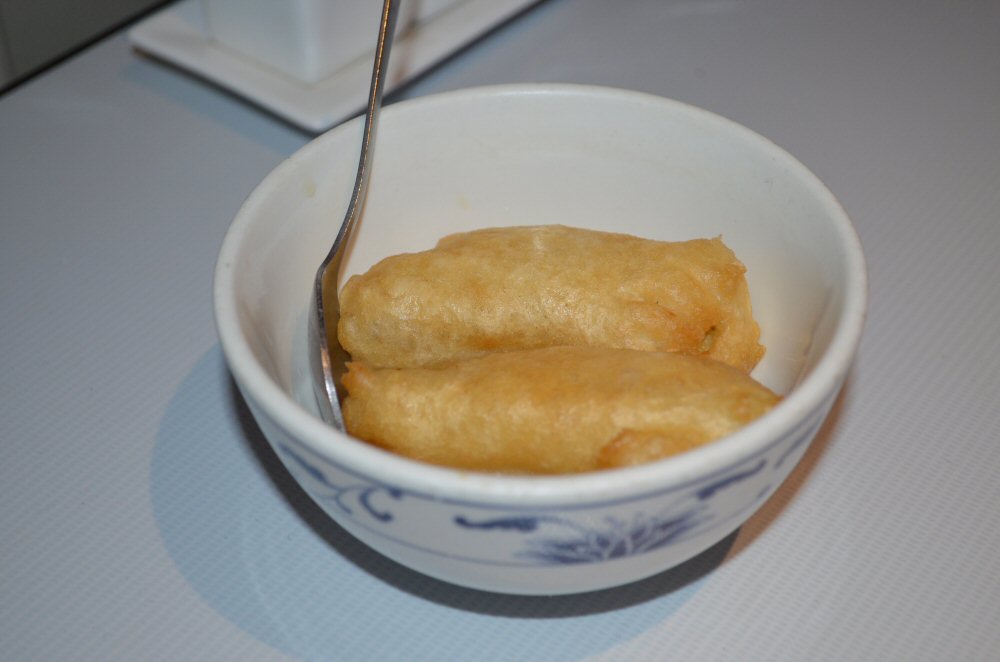 The Man's eyes were greedily eyeing up more delights to eat, but for once he listened to his groaning waistband and my protestations of having gorged myself, and decided to just order dessert instead! No surprises when I tell you that His Nibs opted for the Banana Fritter – it is his all-time favourite sweet at a Chinese restaurant. I'm a far simpler creature and always choose Lychees to end my meal if they're available. We both eschewed Ice Cream, choosing to keep things light at the finale of our feast.




As we went to the pay the bill, we thanked all the staff – they'd be fantastic from start to finish; nothing had been too much trouble for them as they'd checked we were enjoying food, cleared plates away or brought more drinks over.

If you haven't visited The Lotus Lounge in Alfreton before (or if it's been a while, like it had for us!), I can tell you that it's well worth going. Hot Wings happily given again to this great venue.
No incentive was provided to visit this venue
read more