Our First Post-Lockdown Dinner at The Tiger Inn, Turnditch, Belper
---
Published On Sunday 12 Jul 2020 by Sticky Beak
See Recent Dining Out Reviews | See All Recent Reviews


Everything happens for a reason so they say, and I do believe this. Our first post-covid dining out experience was a classic example of this; we'd booked to go somewhere for their Italian evening on Tuesday, but when we arrived we were told that Chef had rung in sick that morning and there was only Pizza available. We declined to stay as we felt a bit miffed that, despite taking our contact number when we booked the table, no-one had got in touch with us. We contacted the venue afterwards to be told that apparently the staff member who took our booking hadn't recorded our number in the book!
Anyhow, we had an emergency situation to deal with: our tummies were screaming in hunger and it was imperative that we found somewhere to dine in the vicinity (we were near Belper). Unsurprisingly there are a lot of venues that are still shut, and those that are open still remain closed on Monday and Tuesday; after a few non-starts we got through to a friendly voice at The Tiger Inn at Turnditch which was a short distance from the original venue we'd booked at. They reserved us a table at 10 minutes notice and we pulled into the car park, feeling somewhat relieved.

Hand Sanitizer bottles were clearly displayed at the front door and we dolloped a good amount into our palms before entering the Inn. Inside, we were met by Marc (the General Manager at The Tiger Inn) and told our table number which we made our way to. One side of the Tiger Inn at Turnditch is currently given over to just drinking (and there were a few folk in being responsible and keeping socially distant) and the other side is the dining area.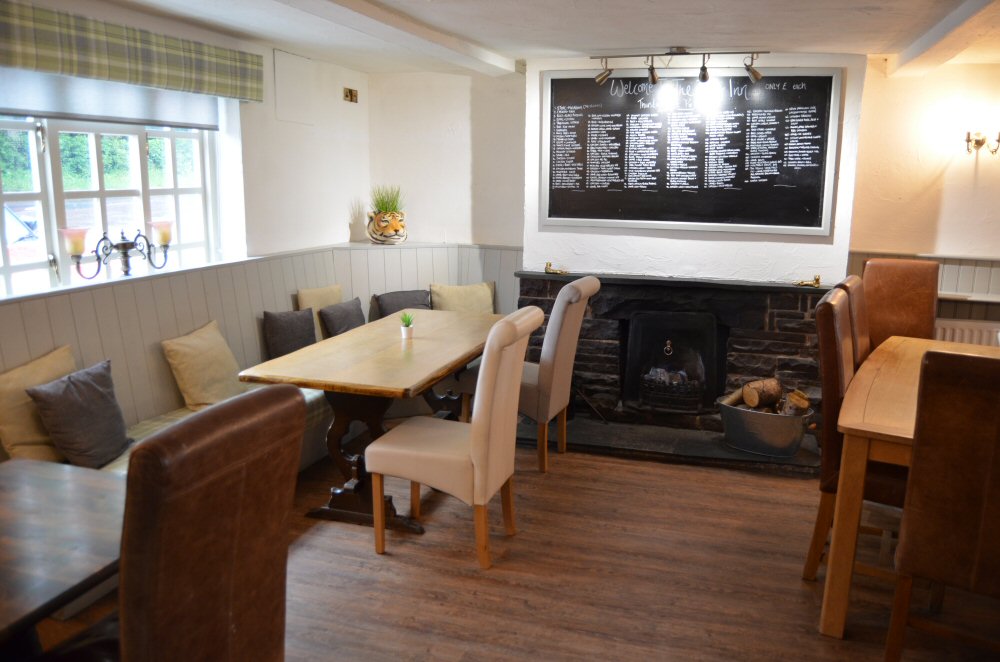 In the restaurant space all the tables were lovely and distanced and the room itself is already plenty wide enough to allow for movement without compromising health and safety of fellow diners. Marc brought over a couple of menus and the Steak Night menu - every Tuesday is Steak Night at The Tiger Inn – and took our drinks orders whilst he was there.

Settling down with a large glass of a superb Malbec and a pint of San Miguel, His Nibs and I perused the plethora of temptations. I was just in the mood for a steak (I requested a Ribeye, cooked medium-rare) and The Man Bird wanted to go with the regular menu, deciding on the Honey Chipotle Sticky Chicken with Smoky Chilli Jam and Skin-on Chips for his main course which costs £12.95.




Him Indoors chose Lemon and Honey pan-fried Glazed Cod and Sautéed Chorizo with Mixed Leaf Salad and Cherry Tomatoes to start (£6.95) and I opted for the Twice-Baked Cheddar Cheese, Leek and Fresh Chive Soufflé (£6.95). It isn't often you see a soufflé on a menu - and certainly not in a traditional, family-run village pub! - so I jumped at the chance to have this classic. Clearly there is a 20-25 minute time for this dish to be produced, but it was still nice to be actually told that fact.

Our cutlery and napkins were brought over, as well as an extra little spoon for my soufflé, and about 20 minutes later a lovely young lady was bringing out our starters with a wide smile on her face.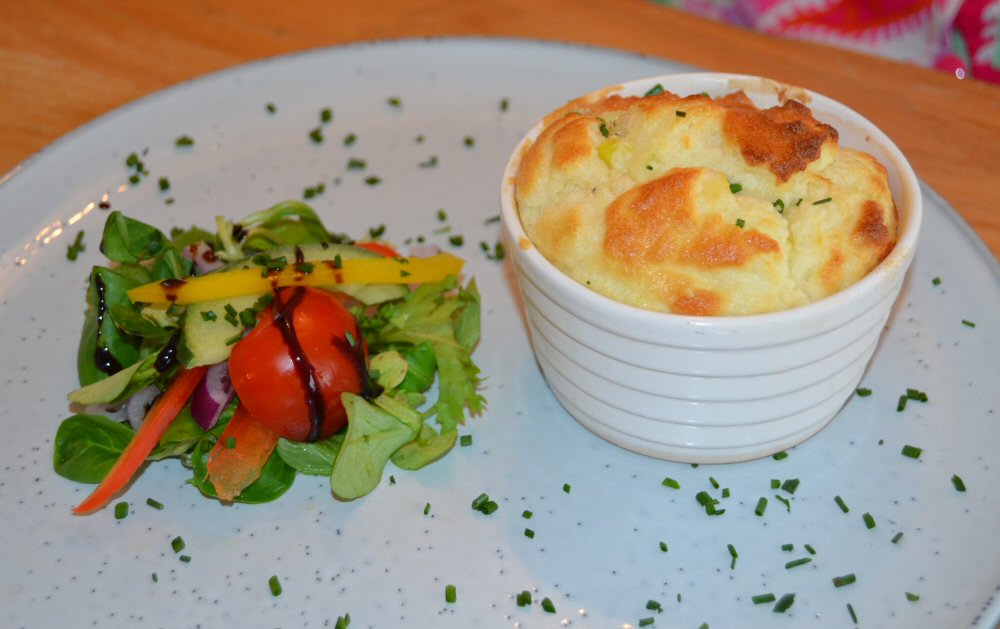 My soufflé was absolutely superb! It had risen well above the ramekins confines, lighter-than-a-cloud, and the flavour balance between the Cheddar, Leeks and Chives was excellent. The Leeks themselves had been sliced uber-thinly and sautéed before being incorporated throughout the body of the soufflé itself, and they were lovely and gentle in taste. Tiny shards of Chive decorated the top of the soufflé and these had a stronger, brighter, oniony note than the Leeks and the strength of the Cheddar cheese was perfectly matched to them.

More verdant slivers of Chive were scattered at the periphery of the serving plate for visual effect, surrounding both the soufflé ramekin and the Balsamic-dressed side salad. The side salad comprised Lamb's Lettuce, de-seeded Cucumber slices, halved Cherry Tomatoes, finely sliced Red Onion and sliced Yellow Pepper; not only was it all chilled, fresh and crisp, it added a lovely pop of colour to this marvellous starter. Yep, I was a jolly contented birdie so far.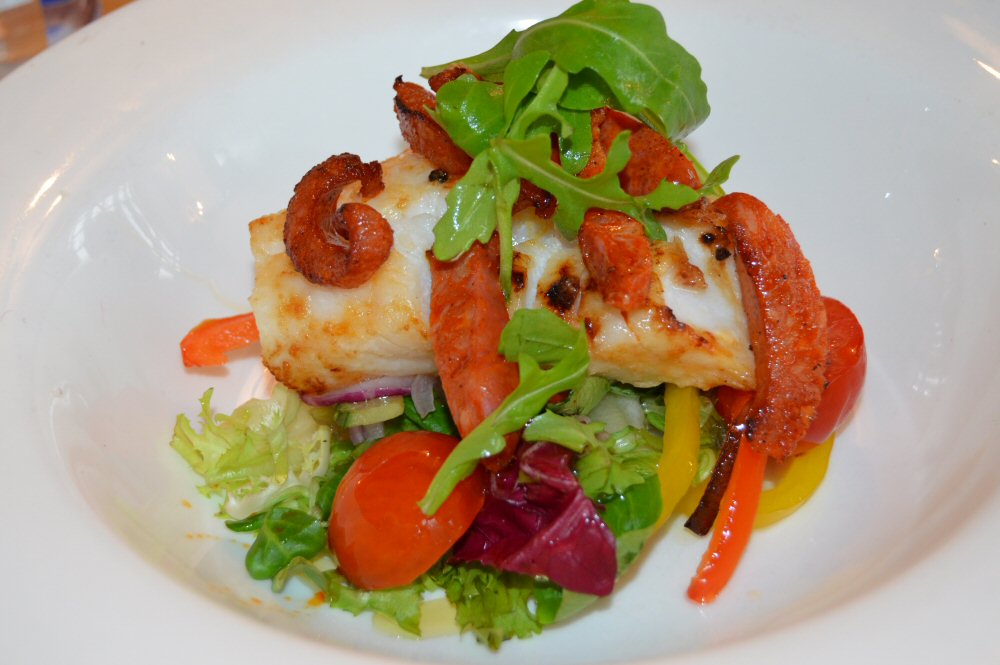 His Nibs is really beginning to appreciate the merits of fish and commented on how scrummy the Cod was. The Cod loin had been cooked perfectly to preserve its moistness and in the mouth it was satisfyingly meaty in texture, and lovely and sweet on the palate. You could discern a subtle sweet/sharp note from the Honey and Lemon glaze that coated the fish and this met well with the smoke and spice of the sliced Chorizo that topped the Cod loin. The Man Bird's starter also came with a dressed Mixed Leaf and Cherry Tomato salad, which was just as good as mine in terms of taste and colour.

The young lady came to clear away our empty plates and checked we were ok for drinks; His Nibs decided to have another half-pint of San Miguel, but I had enough Malbec left to keep me going. Our cutlery was refreshed and we didn't have long to wait for our mains.My 8oz Ribeye was a steal at only £9 and came with Crispy Onion Rings, Buttered Mushrooms, Grilled Tomato, Garden Peas and Chips – as do all the steaks at The Tiger Inn at Turnditch.

Prices range from £8 for a 10oz Gammon Steak to £15 for the Fillet Steak and the 16oz Ribeye, and then you've got a wide choice of steak toppers and sauces all priced at £2 each. I decided to top my Steak with some Cajun-spiced Grilled King Prawns and have a Jack Daniels, Honey and BBQ sauce too! Just to keep Boyo quiet, I ordered some more Onion Rings as well for £2 more.




I usually have my steaks cooked rare but with it being a Ribeye steak I went for medium/rare to allow the fat to soften and add to the flavour. Chef had done a top-notch job of cooking my steak to my liking; that first mouthful had me sighing with happiness as the deep flavour hit my taste buds, and the marbling of fat within the meat had kept it at peak, superb juiciness. I only had to use the lightest of pressure with my knife to cut into the Ribeye as well, so it was deliciously tender to the bite.

The sliced, buttered Mushrooms had provided a deep bed for the steak to nestle on and the meats' juices and butter combined perfectly in my mouth, cocooning them in their comforting richness. There were six plump, juicy King Prawns to tuck into as well, lightly dusted with kicking Cajun spices. I do like me a bit of surf and turf and this one was great value for money.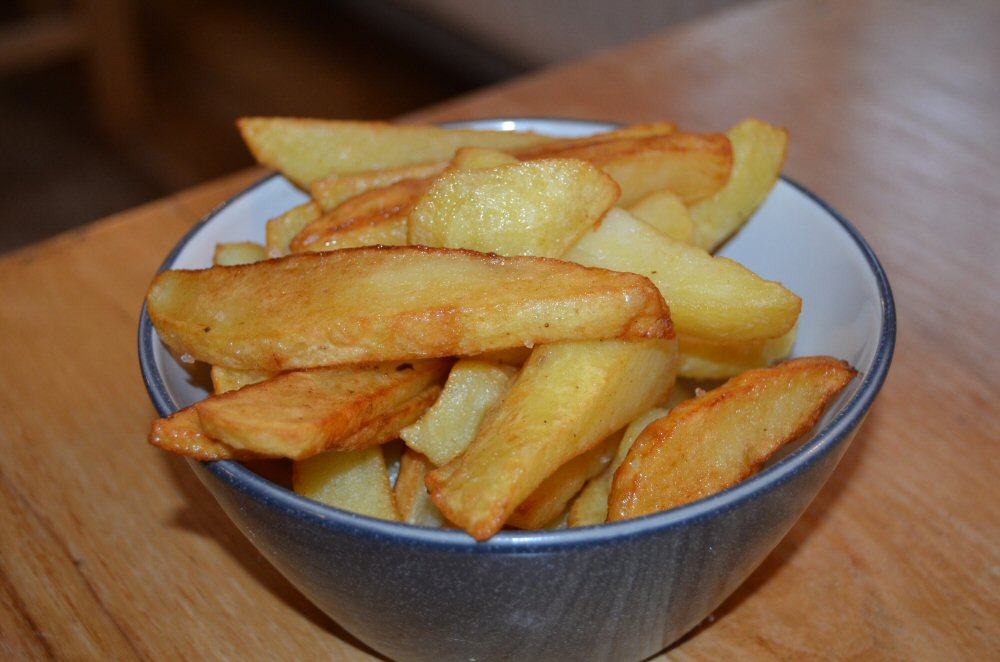 A pair of generously sized Onion Rings crunched pleasingly in my mouth as I eagerly devoured them, and I took the opportunity to dunk them into the jug of glossy Jack Daniels-pimped sauce. Oh my word, this sauce was the bomb!! There was a nice hint of heat from the alcohol and the combination of honey sweetness and BBQ smoke was brilliant – my only criticism is that this came in a jug, not a huge bucket!. The onion rings weren't the only things to get dunked into the sauce's deliciousness; I also anointed the homemade chips in it.

The Man Bird was happily munching away at his sticky Honey Chipotle Chicken and generously passed me a piece to try. I was impressed by the moistness of the Chicken Breast and also by the depth of flavour that the Honey and Chipotle glaze had. For a fab flash of heat there was a lightly chunky Sweet Chilli jam to savour which got the dunk treatment too from the skinny, skin-on fries. The extra portion of crispy Onion Rings got demolished in double-jig time; no surprises there!! A rainbow-coloured side salad finished this wonderful main course off perfectly with its coolness and crispness.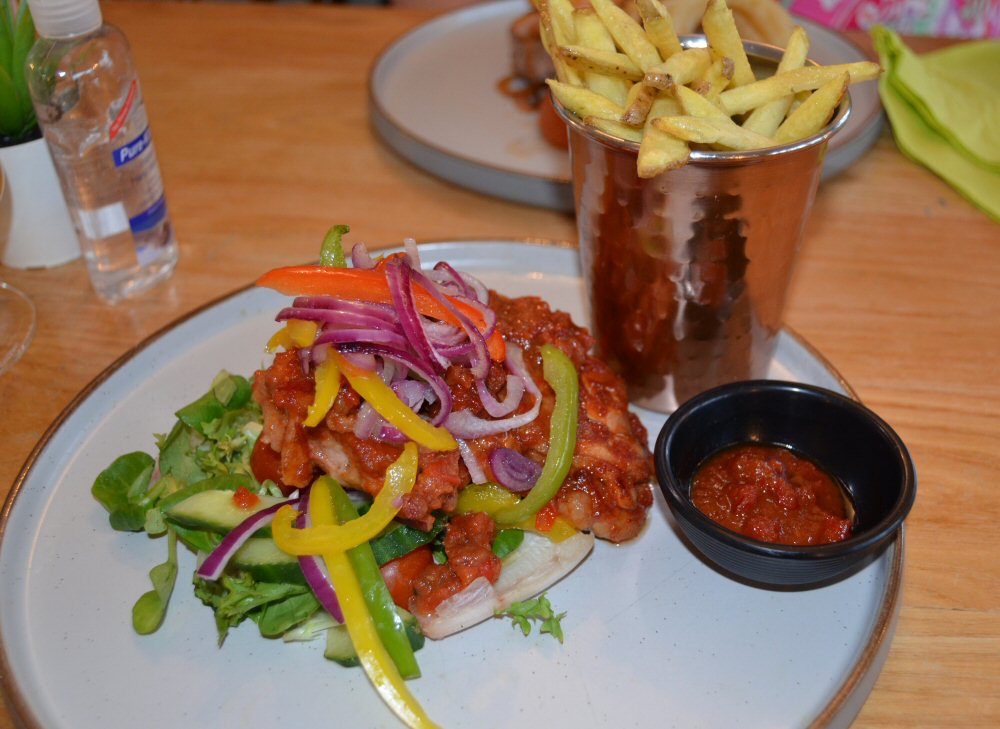 When you work in the hospitality sector I think one of the most satisfying things must be to see clean plates and happy faces of diners that have enjoyed the food you serve to them, and the smile that spread on our servers face said it all. Marc had been keeping a close eye on the restaurant as well, making sure that all the diners (and there were about 30 people in over the course of our time at The Tiger Inn) were happy and had everything they needed.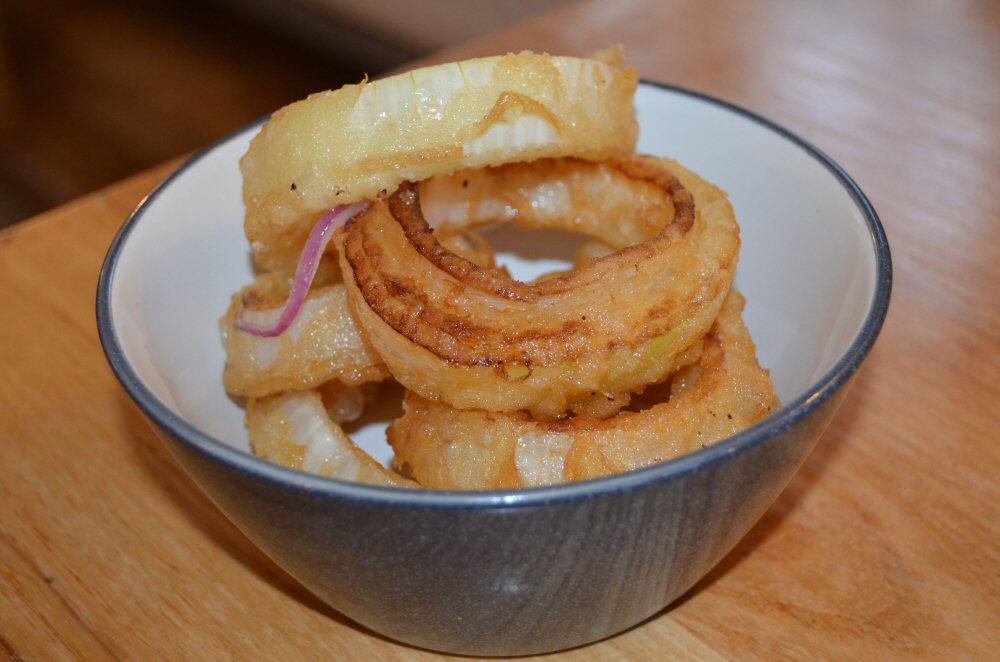 To finish up our meal we had the Chocolate and Salted Caramel Torte (The Man) and Toffee Apple Tarte Tatin (your truly), both priced at £6. I could tell straight away that the Torte was super scrummy by the grin that spread across His Nibs' mush, and I was right! He declared its quality as soon as he had finished his initial mouthful, and on tasting it for myself I had to agree with him. Upon a perfectly firm, buttery biscuit base sat a two-toned confection of a paler Salted Caramel layer crowned by a darker Chocolate tier.

The Caramel was soft-but-firm and was a perfect balance of sweet and salty – both notes were discernible, and it lingered in the mouth beautifully. By contrast, the Chocolate layer was richer and darker in character, its gentle bitterness the perfect foil to the Caramel. Fresh Strawberry halves garnished the Torte and popped brightly on the tongue as His Nibs bit into them.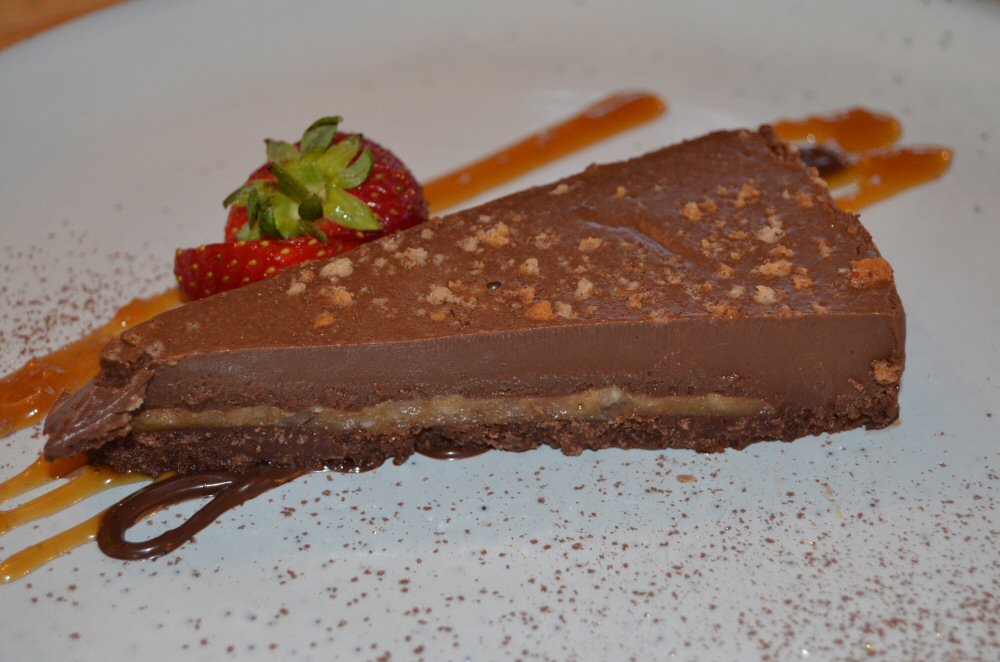 A buttery, flaky pastry base held a deep layer of golden, sticky Toffee covered Apple slices and I eagerly dug in. As well as the small spoon, I could've done with a pastry fork but in the absence of one I improvised with a clean knife that had been left behind from my starter! With the logistics sorted out, I wasted no time at all in savouring this yummy classic dessert. The Apple slices were nicely softened, like a comfort blanket for the palate and because they hadn't been overly sweetened they shone against the richer, sweeter Toffee notes.

Tiny balls of Toffee had decorated the top of the Tarte and I let them melt slowly on the heat of my tongue, keen to make the moment last as long as possible. I had opted to have cream to go with the Tarte Tatin instead of Ice Cream, and there was a large dollop of fresh whipped Double Cream to scoop up and enjoy with each mouthful.




We rounded proceedings up with our usual black coffees, reflecting that it had been way back in March when we had last done this "out out"! To say that I had been a bit apprehensive about venturing out (and there had been absolutely no need as it turns out!), we couldn't have wished for a better reintroduction to dining out than the one we got at The Tiger Inn in Turnditch. Massive thanks to Marc and his team.

Weekdays have a different focus each night: Monday is Mac n Cheese time, Tuesdays are Steak Night, Wednesday is Burger time, Thursdays are the extremely popular Pie Night (we've been for this and I can totally recommend it) and Friday is Fish n Chip day!! Open from Noon, food is served 12-6pm for lunch, then dinner takes over from 6-9pm; Sunday sees food served from Noon-8pm.

Hot Wings enthusiastically awarded to the Tiger Inn team!
No incentive was provided to visit this venue
read more