A Post Shopping Dinner At The Recently Opened Lonestar In Sheffield
---
Published On Sunday 16 Feb 2020 by Sticky Beak
See Recent Dining Out Reviews | See All Recent Reviews


The Man has been hunting out the bargains on Groupon again, and I have to say he's come up trumps. We decided to grab one of the deals for four people where you get a two course meal (starter to the value of £4.95 and main up to £10.95) and a small glass of wine for the bargain price of £31.16! Back-of-the-net when it comes to a savvy deal, or what?!
Chickadee met the 'rents and her Nana not so much bright-eyed and bushy-tailed as bleary-eyed and half bedraggled – apparently it had been a hard nights' partying the night before! A swift cuppa and slab of choccy brownie in Debenhams soon had her blood sugar levels coming up and the twinkle returned to her eye; well, there was some retail therapy on the horizon. We hit the shops on The Moor for a few hours and then made our way over to Lonestar on Division Street for an early dinner/late tea at 5pm.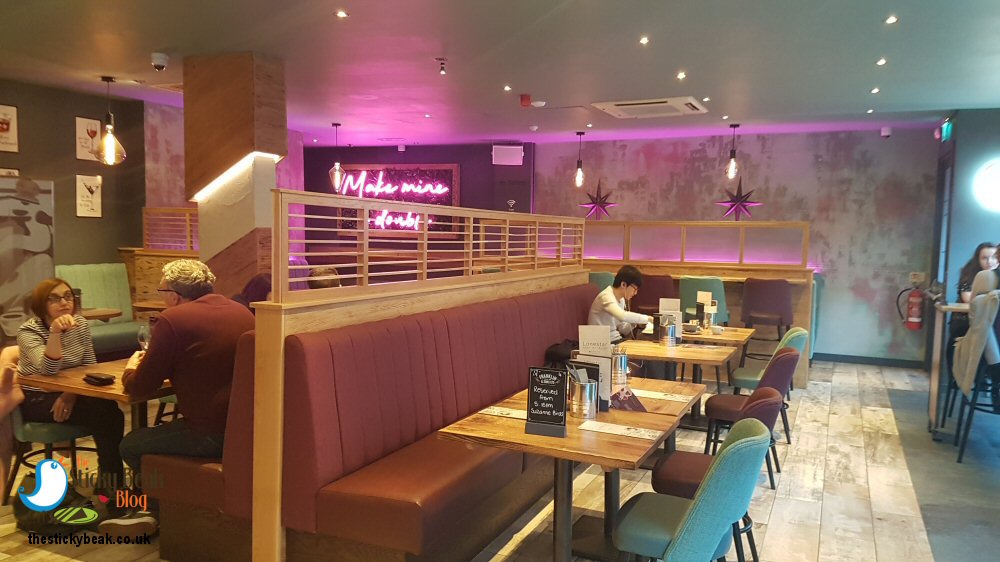 We were greeted warmly by one of the team at Lonestar when we walked in and were soon seated at our table. I really like the sleek, modern feel of this venue; it isn't cluttered, but nor is it stark and barren. There's a good space between the tables, whether they're the banquette or free-standing chair ones, or the higher benches and stools. The lighting is quite muted (forgiving for those whose faces need it – eh, Chickadee?!) and the music is trendy and upbeat, injecting a nice energy to the space.

Lonestar is a fairly new addition to the Sheffield scene, having only opened its doors in September 2019, but it was nice and lively so clearly folks like what they're getting.




Between us we ordered the Ayam Chicken Lollipop, Falafel Fritters, Duck Gyoza and Patatas Bravas to kick off with, all priced at £4.95 usually. It didn't take long for the dishes to arrive and we waited (not so) patiently for His Nibs to take the piccies before we all dived in.

Mummy Bird was delighted with her Patatas Bravas; rather than being cut into small cubes, Lonestar cut their Potatoes into generous wedges and then fry them so that they're crisp on the outside. The Tomato dip was properly kicking! It didn't make your lips tingle, but the tongue had a bit of a buzz going on, so those who don't do a lot of spice might want to exercise a bit of caution and dampen it down with ketchup maybe.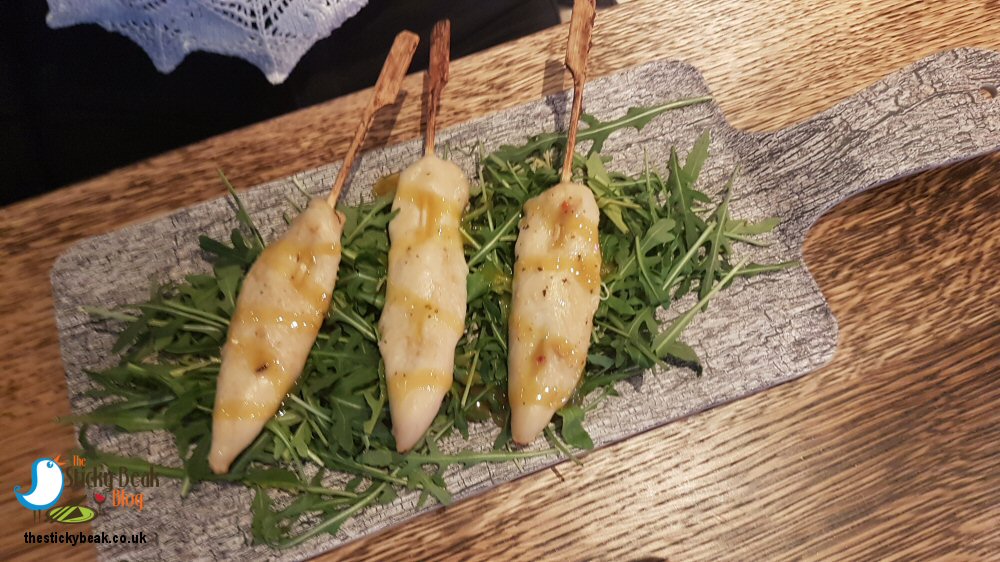 Fledge was chowing down on her Ayam Chicken Lollipops with typical 'I'm a starving student' gusto, so you could've knocked me down with a feather when she offered a bit to me! I had been expecting this dish to look like those cake-pop things, but they were regular skewers appearance-wise.

The chicken itself was lovely and moist and had a superbly tangy honey and mustard coating on them which really popped on the palate. A bed of verdant, peppery Rocket leaves gave some visual appeal to the plate as well as adding more taste to this great starter.




The Man Bird had opted for Duck Gyoza and was happy with the size of the trio of light pastry parcels that were placed before him. Each tasty, half moon shaped parcel was generously filled with shreds of succulent Duck and His Nibs was soon grinning as he tucked in. A little bowl of Hoisin sauce was on the side, so you could dip the Gyoza in as much or as little as you fancied.

I had chosen the Falafel Fritters to start with and there was half a dozen dinky rounds of deliciousness on a platter, interspersed with swirls of yummy Coconut Yoghurt, Coriander purée and twirls of Cucumber. Each Falafel was beautifully seasoned and had a great crisp outer that yielded to reveal a golden Turmeric-hued, soft inner; texture-wise they were perfect, giving a nice resistance to the initial bite, but not being tough or chewy at all.




Whilst we'd been munching away, several members of the team came over to check we were enjoying our food and see if we wanted any more drinks. Another glass of vino nestled itself into my hand (as if by magic!) and His Nibs had a pint of Hop House 13 lager.

For our mains we ordered the Quesadilla (vegan friendly), Garlic Chicken Parmesan, Barbeque Snags, and the Formaggio di Capra sourdough Pizza; prices ranged from £7.95-£9.95.

With no decorum at all, Fledge ploughed in to her Garlic Chicken Parmesan – thankfully The Man is quicker than Usain Bolt when it comes to snapping photos and got a shot before the dish was less than 'gram worthy! Now what I'm about to write will shock you all; Chickadee remarked how delicious her meal was! Yep, you read that right, the Fledge was positively positive about her food; normally when I ask her about her food I get witty (!) replies like "it's chicken-y" or "it's fishy", but she was very loquacious on this occasion.

The plentiful chicken was cut into chunks and was beautifully moist and tender, but it was the sauce that really stole the show: garlicky, creamy and nicely seasoned. Apparently this was the best meal she's ever had! So good was the sauce that she even deigned to dunk her garlic bread into it to get every last bit up.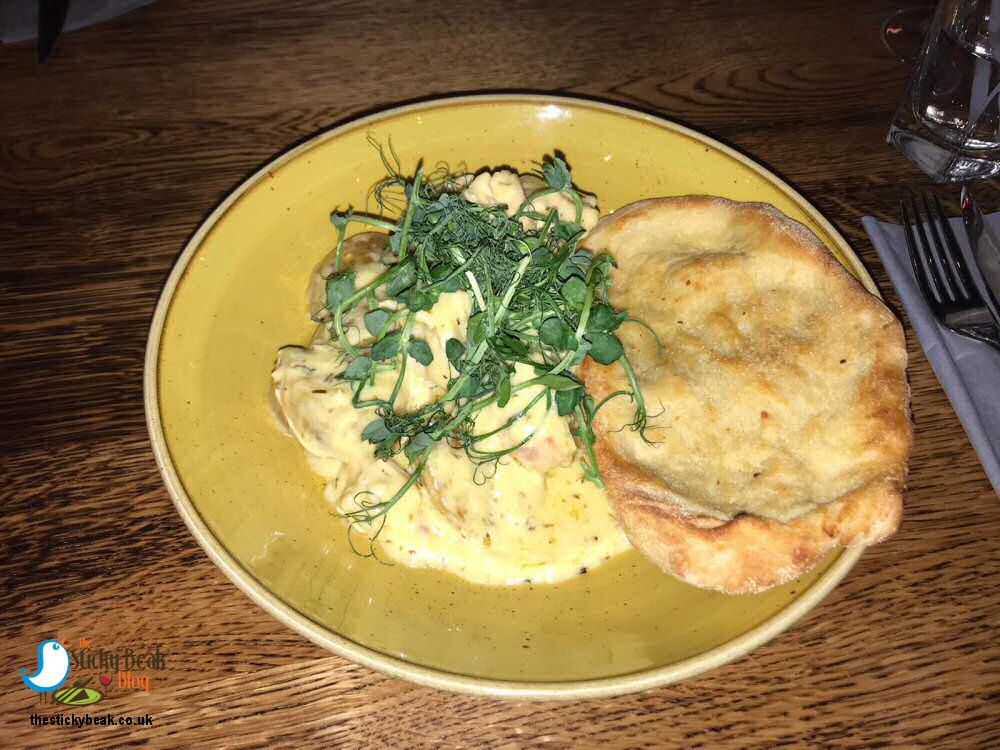 My Mummy was impressed with the meatiness of the well seasoned sausages on her plate, and even more so with the rich, smoky BBQ sauce that they were smothered in. I pilfered the pair of mini corn cobs that came with the snags and they were gorgeously charred to intensify their natural sweetness by caramelising the sugars within their kernels. Thick slices of Red Onion had been nestled in the sauce too and they added a nice edge to the dish that managed to be both sweet and tart simultaneously.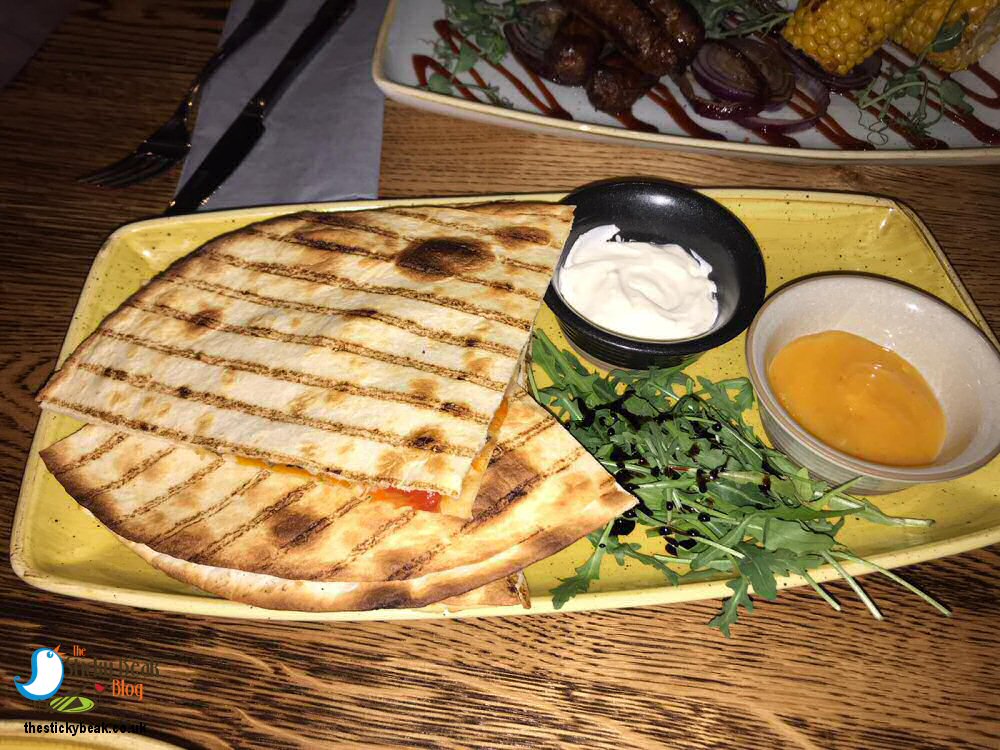 His Nibs chose the Quesadilla for his main course, no surprise because he does love the flavours of South American food, but surprising this time due to it being a vegan dish. Normally it's me that will eschew meat if the dish is tempting enough, but they variety is the spice of life don't they?

The thin corn tortillas were stuffed to the rafters with a fab mix of vegan cheese and spices that enveloped Mushrooms, Onions, Peppers and Courgette. Chef popped all this yumminess onto a griddle to grace it with those lovely char-stripes and to crisp the tortilla up so that it gave a fab crunch when bitten into. This was a total taste sensation, packed as it was with layers of tastes and textures; top marks here.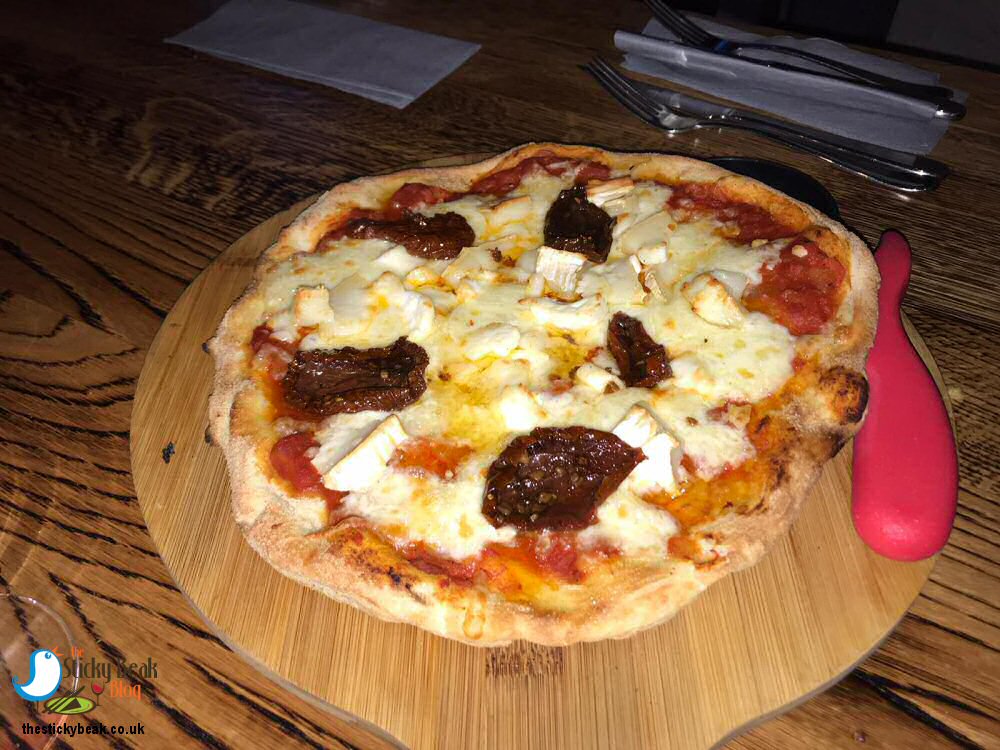 I'm a sucker when it comes to Goats' Cheese, so as soon as I saw it mentioned on one of the pizza descriptions that was me sold! The sourdough pizza base was really yummy in its own right, but I certainly wasn't going to complain about the generous amount of topping on it. Cheese lovers, I can heartily recommend this morsel to you – there's certainly no shortage of fromagerie here.

What I loved though, was the contrast of the tangy, lightly musky Goats' Cheese and the intense sweetness of the sliced sun-dried Tomatoes; it really got my palates' attention. If I was to be picky (and I'm going to be, it's my prerogative after all) I personally would've liked a bit of greenery on my pizza; delicious as it was, it just looked a bit average, optically speaking. Some Basil or Rocket would propel this from being 'meh' to 'marv' in a visual sense – didn't stop me scoffing it though, it was delish!




It was with a bit of sadness that we left Lonestar; we'd had a superb time together as a flock here. The passion of the Lonestar team for their food and drink offerings clearly shows, and they want their customers to feel the spark, too. As well as being suitable as starters, the small plate selection affords diners the choice to graze 'Mezze- or Tapas-style', which is perfect for groups of friends. So impressed was Fledge, she was planning on returning with her University pals that evening for cocktails.

Lonestar is open 7 days a week; opening from 9am Tuesday-Saturday and you can just pop in simply for a hot drink, or (from 11.30am) drop in for a light lunch of the small plates, flatbreads, wraps or smaller 6"pizzas. Evening meals are served between 5-9pm, with something tempting for all tastes. Hot Wings definitely awarded here!
No incentive was provided to visit this venue
read more