Dinner At The Boat Inn, Pinxton Wharf, Pinxton
---
Published On Sunday 9 Feb 2020 by Sticky Beak
See Recent Dining Out Reviews | See All Recent Reviews


The Man Bird and I have walked past The Boat Inn at Pinxton Wharf many times over summers gone by, always wondering when it was going to open. It slipped from our minds (as things often do!) and it was only recently that I saw a post about it and mentioned it to His Nibs; fast forward a few weeks to my birthday and My Man mentioning that he'd booked a table for us.
The Boat Inn has loads of parking and even in the dark gloom of a January night you could see the large outdoor gardens and seating, so come on summer, hurry up so we can enjoy food alfresco! Happily, it's also dog friendly, so you can walk the pooch and enjoy a drink in warmer weather too.

Inside is just as spacious, with several different areas to relax in, whether you're there just for a drink or to dine as well. The building originally dates back to around 1795, but its latest incarnation has seen it have a new cellar and a new extension for the bar and dining room. Looking around, I could see exposed brick work and solid wood beams going from floor to ceiling that were mingled with bright white walls and warm-toned checked carpet; the effect was one of welcome and community.




Our lovely server, Abbie, led us through a pretty snug area (complete with squishy sofas) as she took us to our table. We ordered a glass of Shiraz and a pint of Birra Moretti and began to look through the seasonally-changing menu that supports local farmers; the pan fried King Prawns (6.95) caught my eye for starters, and His Nibs fancied the pan fried Duck( £5.95). For our mains we chose the homemade Beef Lasagne (£10.95, Him) and the homemade Lamb and Mint Pie (£11.50, me); my pie comes with a choice of either mash or chips to go with the seasonal veg and minted gravy – I had the chips. Being the gluttons we are, when we spied the Black Pudding Bon Bons as a side dish at £2.50, we ordered those as well!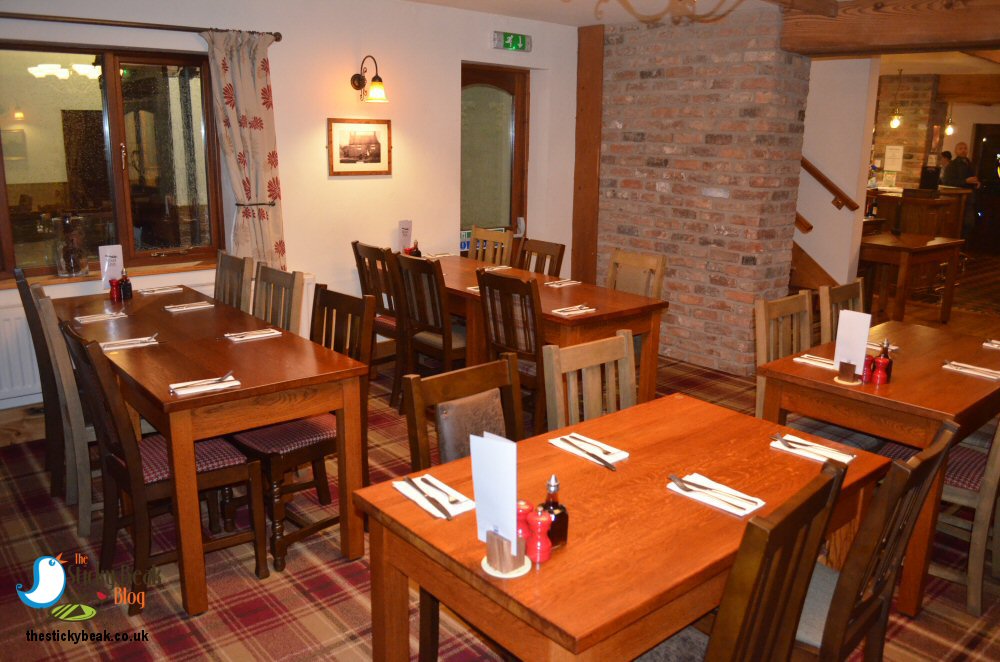 We'd gone early to dine, but there was a steady stream of folk coming in as the evening wore on, which was nice to see. It didn't take long before our starters were winging their way to us, and their aroma was wafting along on plumes of steam, filling the room with mouth-watering smells. My King Prawns were superb! Half a dozen plump, juicy King Prawns had been sautéed with Lemon, Chilli and Garlic and boy did they have a fantastic kick to them. The flavours were lovely and clean in the mouth, really setting my palate alight with their freshness. There was a couple of slices of crunchy toasted Ciabatta to bite into and some crisp salad as well on the side, so this starter had a textural contrast to it as well.




The Man was equally impressed with his pan fried Duck starter; the breast had been thickly sliced for presentation and, perched on a bed of Tagliatelle, it looked very inviting. His Nibs got a great wallop of 5-spice seasoning straightaway on the palate, then tones of zingy lemon shone through and gentle honey rounded it all off nicely. We'd both thought that the Tagliatelle was a bit of a strange accompaniment, but (bizarrely) it works, though I think that that's because it isn't a huge heap of pasta - just a small nest. The duck was cooked perfectly and had retained its moistness, as well as its dense texture and taste.




Abbie had come to check that we were happy with the food and grinned when she saw a pair of spotless plates and two happy diners. As she balanced the plates in her hands, she smiled and said that our mains wouldn't be long. Sure enough, we weren't waiting too long before she returned with two more plates of mouth-wateringly good smelling food.

His Nibs had been intrigued by the Dijon Cheese sauce in his Lasagne and he wasn't disappointed as he took his first mouthful; the mustard imparted beautiful warmth to the sauce, working in harmony with the cheese rather than over-whelming it. This was a proper hearty dish, just the ticket on a winter night. Just to make sure that it really did fill the keenest appetite, this comes with chunky chips and slices of Garlic Bread! A generous side salad gives a cool element to this meal, and there was certainly plenty of flavour to be had here too, thanks to the fresh herbs within it.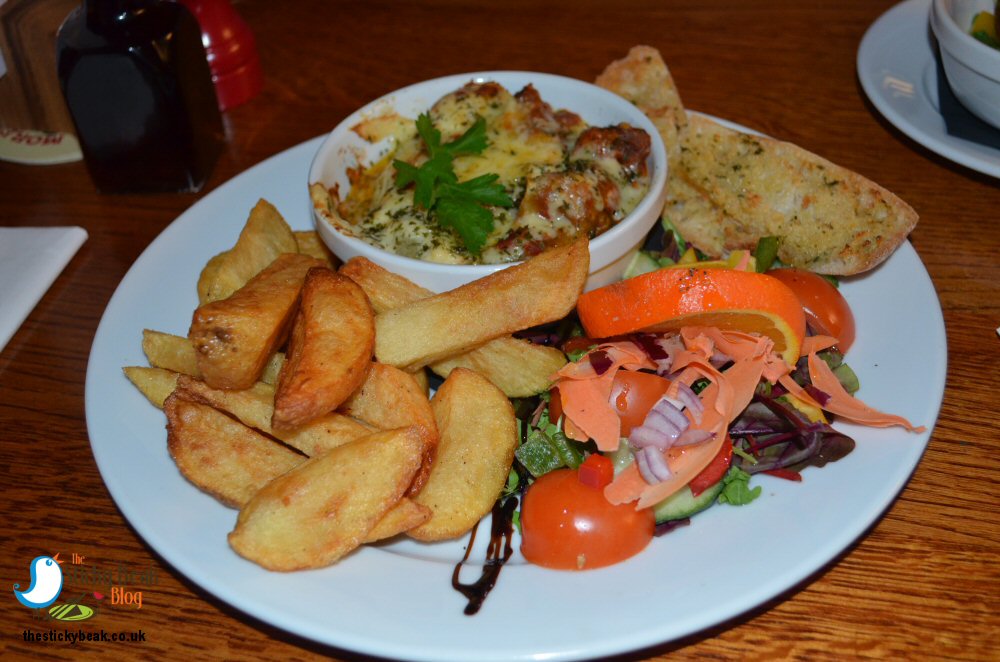 The pastry on my individual Lamb and Mint pie was excellent; not dry or claggy, and not at all tough, just lovely and soft and buttery. Nom nom. Inside, there was plenty of succulent Lamb chunks to chow down on - which I eagerly did! - as well as peas and a nice gently minted, thick gravy-cum-sauce. The Chef at The Boat Inn certainly doesn't skimp on his pie filling, that's for sure. All my veg was cooked perfectly, and I tucked into the lightly crunchy shredded Cabbage straightaway. I was pleased to see that there was plenty of gravy already on my plate, but just to be certain that I wouldn't run out, Abbie had brought out a big jug of extra for me. The chips were perfect and I couldn't resist piercing them and then leaving them to soak up some of the gravy; simple things are often the best, and as I gulped the gravy-soaked chips down I smiled happily.




As you know, I am a big fan of (proper) Black Pudding, so I was excited to try the Bon Bons. A trio of perfectly spheres were set on a bed of salad, and a little pot of dipping sauce was set to one side of the plate. Each ball of Black Pudding had a nice crunchy coating on its outer, which yielded nicely to the bite; for me, I would've liked this coating to be a bit thicker so that you got a louder crunch as you bit into it. They had a great density to their texture (that had me foxed with its complete smoothness) and this was matched by an equally rich, deep taste. Well worth a punt at £2.50.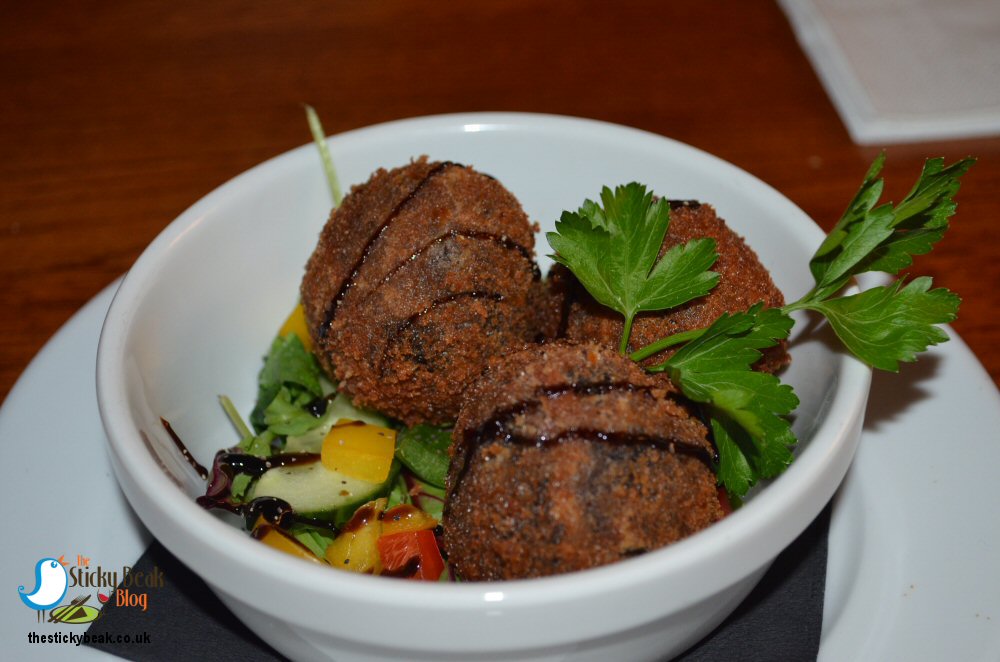 The Man Bird suggested skipping pudding, but there was no way that was happening on my birthday, so I suggested we share one. Chocolate Fudge Cake would've been seriously tempting on any other occasion, but there was massive choccy birthday cake waiting back at the nest for me so we skipped that option. Sticky Toffee Pudding is His Nibs' domain, and I can't have Eton Mess (Meringue), so other than Apple Pie/Crumble, that left cheese, cheesecake, profiteroles or Millionaires Shortbread. We decided to have Millionaires Shortbread with Ice cream – squirty cream is cheap and nasty stuff in my opinion, so there was no way I was having that!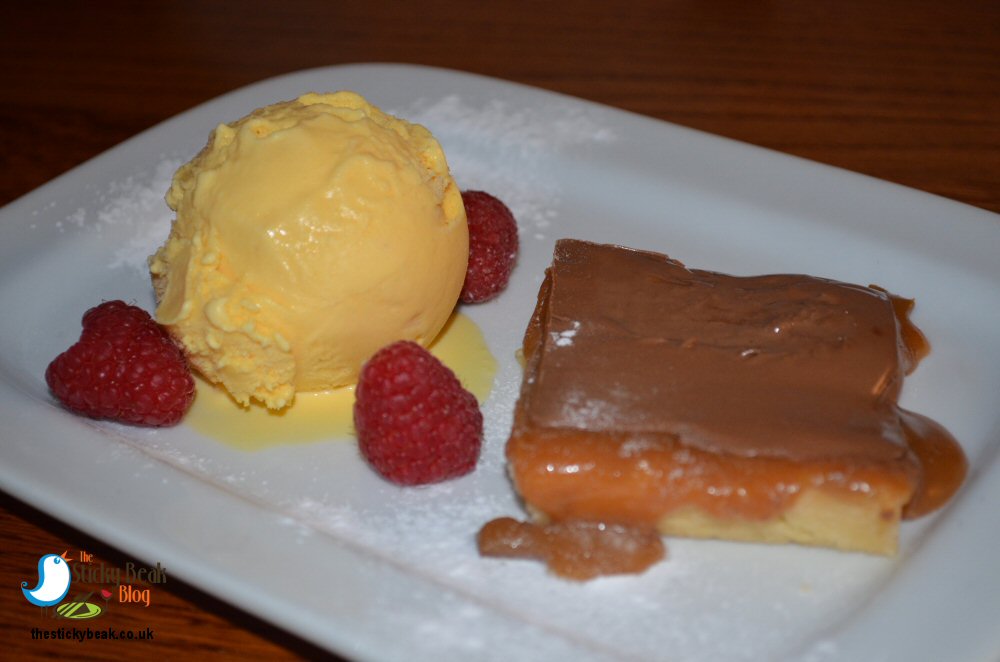 Abbie brought our dessert choice out promptly, and it had been warmed so it was all oozy and seductive on the plate. The shortbread base was wickedly rich and crumbly – absolutely delicious! You can't beat the indulgence of warm caramel, especially if it's a properly made caramel, and this hit the pleasure-spot bang in the middle. Melting chocolate is everybody's favourite thing; there's something naughty about it that makes it irresistible, so The Man and I were scooping it onto our spoons like billy-o! No surprises when I tell you that I was scraping every last little bit of anything and everything off the plate.

It may have been our first visit to The Boat Inn at Pinxton Wharf, but it won't be our last – especially seeing as they do Sunday Lunch too! Hot Wings awarded here, no hesitation at all.
No incentive was provided to visit this venue
read more