A Visit To The Red Bar and Grill In Mansfield
---
Published On Thursday 6 Feb 2020 by Sticky Beak
See Recent Dining Out Reviews | See All Recent Reviews


Despite it being one of our closest towns, His Nibs and I haven't really eaten out in Mansfield; we've eaten out in villages around it, but not actually within the town itself. Clearly this situation needed to be rectified, and so we pootled off to The Red Bar and Grill – well they'd got a '30% discount until the end of January' promotion going on, so best take advantage while it's there!
Unless you're colour blind or sight-impaired, there's not much chance that you'll miss the venue; as its name suggests, it is red - as in, lit up red! There's only about half a dozen parking spaces at Red Bar and Grill (and we managed to grab one of them!), but there's plenty of other parking fairly close by.

Inside, the venue is really quirky; there are lots of small areas of seating on different levels, some up stairs and some down stairs. The lighting is on the low side so it has quite an intimate feel, even though it's very family friendly - there was a group on the table behind us that had a young kiddie with them. Square, no-nonsense tables are simply set with plain silver cutlery, red paper napkins and a single tea light set within a red glass holder.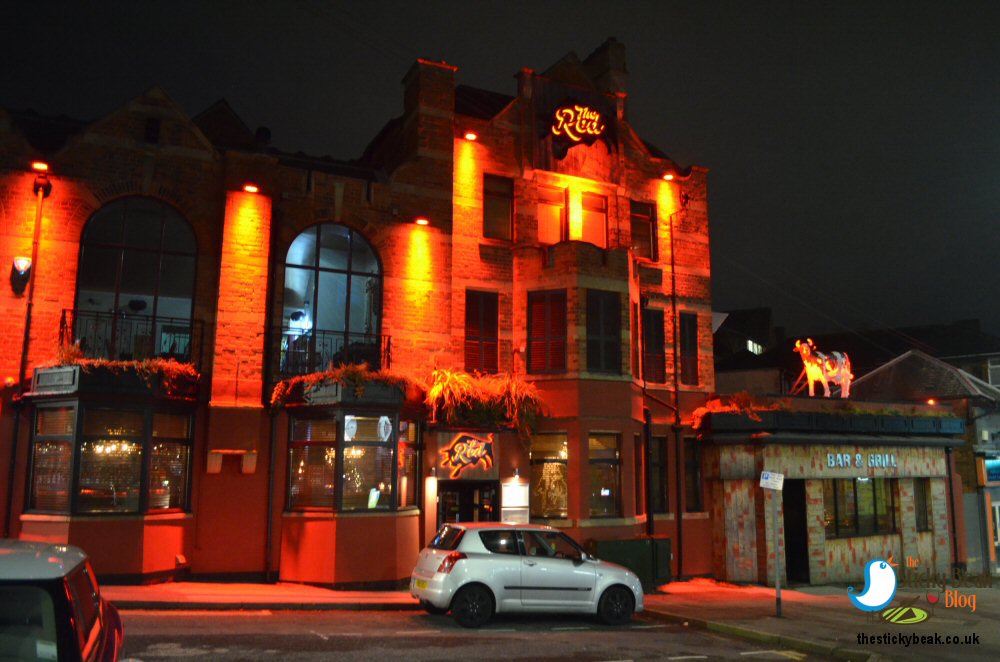 The wine list isn't too shabby and the bottles are reasonably priced, but the choice of wine by the glass wasn't the most extensive; there was a choice of two: Merlot or Shiraz. I had the Merlot and it was fairly mid-range, so not great, but not terrible either. His Nibs had a pint of Peroni, having about 5 lagers to select from. For those who prefer cocktails there are several versions to choose from, so don't hold back.

Like most folks, our budget has taken a fair old beating from the festive season and we're mindful of bills coming our way, so we made the conscious decision to just have 2 courses at Red Bar and Grill. The appetizers sounded fairly standard, nothing wild or outré in there, so the scrummy sounding desserts won the battle of the second courses!




For his main, The Man Bird chose the Big Smoke BBQ Combo (£18.95 for one person, or £36.95 for two to share) and I had Reds Famous Beef Brisket which is £13.95 as standard, or you can upgrade to Brisket Heaven, as I did, (£17.95) which adds smoked burnt ends and creamy pepper sauce. Our server, Lauren, was so lovely and she really couldn't do enough for us - her recommendation of the side of Jay's Dirty Onion Rings was cracking!

We'd gone to Red Bar and Grill early doors, so it wasn't packed out which meant that we didn't have to wait a long time for our food to arrive. With a platter the size of the Big Smoke BBQ Combo it would've been easy to just chuck all the components on, but Chef took some time and care in this element and everything was carefully placed and presented on the platter. There was a true feast to tuck into: sliced Beef Brisket, Smoked Burnt Ends (the darker, crisper bits of meat carved from the outers of the cut), Deep South Chicken Wings, BBQ Pulled Pork, Boston BBQ Beans with Smoked Sausage and Smoked Bacon, Real Ale Battered Onion Rings, Cheesy Garlic Toast, Twice-Cooked and Seasoned Skin-on Rustic Fries and Chef's House 'Slaw!!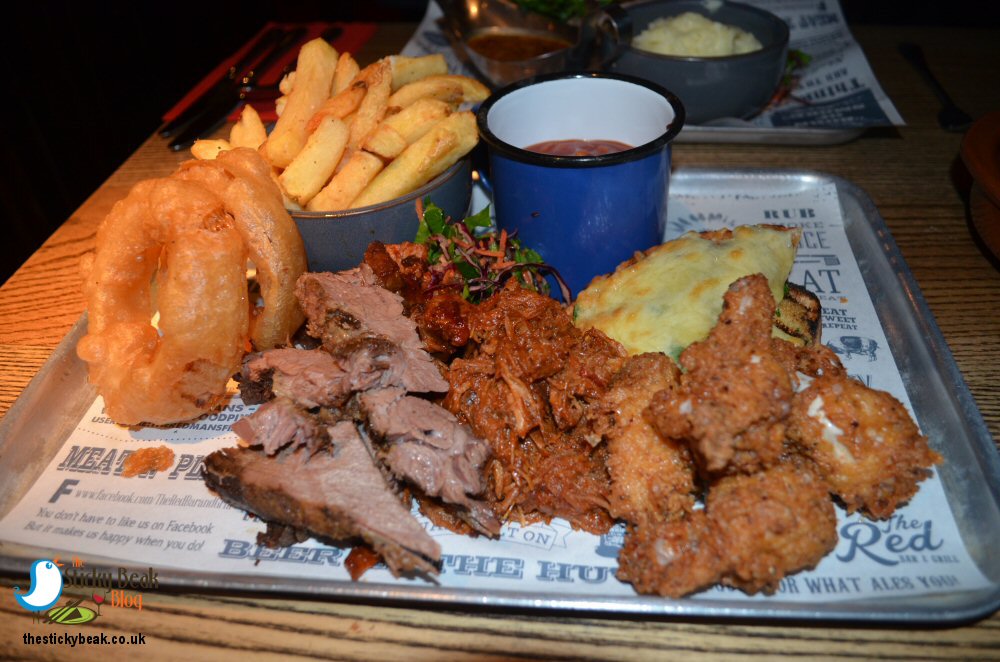 The Chicken Wings were gorgeous; they had a proper crispy coating to them that gave a wicked crunch when bitten into and had a fab kick to it, spice-wise. In contrast to the crunchy outer was the lovely moist chicken meat and its creamy taste. His Nibs was tucking into the bean 'n' sausage combo, but it didn't float my boat; I'm super-picky when it comes to sausage, so I decided to swerve this dish. However, I am a total cheese freak, so the thick doorstops of bread loaded with garlic and cheese were mine, all mine! Bloody fab they were, too. The BBQ Pulled Pork was so succulent in the mouth, and it had that delicious sweet/smoky note to it that leaves you wanting more. We both loved the smoked burnt ends – little nuggets of yumminess are the best way to describe them, I think, with their rich, concentrated meaty taste.

His Nibs can be a cheeky so-and-so at times, and clearly he was feeling cock-a-hoop as he reached over and dunked some of his hearty fries into my creamy Pepper sauce. Good job I love him! The Chef's house 'slaw was a fantastic showcase of fresh, clean flavours; the vegetables had been sliced really thin and combined with lots of fresh Parsley to make it pop in the mouth. There was a lack of Mayo on this 'slaw which I think was to its advantage; there was nothing to dilute the freshness of this accompaniment or to diminish the sour edge of the gherkins and their juice within it.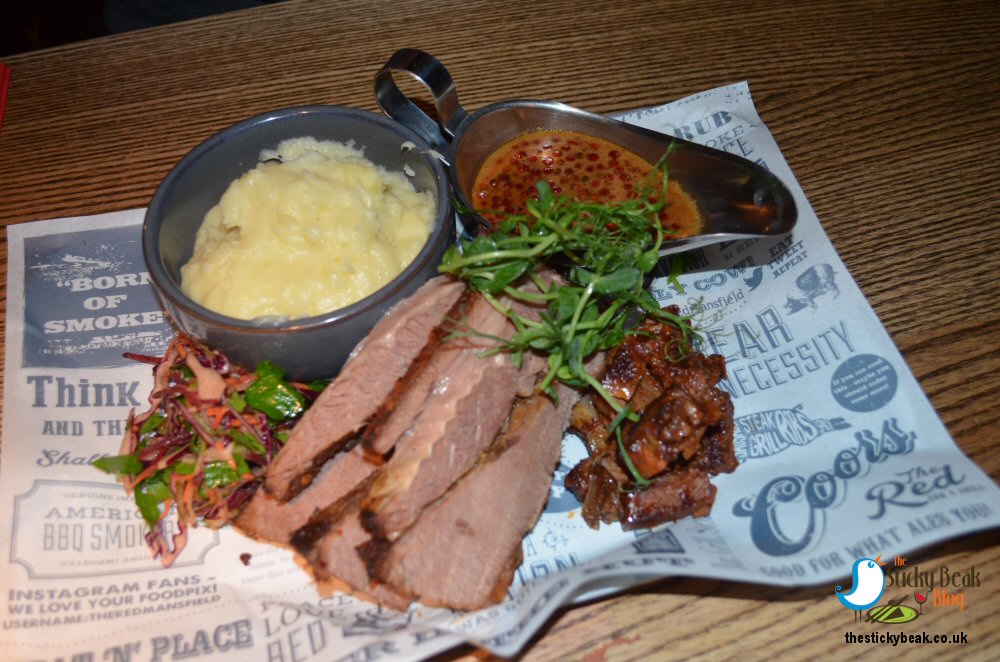 My Beef Brisket was the star of my main course, so without any ado I began to plough into it. Red Bar and Grill slice their brisket, saying "it's certainly not for pulling" but I'm not sure that this is the best way forward if I'm being totally honest. Now, there was nothing wrong at all with the brisket on either of our plates flavour-wise, but we were of the same opinion: it wasn't the most succulent bit of Brisket that we'd ever had. I think it needed to be pulled to lessen the 'dry clag factor' in the mouth, and a bit of some sort of sauce would certainly help with this. Just my personal opinion/preference though, and I have no criticism of the brisket's taste at all.

You can have twice-cooked, seasoned, skin-on fries or house smoked Cheesy mash with the Beef Brisket; guess which I opted for? Yep, the mention of cheese swung it, hands down! Now this morsel was delicious, proper comfort food in a bowl; the creamy consistency of the mash was excellent, and there certainly was no lack of cheese melting within it.

The creamy pepper sauce was the absolute bomb!! This minx does exactly what it says on the tin: it's a creamy base that is zhuzhed up with plenty of pepper and then there's a liberal amount of whole peppercorns to crunch into too, if you really want to wake your palate up!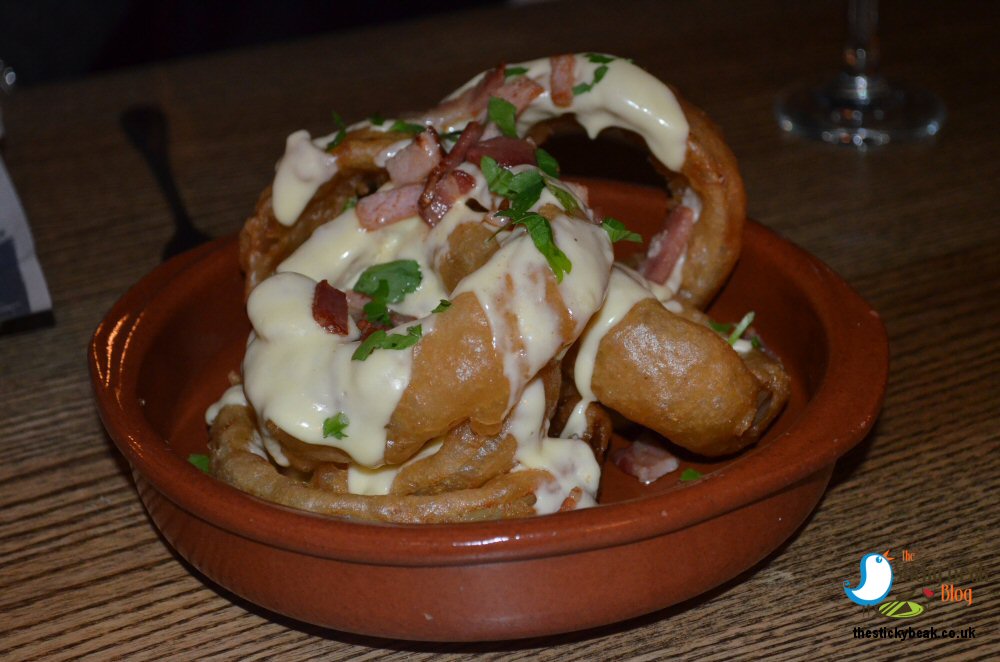 You may recall I mentioned Jay's Dirty Onion Rings, the ones that Lauren recommended to us, earlier. They say "save the best until last", don't they, and these bobby dazzlers deserve their 15 minutes of fame, believe me. To start with, the onions are cut into ruddy thick rings so you're going to be able to bite into these with sheer abandon – always a bonus in my mind. Then they're coated in an ale-enhanced batter that is brilliantly light and crispy after it's been fried to a golden shade that David Dickinson would be envious of (think a month in glam St Tropez). Capping all this gloriousness is a generous layer of ridiculously good molten cheese and more bits of house smoked back Bacon than you can imagine. This is possibly the best £3.75 you'll ever spend in your life!!

All that remained was to have pudding and Red Bar and Grill has some stonking offerings; they claim that their Sticky Toffee pudding is the best in the world, something His Nibs was hell bent on putting to the test – but then we spied the Cheesecake selection!!! We ordered our desserts knowing full well that we hadn't got room for them at that moment in time but, very cleverly, Red's allow you to take them home in containers. I say clever because not only do you purchase your desserts, but by taking them home you free up a table (handy at peak times); a nice win-win for Red Bar and Grill, and for your eager tummies.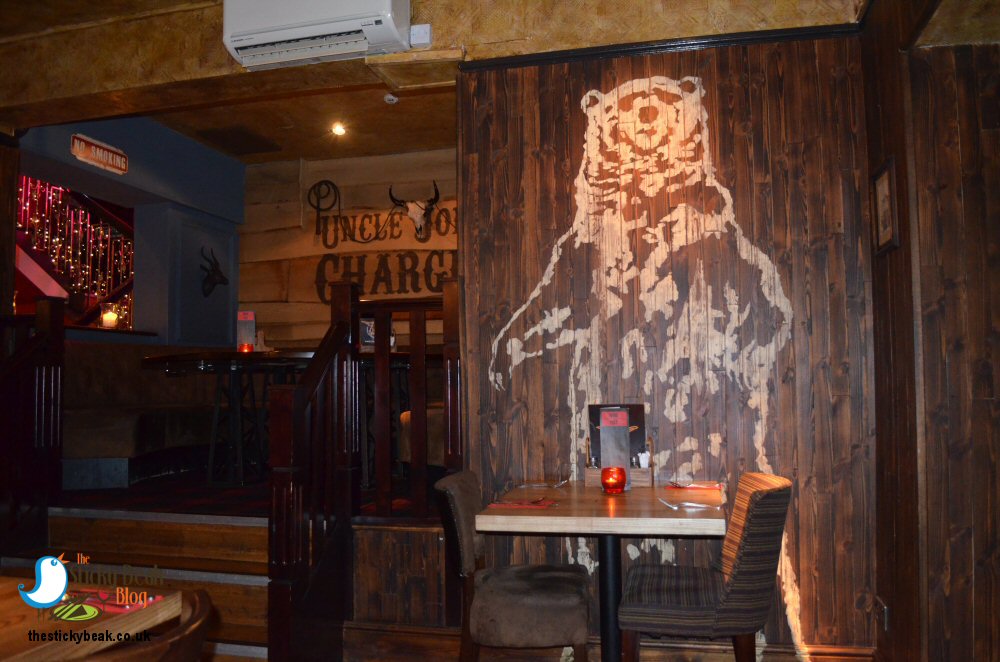 I ordered the Terry's Chocolate Orange cheesecake (£6.25), but ended up with the Smashed Oreo and Chocolate Brownie one instead, somehow (£5.95)! Not that I was complaining, it was so incredibly indulgent and moreish; so much so that I ran my finger around the container to get every last bit of the White Choc sauce out. His Nibs had got the Rolo and Cadbury's Caramel cheesecake (£6.25, that actually turned out to be Rolo and Curly Wurly – yes!!) and this was just next level cheesecake! The biscuit base was nice and moist, not dry at all, and the cheesecake was wonderfully creamy and dense; the sheer amount of Rolos was incredible and there was a whole (!) Curly Wurly too. Factor in a whole raft of Toffee and Dark Chocolate sauces and you have the recipe for utter choccy heaven.

We had a great evening at Red Bar and Grill, and will definitely go again – the burgers look superb - so Hot Wings given to this Mansfield eatery.
No incentive was provided to visit this venue
read more