Dinner At Petit Paris French Restaurant, Nottingham
---
Published On Wednesday 13 Nov 2019 by Sticky Beak
See Recent Dining Out Reviews | See All Recent Reviews


The Man Bird hunted down another cracking Groupon deal a couple of months ago, but we've been so busy we've only just got around to using it! The voucher was for Petit Paris in Nottingham, sort of sister restaurant to newly opened Paris (which is cracking, btw!), so we had high hopes for the evening.
Petit Paris is accessed via stairs from the pavement and these are metal-banistered ones that you can imagine being right at home in a chic Parisian eaterie, so the tone was being set already. As you step through the door, it takes you straight into the reception/bar/lower eating area which came as a bit of a surprise to me! A young chap acknowledged our arrival and said "I'll be with you shortly"; in the meantime though a female member of the team asked for our name and said "have you got a reservation?" in that tone that implies 'if your name's not down, you're not coming in'. We had made a reservation, so no worries on that score, and given how busy it was with early bird diners/ after-workers, and pre-theatre goers, I'm glad we did ring ahead.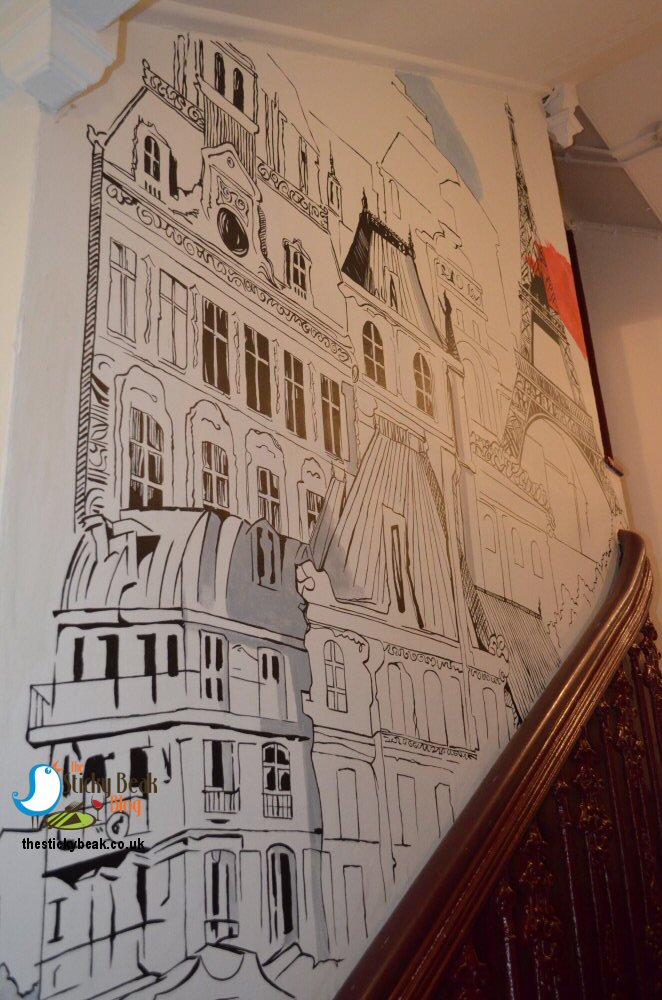 The decor was centred around the deep red walls, accented by library book-adorned paper on one wall in the upper dining area and plain white walls in the lower space. Pendant lights suspended from the ceiling cast a nice glow over the restaurant and a few bits of artwork added some visual interest.

As I looked through the menu, I saw the prix fixe options and our Groupon voucher had more-or-less given us a bogof deal. At lunch the prix fixe menu offers 1 course for £10.95, 2 courses for £14.95, and 3 courses for £17.50, and in the evenings these prices are increased by £1 (1 course £11.95 etc...) and all prices are per person. The prix fixe option is only available until 6.30pm on Fridays and Saturdays, rather than all evening as on other days.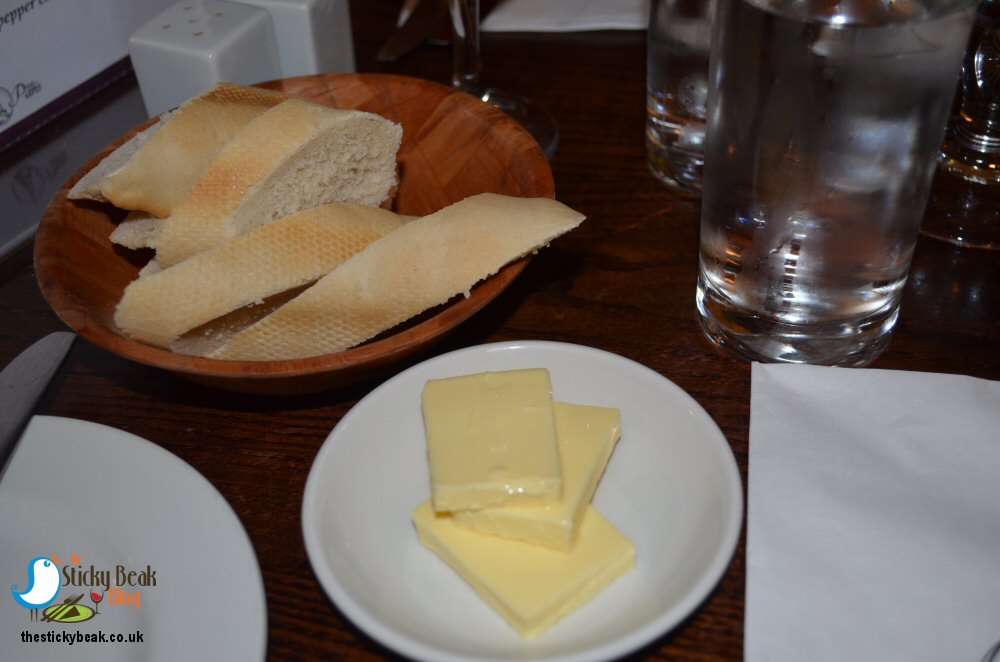 The menu definitely leans towards carnivores but there are options for Vegetarians and Vegans too, albeit not the widest selection you'll ever encounter. To start, I had the Escargot Feuillete (Land Snails with Girolle Mushrooms and Garlic and Dijon Crème; there is a £2.95 surcharge for these) and The Man had Smoked Ham Terrine with Pickled Carrot and Sweetcorn relish. I can see some screwed up faces and mouths saying "ugh" right now, but let me say that Snails are absolutely delish and truly do have a chicken texture to them and delicate flavour.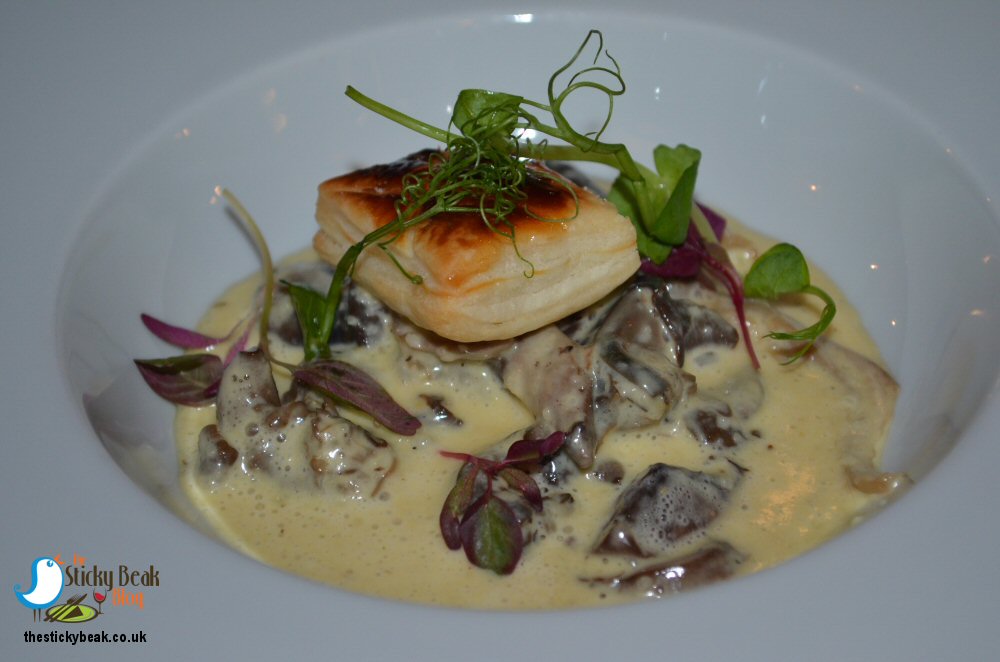 Chef at Petit Paris knows his stuff; the snails were firm in texture but had been carefully cooked so as not to make them tough or rubbery. The snails and Girolles were bathed in a silky garlic and Dijon sauce that was thick enough to cling to them nicely; nothing worse than a thin sauce that drips miserably off your cutlery when you're eating in my opinion. A rectangle of golden brown, buttery puff pastry and verdant pea shoots gave a pleasant garnish to this dish, as well as a bit of texture. I did my usual trick of using the last of the baguette (brought to us when we first sat down) to soak up the very last trickles of the sauce, it was very yummy I have to say.




His Nibs' Ham Terrine was a gorgeously chunky affair, with a rich smoky taste and dense texture to match. You could tell this was going to be chockfull of taste just by looking at it though in all honesty, it just screamed class. The Man was impressed by the piquancy of the pickled carrots, liking the contrast they provided to the natural sweetness of the Sweetcorn and red pepper salsa. This was a riot of colour to behold, making it the perfect thing to kick off a meal with as it sharpens your senses.

I ordered the Honey Roast Duck Breast a l'Orange for my main (this has a £6.95 surcharge over the Groupon deal) and The Man had Slow Braised Beef 'Bourguignon Style'; we also ordered an extra side of Honey Roast Chantenay Carrots, just to be on the safe side.

The restaurant was throng early evening, and I assume that this is what led to the mix-up with my main course; the waitress and I had clearly had a communication error as I got the Bourguignon style Beef brought to me, as well as His Nibs! However, this mistake showed the slickness and professionalism of the Petit Paris team. With no hesitation whatsoever, both meals were taken back to the kitchen with apologies and the assurance that both (correct) meals would be with us ASAP – the duck takes 20 minutes to cook. You can't ask for more than that, can you? In the meantime, The Man and I did what we do best; drink, yap, and people watch!




Before we knew it, our mains were being served to us and they both looked mouth-wateringly good! The Man's beef was arranged in a timbale and was incredibly tender, melting in his mouth beautifully. He was impressed with the flavour the meat had too, as well as the size of the portion. Accompanying the bourguignon style beef was a large quenelle of Parsley Pomme Puree (mash) and this was nicely seasoned and smoother-than-glass; it also looked pretty thanks to the flecks of verdant Parsley within it. Tender whole Shallots had taken on the tone of the Red Wine within the dish, as had the quartered mushrooms. A good port jus finished off the dish very well, and it wasn't long before His Nibs had got a squeaky clean plate.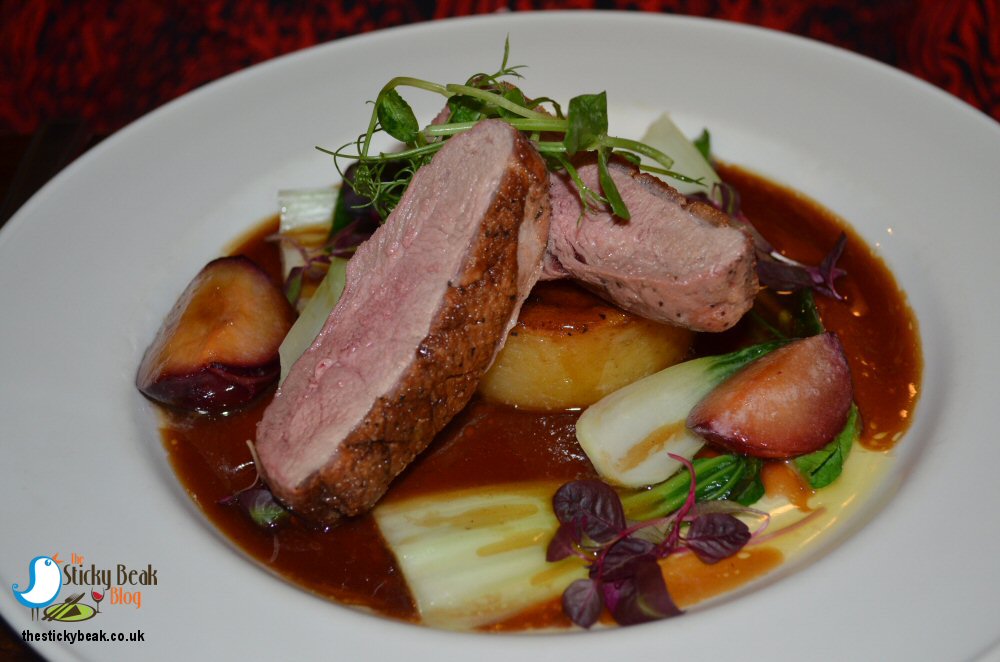 My duck breast was served pink and had been allowed to rest properly, ensuring that the meats' fibres relaxed and softened. This makes for a tender, moist piece of meat and I have to say that I really enjoyed every mouthful of the Duck; it had a super intensity to both its taste and texture – tres bien, Chef! The roasted Plums were that joyfully perfect sweet/tart combination that married nicely with the honey and orange notes of the dish. Wilted Pak Choi leaves had been skilfully cooked to soften them whilst retaining a pleasing amount of firmness so that they weren't insipid mushy things. The Fondant Potatoes were nicely firm too, pressed and presented in a circular fashion. Flavour-wise, the potatoes were nice enough but I personally would've liked more of the fragrant 5-spice in them; I didn't get this oriental spice coming through in any meaningful fashion if I'm honest. The red wine jus was excellent though.




The Honey Roast Chantenay Carrots (£3.95) were gorgeous! These dinky carrots are marvellously sweet anyway, but their natural character had been enhanced by a tender glaze of honey making them even more irresistible. A sprinkling of fresh herbs had been used to decorate them and also to lighten the sweet tones in the mouth, which was successful.

It isn't often I look at the dessert section of a menu and think "I could eat every single one of those!", but I did at Petit Paris' selection of homemade temptations. I chose the Salted Caramel Parfait with Honeycomb for pudding and The Man fancied the sound of the White Chocolate, Pistachio and Raspberry Mousse.




Silky smooth, and a texture like velvet, meant that this parfait melted gently on my tongue. Delicate hints of caramel within the parfait were picked up by swirls of caramel sauce arranged on the platter in an artful way, giving this dessert style and substance. I loved the textural element that the pieces of crunchy honeycomb brought to his dish as well as the lightly charred tones they released onto the palate. Fresh Raspberries and Blueberries enlivened things up fantastically in the mouth as well as giving a nice pop of colour to the plate, making this a beautiful end to my meal.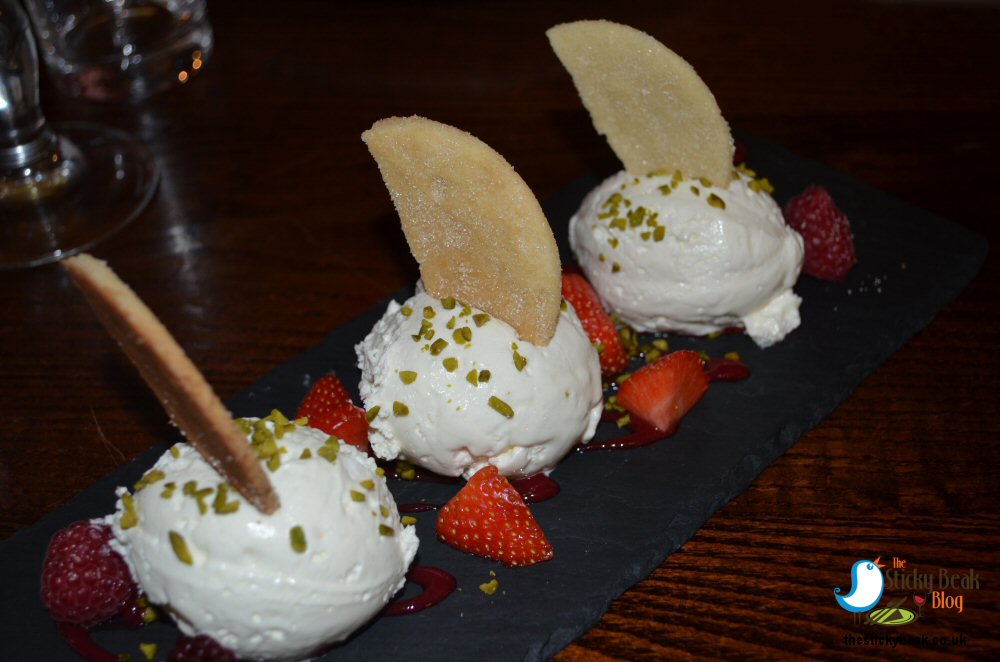 Across the table, Him Indoors was equally enthused with his choice of pudding. A trio of precise scoops of mousse were interspersed with fresh Raspberries, Strawberries and Blackberries and then sprinkled with finely chopped Pistachio. If ever you wanted an example of how to present food simply but elegantly then this would be it. The mousse was as light as a cloud, with the White Chocolate giving it a wonderful creaminess and mellowness in the mouth. In complete contrast to this delicacy was the Raspberry coulis that absolutely rampaged over The Mans taste buds, making his face scrunch with its sweet-but-tart taste! Each mound of mousse had been decorated with a half of exuberantly crumbly, buttery shortbread that melted almost instantly on the tongues' warmth. This too had been a superb dessert choice; one that left His Nibs wanting a DeLorean to go back in time and repeat the delight.

Hot Wings given happily here; I always say that a venue doesn't have to be perfect, it's the way they deal with issues, and the team at Petit Paris dealt with any hitches swiftly and professionally. The food was very good and I would definitely go back to try other dishes on the menu.
No incentive was provided to visit this venue
read more