A Trip Into Newcastle For Lunch At Dobson and Parnell
---
Published On Sunday 22 Sep 2019 by Sticky Beak
See Recent Dining Out Reviews | See All Recent Reviews


I'm blaming my hormones for the mini-fiasco that our annual pilgrimage to see Geordie Bird (Man Bird's Mum) became! We normally venture up around the late August Bank Holiday, but decided that we'd go later due to Chickadee flying off to Uni and needing to get her organised. What I hadn't figured on was the combination of the Childrens and Adults Great North Runs on Saturday and Sunday 7th/8th September; consequently "Toon" was going to be a rat-run of closed-off roads and traffic disruption, not what you want when you've arranged to have lunch at the Quayside!
Thankfully His Nibs' Aunty came up with the genius idea of catching the train from Morpeth into Newcastle (no such inspiration from Geordie Bird herself: "useful as a""chocolate" and "fireguard" spring to mind!). Parking at the station in Morpeth was a doddle, and we soon found ourselves pulling up in the city with no stresses to trouble us at all.




The Quayside was absolutely buzzing with fit kids of all ages eager to crack on with their event, their adults in tow. To be honest, it had more of a carnival atmosphere about it with spectators donning banners and the compere introducing the warm-up sessions excitedly. Just a short walk away is the imposing building that houses trendy eaterie Dobson and Parnell, where we were booked in for lunch.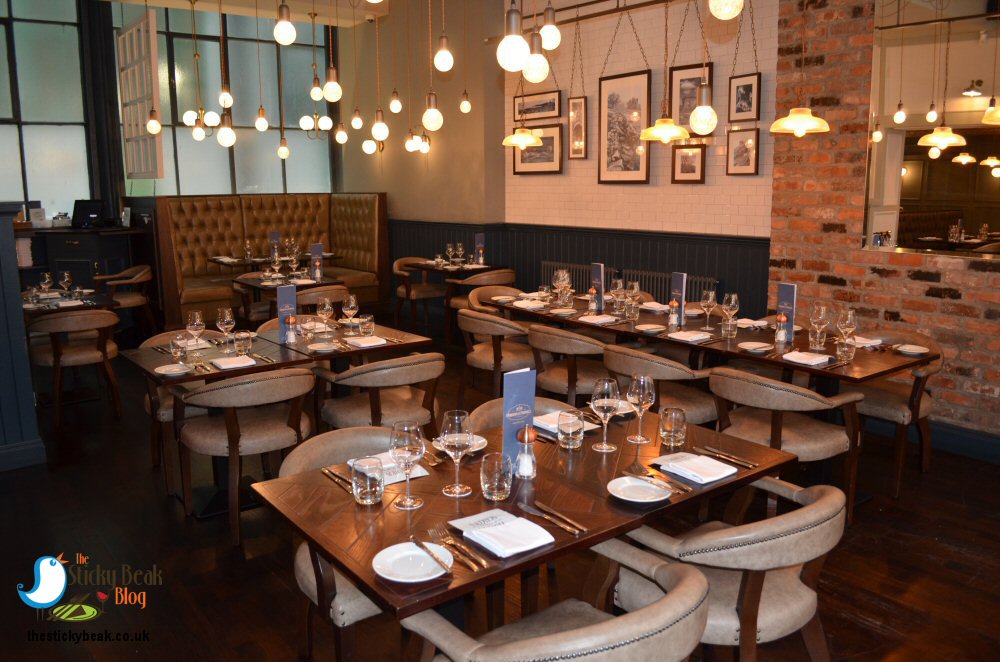 Andy and Sam Hook own the 65-cover restaurant, named after a couple of Newcastle's Architectural leading lights; John Dobson and William Parnell, and the Victorian Grade II-listed building itself dates from 1863. Inside, the restaurant is packed with an array of features such as original brickwork and high ceilings that have been cleverly blended with modern touches from Newcastle-based company, Dakota House of Design. I loved the traditional pendant lighting with its warm amber hue and the mid-green toned banquette seating we were sat on; both contrasted well with the white tiles on the walls and petrol blue painted accents.




We sampled the 3 course set menu; available for £19 per person at lunchtimes Thursday-Saturday, £25 per person for Dinner on Wednesday and Thursday evenings and until 7pm on Friday. There is also an a la carte option should you not wish to have a fixed meal, offering a wider selection of dishes with varying prices – all dishes on the fixed menu are available on the a la carte too. Alternatively, go all out and have the 5- or 7-course tasting menu extravaganza (vegetarian option also available) priced at £50 and £65 per head respectively without wine pairing or £75 and £100 each respectively with wine pairing, available 5.30-8.30 pm Weds-Sat for groups of up to 8.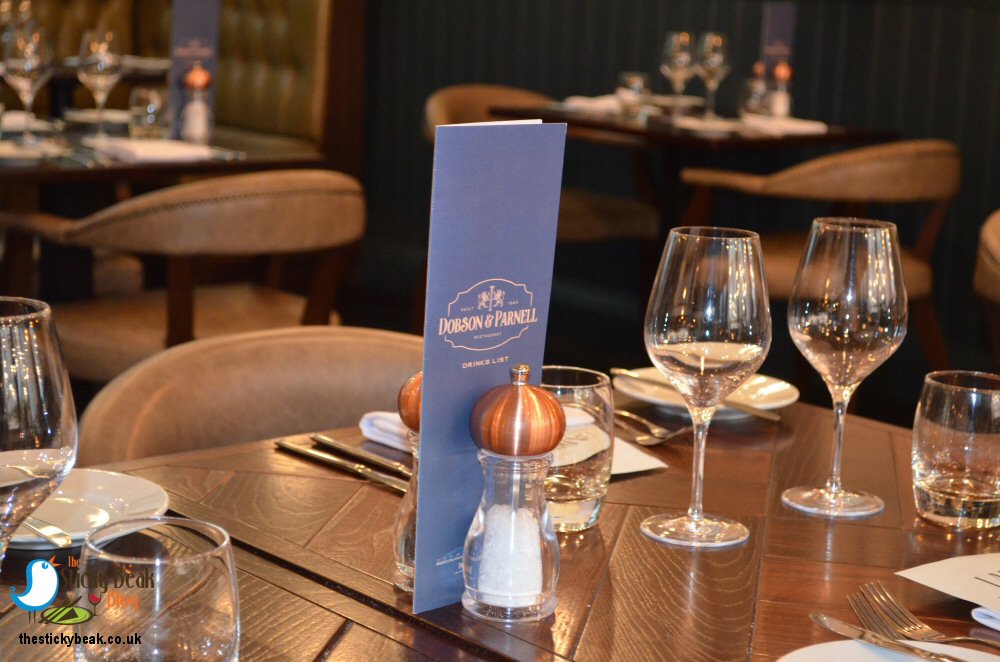 Our server, Danielle, brought us our drinks over and then placed a basket of sourdough slices and a round of home cured Seaweed butter before us. The sourdough was pleasingly dense in texture and the butter had a great salty tang to it from the Seaweed; we both enjoyed tucking into this to take the edge off our hunger pangs.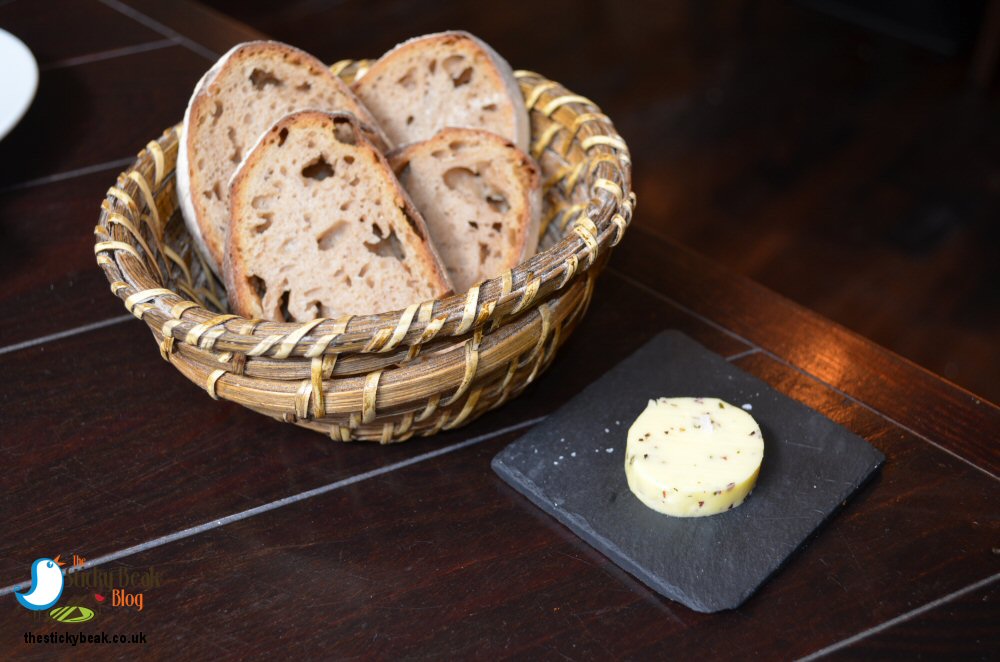 For my starter I'd chosen the line-caught Cornish Mackerel with Avocado, and Chilli Crème Fraiche (£7) and His Nibs had gone for the Ham Hock terrine with Plum and Apple Chutney, Pickles, and puffed Pork Crackling (£6).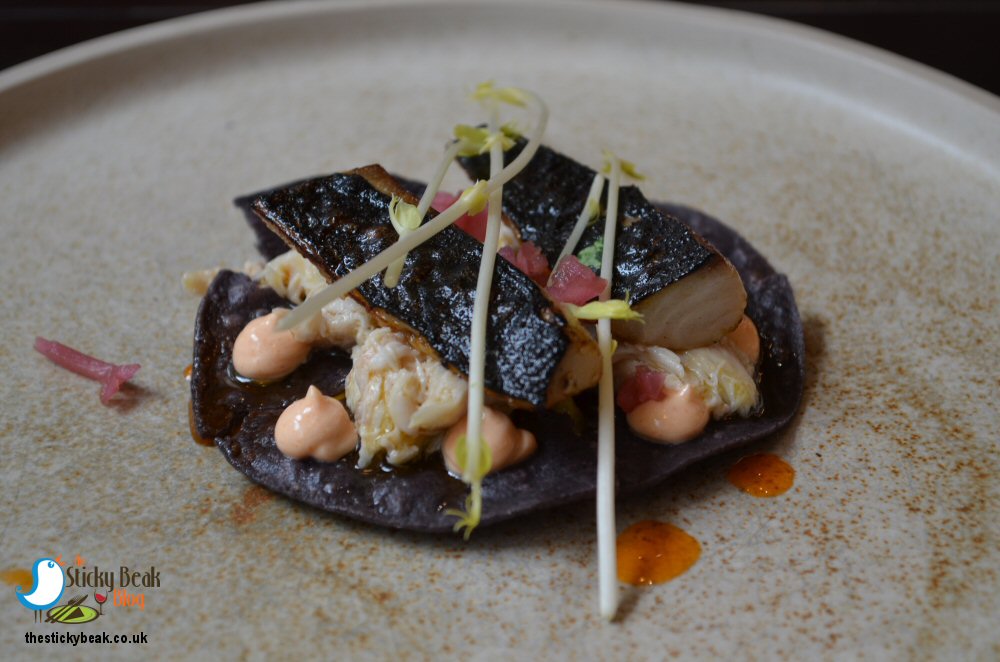 Chef Patron Troy Terrington is no stranger to producing top-table quality dishes, so no surprises that each starter was exquisite in its presentation. My mackerel was firm textured and beautifully fresh tasting, and I relished each bite I took; The Man declined to try any, deeming Mackerel to be "too fishy a fish"(?!). There was a superb crunch provided by the thin black wafer-type discs that the fish had perched on, and the creamy mashed Avocado balanced the zingy Chilli Crème Fraiche perfectly. This starter had pretty much everything sensation-wise that you'd ever want; I certainly thought it was delicious.




The Man Birds' Terrine was a full-on meaty beast that delivered a porcine punch with every bite. This had a superbly satisfying "chew factor" to it that demanded you take your time and savour its deep flavour with a bit of respect instead of merely wolfing it down. Sometimes you can have a bit too much meat and it becomes dry, but Chef Troy cleverly includes a gentle hint of meat jelly in the Terrine to avoid this amateur pitfall. The chutney was a divine combination of fruitiness and spice, gently dancing on the tongue with the piquant pickles. I managed to pilfer some of the puffed Pork crackling and it had a wicked crunch – just as it should be!

Danielle had come to check that we were enjoying our food and when she came to clear our plates away she took the opportunity to top up our water glasses and see if we wanted any more wine or lager.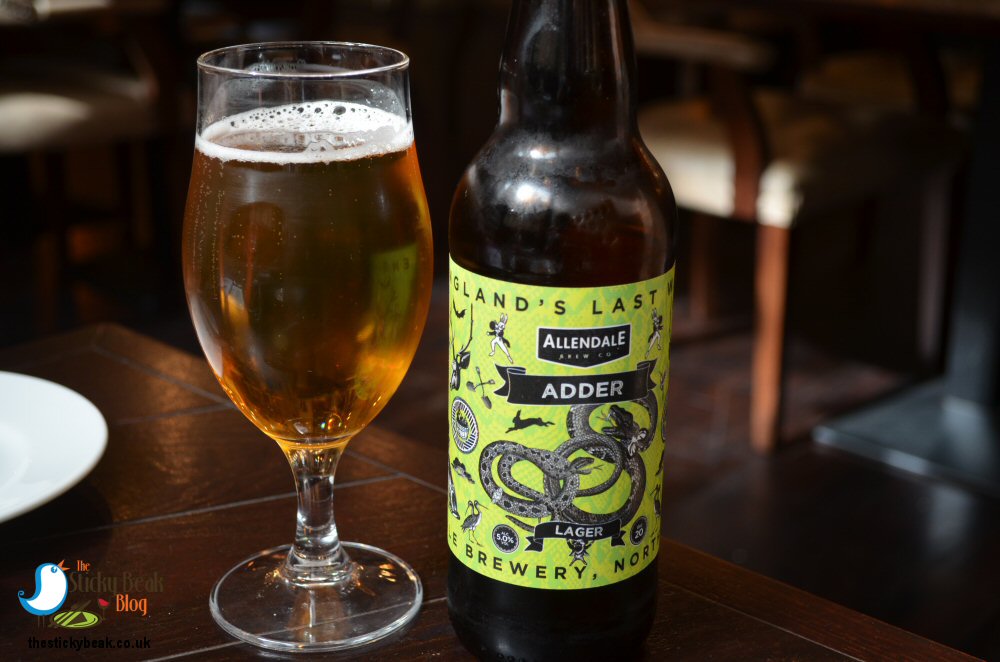 I couldn't resist having the braised Ox Cheek Bourguignon with Buttermilk mash and house-cured Bacon for my main (£17), much to His Nibs' disappointment (snooze and lose, buddy, I got dibs in first!); his disappointment was short-lived though as he spied the corn-fed Chicken breast with Orzo pasta and Watercress pesto (£16).

The braised Ox Cheek was absolutely blooming gorgeous! This was the ultimate in melt-in-the-mouth comfort food with an equally fab taste. I swear that I didn't even need to cut into it with my knife - it literally just fell apart in tempting ribbons as the knife approached. The meat was soft, juicy and utterly glorious; the only downside was that it wasn't an infinite portion! I loved the richness of the buttermilk mash too; it was incredibly creamy and smoother than glass which allowed the Ox Cheek to take even more of the limelight.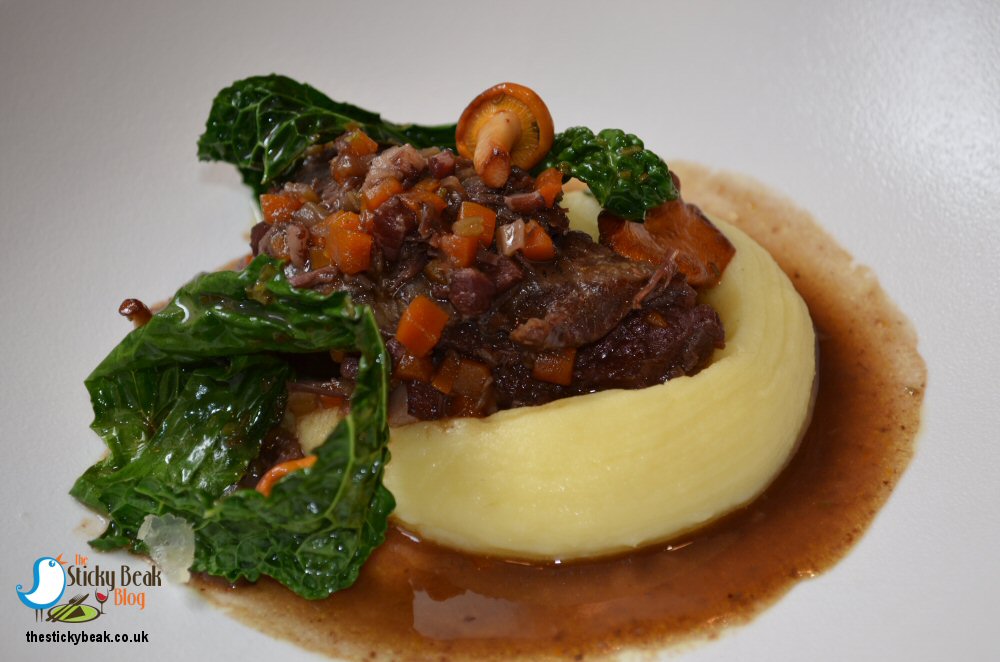 In with the red wine were tiny pieces of carrot and cubes of house cured Bacon and they had both soaked up all of the flavours within the wine and stock base – yummy. I was pleased that the Cabbage was still just-firm; nothing worse than soggy veg! This was a corker of a meal and perfect when you think about it really; no food coma in the afternoon as it's not especially Carb-heavy (if you have it for lunch) and proper appetite quelling, comfort food that hits the spot in an evening.

His Nibs was chowing down happily on his sizeable chicken breast, revelling in its creamy flavour. This particular piece of poultry was nice and dense texture-wise too - not tough at all, I mean hearty and satisfying to eat. The chicken lay on a nice deep bed of Orzo pasta and was garnished with mixed leaves and a generous amount of Parmesan shavings that melted gently with the heat. If you haven't had Orzo before, it's one of those food stuffs that trick you; visually it looks like rice or barley grains, but it's definitely pasta so it tastes different to what you expect! A bit like patting your head and rubbing your tummy, it's slightly "eh?" for a moment. The Man Bird really liked the zing of the Watercress Pesto; it had a great vibrancy to it that bounced in the mouth and lifted things on the palate.




We didn't order any sides of chips or vegetables, thinking that it was lunchtime and we didn't want to feel bloated as we went around the city afterwards. All the sides are priced at £4, so not about to break the bank.

Unusually, I was in one of those"I don't know what I fancy for pudding" moods, which was not like me at all – normally it's a case of see it, eat it! His Nibs said he could've gambled on me choosing the whipped Coconut, slow cooked Pineapple, seed and nut Granola choice, so he was shocked when I said I was just going to have sorbet. When it came to his choice there was no surprise; Dark Chocolate Mousse, Banana, and Honeycomb crunch had got his name written all over it.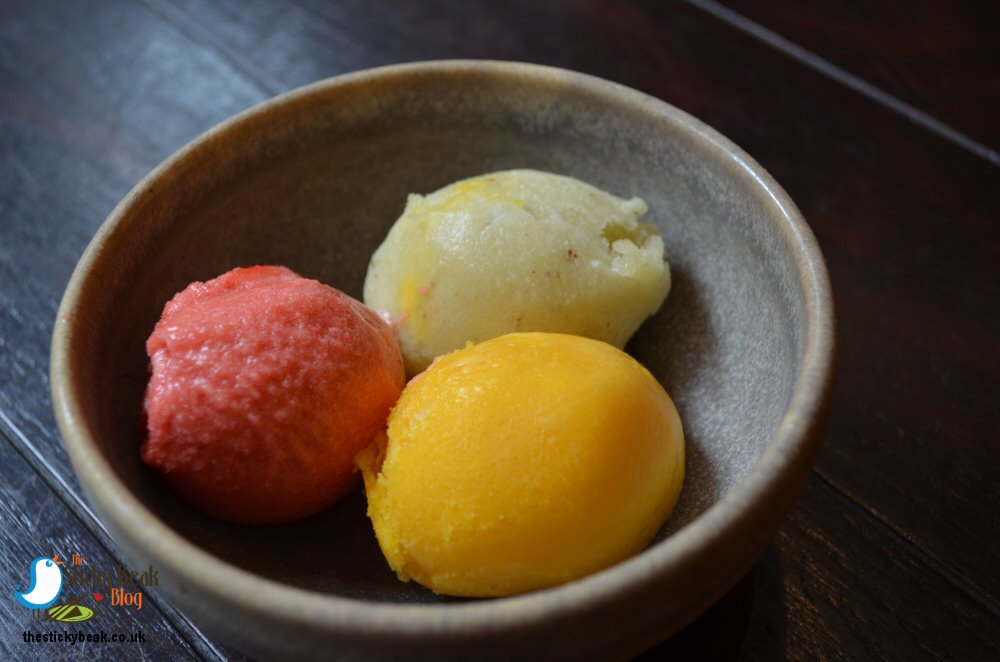 Danielle reeled off all the choices of Ice Creams and Sorbets on offer that day; they're made fresh every day so the selection changes constantly. I eventually settled on Fruits of the Sun (Strawberry, Raspberry and Elderflower), Mango, and Kiwi sorbets, figuring they would make a real rainbow of flavour in my mouth. I wasn't disappointed! In the bowl they looked stunning with their bright colours popping next to each other, and they tasted like tropical sunshine. The Kiwi sorbet was the tartest of the trio; the other two were sweeter, especially the Mango variety.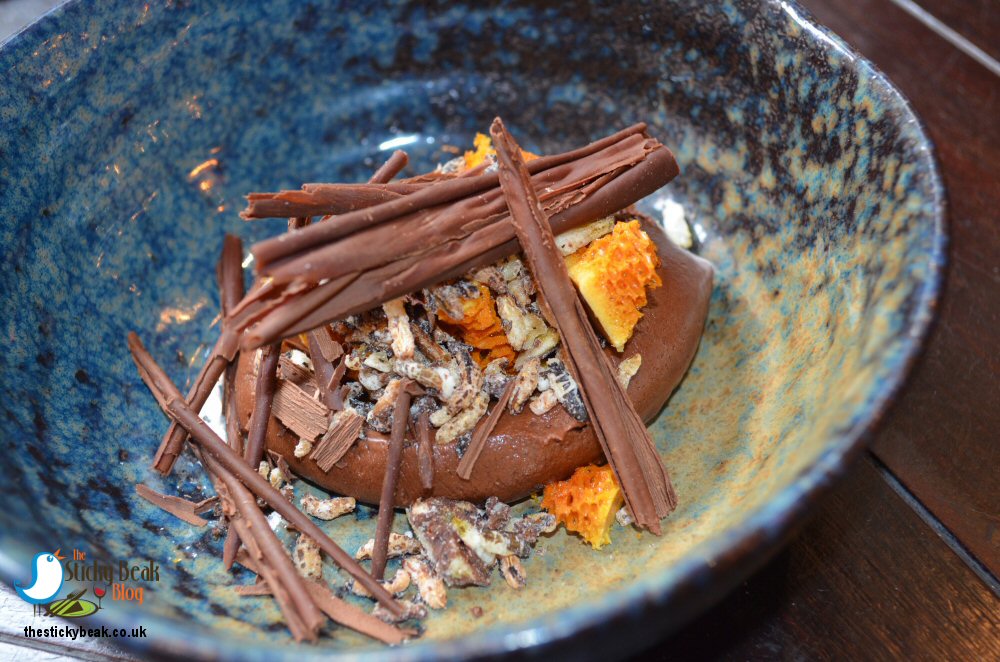 The Chocolate Mousse was fabulously indulgent; really intense in its cocoa taste with an equally stunning velvety texture. We both thought that the Banana would be stronger than it actually was, and it was all the nicer for it being just a whisper. The crunchy Honeycomb and puffed rice pieces added a great textural element to the dessert and he munched and crunched away quite happily!




As you know, we often have a coffee to end our meal, treating it as a final course really, and this day was no exception. Sometimes coffees come with a little treat, sometimes they don't and you just have to deal with what you get. At Dobson and Parnell our drinks came with a generous square of White Chocolate and Ginger fudge (homemade, of course!) and we both grinned with happiness when we saw them peeking out from behind the cup. The fudge was delicious with its creaminess and warming heat from Gingers touch – the perfect way to bring our time at Newcastle's Quayside to a close.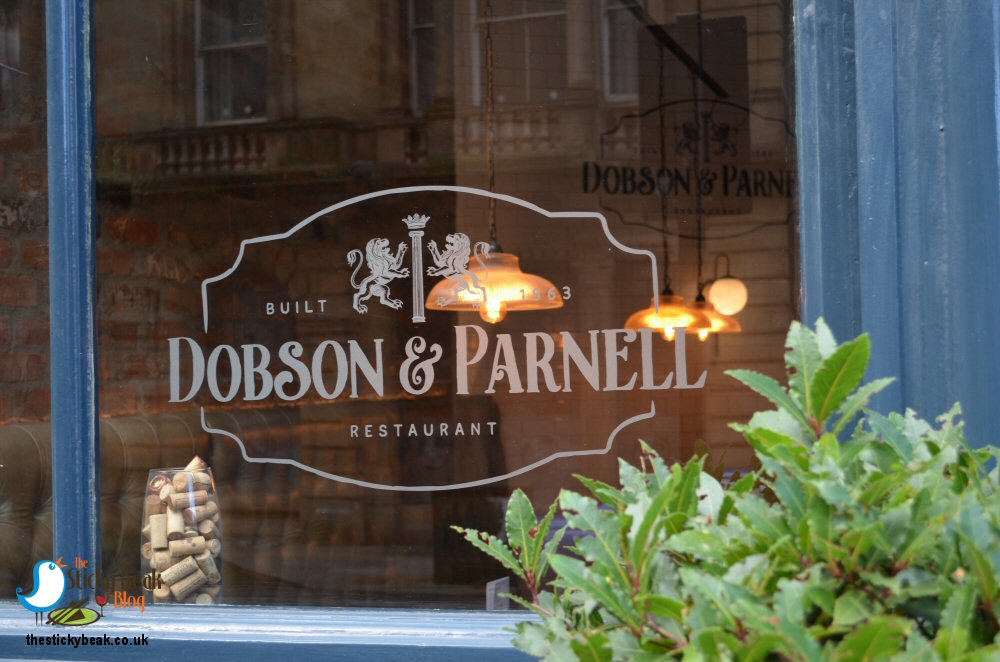 Hot Wings happily given here – ho'way pet!!

You can contact Dobson and Parnell on 0191 221 0904
Visit their web site at www.dobsonandparnell.co.uk
Sign up to their Newsletter for future offers, discounts and news
Some form of incentive was provided to visit this venue
read more
Read Some Of Our Recent Reviews
---

Out For Dinner At The Bear Inn, Alderwasley If it's the full on, single track road, rural Derbyshire experience that gets your motor running, then the journey to The Bear Inn at Alderwasley will have you in joyous raptures. For those of you who are Read The Article

---

Lunch At The Recently Opened Chatsworth Kitchen At Peak Village, Rowsley Everyone who knows me, knows I love Chatsworth (always have, always will) so when the invitation to sample lunch at the newly opened Chatsworth Kitchen Read The Article

---

A Visit To Vietnamese Street Kitchen, Resorts World, Birmingham Way back in the day (pre-covid) Fledge had bought me and The Man Bird tickets to see Mrs Browns Boys live and finally, after a couple of false start reschedules, the day of Read The Article

---

Sunday Lunch, A Museum Tour & Painting A Piece Of Denby At Denby Pottery Village It wasn't long ago that His Nibs and I visited the Denby Pottery Village to sample the Afternoon Tea at Bourne's Coffee Shop and Bistro (it was superb Read The Article

---

Bottomless Brunch At Turtle Bay In Derby The timing of the invitation from the Turtle Bay team in Derby to go and sample their Bottomless Brunch couldn't have been better; not only was it going to be The Man Birds' birthday a couple of days later Read The Article

---

Afternoon Tea At Santo's Higham Farm Hotel & Restaurant Aaaaaarggggh, don't you love your children??!! A while back, His Nibs had spotted a great deal on Groupon (you know what a bargain hound he is!) and thought it would be Read The Article

---

Sunday Lunch At The Countryman Pub & Dining, Kirkby-in-Ashfield We finally got to visit a venue thats been on our radar for quite a while, The Countryman Pub and Dining in Kirkby-In-Ashfield! A few weeks ago we tried to book a table for dinner Read The Article

---

Dinner At The Divan Turkish Restaurant In Chesterfield Chesterfield was welcoming us back again for our latest review visit; this time to the newly opened Turkish restaurant, The Divan, on Lordsmill Street. Owner Tuncay (along with Read The Article

---

Breakfast At Marsh Green Farm Shop & Cafe, Kelstedge Ah, you've gotta love a Bank Holiday curve-ball, haven't you? His Nibs and I headed over to Mummy Birds' gaff with the intention of having a leisurely couple of hours at the Sunday Read The Article

---

Afternoon Tea at Bourne's Coffee Shop and Bistro, Denby Pottery Village You all know that The Man Bird and I do like an Afternoon Tea; I mean, who doesn't?! Just a few miles down the road from the nest is Denby, home to the world-renowned Read The Article

---