Out For Dinner At The Recently Opened Angelo's Bistro in Duffield
---
Published On Sunday 28 Jul 2019 by Sticky Beak
See Recent Dining Out Reviews | See All Recent Reviews


A while ago, The Man Bird and I visited Angelo's at The New Inn in Belper and really enjoyed it, so we were saddened to hear that it was shutting. No need to panic, they were merely relocating a couple of miles down the road to Duffield! I'd love to say that we went along fairly speedily to the new venue, but I'd be lying; I've said it before but when something is on your doorstep, you think "ooh, we'll go next week".
In all honesty we have been meaning to visit, so I'm not telling huge whoppers, and thankfully the chance came when Daddy Bird was off gadding with the boys for the day. Mummy Bird was at a loose end, so she called us up and asked if we'd like to go out for dinner at the weekend (heck yes!!), so we booked a table, pronto.

Normally finding a parking spot in Duffield isn't a problem but we hadn't reckoned on the weather being gloriously sunny for Duffield Carnival, so everyone and their granny were out and about! It didn't take The Man Bird long to find a space though, just a couple of minutes walk away. Angelo's Bistro is located at the side of The King's Head pub and their courtyard was proper throng as we approached! Inside the pub was fairly lively too, but as we walked through the glass door that joins the two separate businesses, a completely different vibe could be felt.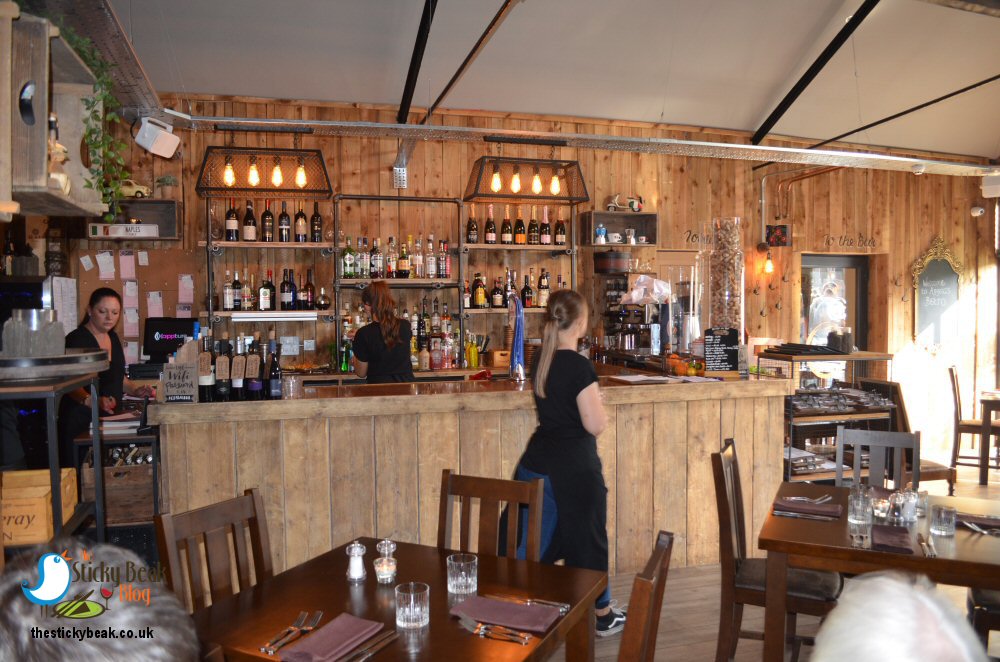 Angelo's bistro has a wonderful light, airy "barn conversion" feel to it with its wood floors, red brick walls, and high ceiling with beams and metal cross-struts. Sleek glassware, sparkling cutlery and thick cloth napkins on the table give an air of refinement to the venue, and we were looking forward to a top-notch meal.




The Man Bird ordered a pint of Peroni, whilst Mummy Bird and I decided that we'd have a bottle of Pinot Grigio between us. Given the warm weather, Carly (co-owner) was taking good care of her diners and brought over a couple of bottles of chilled water for our table. We were handed the main menu to look over, which offers a great choice of dishes, and then the specials board was brought over too – and this was also an extensive selection to choose from.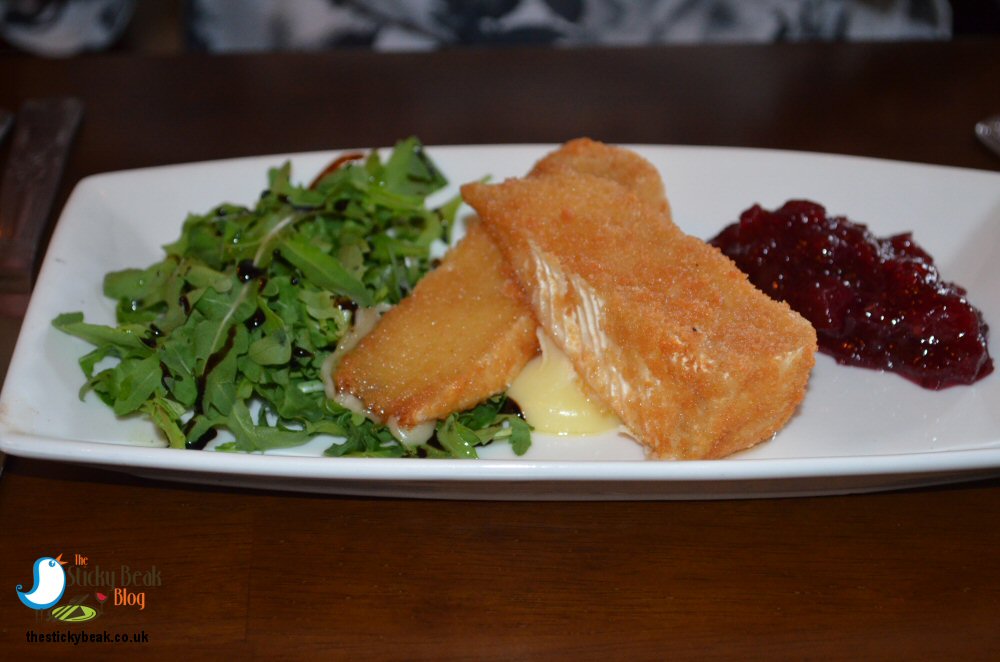 Mummy Bird ordered the breadcrumb-coated Brie wedges with Cranberry sauce, His Nibs had the homemade Meatballs in a Tomato and Garlic sauce (both from the main menu), and I had the Fillet of Lamb on a bed of Rocket with Feta cheese from the Specials board.
Every dish is cooked fresh to order, so when the starters arrived they were all piping hot and smelling jolly tempting! Presentation-wise all three dishes were fantastic as you'd expect from a venue that prides itself on attention to detail and has high standards.

Mummy Bird was well impressed with the lightness of the fried breadcrumb coating on her Brie; it was nice and crunchy, but not too much. The accompanying Cranberry sauce was pleasingly chunky in texture and had that great tart edge to it that partnered the creamy Brie rather nicely. Wonderfully peppery Rocket leaves dressed in Balsamic provided a great punch for the palate, making this an all-round superb starter.




Nobody makes Meatballs like the Italians. Fact. And the ones at Angelo's are just incredible: imagine your perfect Meatball and Tomato sauce combo; have you got it in your mind, can you taste it? Now, I don't know how they manage to do it (must be some sort of magic) but Angelo's kitchen conjure up your dream one! The marvellously dense textured meatballs are all meat, no filler, and so they burst to life in your mouth; His Nibs was grinning like a child on Christmas morning. You have to have an intense, punchy sauce to go with Meatballs and again Angelo's deliver the goods; mouth-wateringly good, powerful, and with a fab kick of Garlic to get the juices flowing. Good wedges of fresh bread were also on the plate, although not for long – they were soon mopping up every last drop of sauce until the dish was squeaky clean!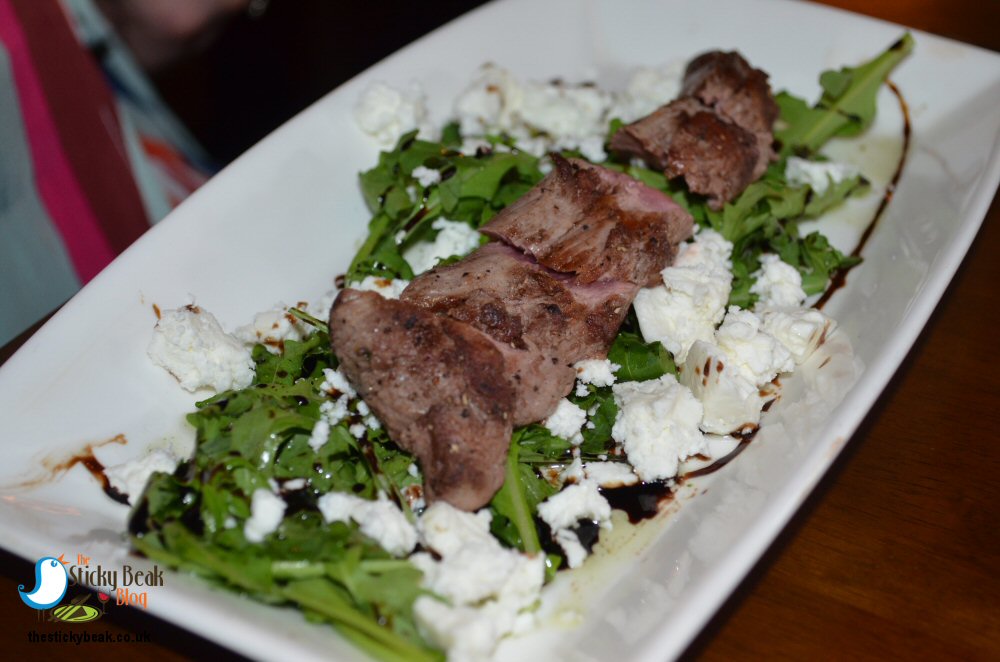 Angelo's serve the Lamb pink, which is great by me, and the fillet had been sliced into lovely little slices before being placed on a bed of Balsamic dressed Rocket leaves. Pristine white crumbs of Feta cheese were scattered around the perimeter of the plate, adding their own tang to the mix and popping against the beautifully tender, flavoursome Lamb. Stunning is a very apt description of this dish – it was sublime.

The whole team at Angelo's offer fantastic standards of customer service, and there was always someone checking we were ok, or topping up drinks, or clearing plates away. Nothing was too much trouble and everything was done with a smile, which makes a huge difference to anyone's dining experience.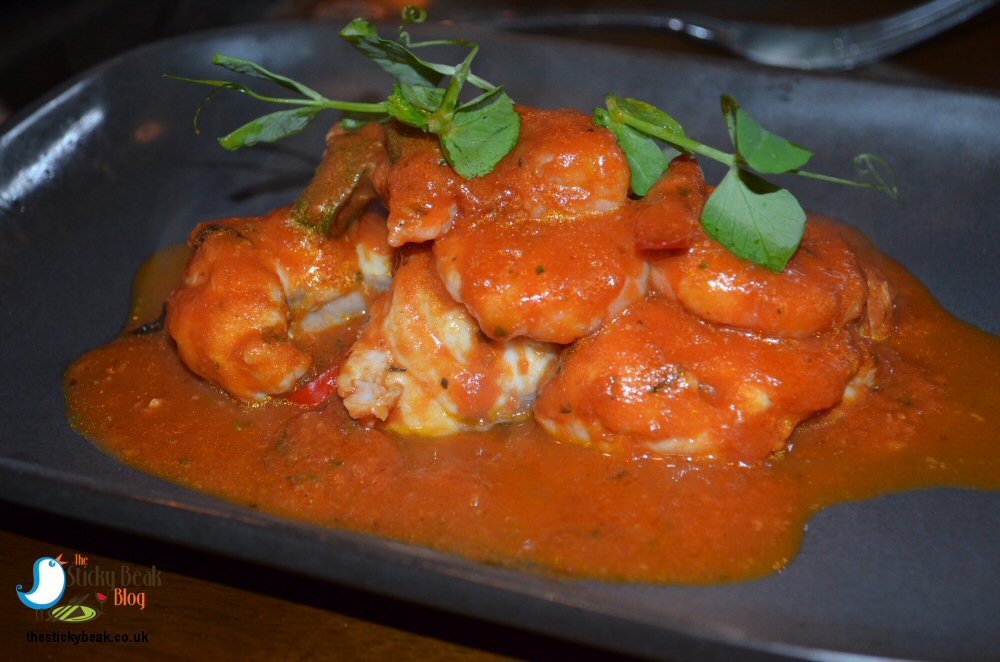 I had also gone for one of the specials for my main course: Monkfish with King Prawns in a Tomato and Chilli sauce served with fresh vegetables. His Nibs and Mummy Bird had gone for regular menu options; Fillet Steak Medallions in a Cream, Mushroom, and Brandy sauce served with fresh vegetables and Potatoes, and Linguine pasta with Fresh Salmon, Cod, Mussels, and King Prawns in a light Tomato and Garlic sauce, respectively. His Nibs' potato choice was garlic and herb cubes. We also ordered sides of mixed Salad and Onion rings to share between us all.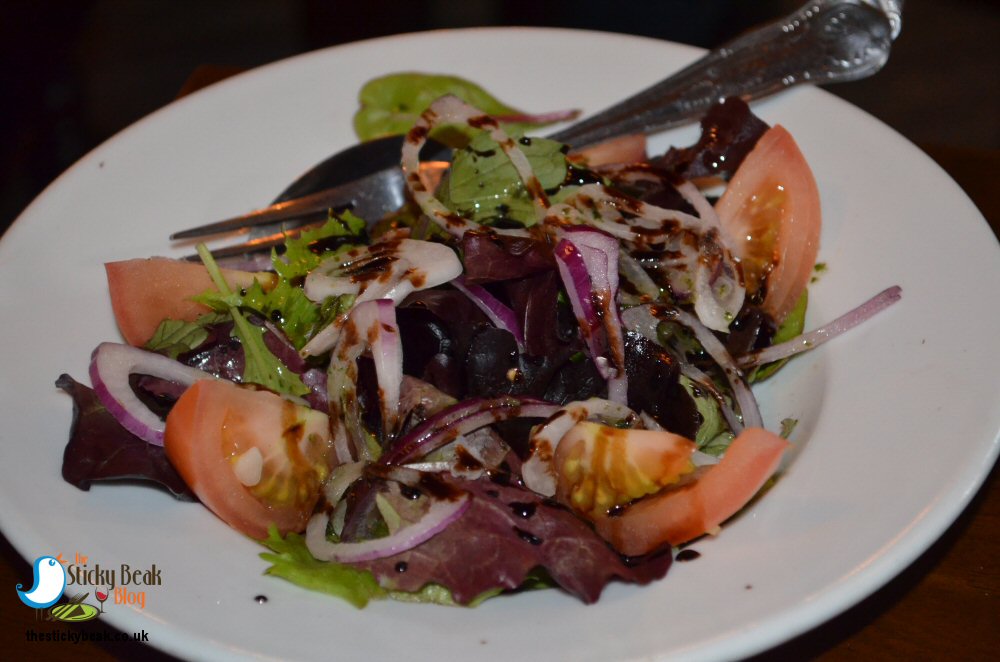 I had to do a double take when I saw the size of the King Prawns – they were huge, and I do mean mahooooosive! Better still, they were beautifully sweet and succulent, and not at all overcooked. The Monkfish fillet was gorgeously thick with a great firm texture and it melted in my mouth instantly. Yet again, Angelo's Chefs had got the sauce spot-on; a great fusion of Tomato and Chilli hit my palate and both elements were balanced perfectly. At £22.50, it might not have been the cheapest item on the menu, but it was worth every single penny, believe me. Whole baby Carrots and just-crunchy Mangetout completed the meal superbly, as did the crunchy mixed salad with its crisp, cool Tomato, Red Onion slices and mixed leaves dressed in oil and Balsamic.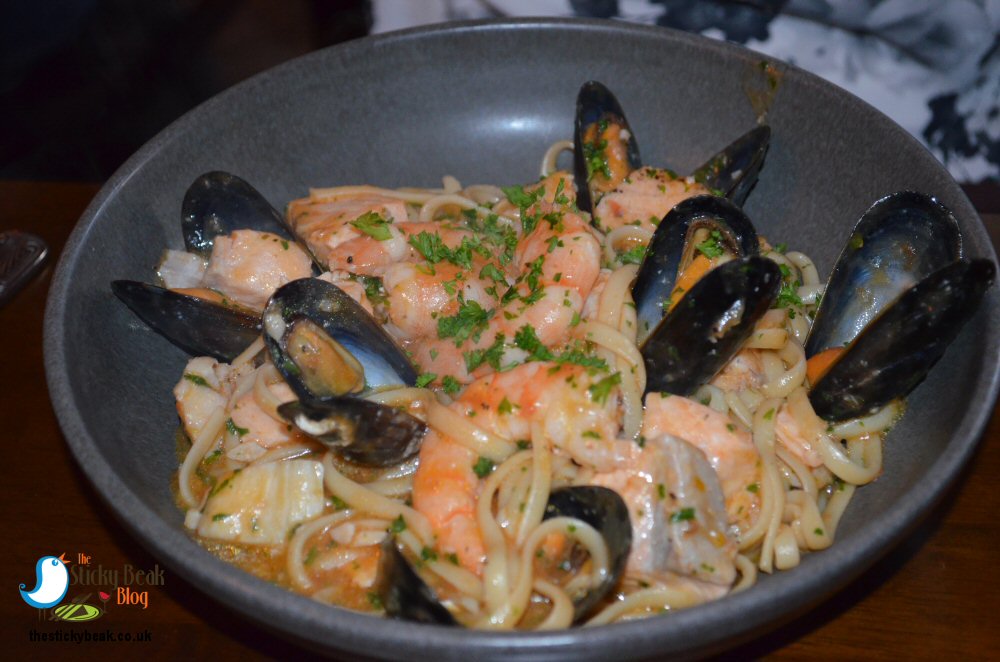 Mummy Bird gasped in delight at her Fish- and seafood-laden Linguine too – then promptly had it smothered in more grated Parmesan than Italy produces in a year! One of the Angelo's team brought out a bowl for the Mussel shells to be discarded into, and a finger-cleaning towelette too. The Linguine was perfectly al dente (let's face it, you'd be a bit worried if your pasta wasn't en pointe in an Italian restaurant, wouldn't you?!) and both types of fish were moist and superbly cooked. The Mussels were sweet too, as were the King Prawns; in fact, the whole dish was delicious and perfectly executed.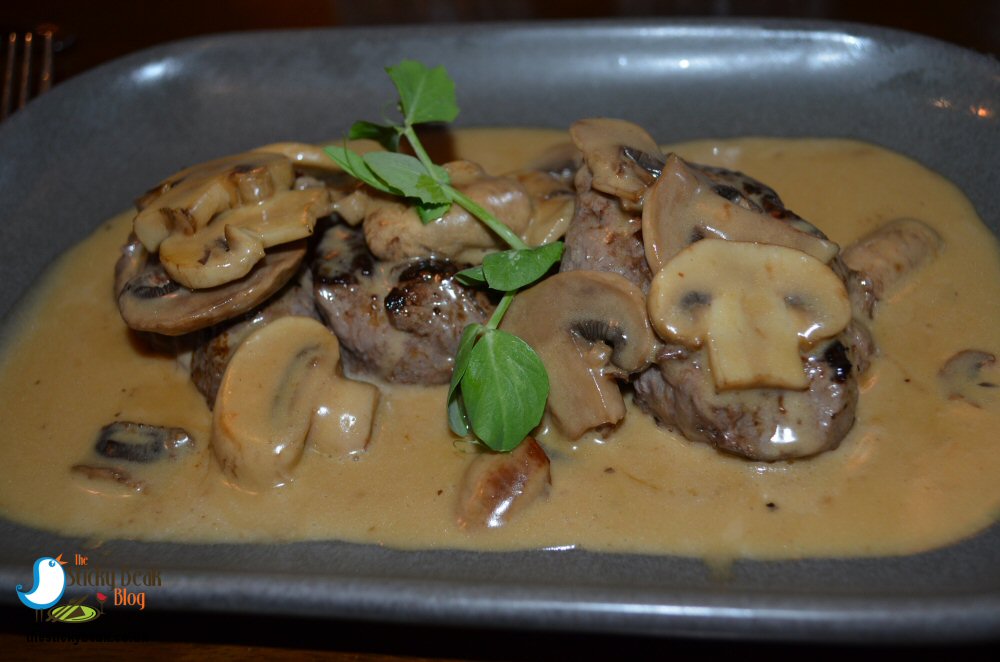 Another thing the Italians do well is cook steak, and The Man Bird's Fillet medallions were exquisite. His steak was medium-rare, and I mean precisely medium-rare, with possibly the richest beef taste you'll try in a long while. And the sauce; well that was rich and sumptuous, indulgently creamy with a fab hint of Brandy and slices of mushrooms nestled within it. As with mine, the vegetables were marvellous and the Potato cubes were nicely herbed with that garlicky tinge that reveals itself gently. A light, crisp batter covered thick slices of Onion that had a good seasoning to them. That'll be three clean plates going back to the kitchen then!.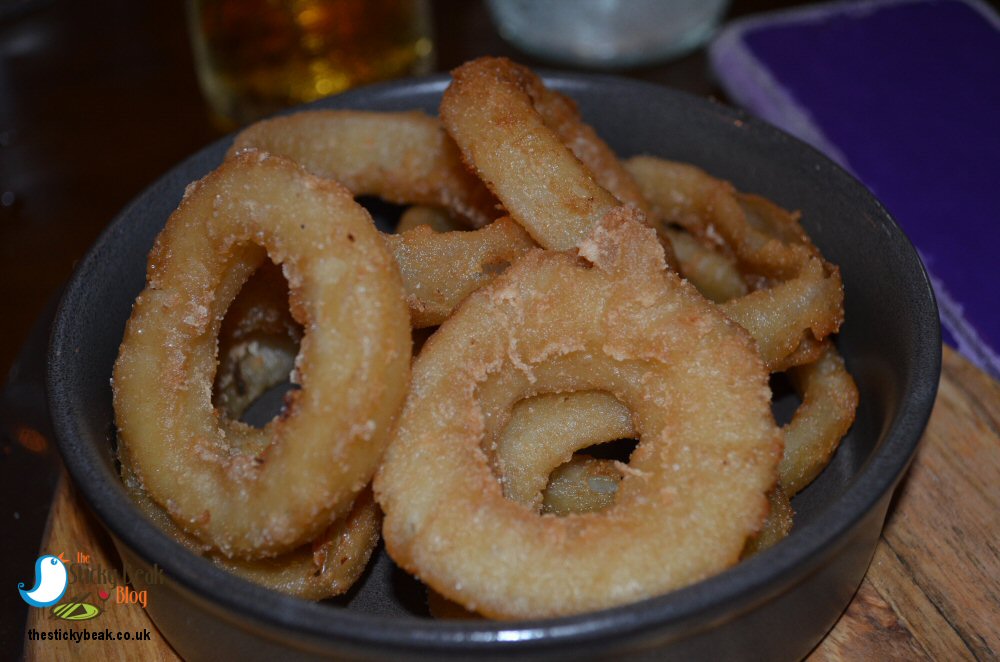 By this point in the evening, Mummy Bird had to wave the flag of surrender so no pud for her! However His Nibs and I are made of sterner stuff (i.e. complete gluttons) so I plumped for Tiramisu and he went for the Trio of Chocolate Mousse, with tea and coffees to follow.




The best Tiramisu I've ever had the pleasure of eating was made for me when I was a newly qualified nurse in my first post near the south coast. The maker of this heavenly treat was an Italian care assistant, Giovanna, who I called my "Mummy number 2" because she took me under her wing somewhat and always brought food when we worked shift together. She whipped cream and layered it over coffee –soaked sponge biscuits, then grated chocolate over the lot and chilled it.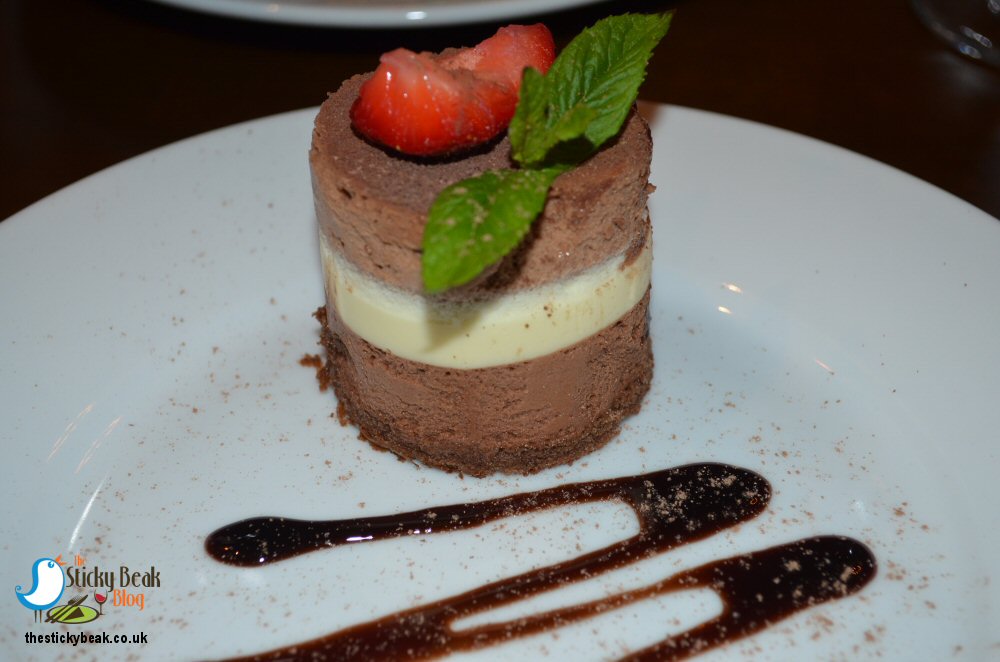 A couple of decades have passed and despite trying many other Tiramisu, none have ever come near to Mummy 2's delight. Until I tried Angelo's Tiramisu, that is. My god, what a total treasure; it was completely heavenly; if this doesn't "pick you up" then you're dead! The biscuits weren't soggy at all and had a lovely coffee tone to them, with cloud-light cream and cocoa dusted on the top. If I had been presented with the whole tray of this I would've gorged on it until I popped! As it was, I contented myself with every mouthful available to me.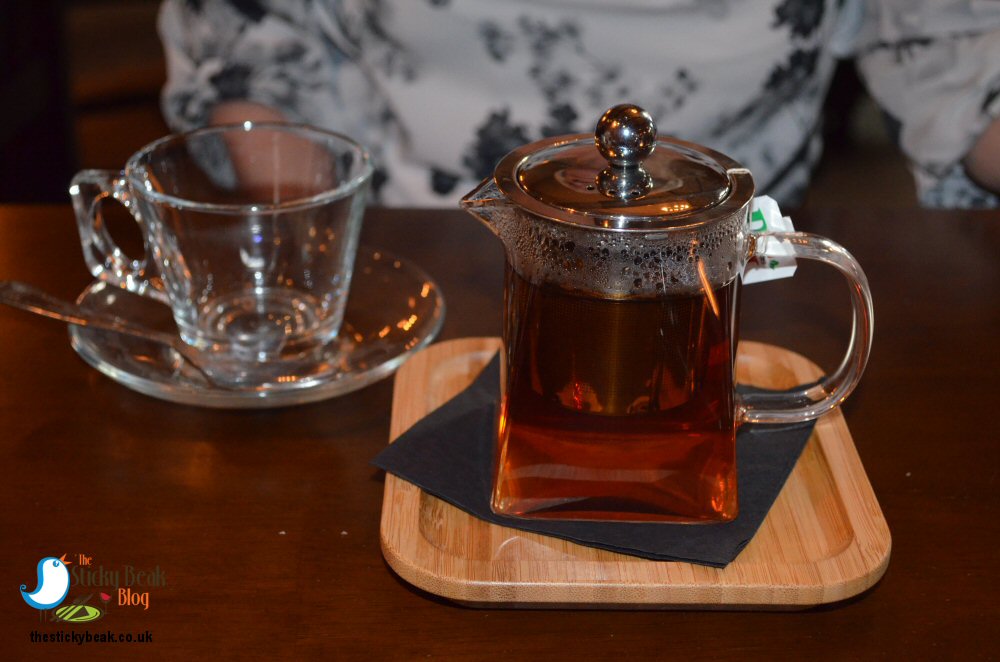 I did manage to obtain a small sample of The Mans' Trio of Chocolate Mousse and it was brilliantly light-textured but indulgently rich in taste. Visually, it was simply beautiful to behold, with the tones of the different chocolates gently layered one upon the other. Unusually there was no base of fine biscuit crumb, it really was just the chocolate mousse that you got.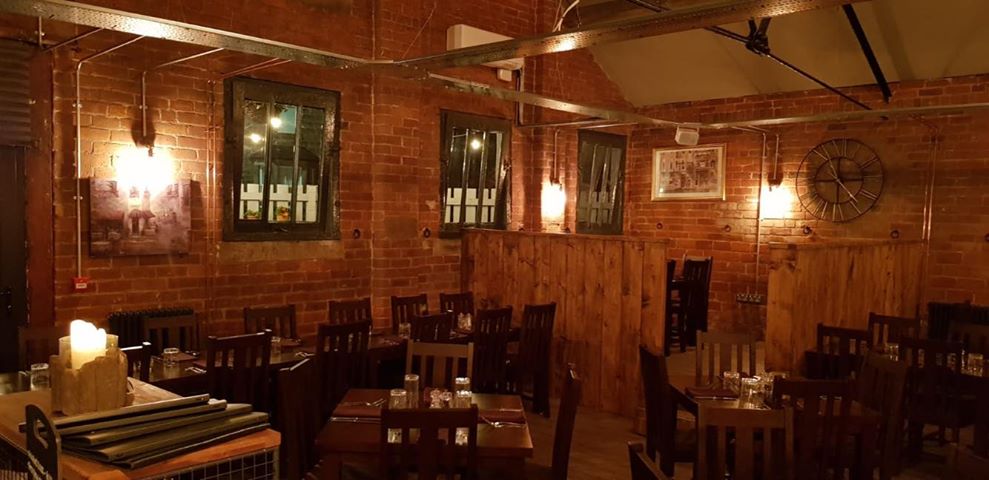 We had our hot drinks and then for one final treat (we really didn't want to leave, we were having such a lovely evening!) we had some chilled Limoncello, which cleansed our palates in style. Hot Wings given gleefully to Carly and Angelo, and their team at Angelo's Bistro in Duffield.
No incentive was provided to visit this venue
read more