Dinner At The Recently Opened Istanbul BBQ Turkish Restaurant in South Normanton
---
Published On Sunday 2 Jun 2019 by Sticky Beak
See Recent Dining Out Reviews | See All Recent Reviews


I have a bit of a confession to make; The Man Bird and I are terrible when it comes to visiting venues on our own doorstep. I'm sure we're not alone in our "we'll visit next week" mentality, but somehow the next week turns into the next month, and then before you know it six months and then a year have passed! This time, we were determined to change our ways when we heard of a new Turkish restaurant opening a couple of miles from Beak H.Q.
Istanbul BBQ Turkish Restaurant is easy to find on the main road of South Normanton and we managed to grab a spot to park literally in front of the venue, on the road.We weren't the first ones in, dining; there was already a couple eating, and we were closely followed by another pair of couples. The takeaway bit of the business was pretty lively too, nice to see that word was spreading after only 5 weeks of trading. As you know, I always say to people to support their local ventures or risk losing them.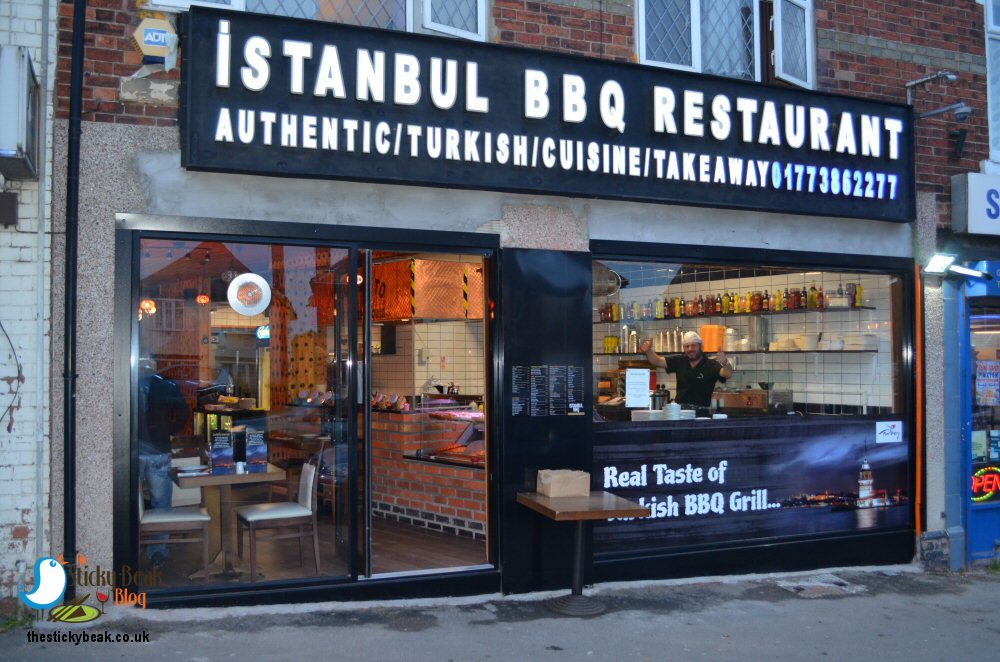 All the various meats on their metal skewers are on display behind a counter at the front of the restaurant, adjacent to the open kitchen and its long charcoal-fuelled cooking pit. Alex was busy cooking up a storm for takeaway orders and the smells coming across the room were making my nose twitch and my mouth water. His Nibs and I won't be visiting Turkey this year, so this was going to have to be my culinary fix for the foreseeable!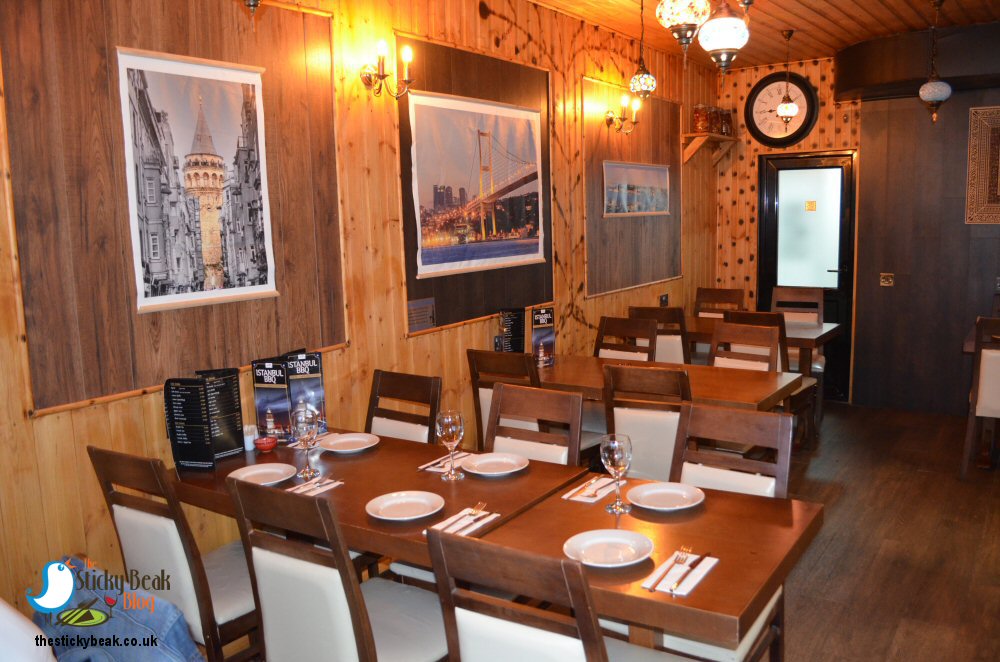 Istanbul BBQ probably has seating for about 25 people, so it isn't the hugest place we've visited; it has a lovely cosy feel to it and Zaf makes sure everyone feels like friends rather than customers. Tones of caramel, toffee and rust brown form the basis of the decor, which isn't fancy (in typical Turkish fashion) but is clean and unfussy. Prints from around Turkey hang on the walls; one thing about the Turks is the pride they have in their country.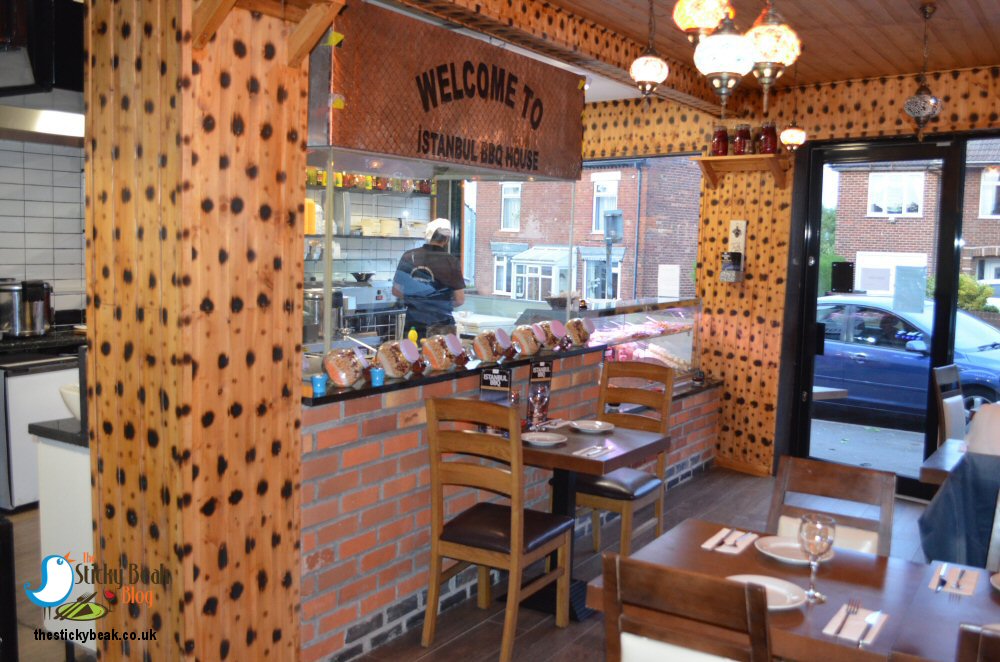 All the Meze cold starters are priced at £2.50 or you can have 4 for £8, and His Nibs and I really couldn't decide – plus I fancied the hot starter of Sigara Borek (fried pastry rolls stuffed with feta, parsley and egg). Zaf made the decision for us, placing a trio of cold starters before us: Dolma, Mixed Olives, and Humus, along with some fresh, warm flatbread slices.




The Humus was gorgeous! It had a lovely almost-smooth texture and had a wonderful hit of garlic to it that really hit the spot for us both. Whilst I turned my attention to the Black and Green Olives with pieces of citrus peel and herbs, The Man continued walloping his way through the Humus. I absolutely love Dolma (stuffed Vine leaves cooked with rice, onions, peppers, pine nuts and herbs) so I got straight down to business; His Nibs hung back a bit –you know what he's like with "green stuff"! Having recently been whipping up Spinach and Butternut Squash curries and him eating them quite happily, I decided enough was enough and told him to stop whining and try a mouthful. He duly did as he was told (see, miracles do happen!) and really liked it; so that was that, I had to hand over one of the Dolma to him. I should've kept my trap shut, shouldn't I? That's another one of "my" foods that he's decided he likes!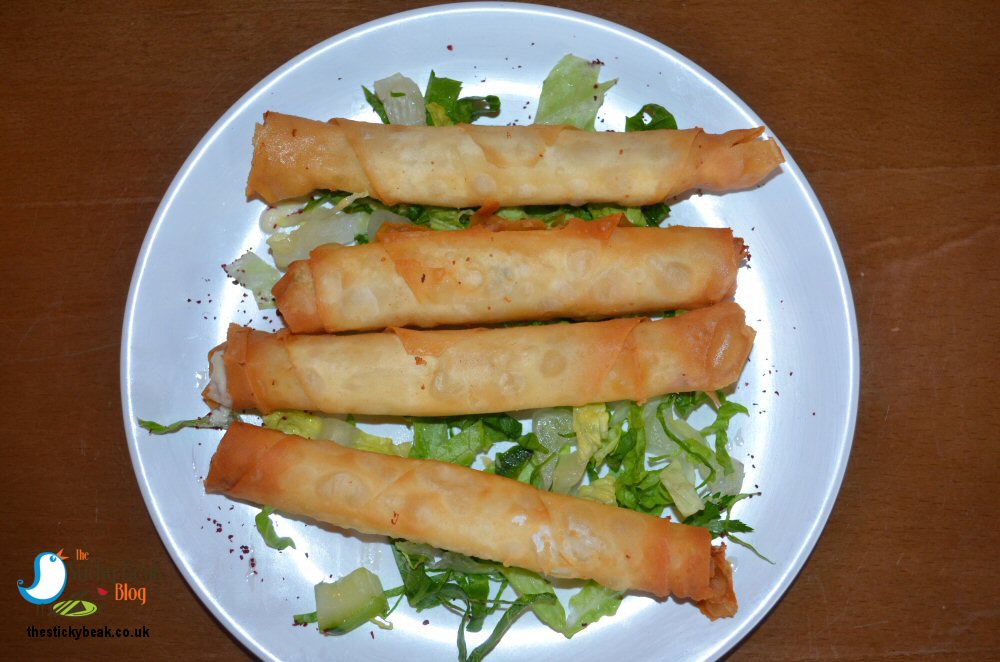 I did order the Sigara Borek as well, and Him Indoors had some Calamari - £4 and £5 respectively. Oh my days, the Borek were amazing. The filo pastry outers were fried gorgeously golden and were super-crispy, giving a great crunch when bitten into. In contrast, the Feta cheese, Parsley and Egg filling was soft and satisfying, plenty of taste to be had from the tangy Feta and the fresh Herb note. I felt rather smug at having made such a good choice.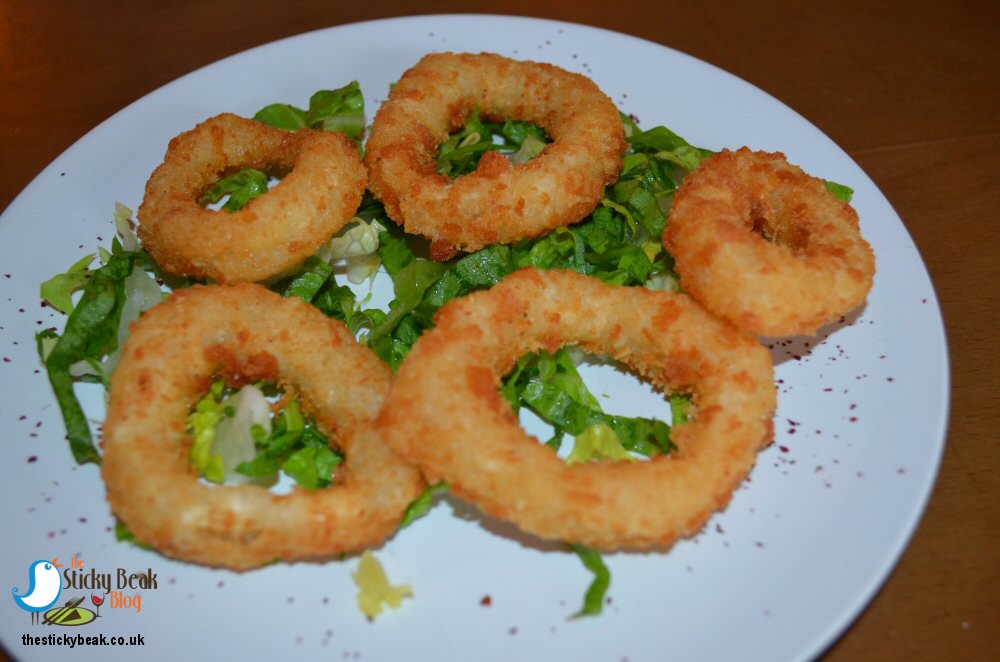 Turkey is a vast country with an equally expansive coastline, and so fish and seafood make up a large part of the everyday diet out there. Stands to reason then that Alex was going to know how to cook Calamari properly, doesn't it? Every mouthful was soft and flavoursome as it should be, not at all tough and rubbery, and His Nibs was grinning with delight as he chewed his way steadily through the 5 pieces of seafood. The batter coating the Calamari rings needs its own mention really as it was fantastically light and crispy with no trace of grease at all. Both our hot starters came with a small salad of shredded lettuce and fresh herbs, making them a really lovely beginning to our meals.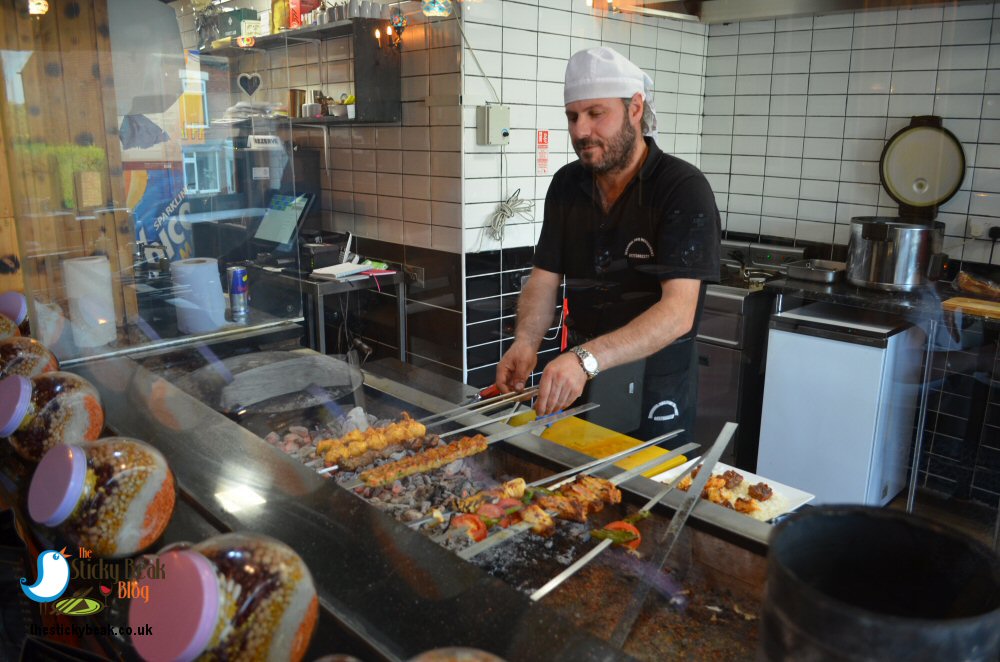 As with the Meze, there was a huge choice of main dishes to tempt us; eventually we decided to go for the Istanbul Special Mix for 2 from the Sharing Platters selection. Comprised of Chicken Shish, Lamb Shish, Lamb Kofte, and Chicken Beyti (served with rice and salad) we thought it sounded great value at £18.

Well, honest to goodness, we didn't think it was going to be measly, but we weren't expecting the huge platter that arrived! The marinated cubes of Chicken and Lamb (the Shish) were big enough – and ridiculously juicy and tender - but the minced, herbed and spiced Lamb patties of the Kofte were even bigger as were the parcels of minced BBQ spiced Chicken that made up the Beyti. Without exception, the meats were all succulent and redolent with heady spices that gave the palate pause for thought.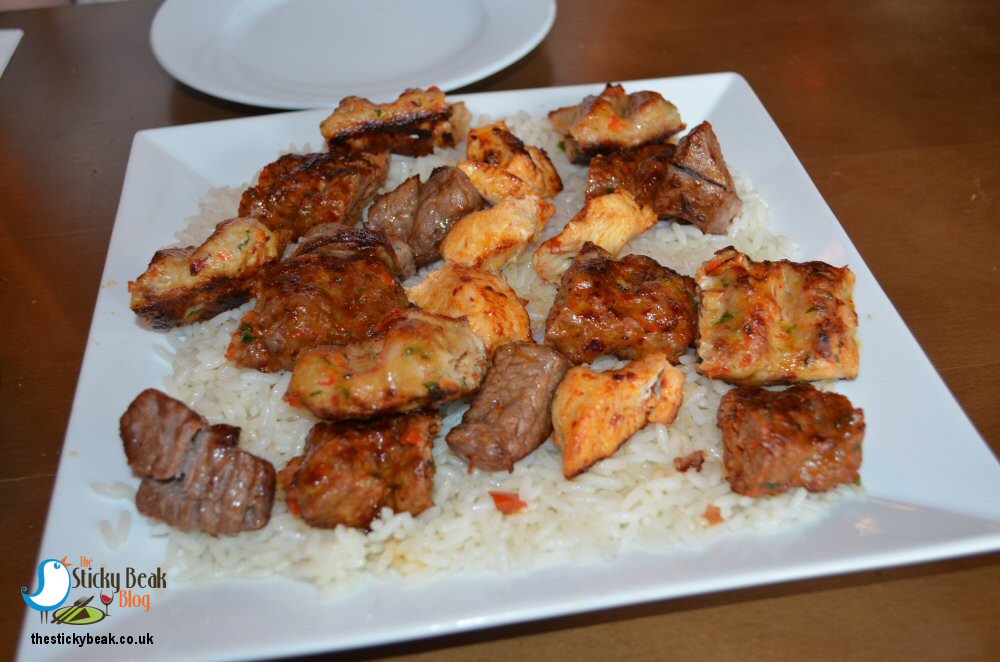 A spicy Chilli and Tomato paste also came with the mixed platter, in a separate little dish. If you like heat then this is right up your street, subtle is not a word you'd use to describe this! There's no denying the heat that it had but it was a pleasantly sweet-edged heat rather than a harsh, bitter one, and the texture was great as the chilli seeds had been left whole.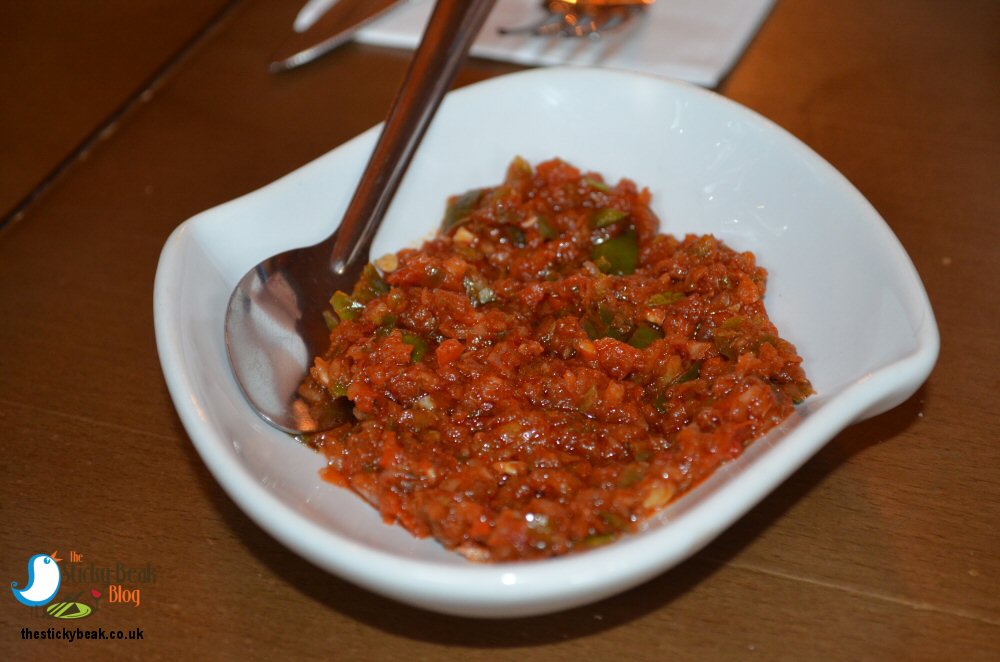 The meats were nestled on a deep bed of glistening, fat grains of white rice. I adore the way that the Turkish people do their rice with butter; it makes it something more than just mundane – especially when spices are added. Each grain of rice was fluffed up and none of them stuck to their neighbour, making it a delicious, light accompaniment (even with the butter factored in!).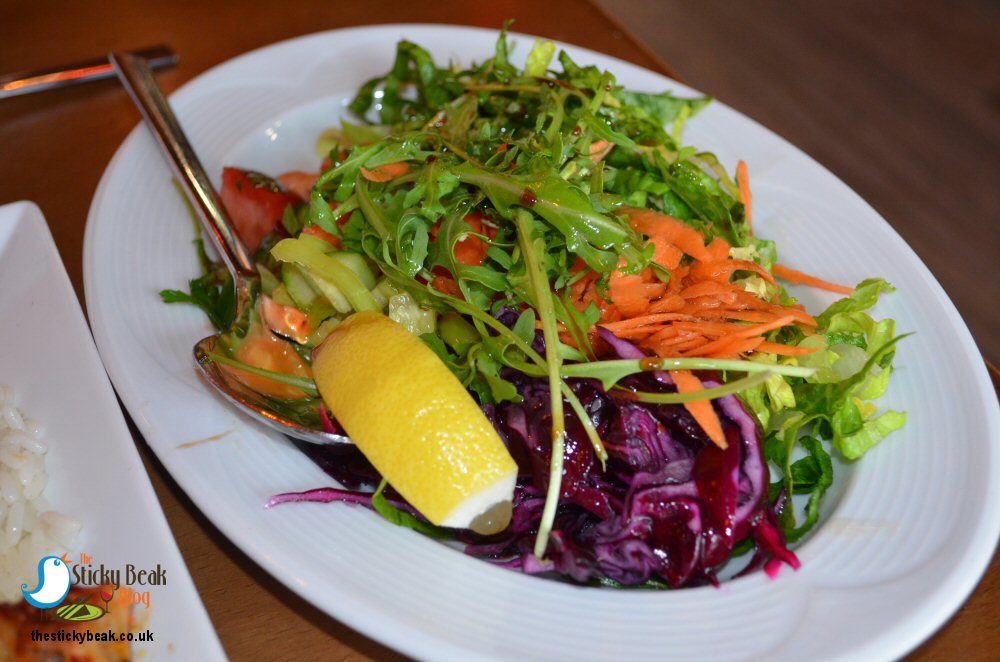 Salads play a massive part at mealtimes in Turkey and the salad platter at Istanbul BBQ restaurant in South Normanton was a veritable orchestra of colour and texture. Sliced Red Cabbage, crunchy grated Carrot, striated Cucumber, juicy slices of Tomato, and verdant herbs and lettuce were all cool, crunchy and crisp and His Nibs and I grazed on them all at our leisure.

Zaf had been a whirlwind all evening, making sure that everyone was happy with their food, clearing plates away, fetching drinks and chatting away to all and sundry. Having cleared our main courses away he asked if we wanted dessert (!); my beady eyes had spied the Baklava as soon as we'd sat down and there was no way I wasn't having some of that treat! Baklava is a relatively simple thing, made up of pastry filled with a mix of honey, nuts, and fruit in varying combinations depending on the region or specific family recipes, but it's always sweet and utterly enchanting. Four pieces of the sweet treat costs £4 and it's well worth ending your meal with.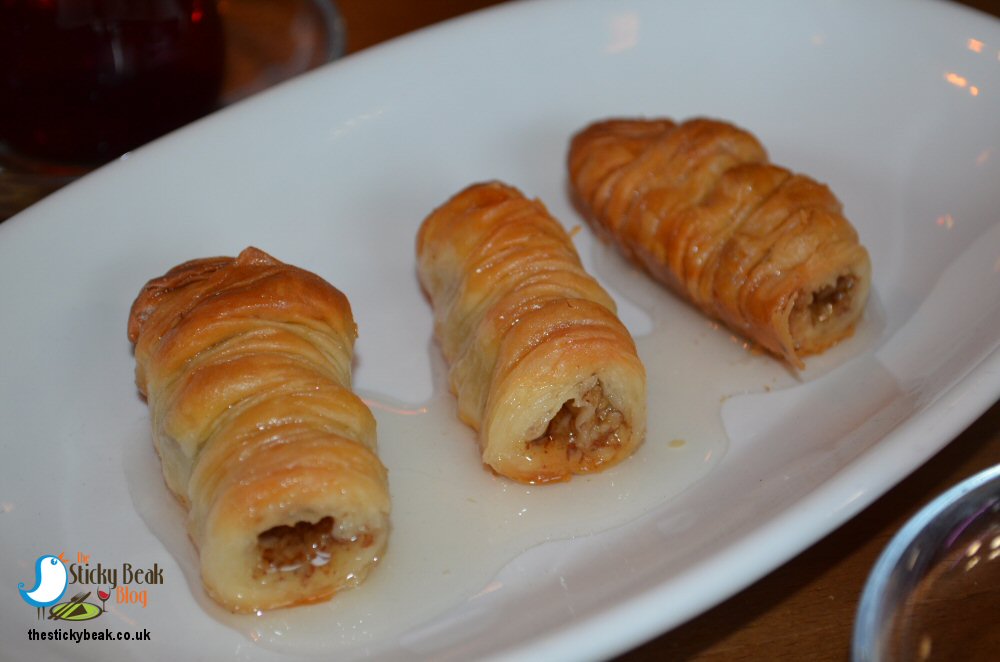 Zaf brought out a tray of Turkish Tea in small glasses, and passed them not only to us, but to the customers waiting for their takeaway orders to be fulfilled. You really can't fault Turkish hospitality; we've had the same experience whenever we've visited Turkey on holiday. I think it took some of the customers a little by surprise, but it brought smiles to everyone's faces too. Just as Turkish Tea is unique, so is the Turkish coffee. We didn't really need an excuse to order more Baklava, but it just didn't seem right to try the coffee and not have a little tit-bit to accompany it! I dipped the pieces of Baklava into the stream of Honey that had been drizzled on the plate, eager to get every last bit of yumminess.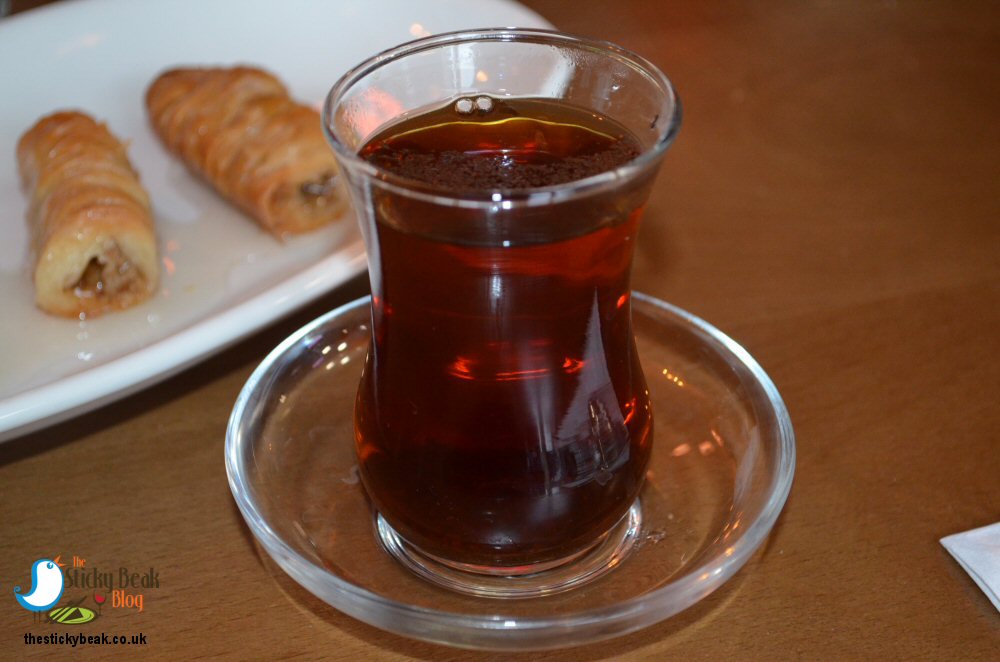 Having brought the food part of the review to its conclusion, I do need to point out a couple of really important things. Currently (June 2019) Istanbul BBQ Restaurant is a CASH ONLY venue; there are cash-points nearby, conveniently, so you won't get caught short. Also they aren't licensed to sell alcohol on the premises, but are happy for you to bring your own beer and wine. If you forget, don't panic, there's an off-license nearby too.




Hot Wings happily given to Alex, Zaf and the rest of the team. We'll be back soon, as we want to try the Mousakka! Opening hours are Fri-Sat 2pm - 11pm, Sunday 3pm - 10pm, Mon-Thurs 3pm - 11pm. The Phone number is 01773 862277, and given the limited seating I would recommend ringing ahead and booking a table.
No incentive was provided to visit this venue
read more