Breakfast At The 1958 Coffee House in Underwood
---
Published On Sunday 26 May 2019 by Sticky Beak
See Recent Dining Out Reviews | See All Recent Reviews


There's only one way you can improve a 4-day Bank Holiday and that's by going out for a leisurely breakfast; so that's just what The Man Bird and I did! We did a cheeky little hop over the county border into Nottinghamshire, landing at Underwood's 1958 Coffee House.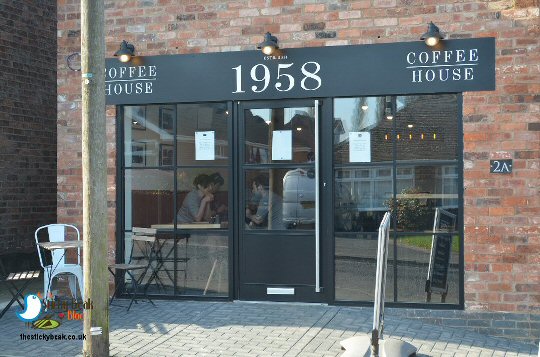 It's a lovely compact venue; nice, bright, and modern with its herringbone pattern wooden floor. There's an exposed brick wall on one side and a white painted, black-framed print adorned wall on the other. The seating is simple and sleek too, and offers you the option of traditional height tables with brown chairs and tan banquette seats or higher stool-set tables. There's also a little outside patio with a table and four chairs; perfect for sitting at on sunny days, or if you've got a pooch with you.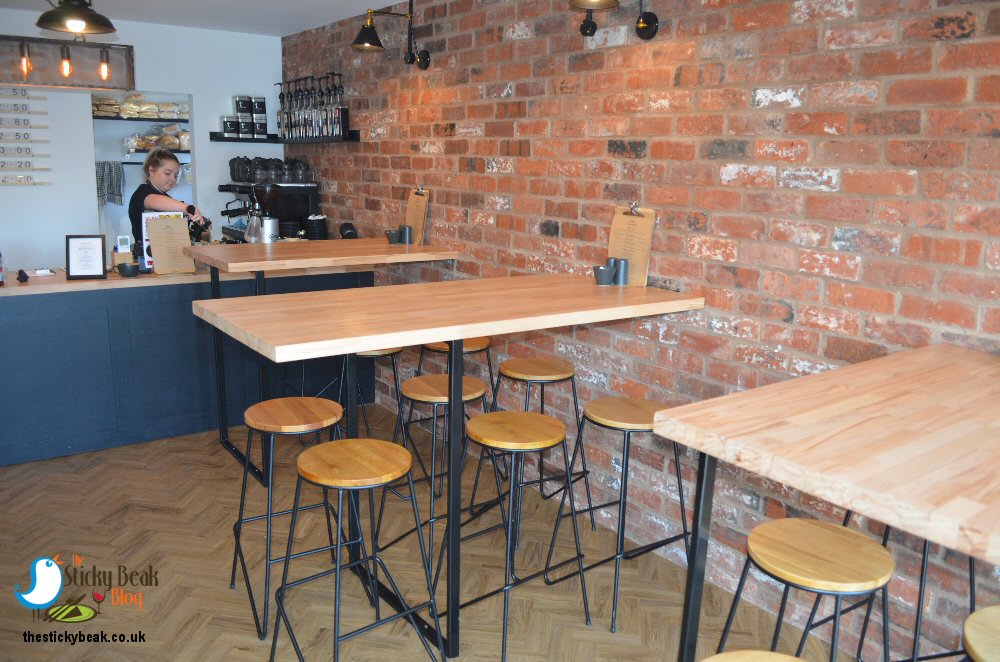 The staff gave us a lovely warm welcome when we sat down and said to order at the counter when we were ready. His Nibs has been overdoing it on the caffeine lately so he decided to dakker things down a notch and have a decaffeinated coffee (£2.20), but I was on the full fat, juice-me-up-baby stuff with my Latte (£2.50). The Latte came with one of those fancy fern patterns on the top; I'd love to learn how to do that, but no doubt mine would turn out like an illegible toddlers scrawl!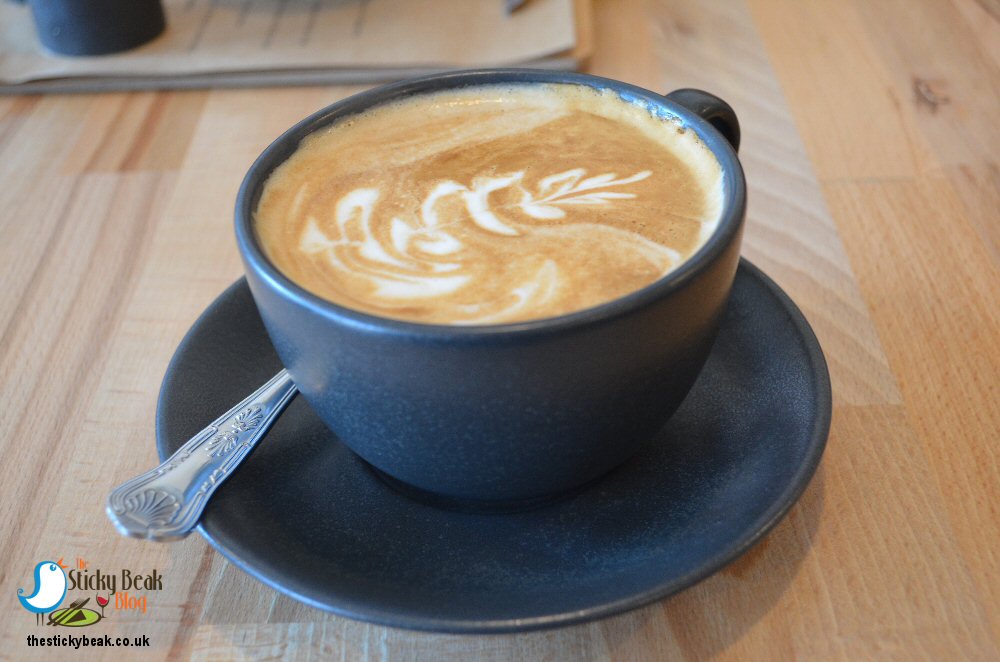 I was in one of those "I want a full brekkie, but I'm not quite that hungry" sort of moods so the Lighter Breakfast sounded perfect. As usual, The Man was ravenous so he had the 1958 breakfast (i.e. The Full English); these came in at £4.50 and £6.50 respectively. His Nibs is sensitive to Gluten, but rather than ask if 1958 Coffee House do gluten-free bread for the toast that comes with their brekkie, he asked if they'd swap for fried Potatoes, which they cheerily did.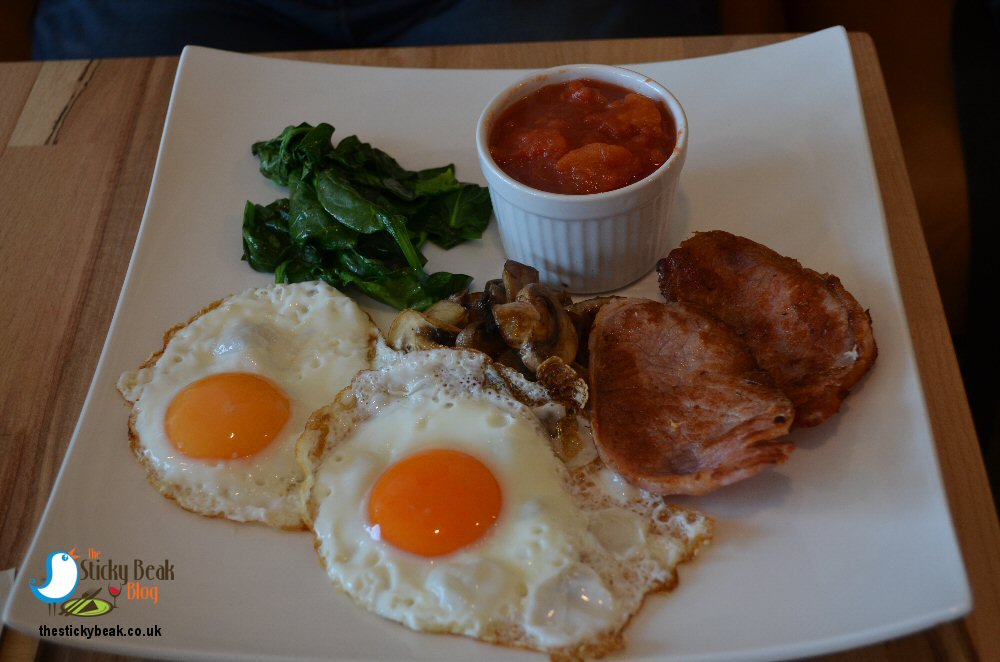 My lighter breakfast really packed a punch nutrition-wise with protein rich Bacon medallions and fried free range eggs, and vitamin and mineral hits from the wilted Spinach, Mushrooms and Tomatoes. The Spinach was cooked superbly; its stalks still had some crunch and firmness to them, but the leaves were softened, and it tasted beautiful. You can't beat the richness of a good egg, and this one was spot on – as were the sliced mushrooms (no trace of sogginess or greasiness here!).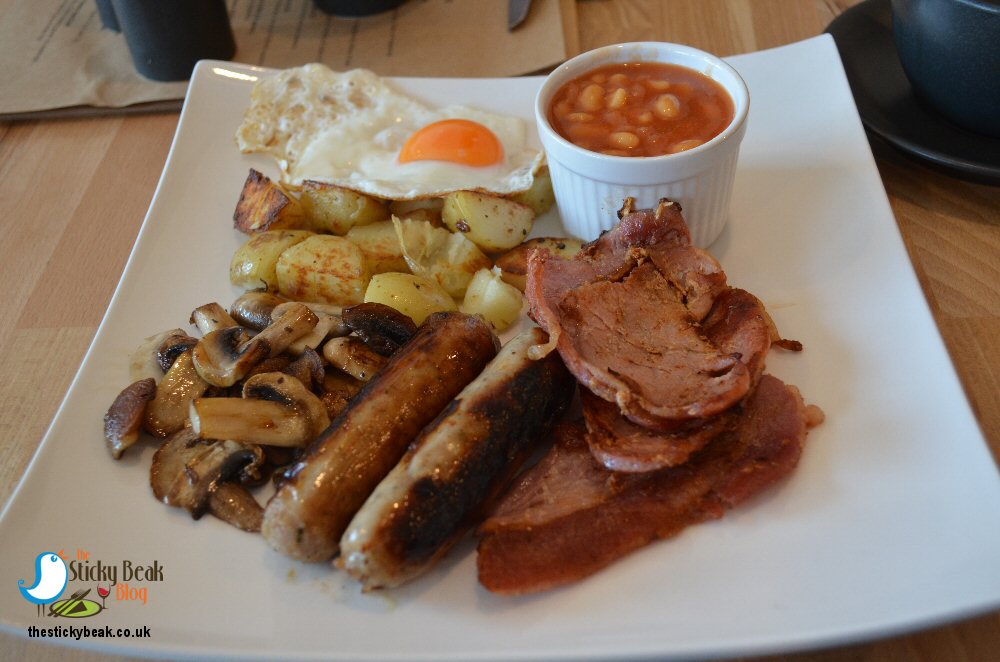 At 1958 Coffee House they use thick meaty medallions of Back Bacon in their brekkies and the taste came bursting through on my tongue. I liked the fact that the tinned Tomatoes came in their own separate pot; not everyone likes the juice running over the other elements of their meal. Personally, I don't mind a bit of the juice running on my plate but it was nice to be in control over the moistness on my plate.




The Man Bird was tucking into his full brekkie with his customary gusto, and like me, he was impressed with the quality of the Bacon. Country Sausages are also on the full breakfast plate and super, thick specimens they were too. The bangers were fairly heavily herbed, so I probably wouldn't have been their biggest fan, but His Nibs was a happy little soul and that was all that mattered.




With the 1958 Breakfast you get the choice of Beans or Tomatoes, so The Man opted for Beans and they also came in a separate pot. I got the Mushrooms or "slugs" passed over (no complaints here!) as he cut into his sunshine-yolked Egg and scooped it up into his mouth on pieces of Bacon. The fried Tatties were gorgeous with their lightly crispy outers and yummy soft inners; these also got dunked into the creamy, liquid yolk at frequent intervals.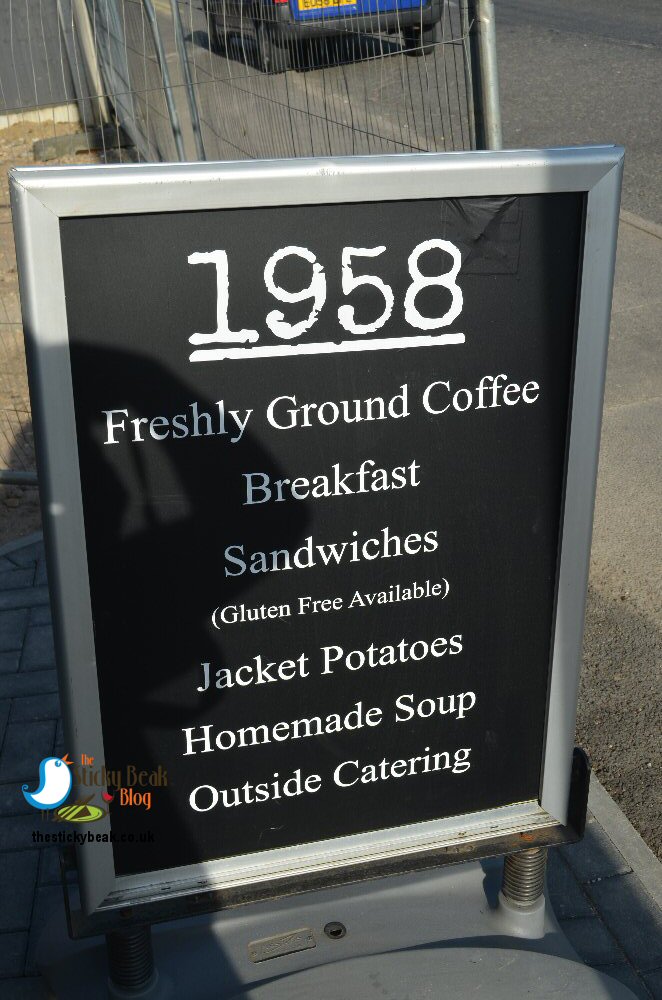 A pair of squeaky clean plates was soon before us and we managed to resist the call of the yummy cakes and treats on the counter! The Tiffin and Rocky Road looked absolutely stunning though, so we may have to visit again and try those beauts with a coffee for elevenses one weekend.

Hot Wings given to this lovely team, no hesitation. And thank you for the recommendation Mr Tree Hugger!!
No incentive was provided to visit this venue
read more
Read Some Of Our Recent Reviews
---

Lunch At The Recently Opened Chatsworth Kitchen At Peak Village, Rowsley Everyone who knows me, knows I love Chatsworth (always have, always will) so when the invitation to sample lunch at the newly opened Chatsworth Kitchen Read The Article

---

A Visit To Vietnamese Street Kitchen, Resorts World, Birmingham Way back in the day (pre-covid) Fledge had bought me and The Man Bird tickets to see Mrs Browns Boys live and finally, after a couple of false start reschedules, the day of Read The Article

---

Sunday Lunch, A Museum Tour & Painting A Piece Of Denby At Denby Pottery Village It wasn't long ago that His Nibs and I visited the Denby Pottery Village to sample the Afternoon Tea at Bourne's Coffee Shop and Bistro (it was superb Read The Article

---

Bottomless Brunch At Turtle Bay In Derby The timing of the invitation from the Turtle Bay team in Derby to go and sample their Bottomless Brunch couldn't have been better; not only was it going to be The Man Birds' birthday a couple of days later Read The Article

---

Afternoon Tea At Santo's Higham Farm Hotel & Restaurant Aaaaaarggggh, don't you love your children??!! A while back, His Nibs had spotted a great deal on Groupon (you know what a bargain hound he is!) and thought it would be Read The Article

---

Sunday Lunch At The Countryman Pub & Dining, Kirkby-in-Ashfield We finally got to visit a venue thats been on our radar for quite a while, The Countryman Pub and Dining in Kirkby-In-Ashfield! A few weeks ago we tried to book a table for dinner Read The Article

---

Dinner At The Divan Turkish Restaurant In Chesterfield Chesterfield was welcoming us back again for our latest review visit; this time to the newly opened Turkish restaurant, The Divan, on Lordsmill Street. Owner Tuncay (along with Read The Article

---

Breakfast At Marsh Green Farm Shop & Cafe, Kelstedge Ah, you've gotta love a Bank Holiday curve-ball, haven't you? His Nibs and I headed over to Mummy Birds' gaff with the intention of having a leisurely couple of hours at the Sunday Read The Article

---

Afternoon Tea at Bourne's Coffee Shop and Bistro, Denby Pottery Village You all know that The Man Bird and I do like an Afternoon Tea; I mean, who doesn't?! Just a few miles down the road from the nest is Denby, home to the world-renowned Read The Article

---

All You Can Eat At The River Garden Cantonese Restaurant In Belper As is the seemingly never-ending pattern of our weekends at the moment, The Man Bird and I had been busy gardening/re-seeding/pruning/digging, so when it came to sorting Read The Article

---