Taking Advantage Of A Groupon At The Devonshire Arms, Middle Handley
---
Published On Thursday 23 May 2019 by Sticky Beak
See Recent Dining Out Reviews | See All Recent Reviews


He's been at it again folks; digging up good deals on Groupon. This time it was for The Devonshire Arms at Middle Handley, so having booked a month (!) ahead, the night for our 'date' had finally arrived and we jumped in the jalopy.
Middle Handley is a lovely little village, probably closer to Sheffield than Chesterfield, but it's in Derbyshire; so it's ours Yorkshire, not yours!! The importance of this will become clear as you read on, fear not dear reader.

The Devonshire Arms has a lovely sized car park, but it was fairly full when we pulled up at 6.30 – clearly a popular venue. We walked past the newly done kiddies play area with its selection of wooden frames, slides and swings, and there are also two areas to sit outside which accommodate about 80 people.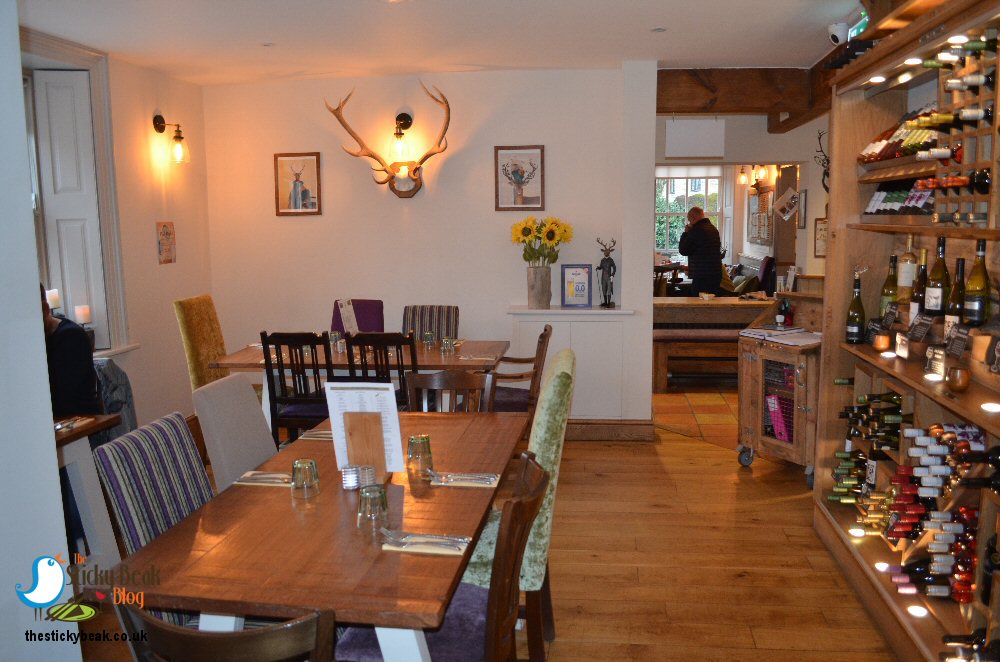 Stepping through the door into the bar area gave us our first glimpse of the premises, and with red and black tiled floors it looked very much like a traditional English pub. Again, this area was very busy with folks having a drink on what was actually a pleasant evening. The Bar itself serves pretty much everything your heart could desire: Gins by the bucket load, Cocktails, premium Spirits, Wines (including Champers!), Beer and Ales, and even barista-quality Coffee!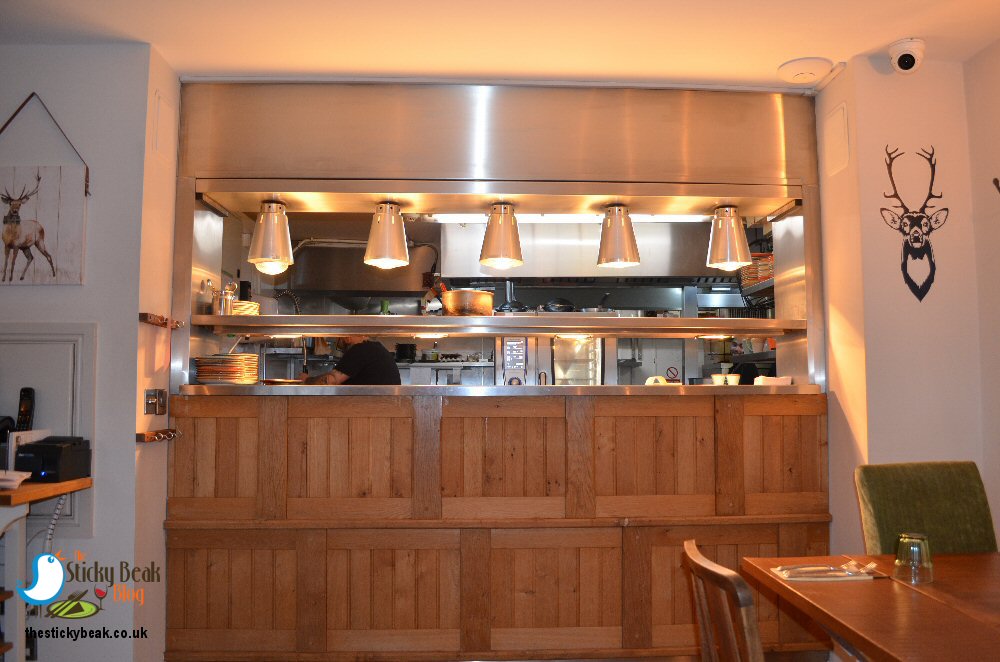 The Stag restaurant has lovely sanded wood floors and really chunky wood tables with contrasting white-painted bases. Neutral, cream toned walls had been adorned with framed prints of Stags in various poses, giving a fantastic rustic feel to this space. Background music was played at a sociable level; enough to be heard, but not too loud as to interfere with conversation. I loved the open kitchen though, and Chef Marco was conducting his orchestra of kitchen staff with the skill of a culinary maestro. You could see the hustle and bustle of the kitchen and hear all the communication going on;"yes, Chef" was a regular refrain.




Our Groupon deal entitled us to any starter up to the value of £6, main up to £14, and £1.50 for a soft drink or towards an alcoholic alternative. Once we'd sat down and told the lovely young man we were "on a deal", he just said "well, have anything you want, we just credit £43 against your final bill". Genius idea: simple and hassle-free; I was warming even more to The Devonshire Arms!

Having got drinks sorted for us, and bringing a bottle of water for the table without needing to be asked, we were left to look through the menu. After a bit of deliberation, I chose the pan-fried Mussels in Garlic, White wine and Cream sauce with crusty bread to start with (£6); His Nibs had the Halloumi Fries with Chipotle Mayo (£5).
The Man Bird was shocked when he saw his Halloumi Fries arrive, and rightly so; there were 4 massive pieces of cheese, each about 1" thick and 4" long, artfully arranged on a platter! Each wedge of cheese had a gorgeously crisp coating on it that yielded a nice crunch when bitten into, without any hint of greasiness. The Halloumi had a fab "squeak" to it as well and that hint of tang to it that just piques the taste buds' attention, and this was augmented by the smoky and lightly spicy Chipotle Mayo. There was a nice side salad of mixed leaves and pea shoots with a Balsamic glaze to provide some crunch and texture too, and keep things light and fresh on the palate.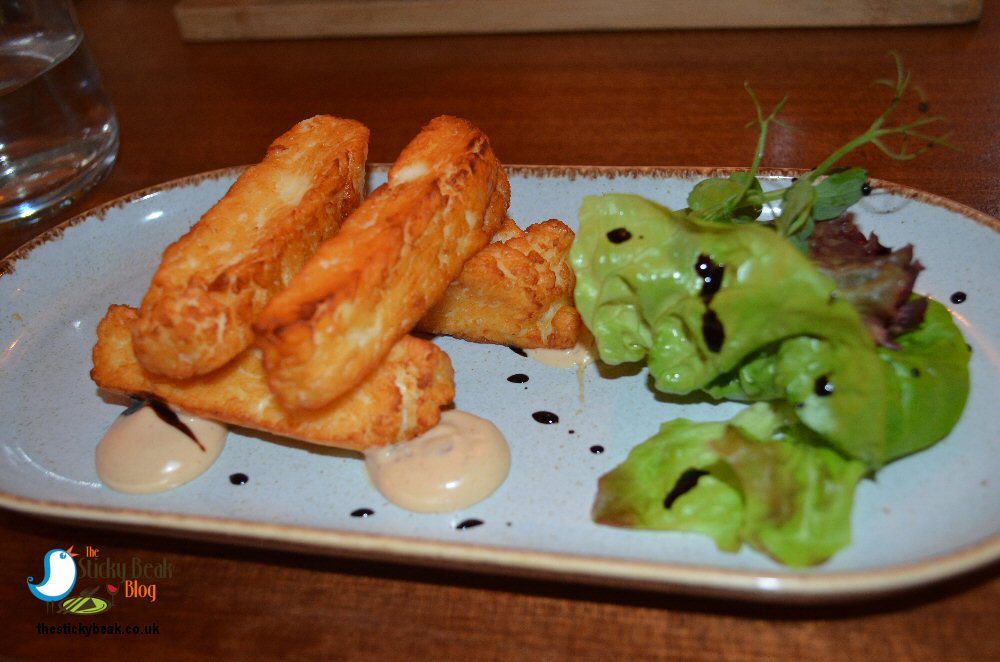 My pan-fried Mussels were superb, possibly the nicest I've had! The Mussels themselves were nice and meaty in texture, and there were plenty of them for a starter portion. Praise has to go to Chef Marco though for the sauce, it was just divine with its delicate balance of flavours. Garlic was gently discernible and the richness of the cream was assuaged by the white wine and herbs in the sauce. Finely sliced shallots added a bit of texture to the smooth sauce and also a gentle oniony tinge that wasn't unpleasant. This was a really classy starter that didn't lay heavy on the tum, and even better, it came with a whole, mini loaf that was crusty on the outside and softly springy inside. Thoughtfully, there was a separate dish to discard the shells into, and another bowl contained warm water with fresh lemon slices in so that you could freshen up your fingers.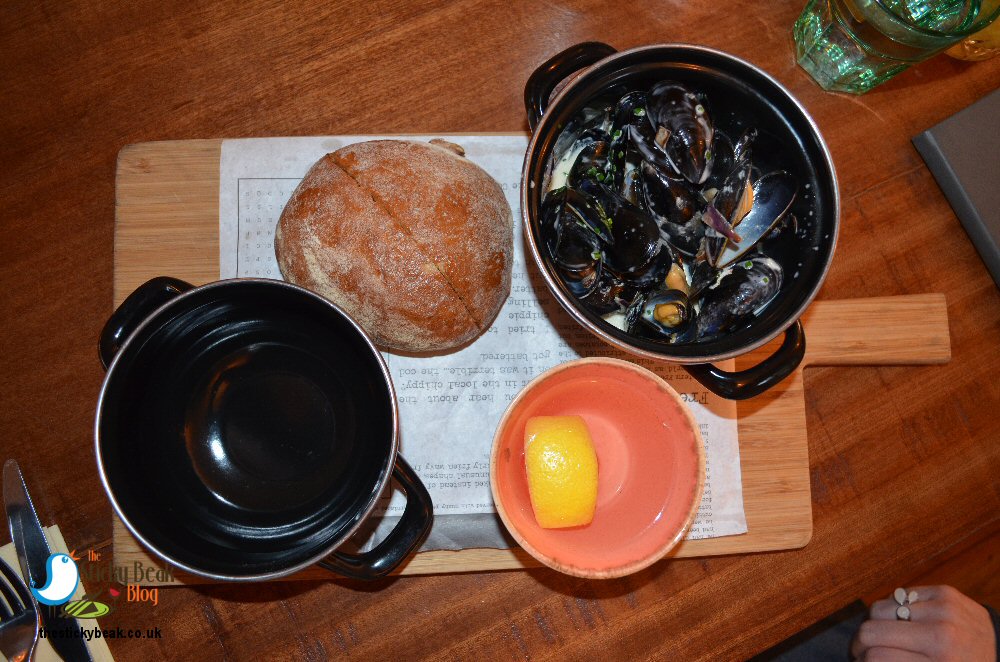 Our server, the lovely Saskia, had checked we were enjoying our food, and was smiling when she saw that we'd cleaned our plates so thoroughly.

It isn't often that I'll have a burger when we go out for a meal, but for some strange reason that was exactly what I fancied; luckily the Classic Devonshire burger sounded just the ticket. The Man Bird saw the Homemade Flatbreads and thought the crispy Chicken and Smoked Pancetta number sounded fab, and they offer it Gluten-free on request too.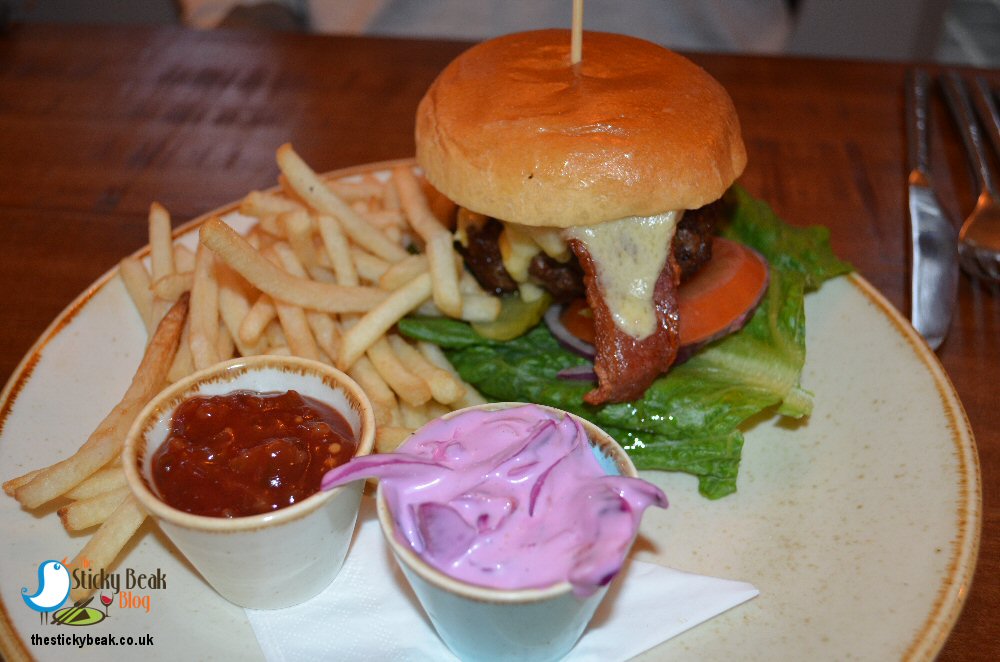 The Devonshire Burger comes topped with Smoked Bacon and Applewood Cheese and is served with salad, Skinny Fries, Homemade 'Slaw, and Burger relish. My eyes popped out on stalks at the size of this whopper, it was huge! No wonder it had to be held together with a wooden skewer! I have to say that the beef patty itself was superb; nicely seasoned, really juicy and flavoursome – props to the butcher who provides the meat for John and Jackie (the owners).

There was a generous blanket of melted Applewood Cheese snuggly lying on top of the thick slice of Bacon, and both of these elements were perched on top of the burger. In combination, they worked together to provide an absolutely banging taste sensation in my mouth and when I added a bit of the tangy burger relish into the mix, the flavour factor really got ramped up!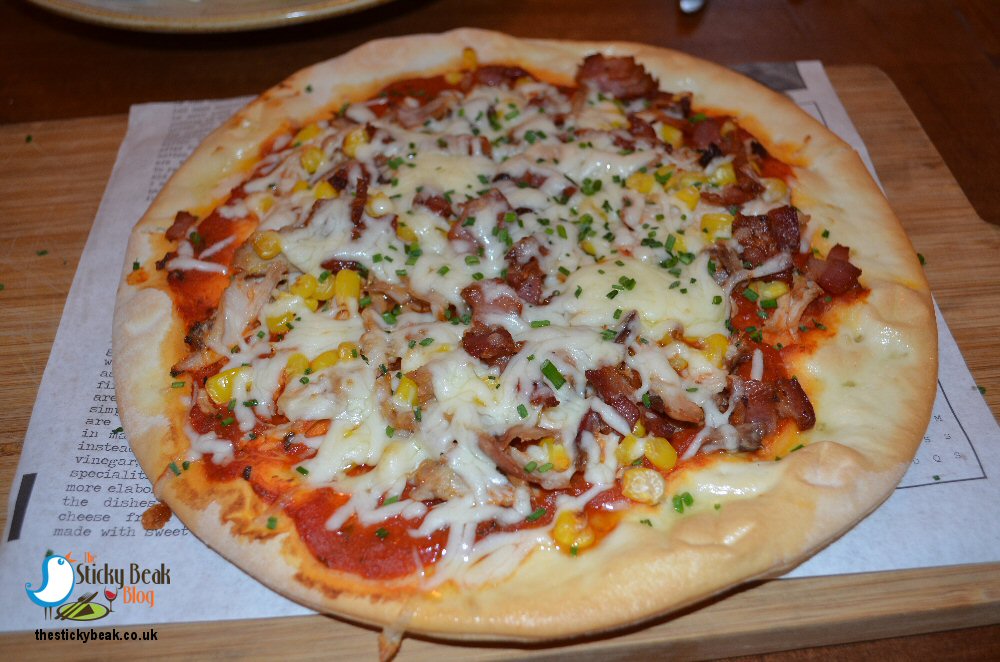 I do love Gherkins; not everyone does I know, but I am rather partial to their sourness. The pickles had been halved lengthways, so I got to do a dramatic little series of crunches on them, rabbit-style, much to His Nibs' dismay. Got to take your fun where you can get it, I say!. Sliced Tomato, Lettuce, and sliced Red Onion had also been squeezed into the toasted bun, although goodness only knows how they managed to fit everything in; now the use of the wooden skewer became apparent! The homemade 'slaw was delish; creamy, crunchy, but with that lightly sour finish that is always welcome.

The skinny fries were fab, but having seen the chunky chips go past on other peoples' plates, I think I'd like to try those next time. I think that with such a beast of a burger, the chips should be equally butch. As you may imagine, my plate was as clean as a whistle – top marks here.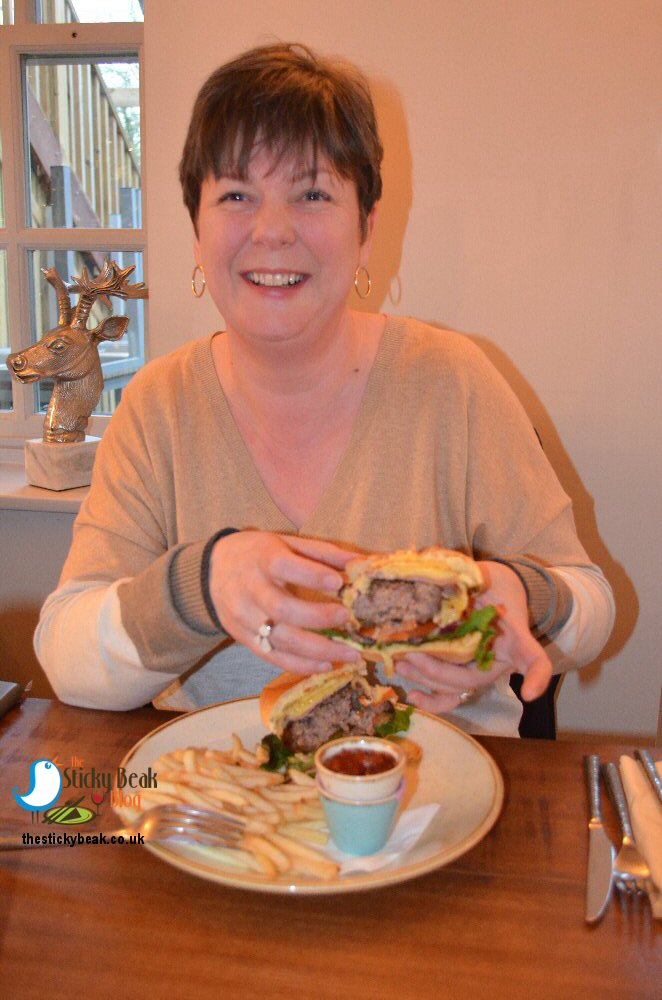 His Nibs' homemade Flatbread smelled marvellous as Saskia carefully put it down in front of him, and after taking his first mouthful The Man said that you'd never guess it was Gluten-free. No-one could accuse Chef of being stingy; the flatbread was heaving with toppings! The Chicken strips were lovely and moist - not dried up, pitiful shrivelled things that you sometimes see in lesser establishments. The delicate taste of the poultry provided the perfect foil for the crispy cubes of Smoked Pancetta and their salty, smouldering notes. Pieces of Sweetcorn gave a bit of colour to the dish and popped really nicely against the rich burgundy tones of the piquant BBQ sauce used as a base on the flatbread.

Restaurant manager Alex came over to see how we'd enjoyed the first two courses and asked if she could persuade us to have pudding. Persuade us?! We take no persuading for dessert as you know, so we eagerly eyed up the sweet treats on offer at The Devonshire Arms in Middle Handley.

The Man Bird went for the Baked Cookie served with Salted Butter Caramel Ice Cream, made by Sheffield based Ice Cream makers Yee Kwan who we've met before. I was torn between the Crème Brulee and the Chocolate and Orange Mousse with Torched Orange segments. Eventually I went for the Mousse (and wasn't disappointed as it turned out).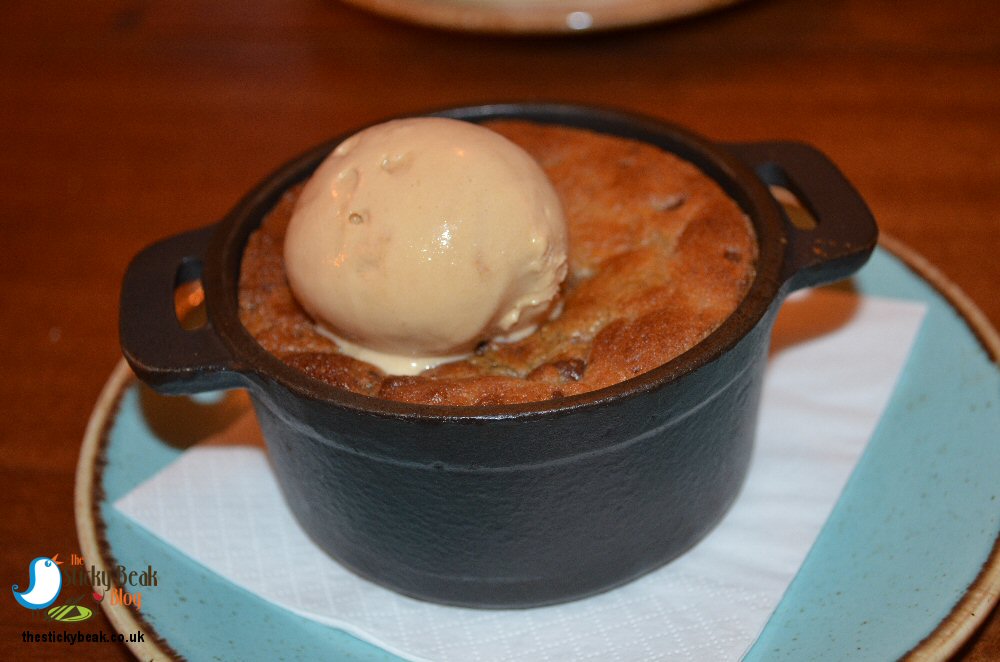 The Chocolate and Orange mousse was blooming lovely; not quite glass-smooth, but actually that little bit of "grit" was really nice on the tongue –as were the fine bits of chocolate suspended randomly in the mousse. I was blown away by the intensity of the Orange note in the mousse; it was magnificent as it balanced the rich Chocolate element beautifully. Texture-wise, the mousse had an almost semifreddo quality to it that came in handy as it meant the mousse wasn't about to do an instant disappearing act off my spoon and into my lap! Fresh, chilled Blueberries and Blackberries crowned the mousse and contrasted nicely with the warm, charred Orange segments that were also decorating the top of my dessert.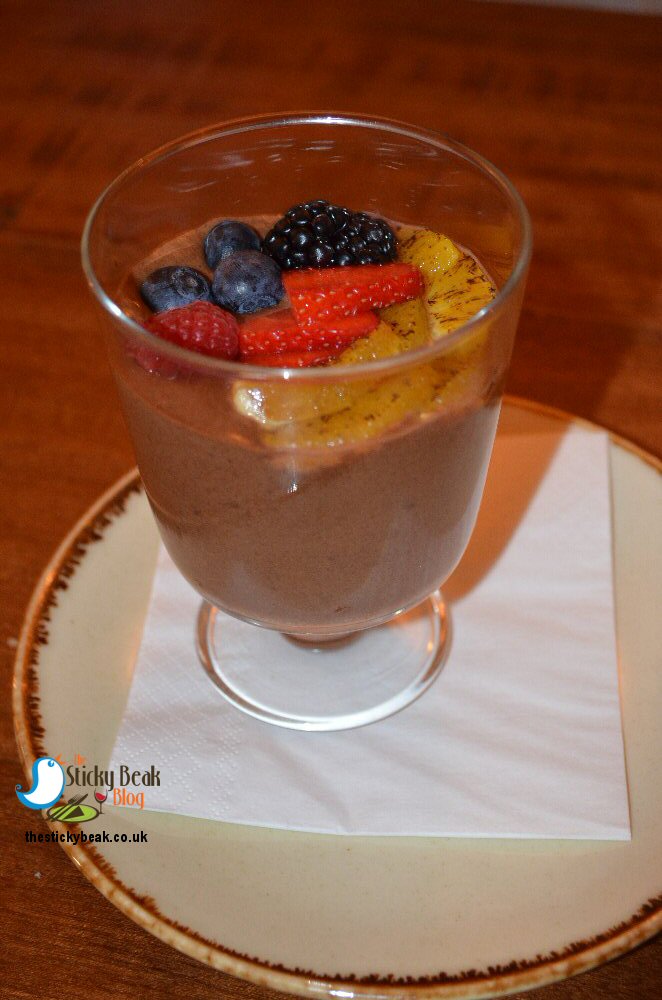 His Nibs' Baked Cookie was served in a mini cast-iron dish and was piping hot! Gooey, rich, chocolate chip cookie dough lay in wait underneath the firmer, browned top layer and The Boy Wonder scooped it up eagerly onto his spoon. I did remind him to blow to cool it slightly before he burnt his tongue, and he blew impatiently at the steam coming from his spoon. Everyone loves the comfort factor of warm cookies, and this was a wonderful example of soul-soothing food. A quenelle of exuberantly rich Yee Kwan Ice Cream accompanied the warm cookie, melting slowly on its top as it basked in the warmth of the pot. The Butter Caramel had a superb salty note, delivering both sweet and salty elements at the same time to the palate. Nothing went to waste here either!

We really didn't have room for a coffee (!), so we bid farewell to the team and headed back to the Nest. Hot Wings given to this Derbyshire venue without reservation. Given its popularity, I would recommend booking in advance to guarantee a table at the time of your choosing.
No incentive was provided to visit this venue
read more