Dinner At Thailand Number 1 In Matlock
---
Published On Sunday 17 Mar 2019 by Sticky Beak
See Recent Dining Out Reviews | See All Recent Reviews


Daddy Bird has gone to see friends for the weekend, so as is our usual custom Mummy Bird, His Nibs and I like to eat out together and hopefully discover somewhere else to recommend. Last year we took Mummy Bird to Buxton to Simply Thai, something that she really enjoyed, so we decided to search closer to home for a Thai restaurant. We've all been to Tom Yum in Belper, but none of us had sampled the food at Thailand No:1 in Matlock, so that's where we opted to go.
We managed to park up fairly close to the venue – thank goodness because it was a miserable windy and rainy evening! We were greeted warmly at the door and shown to our table, and I was absolutely gob-smacked at the beauty of the interior. The lighting was stunning for a start; the monochrome glass chandeliers cast gorgeous sparkles around the space, but it was the quintet of bejewelled panels behind the bar that were the real show-stoppers. A bright colour palate had been used to depict a Swordfish in all its glory, spread over 5 sequined and embroidered sections; the skill and artistry is simply breath-taking to see, and close up you truly appreciate the hours of work it must've taken to complete.




The tables were set very nicely with the burnished gold cutlery housed snugly in embroidered pouches with the restaurant name on, and white linen that had pale gold wipe clean cloths on the top. A lovely young chap came and handed us the purple silk-clad menus, got our drink orders sorted, and left us to peruse the extensive menu.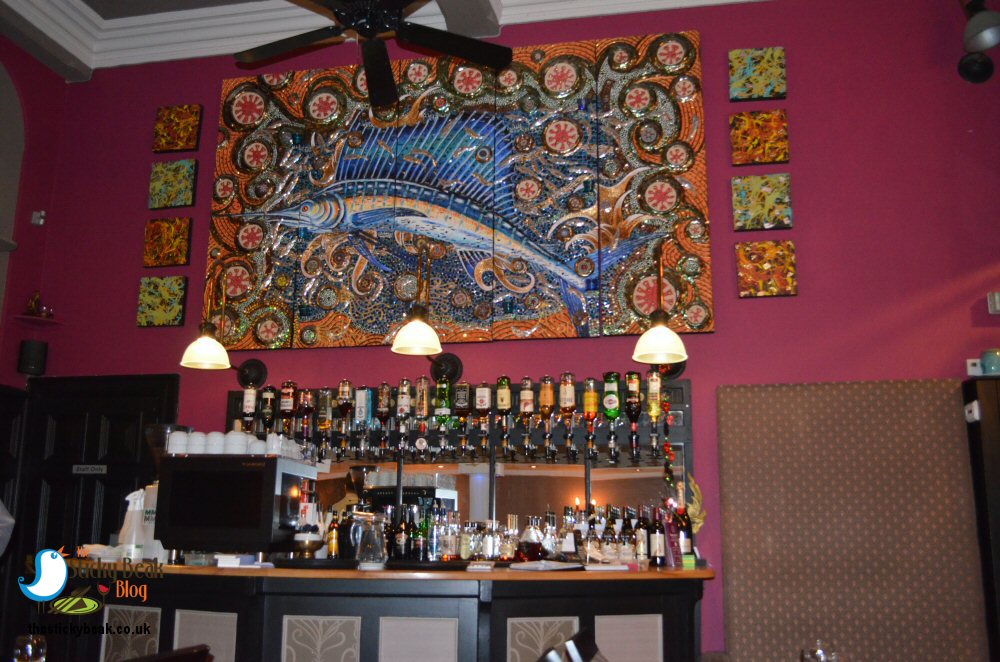 Mummy Bird and I had the Chef's Platter to share as a starter, as we like to have a variety of items to nibble at; The Man had Luchin Tord (deep fried Chicken Balls served with a spicy Chilli dip). Both starters had been presented beautifully and were decorated with an assortment of carved vegetables.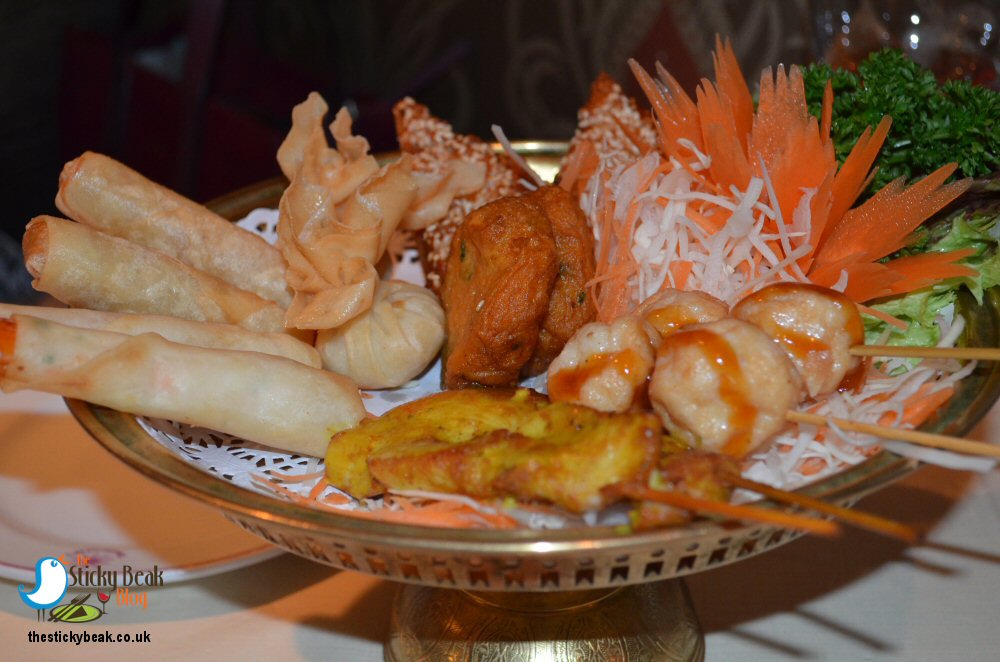 Mummy Bird and I had Wan Tons, Spring Rolls, Sesame Prawn Toasts, Chicken Satay skewers, Chicken Balls, Thai Fishcakes and Filo pastry-wrapped King Prawns, all served with a trio of dips. Each and every morsel was delicious; the meat and seafood was juicy and succulent and there was no skimping when it came to the filling in anything. We both thought the spicy peanut Satay sauce was incredible, and I loved the Chilli dipping sauce; Mummy Bird preferred the other less spicy, vegetable containing sauce.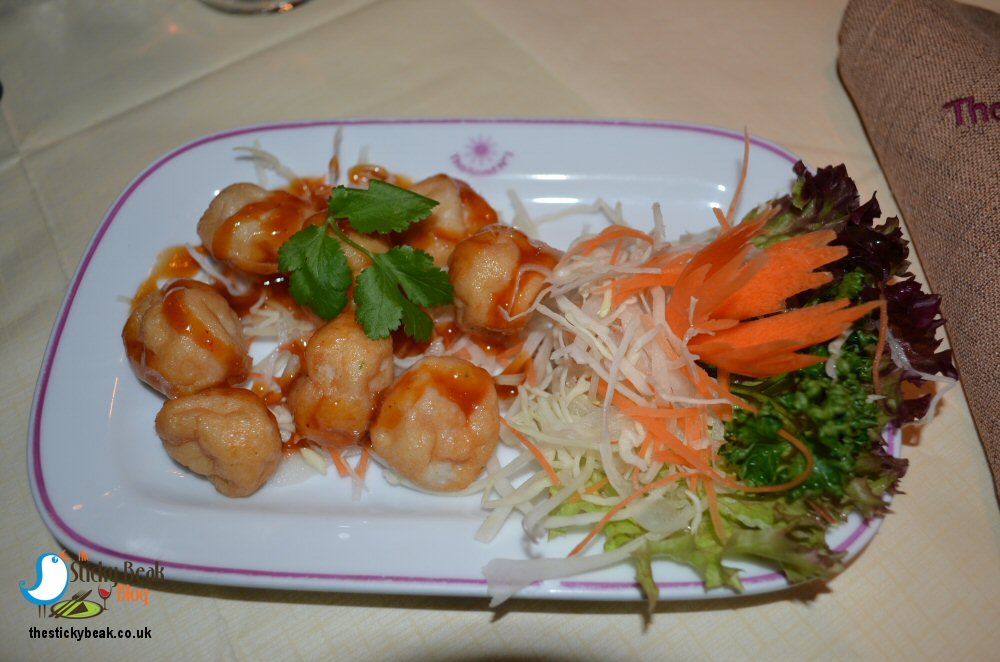 His Nibs pinched my Spring Roll and said how nice it was, and he also commented on how much he'd enjoyed his Chicken Balls. The Chicken Balls were lovely and moist, and had a surprisingly dense texture to them; it looked as if the Chicken had been minced and then compacted to make it firm to the bite. A really zingy sauce accompanying them made sure his taste buds were paying attention, so this dish perhaps isn't for the faint- hearted!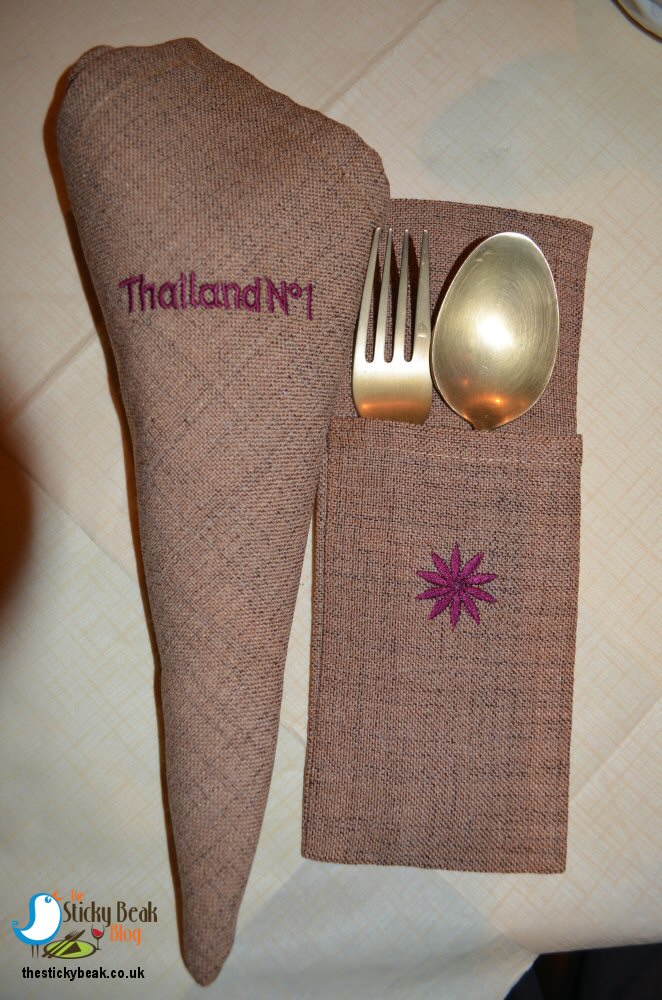 Our lovely server came to check that we were enjoying our food, and took the opportunity to refresh our wine glasses. He was pleased to see that our starters had gone down so well, and said that our mains wouldn't be long. A steady stream of people were coming into Thailand No:1 to collect take-away orders, and there was also a good number of other diners starting to arrive from about 7pm.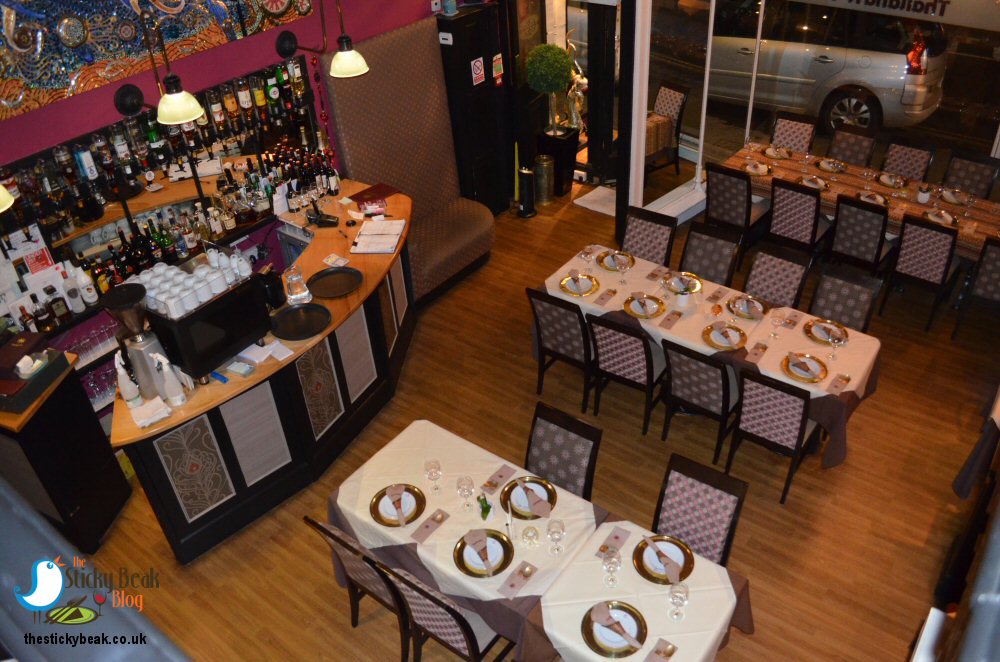 For main courses we gone for a range of different dishes: Mummy Bird had Duck with Tamarind sauce (Pad Ma-Kham), I had boneless crispy Fish cooked in Chef's special 3 flavour sauce (Pla Sam Rod), and The Boy Wonder fancied a good old Thai Green Curry with Chicken (Pad Kiew Waan). His Nibs and I had both gone for medium hot dishes; Mummy Bird had played it safe and gone for a milder dish. To go with our main meals we opted to have a couple of portions of the Sticky Rice (Khaow Neaw), served in those dinky bamboo baskets.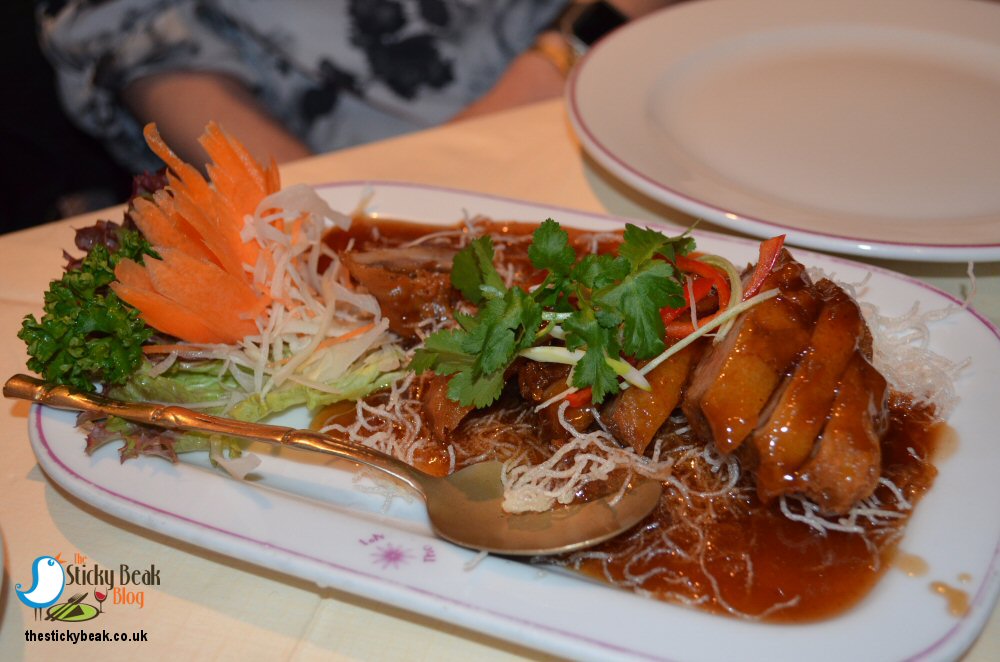 As with our starters, the main courses were superbly presented; His Nibs' dish was contained in a wan-ton shaped foil parcel that emitted the most mouth-watering aroma when first opened! My fish came in a fish shaped metal platter and was placed on a candle warmer to keep it at the right temperature throughout.

Mummy Bird thought the Tamarind sauce had a nice sour, spicy edge to it that most people would enjoy, and she commented on how tender her thick slices of Duck were. There was a good selection of vegetables in her dish too, for texture and colour. Him Indoors and I both had to help her out to finish all the Duck, so you can tell it was a generous size portion.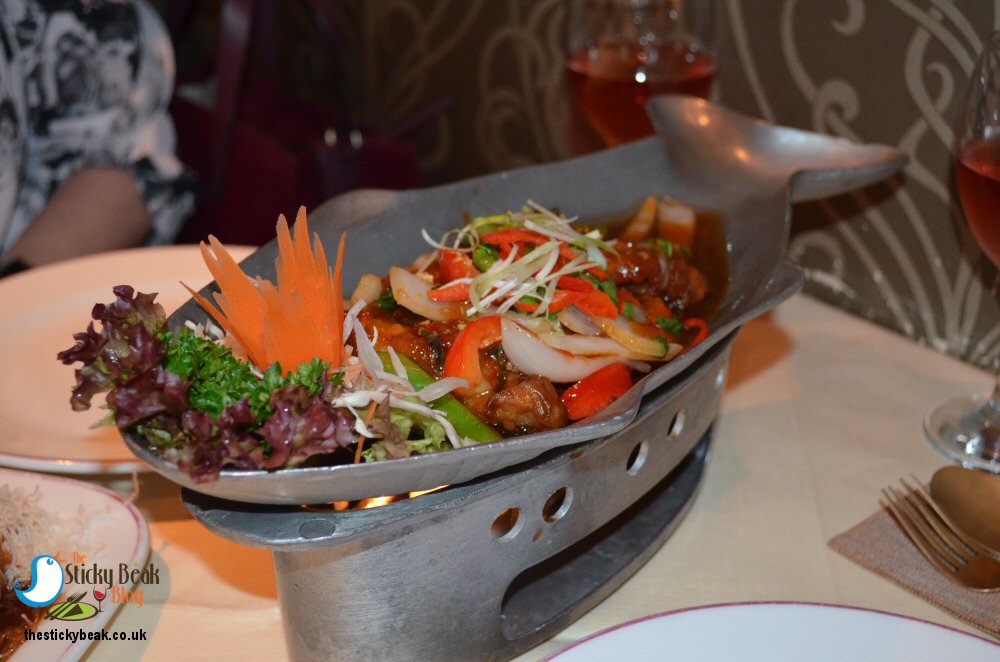 My Fish was equally abundant; a trio of good sized fillets had all been fried and placed side by side in the platter and an assortment of stir-fried vegetables were placed on top of them and a wonderfully complex sauce encompassed the whole ensemble. All the vegetables had a nice amount of crunch left to them and the fish, whilst soft in the mouth, was also firm enough to retain its shape when cut into.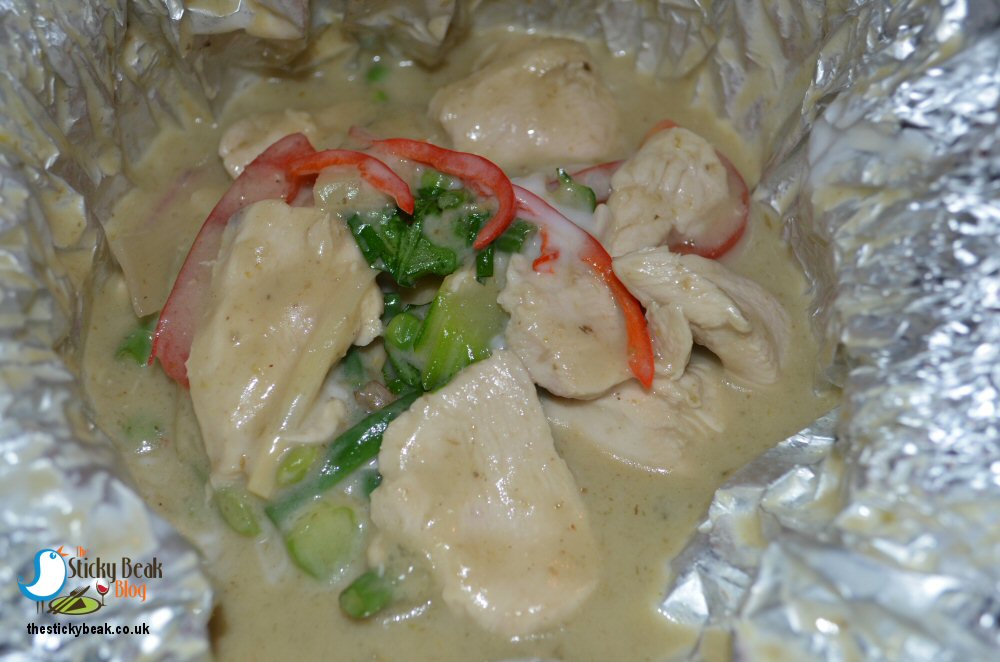 The Man Bird's Chicken had been cut into large chunks and he commented on its tenderness as he took his first bite. The Green Curry sauce was incredibly fragrant, matched by its piquancy; the first few mouthfuls were deceptively mild, and this is a dish whose potency reveals itself as you progress through it.
All our meals had a good amount of sauce with them and the Sticky rice really came into its own as we used it to mop up any excess juices. We found that the two portions we'd ordered were just enough, but previous experience has taught us that should you need to order extra rice, it doesn't take long at all – a couple of minutes at most, usually.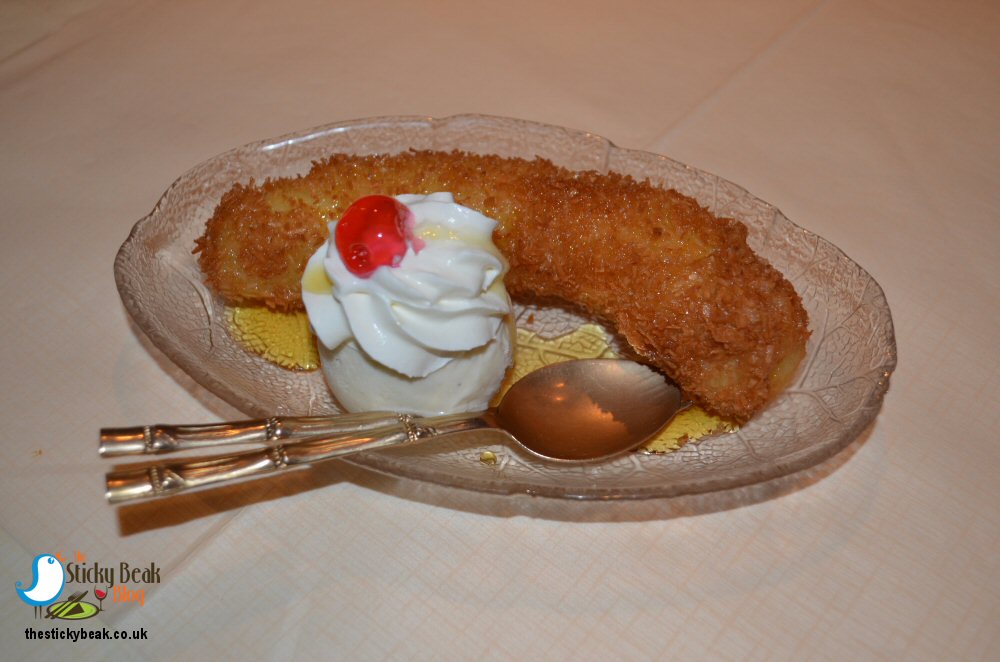 His Nibs can be absolutely stuffed to bursting point, but there is no way he'll ever pass up the opportunity to have a deep-fried Banana Fritter! The one served up at Thailand No:1 in Matlock is comprised of a whole Banana coated in Coconut then fried, and served with a good scoop of Vanilla Ice Cream. Even such a simple dessert is glammed up here; the Ice Cream scoop was topped with a swirl of whipped Cream and a Glace Cherry!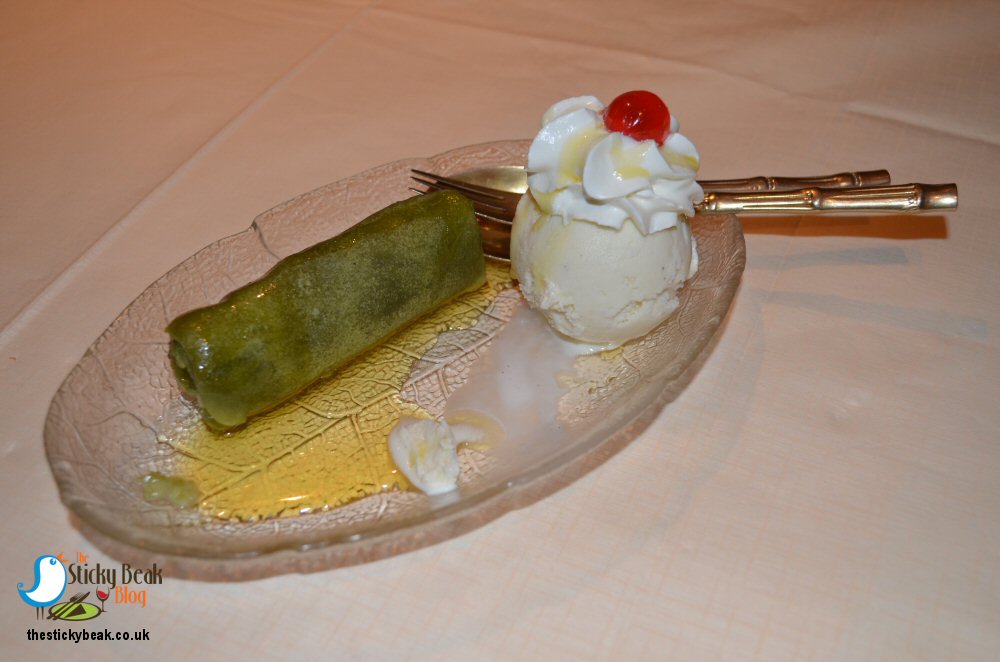 I chose the Coconut Pancake as my dessert: the homemade Coconut pancake is flavoured with Pandan leaf and stuffed with desiccated Coconut, before being topped with sticky sweet syrup and Ice Cream. If you don't like Coconut this most definitely is not the dessert choice for you, but I blooming loved it! Funnily enough, it wasn't overly sweet – the only really sweet bit was the syrup and there wasn't too much of that as to over-whelm the pancake.

We finished things up with black coffees for His Nibs and me; Mummy Bird had a pot of Jasmine Tea, which was lovely and refreshing on the palate. Hot Wings given to this lovely friendly team, we thoroughly enjoyed the food here, and the service was second-to-none. I would recommend booking a table, especially for the weekend at peak times – and definitely during peak tourist season
No incentive was provided to visit this venue
read more