Steak Dinner At Bennett's Hotel & Restaurant, Long Eaton
---
Published On Tuesday 19 Feb 2019 by Sticky Beak
See Recent Dining Out Reviews | See All Recent Reviews


Props to The Man Bird, he has yet again pulled a good deal out of the bag! Every so often Groupon do a deal in our area that we think "yup, that's the one for us", and so it was with a cracking offer that Bennetts Hotel and Restaurant in Long Eaton were running. From Monday through till Friday, you can grab yourselves a Rump steak and bottle of house wine for a mere £24 per couple, which sounded like a real bargain.
We've never been to Long Eaton before, but good old SatNav got us there no problem at all; and joy oh joy, there is a fair amount of parking on site too, so no fannying about on the busy road! There is a nifty parking system too; all you do is pop your car reg into the screen at reception and it gives you an electronic permit, so no scratting around for coins to pay parking charges after you've had a relaxing evening either. The lady on reception was so friendly and welcoming, in fact all the staff members were, as we discovered as the evening wore on.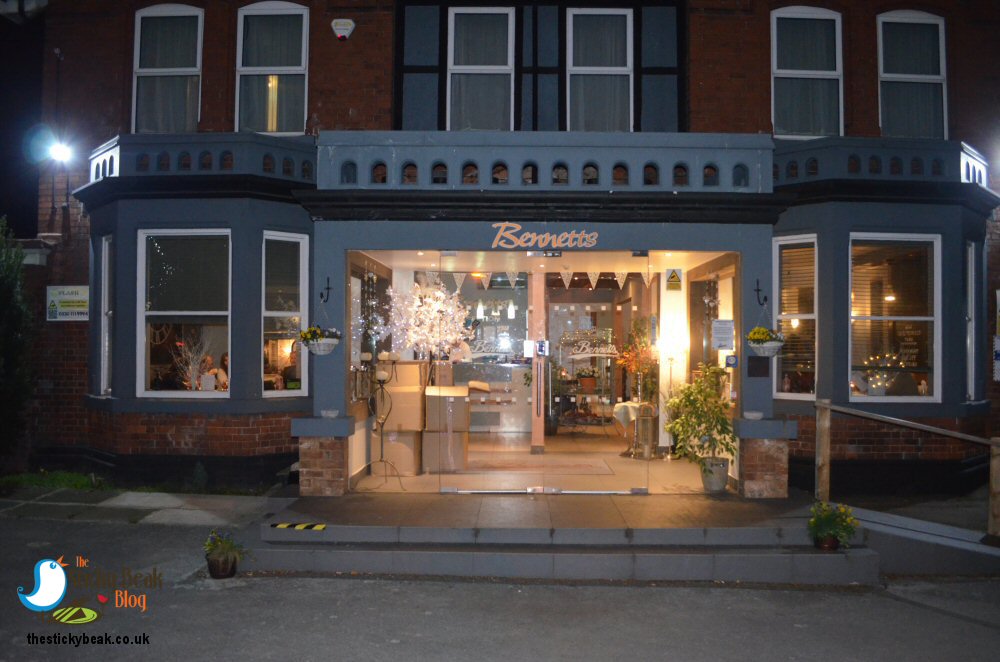 Bennetts Hotel is quite sleek and modern inside, and as soon as we stepped through the door the thrum of laughter and chatter hit us; clearly it's a good place to kick the weekend off, given the amount of people having a tipple in the bar area. In its capacity as a hotel there are a mere 8 rooms available, thankfully the restaurant is a more spacious affair!

Our table was very nicely set with thick cloth napkins in rings and good quality glassware and cutlery, and a trio of tea lights in a stylish holder were flickering away merrily. I noticed that there was a good privacy space between all the tables, which were a dark wood with cream and dark brown seats placed alternately at them.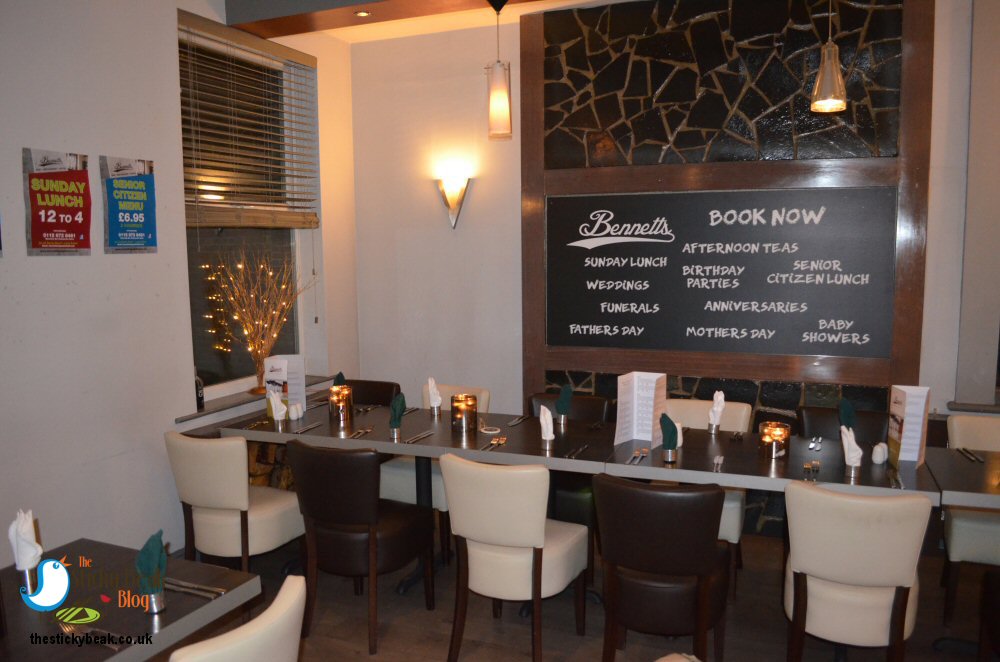 The decor was neutral; putty-toned walls were accented with a natural log "wall" and there were wooden blinds at the windows. The dining space was gently illuminated by modern pendant lights hanging from the ceiling, and background music was playing at a nice, sociable level that let you clearly hear the songs' lyrics whilst enjoying conversation at normal pitch.

Our lovely server came and took our orders for the wine – we opted for the house white; a fresh, fruity Pinot Grigio. I think I overheard another server saying that the house rosé was a Zinfandel, and I don't know what the red choice was.




We were originally going to just have the steak and wine, but the starters sounded too nice not to try! So, I had the Minted Lamb Koftas served with Yoghurt and Mint dip and His Nibs chose the Gruyere Cheese and Beer Croquettes.

I thoroughly enjoyed my three Koftas, they had a great spicy kick to them; not too much, but enough to be appreciated on the palate, and the minty note came through nicely too. Each Kofta was a decent size and they were piping hot, always a sure fire way to make me happy! The Yoghurt and Mint dip was in a separate little pot, so I could add as much as my heart desired. A lovely side salad comprised of crisp mixed leaves, halved baby Plum Tomatoes, Cucumber, and Red Onion slices completed this delightful starter, and most enjoyable it had been, I must say.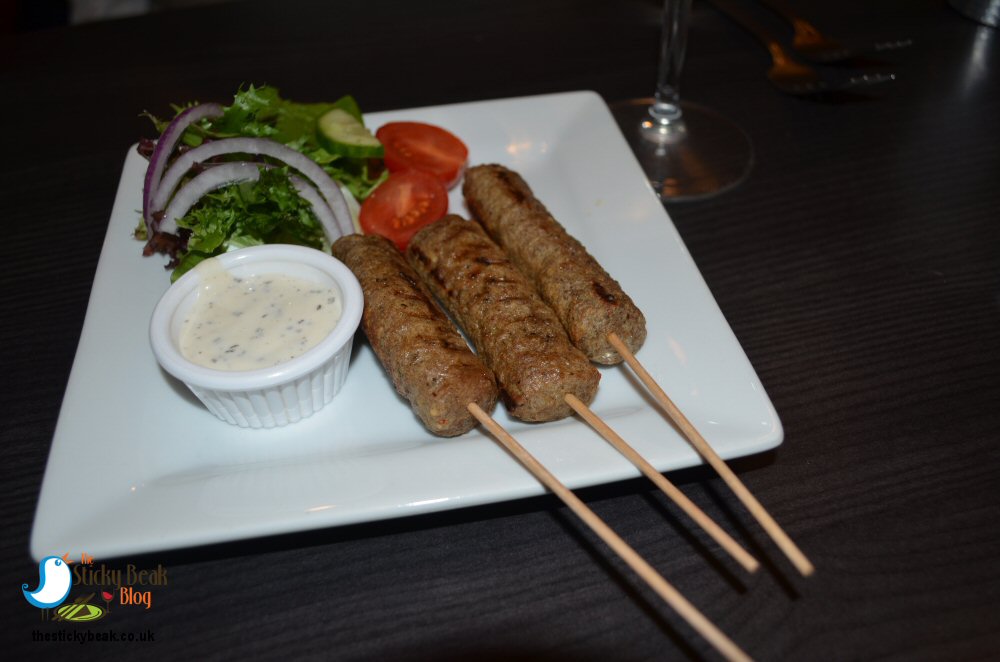 The Man Bird was also more than happy with his trio of Gruyere and Beer croquettes. As with my starter, the croquettes were piping hot and a good size to kick a meal off with. There was a great, thick crunchy outer layer to cut through that revealed the most gorgeous, gooey melted Gruyere centre. A gentle note of the light blonde beer could be detected and it paired rather nicely with the Gruyere cheese. The salad was again very pleasant and comprised of fresh crisp elements, and the onion chutney/marmalade was another positive part of the dish. No complaints so far from either of us.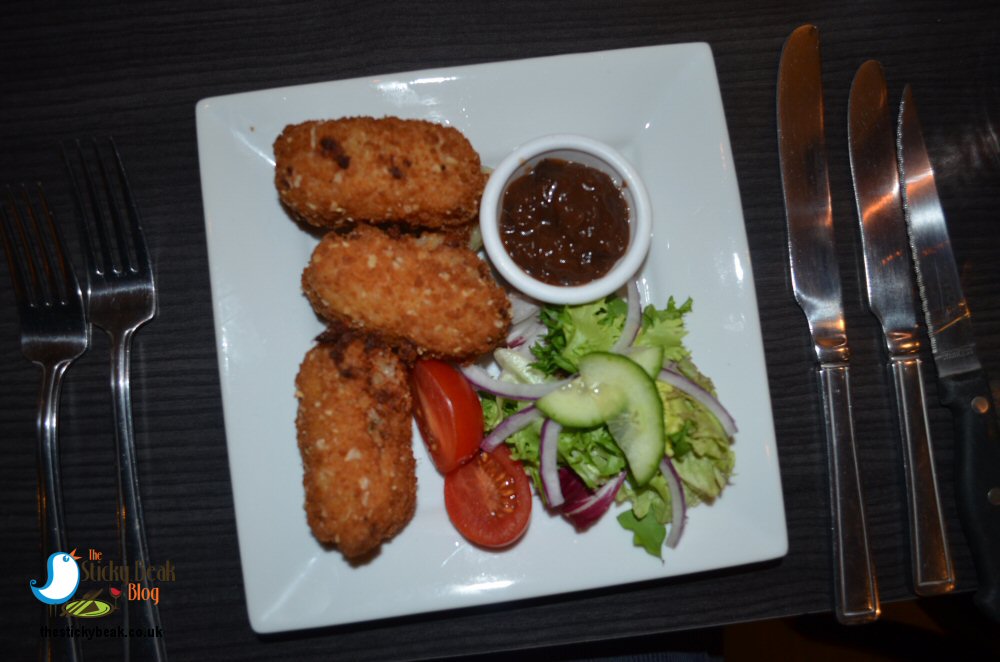 Our server had checked that we were happy with our starters, and another member of the team also took the time to ask if everything was to our liking; no chance of guest neglect at Bennetts! In the interval between our starters and mains, I took the opportunity to have a gander at the other offers that Bennetts are currently running (as at January 2019). In addition to the Groupon offer, Bennetts do another steak promotion that runs from Monday through until Wednesdays, where you can get 2 steaks and a bottle of wine for £25, and on Friday nights all steaks have 20% discount applied to them.

Both our steaks (mine rare, His medium rare) came with a grilled half Tomato, mushrooms, garden peas, and chips. The meat was a very generous size, delicious in taste and nicely textured, but what struck us both was the leanness of the Rump cut at Bennetts in Long Eaton. Sometimes Rump steaks can have an annoyingly thick vein of fat running through them, but it was only a fine line on this occasion; the margin of fat on the steaks outer edge wasn't excessive either.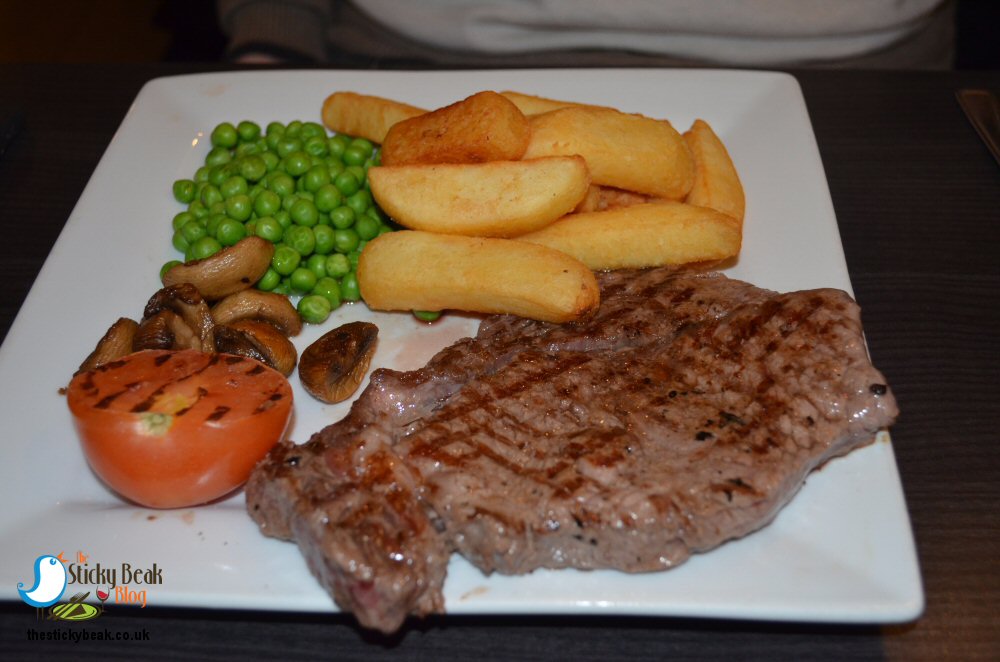 All the components of our main courses were piping hot, unsurprising since everything is cooked to order, and clearly hadn't been left languishing on the kitchen pass waiting to be taken out. If I had one slight criticism it would be that the chips weren't homemade, but to be fair they were a high-quality pre-cut variety and pretty much everyone can cook a chip can't they? The peas were delicious; again they might not have been fresh out of the pod, but their sweetness was absolutely beautiful and I gobbled them all up happily. That'll be two clean plates (save the outer fat of the steaks) going back to the kitchen again then.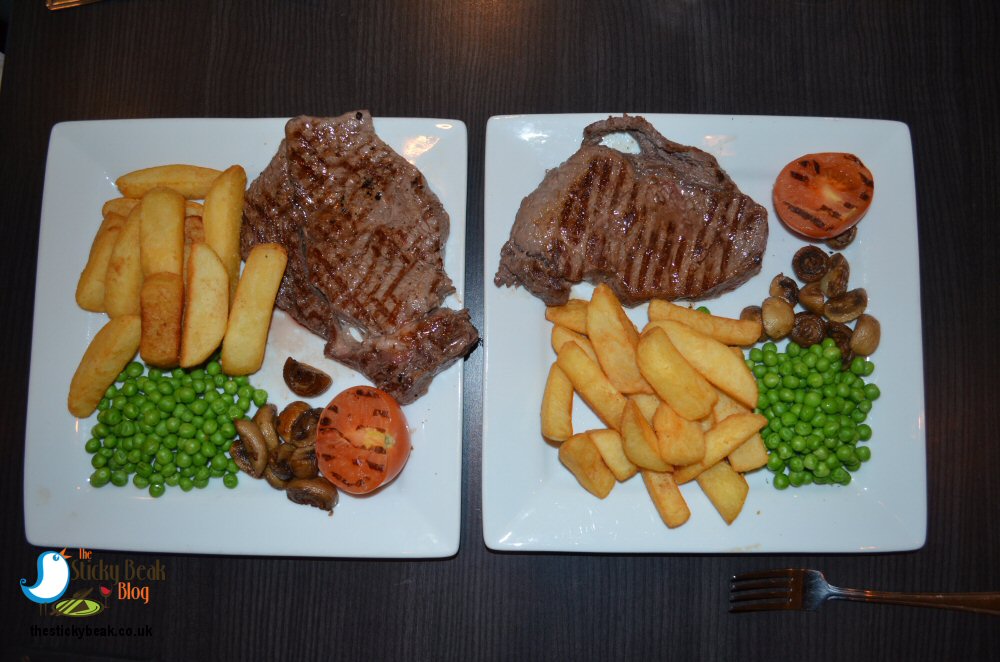 Given the quality of the food so far, we decided to push the boat out and go for pudding, so I had the Chocolate Fudge Fixation and The Man Bird had the Raspberry and White Chocolate Ice Cream Cake.

I had opted to have my triple-layered Fudge Cake served hot and was rewarded with that glorious sight of a glossy, liquid chocolate pool at the side of my plate. When I put the spoon into my mouth.... ooooooh, it was so good; naughty, but so worth it! The chocolate taste was indulgent and very satisfying, so who cares what calories it contained?! I paired this beauty with pouring cream, and the contrast in temperatures only served to highlight the luxury factor of this dessert.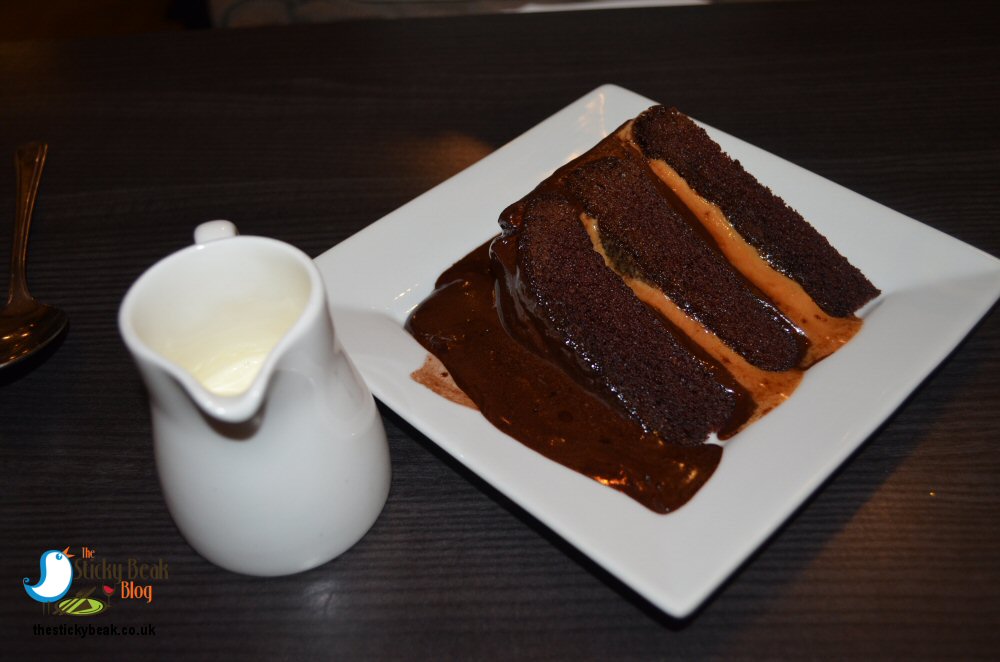 Across the table, My Man was tucking into his dessert with more than a smidgeon of happiness! A bottom layer of sponge cake was topped with creamy clotted cream Ice Cream, and then a combination of Raspberry glaze and sherbet delivered its intensely fruity punch. The result was a clever pairing of fruit and cream tastes that satisfied that part of the brain that needs a sweet fix. Pieces of crunchy Meringue added some texture to this pudding, and White Chocolate Chunks provided even more indulgence to this morsel – not that it was needed!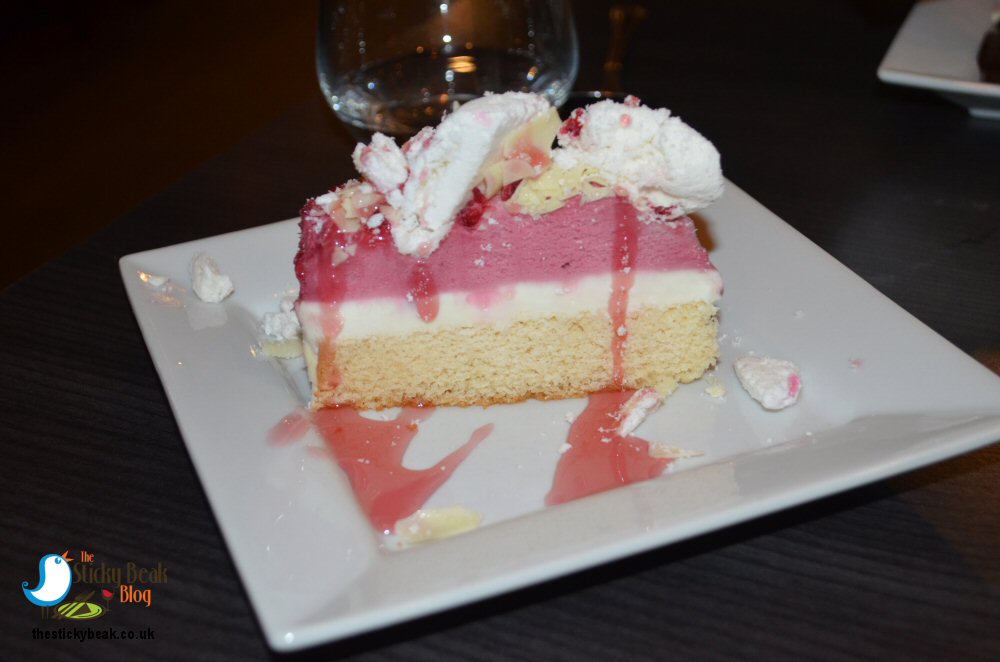 With our greedy tummies feeling more than podged, we headed back to the jalopy and made our way home to the nest. Factoring in the Groupon deal, this meal was an absolute corker value-wise; but both of us did say that even without this to consider, we'd have happily paid full price and not felt hard done to. If you haven't been before, it's worth a trip over to Bennetts Hotel and Restaurant in Long Eaton; let's face it, it's not a million miles away is it? Hot Wings given for this bargain of a meal, it's got our New Year off to a bright start.
No incentive was provided to visit this venue
read more
Read Some Of Our Recent Reviews
---

Out For Dinner At The Bear Inn, Alderwasley If it's the full on, single track road, rural Derbyshire experience that gets your motor running, then the journey to The Bear Inn at Alderwasley will have you in joyous raptures. For those of you who are Read The Article

---

Lunch At The Recently Opened Chatsworth Kitchen At Peak Village, Rowsley Everyone who knows me, knows I love Chatsworth (always have, always will) so when the invitation to sample lunch at the newly opened Chatsworth Kitchen Read The Article

---

A Visit To Vietnamese Street Kitchen, Resorts World, Birmingham Way back in the day (pre-covid) Fledge had bought me and The Man Bird tickets to see Mrs Browns Boys live and finally, after a couple of false start reschedules, the day of Read The Article

---

Sunday Lunch, A Museum Tour & Painting A Piece Of Denby At Denby Pottery Village It wasn't long ago that His Nibs and I visited the Denby Pottery Village to sample the Afternoon Tea at Bourne's Coffee Shop and Bistro (it was superb Read The Article

---

Bottomless Brunch At Turtle Bay In Derby The timing of the invitation from the Turtle Bay team in Derby to go and sample their Bottomless Brunch couldn't have been better; not only was it going to be The Man Birds' birthday a couple of days later Read The Article

---

Afternoon Tea At Santo's Higham Farm Hotel & Restaurant Aaaaaarggggh, don't you love your children??!! A while back, His Nibs had spotted a great deal on Groupon (you know what a bargain hound he is!) and thought it would be Read The Article

---

Sunday Lunch At The Countryman Pub & Dining, Kirkby-in-Ashfield We finally got to visit a venue thats been on our radar for quite a while, The Countryman Pub and Dining in Kirkby-In-Ashfield! A few weeks ago we tried to book a table for dinner Read The Article

---

Dinner At The Divan Turkish Restaurant In Chesterfield Chesterfield was welcoming us back again for our latest review visit; this time to the newly opened Turkish restaurant, The Divan, on Lordsmill Street. Owner Tuncay (along with Read The Article

---

Breakfast At Marsh Green Farm Shop & Cafe, Kelstedge Ah, you've gotta love a Bank Holiday curve-ball, haven't you? His Nibs and I headed over to Mummy Birds' gaff with the intention of having a leisurely couple of hours at the Sunday Read The Article

---

Afternoon Tea at Bourne's Coffee Shop and Bistro, Denby Pottery Village You all know that The Man Bird and I do like an Afternoon Tea; I mean, who doesn't?! Just a few miles down the road from the nest is Denby, home to the world-renowned Read The Article

---