Steak Night At Porterhouse By Barlows, Annesley
---
Published On Sunday 6 Jan 2019 by Sticky Beak
See Recent Dining Out Reviews | See All Recent Reviews


They say that "there ain't no party like an S Club party", so His Nibs and I set off to see if that's true. Now before you all think I've gone (even more) mad, let me just clarify that I've haven't regressed back to my teens, and also let me clarify that I wasn't a s'club fan either! The "S" in question refers to steak, so we were off to see what the crack was at Porterhouse by Barlow's S(teak) club/night.
We hadn't realised that this venue was so close to home for us, less than 10 miles down the road whichever way SatNav wants to take us! It's a case of blink-and-you'll-miss-it from the road as it only has a small frontage, but by golly you'll certainly smell it – the waft of meaty glory fair made my nostrils twitch and my mouth water. Thankfully, there is an upstairs seating area so there's a fair amount of room for diners. The downside is that there's no dedicated parking for Porterhouse Bistro, so it's a case of finding a spot on the road and claiming it – which we had no problem doing.

It's a good job that there is 2 floors of seating as it was already very busy when we rocked up at 6.15pm, and it didn't diminish numbers-wise as the evening chugged along to 8 o'clock. At this point, I didn't know if that was because this was the first Steak night of the New Year (they run every Wednesday and Thursday, by the way) or because the steak is so good, but I was soon going to be enlightened!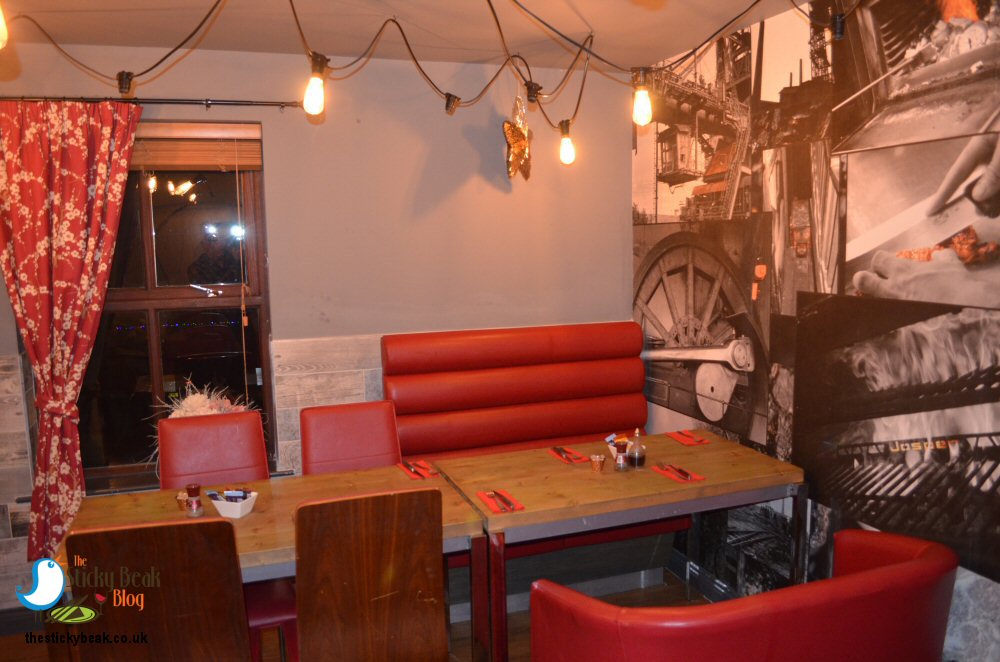 Porterhouse by Barlow's is simply decorated and furnished; think natural wood flooring and tables, shades of black, grey, and white for the artwork and fittings, all lifted by distinctive Cherry red seating and window drapes. Modern lighting and popular music (at a sensible level) give this venue a great vibe, which is further enhanced by the pleasant, welcoming staff.

The price for the steak night is £30 per couple and includes a pint of draught beer (The Man had Peroni) or a glass of house wine per person; I had a glass of Sauv Blanc, and it was a large glass too which I wasn't expecting – happy days. There are some supplemental charges to draw your attention to: the 12oz Jurassic steak has a £3 extra charge, the 8oz Fillet is a fiver extra, the 16oz Porterhouse cut is also an extra £5, and steak sauces are £2 extra. The choice of sauces changes each time, and last nights' was either Mushroom or Creamy Peppercorn; predictably, His Nibs opted for the Peppercorn variety.




All the steaks come with hand cut chips, whole roast Tomato, whole grilled Mushroom, and dressed salad Garnish.

The Boy Wonder was intrigued to know what the Jurassic steak was as he quite fancied the sound of it. Our lovely server told us that it's a steak that only the butcher knows where he's cut it from, and it's recommended to be cooked medium-rare. Chappo decided that this sounded just the ticket and duly ordered it, and I decided to go for the 16oz Porterhouse steak, the signature offering of the venue.

The family behind the Porterhouse Bistro are actually a family of butchers with some 60 years experience under their belts, so they may be relative new-comers to Bistro life at 2 years of age, but they sure know quality meat and how to cook it. They mature their steaks in their specially designed, Himalayan salt-walled fridge for a minimum of 30 days (and often longer!) to develop its taste, texture and season it at the same time.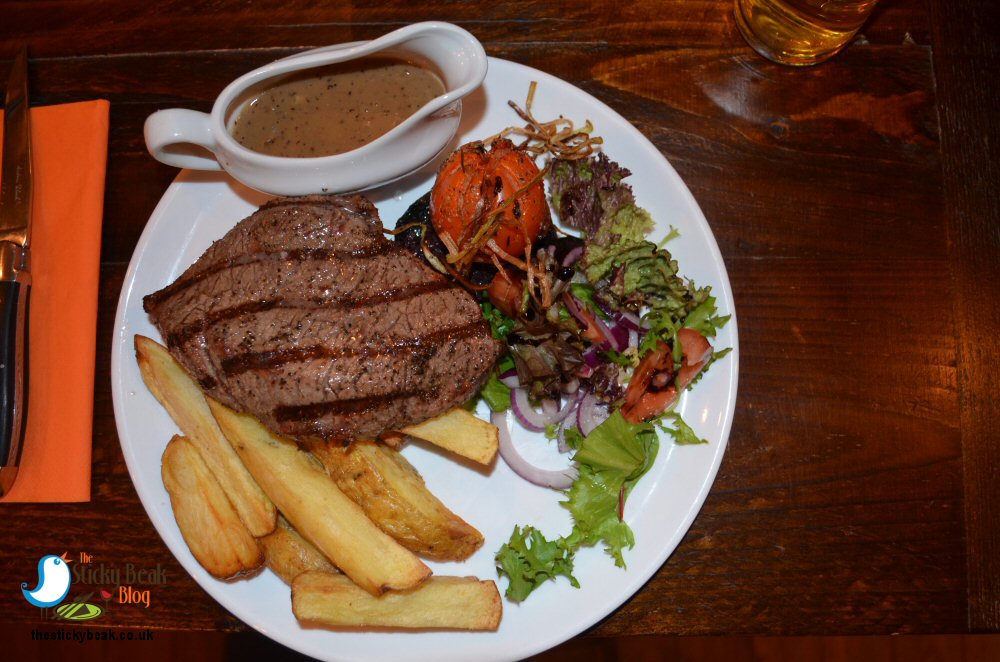 Porterhouse by Barlow's do offer starters on their a la carte menu (which, by the way, offers some fab sounding dishes), but on steak night it's straight on to the main event, the star of the show, Mr Steak. Two heavily-laden plates were brought over to us; and by heavily-laden I mean that there was no room on the plate left at all, and even then the thick, golden chips had to be placed underneath both our steaks to get everything on!

We both eagerly tucked in to our respective steaks, and grins spread over our mushes as we chewed the first mouthfuls. As is our habit, we cut and passed each other a piece of our steaks so that we could "compare and contrast", if you will. Both the steaks were bursting with taste and were lovely and juicy, thanks to the Josper oven which is designed to cook them to retain the meats' natural moisture, taste, and tenderness. The Man Bird had requested his steak to be done medium-rare, and I love my meat to be rare, so he thoughtfully cut me a piece of his steak from the thickest middle part – bless him.

Personally, I thought my Porterhouse steak had the edge over His Nibs' Jurassic cut in terms of depth of flavour (but then I would, wouldn't I?), and I also felt that the Jurassic version was a bit denser in texture than my Porterhouse. Everyone has their own preference on steaks in terms of cooking time, and flavour and fat content, and we were both heartily satisfied with the choices we'd made. I think that there really will be something for everyone at Porterhouse by Barlow's in Annesley and whatever cut you select. I'm confident that you'll enjoy it safe in the knowledge that it isn't going to be a gristly, dried-out mess thanks to the skill of the chefs and the afore-mentioned Josper oven.




I don't know if I've mentioned it before, but I have an absolutely cracking set of steak knives that my Mummy and Daddy Bird bought for us many years ago? Anyhow, I mention it now because I wish I'd brought mine with me. Steak knives are provided at Porterhouse, but unlike mine they don't have a serrated bottom section that comes in jolly handy when navigating thicker cuts and around bones and sinew. I actually got a touch of cramp in my index finger after a while – I'm one of those weirdo's that rests their straightened index finger along the length of the knife – due to the time it took me to wend my merry way around all the curves of the bone. The upside is that it slowed my chomping time down so I didn't look like a total gannet! And no, Mummy Bird, I didn't pick up the bone and gnaw every last bit of meat off, but only because there was a couple sat directly behind us who would've seen me!

All the accompaniments were superb. The Peppercorn sauce came in a separate little jug and was lovely and hot temperature-wise, and had a nice gentle peppery heat in the mouth. The consistency was spot-on too; not too thin so it ran everywhere, but not thick either so that it was like jelly – just perfect for dunking the delicious chips into!

We both loved the sautéed shoestring onions that were nestled in the up-turned whole grilled Mushroom, they had a superb sweet caramelly note to them. I love the soft yielding nature of a whole roast Tomato too, and this one was a corker. A dressed side salad of mixed leaves, red onion, cucumber, and slices of fresh tomato completed the ensemble. All that remained of my perfectly seasoned steak was the central bone, and His Nibs' plate was clean as a whistle, so I think you can assume that we'd both thoroughly enjoyed our meals.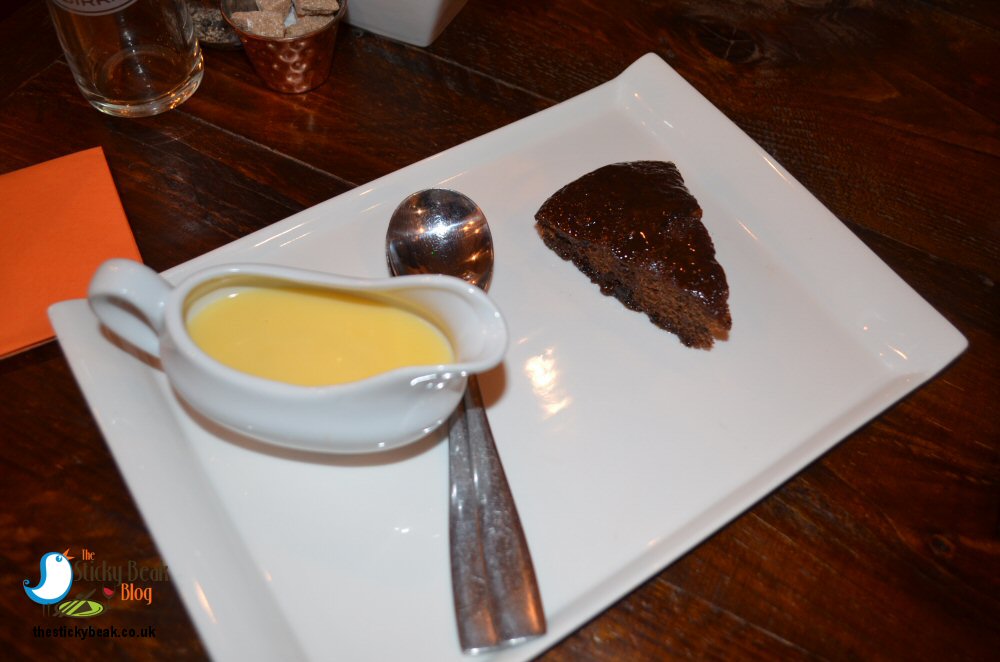 It may well be a New Year, but old habits are going nowhere! Willpower yet again disappeared into thin air as, despite our bellies being stuffed to the brim, we opted to have Sticky Toffee Pud for dessert. We did play nicely and share a portion between us though, rather than going for gluttony gold as we normally do.

Regular readers of the blog are well aware that The Man and I have differing preferences on several things, most notably ketchup/ brown sauce on bacon (brown sauce, obvs!!) and it's the same when it comes to gooiness with Sticky Toffee puds. To me, they should be soft and gooey all the way through –rib stickers my Nana used to call them - whereas His Nibs prefers a bit of firmness to the bottom, typical fella really! The Sticky Toffee Pudding was lovely and rich in flavour and texture, really delicious, until the base when it went a bit too firm for me; not to worry, The Man pounced in with indecent haste and scoffed the last remains. Who says chivalry is dead *cough, splutter*?

We really, truly were stuffed by now, so much so that when our lovely server came to ask if we'd like a hot drink, we had to decline. Seriously, there was no room at all for another molecule, whether it be liquid or solid!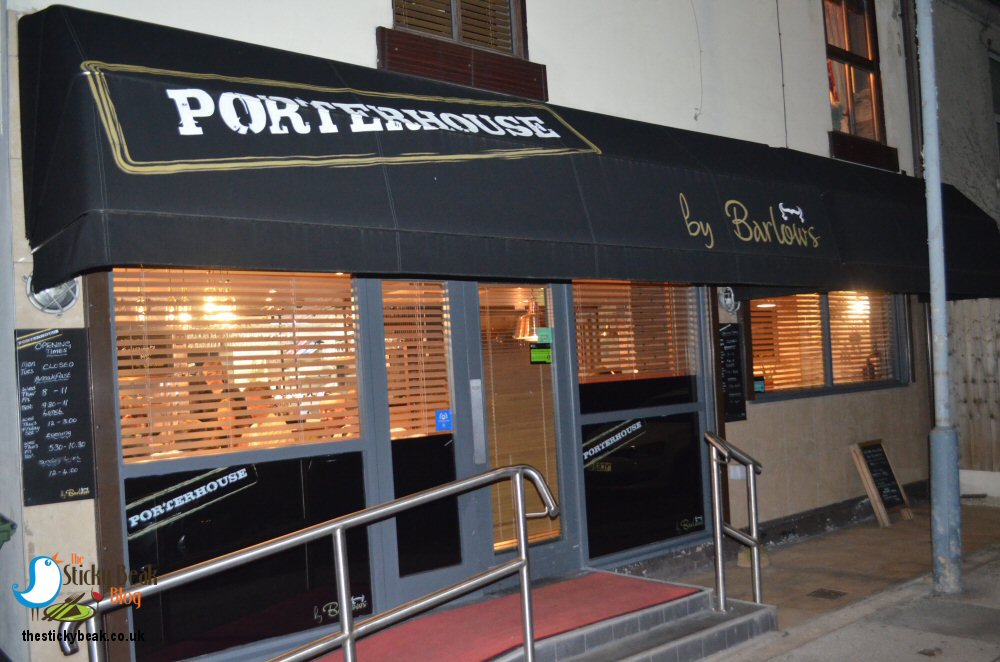 All in, the evening had cost £45, which was blooming stupendous value for money given the quality and quantity of the food and drink we'd consumed. If you haven't been before, I can heartily recommend you book in for the steak nights, and I'm sure the a la carte food is just as good. Porterhouse by Barlow's also serve breakfasts and lunches, so you don't have to go in the evening if this is problematic for you. I would ring ahead and reserve a table though for the steak nights on Wednesday and Thursday, just because it is so popular and a relatively small venue.

Hot Wings – the first of 2019 – awarded to this fabulous, friendly team.
No incentive was provided to visit this venue
read more
Read Some Of Our Recent Reviews
---

Out For Dinner At The Bear Inn, Alderwasley If it's the full on, single track road, rural Derbyshire experience that gets your motor running, then the journey to The Bear Inn at Alderwasley will have you in joyous raptures. For those of you who are Read The Article

---

Lunch At The Recently Opened Chatsworth Kitchen At Peak Village, Rowsley Everyone who knows me, knows I love Chatsworth (always have, always will) so when the invitation to sample lunch at the newly opened Chatsworth Kitchen Read The Article

---

A Visit To Vietnamese Street Kitchen, Resorts World, Birmingham Way back in the day (pre-covid) Fledge had bought me and The Man Bird tickets to see Mrs Browns Boys live and finally, after a couple of false start reschedules, the day of Read The Article

---

Sunday Lunch, A Museum Tour & Painting A Piece Of Denby At Denby Pottery Village It wasn't long ago that His Nibs and I visited the Denby Pottery Village to sample the Afternoon Tea at Bourne's Coffee Shop and Bistro (it was superb Read The Article

---

Bottomless Brunch At Turtle Bay In Derby The timing of the invitation from the Turtle Bay team in Derby to go and sample their Bottomless Brunch couldn't have been better; not only was it going to be The Man Birds' birthday a couple of days later Read The Article

---

Afternoon Tea At Santo's Higham Farm Hotel & Restaurant Aaaaaarggggh, don't you love your children??!! A while back, His Nibs had spotted a great deal on Groupon (you know what a bargain hound he is!) and thought it would be Read The Article

---

Sunday Lunch At The Countryman Pub & Dining, Kirkby-in-Ashfield We finally got to visit a venue thats been on our radar for quite a while, The Countryman Pub and Dining in Kirkby-In-Ashfield! A few weeks ago we tried to book a table for dinner Read The Article

---

Dinner At The Divan Turkish Restaurant In Chesterfield Chesterfield was welcoming us back again for our latest review visit; this time to the newly opened Turkish restaurant, The Divan, on Lordsmill Street. Owner Tuncay (along with Read The Article

---

Breakfast At Marsh Green Farm Shop & Cafe, Kelstedge Ah, you've gotta love a Bank Holiday curve-ball, haven't you? His Nibs and I headed over to Mummy Birds' gaff with the intention of having a leisurely couple of hours at the Sunday Read The Article

---

Afternoon Tea at Bourne's Coffee Shop and Bistro, Denby Pottery Village You all know that The Man Bird and I do like an Afternoon Tea; I mean, who doesn't?! Just a few miles down the road from the nest is Denby, home to the world-renowned Read The Article

---