Fahrenheit @ Genting Riverlights
The name Fahrenheit characterises the dining experience within Genting Club Riverlights. Fahrenheit is a social restaurant where the vibrant surroundings and atmosphere mirrors the food we serve. Our guests can choose what they want freely, from our extensive a la carte menu.
All our dishes are made with fresh, seasonal ingredients gathered from around the country and are freshly prepared by a team of skilled and dedicated chefs. We believe you'll find our restaurant a dining opportunity difficult to turn down.
The Sticky Beak Blog Reviews
12/11/2019
Sunday Lunch At Fahrenheit @ Genting Riverlights, Derby
View

---

6/24/2018
Dinner And Live Music On Fahrenheit Fridays At Genting Riverlights, Derby
View

---

10/1/2017
Dinner At Fahrenheit, Genting Riverlights, Derby
View

---

3/12/2017
Comedy and Curry night at Genting Casino, Derby
View

---

8/14/2016
Dinner At Fahrenheit, Genting Riverlights, Derby
View

---

12/2/2015
Christmas Menu At Fahrenheit, Genting Riverlights, Derby
View

---

8/23/2015
New Menu At Fahrenheit, Genting Riverlights, Derby
View

---

4/28/2015
Dinner At Fahrenheit, Genting Riverlights, Derby
View
News Articles
3/20/2018
New Menu, Great Offers & Fahrenheit Friday's at Fahrenheit Bar & Grill
View

---

1/30/2017
Curry & Comedy Nights At Genting Riverlights For Treetops Hospice
View
The Chatterbox
Fahrenheit @ Genting Riverlights has not been mentioned in the Chatterbox yet
Award Badges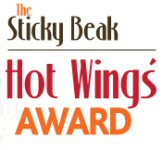 Find out more about my Award Badges
Menus
We have no menus for Fahrenheit @ Genting Riverlights Yet
Photographs