Afternoon Tea At The Curious Tavern, Hockley, Nottingham
---
Published On Thursday 12 Jul 2018 by Sticky Beak
See Recent Dining Out Reviews | See All Recent Reviews


Well, the odyssey that had been our "Afternoon Tea Tour" was finally coming to a close; Curious Tavern in Nottingham's trendy Hockley area was our final destination. The Deputy Manager of Curious Tavern, Lost Property and the Lost Caves, Alannah, was on hand to show us to our table; she had set us up outside originally, but kindly moved us inside at our request.
In keeping with the name of the company, the tavern's decor was indeed Curious! There is the most ornate, dark panelled ceiling I think I've ever seen, and the walls above our table had gold plaques inlaid with Stag- and other species of-beetles on it. Curious Tavern has a darkened interior to it; but it is surprisingly comforting, not dingy or foreboding. There are plenty of massive, angular shaded lights around that give out a nice diffuse light around the premises.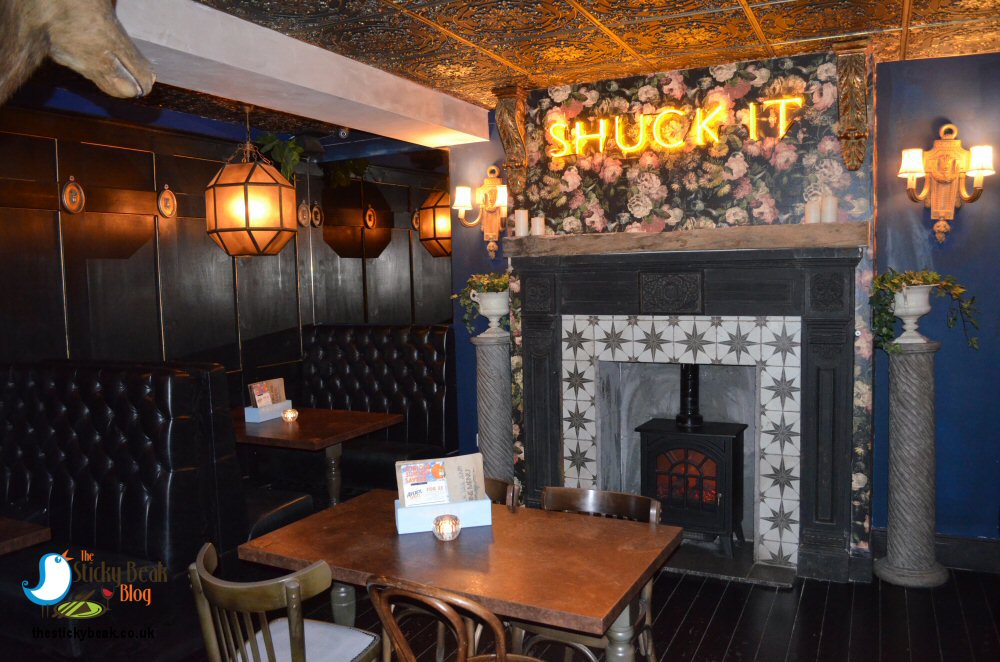 As we settled into our deliciously deep-padded, banquette seated booth I began to take in some finer details, particularly loving the witty "Shuck It" neon sign above the fireplace. This is a nod to when there was an Oyster bar on site, sadly no longer there. Whilst we were chatting away, Alannah had been to the bar and came back bearing our glasses of Prosecco, replete with fresh Raspberry garnish.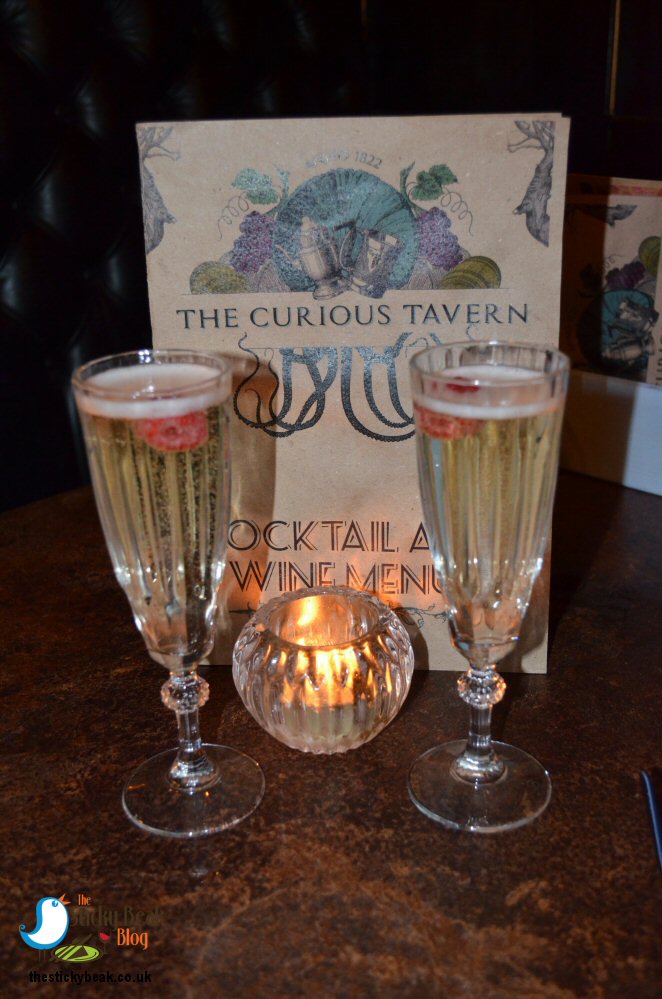 We were booked in to have the Sparkling High Tea which includes a glass of Prosecco, priced at £35.90 per couple, but there is also the Tipsy Tea which comes with a cocktail priced at £37.90 per couple if you prefer. Non-alcoholic options range from the Cream Tea at £5.95 per person, Biscuitea at £7.45 each, or the Traditional Afternoon Tea at £31.90 per couple. Children (12 years and under) are also welcome to partake in this great occasion and have their own Child's Afternoon Tea priced at £5.95; this comes with tea or a soft drink and a daintier selection of food.

The great thing is that you don't need to pre-book the Afternoon Teas in advance, so you can do them on the spur-of-the-moment if the whim takes you! Those with dietary requirements can be catered for as well, so no need to fret.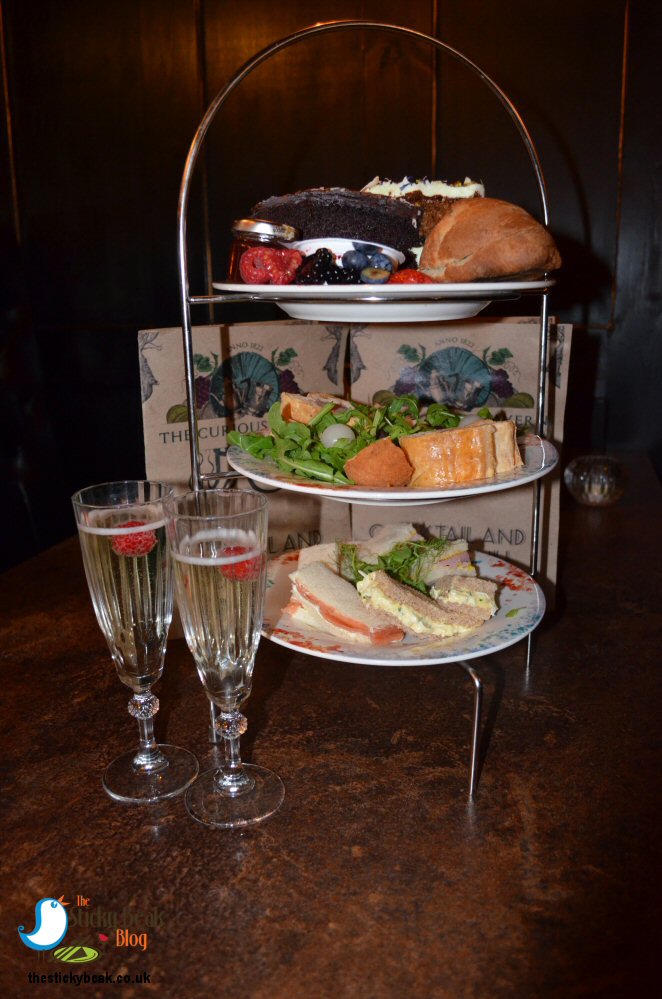 There were some similarities in the Afternoon Tea at Browns', Mansfield and at Curious Tavern; the sandwiches were Smoked Salmon, Egg Mayo, and Ham and Mustard Mayo. I tucked into my Salmon finger sandwich, and it was wonderfully smoky and succulent in the mouth; the bread was beautifully fresh and springy too. His Nibs was enthusiastically chewing away on his new favourite sandwich combination – Ham and Mustard Mayonnaise. I have to agree with him though, it is a really good pairing at the hands of the Curious kitchen team.

A good Egg Mayonnaise sandwich has something of a magical, comforting quality about it I always think. The way it coats the inside of your mouth and caresses the taste buds is quite superb, and the team at Curious Tavern don't stint on the filling, so you really can savour the moment.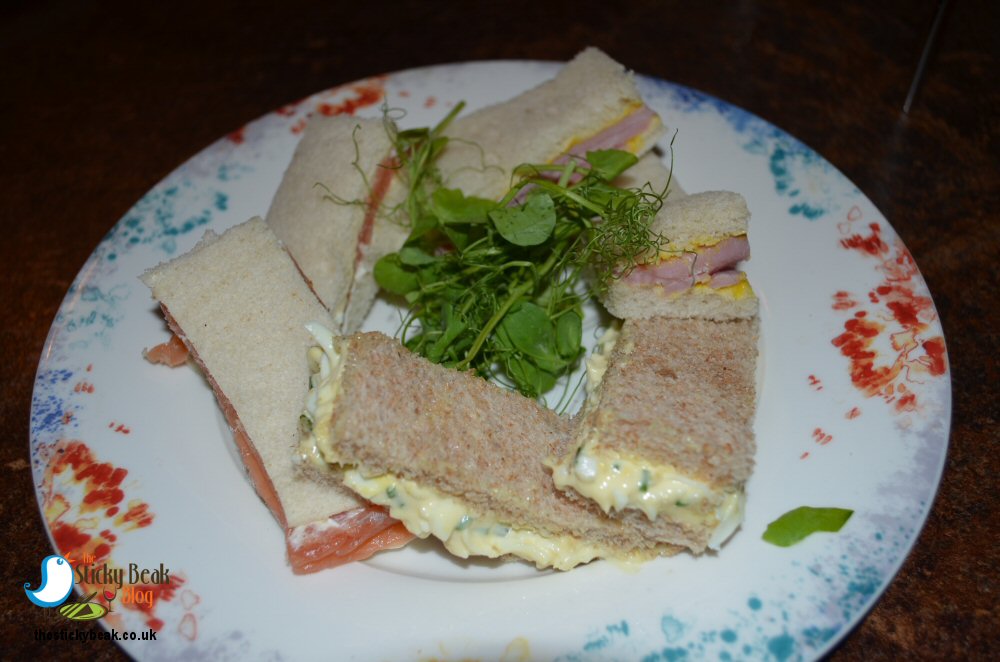 As we've meandered on our Afternoon Tea adventure we've noticed that some venues absolutely go-to-town on the sweet side of things, whilst others like to go off-piste a little and offer pastries, rolls and even vol-au-vents in their savoury section. Alannah and her team went one further and alongside slices of Scotch egg and Sausage rolls (both ridiculously good by the way), they offered Owen Taylor and Sons butchers' award winning Huntsmans Pie.

The Huntsman Pie was a complete corker of a morsel; there was a thick layer of Pork at the bottom, free range Chicken in the middle, and a lovely herby stuffing top layer that had a gorgeous golden tone to it from baking. It was superbly moist in the mouth and really satiating for hungry tummies.




Alannah came over to check how we were getting on, and brought over a pot of tea for me (sans cosy!) and a black coffee for The Man Bird; chowing down on delectable nibbles is thirsty work!

Amongst the temptations on the savoury tier was a lovely fresh Rocket salad, with Black and Green Olives and pickled baby Silverskin Onions. I tucked in with my usual enthusiasm, coming to a swift (shocked) halt when His Nibs said "I've never had a pickled onion". WHAT?! How has that happened? Needless to say the situation got swiftly rectified, and yes, he quite likes them; I liked the face he pulled when the double-whammy of sour vinegar and tart onion hit his tongue!




With the sandwiches and savouries dealt with, it was time to turn our attention to the cakes and scones. We had a sumptuous looking Chocolate cake, the Avocado and Courgette cake which we'd loved at Browns, and a pair of fabulously fruity scones, all just waiting to be chosen. The sweet tier was garnished with lots of plump fruits; Strawberries, Blueberries, Raspberries, and Blackberries, and it not only looked stunning visually, but it meant that I felt a little less guilty as I indulged – well, I was getting one of my 5-a-day surely?!

The Chocolate cake was lovely and rich, with a deep cocoa note to it that can satisfy even the most ardent chocoholic. We both loved the gooey frosting on top, it was a real tongue-coater; let's face it, if you're going to have an indulgent cake, you want to go the full distance don't you? No point in doing half a job! By the way, it pairs beautifully with slices of sweet Strawberry on it.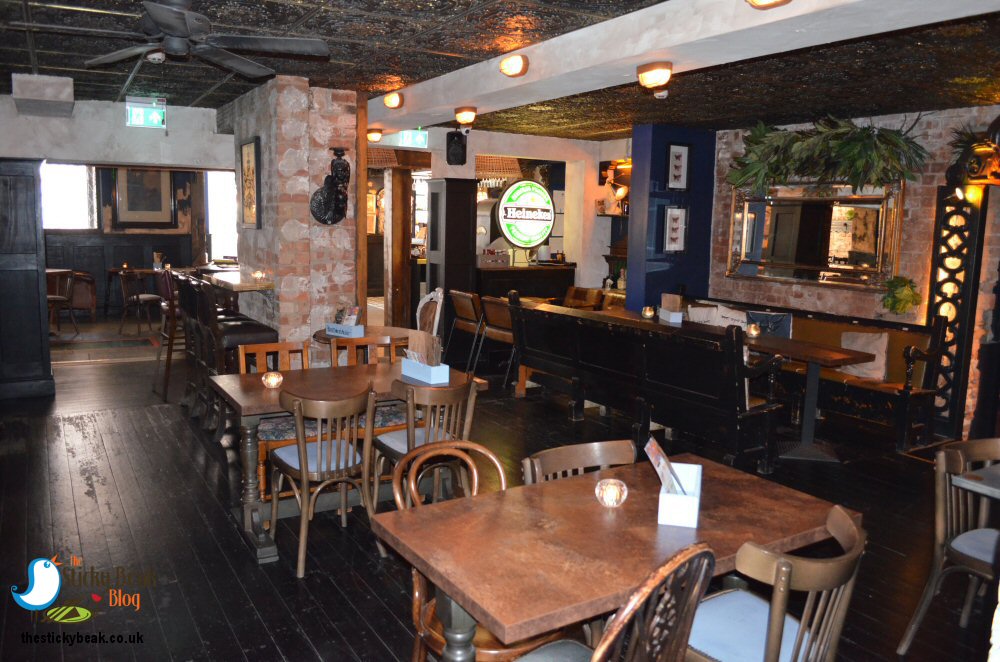 We were on a sweet roll, so with almost indecent haste, we cut into the Avocado and Courgette cake and began scoffing that. Gosh it's good! I defy anyone to not fall under its spell when they've tried it; it has that wonderful warm spice to it and is incredibly moist and light in the mouth. From an aesthetic viewpoint, I love the paler than pale green shade of the frosting – it's just a bit different and contrasts brilliantly with the terracotta tones of the cake itself. The inclusion of Avocado flesh in the frosting imparts a rich creamy note to it that wraps itself delicately around the taste buds.

Generous fruited scones, tubs of Roddhas Clotted Cream, and pots of Strawberry jam were the last men standing on the Afternoon Tea platter, so to speak; but their time was rapidly running out. We cut into the amply-proportioned scones, our knives thrusting through the outer crust and into the open-textured realms within.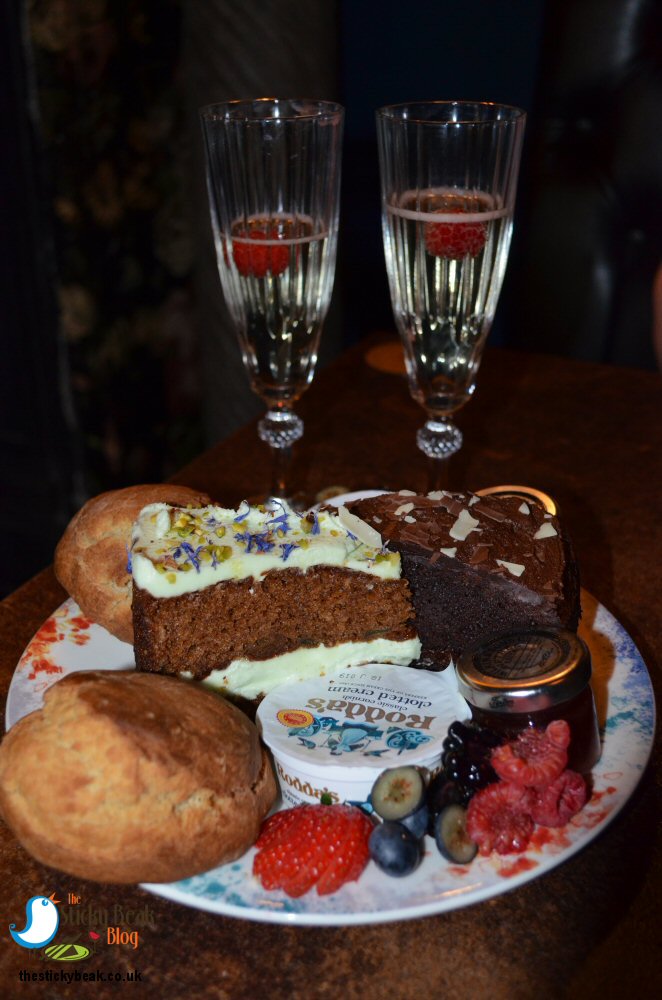 Having stuffed ourselves silly, we needed to stretch our legs a little. Curious venues also own a space called "Lost Property" and a unique Gin bar named the "Lost Caves" both within close proximity to Curious Tavern, so Alannah kindly showed us the way and got us settled in to start the second part of our day in Nottingham. Read the review here

This was a thoroughly enjoyable experience, and a fitting end to our Afternoon Tea series, ahead of Afternoon Tea week which is 13-19th August 2018. Hot Wings happily awarded to this wonderfully quirky venue and its uber-friendly staff.
Some form of incentive was provided to visit this venue
read more