A Visit To Lost Property And The Lost Caves, Nottingham
---
Published On Wednesday 11 Jul 2018 by Sticky Beak
See Recent Experience Reviews | See All Recent Reviews


It was a gloriously sunny summer afternoon in Nottingham; we'd had a fab Afternoon Tea at Curious Tavern, and the day was still young enough for more mischief to be had. Enter our mischief-enabler extraordinaire, Alannah. Alannah is the Deputy Manager of Curious Tavern, Lost Property and the Lost Caves, and knowing that we aren't completely au-fait with Nottingham's geography, she took pity on us and showed us around to Lost Properties' entrance
Unassuming and not brash in style, we would definitely have walked past the sign a couple of times had we not had Alannah with us! We would have struggled with the actual door too; its front was obscured with old suitcases, the gilded handle camouflaged brilliantly.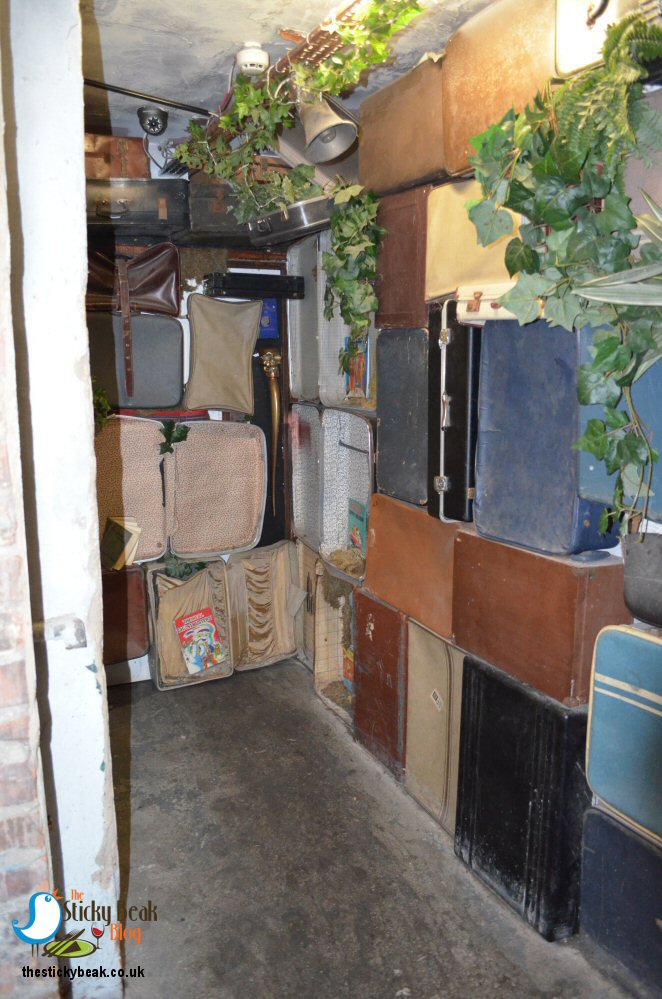 Lost Properties' owner, Dan, has quite the eye for design and showcases his talent very well in the interior of this venue. What came to mind for me were a 1920s railway station- style lost property rooms; everywhere you looked there were trunks, suitcases, books, toys, and paraphernalia scattered around artfully. The suitcases had been stacked to form pillars around which tables and seats had been arranged, and some filing cabinet-printed wallpaper in a back space looked particularly effective.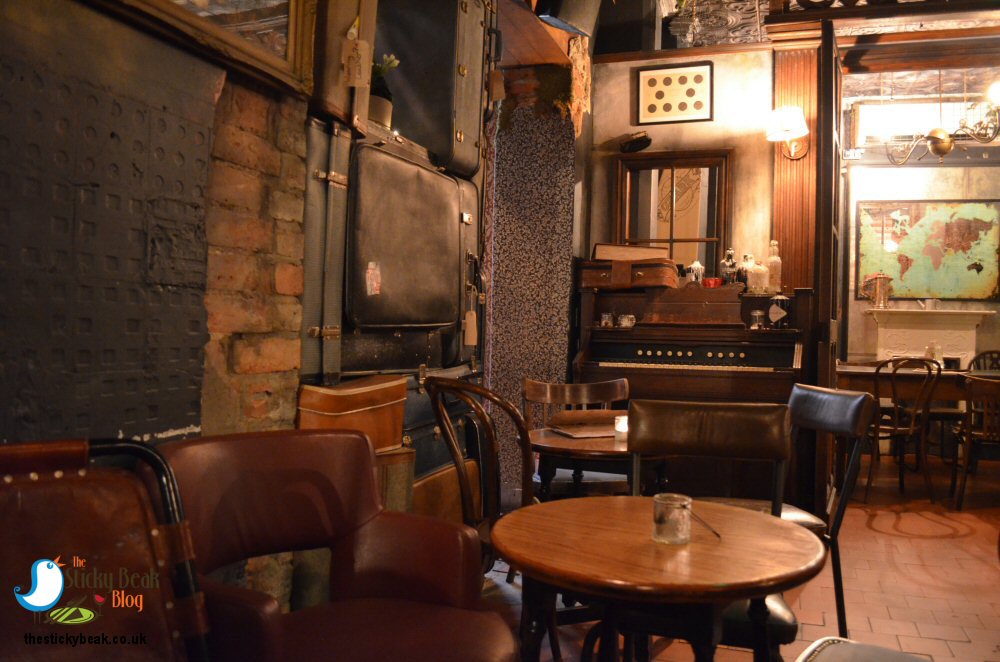 His Nibs and I sat on some sublimely squishy sofas, taking in our surroundings. Alannah said she would be around for the rest of our time in Nottingham, and would take us down to the Lost Caves bar below Nottingham's ancient streets when we were ready. Whilst we looked through the cocktail menu, I noticed the ceiling decor – hundreds of old, ornate door keys of all shapes and sizes!
In addition to the Curious venues classic cocktail selection, Lost Property has its own unique selection of libations. As you may expect, they all have quirky names and details of their contents are printed out as lost property/missing item reports. There are some very retro ingredients in the cocktails too; I had one called "Misplaced Cherry"- a mix of Havana especial rum, ginger ale, and lime all topped with Cherry B, The Man found his "Lost Child"- Jelly Baby infused Brokers Gin with bitter Campari, Orange juice and Lemon. Both were topped with a drizzle of Blackberry liqueur.


Time seemed to slow down in the comfort of Lost Property, and we spent our time people-watching, chatting and generally having a good time. Eventually we decided to go and explore the Lost Caves Gin bar; a very exclusive venue given its 30 person maximum capacity!




Alannah took us through the corridor to the caves' entrance and punched in the code for the door; admittance is strictly one-in-one-out due to the conditions of trading, although our table had been reserved, so it wasn't a problem and we didn't have to wait. As you would expect, the steps down into the caves are fairly steep and a bit uneven, so we held on steadfastly to the handrails. The other quirk is the undulating ceiling level, so The Man Bird had to duck down a few times!
You can't help but be impressed by natures' ingenuity when you're in the Lost Caves bar; I find it fascinating how forces manage to carve out spaces in the bedrock – it's the geek in me! The Curious venues team just had to do a bit (ok, a lot!)of levelling work to make the floor even to put seats and tables on, although they have used much of the natural surroundings as seating. There are several recessed coloured lights which add to the atmosphere, without making it unnaturally light; after all, you want to immerse yourself in the cave vibe don't you?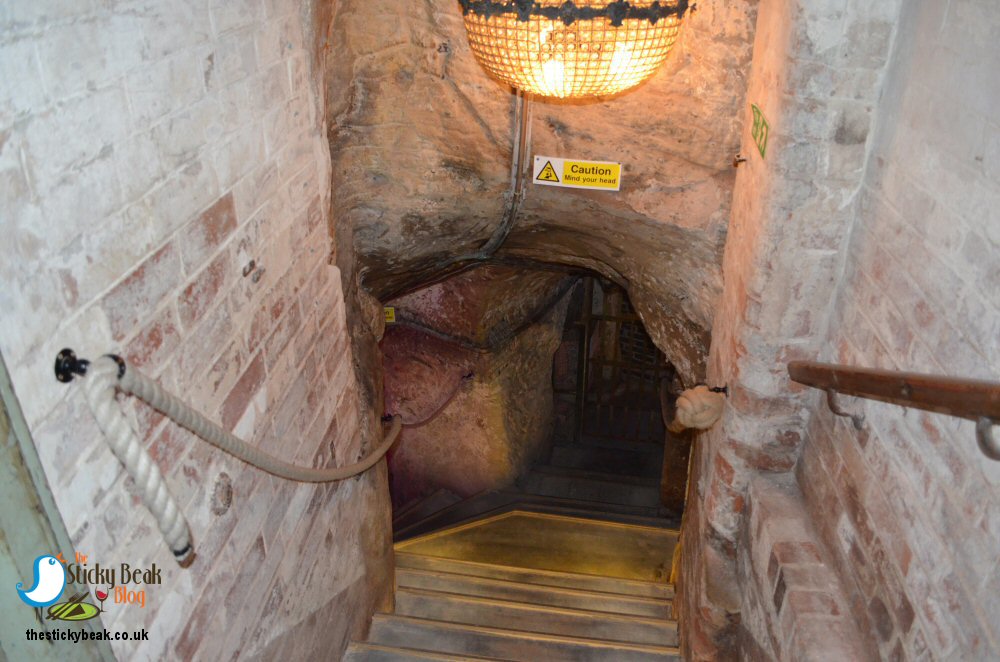 There were groups of friends celebrating birthdays, as well as other couples in when we settled ourselves on a natural ledge that had been strewn with throws and cushions; an old-fashioned large luggage trunk served as our table.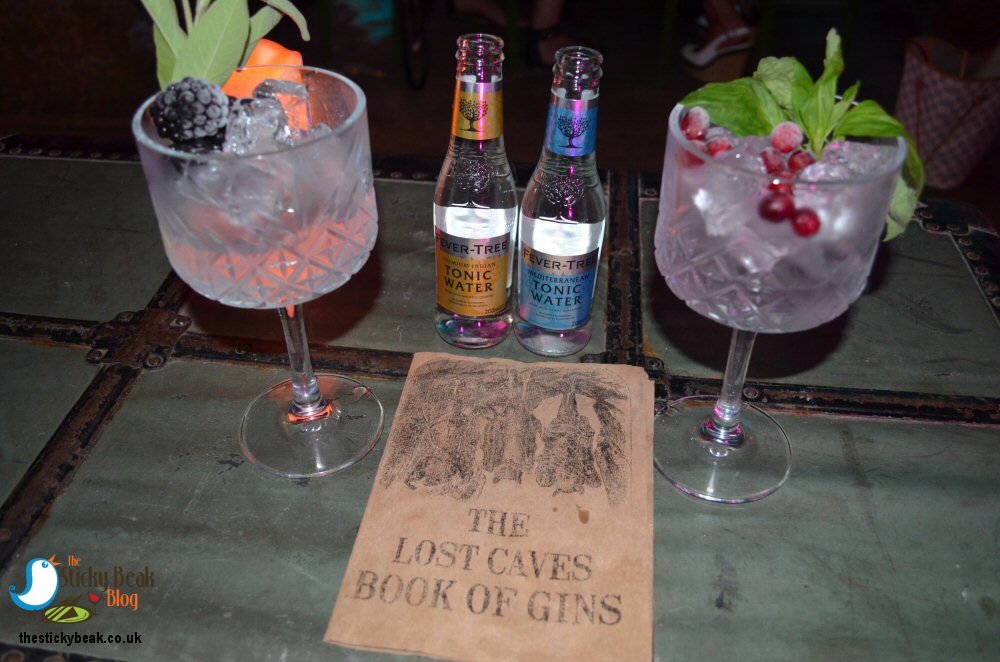 As you may expect from a Gin bar, there was an extensive menu of this particular spirit to choose from. We loved the fact that they were all listed in alphabetical order. I chose a Williams Gin, intrigued by its description of being "spicy", whilst His Nibs had Monkey 47. Fever Tree is the tonic of choice in the Lost Caves, which we were happy to see – no point serving good quality Gin with a second rate tonic really is there?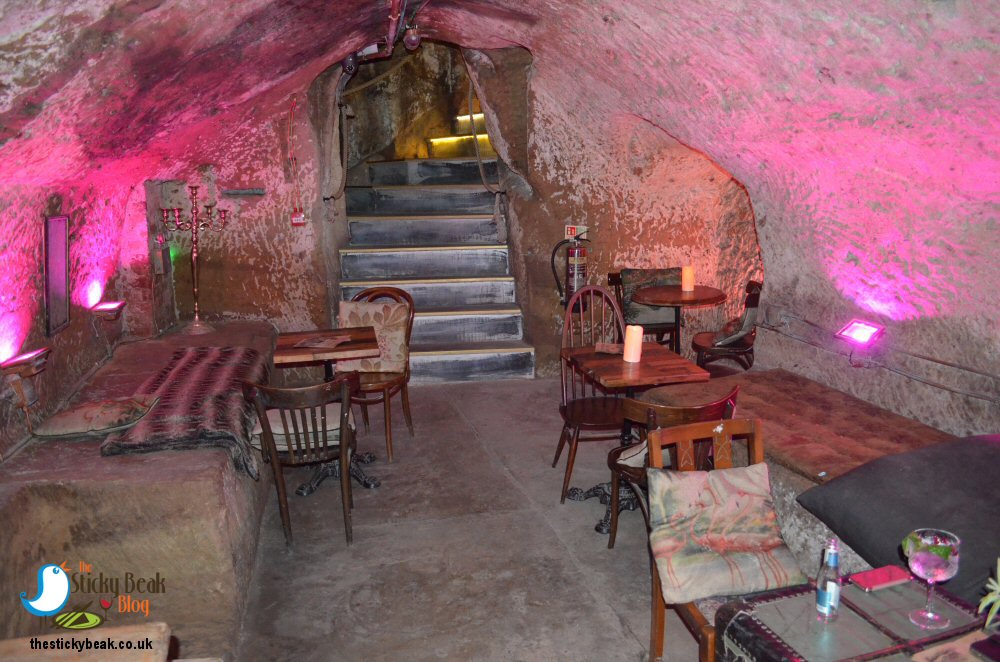 The mixology maestro, Connor, got to work arranging the various garnishes in the heavy, cut glass glasses after the Gin and ice had been placed in. The tonic is served to you in its bottle for you to add as much or as little as you please.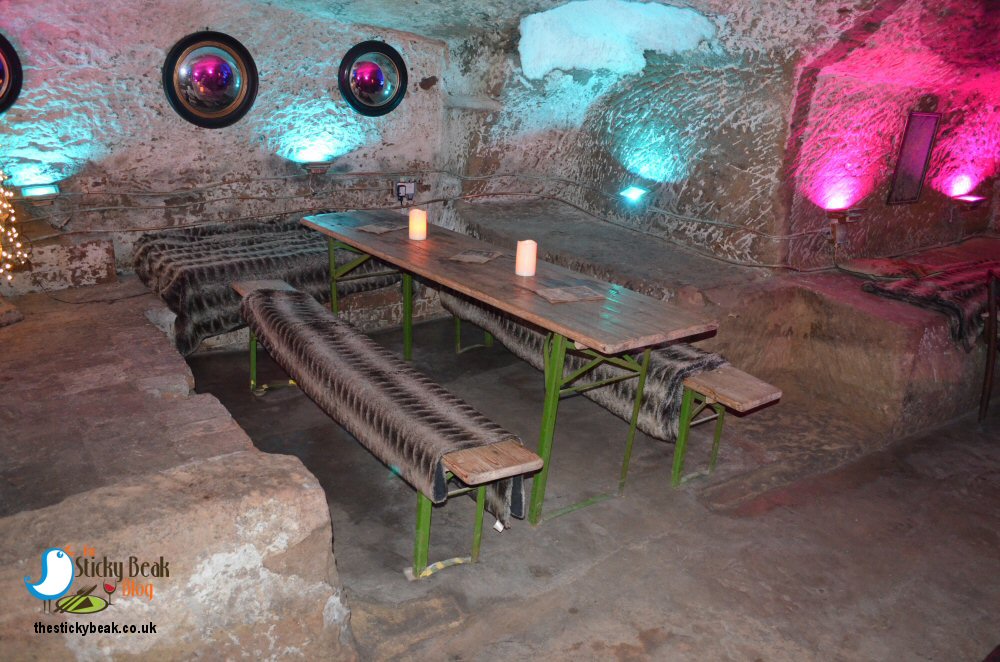 A pleasant couple of hours passed, but all too soon we had to say our goodbyes and catch the train home. Thanks to Alannah and the rest of the Curious venues team, we'd had a corking day out in Nottingham.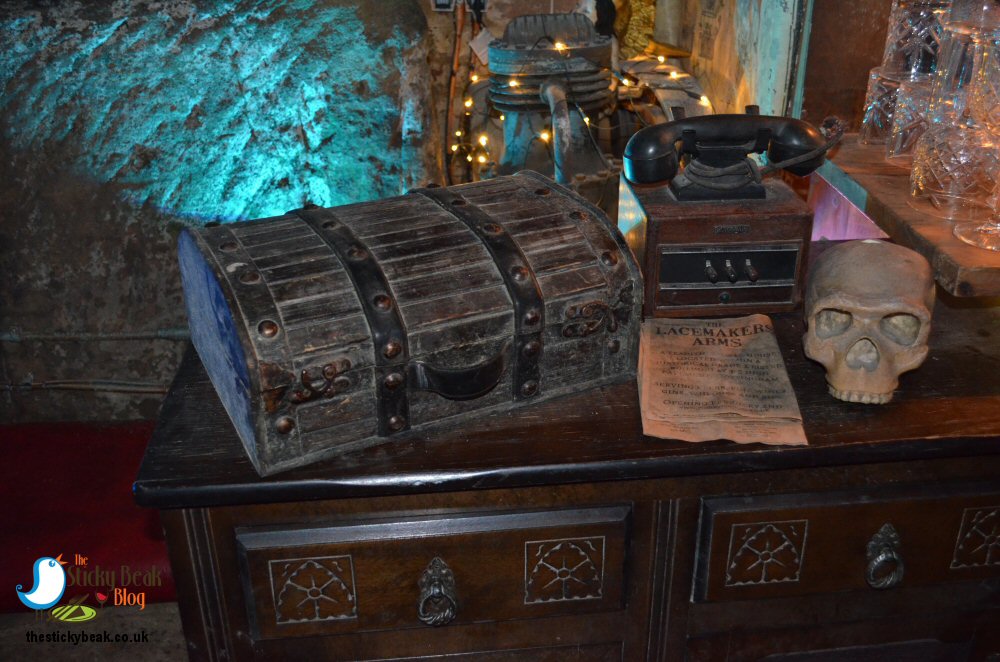 Next time you're planning a day or night out, why not check out Curious Tavern, Lost Property and the Lost Caves? You'll have a great experience, as well as top-notch food and drink. Hot Wings awarded here!

Find out about our Afternoon Tea experience in Curious Tavern