Tea Blending & Coffee Roasting At Northern Tea Merchants
---
Published On Wednesday 25 Jan 2017 by Sticky Beak
See Recent Food Producer Reviews | See All Recent Reviews


I absolutely love the diversity and opportunities my blog affords me; I get to do some incredible things I wouldn't otherwise do. As you may recall, The Boy Wonder and I visited the Pekoe Cafe at the Northern Tea Merchants Shop in Chesterfield late in 2016.

The owner of said tea merchants, Mr James Pogson, contacted us privately to say that he really liked the article and would we like to come and see "behind the scenes" in his tea and coffee production rooms. I was bouncing around like Tigger with glee at the prospect of getting to have a nosey around, after all it isn't something you get to do every day is it? So we got Christmas and New Year shenanigans out of the way and set a date for His Nibs and I to go over.
If you're from the Chesterfield area then you'll be more than familiar with the Pogson family and their Tea and Coffee business. For those that aren't, I'll give you a condensed overview of their history.
James Pogson is the third generation of his family to run the Northern Tea Merchants although when his Grandfather, Albert, started out he called it Spire Tea Company. Spire Tea Company was based on Chatsworth Road in Chesterfield and by this time Albert had a not inconsiderable knowledge of Tea and Coffee thanks to his decade of employment by the Ceylon Tea Growers Association.


Albert's company survived the Tea rationing era after the Second World War and his son David joined the family business. David established Northern Tea Merchants in 1959, steadily growing over a decade to a point where it began packing its own tea and selling instant coffee in 1968 at premises in Old Whittington.
1978 saw Northern Tea Merchants move into its current location, Crown House on Chesterfields Chatsworth Road. Crown House itself was built in the 1800s, originally as a salt works.

Today this older part remains at the front of the premises, the back part having been built much later in the 1900s. This gives rise to its interior being a catacomb of corridors, hither and thither flights of stairs and lots of doors that open to reveal a plethora of chutes and machines.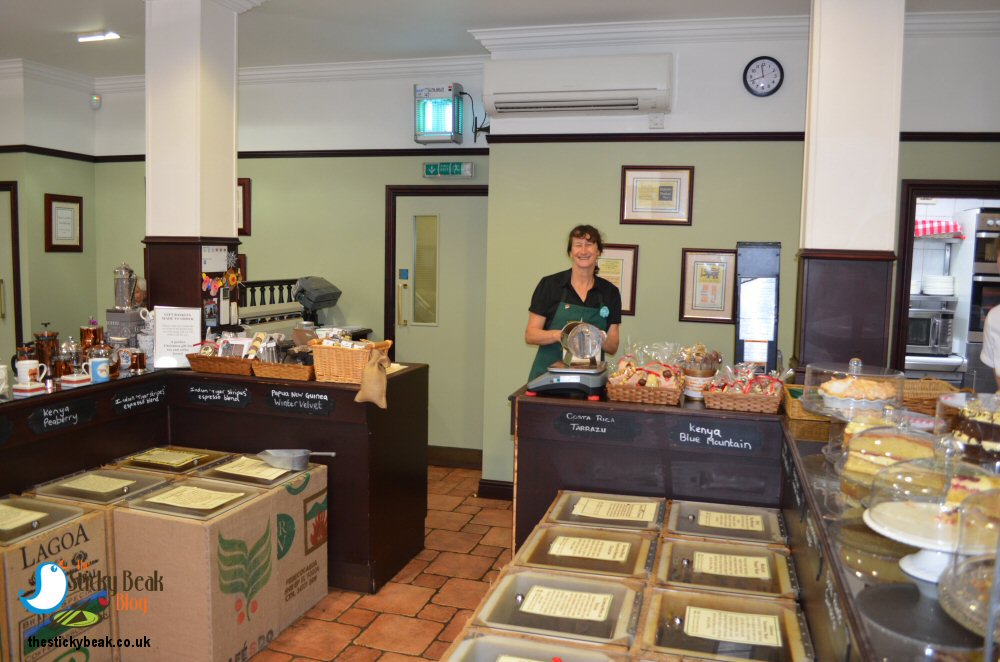 So, with the history lesson over with, let me bring you back to the present day and a typically dull winter day. We parked our trusty jalopy Betty in one of James' parking spaces and walked through the door of Pekoe Cafe, inhaling its intoxicating coffee aromas with joyful abandon. A lovely lady seated us and made us a Cafetiere of Tiger Stripes coffee whilst she let James know of our arrival.


After only a few minutes James was shaking hands with us both and leading us upstairs into his office, the walls of which proudly display old family photos and tea and coffee related paraphernalia. Our day began with James telling us the story of tea taking in its countries of origin, harvesting times (apparently Assam tea is best in June and July) through to factors affecting quality (temperature, humidity, altitude) and the use of buffer leaves (called reducer) in producing palatable blends.

The best way to describe reducer is like a chemical buffer regulating quality deviations each season, or that's how I think of it having had it explained to me in layman's terms. Economics will obviously always play a part in tea blends and those with a financial slant will approach it differently to aficionados; professional blenders will use the minimal amount of reducer needed with good quality leaves, whereas money/marketing men will reverse the process whilst being able to still name the provenance of the tea leaves.


You can discern the different characters between well known brands; some are Malty in taste and complex (which is associated with Indian teas), some are more cultured and delicate (more likely to be Chinese tea). For a bright, easy cuppa I actually like the Breakfast Blend from the Northern Tea Merchants since I tried it in November.

As a self-confessed tea belly and former nurse myself, Florence Nightingales quote that is on display in Pekoe Cafe resonates deeply with me;" There is nothing yet discovered which is a substitute to an Englishman for his cup of tea".
Interestingly James himself doesn't have an out-and-out favourite tea or coffee, but he does favour a cuppa over a Cafetiere. What fascinates him though is the huge variety that tea offers. He said that it would take him four years or thereabouts of making daily cuppas of individual types or flavours of tea before he would have to repeat the cycle, whereas the same scenario with coffee would last approximately three months.


As we finished up our first drink of the day, it was time to see where the magic was made. We headed up to the third floor and saw the magnificent stainless steel blending wheel that was the last thing Horace Barnett (of Chesterfield Observatory fame) made before his death. This metal marvel is the vessel that mixes the teas to James' exacting palate and his clients requirements. Getting the 68-75kg foil-lined paper bags of tea up to the mixing drum is no mean feat, requiring the use of winches to raise it the three floors.

Once it has been wiggled, jiggled and thoroughly mixed, the blended leaves go into the hoppers where they are fed into the tea bag making machine. Northern Tea Merchants teas come from far flung places like India and China as well as smaller estates in Sri Lanka.
We then trooped down to the second floor which is the tea production room where James told us that they now produce 100 million+ tea bags per annum. Watching the machine relentlessly produce the bags at a rate of 600 per minute you begin to think about the logistics of such an operation.

One factor in the smooth day-to-day running of the firm is James' 27 strong work force, whose combined service is over an incredible 300 years in total! I imagine that his vans are kept pretty busy delivering their loads as they cover a 120 mile radius to various Hoteliers and Restaurateurs. James also has tea interests further afield in the UK; he has a share in Northumberland Tea that a certain Mr Jack Charlton (yes, the footballing icon) is heavily involved in.


So, that was tea fairly well covered; now it was time to get the low-down of coffee. Before I get into this, I am going to quickly mention that Northern Tea Merchants also process and package Cocoa; not just the powder (Hot Chocolate), but also those yummy Cocoa Nibs that are popular in baking. They have the prestige of being the main roasters and packers of Hot Chocolate and Coffee for Harrods of Knightsbridge, London no less!
Unlike tea, coffee is still packaged in Hessian sacks that proudly bear the country of origins' name and any makers/importers marks. Jamaican Blue Mountain coffee beans (the King or Queen of the coffee world) is still shipped in wooden barrels and James very kindly gave an empty one to His Nibs, saying that he has one at home that serves as an umbrella stand!


Coffee was originally discovered in Yemen by a goat herder who witnessed the energy his goats always had after they had munched on coffee cherries. Think of the energiser bunny multiplied by ten and you're getting the general gist. It is actually the pip of the coffee Cherry that is used to make coffee, but the flesh of the cherry itself is nice to eat says James.

Another use has recently been discovered for the cherry flesh; after being partially dried you can brew it, and it is currently de rigueur in London and other large cities to drink it. It has the rather fancy sounding name of Cascara, and only time will tell as to whether it catches on in Chesterfield!
The ground floor not only houses the Coffee and Cocoa stock and the packing lines, it also contains the giant roasting oven. This beauty can roast up to an impressive 70kg of beans at once at approximately 160-180 degrees Celsius. Any contaminants that may still be present at the time of entering the roaster certainly don't survive; even Clostridium Botulinum is destroyed at 140 degrees Celsius.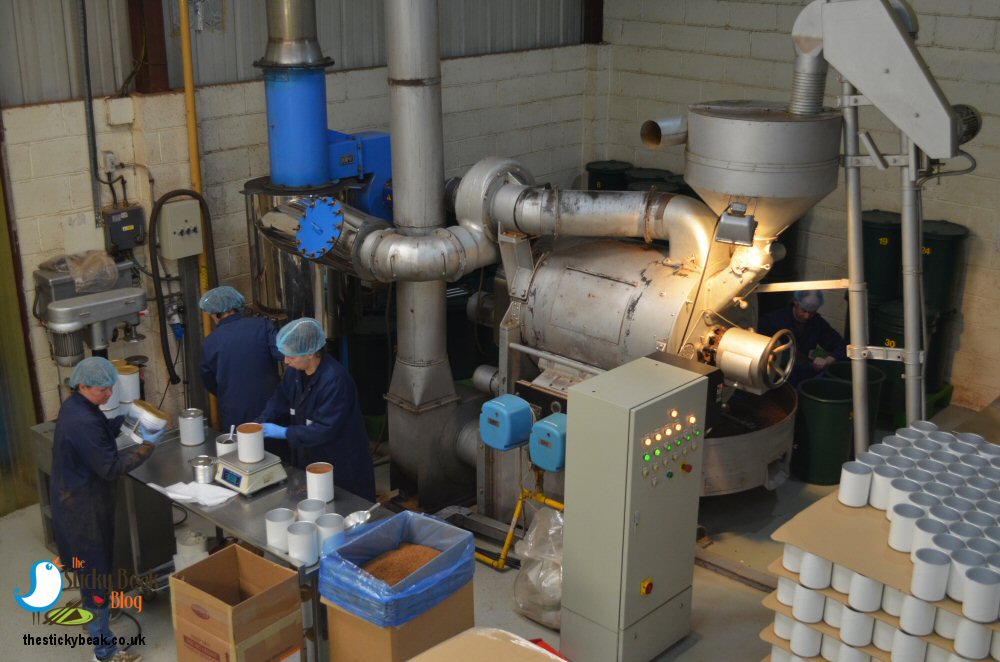 The unprocessed green (yes green!) coffee beans contain about 20% water and this is obviously eliminated during the roasting process. James kept pulling a sample of coffee beans out so we could see their colour changing from green, to pale gold, to the rich brown of the Tiger Stripes roast. A dark roast is even darker and releases a stronger flavour to drink.

Cleverly, James addresses the issue of smoke emission associated with the roasting by increasing the temperature in the drum to a phenomenal 936 degrees Celsius. This actually incinerates the smoke itself ensuring none escapes and enters the atmosphere, genius.
There is one coffee harvest per year which really surprised me, and you can't just plant the bushes willy-nilly. I always imagined that bushes would grow in bright sunshine but apparently they like some shade so in Colombia, coffee bushes are often planted within the shade of Plantain trees as a natural parasol. Another interesting fact is that alongside Bananas, Coffee is one of Colombia's main exports.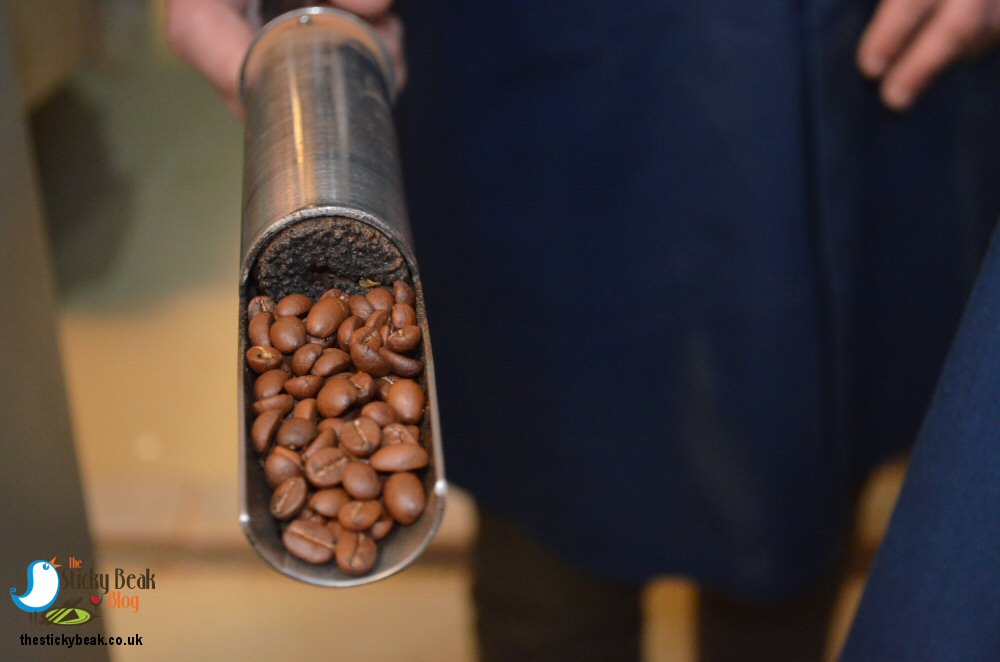 A whopping 85% of the world's coffee is grown by small holders, who by definition farm a measly 10 acres or less. Co-operatives of small holders take their beans to local mills and are paid at that point for their produce. James is a passionate advocate of these coffee farmers being paid a fair price for their product and is heavily involved with companies such as Traidcraft plc, Oxfam, Equal Exchange and Fairtrade. Given that coffee is the worlds second most traded commodity (oil being the first), you can imagine the vast sums of money being made, and so it seems only fair that coffee growers should have a decent income and decent standard of living.


James has been at Director, Vice-President and President Level in the UK Tea and Infusions Association (UKTIA), formerly known as the Tea Council, since 2010.

Over these many years he has worn out many passport pages with stamps from several countries and as a generational business man he has also formed friendships with tea and coffee growers and their subsequent offspring. It isn't only the producers he is close to; the broker he uses is a long time friend and fellow petrol head (car buff). Typical boys and their toys stuff, eh?
The more you talk to James the more you realise how much effort into, and value he places on, these relationships, and the one he has with his staff. Maybe this is why his business is so successful and held in such high esteem because, let's face it, Sainsbury's, Waitrose and certainly Harrods wouldn't just trust any Tom, Dick or Harry with their products.


We were all parched at this point, having been gas-bagging nonstop so we headed back to James' office. Having had Tiger Stripes blend coffee when we first arrived, we decided that Kenyan Blue Mountain would be just the ticket at lunchtime.
James produced the menu from Pekoe Cafe, which he used to run before Tracey took it over in 2016, and urged us to stay for lunch with him. I had the Smoked Salmon and Cream Cheese sandwich, His Nibs had the Gammon Ham variety and James opted for the Tuna Mayo version.

All the sandwiches were crammed to within a Millimetre of their capacity with fresh, flavoursome fillings and lovely springy fresh bread contained them. A side salad, homemade Coleslaw and crisps completed the dish, and every morsel was as delicious as it had been on our November 2016 visit.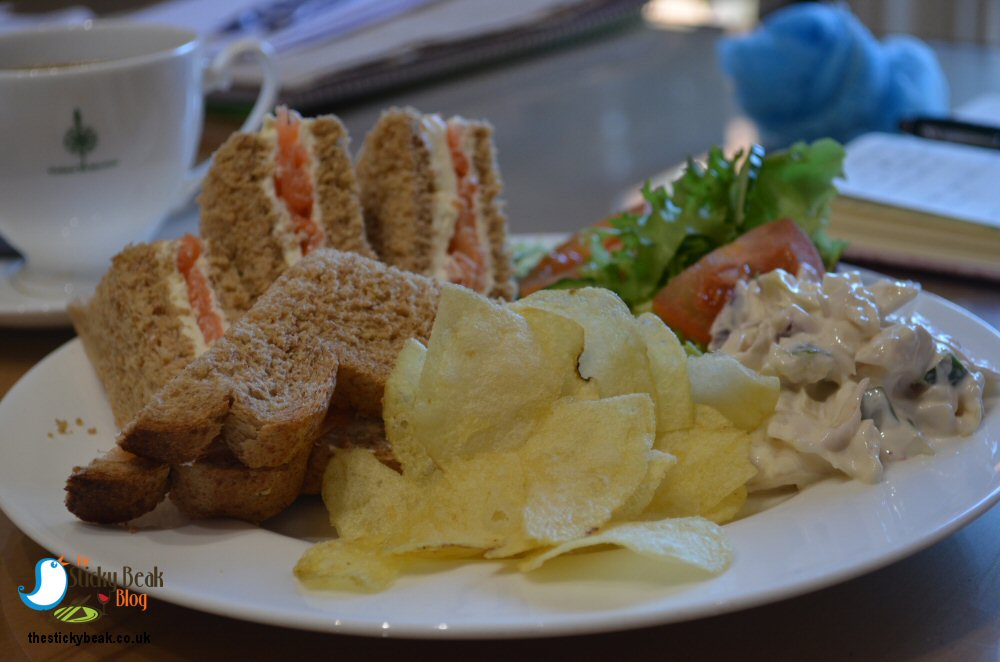 After lunch we went back downstairs into the Pekoe Cafe and had another satisfying sniff of its rich coffee aromas. James presented us with a couple of bags of the Tiger Stripes beans that we had witnessed being roasted and also gave us some coffee for a friend of ours after we mentioned how much she had loved it at our house. Our chick was gifted some chocolate swizzlers to melt into hot milk, and boy do they make a ridiculously good Hot Chocolate!

James and I had a wander over to the extensive Tea selection on sale in the Northern Tea merchants' shop. Each packet is beautifully arranged on the shelves along with displays of Tea Caddies, Tea Pots and Cup and Saucer sets. James filled a bag with various types of tea, including packs of Breakfast Blend teabags, so my infuser teapot will be brewing some absolute gems over the next few weeks.


I shall share the results of my brewing adventures with you on the Sticky Beak Chatterbox but if you love Tea, Coffee, Cocoa or good food then simply head over to Northern Tea Merchants and Pekoe Cafe any time you fancy. The staff members are all very friendly and knowledgeable, so you'll be taken good care of.
James Pogson is an extraordinary gentleman; he has a keen mind and a fantastic dry wit and humour, and The Man Bird and I were bowled over by our tour of his business. We were regaled with tales from his travels, including his hair- raising escapades. The world of tea and coffee trading is very intriguing, as well as business acumen you need to be highly skilled in diplomacy and sometimes extremely patient. As a way to see the world and really feel that you can influence producers' lives and conditions though, I can imagine that there's no better career.


Thank you so, so much James for taking the time to talk to The Sticky Beak Blog and for your more than gracious hospitality. Instead of Hot Wings I'm going to say Cool Beans (which is the same calibre of compliment) to you and your amazing team.