Lunch At Pekoe Cafe, Northern Tea Merchants, Chesterfield
---
Published On Wednesday 16 Nov 2016 by Sticky Beak
See Recent Dining Out Reviews | See All Recent Reviews


Everyone has heard of The Northern Tea Merchants on Chatsworth Road in Chesterfield, they've been around since, well, forever really. As well as selling a magnificent selection of Teas and Coffees, there has been a cafe/tea shop under the main production premises in some guise or other since 2003 (and before that the original tea and coffee tasting room since 1993).
From the middle of October 2016, Tracey Wallis has been the woman at the helm of the newly refurbished and relaunched Pekoe Café and her aim is "to offer simple, delicious food and drink with excellent customer service in a welcoming and friendly atmosphere".
The Man bird and I parked behind the cafe, although there were plenty of parking spaces on Chatsworth road itself (limited to 2 hours) and strolled through the doors into the cafe. We were immediately enveloped in the most amazing aroma emanating from the numerous containers of coffee beans from around the world; just the thing to revive the spirits on a damp, miserable Saturday lunchtime.




I loved the traditional brass weighing scales in the window and various tea and coffee paraphernalia displayed around the Cafe. The open plan layout of the cafe allows easy access for customers just wishing to purchase fresh coffee and teas from the shop, and there is an extensive selection of both to choose from. Cafe customers are situated along both sides of the premises which means they are largely undisturbed by these comings and goings, whilst being afforded a front row seat for people watching. Win-Win if you ask me.
Pekoe has a lovely relaxed atmosphere and the staff members are all very friendly and smartly attired. Tracey told us that one of her team was a student from Buxton and Leek College, having a bit of experience of the workings in the actual industry setting, and I thought how lovely it was to see local businesses supporting catering colleges in the area too. Each table had fresh flowers on them, again just a bit of a mood lifter in the midst of the lack-lustre weather that day.


I had got my eye on the French Brie and Cranberry Panini served with Coleslaw, side salad and crisps for my lunch, whilst the Pâté Plate had got His Nibs attention (again served with Coleslaw, side salad and a choice of White, Brown or Granary toasted bread). Our house is a divided camp when it comes to certain things, the Brown sauce/Ketchup debate is one such point, and I prefer tea in contrast to my Coffee guzzling hubster.

So I had a pot of the English breakfast tea and The Boy Wonder had the Mountain deluxe blend of Coffee in a Cafetiere. My brew was marvellous; strong, clean, uncomplicated and bright in flavour. I do like various teas and can appreciate their individual characters, although I will admit to not having a strong liking for fruit teas, but sometimes you just want something honest and straight forward; the English breakfast tea at the Northern Tea Merchants is just the job I can assure you. With his coffee, the Man was offered hot milk, cold milk or cream which shows that Pekoe Café take their liquid offerings most seriously; call me pedantic, but if you're going to big up your beverages then you've got to know your onions haven't you?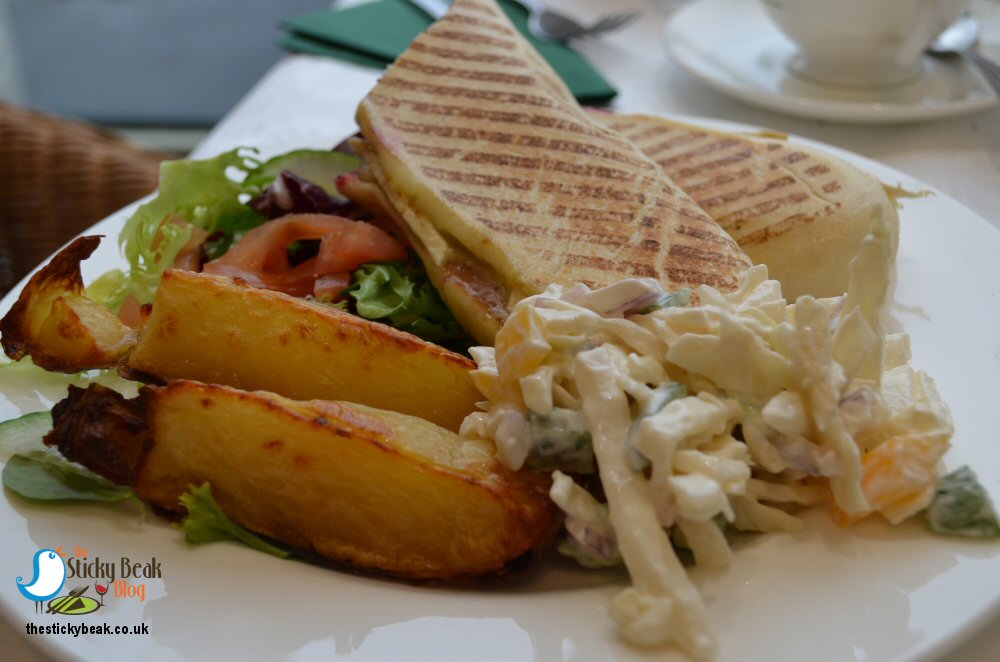 Anyhow, back to the food. My Panini was delightful; lovely creamy Brie all warm and gooey partnered with a nice chunky Cranberry sauce that wasn't too sweet. The whole creamy/tart/ smooth/chunky balance had been ticked off very nicely and there was more than enough for a lunchtime appetite, especially when the coleslaw, salad and crispy Potato wedges (instead of crisps, as they were some freshly done and they asked if I would prefer them) was taken into account. The Coleslaw was skilfully done too with the cabbage, carrot and peppers bound nicely, rather than being smothered, in the mayonnaise and there was a nice mix of leaves, cucumber and tomato in the salad. Let's just say that nothing went into a doggy bag to be taken home to the nest.
His Nibs' Pate plate had got two magnificent wodges of Ardennes Pâté on, plenty of toasted Granary bread to slather it on, and a good size pot of Red Onion Chutney to crown it all with. The Pate itself was lovely and rich in flavour and you got a good texture from both that and the granary bread when you bit into it. Again, the meal was balanced well in terms of textures and flavours and it was only a couple of lettuce leaves that went begging on The Man Birds plate.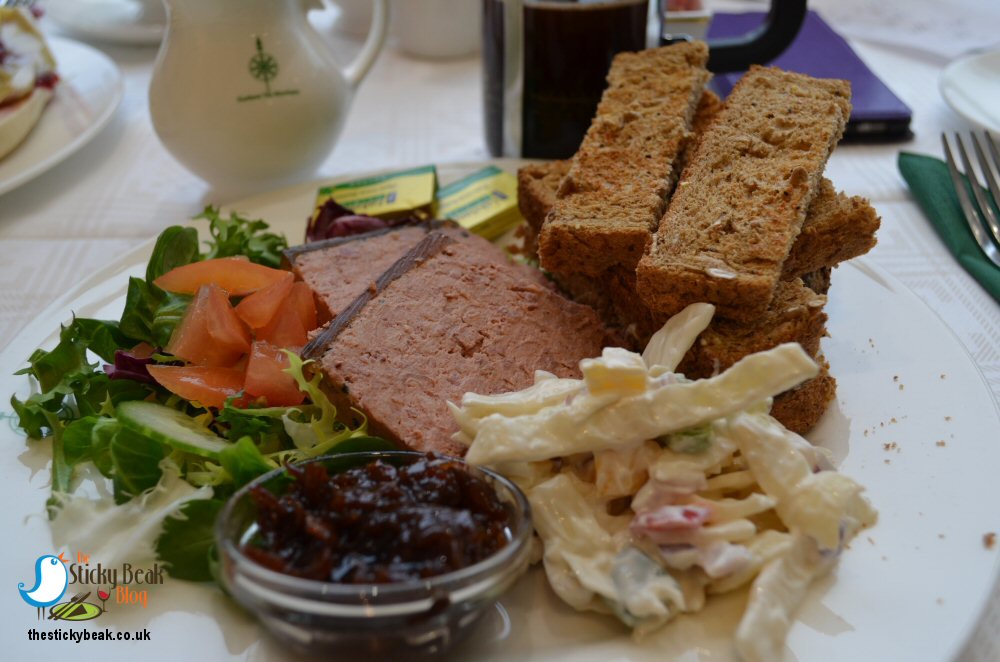 As you know dear reader, one of my favourite pastimes is people watching and from my window table I could appreciate the comings-and-goings on the busy Chatsworth road as well as appreciate the folks coming in and out of Pekoe Café. There was a steady stream of people through Pekoes doors, both to sit and eat as well as purchase teas or coffees, and even Christmas (yes, I mentioned the "C" word but it's only 6 weeks away folks!) gift sets, and there are some really fabulous tea and coffee gifts at Pekoe.
I started out with good intentions, I really did, but I defy anyone to resist the temptation of the truly scrumptious sweet treats on display at Pekoe Café. They are all on show under their gleaming glass domes and the just dazzled me with their beauty and before I knew it, the words "ooh I'll have a slice of that rather fine looking Raspberry and Elderflower cake please", were pouring from my mouth.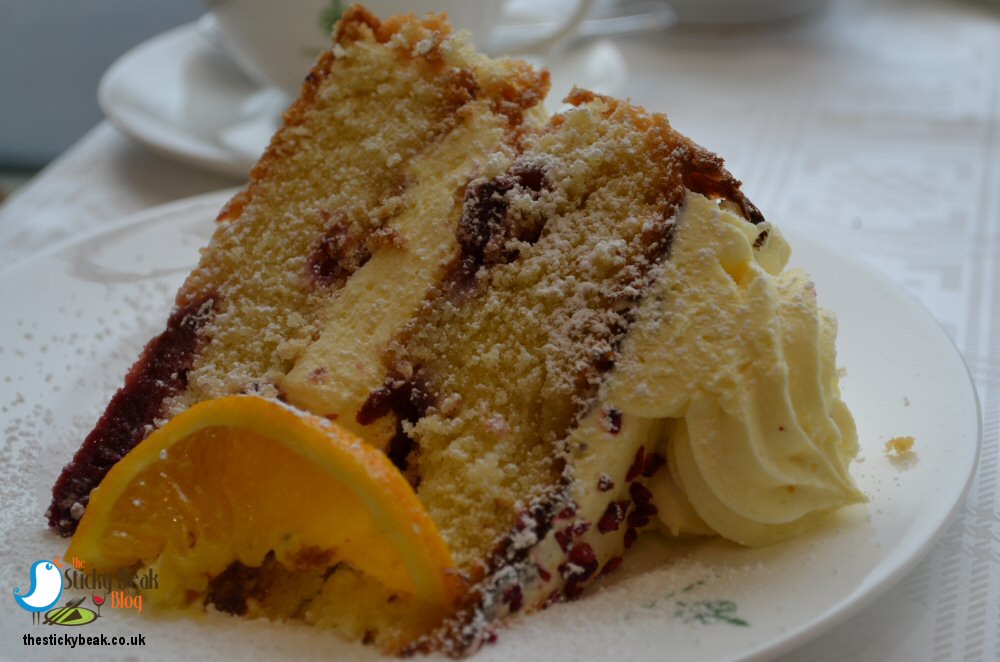 Him Indoors managed to last a few milliseconds longer than me before he was ordering a slice of the indecently good looking Sticky Toffee pudding cake. But don't give him too many Brownie points for will power please, as he disgraced himself by accepting the offer of pouring cream * tut tut* My Raspberry and Elderflower sponge was the bomb it has to be said; light, airy, springy sponge had fresh Raspberries scattered within it and a delicate Elderflower hint was detected. There was a very generous layer of butter cream filling in the middle with further swirls crowning its top. Indulgent? Most definitely. Delicious? You Betcha!
No less magnificent was the Sticky Toffee pudding cake with its light sponge and toffee butter cream. The show stopper however, was the incredible dark toffee topping; I thought His Nibs was going to pass out with giddy abandon; he was in total raptures about it. Suffice to say, we both had ridiculously huge grins on our faces after demolishing these perfect specimens of cakehood.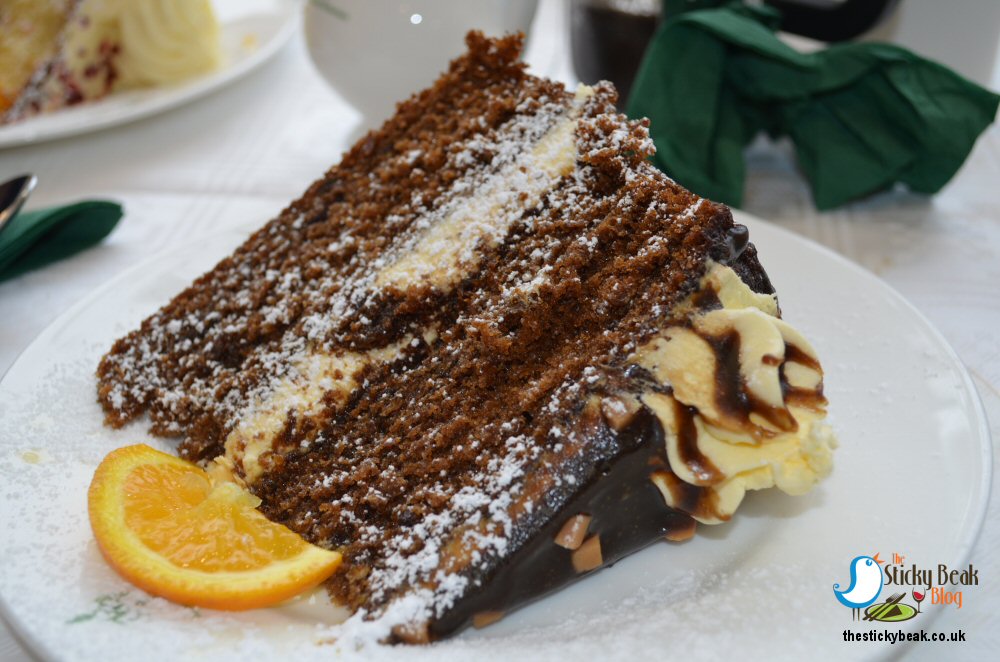 Like the marvellous parents we are, we took the Chickadee a slice of this back and, can I just say Smiggle Kitchen of Darley Dale, you hold the key to turning a Teens frown upside down. Never have I seen such unbridled joy on Chicks face since she was little and fluffy and Santa had been very generous towards her. Respect where it's due Smiggle Kitchen, The Man Bird and I bow down to you and your wondrous creations.
Honestly dear reader you really do need to go and sample Pekoe Café for yourselves; the service is wonderful, as are the premises, and the food is good, honest and delicious. The cakes are super duper, so there's nothing not to like! There are also some great discount vouchers to take advantage of when you visit the Pekoe café in this festive run up , so it's a great time to discover this treasure for yourselves. Hot Wings very well deserved by Tracey Wallis and her team at Pekoe Cafe :)
Some form of incentive was provided to visit this venue
read more