A Family Sunday Lunch At The Lescar, Sheffield
---
Published On Sunday 20 Oct 2019 by Sticky Beak
See Recent Dining Out Reviews | See All Recent Reviews


Well, The Chick is now officially a Fledgling; she's a University student and as such has flown the nest during term time. To me she'll always be my Chickadee though. So moving came day came and went –who knew she'd got so much stuff??! - and The Man Bird and I went back to the nest feeling a bit glum if truth be told.
Freshers' weeks are always a bit of a blur and, let's face it, the last thing on the new students minds is food; in true Beak fashion though, I'd thought ahead and booked somewhere for Sunday Lunch the following week. My Mummy and Daddy Bird are (understandably) proud grandparents and wanted to come along to hear all about her adventures and see for themselves that she was doing OK. I duly got in touch with The Lescar team and booked a table for 5 folk at 1pm, and off we all set.

As with most city centres, parking is at a premium and you don't often find a venue with a decent amount of parking. The Lescar is no exception unfortunately; there are a few spaces, but we ended up parking down a side road and walking back to it.
When you walk inside, you feel immediately at ease, thanks to the proper traditional pub feel of The Lescar. The wood panels and leather banquettes are very cosy and there's a fab open fire which I bet kicks out some real heat on chilly days. There's board games for guests to help themselves to, if they so wish. My Daddy Bird likes a Terrier, and there was an absolute corker of a (5 month old) Fox Terrier in with his human so he got a good old scratch behind his ears from My Daddy. Safe to say that The Lescar is dog friendly then. Kids are also welcome up until 7pm, and there was a family who were coming in to eat just as we were leaving.




The original plan was to not have starters, simply because we don't have a first course at home when we have a Sunday Roast. His Nibs spied the Chargrilled Chicken skewers with Yoghurt on a bed of Cucumber, Pickled Red Onion and fried Padron Peppers and just couldn't resist them! The Chicken Breast meat was lovely and juicy, partnered by crunchy vegetables with their clean tastes; a really nice little dish to get the taste buds' attention, but not fill you up too much before your main course.

Daddy Bird was well chuffed with the selection of real ales on tap here, and was supping away quite happily as His Nibs was chowing down. Mummy Bird and I both had a glass of Malbec (which was really good) and Chickadee had her usual glass of water!




You don't have to have the roast on Sundays; there are other main course choices available at The Lescar. We're quite a trad family though, so we all opted for the roasts: Fledge had her favourite (Gammon) which is £12 and The Tribal Elders, His Nibs and I had two sharing platters between us all (£27.50 per platter) which had Sirloin Beef, Roast Chicken, and Orange and Whisky –glazed Gammon on.

They're definitely feeders at The Lescar; the platters were groaning under the weight of the food on them, and Fledglings plate was amply covered with meat. Just because we can (and we're gluttons!) we also ordered sides of extra Pigs in Blankets and Cauliflower Cheese. All roasts at The Lescar come with homemade Yorkie Pud, roasted veggies and Braised Red Cabbage; additionally the sharers have pigs in blankets and stuffing with them.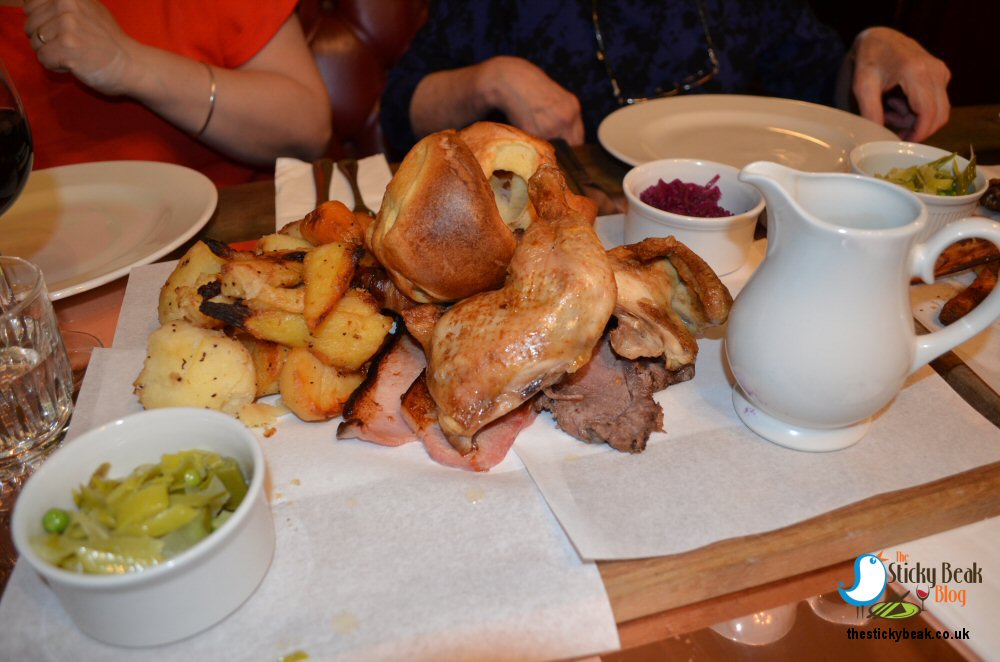 The Sirloin of Beef wasn't much to look at if I'm being honest, and me and Daddy Bird both glanced at each other in that way we do when we think "ayup, is this gonna be dodge?". Never judge a book by its cover, that's what they say isn't it?; let me tell you now, the beef was absolutely banging. It was tender, juicy and had a lovely depth of flavour to it – better still, it was sliced nice and thick. Yep, the beef bowled us over; everyone enjoyed it. The Gammon was beaut too; again, it was a good thick slice that was easy to cut through and it tasted gorgeous as well. What we liked was the fact that you could taste the Orange and Whisky glaze, but just very subtly; the flavour of the Gammon was allowed to be the star of the show, with the glaze merely enhancing it. The quarter Chicken still had its skin on and this meant the flesh was superbly moist and flavoursome. I've got to say that this was one of the tastiest bits of chicken I've eaten in a while; it had a richer flavour than many I've eaten, and I could happily have scoffed this all day long.




The Chick is rather partial to pigs in blankets, which is bizarre because she'll normally turn her nose up at streaky bacon, saying it's too fatty: go figure! Clearly the ones at The Lescar are bang on the money; she was chomping through them at a fair rate of knots. His Nibs had to jump in quick to grab an extra one from the bowl before they all disappeared. The Yorkie Puds were so big they could really do with their own postcode! They'd got fab crispy tops and nice soft bottoms with a perfect chew factor to them – yummy.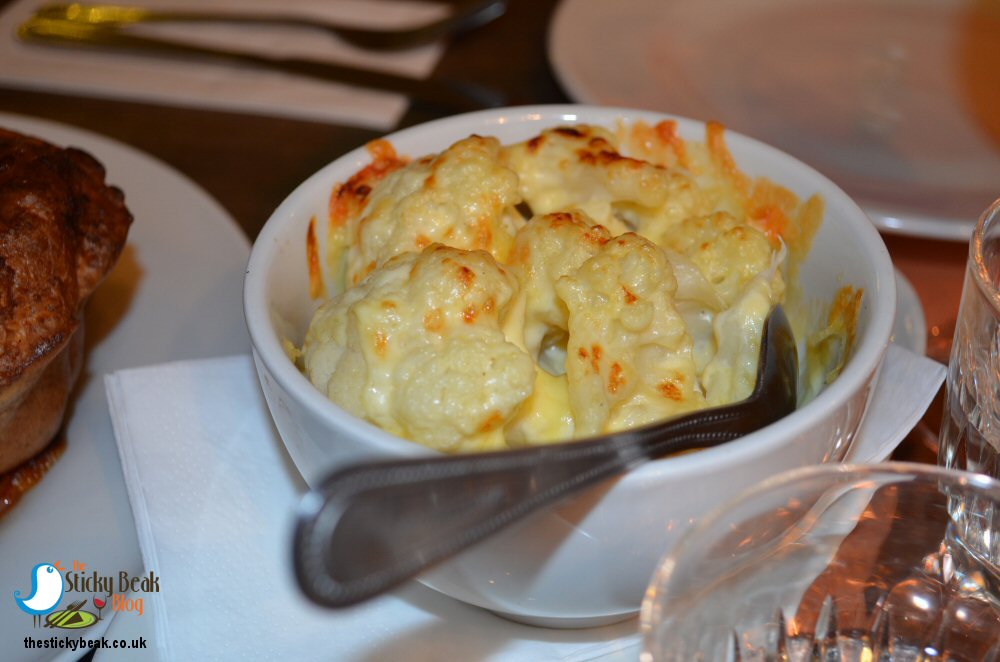 I liked the Roasties too, and again these were proper sized numbers, no fannying about here at The Lescar; if you're having something, you're having it properly. Mummy Bird and I had the majority of the Cauliflower Cheese in all honesty, but we did play nicely and let everyone else have some too. The cheese was nice and tangy and had formed a lovely golden crust on the top that seemed to intensify its taste. Underneath this blanket were florets of still firm Cauliflower that yielded nicely to the bite, instead of just being a soggy mush.

The only complaint came from Fledge; she has a thing about any juices running onto anything else on her plate and the Red Cabbage had managed to leak some of its juice onto her carrots! Hashtag first world student problems. The rest of us weren't fussed at all by this leakage, but it might be an idea to pop the cabbage in a separate little pot on the plate, just in case anyone else is so blooming fussy!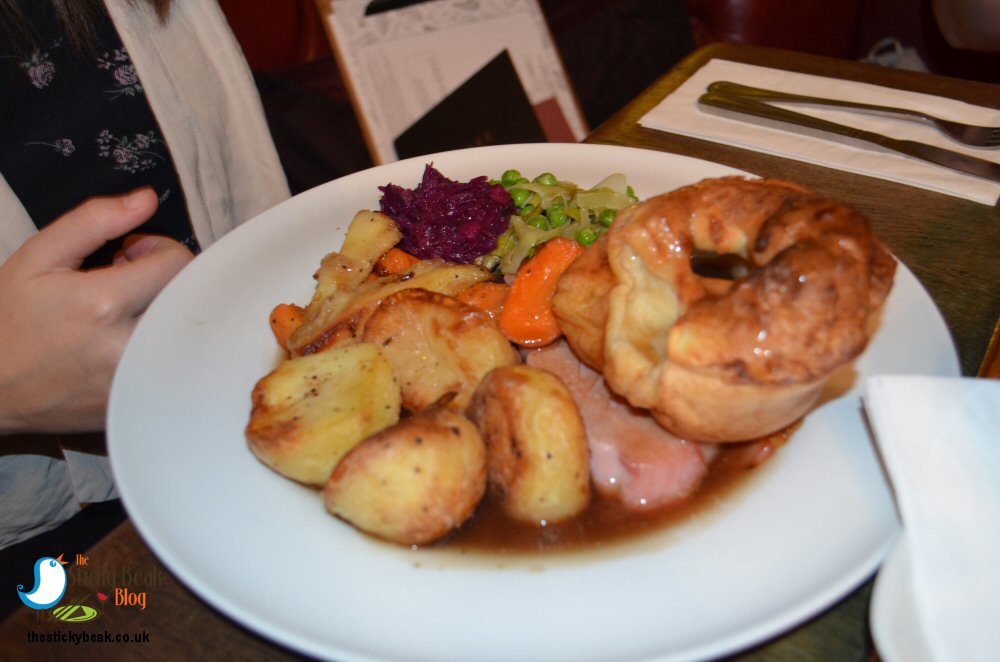 I'm going to quickly mention the condiments too. Tracklements do some fantastic sauces and accompaniments; we have the Strong Horseradish Cream at the nest, so I gave a little clap of happiness as I dolloped some on my plate. Daddy Bird had some of the Strong English Mustard and really rated it too. The Mint sauce looked good in the jar and I think next time we visit The Lescar (and there will definitely be a next time!) I might have Fish, Chips and Mushy Peas and mix it in with my peas.

Funnily enough, we didn't have room for pudding, so that will have to be factored in next time as well! Hot Wings happily given to this great Sheffield venue; it manages to be no-nonsense, friendly and welcoming all at once.
No incentive was provided to visit this venue
read more