Trying Some Artisan Condiments From Tracklements
---
Published On Friday 19 Apr 2019 by Sticky Beak
See Recent Food Producer Reviews | See All Recent Reviews


On occasion I do like to adorn my snacks and meals with a little sauce or dip, so when I chanced upon the Tracklements team at The Fine Food North Show in Harrogate I had to go over and introduce myself.
This tight-knit team make over 60 products in all, which are sold all over the world. The company was originally founded in 1970 by William Tullberg after he stumbled across an old recipe for Mustard and today his son Guy is at the helm of things. When something works you don't mess with the process – if it ain't broke, don't fix it goes the saying – and Tracklements still make their products by hand and in small batches to ensure the highest standards are met.

His Nibs, Chickadee and I are all fans of scampi, and what goes jolly nicely with scampi? That's right, Tartare sauce! Pop went the lid of the jar and the spoon got dibbed in with no hesitation and the nice thick sauce got plopped onto each plate. We all loved the piquancy of this Tartare sauce with its gorgeous garlicky edge and Caper sharpness. A superb creamy mayonnaise base gave a comfort-factor to the sauce, and the whisper of herbs flecked through it looked very attractive on the plate. Tracklements Tartare Sauce has a beautiful, subtle chunkiness to it that gives it the perfect amount of crunch in the mouth.




Sunday lunch at The Tribal Elders featured Beef as the star attraction so, wonderful daughter that I am (!), I took the Strong English Mustard and the Strong Horseradish Cream over for the flock to try en masse. My Daddy Bird is a real fan of English Mustard, pooh-poohing the wholegrain and Dijon varieties that My Mummy Bird keeps in "just in case". I'm a funny old thing, it depends on my mood whether a dollop of Mustard or Horseradish goes on my plate; on this occasion though I felt justified in having both, so that's what I did!

Tracklements Strong English Mustard is unapologetically pungent and triggered the "sneeze spot" at the top of my nose! It isn't spicy in terms of being lip- or tongue-tingling, but it definitely has that characteristically clean heat so beloved of good quality English Mustards. Daddy Bird and I both loved the fact that this mustard isn't at all harsh in its punch, being wonderfully rounded instead. If you have blocked sinuses this chap'll soon have them clear for you! Another good thing to note is that the Mustard crop is grown within about 2 miles of Tracklement Central by a local farmer – environmentally friendly in terms of carbon footprint.

The Strong Horseradish Cream had a really intriguing texture – not completely smooth, just a really fine pulp of the Horseradish itself and its fibrous hint. However there is nothing at all subtle about the flavour of this condiment, it slams right in and smacks your taste buds awake! Same as its Mustard cousin, this cream hit my "sneeze spot", but again it isn't a harsh heat. Just blooming pungent!! Lovely though.


One evening when we'd been abandoned for dinner by The Chick, so His Nibs and I decided we would have Cod Loin glazed with Tracklements' special edition Chilli and Chorizo Jam. This wonderful jam has a nice compact texture to it that makes it ideal for this type of cooking, and it has a lovely gentle heat to it that doesn't over-power the fish. The combination of spicy Chilli and smoky Chorizo paprika-ness (not sure if that's a word, but if not I've just invented it!) paired really nicely with the sweetness of the Cod; not bad for a bit of "on the fly" cooking, I thought.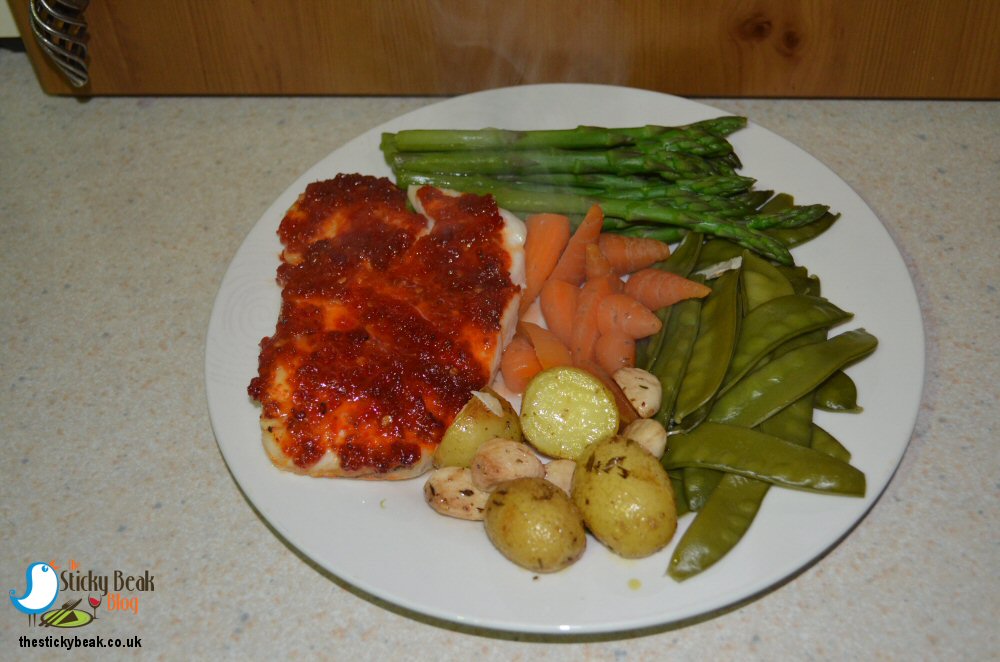 My final product in the range to sample was the Original Onion Marmalade and it released a sweet, lightly treacly aroma as I opened the jar. I don't know about you, but I absolutely hate thin sauces, pickles, jams etc that slide off the spoon when you try to get them out. Well there's no fear of that happening here, this beauty is marvellously thick; so much so that I tipped the spoon upside down and it didn't budge a millimetre. Get in!

The first mouthful revealed a gorgeous caramel note on the palate that was the right side of sweet, i.e. not too sweet and with a light savoury tinge as well. Having a fairly fine texture meant that the Original Onion Marmalade spread with minimal fuss over the cooked ham, another bonus point.
As we were munching away at our supper, it occurred to me that this would go nicely in some mashed Potato to zhuzh it up. As luck would have it (!) I was planning to do slow-cooked Beef Brisket with some Irish Black Butter for dinner the next day and to go with it I'd prepared some spuds for mashing. Turns out I am a genius – the Original Onion Marmalade went magnificently with the mash.

If the other products are half as good as the ones I sampled, Tracklements should be designated as "national treasures"! Hot Wings very well deserved by this talented team
For more information on the full range of products, or to order some for yourselves please visit their website www.tracklements.co.uk