Chilli Jamato Ketchup & Louisiana Wing Sauce From The Chilli Jam Man
---
Published On Tuesday 28 May 2019 by Sticky Beak
See Recent Food Producer Reviews | See All Recent Reviews


As you know dear peeps, I've eaten several of the range of products from Simon aka The Chilli Jam Man before, and loved them. When I had the good fortune to see him again at The Fine Food North Show in Harrogate recently, I moseyed over to grab myself some more goodies and bring them back to Beak H.Q.
he summer of 2018 was el scorchio; hoping for a repeat please Mother Nature, if you'd be so kind, so that we can trundle the BBQ out again and have some Pulled Pork slathered with the Hot and Medium Rib Tickler sauces. If you haven't had these marinades for meat before, you need them in your life – trust me and thank me later! They do have a tingle factor in the mouth and on the lips, especially the Rib Tickler BBQ Hot version; this minx has a heat rating of 7/10, and if Simon reckons it's hot, you can be sure it is! This beauty is also the recipient of a Great taste Award star. Here's how they fared in our taste tests read more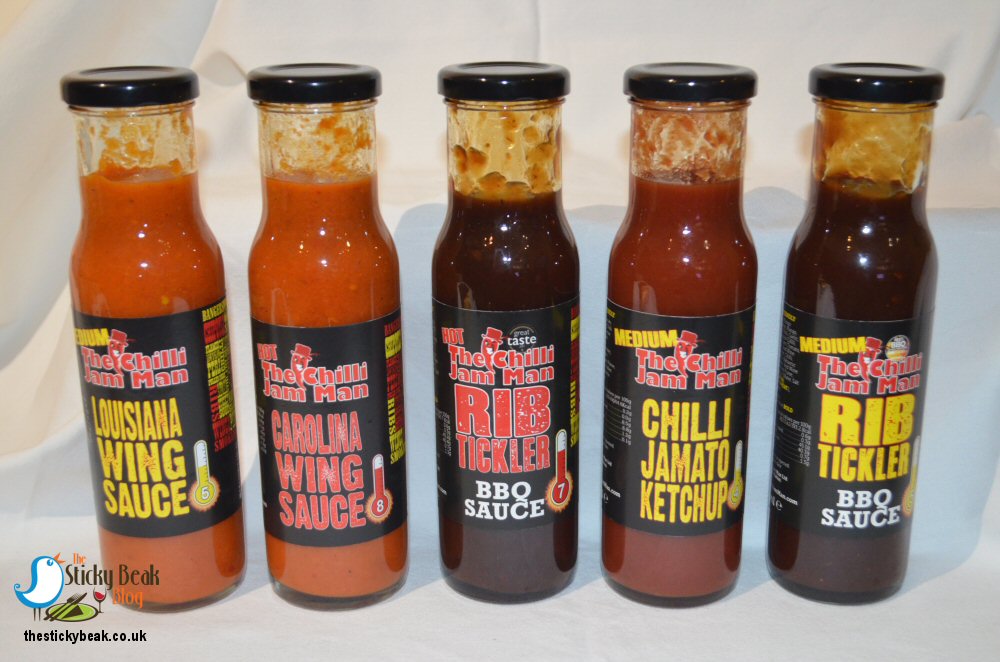 At weekends we tend to be fairly laid back in our eating plans because we have more time to prep and execute the dishes. His Nibs and I were just in the mood for some messy finger food; lazy and easy to deal with, with not much washing up afterwards. Chicken Thighs coated and cooked in Chilli Jam Man's Louisiana Wing Sauce were the perfect solution – thanks to one of our local butchers, Percy Dawes, for the fab quality chicken. The combo of moist juicy Chicken thighs and the Scotch Bonnet containing sauce was superb; but it isn't just heat you get, the Garlic and Citrus element s in the sauce give it a fab piquancy on the palate.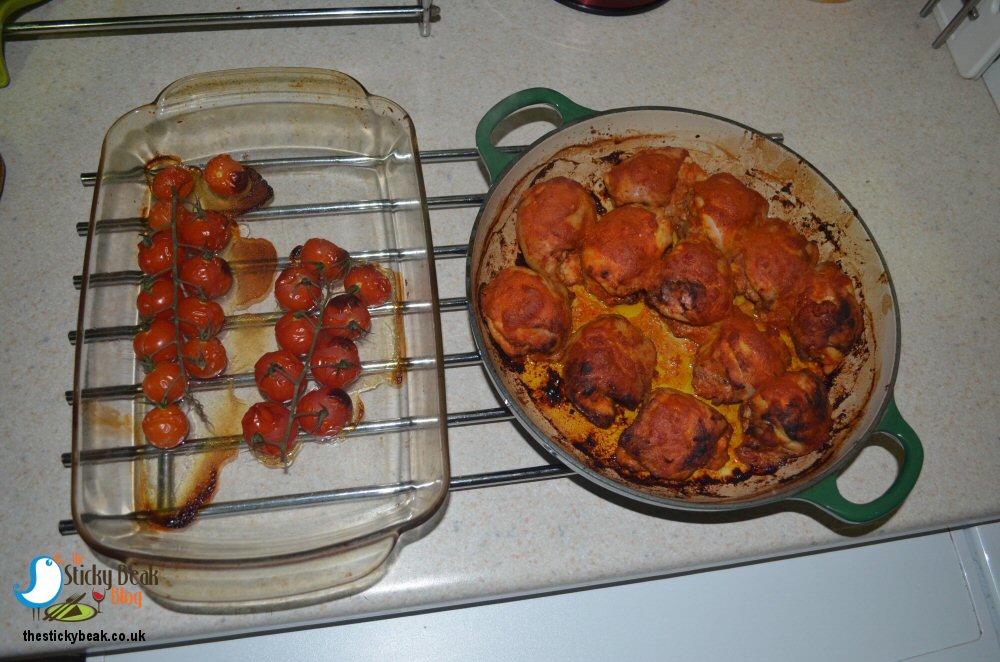 For those that like it hot (steady on!) there is also the Carolina Wing Sauce which contains, yep, you've guessed it, Carolina Reaper Chillies. This has a Chilli rating of 8/10! Subtle it ain't, it had me crying and "glowing", and reaching for the yoghurt – much to His Nibs' amusement. Don't know why he was sniggering, cos it was making him snort too! For all that though, it has a curious deliciousness to it, and it isn't a harsh heat – just blooming robust! This morsel features on Revolution Bars' menu so if you have one local to you and fancy trying your luck (or tongue!) then you know where to go.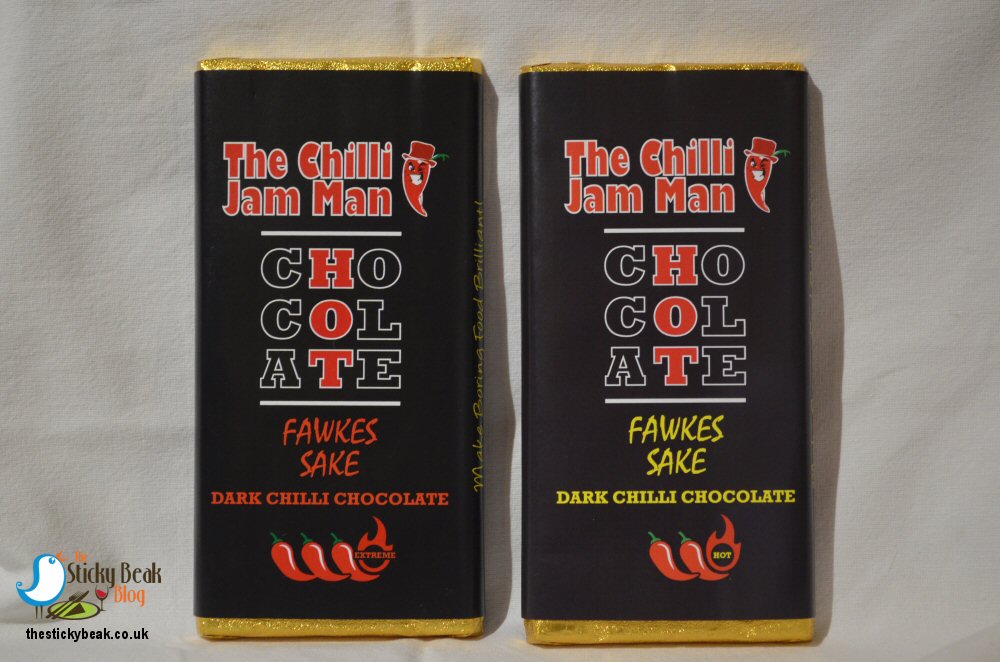 Simon had also sent us home with a couple of his Chilli-pumped chocolate bars, made from Belgian Callebaut Chocolate. These are very cleverly named "Fawkes Sake", not only for the play of naughty words, but also for the fact that they explode on the tongue. The 2 chilli "hot" version was enough for little old me; a couple of squares saw me out of the challenge. His Nibs decided to soldier on and try the 3 chilli "extreme" Fawkes Sake bar. Thank goodness common sense prevailed and he just had the smallest nibble on a corner of a square of chocolate; his eyes widened bigger than saucers and he gasped for air! Me? I stood there sniggering, revenge is sweet Chappo! I did take pity on him and get him some Ice Cream though to soothe his mouth. Perhaps I ought to call him Krakatoa Chops for a while. This one is seriously only for the most ardent Chilli aficionados.




Another of our favourite things to have at weekends is a no-holds-barred full brekkie; sometimes we eat out, sometimes we cook it ourselves at home. On this occasion we decided to do it chez nous at Beak H.Q and really went for it: back Bacon, proper butchers' quality Sausage, Eggs, Tomatoes, Beans, Hash Brown, and Mushrooms (just me, He hates them!). Normally we're a divided camp as to whether Brown Sauce or Tomato Ketchup reigns supreme, but there was no arguing this time as we were both having the 4/10 Chilli-rated Chilli Jamato Ketchup. In all honesty though the Jamato Ketchup is a perfect hybrid of Ketchup and Brown Sauce; it has the lovely fruity taste of the Tomato to it with that deep, spicy character of Brown sauce. We loved the spiciness of this sauce because whilst you definitely get that Chilli heat coming through on the tongue, it doesn't make your mouth tingle.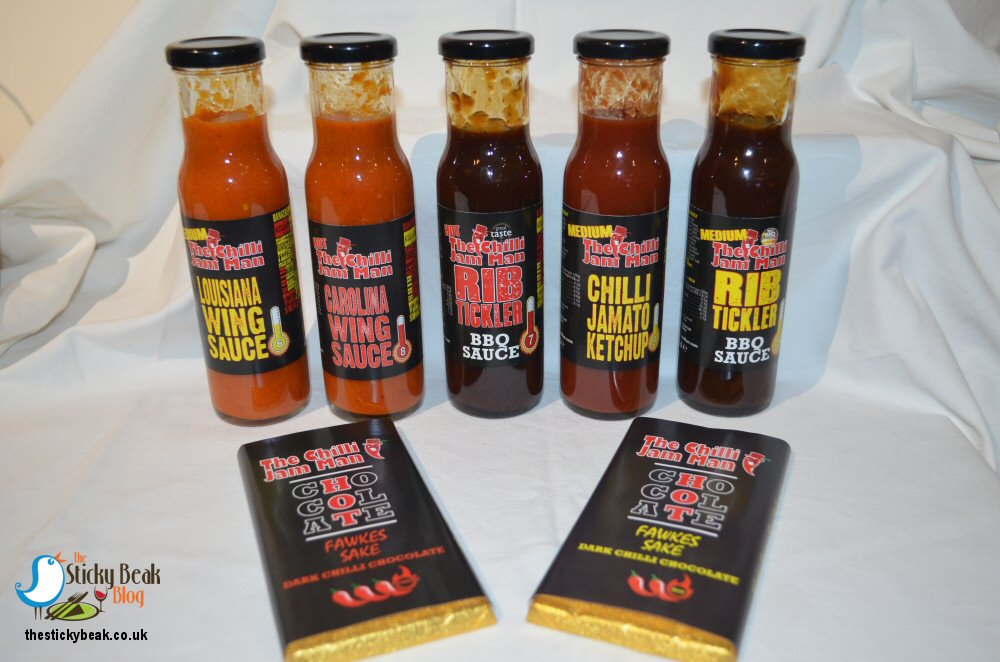 Yet again, The Chilli Jam Man delivers on all fronts: taste, quality, and price. Hot Wings given here with no hesitation.