Letoonia Club & Hotel, Fethiye, Turkey With Jet2 5of5
---
Published On Friday 28 Dec 2018 by Sticky Beak
See Recent Holiday Reviews | See All Recent Reviews


DAY SIX

Given our late night the previous night, we all had a bit of a lie-in and a later breakfast. We were going on a boat cruise, but pick-up wasn't until 10.30am, so there was no hurry. Our Gulet arrived promptly and we made our choices of Fish or Chicken for lunch, then headed up to the top deck of the boat to indulge in some sun bathing.
There were several stops at little coves and plenty of opportunity to swim in the crystal clear waters around the coastline. I had taken my snorkel with me, and BB was amazed by how many fish there were swimming happily nearby. The snorkel got passed around our group, but BB was the most enthusiastic snorkeler, he even did it in the shallows!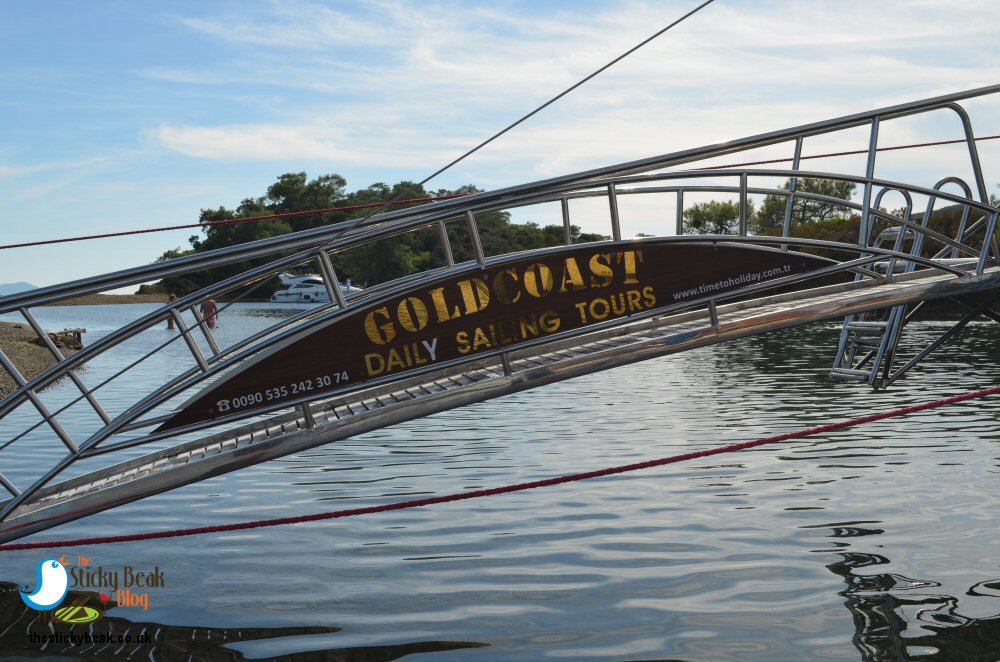 The crew were superb, keeping us all entertained and the lunch they served was perfect for al fresco eating; light, fresh and tasty. My grilled whole fish was lovely and moist and the range of pastas and salad accompanied them perfectly. Even better, there were white chocolate Magnums and Chocolate Cornetto Ice Creams to buy if you wanted; erm, of course I wanted!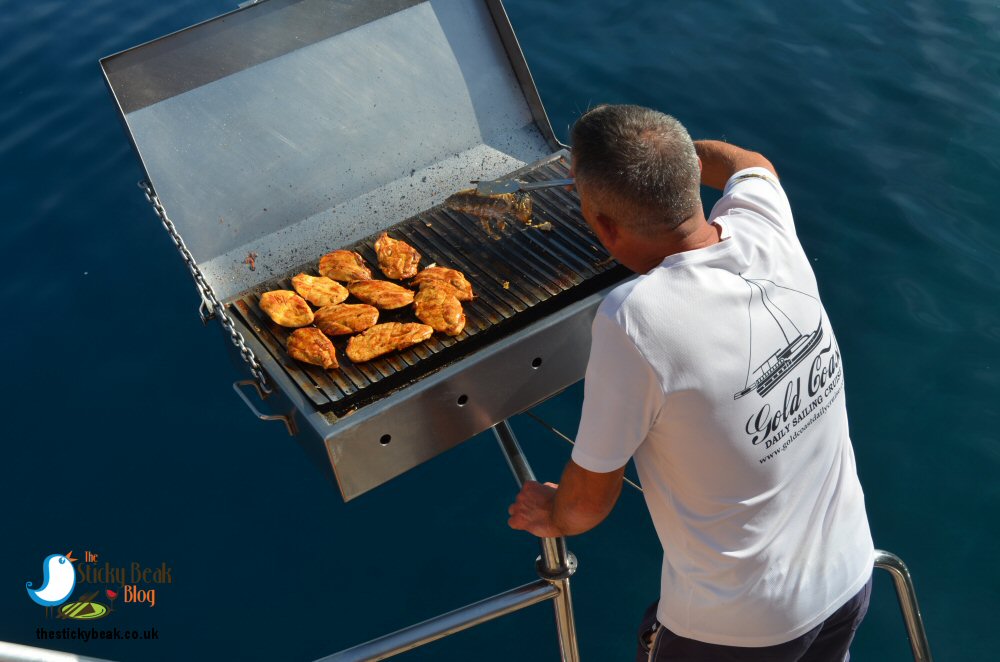 It always amazes me how quickly time passes when you're on holiday. The day flew past in what seemed the blink of an eye, and we were soon being dropped off back at Letoonia Club and Hotel's marina.

Our flock headed back to get showered and changed, then it was time to scoff more delicious dishes – ah, it's a hard life sometimes! As much as I enjoy eating, I always feel a twinge of concern for the Chefs – it must be a nightmare devising a menu that suits so many different nationalities, age groups, and tastes.

Breakfast had been in the main restaurant, Likya, but because it was the last full day at Letoonia, meals after this were being served in the lovely Marina restaurant.

Despite its more bijoux dimensions, the Head Chef and his team had put on a great spread of hot and cold dishes for guests, as well as more salads and vegetable accompaniments than you can shake a stick at. As per usual, BB went up for 4ths – and seconds for dessert; I kid you not! Sickeningly, the kid has as much fat on him as a flea's kneecap – yep, I'm well jel!

It's always sad seeing a resort slowly recede and prepare to batten down the hatches for winter, but the entertainments team were determined to give the guests something on the final night. It might not have been the all-singing, all-dancing razzamatazz that we've enjoyed all week, but the music quiz was excellent fun, with plenty of banter.

DAY SEVEN – OUR FINAL DAY

We all had a lie-in on our final morning and went for breakfast at our leisure. The weather has been more than kind to us; wall-to-wall sunshine except for one afternoon when it clouded over, and our final day was set to be another bobby dazzler .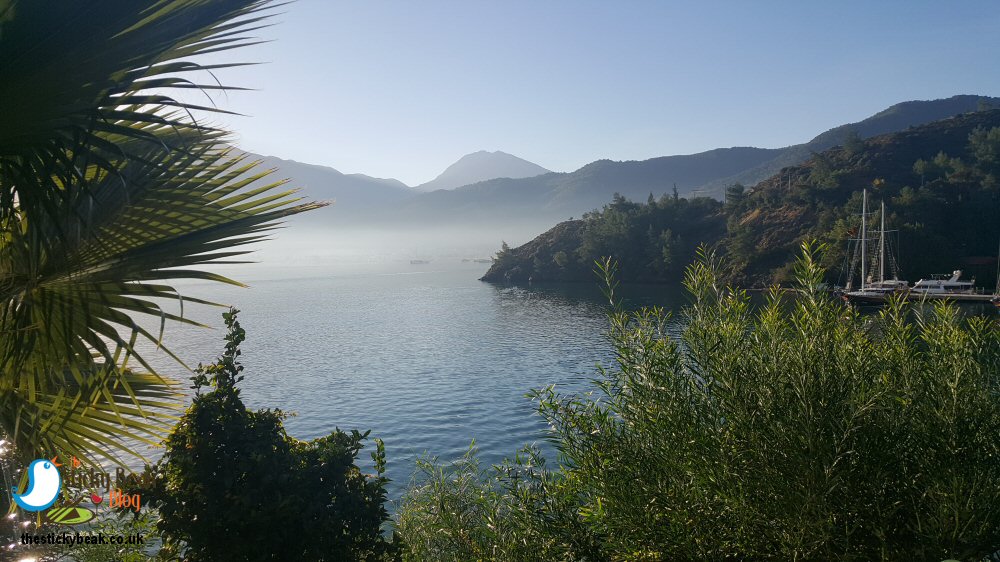 Towels were arranged on sun loungers and then abandoned as we raced into the warm sea for an enthusiastic (and a bit rowdy!) game of beach volleyball. The poor resident ducks didn't know which way to swim to stay safe! There was a bit of a ghost-town feel about the beach, gone was the several families that we'd been chatting to; it was us, two families and a couple of couples. The pool towel guy was still as smiley as ever though, he'd been a star all week .

Lunch soon approached and we sneaked some bread rolls out to feed the shoals of fish that grace the beach. BB and I were soon swarmed with thousands of fish (and the ducks!) as we threw pieces of bread into the water – one of the simple pleasures in life that I never tire of.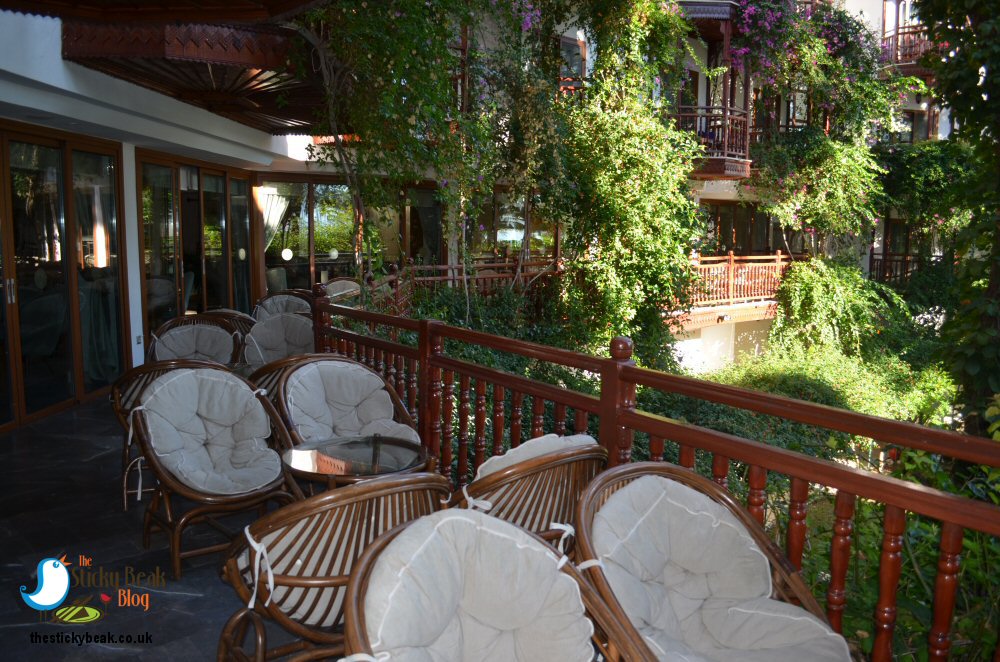 All too soon we had to bid farewell to our piece of Turkish paradise and go back to our rooms to pack. Our room lady had left us with clean towels and stocked up our toiletries, so that we could refresh ourselves properly in readiness for the long journey home.

Down in reception the mood was subdued, all the departing guests were unwilling to relinquish the sunshine and warmth of Turkey and trade it for the cold of England. Fair play to the Letoonia staff, they tried to stay smiley and cheerful even as they were clearing things away, but we were all a bit "meh".

Dalaman airport was also winding down at the end of the peak holiday season; one terminal was shut, so we were all directed into a single wing of the building. I was determined to hold on to my holiday buzz for as long as possible, so another bottle of perfume was bought to cheer myself up (a naughty Burger King Whopper with Cheese helped too!).

The usual security checks of electronic equipment were carried out and I got frisked and swabbed; everything was done nice and friendly, and the lady who patted me down wished me a safe journey home. Boarding was done very efficiently and we all got settled into our seats and readied for take-off. Our departure was a little behind schedule, but the pilot somehow managed to get us home ahead of time (shame there were road works on the M1 that meant we had a diversion).

During the flight the Jet2 team came round and offered drinks and snacks and generally made sure that everyone was comfortable. Yet again, we had a fab experience with Jet2; all the flight, check-in and resort reps had been nothing short of fantastic. I wanted to go back in time and relive the great week we'd all had – where's that DeLorean when you need it?