Back To Made @ No 18 In Alfreton For Breakfast
---
Published On Wednesday 28 Nov 2018 by Sticky Beak
See Recent Dining Out Reviews | See All Recent Reviews


It's been a while since The Man Bird and I sat down together at Made at 18 in Alfreton for breakfast, so when we'd done the grind of grocery shopping one Saturday morning, I persuaded him that a treat was in order.
Made at 18 has recently had a bit of a refurb done to it, which I'd seen when I went in with a friend for brekkie, but it was new to His Nibs. Visually, it's a lot more modern and appealing thanks to the grey banquette type tables at the front and in one of the back corners. We took a seat at one of the raised tables rather than at one of the "normal" height ones, and pleasingly it wasn't a struggle to get up onto the raised chairs.




The Man Bird does love the breakfasts at Made, their full Derbyshire morsel has proper sautéed potatoes on rather than the standard Hash Brown. Not that there's anything wrong with a Hash Brown but, if we're being honest, fried tatties beat them hands down don't they? He also loves the Derbyshire Oatcake that comes with the breakfast too... and the Owen Taylor sausage; actually, he loves it all – back bacon, fried egg, grilled tomato, baked beans, white or wholemeal toast, and mushrooms. Ok, he doesn't like the mushrooms – but I do!! Never turn a bonus down, me.

Trying to get my days off to a healthier start (sometime it's an epic fail, I will admit) I chose the Halloumi, avocado, mushroom, tomato, and poached eggs on open Ciabatta. Nothing was going to stop me having my morning dose of gee-up juice though, good intentions or not! I had a large Latte; His Nibs had a large Soy latte with an extra shot. Having never drunk the stuff, I can't comment, but The Man reckons you need an extra shot of coffee with Soy milk as it's creamier in taste. Can anyone confirm or debunk this please?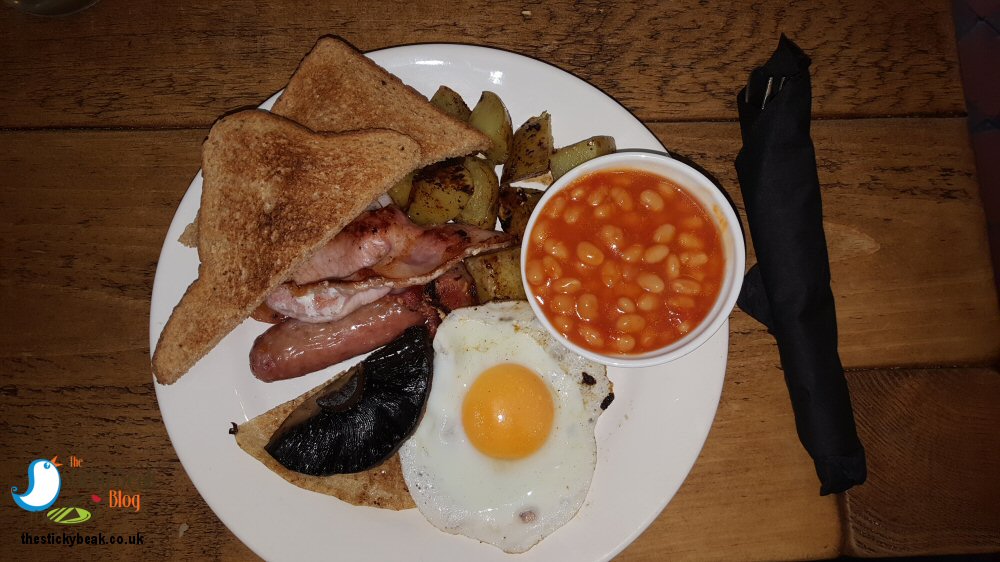 Both breakfasts arrived in good time seeing as they're cooked fresh to order, and they were piping hot – as you would expect (and hope for) in freshly made, hot dishes. David and his team don't skimp on portion sizes either.We tucked in, and soon there were grins across our chops' and sighs of happiness from both sides of the table.

The slices of back bacon were nice and thick, and had a lovely sweetness to them that His Nibs really liked; the egg was rich in its taste and the sausage was meaty and well seasoned, all the makings of a gastro trinity of nom-ness on the fork! My chap maintained a smooth, steady pace of chomping as he made his way through the contents of his plate and it wasn't long before he came to his beloved sautéed tatties. These beauts are lovely and soft inside with gorgeously golden, crisp outers and are just made for dunking in the liquid yolk of a perfectly fried egg and then a bit of ketchup/ brown sauce, whichever is your preference.

For his final bit of the dish, His Nibs poured the pot of beans onto the slice of toast he'd been saving; so really, there's two breakfasts for the price of one here when you think about it. We Derbyshire folk like getting value for money, and there's no disputing that fact here!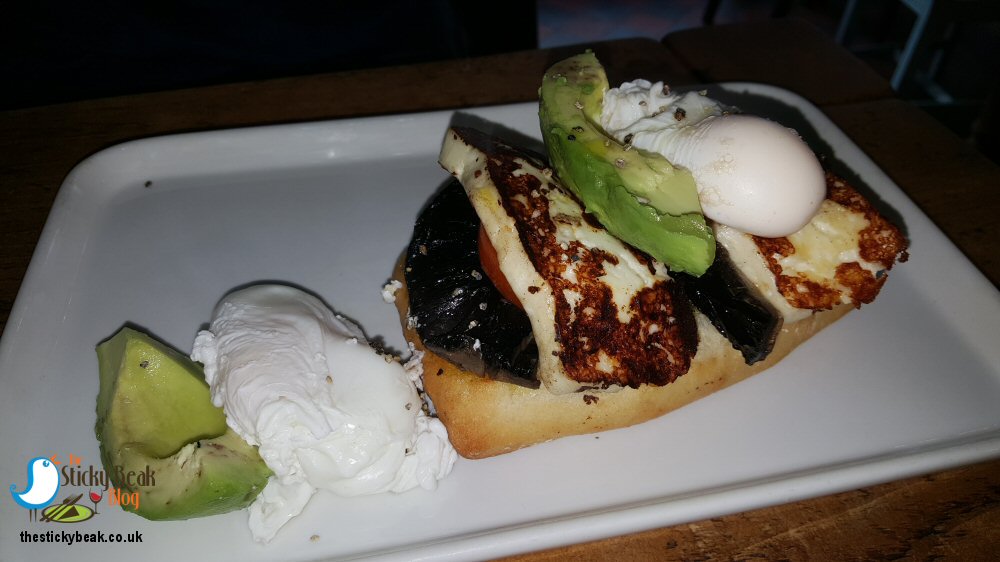 My breakfast was no less marvellous, and definitely hits the satiety spot on the bulls 'eye! The Halloumi slice was cut beautifully thick and had been griddled to give it a lovely striped effect. I love the fact that you can grill Halloumi and it doesn't lose its firm texture, it means that you can pile all sorts of yummy things on top of it! On this particular occasion, the cheese sat on the Ciabatta which had tomato and mushroom on it, then there was avocado and poached eggs perched on the top – a real belly buster by the looks of things.

The key to a superb brekkie, well, any meal really, is to start with good quality ingredients; as my Nana used to say "you can't make a silk purse out of a sows' ear". I could really taste the flavours of all my meals components, and they were all bright and clear on the palate; both indicators of quality. Needless to say, there were two clean plates going back to David's' kitchen.

Our breakfasts (His and mine) cost £8.50 and £7.50 respectively, and in my opinion are value for money - we didn't need lunch that day, so just had dinner in the evening. For those with smaller appetites, Made at 18, Alfreton do toast, butter and preserves for £1.40, poached eggs or beans on toast for £3 (scrambled eggs are £3.50). They do a cracking range of breakfast Ciabatta/sandwiches too; Sausage, Veggie Sausage, or back Bacon, all at £3.75.

It was lovely to go back here and be able to say "Hot Wings" again.
No incentive was provided to visit this venue
read more