New Chef, New Menu at The Greyhound Hotel, Cromford
---
Published On Wednesday 24 Oct 2018 by Sticky Beak
See Recent Dining Out Reviews | See All Recent Reviews


Since The Man Bird and I last visited The Greyhound at Cromford, it's been all change; new private dining room, new chef, and new lunch, dinner and pizza menus. Owners Paul and Tina clearly aren't ones for sitting back and resting on their laurels!
As soon as we stepped inside, that familiar calm ambience swept over us. The Greyhound at Cromford has a great homely feel to it; relaxed and quietly self-assured. I was pleased to see that the style of decor has remained largely untouched; freshened up maybe, but not changed. The main dining area still has muted tones of green, grey and putty to it, and the sturdy wood tables with their intricate metal legs still remain firmly insitu.




The Greyhound is dog-friendly in the bar area, and there were several happy, waggy-tailed dogs in accompanying their humans when we arrived. Families are also welcomed at the venue, and some were taking advantage of half-term to visit the area and admire its beauty. At the table next to ours a family of four were tucking heartily into their meal, having no doubt worked up an appetite in the Derbyshire air.

One thing I happily reacquainted myself with was the extensive wine list – that'll be a large glass of Malbec for me then please, and a pint of draught Estrella for Him Indoors. So with the drinks taken care of, it was time to turn our attention to the menu.




After a bit of deliberation we decided on the Wild Boar and Black Pudding Terrine with Pear and Lime Salsa (Him), and the Smoked Chicken Tian with Sweet Potato Crisp and Puree, and charred Clementine (yours truly). Our lovely server came to bring some chilled water for the table and took our order at the same time – nice bit of time management/ female multi-tasking.




Both starters were presented nicely, and after the obligatory photos for the blog we tucked in with much enthusiasm. The Man Birds' Wild Boar and Black Pudding Terrine was an absolute corker; packed with a robust, full-on flavour, it was so rich and deep that it has a pâté-esque tone to it. Both elements balanced together nicely, and the chunky Pear and Lime Salsa popped vibrantly on the palate to contrast beautifully with the Terrine. A good old doorstep of home baked, wholemeal bread provided the perfect base on which to larrup the meaty morsel. Some dressed mixed leaves added a splash of colour and also some texture to bite on.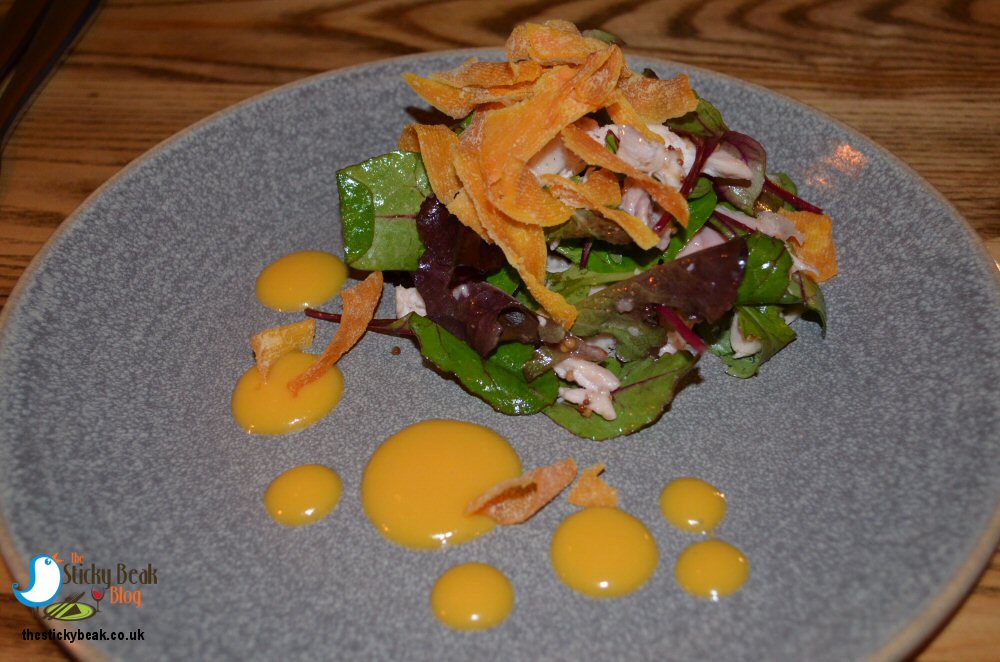 As far as I can make out, Tian is simply a posh way of saying pressed (as well as being the name of a cooking pot), but that in no way detracts from the tastiness of my starter. Lovely chunky, moist pieces of lightly seasoned Chicken had been pressed together tighter than London commuters on a twice-cancelled rush hour train. In contrast to the smooth poultry, the super-crisp Sweet Potato shards were gossamer fine and yielded a fabulous crunch when bitten into. The pureed vegetable was beautifully sweet and soft and partnered the slightly sour dressed mixed salad leaves brilliantly.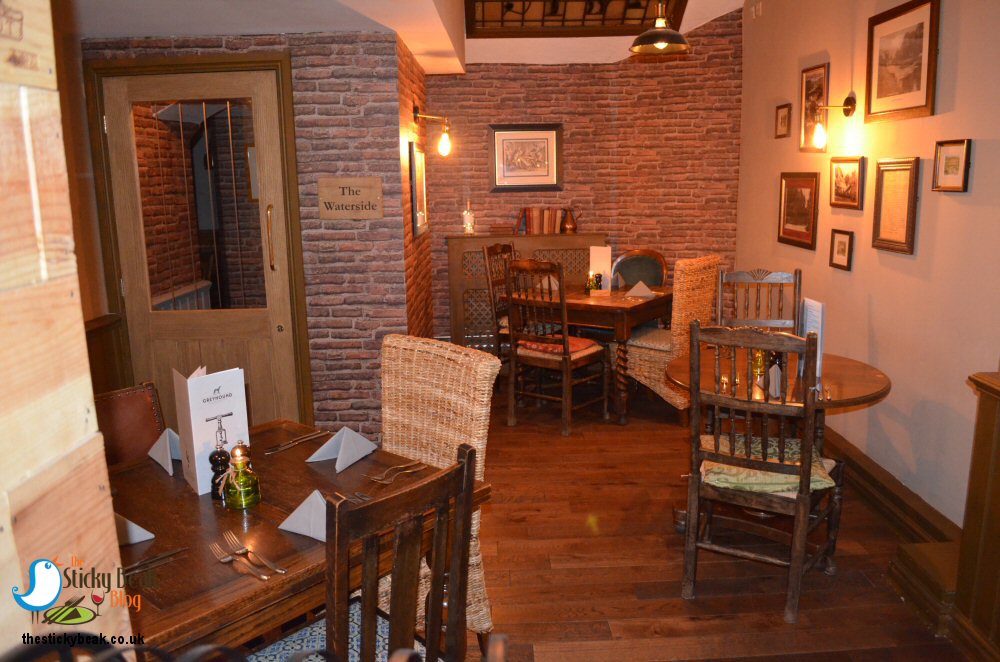 So far His Nibs and I were suitably enamoured of the efforts of new Head Chef Nigel Shaw; could he keep up the good work with our main course choices of Whole Roast Partridge Crown with Dauphinoise Potatoes, Parsnip Tart and Juniper sauce, and Greyhound Venison Sausage with Chicken Fat Mash, Cauliflower, and Chicory? In a word, yes.

As well as the mains, we'd ordered a portion of Sautéed Greens and some Truffle and Parmesan Fries, purely because I love my veggies and we both fancied the fries! All the dishes were brought out in very close time proximity, no hanging around on the pass for these delights.




My Roast Partridge (served off the bone, by the way) had a delightful gentle earthy taste to the breast meat, and then the confit dark meat came bouncing in like a totally unabashed rutting Stag! What a bird of two halves – total genius and a real treat for my mouth; I was a very happy lass I can tell you. The gorgeously fragrant, softened Parsnip was encased in a dinky little pastry case, making a buttery, silky accompaniment to the meal. As if this wasn't enough indulgence there was a generous slice of Dauphinoise Potato to munch at, AND the buttery sautéed Savoy Cabbage and Green Beans that provided a base for everything to sit on. Just-firm batons of baby Carrots were dotted around the periphery of my plate, visually nice as well as yummy.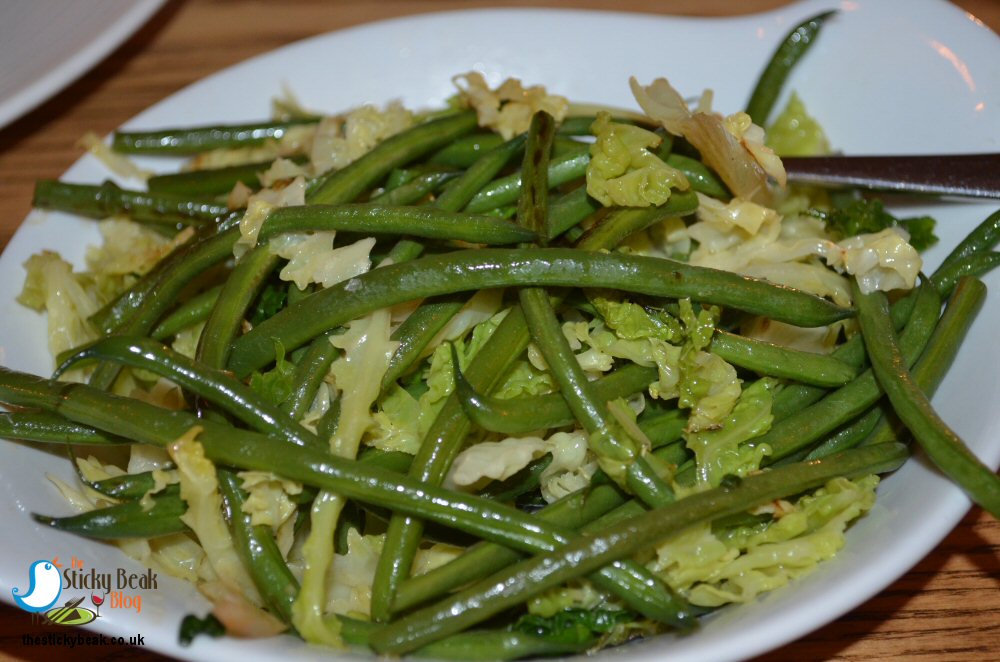 I probably didn't need to have ordered the extra veg, but I do love my greens, so they soon got chomped; The Boy Wonder purloined some too. You can't beat butter glossed, crunchy vegetables; there's just something wonderfully simple but stunning about them.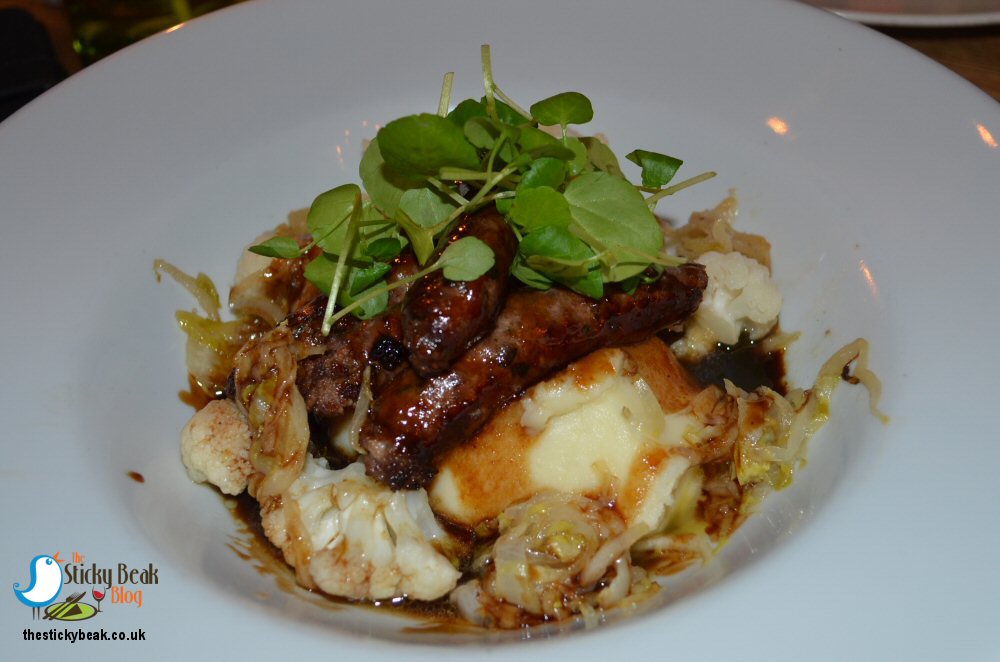 Across the table, His Nibs was grinning at the feast before him; a quartet of plump Venison Sausage was nestled languidly on a glass-smooth bed of mash that was skilfully infused with the taste of chicken fat to give it a bit of oomph. The flavour of these sausages was so incredibly deep and rich, you really need to try them; I did, and was instantly a fan – and you know how picky I am when it comes to sausage! To quote: "these are bangin' bangers"; for once, you're not wrong my little ray of sunshine! The Cauliflower was nicely firm to the bite, and the Chicory was perfectly al dente with that marvellous bitter hint so characteristic of it.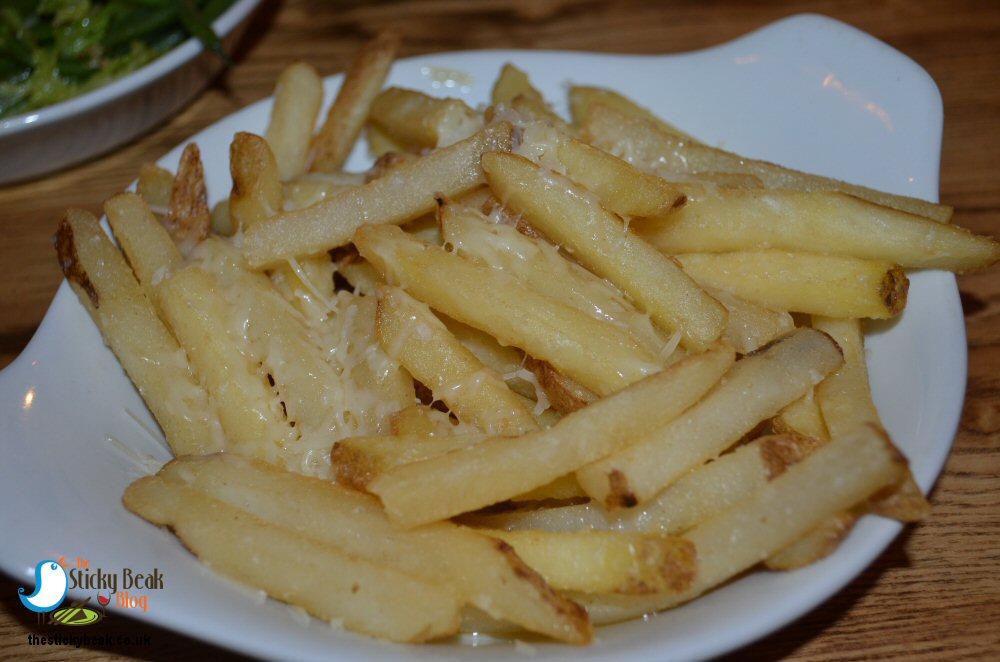 We both thought the skin-on fries were delicious, enhanced as they were with a hint of truffle and dusted generously with pungent Parmesan shreds. Again, simple but effective; so that was four clean plates going back to the kitchen!

In another pudding upside-down episode, I passed on the Vanilla Crème Brulee with Lemon Shortbread (His Nibs fell for its charms) and plumped instead for the Pear Tart Tatin with Bitter Chocolate Ice Cream.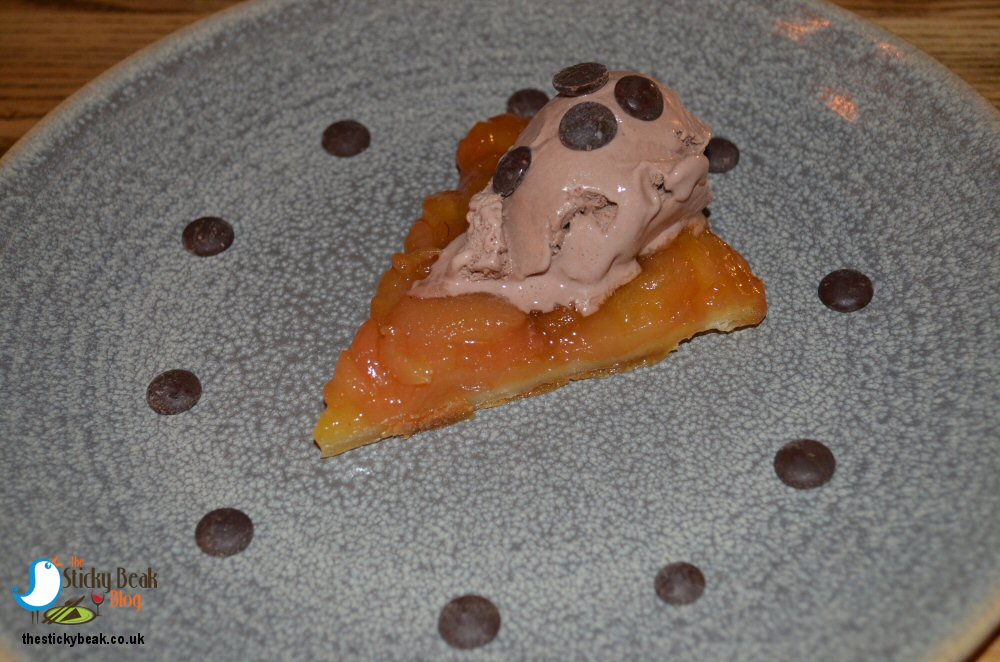 Sumptuously soft, perfumed Pear slices had been caramelised moreishly by Chef and partnered with buttery flaky pastry; ooooooh, I felt as if I died and gone to foodie paradise! The bitter hint from the Chocolate tempered the richness of the tart sublimely, stopping this dessert tipping into cloying overload. Drops of the bitter Chocolate had been arranged around my dish to further emphasise the cacao element of this pudding; I played nicely and let The Boy Wonder have a few of them.




Meanwhile, my partner in gluttonous crime was desperately trying to break the sugar top of his dessert; clearly he hadn't had 3 Weetabix earlier in the day! Chef Nigel had created perhaps the thickest Brulee I've seen and the sound it created when His Nibs finally broke it was music to my soul. The crème itself was lovely and soft, with a divine velvety Vanilla note to it, against which the gentle citrus taste in the buttery shortbread round could really shine.

We finished up the hat-trick of quite frankly stunning dishes with our usual black coffees, and these came with more rounds of the Lemon Shortbread – yay! At the beginning of our evening we had been sorely tempted to try the new Pizza menu offerings, and it's something we'll be doing in the near future, but we can't regret the choices we made – they were incredible. Hot Wings very well deserved at The Greyhound in Cromford.
Some form of incentive was provided to visit this venue
read more