Dinner At House of Darwin, Shelton Lock, Derby
---
Published On Tuesday 23 Oct 2018 by Sticky Beak
See Recent Dining Out Reviews | See All Recent Reviews


There must be something in the air - either that or The Man Bird has been wearing Lynx again! - we are being kept busy at the moment (just the way we like it!) and found ourselves at the House of Darwin in Shelton Lock, Derby, to sample their menu.
I always like to see plenty of parking at a venue, and House of Darwin certainly ticks this box – there are loads of spaces. There's also plenty of space inside, and it's a really good-looking venue too. The first thing you notice is the massive bar, you're certainly not going to get jostled here; more importantly though, there's a huge selection of drinks to choose from - more of that shortly.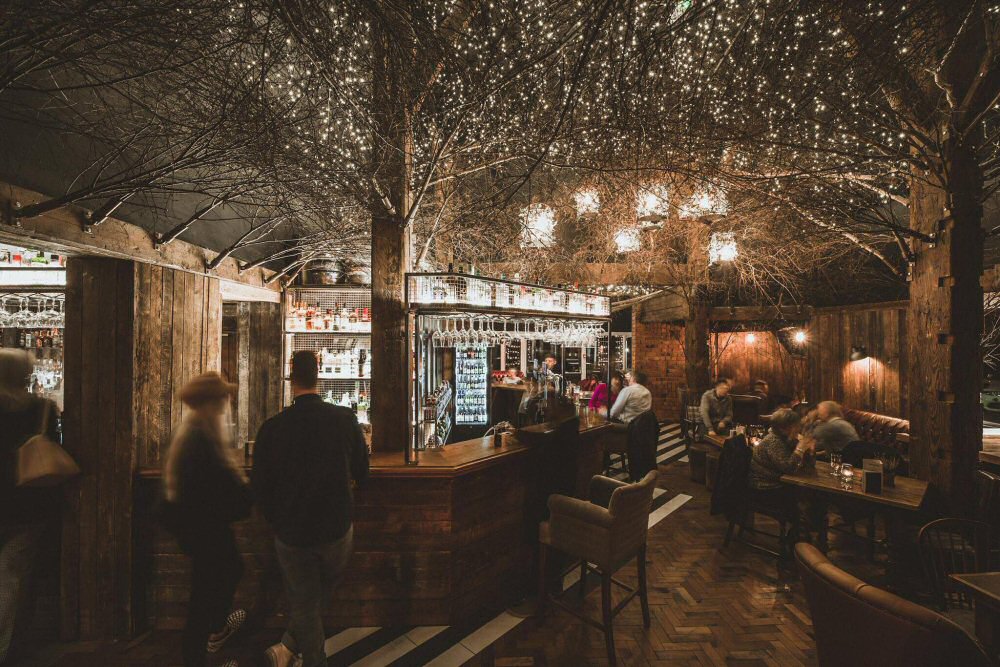 A lot of consideration has been given to the refurbishment of these premises; the use of natural textures and tones creates a welcoming ambience and cosy atmosphere. As you go to the right hand side of the bar, there is a lovely large seating area that dogs are welcome in (complete with water bowls). This area has very much the feel of an enchanted forest about it; the twinkling ceiling lights have been covered with boughs of natural foliage so that their light is diffused as if in a tree canopy.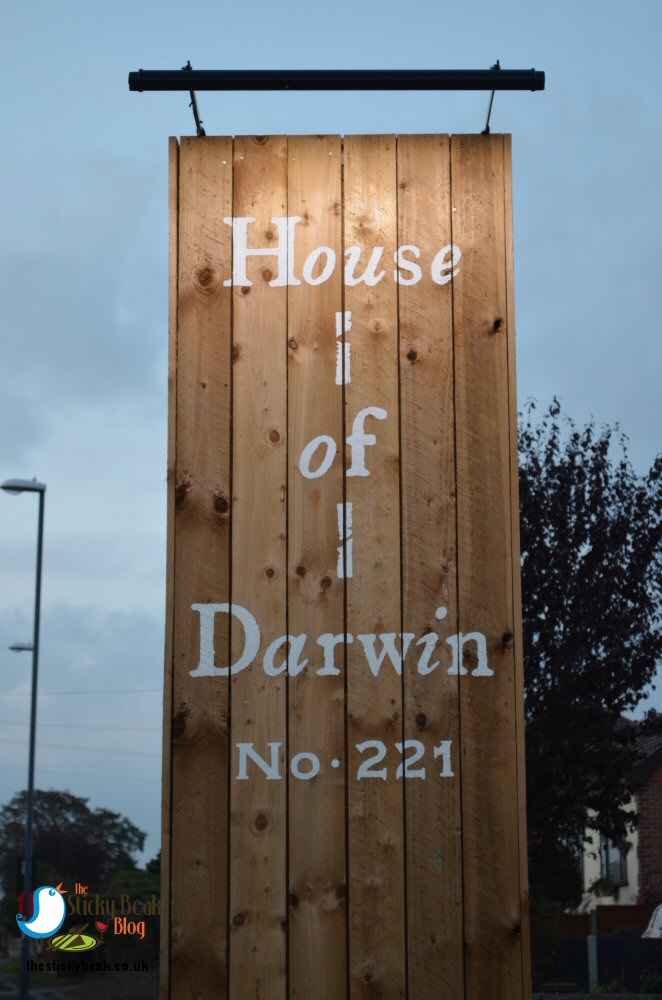 Several seating areas in the main restaurant area are raised, giving the space a great visual interest and appeal. There is also an upstairs area that seats about 50 people, and this is perfect for larger parties or groups to enjoy a celebratory meal. Talking of parties and celebrations, that time of year is coming around again rather quickly; House of Darwin has a few dates available over the festive period, and also on New Years' Eve. If you're interested, get in touch with the team – and party on!!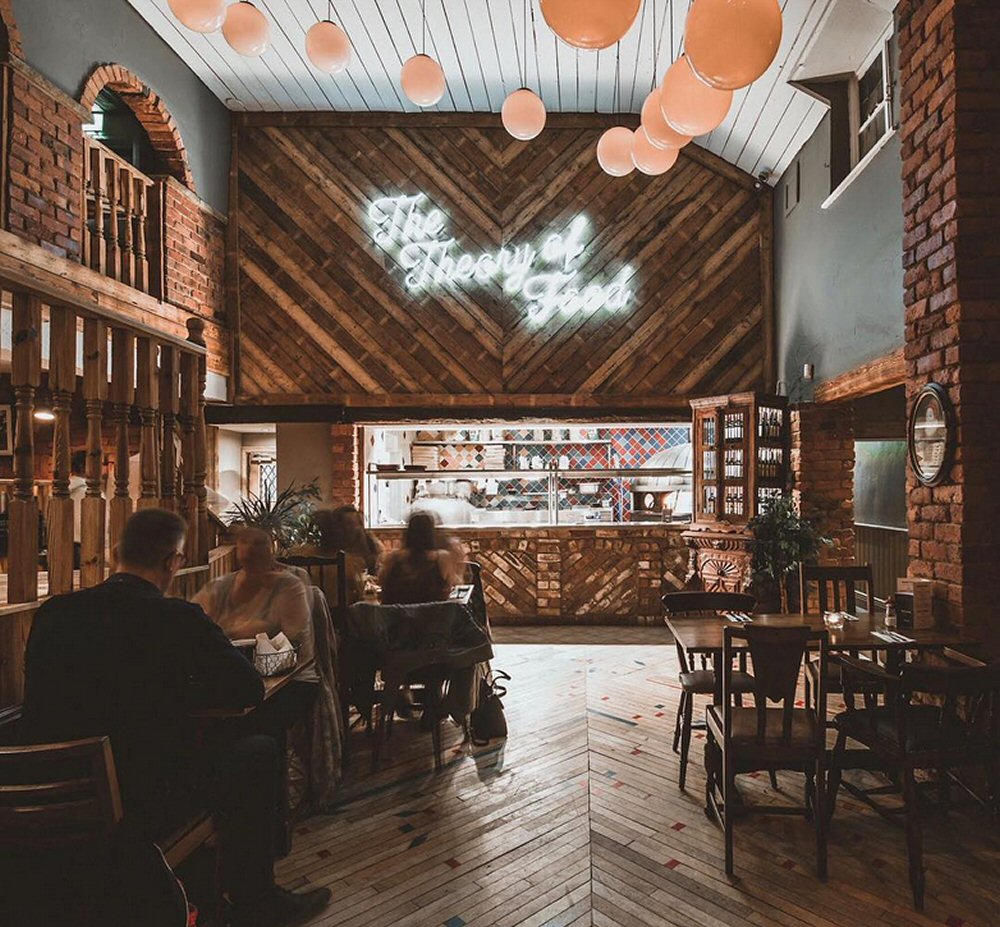 Manager Iain was telling me that even if you go into the bar area with your dog, you can choose to eat off either the a la carte or bar menu. I really liked this; I liked it a lot. The other thing that struck me is the fact that House of Darwin really is an inclusive venue for everyone; families with babes in prams, toddlers, and older children were all welcome – they weren't shuffled off to one side either.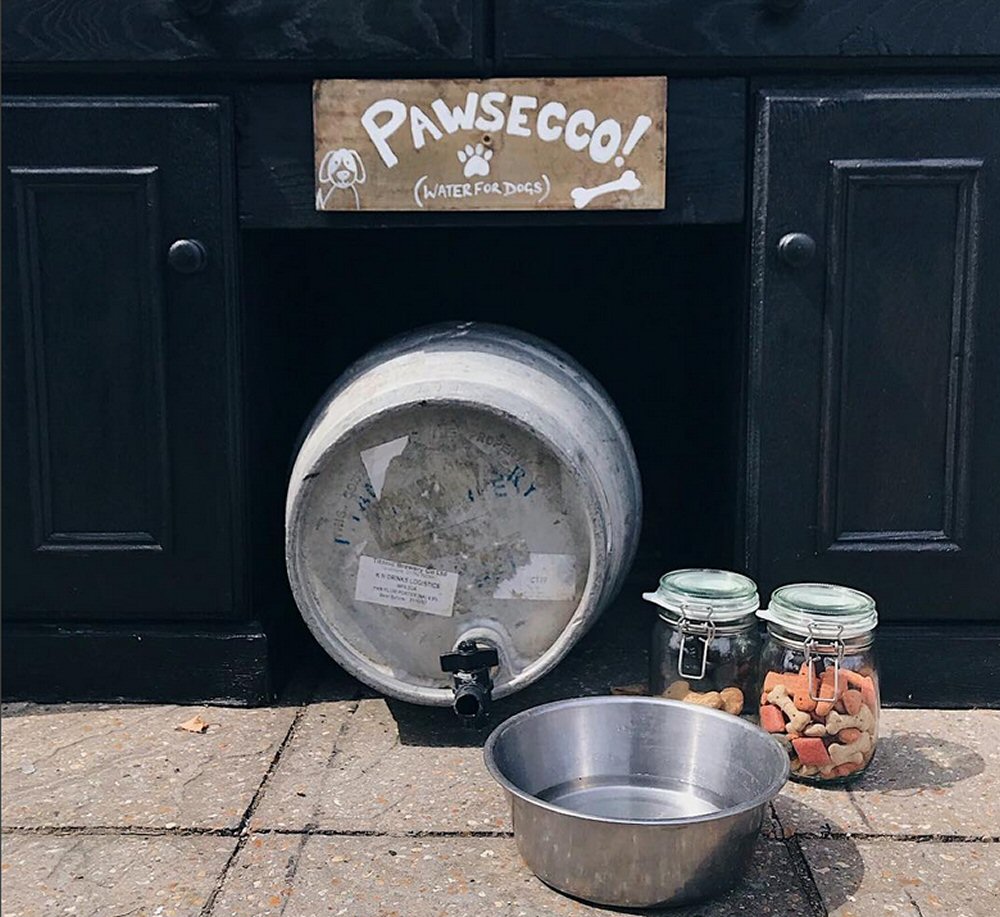 Anyhow, first things first; drinkies. Kris is the bar manager and him and his team know their stuff; perhaps as well when you offer a vast array of draught lagers and beers, and approximately 50 Gins! I had a large glass of Malbec, His Nibs had a pint of Tiger – not a bottle, a pint. We'd arrived a little early for our table reservation; in all honesty, we weren't expecting to get around the far side of Derby quite so expediently! However, arriving ahead of time meant that I could indulge in a bit of people-watching and get a feel for the place.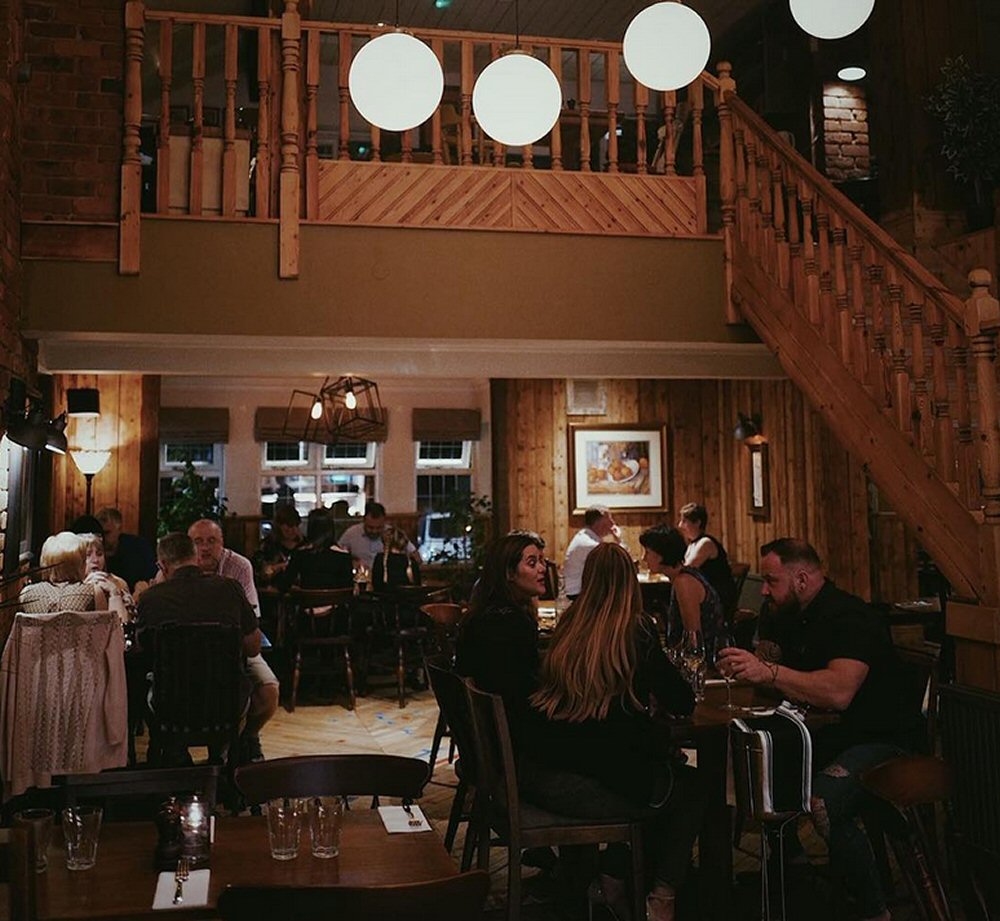 Seated just across from the bar in one of the many cosy eating areas was an older gentleman, just finishing off his "early bird" meal and enjoying a cuppa. The Early Bird offer at House of Darwin is perfect for those wanting to dine at lunchtime, as well as those who like their tea/dinner a bit earlier. Monday – Friday, Noon -6pm, there is a 2 course menu available for £9.95, with hot and cold dishes to choose from. There is also a nice selection of Ciabatta sandwiches served with mixed leaf salad to tempt you if you fancy something lighter; the bread is freshly baked at a local bakery.

When the time came for us to be seated, hostess Alex took our glasses over to the table for us and handed us over to Claudia, our server for the evening. House of Darwin does a blindingly good food offer; 3 courses for £20 available all day Monday-Saturday and probably 80% of the dishes are included in the offer, so that was what His Nibs plumped for. I chose to go the a la carte route, although I think it was only my choice of main that wasn't included in the offer.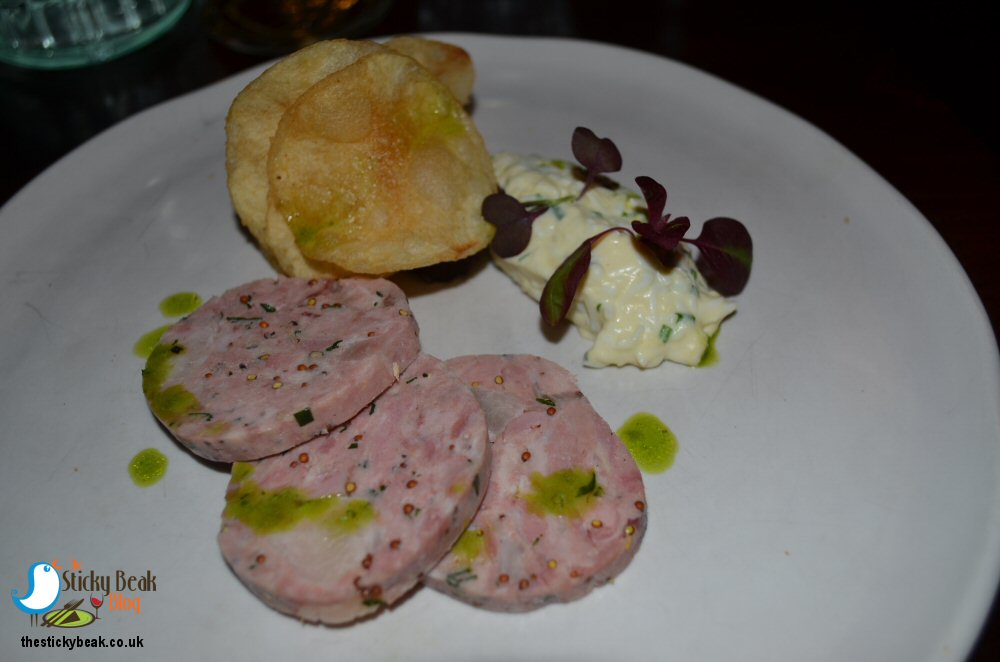 To get things started, we had the Ham Hock Terrine with Egg Mayonnaise and Crisps (Him) and the Braised White Onion with Scorched Spring Onion, Goats Cheese, Cream, Blue Cheese Crumble and Onion Oil (me). Whilst we waited for our starters, we got chatting to a couple on the next seated table to ours who happened to be locals; literally, they have to walk down the jitty adjacent to House of Darwin and they're home! They were telling us how fab it is to have a proper village pub again, somewhere that feels like a home-from-home, and that they've never had a bad meal in all the times they've been coming.

We didn't have long to wait, which given how busy the venue was, was surprising – but good! His Nibs was bowled over by the incredible meatiness of his terrine, and loved the deceptively light texture of it and its delicate seasoning. To contrast with the robustness of the terrine, Head Chef Richard Dean makes the Egg Mayonnaise really fine in texture and tempers the creaminess of it with crisp Spring Onion notes. For some crunch and texture, thick Crisps are used; these come in jolly handy for scooping up any rogue bits of Egg Mayo too.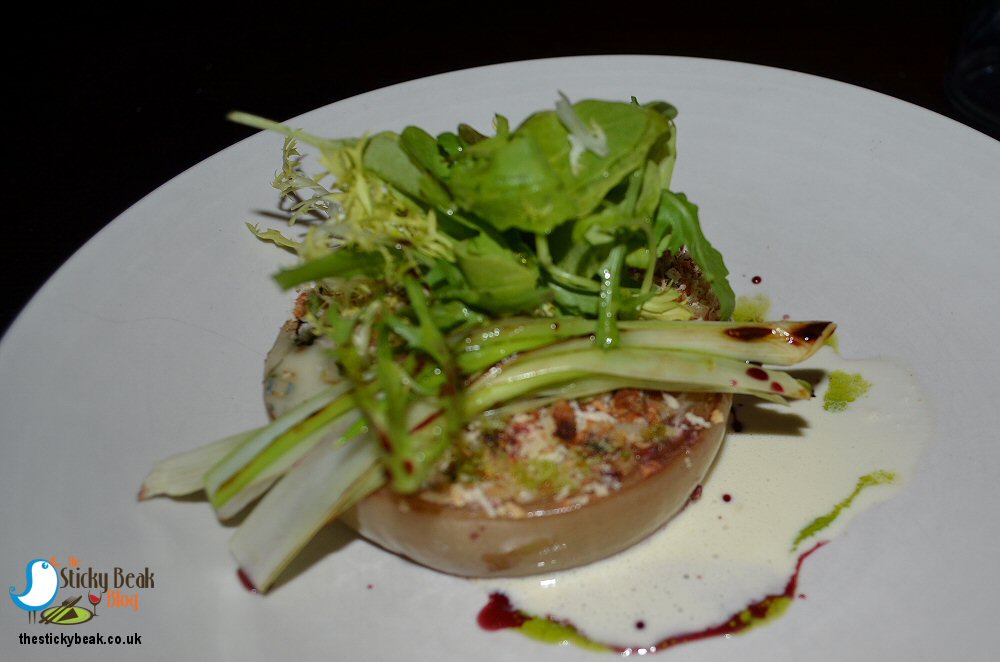 My own starter was just as good, a veritable carnival of tastes and textures. The White Onion was still firm, but soft at the same time; quite a conundrum for the brain! The Bonfire smoke note of the Spring Onion paired beautifully with the tangy Blue Cheese Crumble and the sharp Goats Cheese; the crunch of the Crumble lifted the smoothness of the Goats Cheese and White Onion. A delightfully clever starter that tasted every bit as gorgeous as it looked.

House of Darwin have a really great breadth of choice on their mains; everything from Artisan Flatbreads and Burgers, to traditional mains such as Beef Cheek and Lamb Rump, and Steaks from the Grill. The Boy Wonder and I had seen a couple of the Flatbreads go from the pass to another table, and they looked stunning, which tempted us for a second. However, I really fancied the Lamb Rump with Scorched Cauliflower, Dauphinoise Potatoes, and Shiraz jus and His Nibs had got his beady eye on the Maple syrup-glazed Bacon Medallion with Spring Onion Colcannon and Summer Greens.




We also ordered a portion of Halloumi chips as a side; oh come on, I defy anyone not to be tempted by Halloumi chips – you really can't tut at my greed on this occasion!

I kid you not, dear reader, when I say that the Bacon Medallion was a good 2 – 2.5" thick – it was a proper meaty monster! Chef had done this meat real justice; it was still lovely and juicy with the distinct taste that Bacon has. The Maple syrup glaze had been rendered lightly crisp on top and had a fab sweet-but-smoky taste to it, which partnered the Bacon superbly.




One of The Man Birds' favourite things is mashed Potato, whatever guise it takes, so he was in raptures with the Colcannon. The ultra-smooth, creamy mash had been amped up with the inclusion of thinly sliced Spring Onion to impart a little of its taste and inject some texture. Florets of Broccoli had been cooked to perfection so that they retained a bit of firmness and crunch when bitten, and they finished off the dish beautifully with their visual colour pop too.

My Rump of Lamb was served beautifully pink and had rested nicely to bring out its full tenderness and flavour. The Dauphinoise Potatoes were total perfection; not too moist, not at all dry, and topped with a thin cheese top for an extra layer of taste. I loved the dinky florets of Cauliflower, their usual pallid complexion bronzed by the careful use of fire. The flavour was delicate thanks to skilful charring rather than full-on blaze. Both our meals had been presented nicely, but the careful placement of julienned Green Beans on the top of my potato in a lattice pattern was just gorgeous to see.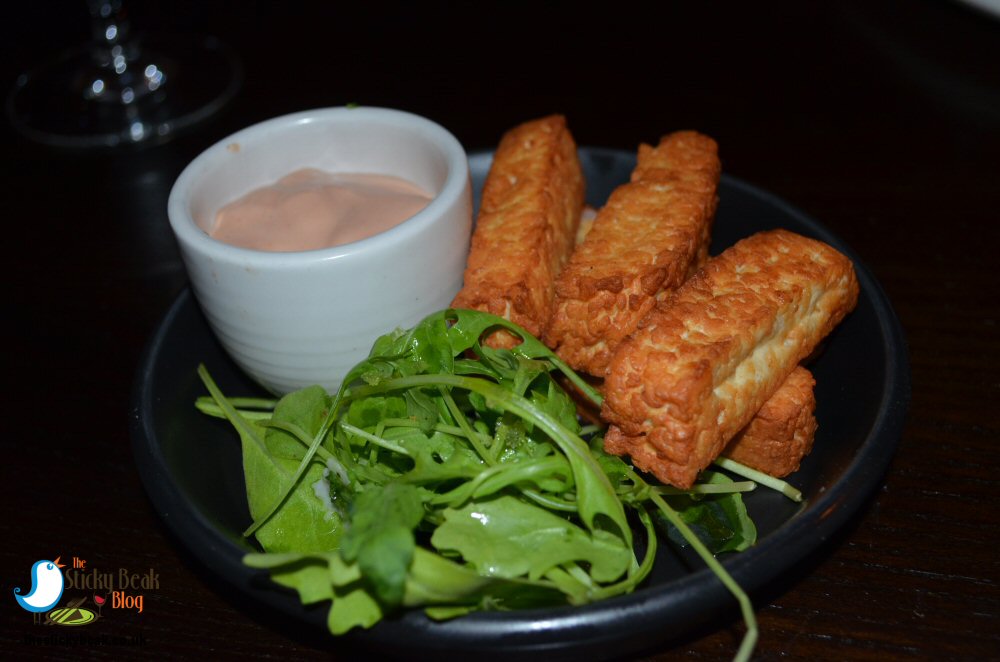 One thing I was incredibly happy to see was the presence of manager Iain at the pass; nothing left to be served until he had inspected it and was happy. Now that is pride in your food and service! Hats off to you, sir.

We've had Halloumi fries/ chips on several occasions and it's great to see the variety of ways that venues interpret these morsels. I have to say that the ones at House of Darwin are fantastically chunky versions that have a lovely crisp layer to their outside, you really do get a good chomp factor from these bad lads! Paired with a zingy dip and peppery baby Rocket leaves, they make a tantalisingly great side dish – we loved them.

Claudia had kept coming and checking that our meals were to our liking, and was happy to see clean plates at the end of each course. I know you won't believe me (heck, I don't believe me!) but it's all down to Claudia that we ordered pudding; she was raving about them, so we couldn't not try them in case we offended her, could we?!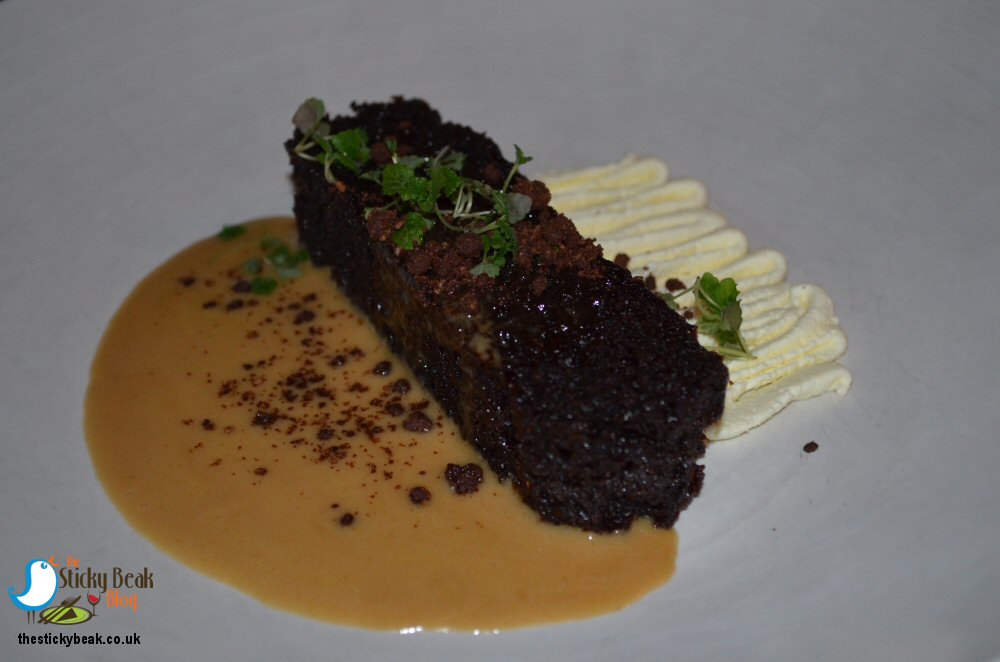 It's normally The Man that orders Sticky Toffee Pudding, but I got in first and bagged it! It comes with Toffee sauce and Chantilly cream, and I was just in the mood for a good hearty pud. His Nibs wasn't too upset, he opted for the Chocolate Torte with Chantilly Cream.

The Sticky Toffee Pudding had a beautiful lightness to its texture that totally belied the deep, almost-Black Treacle flavour it had. A superb, lip-smackingly cool Toffee sauce and soft Chantilly Cream that had been piped in precise lines, partnered the hot dessert perfectly. I think His Nibs was just a teeny bit wistful that he hadn't chosen this temptress. Tough luck; suck it up, buttercup!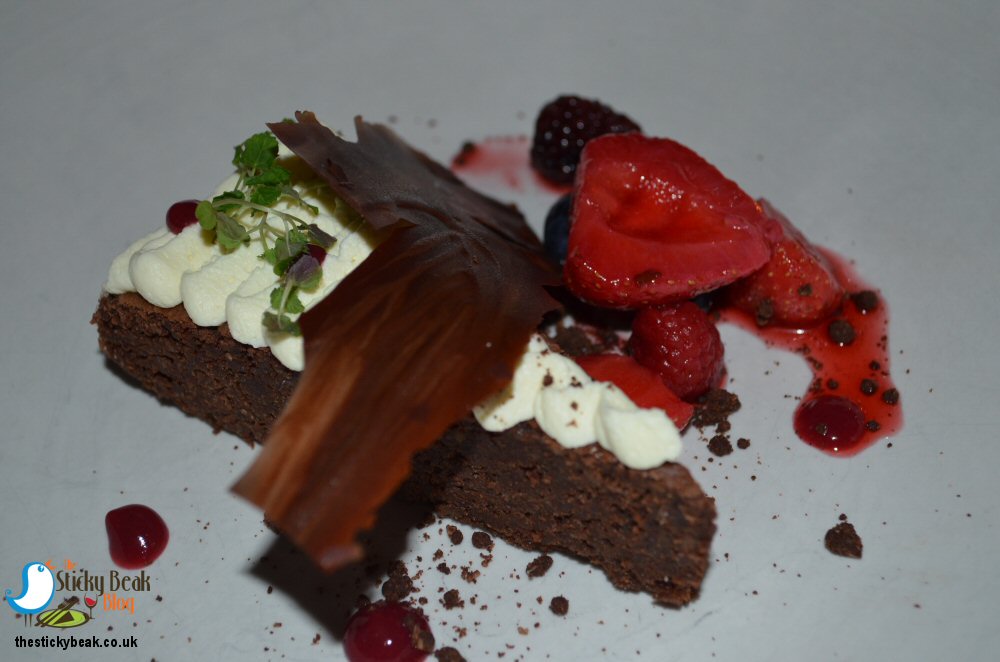 His Nibs' jealousy was soon forgotten though, when he took his first mouthful of Chocolate Torte. As well as a wonderfully dense, tight texture the dessert had a decadent, rich flavour that would satisfy the most ardent chocoholic! To assuage the richness and lighten the dessert, fresh fruits (Strawberries, Blackberries, Blueberries and Raspberries) had been artfully arranged around the plate, and there was the perfect amount of cream on top to crown it all.




We finished off our meal with our usual black coffees, and were happy to see a sphere of chocolate on the saucer too. Demi (House of Darwin's Dessert Chef) had made rich, indulgent Chocolate Truffles to go with the robust after-dinner coffee, and wowsers are they good! Actually no, they're not good – they're flipping incredible; just on the edge of soft, the truffles melt on your fingers as you pick them up. No wonder Demi makes them daily now – they used to "walk" from the kitchen at a fair old rate if she made them in advance!

With full bellies, we left House of Darwin at Shelton Lock with massive grins on our mushes. Hot Wings whole-heartedly given to this wonderful team.
Some form of incentive was provided to visit this venue
read more