Dinner At Lal Khazana Indian Restaurant, Shilbottle
---
Published On Thursday 13 Sep 2018 by Sticky Beak
See Recent Dining Out Reviews | See All Recent Reviews


As part of our (usually) annual pilgrimage to Northumberland to see Geordie Bird, The Man and I always see if there are any local businesses wanting to collaborate with us. Sometimes you, dear reader, will offer up suggestions too if you've come across somewhere; sometimes businesses will contact us off their own back. It all depends which way the wind blows I guess.
The late August Bank Holiday is the last one before Christmas and, as is becoming tradition, a lot of us head out to eat rather than cook on this occasion. Thankfully we were kindly invited to experience the cuisine at Lal Khazana Indian restaurant in the village of Shilbottle, an offer which we gratefully accepted.

Now from Geordie Birds' nest there are two routes available: one goes up the A1, the other through the more rural, scenic parts of the county. Clearly, we were going to take the scenic route and it was worth the effort on a lovely late summer evening. I tell you what though, it gave the 'Shire a run for its money in the "single track lane" stakes!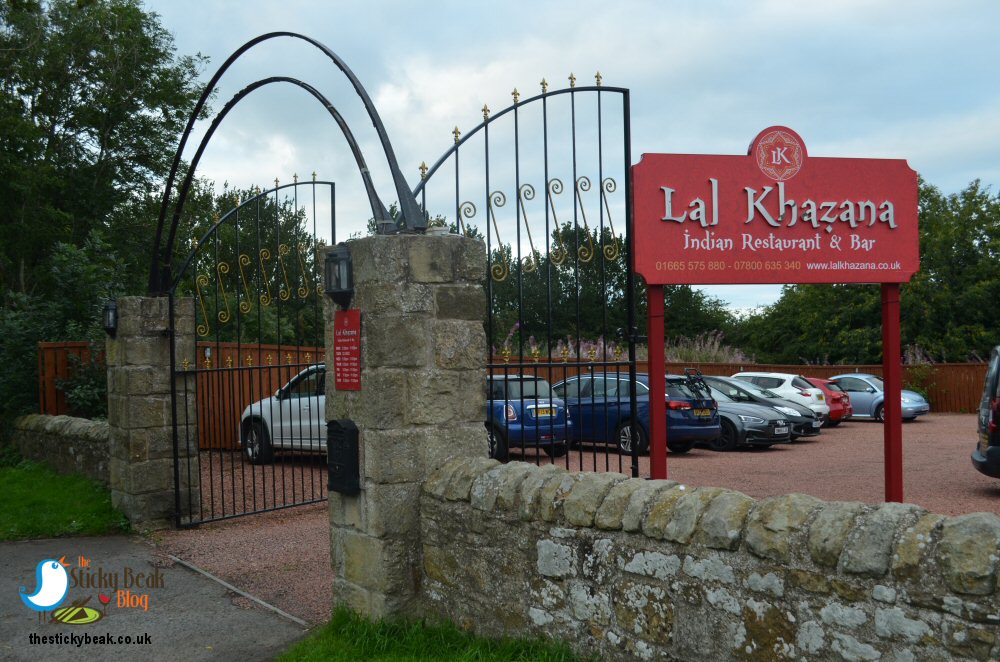 Obeying SatNav's instructions we turned right, and saw the most beautiful high, fancily patterned metal gates bearing the Lal Khazana name. The car park is laid with chunky gravel too, perfect for all weathers, and I loved the central feature rotunda – very statement for an entrance.

Stepping inside gave us a view no less spectacular; a huge mural of the Taj Mahal dominates the lobby area. The bar is sleek and modern, stocked with every libation you could possibly want. As you walk into the main dining area you first see the lovely solid stone walls and the high ceilings, which give the venue a cosy barn-like feel.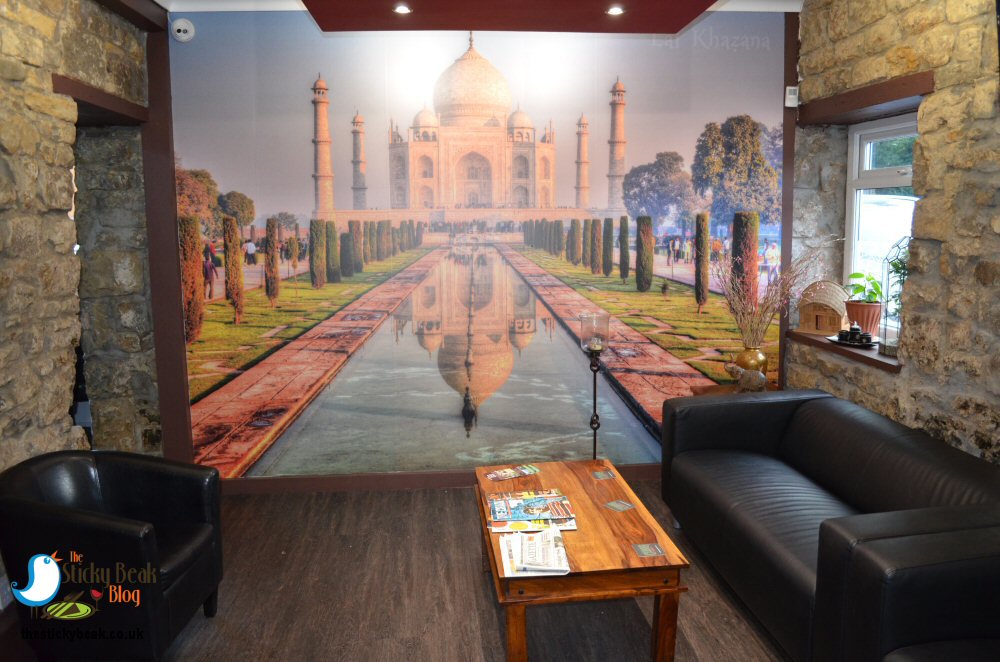 However, before you start to think vintage and gentrified, let me just tell you about the glitz factor too. Rows of faceted glass chandeliers amp up the glam quotient and are complemented by twinkling glass wall lights and crackle-glass spheres scattered around. Striking dark wood floors are matched by deep toned tables and rich brown padded seating, all lifted by the accents of spice red cloth napkins.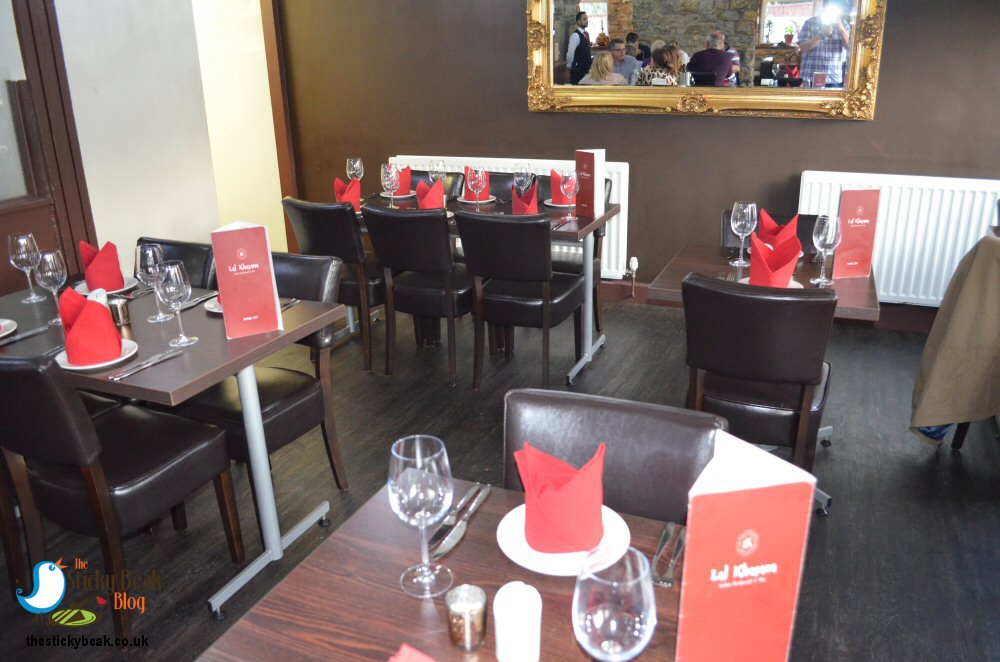 His Nibs was thrilled to discover that Ash and his team offer Cobra lager on draught, so he got his order in pretty swiftly! I thought I would see how the house red wine stood up, seeing as the choice of wines by the glass was a little limited compared to some places we've dined. I have to say that it was lovely and fruity; a great quaffable tipple at a good price.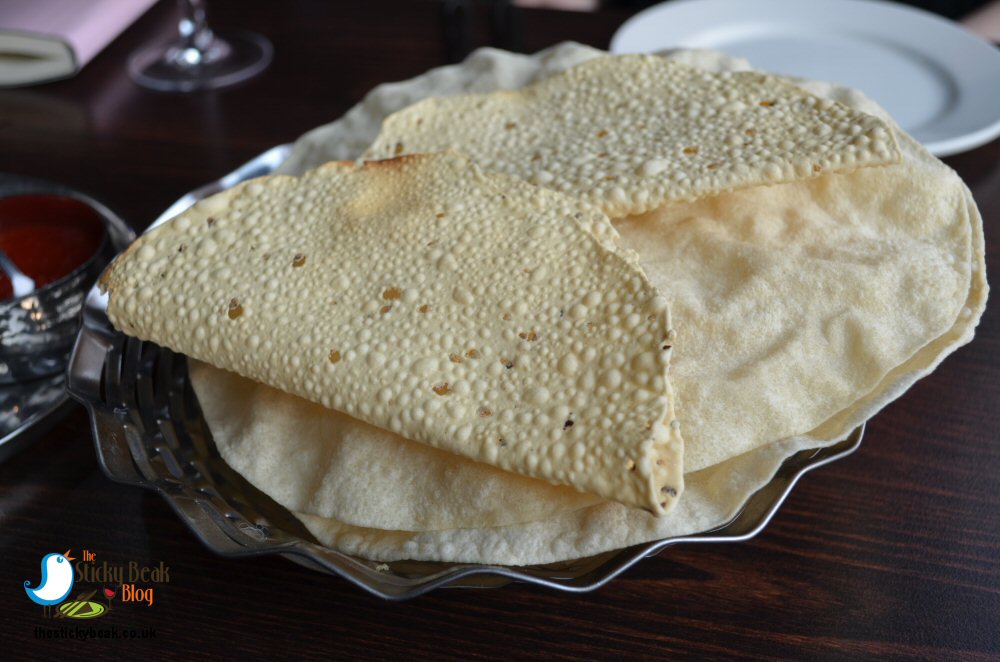 Whilst we were perusing the extensive menu, one of the team brought out a selection of spiced and plain poppadoms with a range of pickles for us to nibble on. One of my favourite pickles is the pungent, sour Lime based variety – the one at Lal Khazana was very yummy, keeping my taste buds more than a little occupied with its robustness. Herbed yoghurt helped take the heat down a notch in my mouth, only for me to ramp things up again with the Onion salad! The Mango Chutney was beautiful; not too sweet and with a hint of spices to it. Both of us loved the poppadoms too, they were light, crispy and not at all greasy – perfect.




For starters we both went a bit off the beaten track; I had the Amm Aar Jhinga Milon (King Prawns fried in Garlic Butter and herbs, served with Fresh Mango slices), His Nibs had Stuffed Peppers filled with mild-to-medium spiced Chicken - you could substitute Chicken for vegetables or Prawns if preferred. What The Boy Wonder liked though was the fact that he was given a choice of pepper colour, a nice touch we thought.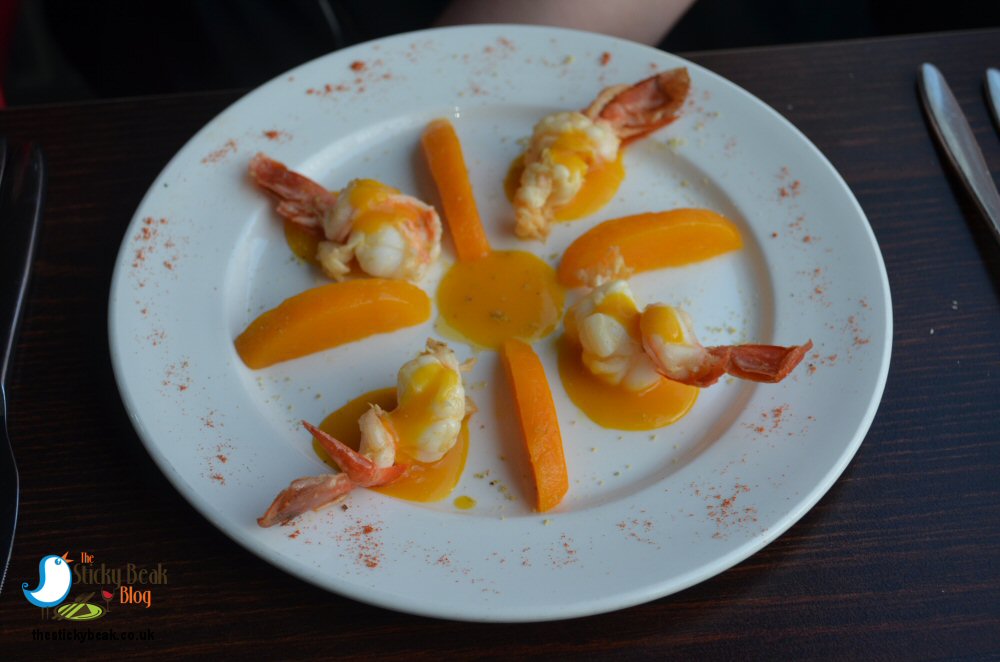 Both dishes had been carefully plated up and looked truly beautiful for things so simple; my dish in particular. The whole tail-on King Prawns were enclosed in their own little rock pools of Mango purée and then interspersed with slices of warm, softly fragrant fresh Mango. A gentle sprinkling of Paprika decorated the plate edge, so that the whole dish was in tonal harmony – rich yellow, coral and deep red. It was a gorgeously light, delicate starter dish that got the juices flowing but didn't lay heavy on the tum.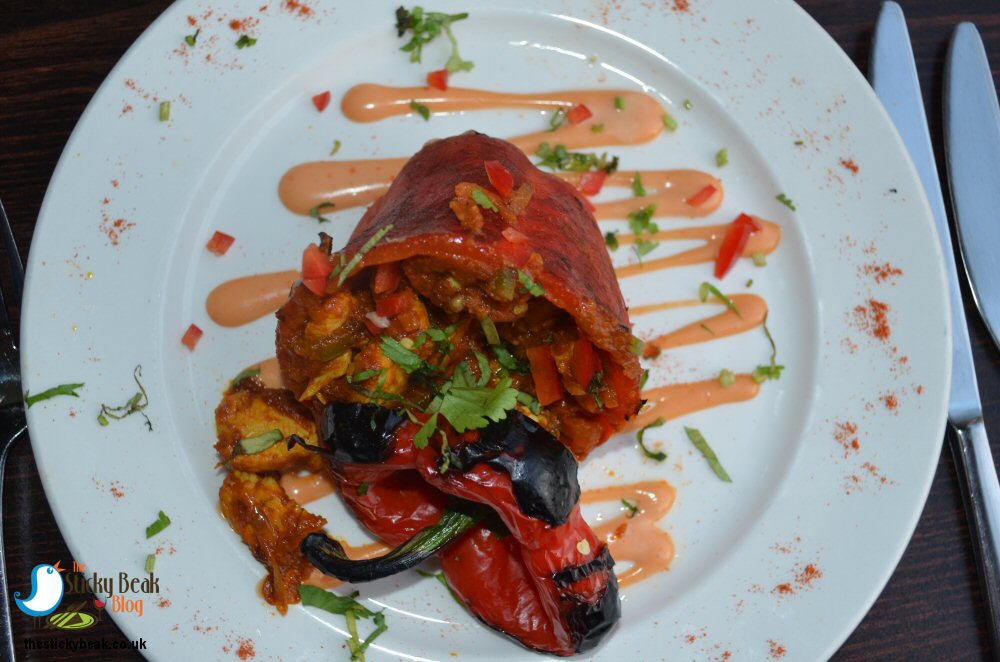 The Man Birds' stuffed Pepper was equally flavoursome. A light charring made the vegetables flesh soft and seemed to intensify the sweet ness of it too. Chicken pieces, sautéed Onion, and fresh Coriander had been bound in a curry sauce before being spooned into the hollowed-out centre of the Pepper. It took a couple of seconds in the mouth for the sauce to reveal its heat, rounded-yet-impactful as it was.

Several members of the team had come over to check how our food was, and were very happy to hear the praise we had for Chef so far. Bring on the mains!




I seem to be having a real thing for fish in curries at the moment so when I spotted Monkfish on the menu, that was me sorted. Maaser Tarkhari is described as a medium-spice, traditional Bengali style curry, and I was very much looking forward to trying it. The Boy Wonder chose a dish called Chicken Dhaniawala; this is chicken cooked with fresh roasted ground spices, Green Chillies and fresh Coriander to produce an aromatic curry.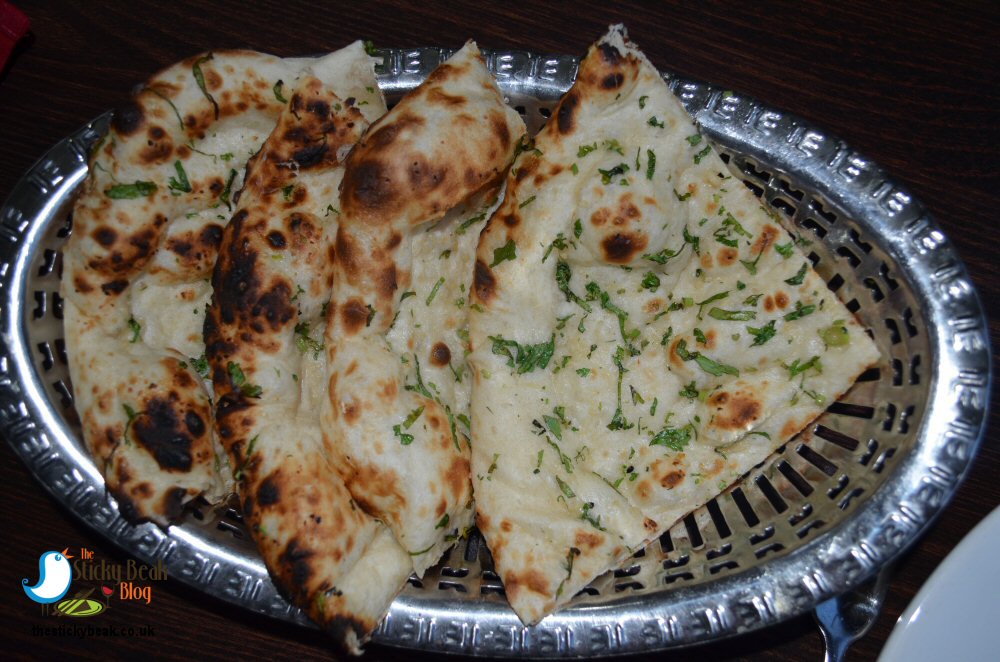 To accompany our curries we ordered Garlic and Coriander Nan bread, Onion Pilau rice, Aubergine (Begun), and Dhal (Lentils) which we had as Tarka Dahl. Luckily we'd had a good old yomp down the beach at Bamburgh to work up a proper appetite – I think we were going to need it!

A lot of the fish curries I've had recently have had the fish kept entire or divided into two fillets, but Chef at Lal Khazana in Shilbottle chose to cook the Monkfish in chunks. Monkfish is ideal for doing this as it's a really firm, "meaty" fleshed fish that keeps its texture well during cooking; it doesn't fall or flake apart like some other fish types do. The medium strength sauce had a delicate sour edge to it that I think brought the softer, sweeter character of the Monkfish out. It really was superb, and the sliced Onions and Green Peppers had a gentle firmness left to them to give added texture to the dish.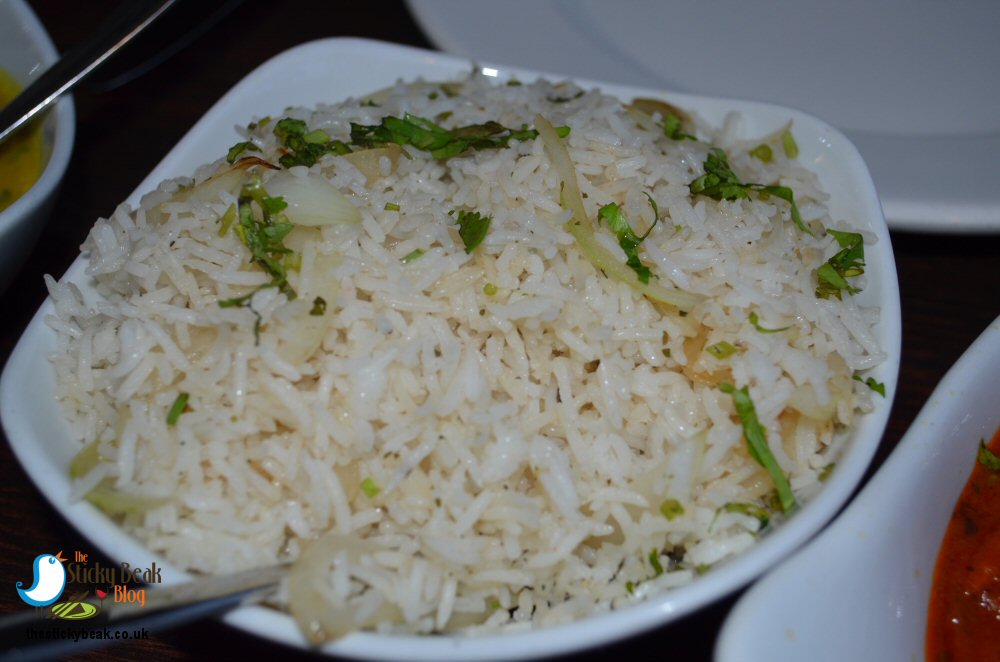 His Nibs was gobsmacked at the size of the pieces of chicken contained within his dish – they were huge! Not only were they large in size, they were large in number; the curry literally consisted of the chicken, sauce, and a couple of whole chillies lay on the top! Clever Curry Chefs have a knack of being able to produce heat without that excruciating lip and mouth fire, and this was exactly the case with the Chicken Dhaniawala. Moist chicken was paired with a spicy, enticingly aromatic sauce and the whole lot got walloped down; Nan breads are jolly useful as sauce scoops!.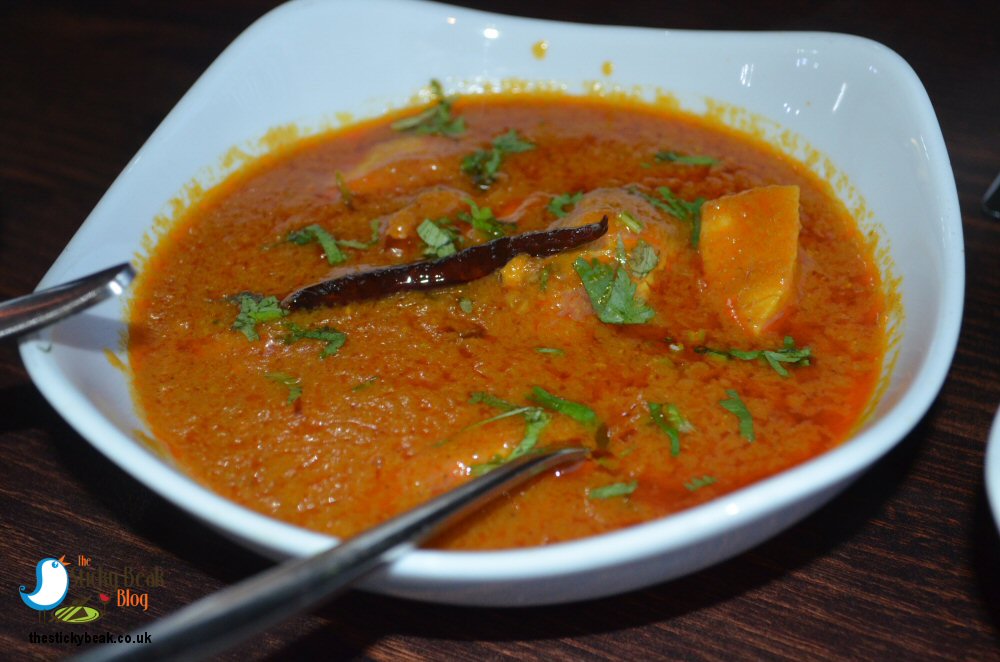 Talking of the Nan bread it was a delicious balance of Garlic slivers and vibrant fresh Coriander snuggled on a cloud-like warm bread. Just heavenly. The Onion Pilau rice was lovely and fluffy with slices of sweet White Onion mingled within it, and a subtle smattering of spices lifted it on the palate.

I do like Aubergine, but it's one of those vegetables that I don't really know what to do with (hence I let someone else cook it for me!). Aubergine has a naturally creamy taste to it and tends to absorb flavours like a sponge, something it has in common with mushroom. Chef uses this character to his advantage, cooking the Aubergine gently with spices so that they amalgamate into something creamy and warming. Even The Man Bird liked it, and you know what he's like when it comes to veggies!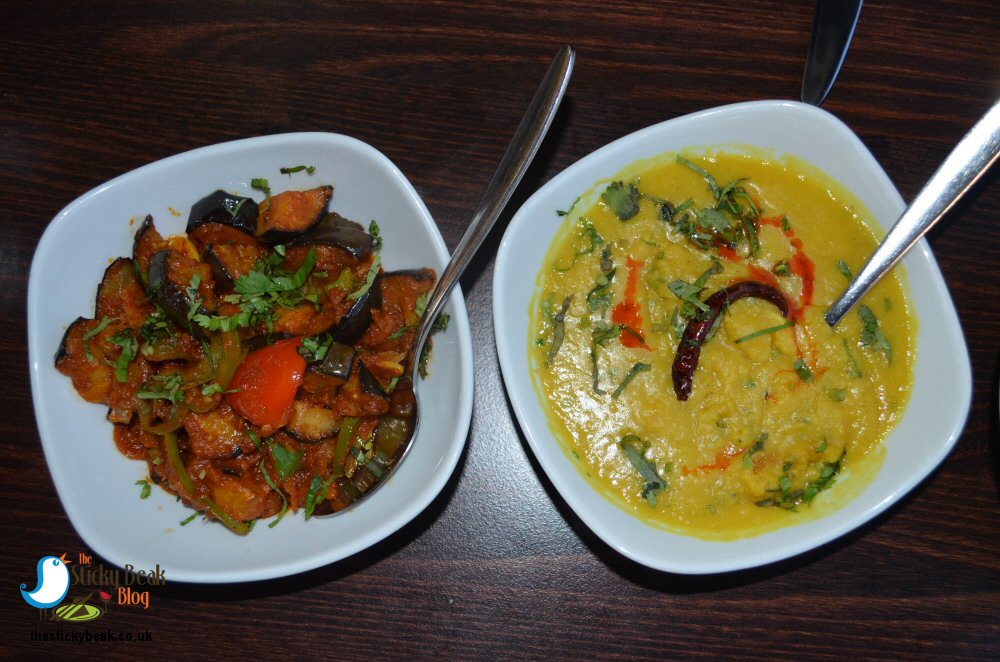 The other thing that sets Lal Khazana apart from other Indian restaurants is the consistency of its Dahl; it's a bit thicker than most - and all the better for it in my opinion. We were both able to scoop up the Dahl easier thanks to it being more substantial. A solitary whole red Chilli lazed seductively on top of the lentils, and you just knew that kick was coming – which it did, beautifully.

Our tummies were full to the gunnels, so we skipped dessert in favour of black coffees.

I've banged on a bit about the skill of the Chef at Lal Khazana and the range of their curries, but I need to let you know that they've been shortlisted for 2 awards at the English Curry Awards. Good Luck guys, you certainly get mine and His Nibs' vote – Hot Wings happily awarded to Ash and his team at Lal Khazana, Shilbottle, Northumberland.
Some form of incentive was provided to visit this venue
read more
Read Some Of Our Recent Reviews
---

Lunch At The Recently Opened Chatsworth Kitchen At Peak Village, Rowsley Everyone who knows me, knows I love Chatsworth (always have, always will) so when the invitation to sample lunch at the newly opened Chatsworth Kitchen Read The Article

---

A Visit To Vietnamese Street Kitchen, Resorts World, Birmingham Way back in the day (pre-covid) Fledge had bought me and The Man Bird tickets to see Mrs Browns Boys live and finally, after a couple of false start reschedules, the day of Read The Article

---

Sunday Lunch, A Museum Tour & Painting A Piece Of Denby At Denby Pottery Village It wasn't long ago that His Nibs and I visited the Denby Pottery Village to sample the Afternoon Tea at Bourne's Coffee Shop and Bistro (it was superb Read The Article

---

Bottomless Brunch At Turtle Bay In Derby The timing of the invitation from the Turtle Bay team in Derby to go and sample their Bottomless Brunch couldn't have been better; not only was it going to be The Man Birds' birthday a couple of days later Read The Article

---

Afternoon Tea At Santo's Higham Farm Hotel & Restaurant Aaaaaarggggh, don't you love your children??!! A while back, His Nibs had spotted a great deal on Groupon (you know what a bargain hound he is!) and thought it would be Read The Article

---

Sunday Lunch At The Countryman Pub & Dining, Kirkby-in-Ashfield We finally got to visit a venue thats been on our radar for quite a while, The Countryman Pub and Dining in Kirkby-In-Ashfield! A few weeks ago we tried to book a table for dinner Read The Article

---

Dinner At The Divan Turkish Restaurant In Chesterfield Chesterfield was welcoming us back again for our latest review visit; this time to the newly opened Turkish restaurant, The Divan, on Lordsmill Street. Owner Tuncay (along with Read The Article

---

Breakfast At Marsh Green Farm Shop & Cafe, Kelstedge Ah, you've gotta love a Bank Holiday curve-ball, haven't you? His Nibs and I headed over to Mummy Birds' gaff with the intention of having a leisurely couple of hours at the Sunday Read The Article

---

Afternoon Tea at Bourne's Coffee Shop and Bistro, Denby Pottery Village You all know that The Man Bird and I do like an Afternoon Tea; I mean, who doesn't?! Just a few miles down the road from the nest is Denby, home to the world-renowned Read The Article

---

All You Can Eat At The River Garden Cantonese Restaurant In Belper As is the seemingly never-ending pattern of our weekends at the moment, The Man Bird and I had been busy gardening/re-seeding/pruning/digging, so when it came to sorting Read The Article

---