Out For Tapas At The Recently Opened Rubigo in Matlock
---
Published On Wednesday 15 Aug 2018 by Sticky Beak
See Recent Dining Out Reviews | See All Recent Reviews


Matlock has got a fab new eaterie in town, and it's certainly original. Standing on the site of the old Antiques centre is five month old Wine and Tapas Bar, Rubigo, and there have been many hours of blood, sweat and tears for owners Gaz and Luke to get it to this point.
Everything, and I do mean EVERYTHING, in the venue is upcycled and has been made by Gaz and Luke, from the mirror surrounds to the chairs and tables. This ethos of recycling old materials is how the name Rubigo came into being – it translates as "Rust"! Even better, it's all available for you to purchase should you so desire; I was smitten with the wood topped Castrol oil barrel tables. The Man Bird and I loved the reclaimed Limestone panel that is embossed with the Rubigo logo above the bar, and the bicycle that seems to be coming through the wall!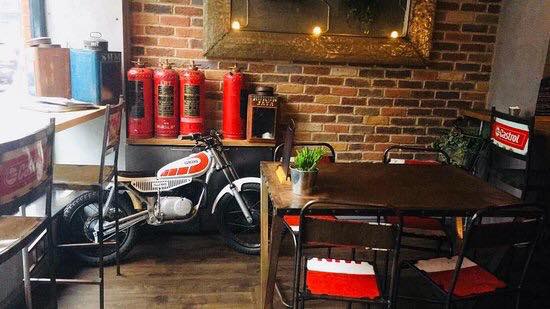 Tapas is a very relaxed, informal mode of eating; one that is centred on socialising and having several smaller plates of food to graze at. Matlock folk are certainly embracing this style of eating and drinking, there were several tables of diners in when we rocked up. Another unique feature of this bijoux bistro is the music – diners select the tunes they want to listen to via an iPad, so be prepared to hear all sorts of musical genres!
Rubigo has a lively Cantina vibe to it, so perhaps not the best place to go for a quiet romantic meal a deux if you don't like hustle and bustle. Having said that, it's very friendly and welcoming to families; Kids eat free all day, every day and all lunch orders come with a free premium tea or coffee.

His Nibs and I ordered some drinks; he had a pint of Estrella, and luckily for me it was 2-4-1 on cocktails (this offer is on 5-8pm every night, yay!) so I had a couple of Stargazer cocktails. The daily specials are on mini blackboard stands on the table and the regular Tapas, Lunch, Burger, Sides and Dessert menu is in brown leather- bound folders.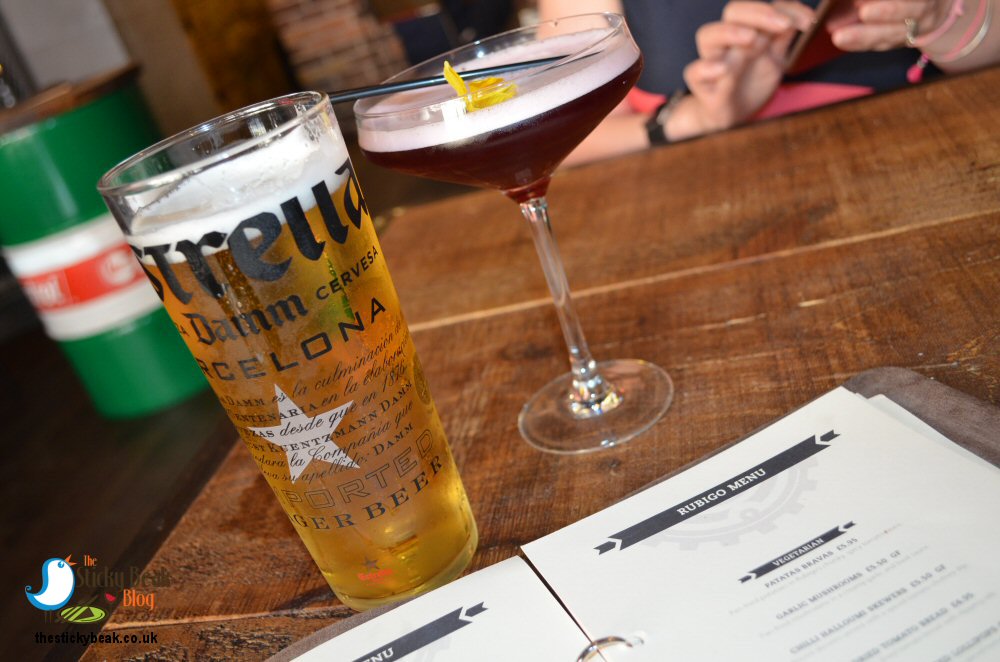 Gaz was very secretive about the identity of his Chef (can't fault him, good ones are hard to find and keep!), but did tell us a bit about the process of the Tapas prep in the kitchen. The breads and Croquettes are made every day in batches, but everything else is made as the order comes from the table.

There is a message on each table saying that the food is prepared from scratch, so there will be a bit of time for the food to arrive. Makes sense to me; you take time in your kitchen at home to prepare dishes, so it'll be the same at a good restaurant. If you want quick food, go to somewhere that serves "ding"/ microwave stuff; don't be moaning about waiting 15-20 minutes for your tasty, fresh meal to arrive!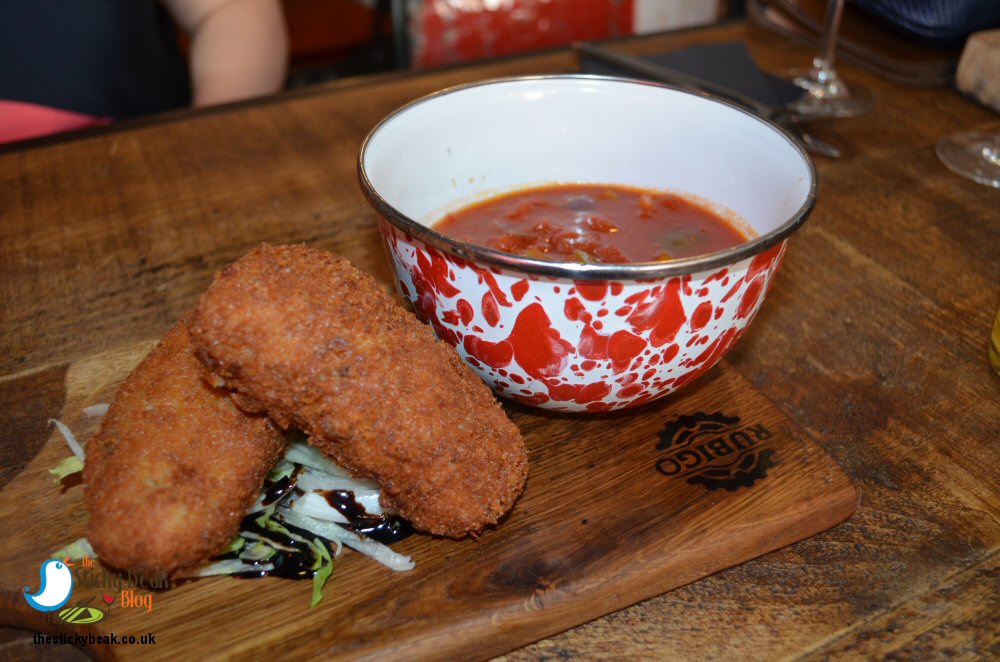 True to the relaxed Tapas vibe, we ordered a couple of dishes to kick off with - Basil and Pancetta Croquettes and the Chilli Halloumi skewers, figuring we could order other bits as we felt the urge. Our young male server seemed a bit bemused at first by our approach, but we soon educated him as to the madness behind our method.

I think it must've been roughly 15 minutes until the Basil and Pancetta Croquettes were brought out to us, followed about 5 minutes later by the Chilli Halloumi skewers; not a bad turnaround for fresh food, and you could certainly tell it was fresh.




The piping hot Croquettes were huge and smelled gorgeous as we cut into the pair of them. Presentation-wise, things are kept fairly simple, and this actually adds to their appeal; good food doesn't need unnecessary szhuzhing I don't think. A simple ceramic dish of Rubigo's signature chunky Tomato sauce (which reminded me of a good Ratatouille, in texture) and an Iceberg Lettuce salad accompanied the Croquettes.

Fresh Basil is used and the wilted leaves released their wonderful aromatic taste into our mouths, along with the super smokiness of Pancetta cubes. Mozzarella had melted as it cooked and strings of it unfolded temptingly as we lifted pieces of the Croquettes to our lips. Smooth mashed Potato encompassed all the components and bound them together very nicely. A classic Tapas offering, and one done very well at Rubigo - the evening had got off to a fab start.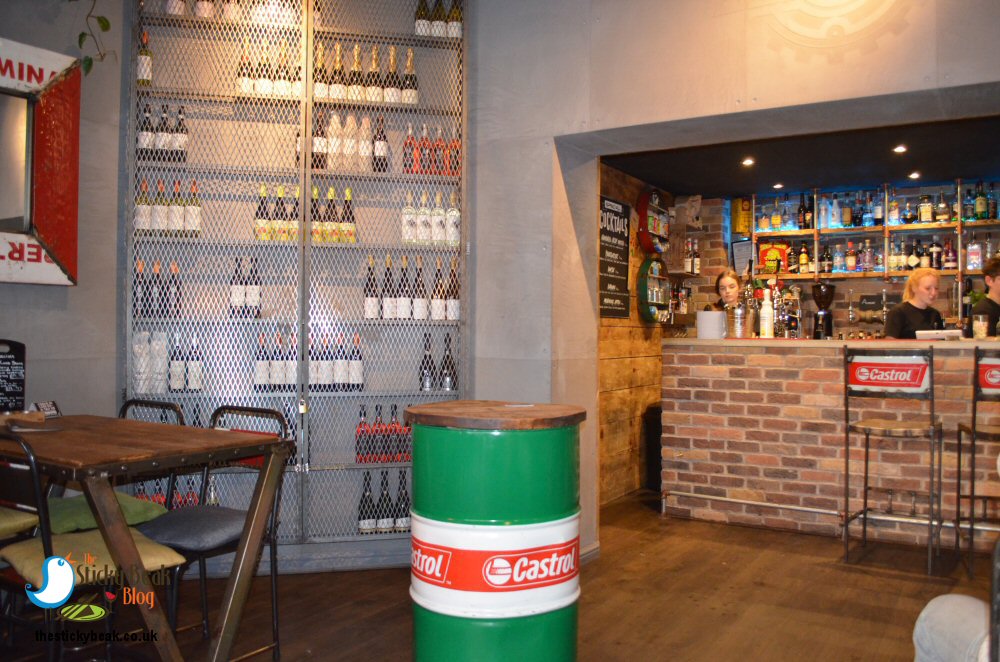 The Chilli Halloumi skewers were no less generous in size; there had to be half – two thirds of a block of cheese between the trio of skewers, again simply served with chopped Lettuce and a pot of Spicy Tomato Chutney dip. Each skewer had also been given a slick of sweet chilli sauce to give it a bit more bite, and our taste buds were dancing with joy; especially when the punchy chutney kicked in.

About halfway through the skewers we caught the eye of another Rubigo team member and ordered another couple of dishes; Rubigo Wings and Stuffed Tomatoes. At this point in the evening things really started to liven up, and a stream of people came in looking for a table.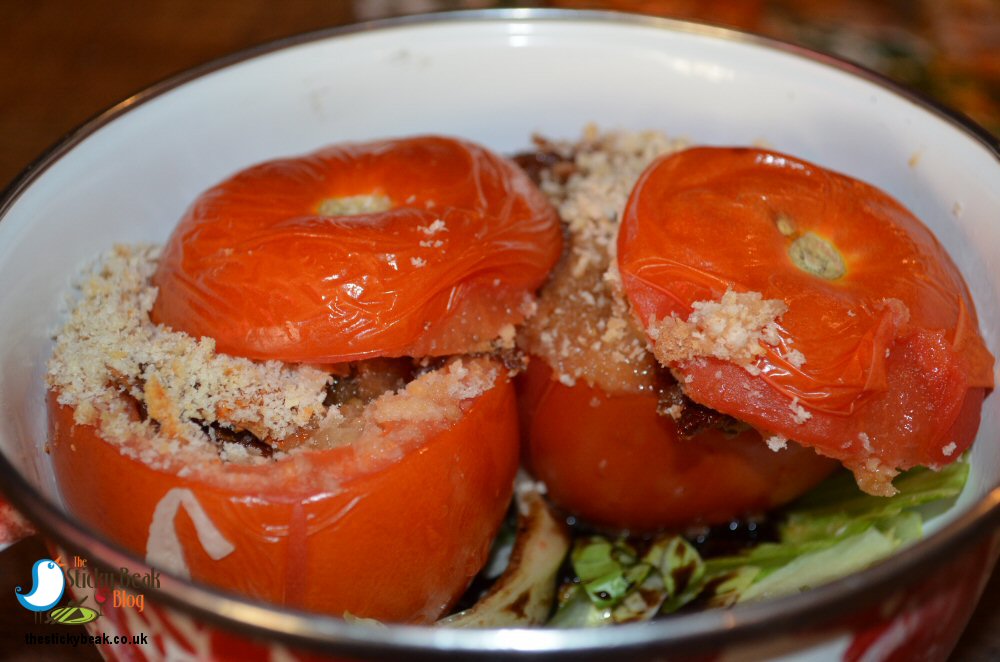 Gaz cleverly directs people to the bar for a drink whilst the tables are shuffled around to accommodate different group sizes, and he also put some seats outside for folk to relax at until a table came free. It was lovely to see a new venue creating such a buzz and demand for tables, and people were happy to soak up the evening warmth and enjoy a drink whilst they waited. *Top tip – if you want to be guaranteed a table at this up-and-coming venue, ring ahead!*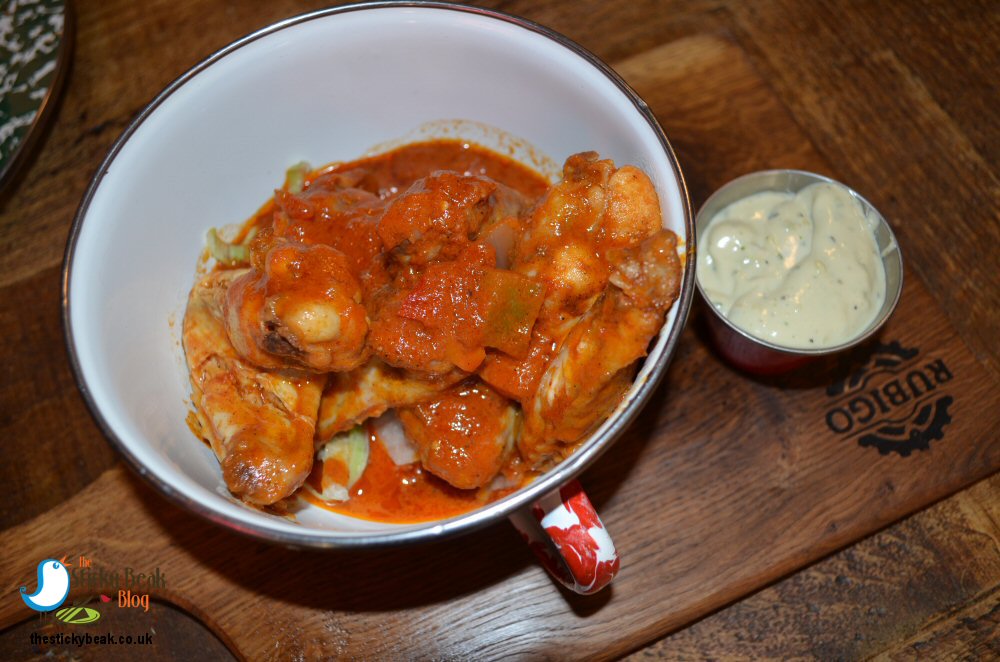 A ceramic dish containing a generous portion of large, sticky Rubigo BBQ glaze-coated Chicken Wings was placed before us. His Nibs and I dived straight in, eager to taste the mouth-wateringly good smelling morsels. Underneath the slow roasted chicken wings was a bed of shredded Iceberg Lettuce that absorbed any excess BBQ sauce, and we both tucked into that too! We were licking our fingers to get every last bit of the rich smoky Rubigo glaze off, grinning as we did so. Equally tasty was the Blue Cheese dip that also comes with the wings; it works well mixed with the BBQ sauce, something that unintentionally happened on my plate. Sometimes it's the accidental occurrences that yield great results.

What I'm going to say next, dear reader, will shock you to your core. The Man Bird ate a whole stuffed Tomato! And enjoyed every bit! You could've knocked me sideways as he sat there opposite me, scoffing merrily away; seriously, you have no idea of the battles that I have to get veg into him. Respect to the Rubigo Chef, he managed it!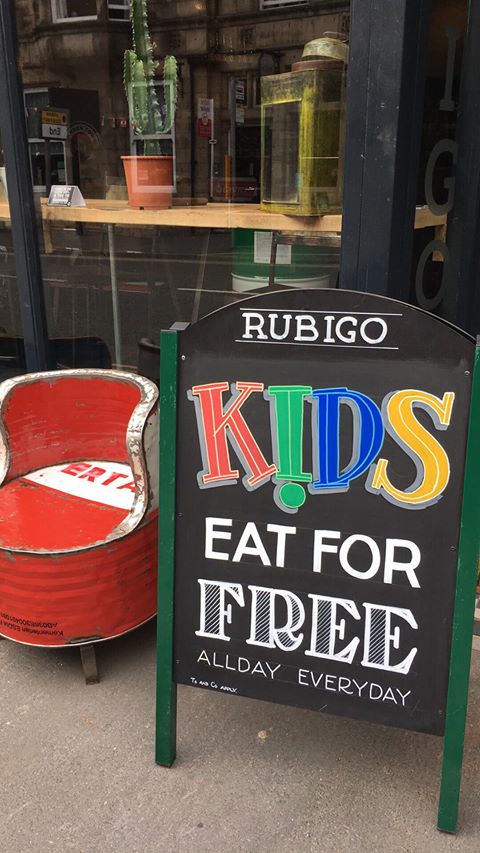 The stuffed Tomatoes really are superb though. Not fancy in any way, shape or form; just good, fresh clean flavours that shine through in the mouth. As with the other dishes, a bed of shredded Iceberg lettuce (drizzled with an intense Balsamic glaze) provided the back-drop to the main star of the dish. Whole Tomatoes stuffed with Caramelised Red Onion, Sun-dried Tomatoes, melted Mozzarella, and topped with a herby crumb, had been roasted to release all the flavours and soften the Tomatoes. An explosion of tastes and textures hit our palates, but every component worked in tandem; nothing jarred, and it was one of those soul satisfying, simple pleasures that I absolutely revel in.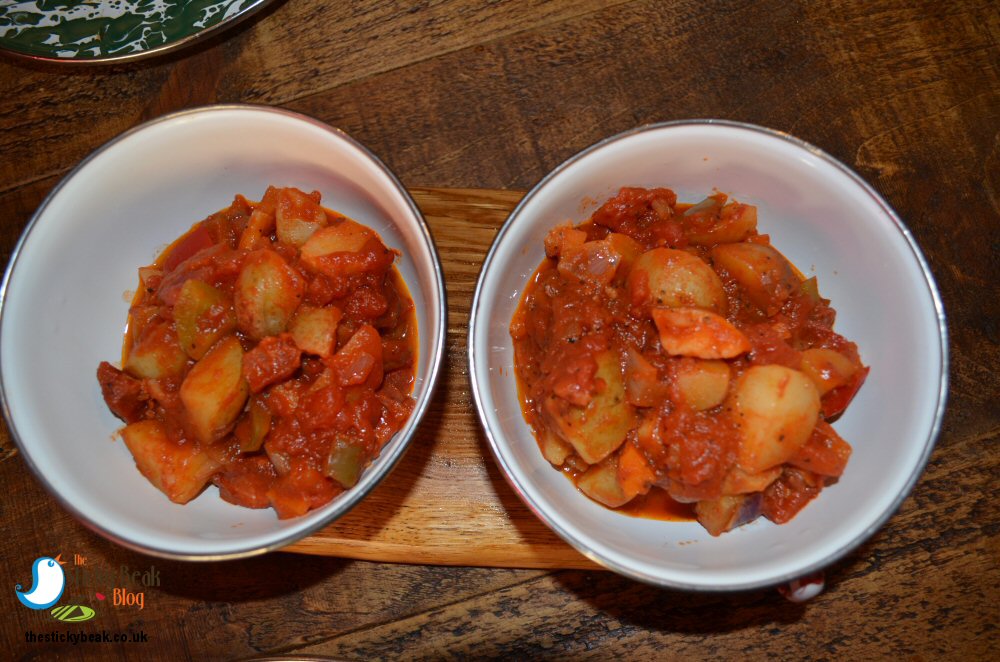 Another happy accident happened as we ordered our final round of dishes; our server had mis-heard us and thought we' wanted both the Chorizo Bravas and the vegetarian Potato Bravas, when we just wanted the Chorizo version. THANK YOU Lady Luck. Unfortunately I didn't get a double portion of the Chilli Prawn skewers – just as well though, because the portion I did get was more than ample!

Both Bravas dishes were fab; great texture to them, nice still-just-firm cubes of Potato with vegetables in a robust Tomato sauce, but the Chorizo Bravas was a real firecracker. The pan-fried Chorizo sausage had softened and released all its spicy, aromatic juices and this permeated the entire dish, giving the taste buds something to really get to grips with! Yum, yum, yummy.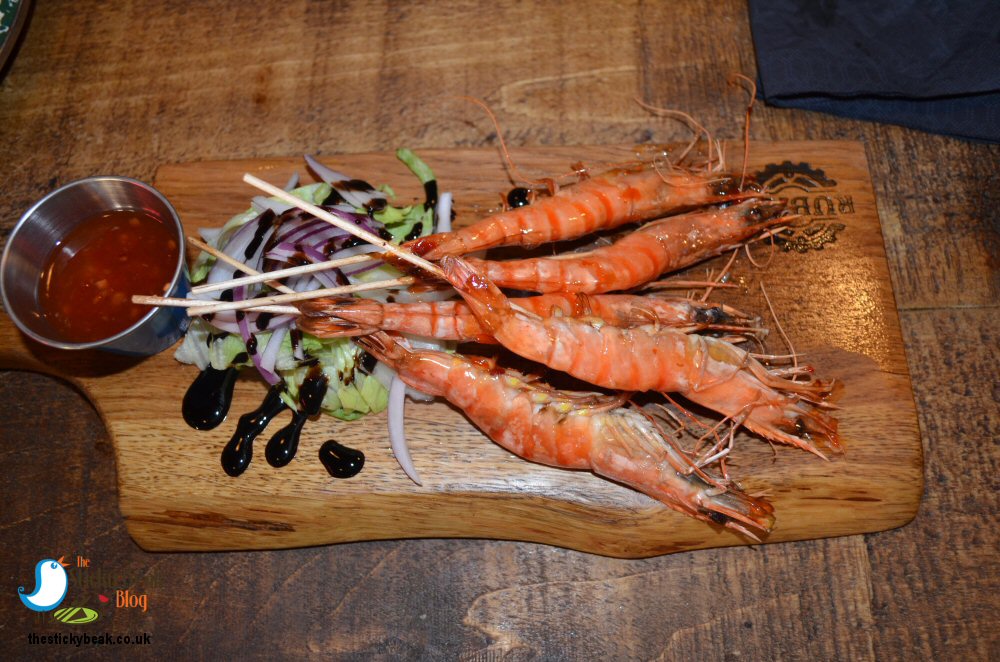 In keeping with the Tapas tradition, the Prawns were whole. And I mean WHOLE; heads on, tails on, the full enchilada. Guess what that meant? Yep, time for me to get down 'n' dirty and get to all that juicy, sweet, fragrant flesh underneath the Crustacean armour. Our lovely server brought a finger bowl of warm, lemon laden water for me to cleanse my fingers. Clearly my reputation as a mucky pup preceded me! The moist prawns were partnered with a tangy chilli sauce that didn't overpower them, and a fresh Red Onion salad; simple and moreish.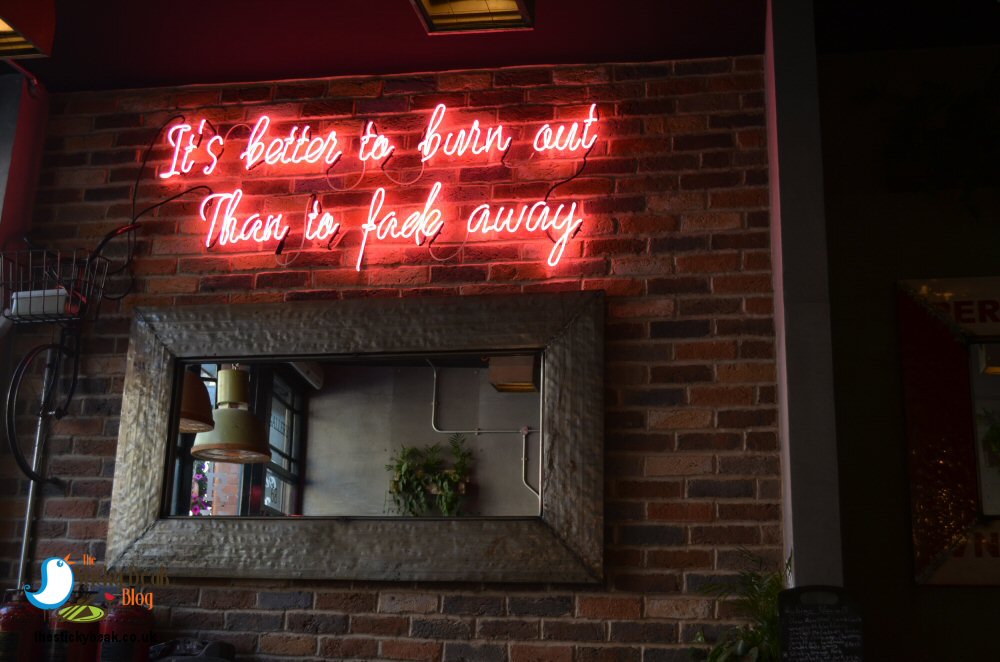 The Man Bird and I sat back with fat tummies and massive smiles on our satiated mushes. It had been a fantastic evening thanks to the attentions of Gaz, his staff, and of course, Chef! Another thing worth mentioning is that if you check in at Rubigo on Facebook or Instagram, like them, and tag them, they'll give you 10% off. Hot (Rubigo inspired) Wings awarded here quite happily.
Some form of incentive was provided to visit this venue
read more
Read Some Of Our Recent Reviews
---

Out For Dinner At The Bear Inn, Alderwasley If it's the full on, single track road, rural Derbyshire experience that gets your motor running, then the journey to The Bear Inn at Alderwasley will have you in joyous raptures. For those of you who are Read The Article

---

Lunch At The Recently Opened Chatsworth Kitchen At Peak Village, Rowsley Everyone who knows me, knows I love Chatsworth (always have, always will) so when the invitation to sample lunch at the newly opened Chatsworth Kitchen Read The Article

---

A Visit To Vietnamese Street Kitchen, Resorts World, Birmingham Way back in the day (pre-covid) Fledge had bought me and The Man Bird tickets to see Mrs Browns Boys live and finally, after a couple of false start reschedules, the day of Read The Article

---

Sunday Lunch, A Museum Tour & Painting A Piece Of Denby At Denby Pottery Village It wasn't long ago that His Nibs and I visited the Denby Pottery Village to sample the Afternoon Tea at Bourne's Coffee Shop and Bistro (it was superb Read The Article

---

Bottomless Brunch At Turtle Bay In Derby The timing of the invitation from the Turtle Bay team in Derby to go and sample their Bottomless Brunch couldn't have been better; not only was it going to be The Man Birds' birthday a couple of days later Read The Article

---

Afternoon Tea At Santo's Higham Farm Hotel & Restaurant Aaaaaarggggh, don't you love your children??!! A while back, His Nibs had spotted a great deal on Groupon (you know what a bargain hound he is!) and thought it would be Read The Article

---

Sunday Lunch At The Countryman Pub & Dining, Kirkby-in-Ashfield We finally got to visit a venue thats been on our radar for quite a while, The Countryman Pub and Dining in Kirkby-In-Ashfield! A few weeks ago we tried to book a table for dinner Read The Article

---

Dinner At The Divan Turkish Restaurant In Chesterfield Chesterfield was welcoming us back again for our latest review visit; this time to the newly opened Turkish restaurant, The Divan, on Lordsmill Street. Owner Tuncay (along with Read The Article

---

Breakfast At Marsh Green Farm Shop & Cafe, Kelstedge Ah, you've gotta love a Bank Holiday curve-ball, haven't you? His Nibs and I headed over to Mummy Birds' gaff with the intention of having a leisurely couple of hours at the Sunday Read The Article

---

Afternoon Tea at Bourne's Coffee Shop and Bistro, Denby Pottery Village You all know that The Man Bird and I do like an Afternoon Tea; I mean, who doesn't?! Just a few miles down the road from the nest is Denby, home to the world-renowned Read The Article

---