SPA Day and Afternoon Tea At The Hilton Hotel, East Midlands Airport
---
Published On Sunday 10 Jun 2018 by Sticky Beak
See Recent Dining Out Reviews | See All Recent Reviews


I always think of Bank Holidays as bonus treat times, being as they provide us with an extra day off work. To this end, the Man Bird and I always try to do something a little different with our time than we would normally; and nothing screams indulgence like a day in a Spa, so that's what we'd decided to do on this occasion.
Originally my eagled eyed chap had spotted a, quite honestly, spankingly good deal on Wowcher for a combined Spa day and Afternoon Tea package for two people at £29! We emailed the Hilton team for some more details and they very kindly invited us along to try out the facilities and Afternoon Tea. So, keep your eyes peeled for offers at this venue on Wowcher; it's well worth doing. Normally the Spa day and Afternoon Tea packages are separate entities, both priced at £10 per person, and both needing to be booked in advance. You can also add on a glass of Prosecco to the Afternoon Tea for an additional £6.70 per person.

The venue is a doddle to find and when we gave our car registration details to the young man at the Living Well Health Club reception, it meant that the car parking charges were wiped off too. Having said that, if you do go down to Hilton Hotel at East Midlands Airport solely for Afternoon Tea - a bargain at £10 per person – the charge is only £4 for up to two hours, so hardly a budget-breaker!




We had brought our own towels with us but didn't need to use them as they are provided complimentary for guests when you check in at the health club reception; they were even papers in racks for you to read if you wanted to, as you reclined on the adjustable pool beds. Men require a pound coin to operate the lockers in their changing room, the lockers in the ladies facilities have been modified so that this isn't necessary.

The female changing rooms were clean and equipped with body lotion, hairdryers, and tissues for you to use. If I'm to be picky then I guess they aren't the most modern in terms of decor, but being perfectly honest I hadn't come to spend my time giving them an in-depth, examination; they were clean, the toilets were clean and had paper in them, and there were hairdryers provided. That was good enough for me - and for more than most people too, I would suspect.

His Nibs and I always take as we find, and the Spa itself was lovely and clean; all the beds reclined fully, chairs neat, and rooms up to temperature. There was a small group of men enjoying the Spa Jacuzzi pool, so after placing our towels and books on a couple of poolside beds we decided to head into the Swedish Sauna room. Clearly, this bank holiday weekend was going to be characterised for me by the presence of sand-timers; this time it was a wall-mounted one that helpfully mapped out 5-, 10-, and 15-minute intervals for guests in the sauna.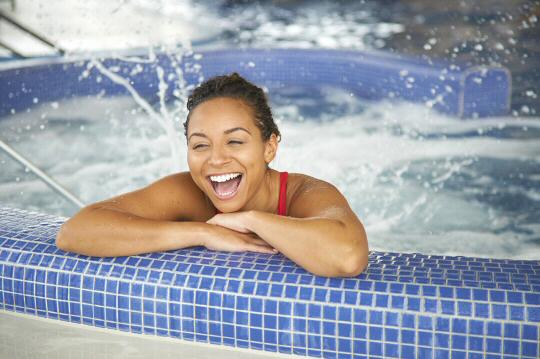 Having got our body temperatures up, it was time to wash off surface sweat at the poolside shower before we went to do a few laps in the 16 metre pool. Rather thoughtfully, there was a lap lane roped off so that you could get your head down and do some serious swimming without having to dodge and/or interrupt those guests who just wanted to do a leisurely dog paddle.

Another thing that I really liked was the strict no mobile phones or tablets policy in place at the Spa; this meant that we could totally switch off from the outside world, indulge in quality R'n'R time, and not have to worry about appearing in anyone's photos.

The Living Well Health Club does have a membership scheme, and several families with children came in to have a swim, but they disappeared around lunchtime. Other than a few sporadic members coming through to use the gyms (there's two; one cardio based, one more biased towards weights, as well as a separate exercise class studio) we were pretty much on our own for the day – which was bliss

After a while spent reading and chatting, The Boy Wonder and I decided to try out the steam room, and soaked up the moist heat for a good 10 minutes. As before, we used the shower to clean off any sweat before we stepped into the heated cocoon of the Jacuzzi. The bubbles come on at regular intervals (without looking at the clock, I would say 5 minutes on, 5 minutes off), and we could literally feel the knots and tension slipping out of our world-weary bodies.




I went and quenched my thirst by having a drink at the water fountain at the side of the Spa; I stupidly hadn't brought a bottle with me, but I just stood and drank direct from the fountain (took me back to my school days!). So, if I could give you a tip it would be to take a plastic water bottle with you and fill it up as necessary

In this equality conscious age, I think it appropriate to mention that the Hilton Hotels Living Well Health Club does have equipment for those guests needing hoist assistance in and out of the pool. Whilst we were there, a lovely wheelchair using lady and her husband came to use the spa, and the access was more than wide enough for her wheelchair to manoeuvre about comfortably. The main pool and Jacuzzi are both accessed by steps that she managed fine on her bottom, with plenty of hand rails to assist.

Our towels were a bit soggy at this point in time, given the amount of times we'd been in and out of the pools and rooms, but it was no problem at all to have fresh ones given to us by the lovely chap at reception. I parked my derriere down on the lounger again and began to read once more; I must've been more relaxed than I thought as I managed a sneaky power-nap without even realising!

The Man Bird and I indulged in a final round of relaxation, before we headed to our respective changing rooms. We placed our used towels in the baskets provided and were bid a friendly farewell by the Spa staff; a lovely parting gesture to what had been a great Spa session – can't believe that this is only £10 per person per day!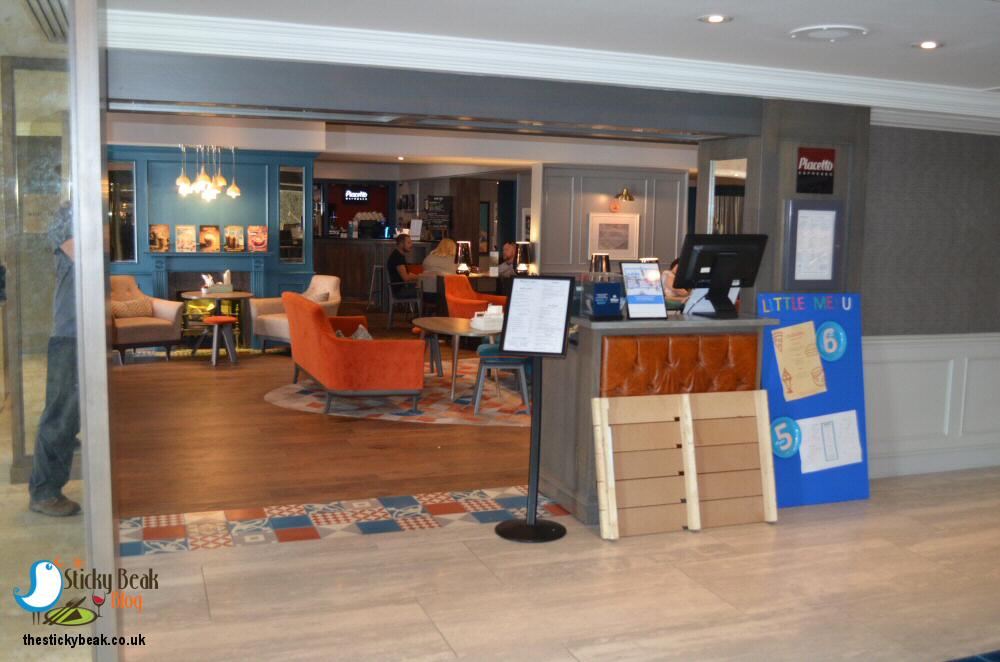 The Afternoon Tea is served in the Hilton Hotels' Whisk and Ladle restaurant, which is located opposite to the main reception. After going over to the bar and introducing ourselves to one of the team we took at seat at one of the many tables and had look at our surroundings. The restaurant is a modern, open plan space decorated in burnt orange and teal blue tones, with a mix of seating styles: individual seats, sofas, and banquettes at the rear.

A young lady came over and placed two glasses of Prosecco on our table, which kicked the Afternoon Tea off in rather fine style. It was a lovely crisp variety that we found to be most refreshing after the warmth of the Spa, and at £6.70 per glass it wasn't steeply priced either.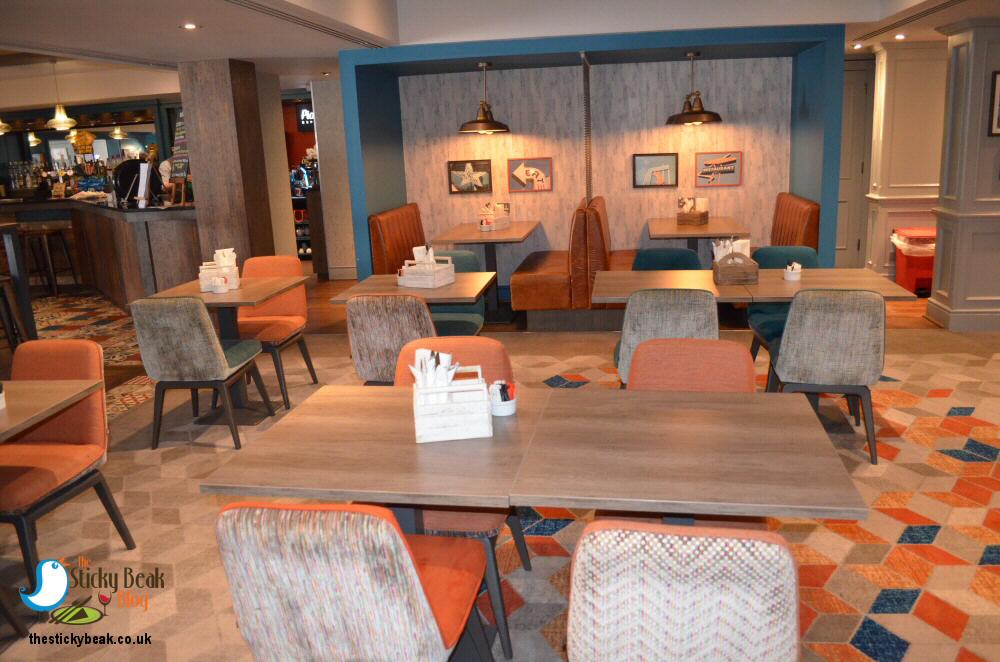 Clearly, at £10 per person, there are going to be a few differences to the Afternoon Tea here than the ones at a boutique tea room or historic venue. That said, I like the fact there is a more budget conscious offering out there for people to go and enjoy; Afternoon Tea certainly shouldn't be elitist in my opinion.

The most obvious difference was the use of tea bags rather than loose leaf tea, although they were by Twinings, so a decent cuppa was still on the menu. Also, only one cuppa was included in the price, rather than the limitless supply you get at some other venues. His Nibs and I worked up a bit of a thirst in the Spa, so we purchased an additional tea each which is easily done by a visit to the bar. You have seven teas to choose from, six coffee options, and Hot Chocolate.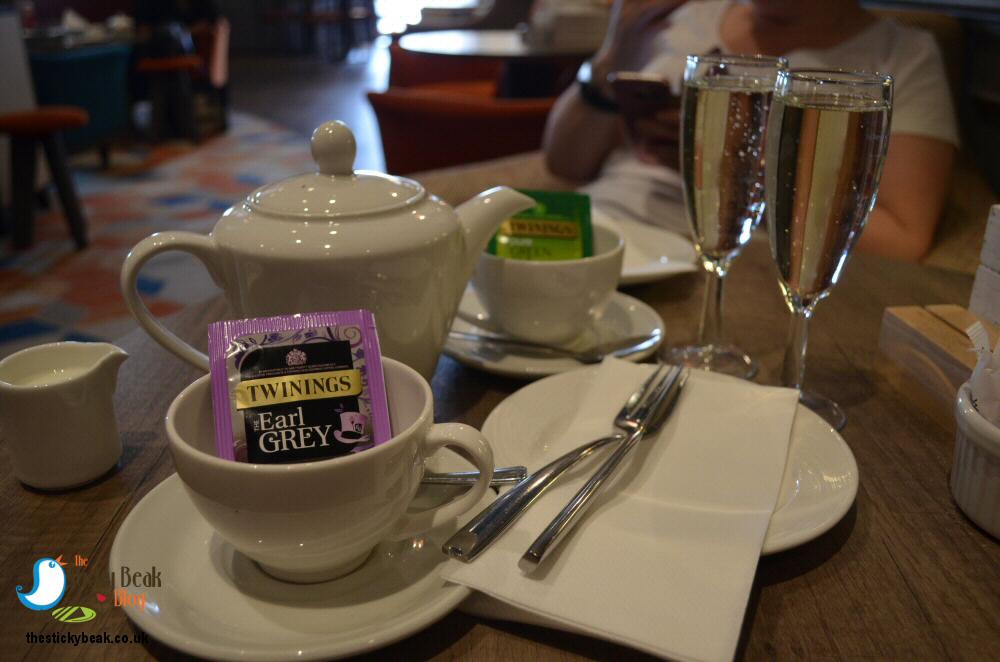 A three tier stainless steel stand contained all the goodies we had been eagerly anticipating, and we started in on the finger sandwiches with a quite indecent haste! First to be sampled by myself was the Tuna Mayonnaise and Sweetcorn on wholemeal bread; His Nibs doesn't eat Tuna, so he tucked into the Ham sandwich on white bread. I noticed that the finger sandwiches were a little longer than some of the others that we've tried, so that was a definite plus point as far as my ravenous tummy was concerned!

There was a lovely amount of filling in the Tuna Mayonnaise sandwich, and the Sweetcorn gave it a nice textural element. His Nibs was also pleased with his Ham sandwich; the Ham was thinly sliced and plentiful, nestled as it was between the soft slices of white bread.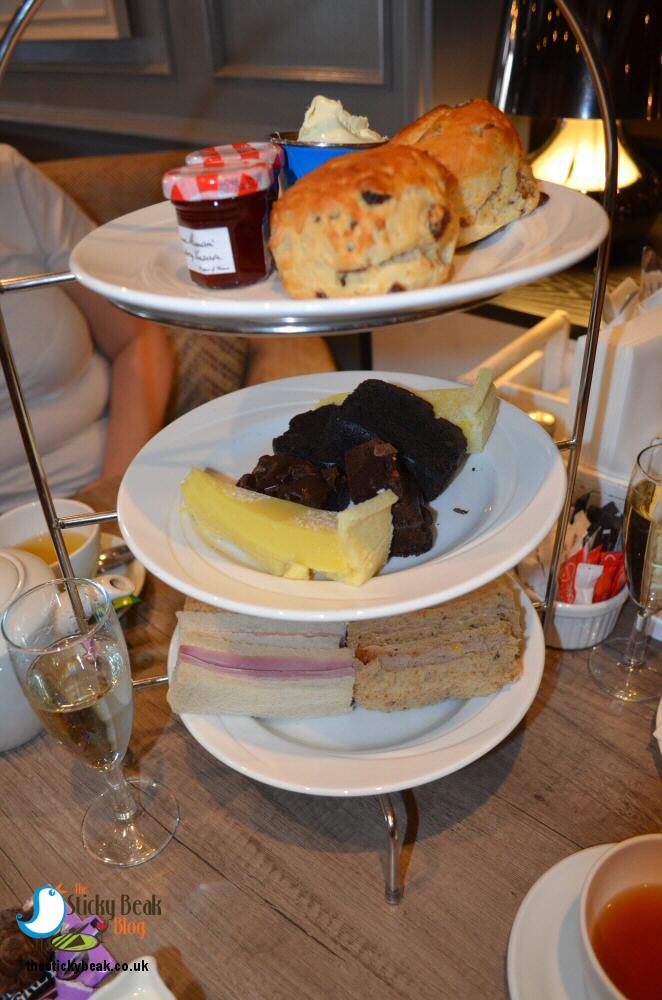 Egg Mayonnaise was slathered generously on the white bread and it had been brilliantly seasoned to give it an extra edge taste-wise, rather than just being the creamy delight that we're accustomed to. Both of us gave little murmurs of approval as we munched our way through the finger, licking our lips to get every last little bit of the mayonnaise from the corners of our mouths.

The final sandwich for us was a little Cheese, Spring Onion, and Red Onion morsel, rather than the advertised Chicken Mayonnaise variety; it was still served in wholemeal bread though. I have to say that neither of us minded the substitution, as it was such a yummy one. The mature cheddar was a fantastically punchy number, which was partnered brilliantly by the two types of Onion. Now you may think that it was a bit onion heavy, but it was surprisingly mild to taste and we weren't left with honkingly bad onion breath (thank goodness!).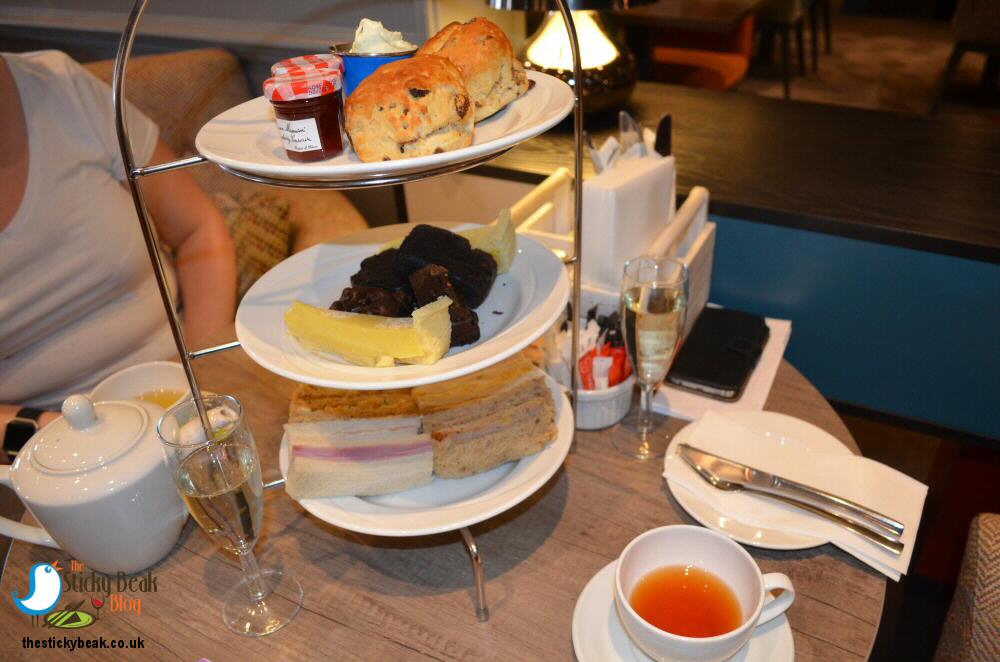 With the savoury selection seen off, it was time to attack the sweet treats, beginning with a dark chocolate chip muffin cake slice. This minx was deliciously rich and satisfying in flavour, but light and moist in texture so it was a great starting point for the cakes medley.

Lovely, generous slices of Lemon Tart were next on our radar and we eagerly popped them on our tea plates and took up our forks ready to attack their pastry. The thin pastry base was topped with a beautifully sharp Lemon filling that had a great zest to it in the mouth. After the richness of the chocolate, the citrus notes were just the ticket to cleanse the palate - ready to be assaulted by more chocolate in the guise of a rather splendid looking Brownie square.

The Brownie square, I'm pleased to report, tasted every bit as good as it looked. Lusciously gooey in texture and wickedly rich, the Brownie also contained plentiful chocolate chunks within it which made it satisfyingly substantial to bite into. It was so good that I licked my fingers clean to get every last miniscule crumb off them.




Our final Afternoon Tea treat were large fruit scones, which were still warm in the middle as we cut into them. There was a generous pot of Clotted cream to dig into as well as two individual jars of Bon Maman Strawberry jam; their destiny to be plopped on top of the scones was urgently calling them, and we rapidly helped them to fulfil their quest! The open textured, fruit-laden scones wrapped up our experience nicely and we headed out to the car with full tummies and wide smiles of happiness.

The car park barrier did indeed open with no delay, just as the Living Well Health Club gentleman on reception assured us it would.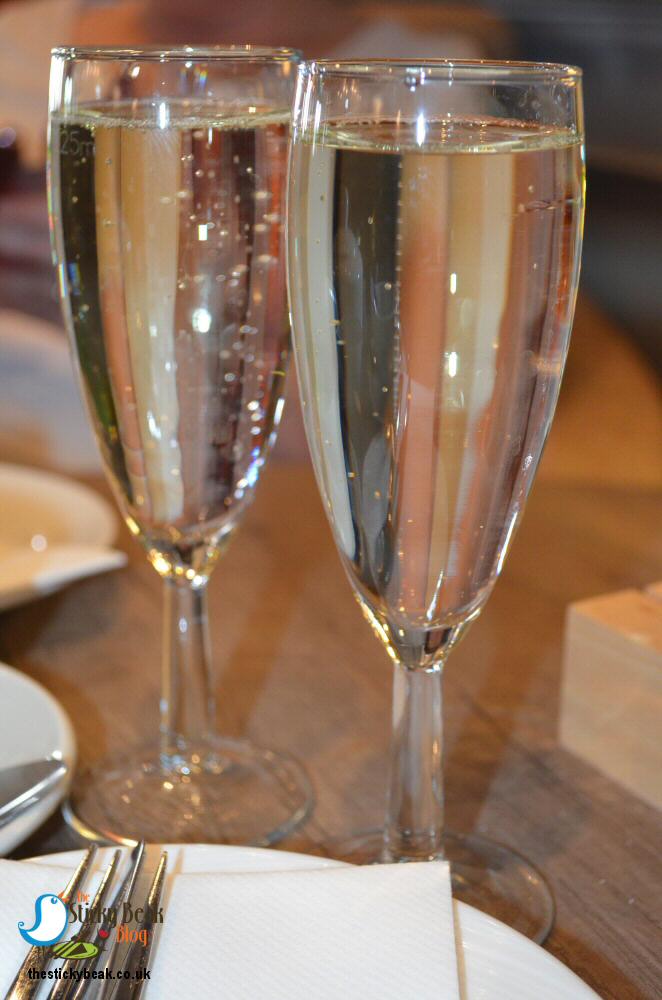 Being perfectly frank, even if The Man Bird and I had paid the £10 each for Spa access, the £10 each for Afternoon Tea, and the £6.70 each for the glass of Prosecco (so £53.40 in total) we would have been happy with the deal. It isn't a Spa with a legion of multi-sensory rooms at its disposal, but it provided us with a haven of Tranquillity which we could've enjoyed from 9am-5pm had we so wished. Likewise, the Afternoon Tea doesn't have a tea list longer than an electoral roll; it offers the basics of breakfast, herbal, and fruit infusion options, as well as the gamut of coffees. You can't dispute the fact that for the money, you get good value and a lot of bang for your buck.

Afternoon Tea is served from Noon until 5pm; we had ours at 3.30pm, having arrived at the Spa shortly after 10am, and we found this to be more than adequate. It's an easy jaunt down the M1, so these facilities at the Hilton Hotel East Midlands Airport certainly warrant a visit. Actually, if you plan to stay there as part of a holiday getaway, why not try to incorporate an extra little treat in? Remember to ring ahead though and book the Afternoon Tea or Spa, or both! in advance.
Some form of incentive was provided to visit this venue
read more