Making Street Food At Coghlans Cookery School
---
Published On Thursday 24 May 2018 by Sticky Beak
See Recent Experience Reviews | See All Recent Reviews


I absolutely love the diverse opportunities that my little blog provides me and The Man Bird with, and occasionally extending out to other flock members. On the first day of the Bank Holiday weekend we were booked in to do the Street Food short course cookery class at Coghlans Cookery School at the magnificent Stancliffe Hall near Matlock.
Now , I don't know if it was because I'd been so excited about this for a good few weeks or if the blazing sun had turned by brain even mushier than usual, but we arrived for the morning class all gung-ho, only to be told that we were booked in on the afternoon session - Ooops! I can imagine my friend Dawn at @Love Marketing rolling her eyes and laughing at my ditziness, and wondering why on earth she suggested to Chef Simon Lilley that we would be perfect candidates to do this!
Fast forward a few hours to Stancliffe Hall take two, and we pulled up in the courtyard outside the dedicated kitchen building and made our way inside. A lovely lady checked us in and showed us through to the break room where you can help yourself to tea, coffee and water. The other class participants were already in here looking through the food hygiene "do's and don'ts", so I picked up the book and had a gleg through it too.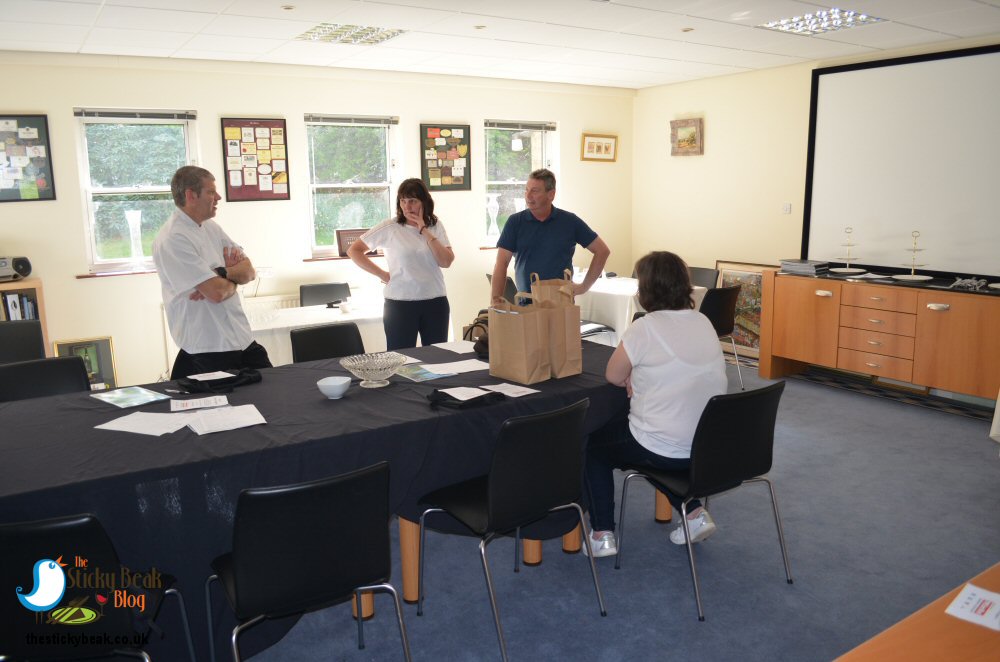 Simon came through and introduced himself to us and knew some of the other "pupils" as they'd done previous courses with him; he remarked that we were the bloggers and everyone's heads turned to look. Don't get excited folks, I'm great at eating.... not so hot (ok, useless actually) at cooking; you're not going to be seeing showstoppers at my station – calm yourselves!
Cooking and I have the same relationship as me and singing - I have ALL the enthusiasm, but none of the talent. Simon was going to have his work cut out (not to mention his patience tested) with me; at least The Man Bird has some skills in the kitchen :) The school kitchen is just stunning, and kitted out with everything you could possibly imagine, need, or want thanks to Miele (and Le Creuset and Denby pottery).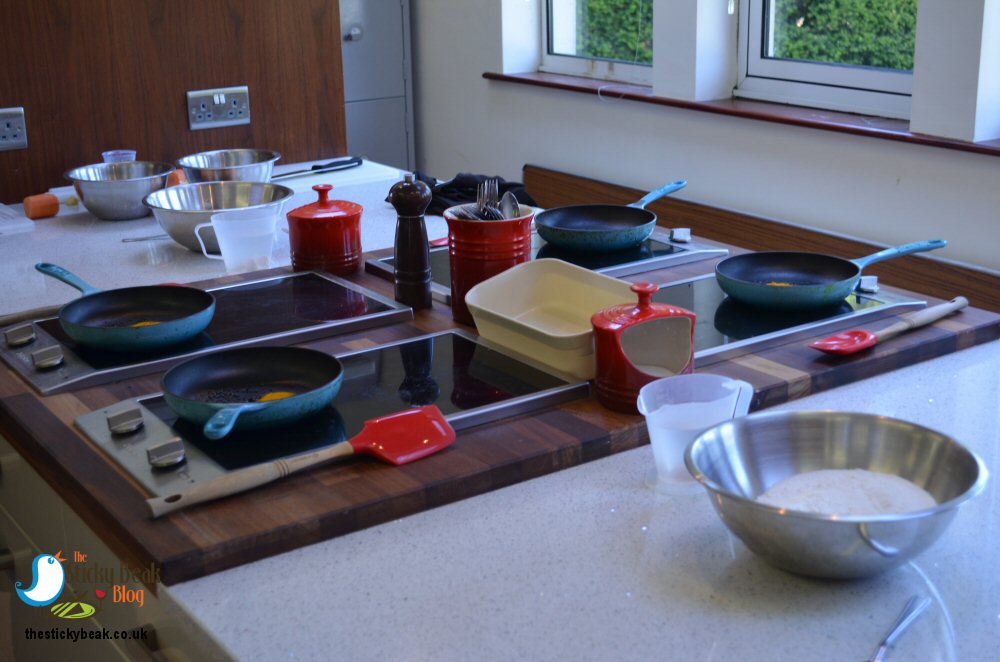 After having made sure we'd all washed our hands at the numerous sinks, Simon briefed us on what we were going to be making that afternoon: Carrot and Onion Bhajis, Flat breads, Calzone, and Lamb Koftas. The Koftas were going to be left uncooked so that we could take them home and "wang them on't't BBQ"; is that technical speak Chef? I should just say at this point that Simon is a Sheffield chap, so the parlance is fairly similar to what I'm used to, and I took it as a good sign that it wasn't going to be a stuffy, boring experience.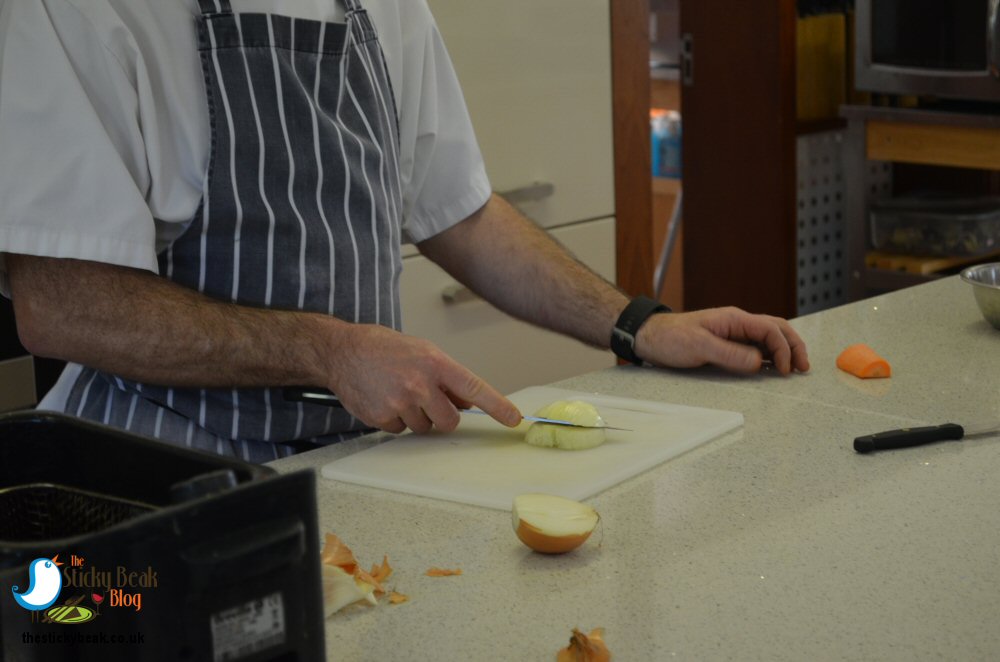 My buoyant enthusiasm soon took a swift nose-dive. I always thought you just peeled an onion, cut the top and bottom off, cut it in half, and then just sliced it, or cut it again the other way to get chopped onion. Nope, that is totally the wrong way to do it. Apparently you have to treat it like an origami project; remove one end, keep the root in each half, cut it not quite all the way through, then turn it and cut in the middle so that the knife stands in it unsupported (eh?!), turn again and cut to get chopped. THAT'S just for chopped onion, not sliced!




For sliced onion you get the other half of your onion, cut a wedge out of one end, and look for the stripes on its surface and cut with those. Chuffin' 'ell Simon, you might've been on Masterchef but I haven't - although I do love me a bit of Greg Wallace. Let's just say that I was totally bamboozled - my knife didn't stay in the onion unsupported, nor did my ruddy onion have stripes on it (typical!). I did manage to get slices and chopped bits of onion though, so I just kept schtum and carried on. Our carrot had, mercifully, been peeled and cut to the appropriate size for us, so all we had to do was slice it and then make matchsticks with it, chuck this in a bowl with most of the onion, add some spices and leave it for later.


Jeez, I was exhausted at this point already! His Nibs was chirruping away to himself quite merrily and having a chat to the couple opposite us. I have to say that was a brilliant banter between the entire group, and as the time marched on the stories were coming thick and fast. To the lady at the front of the class I can only apologise, but your story is too funny not to share! Totally unrelated to food, but needs to be told regardless.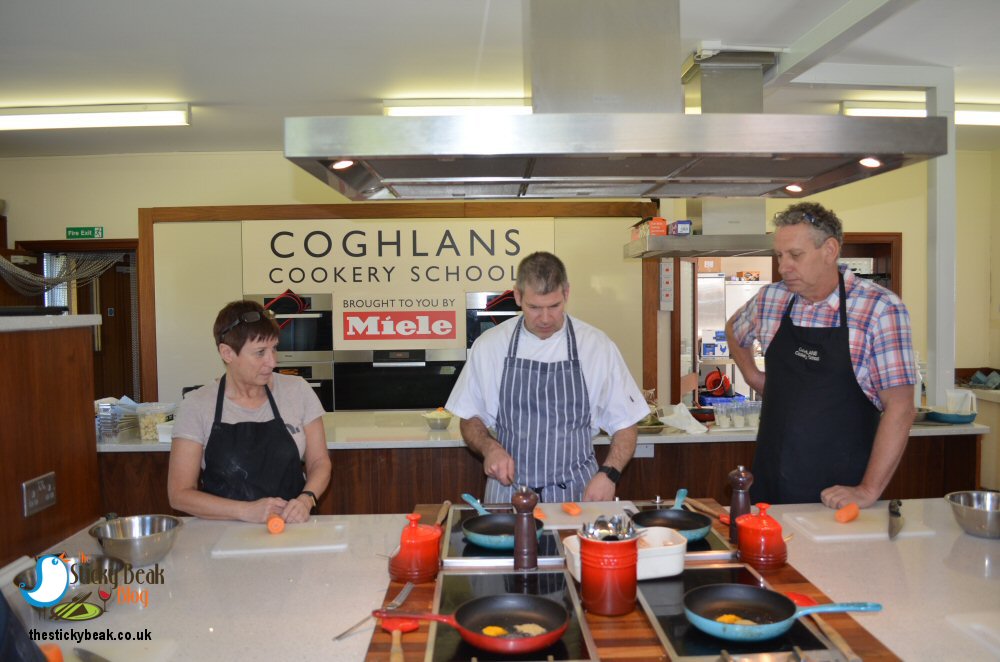 Imagine a shiny new car, and a lady that has never washed a car in her life before – fair play to you - that decides she'll give it a bash. Her husband is in the man cave known as the garage, pootling about with something else, listening to his wife slosh the water and suds over the car and thinking what a lucky chap he is by not having to do it himself on this occasion. It's only when his wife comes over to enquire where the polish is that alarm bells quietly start going off in his head; "polish? What does she want polish for?"

He decides this warrants investigation and goes over, swiftly wishing he hadn't! In front of him is something akin to a vehicular version of Mr Men character Mr Scribble, instead of the shiny new pap-pap that had been on his drive only minutes earlier. Let's just say that a pan scrubber had been used to wash the car instead of a yellow sponge!!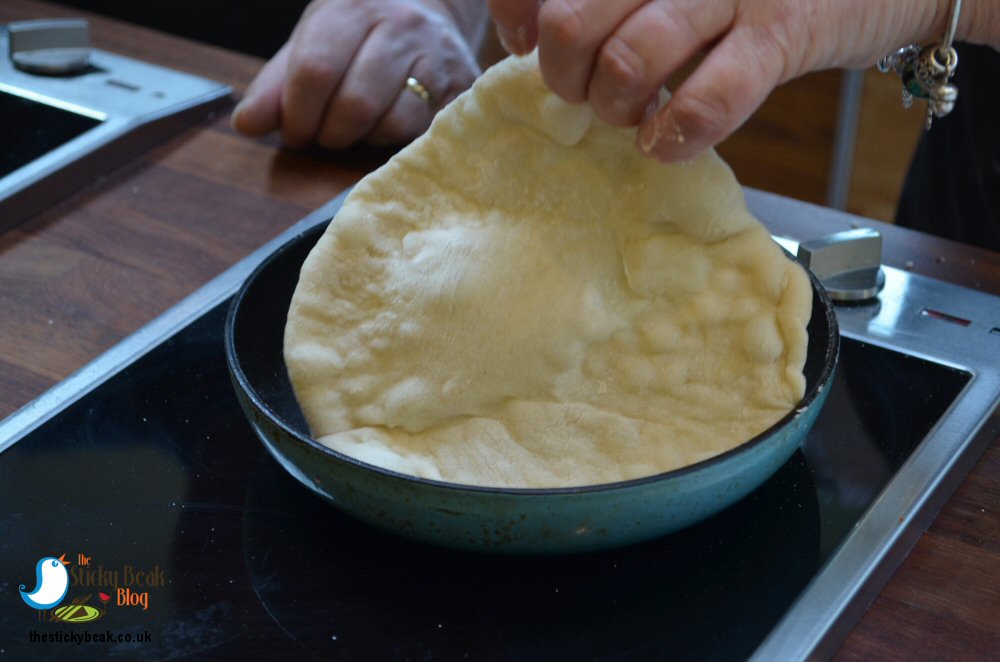 We were all crying with laughter, even Chef Simon Lilley, enjoying the group bonding moment. Having re-focussed us, Simon got us making our bread dough for the flatbreads and Calzone; we let them prove as we got down to the business of making the lamb Koftas. We cut the mixture into 3, and shaped them into sausages ready to put into the foil trays that Simon came round with. These beauts were definitely going to get chucked on the Barbie later that evening at Beak HQ.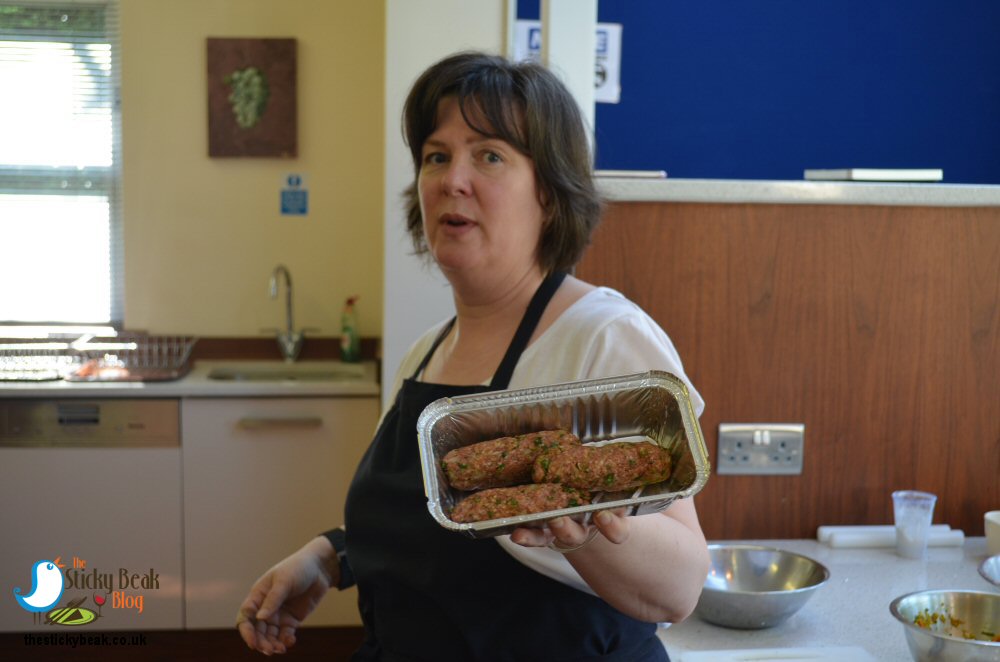 Simon has a fantastic knack of quietly supervising you and giving you lots of information about spices and things, without you really realising it. Pots und utensils were getting washed along the way by yours truly, although I can't remember doing them; I recall having chats and giggles at the sink with new found friends, so I guess having fun erases the mundane bits :)
Another comedy moment came via the infantile humour of yours truly. The halved dough had come together as it had been proving, and the fissure down the middle made it look like a bottom. Admit it; you've just done what I did! Yep, the "Minions" came into my head, along with "bottom" and that cartoon giggle – except I did it out loud, in the middle of a professional kitchen, in front of everyone. Seriously, who knew that cooking could be so much fun?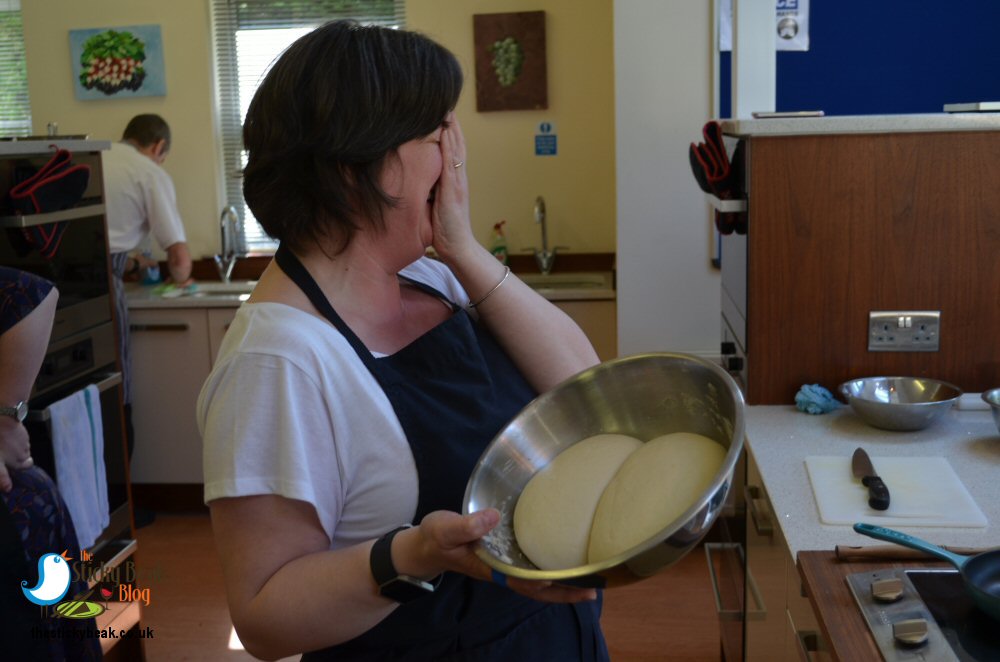 The dough needed to be cut and kneaded into circles the size of our shallow pan for the flatbreads to cook in, and in a fairly short space of time I'd managed to produce some golden flecked things of beauty. Get me! :) We'd all been dry-frying some mushrooms in our pans (along with onions and rocket that Simon had prepped for us) and this mix got popped onto one half of the circle that we'd rolled out for our Calzone. Simon then came round with tubs of cheese for us to add to the mix, before we all gathered round whilst he showed us to how seal the edges together.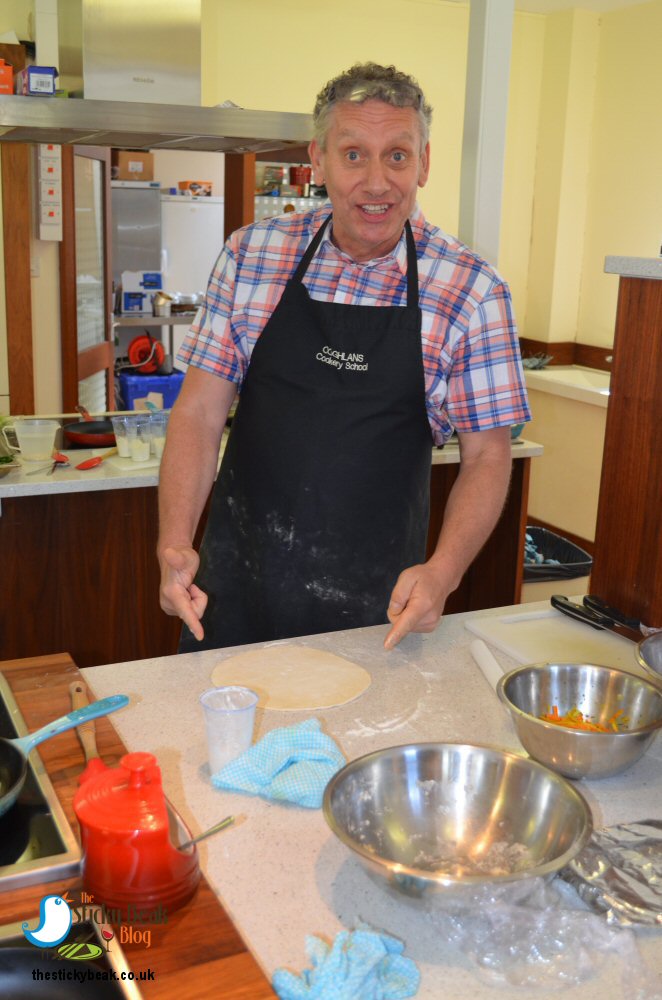 I developed my own (soon-to-be-patented) technique for sealing the Calzone, called the "dip and dob" method. I won't bore you with the details, and I'm not going to pretend that it was anywhere near as pretty as Simon's method, but it was borne out of necessity – I'm cack-handed, and this was the only way that worked for me! With our Calzones assembled, we all put them in the ovens and in the meantime got down to the serious business of cooking our Onion and Carrot Bhajis. All of us managed to knock out some decent looking specimens, and one chap took a bite of his and said that they were really nice. We were saving ours for later at Beak HQ; we'd got some dips, nibbles, and salad bits ready for our BBQ fuddle.


All too soon, the afternoon was coming to a close; I couldn't believe how quickly the time had gone, but they do say that time flies when you're having fun don't they? And to me, this is exactly how cooking should be – fun and enjoyable, and with a strong sociable element to it. Simon is a superstar, it has to be said. Clearly the man has patience by the bucket-load, and can work miracles to boot; after all, I managed to produce some perfectly edible food and trust me, this definitely counts as miraculous!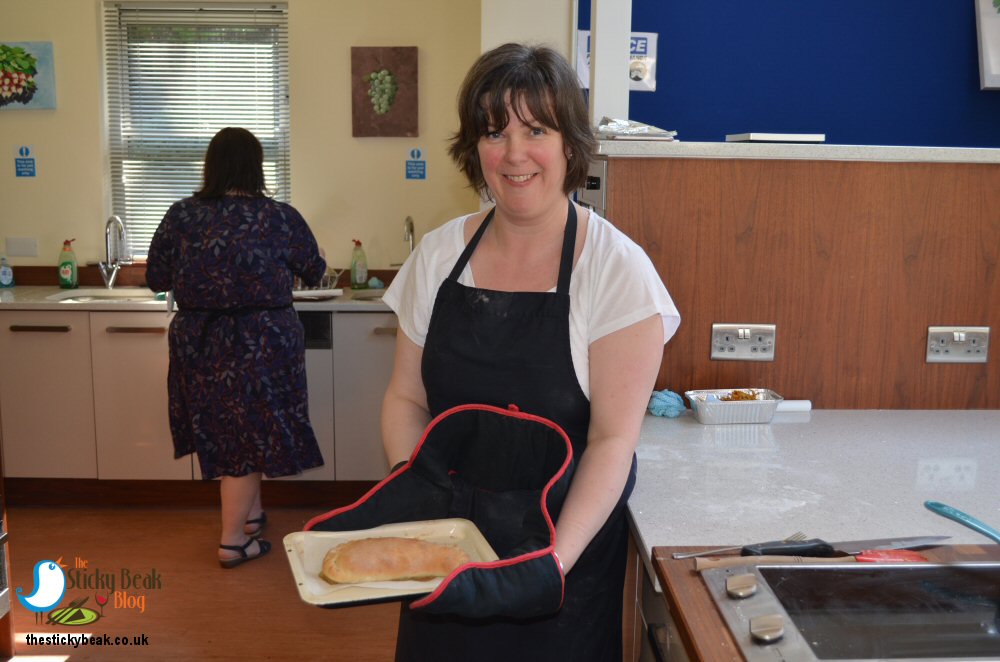 When the other people in our group had gone, Simon had a quick chat to us about the new courses he's just started running at Coghlans Cookery School at Stancliffe Hall. The Mexican one piqued our interest, and there's also a signature dish, which is Raymond Blanc's chocolate "Cup and Saucer", Burgers, Relish and Brioche, and Canapés and finger-food. The amount of time Simon puts into researching the timings and recipes for each course is frankly mind-blowing, but it's thanks to this dedication and attention to detail that the courses are so popular and you get great results from them. Trust me, if I can get the results I did from this course, then anyone can!


Hot Wings definitely awarded here; not only for the experience, but also for my food (!) :)
Some form of incentive was provided to visit this venue
read more
Read Some Of Our Recent Reviews
---

A Summer BBQ At Melbourne Hall Gardens With Gennaro Contaldo And Matt Pritchard A few weeks ago we were approached to see if we'd like to go to a Summer BBQ in Melbourne Hall's famous walled garden; of course, we said yes Read The Article

---

Classic Dishes Made Vegan at Coghlans Cookery School There must be something in the air to do with me and Vegan food at the minute because His Nibs and I have recently visited the Vegan Revelation cafe, and then I received an invite to the Read The Article

---

The Summer Picnic Class at Coghlans Cookery School I'm just going to come right out and say it; I made some goddamn sexy food at Coghlans Cookery School the other day! Yes, me. I did it! Ok, so it wasn't a solo effort Read The Article

---

Easter Egg and Chocolate Truffle making at Coghlans Cookery School You all know that I love attending the classes at Coghlans Cookery School, so I was very excited to get an invite to the Easter Egg and Chocolate Truffle making Read The Article

---

Portuguese Cooking at Coghlans Cookery School, Stancliffe Hall There's nothing I love more than spending a few hours at Coghlans School of Wine, Food and Dining at the beautiful Stancliffe Hall. Jordan North has Turf Moor as his Read The Article

---

A Day Of Tuscan Cooking At Coghlans Cookery School I was, once again, back in my happy place; Coghlans School of Wine, Food and Dining. This time I was here to do a full day cookery course, something I have Read The Article

---

A Sunny Afternoon At The Fuddy Duck Brewery, Boston, Lincolnshire The Man Bird and I had gone to visit friends in Lincolnshire and they wanted to show us the local brewery where our Christmas present from them (Gin) had been made. Read The Article

---

Trying Out The New Moroccan Cookery Course At Coghlans Cookery School Once again, the lovely team at Coghlans School of Wine, Food and Dining had kindly invited me along to one of their fab half-day cookery classes; this time it was Read The Article

---

An Indian Cookery Class at Coghlans School of Wine, Food and Dining Both The Man Bird and I have had our first Covid vaccinations and been out to eat, so when the invitation to attend a half-day Indian Cookery class at Coghlans. Read The Article

---

Chocolate Truffle Workshop At Coghlans Cookery School, Darley Dale Clearly my mischief battery needs recharging, as I got asked back to Coghlans Cookery School in the grounds of Stancliffe Hall!! I'd been in the swanky all-singing, Read The Article

---