Dinner At The Recently Re-opened Hunloke Arms In Wingerworth
---
Published On Sunday 20 May 2018 by Sticky Beak
See Recent Dining Out Reviews | See All Recent Reviews


It's been a whirlwind week for The Man Bird and me, so it was nice to relax and take a load off at the Chilled Pubs chains' latest venue, The Hunloke Arms at Wingerworth, Chesterfield. The Hunloke Arms is in a great location, right at the side of the A61 (not that you would know once you're inside), and there's parking at the front and rear of the premises. It's also around the back that you'll spot the outdoor beer garden with its wooden pergola, lawn and benches :)
Inside, The Hunloke Arms definitely has the same theme as its sister pubs; wines are showcased in wire "cages", there's fresh herbs in pots and tea lights on the tables, and the interior is kept dim and atmospheric. The floors are wooden and the tables are chunky wood too, and there's plenty of exposed brickwork in evidence throughout the venue. Contemporary, easy listening music is played at a nice background level that doesn't hinder conversation, but adds to the chilled ambience.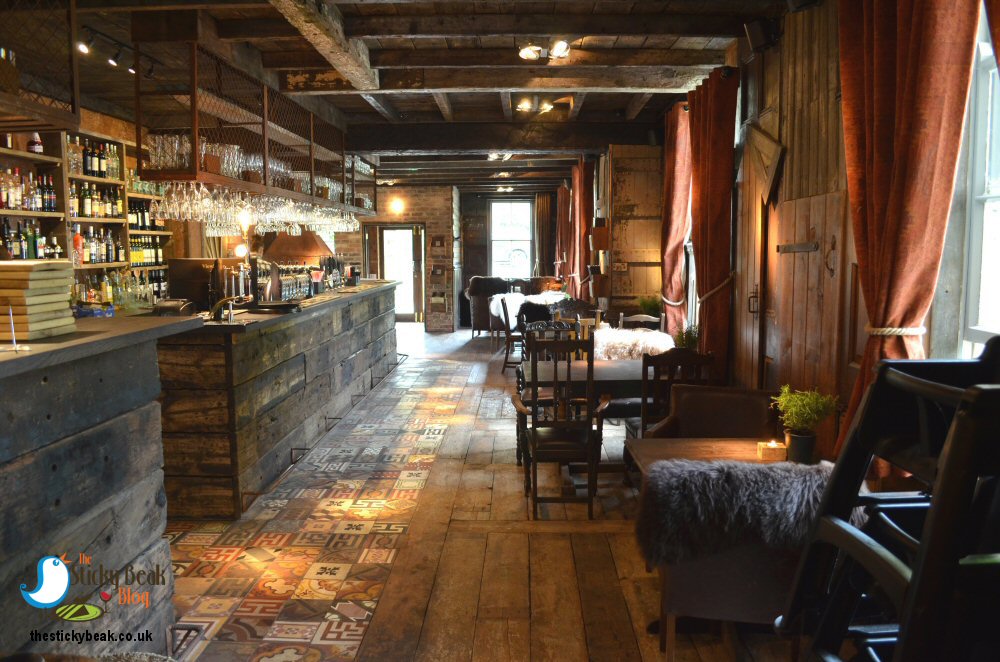 The guest journey from arrival to sitting at the table is also very slick; we told the barman of our reservation, and as he filled our drinks order he showed us where the restaurant desk was. At the desk, Imogen checked us in and took us to our table and handed us over to our server for the night, Angela. So far, so very good.
As well as a varied menu, the Hunloke Arms offers a staggering range of drinks; over 100 beers and ciders, a large selection of wines, and a not inconsiderable Gin menu! The bar staff are very knowledgeable about the drinks range; His Nibs had a Burleigh's Gin served with Lavender flowers and citrus peel twist and a Hibiscus infused Tonic water to accompany it.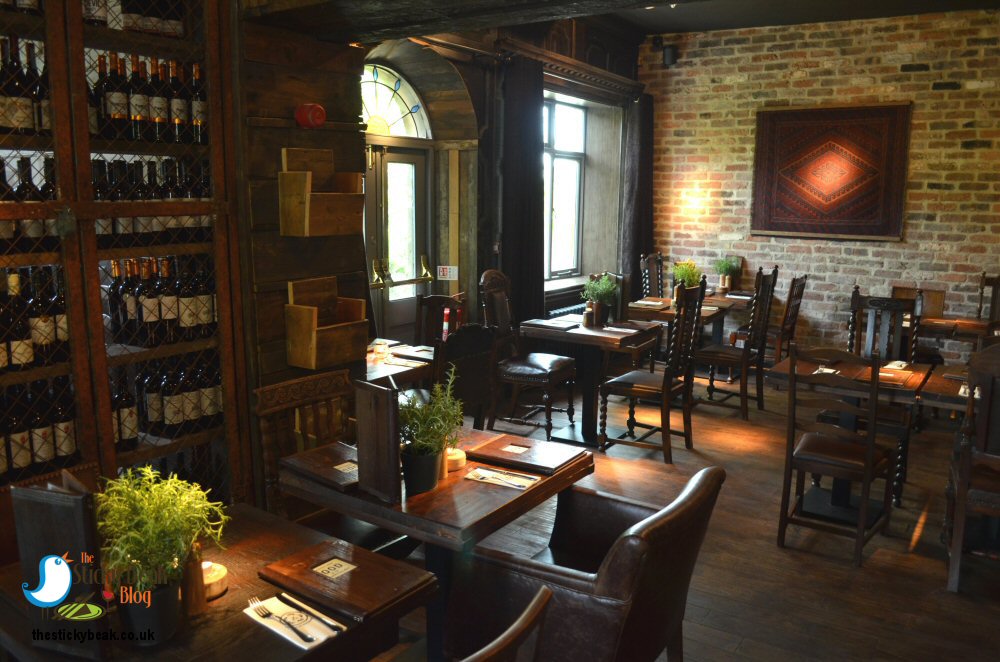 Angela brought us some chilled water for the table and a couple of glasses with ice and lemon in too, and then took us through the finer points of the menu. Once we'd ordered our starters and mains, she brought out some bread with Olive oil and Balsamic vinegar for us to nibble on.
We'd decided to have a selection of the small Yakitori (Japanese for skewered food) sticks to share between us as a starter; you can have the large Yakitori sticks as a main course too if you fancy. There's a good choice in the range, and we selected the Mirin-marinated Fillet Steak and Dijon mustard Mayo, Falafel balls and Harissa, Parma Ham-wrapped Goats 'cheese and Red Onion jam, and Smoked BBQ glazed Chicken, BBQ sauce, and Sweetcorn Hummus ones.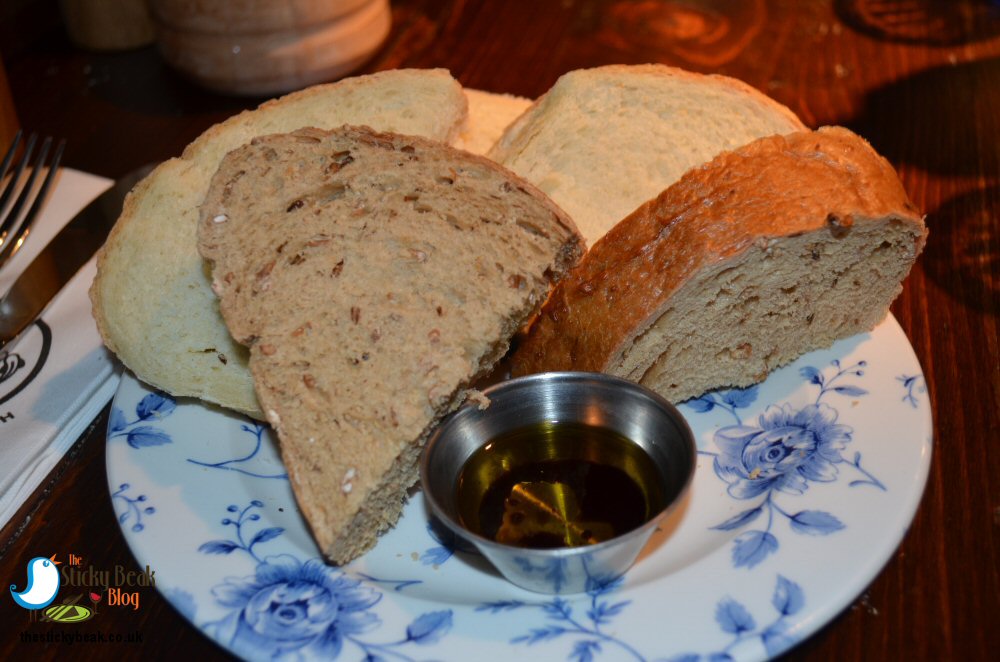 The four Yakitori sticks came on a wooden platter, lined up like little ducks in a row! Starting at one end, we just divvied them up in half and tucked in. First to try was the Mirin-marinated Fillet Steak one and the meat itself was delicious and in nice sized chunks. The deep taste of the meat was really enhanced by the heat from the Dijon mustard Mayo; there was extra mustard drizzled at the side, so you could add more if you wanted.
Next we had the Falafel balls and Harissa, and this was a fantastically punchy number! The Falafels themselves had a lovely crispy outer to bite into, and the spicy Harissa didn't half make my taste buds wake up! Harissa is always fiery by nature, so it isn't for the faint-hearted.


The Parma Ham wrapped Goats' Cheese was very yummy; you got the light salty notes from both elements, but the cheese has that extra twang to it that's really clean on the palate. The flavours were beautifully balanced and the Red Onion jam just gave a great bit of texture and crunch when bitten into :)
Our last Yakitori stick was the Smoked BBQ glazed Chicken, BBQ sauce, and Sweetcorn Hummus variety. What we both loved about this one was the balance between the sweet notes of the hummus against the smokiness of the BBQ sauce; it was lovely! The chicken was also nice and moist, not dried out at all, and so we were really pleased with all our starter sticks :)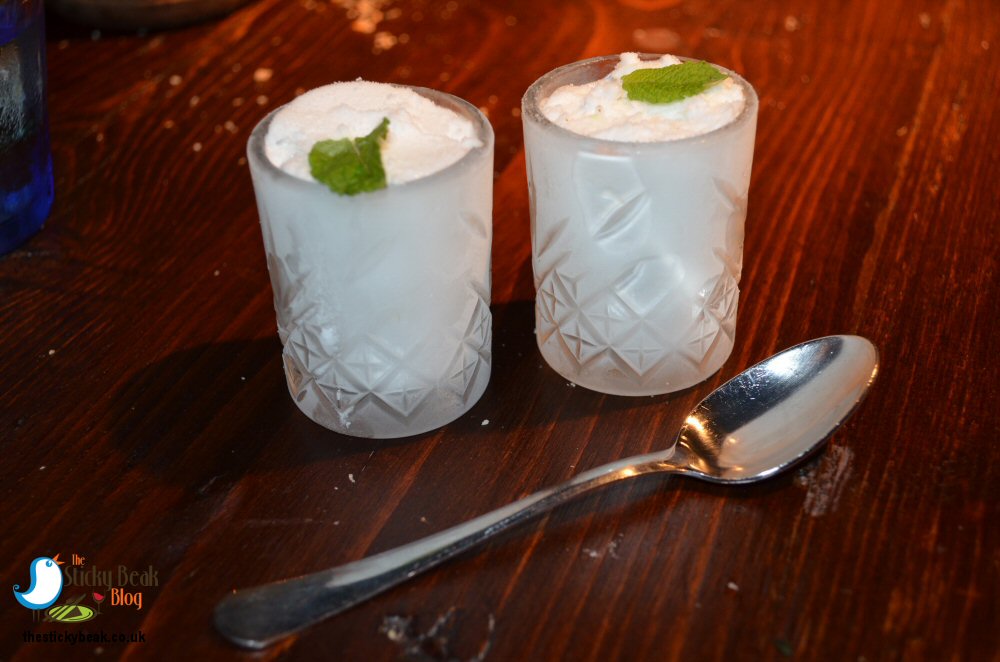 Angela cleared away our starter plates and the empty platter and then came back with a couple of Lemon Sorbets to cleanse our palates; after the heat of the Harissa it was very welcome! Our drinks were also refreshed at this point, by the very attentive Angela and Gin-Maestro James.
As with the other Chilled Pub venues, there are two kitchens at the Hunloke Arms; one for pizzas, with its own authentic wood-fired pizza oven from Italy, and the other traditional main kitchen. If you order dishes from the different menus, they will be made in the corresponding kitchen, and this may mean that some dishes arrive to the table at different times.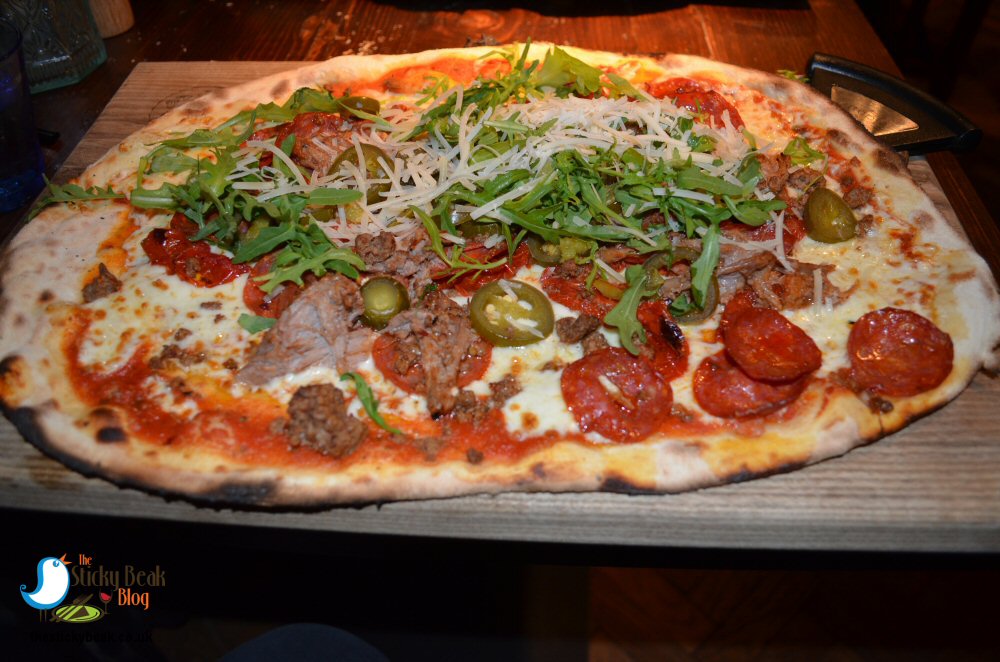 On this occasion, we were both in the mood for pizza, so our mains would arrive more or less at the same time; we also ordered the Bruschetta as a side, and some Sweet Potato wedges with Cajun spices. Clearly, our Bruschetta would arrive with the pizza, but there was a little lapse before the wedges made an appearance. This wasn't a problem at all, and as I mentioned, it was one we were fully prepared for.
I had the "Paris" pizza; wild- and cup-mushrooms, spinach, blue cheese, Hunloke Arms tomato sauce, Mozzarella, garlic oil, and Parsley. The Man Bird had the Wingerworth-Hunloke special, which is Pepperoni, spicy beef, jalapenos, sun blushed tomatoes, rocket, pulled pork, Grana Padano parmesan, Hunloke Arms tomato sauce, and Mozzarella.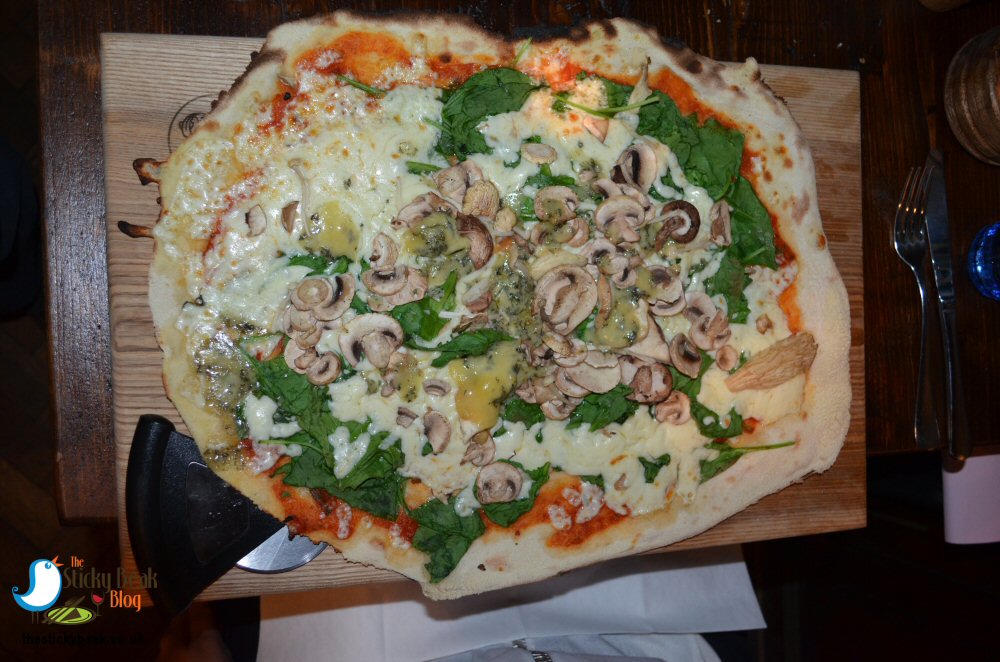 Both pizzas were mahoosive!! We looked at each other and questioned the wisdom of our decision to have gone for two sides as well; oh well, too late now! The Bruschetta, whilst more modestly sized, was piled high with San Marzano tomatoes, fresh Basil leaves, Red Onion, Balsamic glaze and Olive oil. The Sweet Potato wedges were colossal, width-wise and length-wise, and they had been charred to make them look really tempting, and then dusted with fragrant Cajun spices.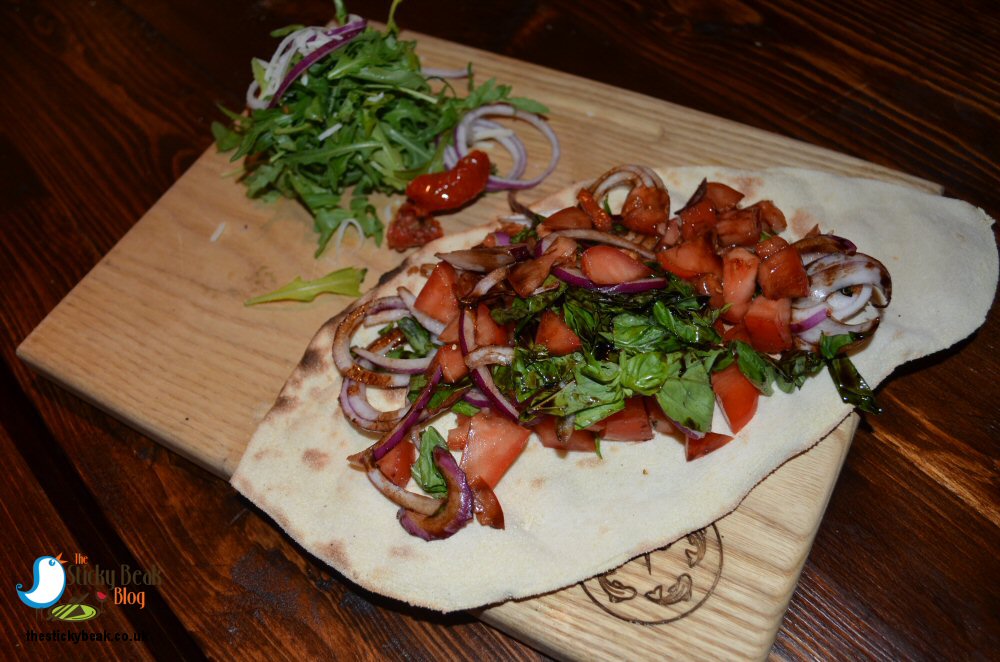 We were really pleased with the pizzas; they had lovely thin, crispy bases that were piled sky-high with toppings and a nice balance of tastes and textures was appreciated by both our taste buds :) His Nibs' was pleased with all the meats on his pizza; the pork was tender, and the Pepperoni had a nice rounded flavour, not at all harsh that sometimes gives cheaper versions away. We were scoffing the wedges like they were going out of fashion whilst they were hot, and suddenly it dawned on us that our tummies were really rather full (ok, stuffed!), and we hadn't had the bruschetta or dessert yet!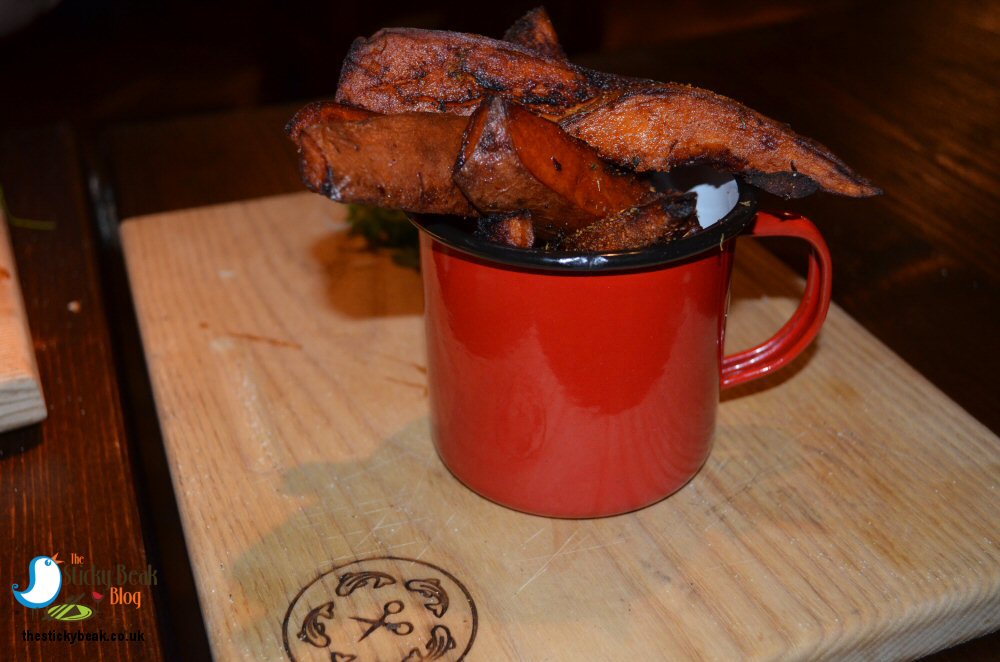 Executive decisions had to be made; continue with the Pizzas and Bruschetta, and therefore not have Gelato, or keep the bruschetta for supper, take home the rest of the pizza for lunch the next day, and have room for the very yummy Gelato. Purely for review purposes *ahem* we sacrificed the pizza and bruschetta and ordered Gelato; Jack Frost for me, and ChoccyWoccyHoo-Haar for His Nibs.
The Hunloke Arms make their Gelato fresh every day (same as the other Chilled Pub venues) and you really can taste the difference – it is just heavenly!
Jack Frost is a combination of Mint Choc Chip and Belgian Chocolate Gelato's, freshly baked waffle, whipped cream, hot fudge sauce, After Eight mints, Peppermint crisp, chunks of mint Aero bar, chocolate shavings, wafer disc, cocoa dust, and fresh Mint. The best thing about Gelato is that you don't get brain freeze from it – even when you wolf it down in indecent haste, and I should know because that's exactly what I didJ. Both the chocolate and mint elements were balanced nicely, and it was a fantastic end to my meal.
ChoccyWoccyHoo-Haar is no less spectacular; Belgian chocolate Gelato, hot fudge sauce, chunks of chocolate brownie, chocolate shavings, chocolate sticks, fresh baked waffle, whipped cream, berries, and fudge squares. It is a total choc-lovers paradise! I think it fair to say that the Hunloke Arms don't skimp on their desserts, as His Nibs' dessert dish was over-flowing :) He probably won't thank me for telling you this, but my chocoholic got out-chocced! He couldn't finish it all, and trust me it wasn't for lack of trying!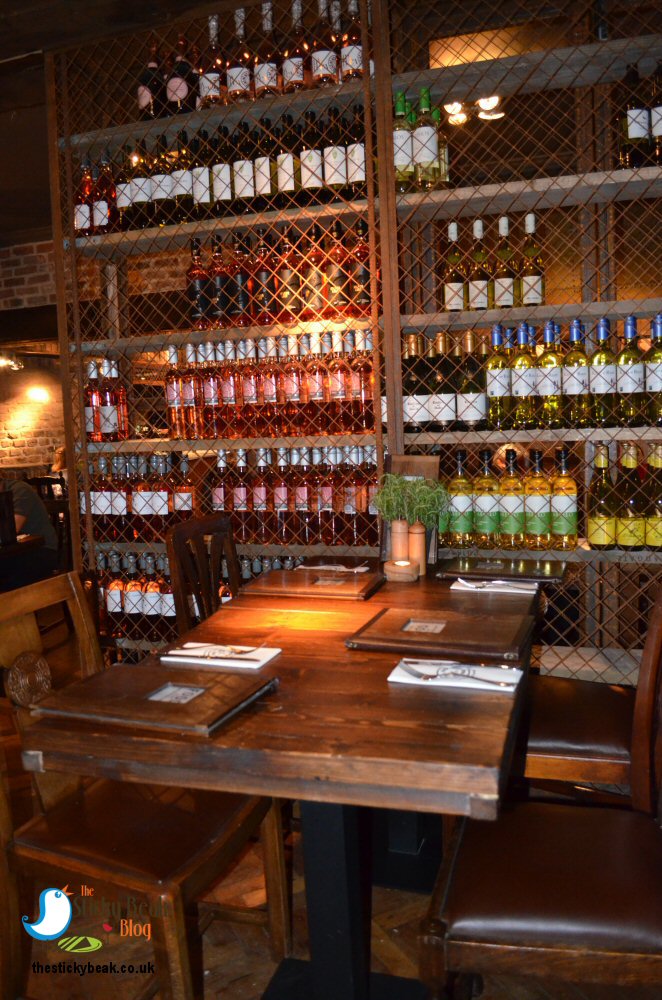 Every single aspect of our evening had been great; service, food, atmosphere. If you haven't been before, you really do need to go – and sooner rather than later. I for one am thrilled that we have finally got a chilled pub venue up the north end of the county – it's been long over-due! Hot Wings well deserved here :)
Oh, in case you wondered, the Bruschetta and Pizza were both very yummy the next day when we scoffed them for lunch :) Bonus!
Some form of incentive was provided to visit this venue
read more
Read Some Of Our Recent Reviews
---

Lunch At The Recently Opened Chatsworth Kitchen At Peak Village, Rowsley Everyone who knows me, knows I love Chatsworth (always have, always will) so when the invitation to sample lunch at the newly opened Chatsworth Kitchen Read The Article

---

A Visit To Vietnamese Street Kitchen, Resorts World, Birmingham Way back in the day (pre-covid) Fledge had bought me and The Man Bird tickets to see Mrs Browns Boys live and finally, after a couple of false start reschedules, the day of Read The Article

---

Sunday Lunch, A Museum Tour & Painting A Piece Of Denby At Denby Pottery Village It wasn't long ago that His Nibs and I visited the Denby Pottery Village to sample the Afternoon Tea at Bourne's Coffee Shop and Bistro (it was superb Read The Article

---

Bottomless Brunch At Turtle Bay In Derby The timing of the invitation from the Turtle Bay team in Derby to go and sample their Bottomless Brunch couldn't have been better; not only was it going to be The Man Birds' birthday a couple of days later Read The Article

---

Afternoon Tea At Santo's Higham Farm Hotel & Restaurant Aaaaaarggggh, don't you love your children??!! A while back, His Nibs had spotted a great deal on Groupon (you know what a bargain hound he is!) and thought it would be Read The Article

---

Sunday Lunch At The Countryman Pub & Dining, Kirkby-in-Ashfield We finally got to visit a venue thats been on our radar for quite a while, The Countryman Pub and Dining in Kirkby-In-Ashfield! A few weeks ago we tried to book a table for dinner Read The Article

---

Dinner At The Divan Turkish Restaurant In Chesterfield Chesterfield was welcoming us back again for our latest review visit; this time to the newly opened Turkish restaurant, The Divan, on Lordsmill Street. Owner Tuncay (along with Read The Article

---

Breakfast At Marsh Green Farm Shop & Cafe, Kelstedge Ah, you've gotta love a Bank Holiday curve-ball, haven't you? His Nibs and I headed over to Mummy Birds' gaff with the intention of having a leisurely couple of hours at the Sunday Read The Article

---

Afternoon Tea at Bourne's Coffee Shop and Bistro, Denby Pottery Village You all know that The Man Bird and I do like an Afternoon Tea; I mean, who doesn't?! Just a few miles down the road from the nest is Denby, home to the world-renowned Read The Article

---

All You Can Eat At The River Garden Cantonese Restaurant In Belper As is the seemingly never-ending pattern of our weekends at the moment, The Man Bird and I had been busy gardening/re-seeding/pruning/digging, so when it came to sorting Read The Article

---