Dinner At The Cricket Inn, Totley, Sheffield
---
Published On Sunday 4 Feb 2018 by Sticky Beak
See Recent Dining Out Reviews | See All Recent Reviews


We were kindly invited to review the food at The Cricket Inn at Totley, and the first thing my Mummy Bird said was "oooh Emlyn Hughes lived in Totley, God bless him". Those of a certain age will remember this man played football for Liverpool and England (captaining both teams); totally irrelevant for a food blog I know, but a prime example of the way my flock operate!
So, we pulled up at The Cricket Inn and easily found a space in the very spacious car park - trust me, you'll not struggle for a spot here, it's huge. The Cricket Inn is a lovely village pub and has a very welcoming feel to it, enhanced on this particular cold evening by a couple of roaring, open firesJ There are large flagstones to make up the floor and the walls are painted either white or a lovely sea blue, which gives a bright cheery feel to the venue.
Cricket bats are displayed on the ceiling beams; a nod to the pubs' name and a lovely touch I thought. Given its close proximity to the city of Sheffield there was also a reference to the "steel city's" heritage with lots of cutlery from varying eras in display boxes on the walls. On the window ledge behind our table there was the most beautiful, quirky lamp; a metal bulldog base with a deep red shade on top - I wanted to bring it back to the nest :)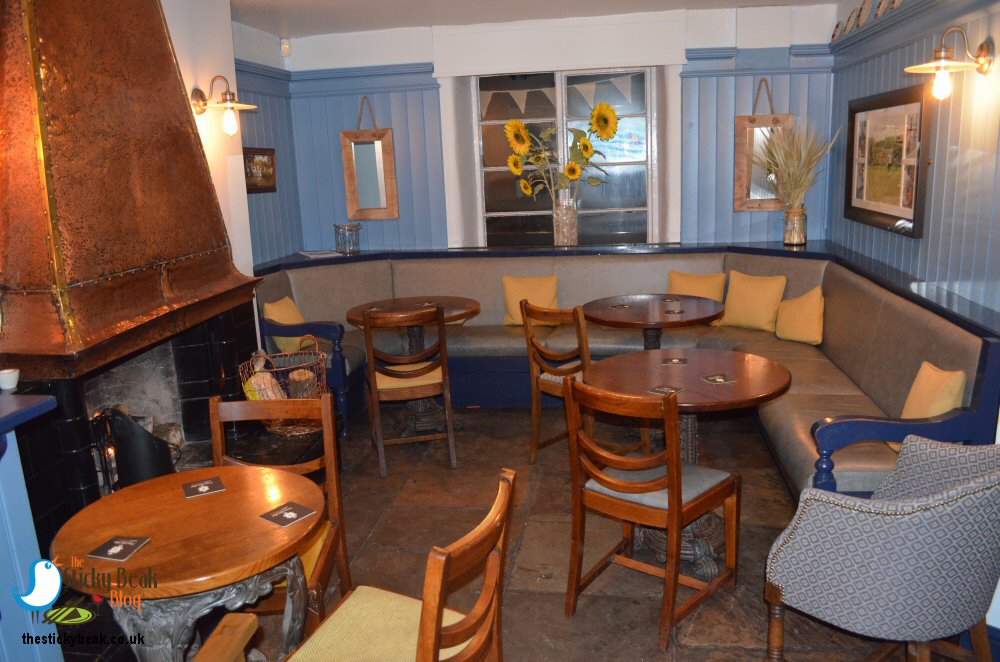 There's a pretty extensive menu to choose from, ranging from pub snacks, light bites and sandwiches, kids menu, sharing plates, and Sunday Roasts; additionally there are specials and set menu options to choose from. We chose our food from the regular starters and mains section though.
To start we had the Bertha roasted Baby Cauliflower (me), and Chorizo and smoked Garlic Baked Egg (The Man). The Bertha in question is actually the oven; it is an indoor charcoal BBQ oven, capable of reaching temperatures of 500 Celsius!


Whilst we were waiting for starters to arrive we nibbled on some home-baked breads and Olive Oil; the breads were delicious and I particularly liked the close textured brown variety. Before long our starters were brought over in lovely skillet dishes, and after the obligatory photos we tucked in.
My Cauliflower comes with Moroccan spices, Tagine sauce, Mint Yoghurt, and toasted nuts. Having been roasted in the Bertha, it had a lovely smoky hint to it and had retained some of its natural firmness. There was a fantastic North African flavour on the palate thanks to the spices and the wonderfully fragrant Tagine sauce. The robust character of it was mellowed by the Mint Yoghurt, and the contrast of cool yoghurt and piping hot sauce was superb in the mouth. Plenty of texture was provided by the toasted Almond slices scattered over the dish and I loved the sweet note from the Apricot slices in it too; a really lovely starter in my eyes.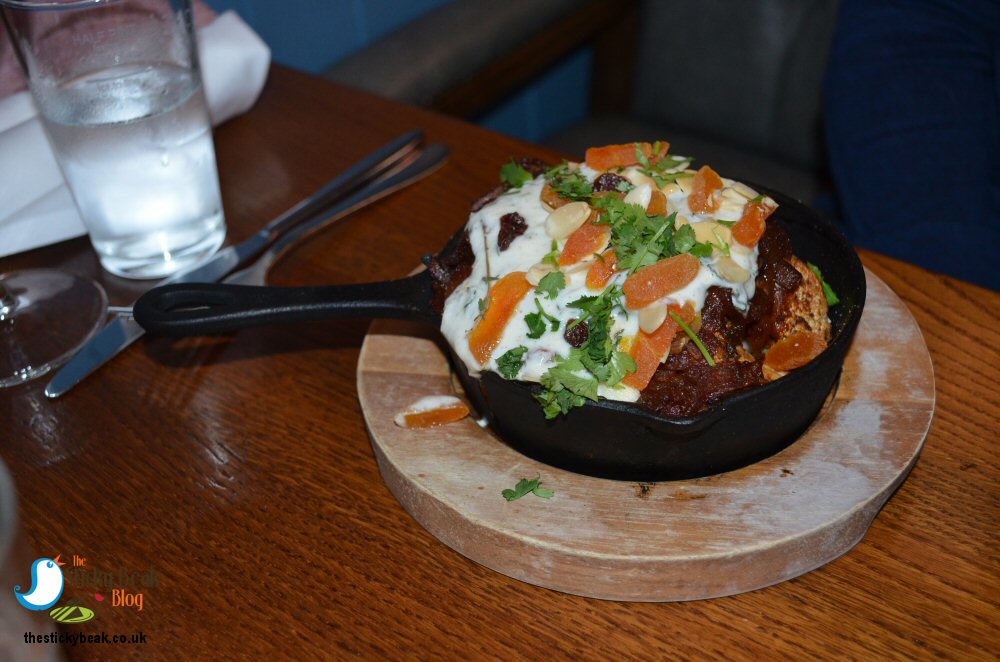 His Nibs' starter was a veritable smorgasbord of ingredients; Roasted Peppers, Plum Tomatoes, smoked Paprika, Coriander, Chorizo, and smoked Garlic all combined to make a hearty base into which the Egg was cracked and baked. It smelled incredibly good I have to say. The lovely young man brought a spoon over for His Nibs; clearly experience has taught them what cutlery is requested for this hearty dish! It isn't often that The Boy Wonder is lost for words, but he just said "marvellous" when I asked for his verdict. All the flavours were so clear in his mouth that it seemed there was a street party happening in there, he said. Two clean plates went back to the kitchen - top marks so far :)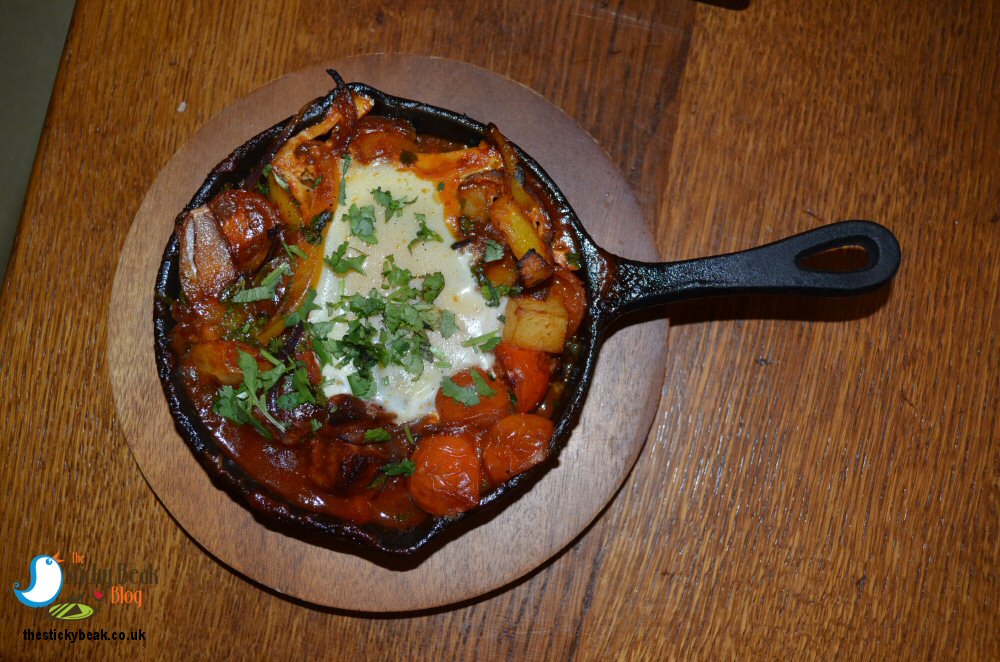 There was family of four in the same area as us, complete with the family dog. I have to say that this dog was so well behaved (especially in comparison to how our hound would be!); the only murmur he made was for his Dad to fuss him - very cuteJ .I think the warmth of the fire was receiving the canine "paws up" too! Nice to see another pub that is very dog friendly - we seem to be having the good fortune of discovering them at the moment; brilliant timing for the better weather coming.
His Nibs had gone for the Cricket Inn Beef Burger for his main, and some Pickled Onion rings to go with it as an extra side order. I just fancied the 10oz Pork Cutlet from the Bertha with Bubble and Squeak, and a Chorizo and Butter bean Ragu. We'd seen one of the burgers go to another table, and it was humungous!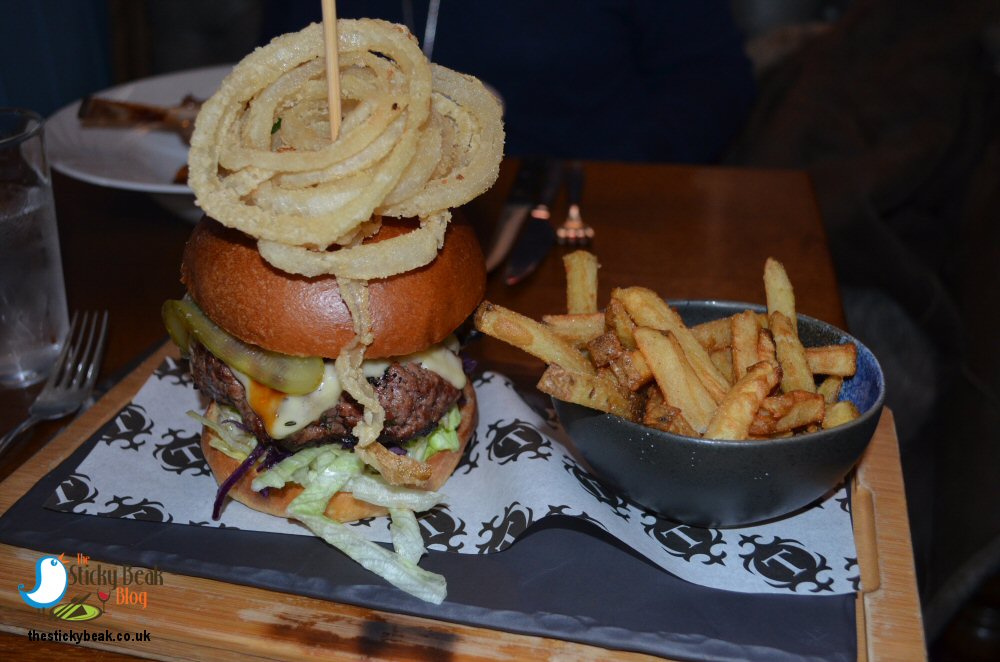 The Burger is housed in a toasted Brioche bun from the Welbeck Bakehouse, and the minced Short rib, Brisket and Chuck patty is piled high with purple sauerkraut, melted Swiss cheese, tomato salsa, gherkin slices, and Thornbridge beer BBQ sauce. There is no delicate way to eat this beast, you just have to abandon all decorum, grab it and dive in! His Nibs was bowled over (pun intended!) by the meaty texture and flavour, and the fact that it hadn't been overly seasoned meant that its flavour really did stand out.

The skinny fries had a lovely taste to them, but the stars of the show were the Pickled Onion rings. These beauties had been thinly sliced and battered, so they were fantastically crunchy and you really could taste the tart pickle flavour of them; something just a little different, and jolly tasty.


I had been brought an additional steak knife for my Pork cutlet, although I really didn't need it in all honesty as the meat was so tender and easy to cut. I do enjoy Pork on occasion, although it isn't normally my "go to" choice; I was glad to have made this choice though as the meat was creamily flavoured, moist and succulent.
The Tribal Elders regularly use the leftover veggies from Sunday Lunch to make Bubble and Squeak, but I haven't had it for an absolute age. The Chef at The Cricket Inn does a spanking job of it though; a nice thin crisp outer revealed a soft inside crammed with mash, Carrot, and Cabbage. It tasted beautiful, especially when combined with a forkful of the robust Chorizo and Bean ragu.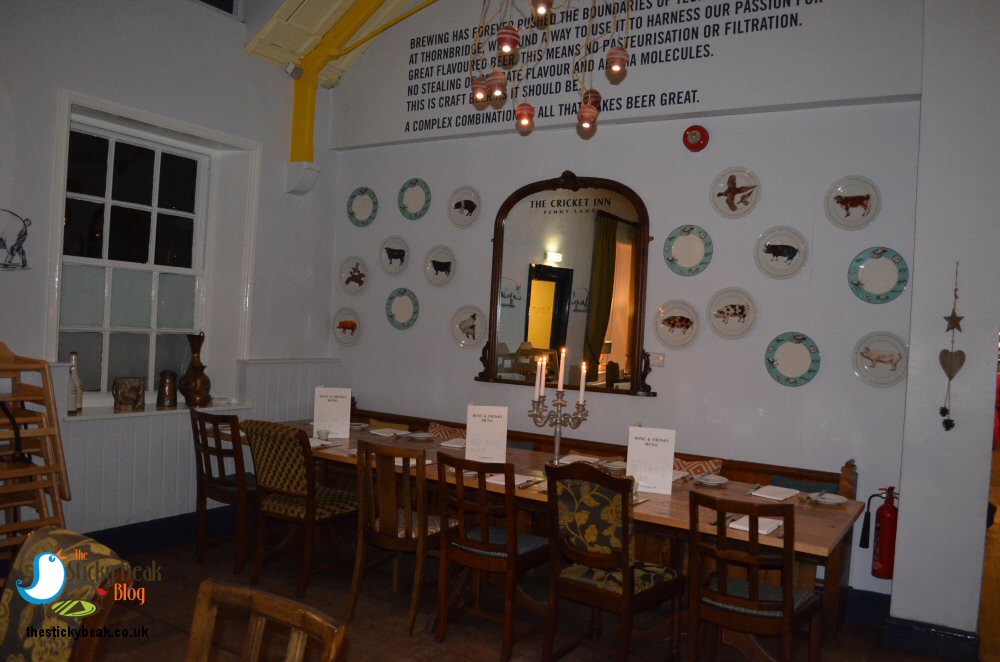 Both meals were excellent; piping hot, tasty, well cooked, and very filling. We also loved the fact that there were thick cloth napkins on the table, rather than flimsy paper ones; call me old fashioned, but I do love proper napkins :)
All that remained was to decide on puddings. In the end there were two that we both wanted, so we agreed to share them; Chocolate and Cointreau Fondant, and a selection of homemade Petit Fours. The fondant was wickedly indulgent with a superb gooey centre that slinked out when it was broken into. It had a wonderful rich chocolate flavour to it with just a hint of orange from the Cointreau, which was intensified by the strips of Orange peel that decorated the top. Another fruit element was provided by a delicious Strawberry sorbet, and texture came from scattered Walnut halves. Yummy!


The Petit Fours selection was made up of White Chocolate Fudge, Rum and Coconut Truffles, Banana Marshmallow, and a Pâté de Fruit. Now I normally have a strong dislike of anything Banana; very, very rarely I will have a nibble of a green Banana - but I decided to take one for the team and try the Banana Marshmallow. It had a very delicate Banana taste, so it wasn't unpleasant and I did like the texture. There was a caramelised edge which imparted its flavour, so it really didn't smack of Banana nearly as much as I thought. The Man Bird loved it :)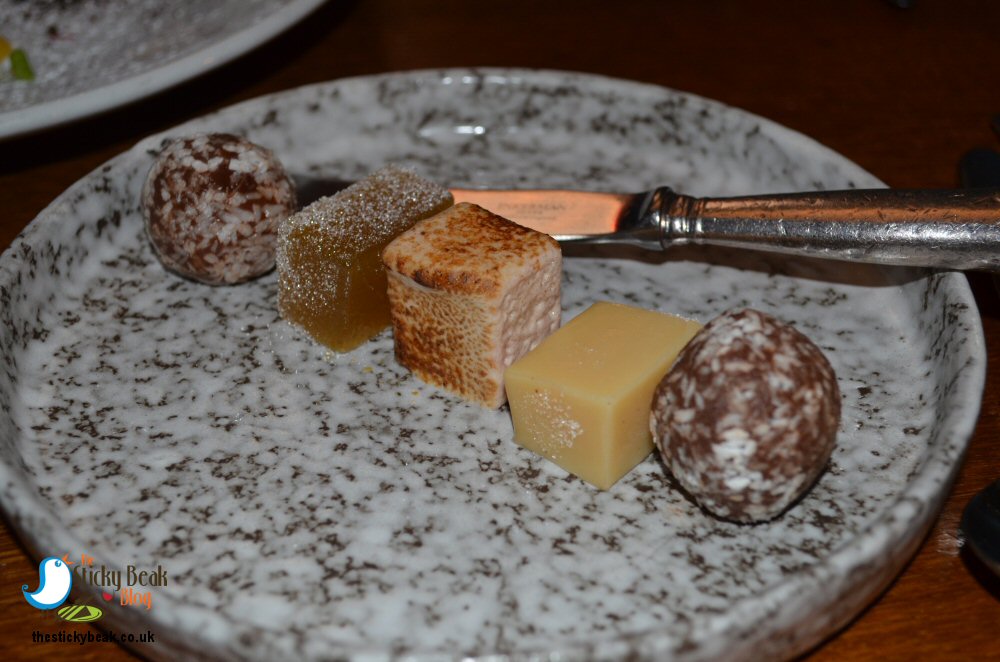 We were both instant fans of the White Chocolate Fudge; it was just like Granny used to make. It was that perfect balance of gooey-yet-firm in texture and had the most superb creamy taste to it, without being sickly or cloying. There were two Coconut and Rum Truffles on the platter, so no need to play nicely and share! The centre was a superb chocolate ganache that had a nice Rum warmth to it when bitten in to, and the coconut flakes that coated it were a welcome textural touch.

The Pâté de Fruit was a lovely, sweet Apple number. It was a pure clean taste in the mouth, and no word of a like it was just like eating Apple Strudel; just minus the pastry and Cinnamon!


As with the previous two courses, there were empty plates going back to the kitchen; testament to the talent in The Cricket Inn's kitchen. We had a couple of coffees to finish up and even these have a delightful little treat in store; squares of Cherry and Almond Brownie :)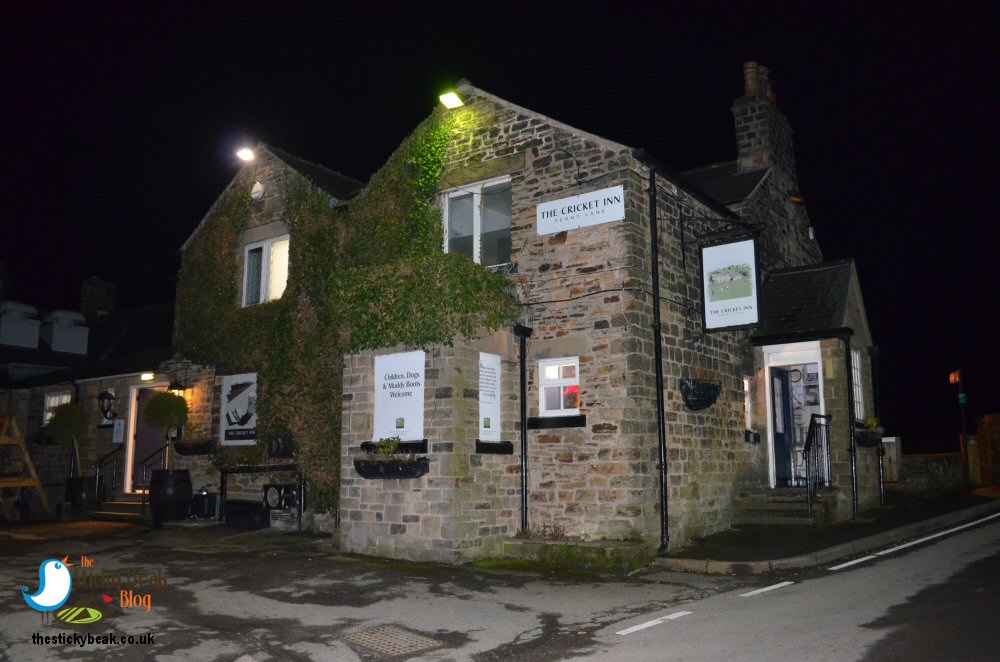 The last thing I should mention is the "facilities"; I don't always mention them, as they're normally up to scratch, but these were so lovely that they warrant a mention. The Molten Brown toiletries gave a touch of luxury to them, and they were spotlessly clean anyway, but it was the little stacks of rolled, individual hand towels that sealed the deal for me.
Hot Wings definitely awarded to The Cricket Inn at Totley!! Well done team, and thank you for inviting us along to your lovely venue :)
Some form of incentive was provided to visit this venue
read more