Dinner At The Newly Opened Cookhouse & Pub, Ripley
---
Published On Friday 29 Dec 2017 by Sticky Beak
See Recent Dining Out Reviews | See All Recent Reviews


Don't get me wrong dear reader, I absolutely love the run-up to Christmas but I seriously could do with about another 6 hours in the day to catch up with everyone and do everything I need to do. Do you know what I mean? Anyhow, after several months of meaning to go out with the Boyf Birds' (BB) folks, we co-ordinated diaries and got a date pinned down (mainly thanks to the kind invitation from Cookhouse and Pub at Ripley spurring us on!).
A lot of you will remember Cookhouse and Pub in its previous Brewers Fayre guise, so you don't need me to tell you about the more than ample parking. Inside it still has that fantastic open-plan layout to it, but it seems an awful lot cosier since its refurbishment - and that's always a good thing :) The decor has been done in nice bright colours which really lift the large space, and the addition of feature fires looks lovely.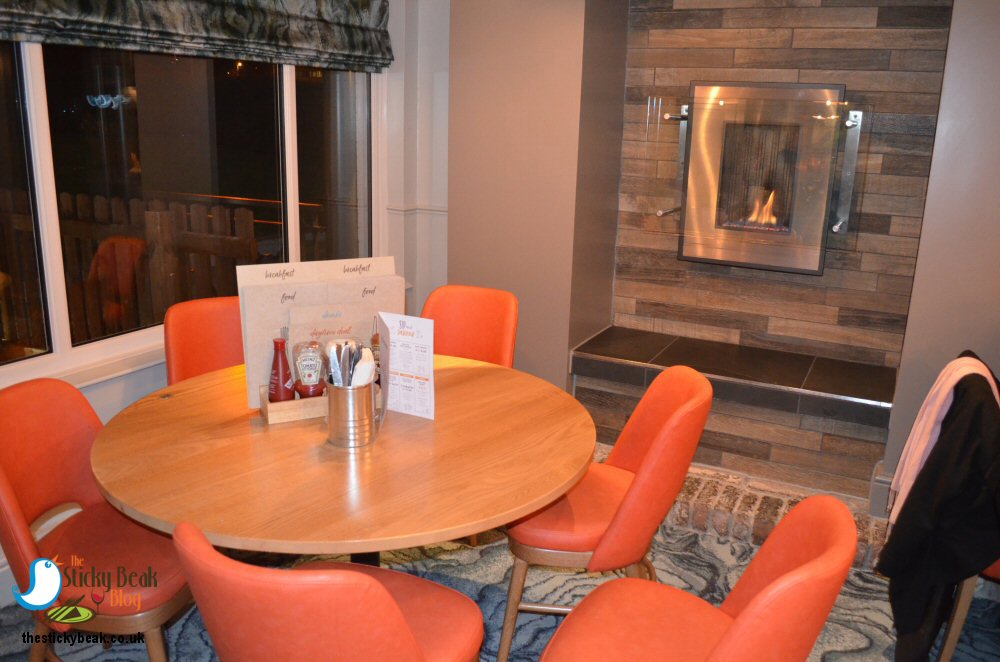 The main difference is when it comes to ordering food; before, it was a case of going up to the bar, remembering your table number, remembering what everyone wanted to eat and drink, and waiting for what seemed an eternity. The Cookhouse and Pub staff now come to your table to take your orders and bring them to you, so the rugger scrum at the bar is (thankfully) a distant memory.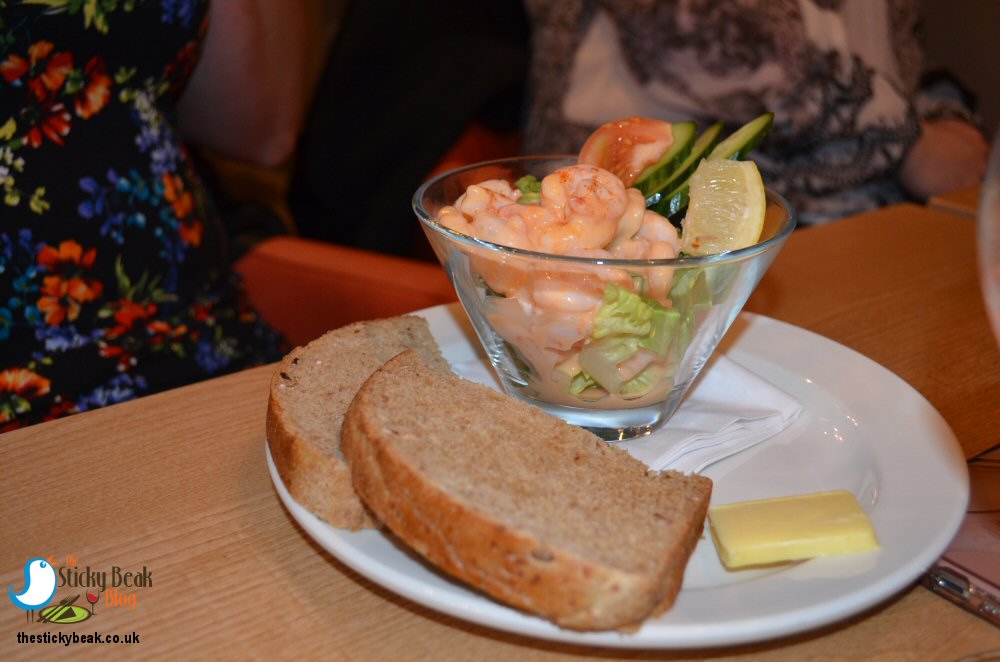 With our drinks having been brought to the table it was time to give the menus our full attention; there is a Festive menu currently running alongside the usual one, and kids still have their own separate menu. I decided to have my starter and main from this festive menu, the rest of the group had the "ordinary" menu; BBs dad had the soup of the day (cream of Mushroom), his mum had Prawn Cocktail, His Nibs had Jerk Chicken and Lime Skewers (a grazer dish), and I had the Mushrooms and Chestnuts on toast.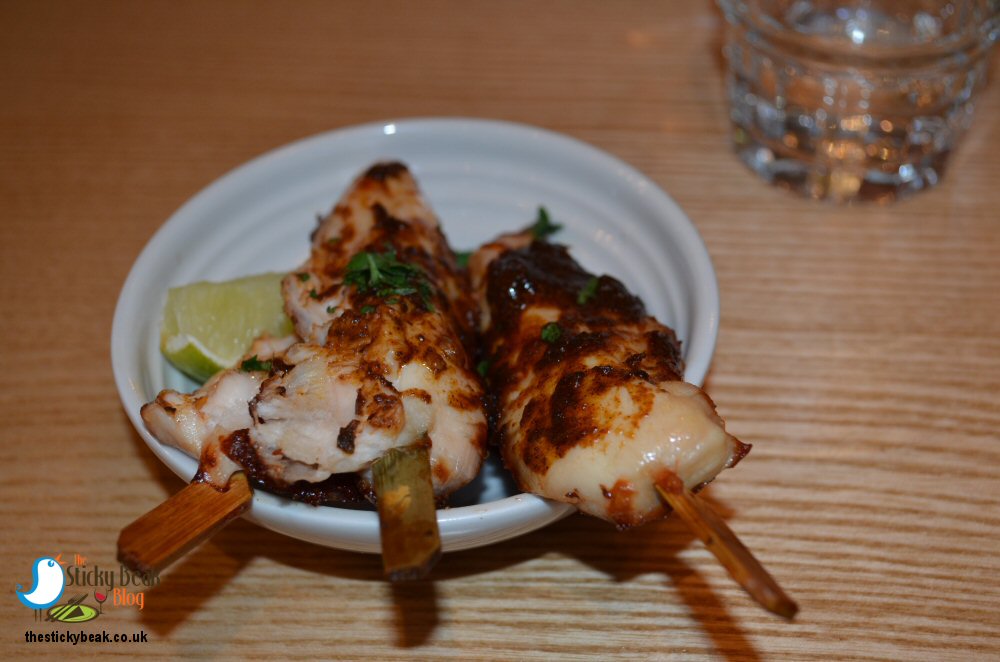 There was a bit of a longer than usual wait from placing our orders to getting the starters brought out, but given the fact that it was exceptionally busy it was only to be expected; we were busy nattering so it didn't bother us if I'm honest. All the hot food was just that; hot. One of my peeves is lukewarm food as you know.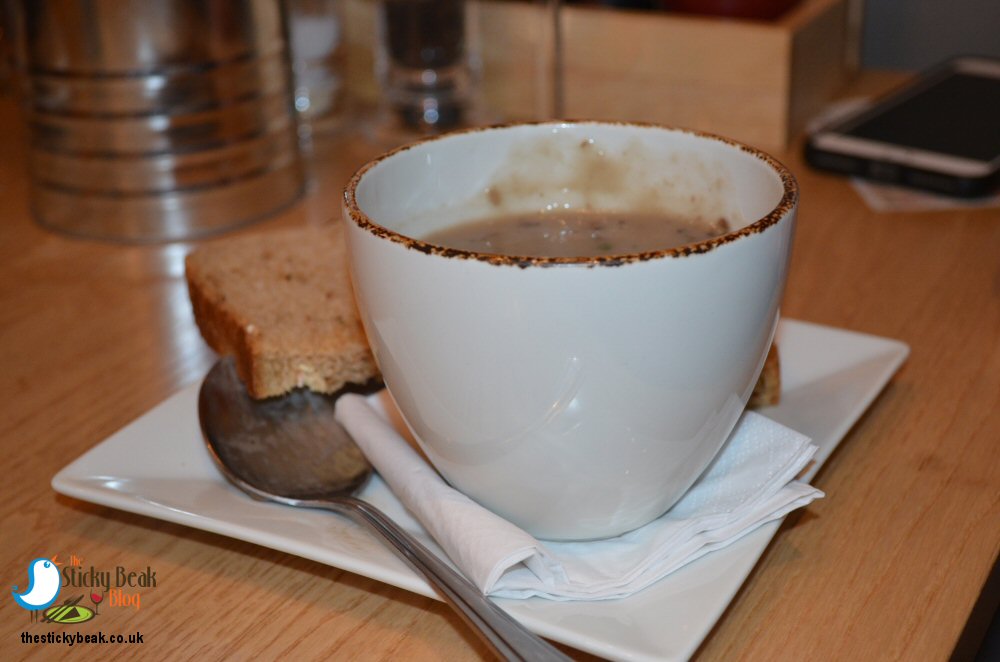 The Prawn Cocktail was nicely presented, it hadn't just been chucked together in the glass, and the sauce was plentiful enough to taste without drowning the Prawns and leaves. There was a decent sized bowl of the soup to tuck into and bread with it, so no complaints from BBs Dad. The Man Bird was more than happy with his zingy skewers, of which there were 3 good sized ones to munch at; I had no complaints about my starter either, there were Mushrooms and Chestnuts in abundance (nicely glistening with butter) which sat on good thick slices of toast.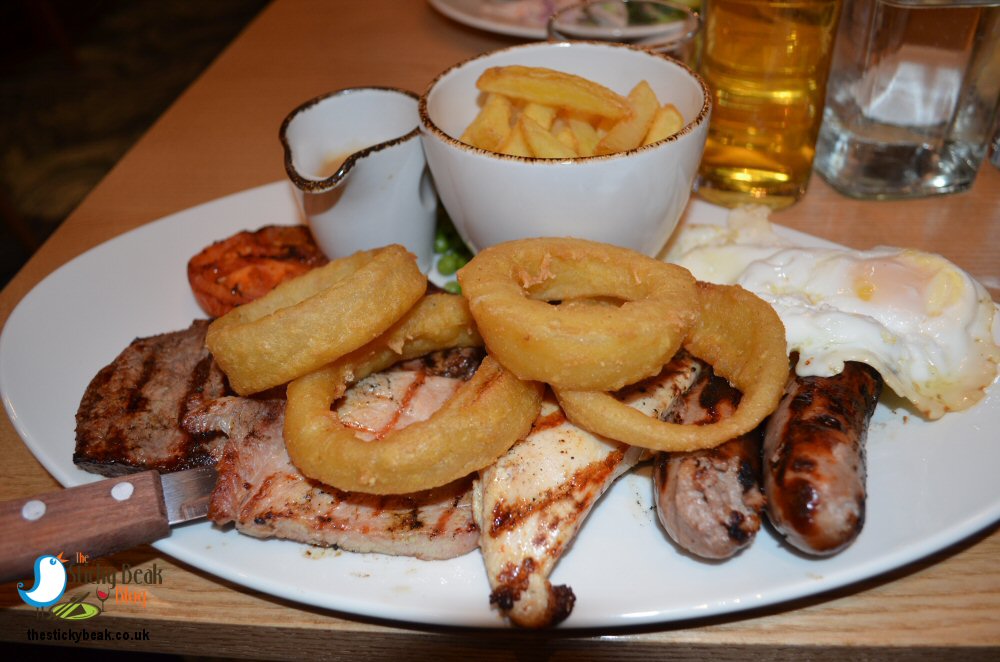 Our mains consisted of the Men having the Mixed Grill (upgrading from the 6oz minute steak to an 8oz Sirloin, £1.99 extra), Smokey Paprika Chicken Breast, and Grilled Salmon with Crab and Prosecco sauce. At this point the "newness" of the team showed a little; our server came to ask if we'd had our mains as a bit of time had passed, and was about to go and check when someone else came out with them about 15 seconds later. "Peak time" had passed by this point so it wasn't a hassle, but they perhaps need to hone their communication skills a bit more in readiness for what will be a hectic few weeks ahead over Christmas and New Year. It's that kind of thing that comes with working regularly together though and having a new team is bound to highlight these teething troubles, but the staff are all so lovely and eager, I'm sure it won't take them long to lick it :)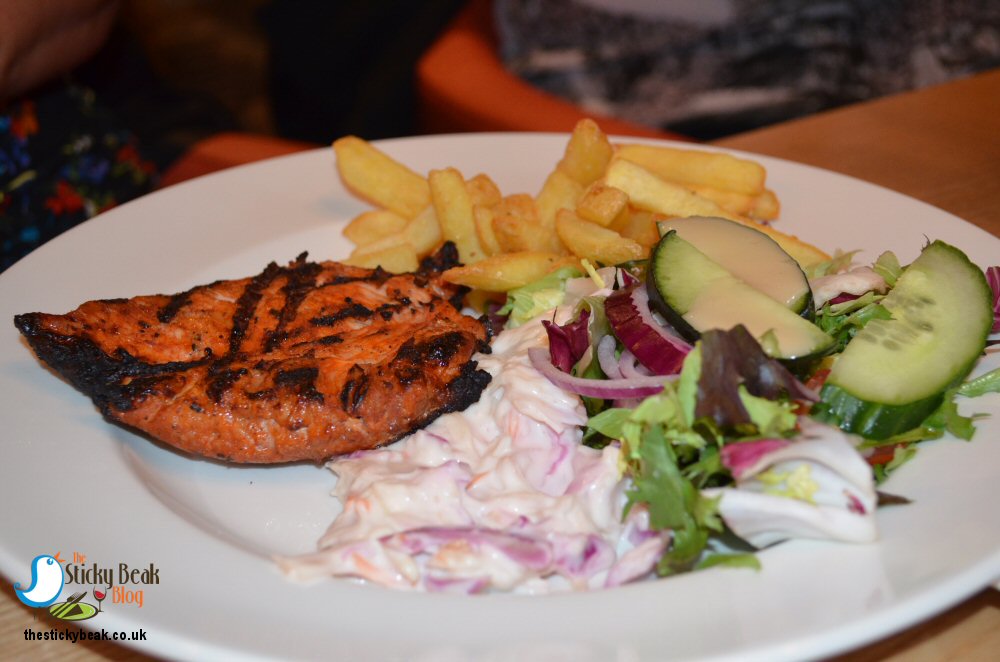 The size of the Mixed Grill is very generous and as well as the steak has Gammon steak, Chicken Breast fillet, two Pork Sausages, two fried Eggs, four Onion rings, Peas, Grilled Tomato and chips to keep an appetite satisfied. Both men said how lean their steaks were; not fatty at all, and BBs dad is very keen-eyed when it comes to that detail!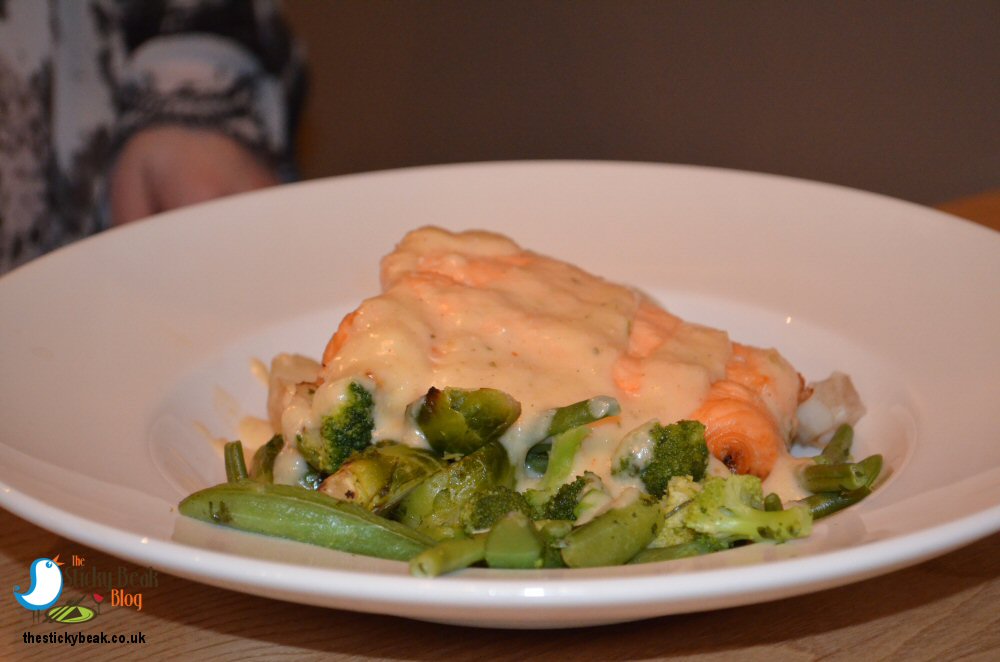 BBs Mum was happy with the size of her Paprika marinated Chicken breast fillet, and this comes with Chips, Coleslaw, and Salad. The Chicken was lovely she said, not shrivelled and dried up and great value for money. My Salmon was nice and moist and there was a nice amount of smashed New Potatoes to dip into the Crab and Prosecco sauce (yum!); for a "chain pub" I was impressed that all my veg (Broccoli, Green Beans and baby Sprouts) hadn't been over-cooked and so they still had some bite to them :)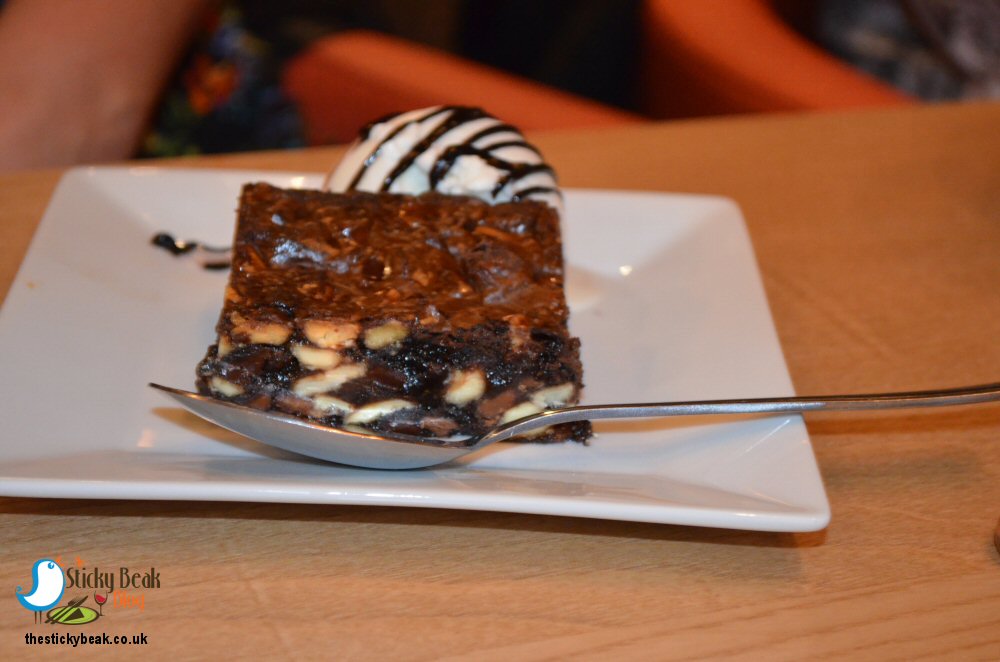 For desserts we all had choices from the main menu. I fancied the Black Forest Sundae, His Nibs wanted the Salted Caramel, Brownie, and Popcorn variety; BBs parents had Triple Choc Brownie, and the Baked Vanilla Cheesecake. The Triple Choc Brownie comes with Vanilla Ice Cream and Chocolate sauce and its chunks of Belgian, White, and Milk chocolate will surely satisfy that most hardened chocoholic. It was deemed to be pleasingly gooey and most definitely chocolatey! Lovely jewel-hued winter berry compote is served with the baked Vanilla cheesecake and its tangy notes contrast well with the smooth Vanilla element.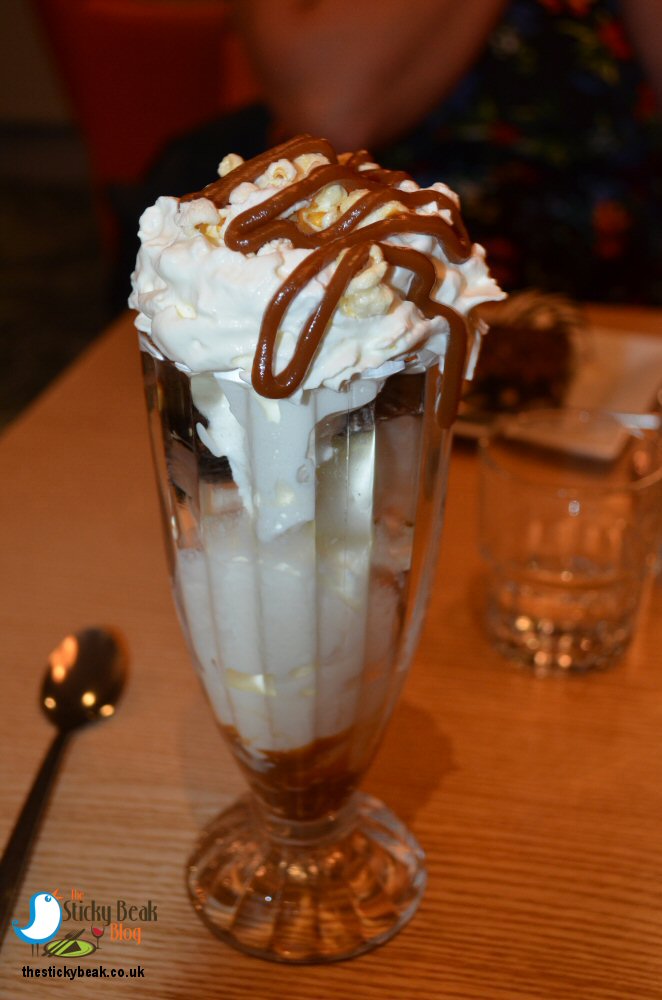 Both Sundaes are served in classic tall sundae glasses and the layers of my Cherry and Chocolate number looked beautiful (they tasted fantastic too) and a generous swirl of cream decorated their tops. Crunchy Popcorn gave a fab textural element to The Boy Wonders' dessert; he loved the lashings of Salted Caramel sauce that ran through the entire dish. Good sized chunks of Chocolate Brownie were in abundance in both Sundaes too, so the Cookhouse and Pub team don't skimp on the sweet treats they offer :)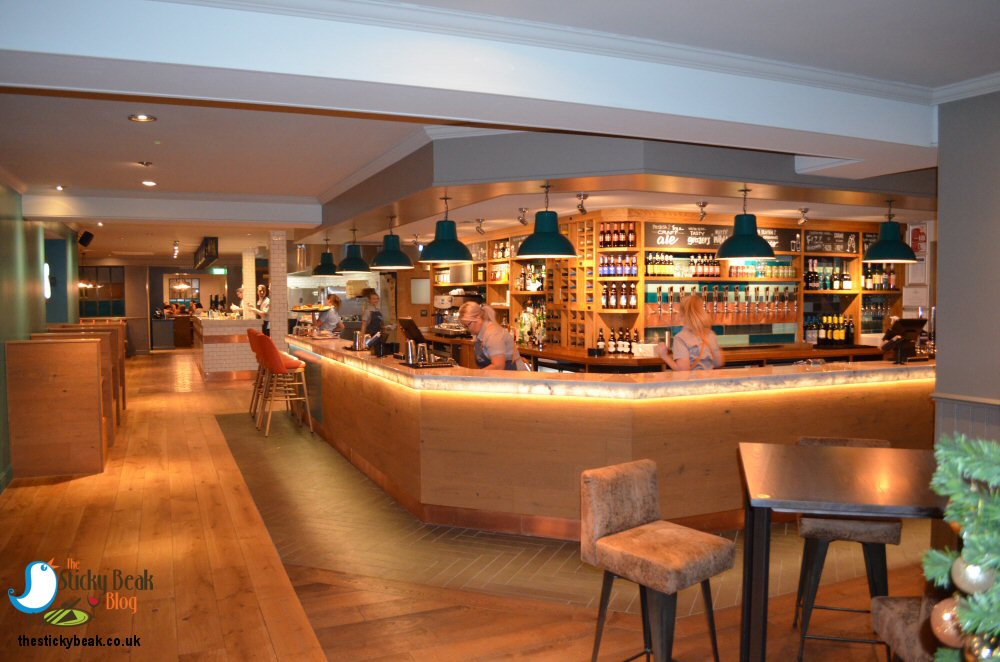 The usual round of coffees wrapped the evening up, and what a pleasant evening it had been. You have to remember that the Cookhouse and Pub is a "chain pub" venue, so don't expect haute cuisine and silver service when you go. What the Cookhouse and Pub will give you though, if our experience is anything to go by, is great value for money , lovely food, friendly service, and welcoming surroundings that encourage family, sociable dining.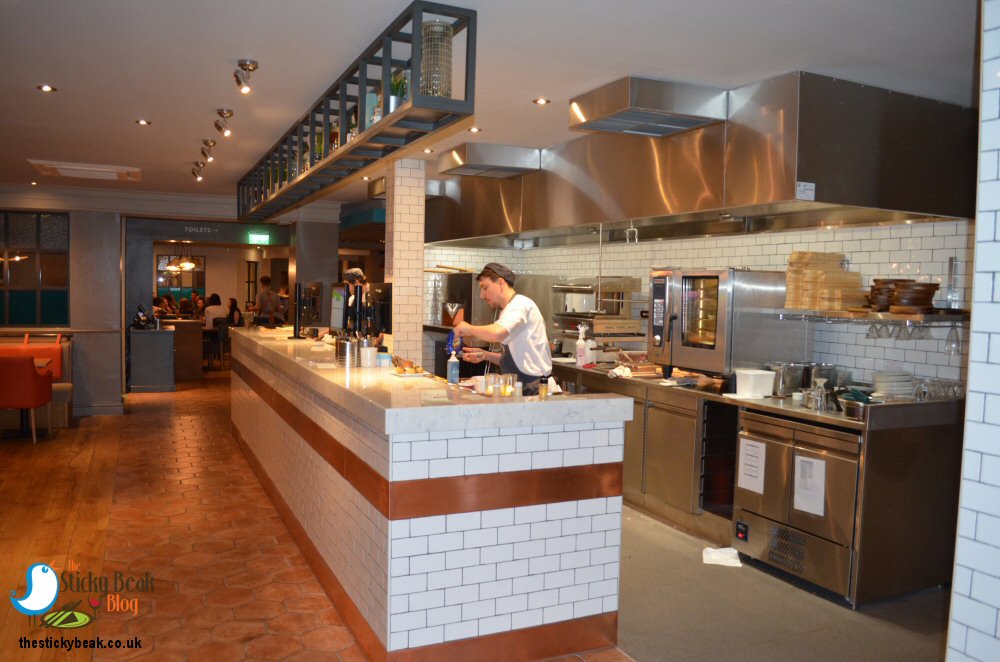 Thank you for inviting us to try your food and have a peek at the refurbishment - both elements were great.
Some form of incentive was provided to visit this venue
read more
Read Some Of Our Recent Reviews
---

Out For Dinner At The Bear Inn, Alderwasley If it's the full on, single track road, rural Derbyshire experience that gets your motor running, then the journey to The Bear Inn at Alderwasley will have you in joyous raptures. For those of you who are Read The Article

---

Lunch At The Recently Opened Chatsworth Kitchen At Peak Village, Rowsley Everyone who knows me, knows I love Chatsworth (always have, always will) so when the invitation to sample lunch at the newly opened Chatsworth Kitchen Read The Article

---

A Visit To Vietnamese Street Kitchen, Resorts World, Birmingham Way back in the day (pre-covid) Fledge had bought me and The Man Bird tickets to see Mrs Browns Boys live and finally, after a couple of false start reschedules, the day of Read The Article

---

Sunday Lunch, A Museum Tour & Painting A Piece Of Denby At Denby Pottery Village It wasn't long ago that His Nibs and I visited the Denby Pottery Village to sample the Afternoon Tea at Bourne's Coffee Shop and Bistro (it was superb Read The Article

---

Bottomless Brunch At Turtle Bay In Derby The timing of the invitation from the Turtle Bay team in Derby to go and sample their Bottomless Brunch couldn't have been better; not only was it going to be The Man Birds' birthday a couple of days later Read The Article

---

Afternoon Tea At Santo's Higham Farm Hotel & Restaurant Aaaaaarggggh, don't you love your children??!! A while back, His Nibs had spotted a great deal on Groupon (you know what a bargain hound he is!) and thought it would be Read The Article

---

Sunday Lunch At The Countryman Pub & Dining, Kirkby-in-Ashfield We finally got to visit a venue thats been on our radar for quite a while, The Countryman Pub and Dining in Kirkby-In-Ashfield! A few weeks ago we tried to book a table for dinner Read The Article

---

Dinner At The Divan Turkish Restaurant In Chesterfield Chesterfield was welcoming us back again for our latest review visit; this time to the newly opened Turkish restaurant, The Divan, on Lordsmill Street. Owner Tuncay (along with Read The Article

---

Breakfast At Marsh Green Farm Shop & Cafe, Kelstedge Ah, you've gotta love a Bank Holiday curve-ball, haven't you? His Nibs and I headed over to Mummy Birds' gaff with the intention of having a leisurely couple of hours at the Sunday Read The Article

---

Afternoon Tea at Bourne's Coffee Shop and Bistro, Denby Pottery Village You all know that The Man Bird and I do like an Afternoon Tea; I mean, who doesn't?! Just a few miles down the road from the nest is Denby, home to the world-renowned Read The Article

---