Dinner At PizzaStorm In Nottingham
---
Published On Wednesday 13 Dec 2017 by Sticky Beak
See Recent Dining Out Reviews | See All Recent Reviews


It's been a busy old week for The Man Bird and I, 'cos Christmas is a-coming and there's still so much to do! Luckily, one thing we didn't have to do is cook as Pizza Storm in Nottingham (formerly Inferno Pizza) kindly invited us along to sample their Pizzas and sides.
As we walked through the door a rather natty Christmas "tree" made from Pizza boxes caught our eye. Perhaps THE most enthusiastic staff member I've ever met, came across to greet us; he asked if we'd been to Pizza Storm before (we hadn't) and proceeded to tell us all about the ethos of the company as he took us over to a lovely open booth-style table. Yellow, Blue, and steel Grey are the palate of colours used, then industrial style light fittings, chairs and light wood tables make their contribution to the decor.
Pizza Storm has a fantastic modern, funky feel to it and the upbeat, positive music playing just adds to this vibe. Owner of the venue, Paul, described Pizza Storm as "Fast Casual" in terms of dining and I agree whole-heartedly. You get the convenience and speed of a fast food joint (a margarita pizza takes only 3 minutes to cook!), but the bringing of the food to your table and standard of service is more akin to traditional restaurants.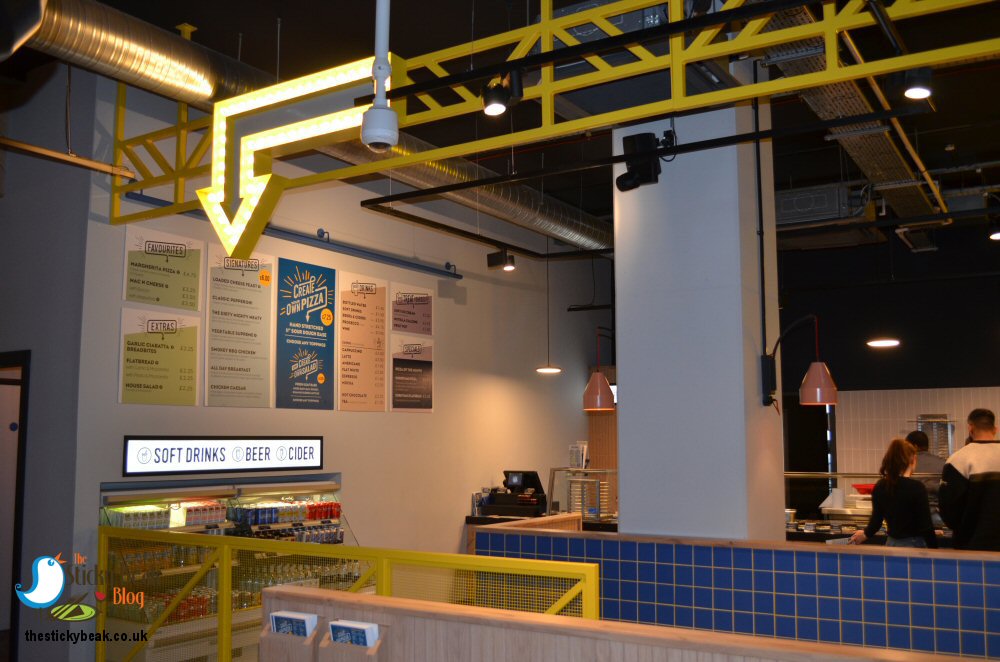 Sometimes when you go to a new place it can all seem a bit over-whelming and there's a certain "fear factor" that stops us trying new venues and foods; luckily the Pizza Storm team are ahead of the game here and if it's your first time with them they accompany you through the ordering process. This "hand holding" was very much appreciated by His Nibs and me as we approached the chilled drinks cabinet and selected a can of Estrella for him and a can of Rekorderlig Cider for me, and then it was up to the till/order point to select our Pizzas.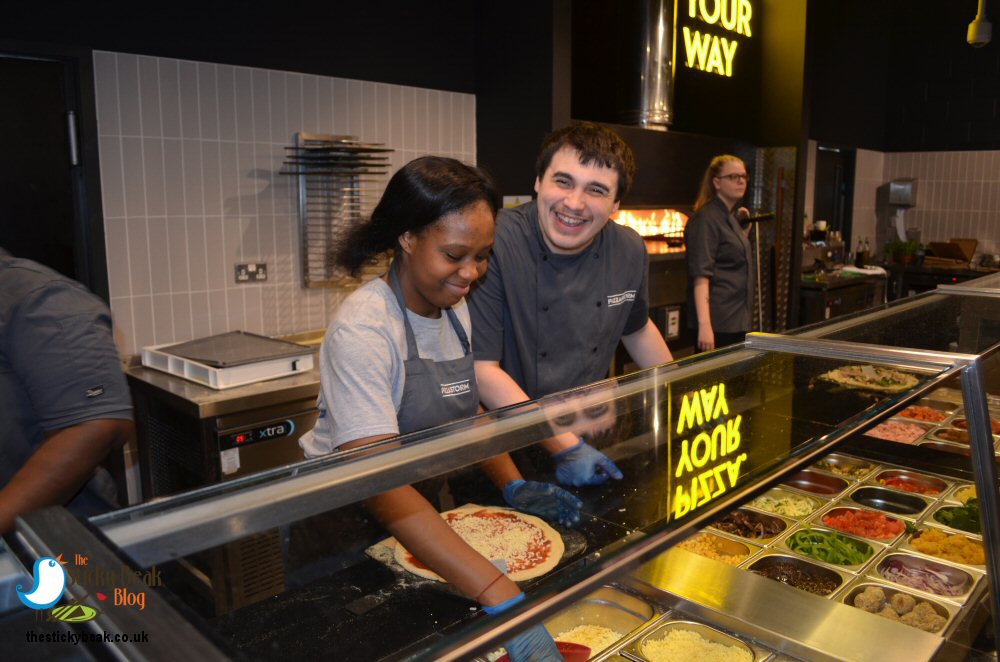 I chose to have one of Pizza Storms "signature" pizzas, the yummy sounding Chicken Caesar; this beauty has a white sauce base, Mozzarella, Regato, Chargrilled Chicken, baby Spinach, Red Onion, Rocket, and Caesar dressing. The Boy Wonder was feeling adventurous so he created his own 11" hand-stretched sourdough based Pizza. He chose a spicy tomato sauce base, then added Mozzarella and Mozzarella balls, Red Jalapeno slices, Red Onion, Green Pepper slices; on top of this he added the meat components, Peri-Peri Chicken, Chorizo, and Bacon.


As well as create your own Pizzas and Salads there is an amazing choice of sides on offer at Pizza Storm; house salad, Mac 'n' Cheese (with Bacon or Jalapenos), Garlic Ciabatta bread bites, and flatbreads topped with either Garlic and Mozzarella or Pesto and Mozzarella. Shift manager Tatiana is definitely a "feeder"; we'd ordered a Pesto and Mozzarella flatbread and Mac 'n' Cheese with Jalapenos as sides to go with our pizzas, but Tatiana also brought out a portion of Mac 'n' Cheese with Bacon and Garlic Ciabatta bread bites for us!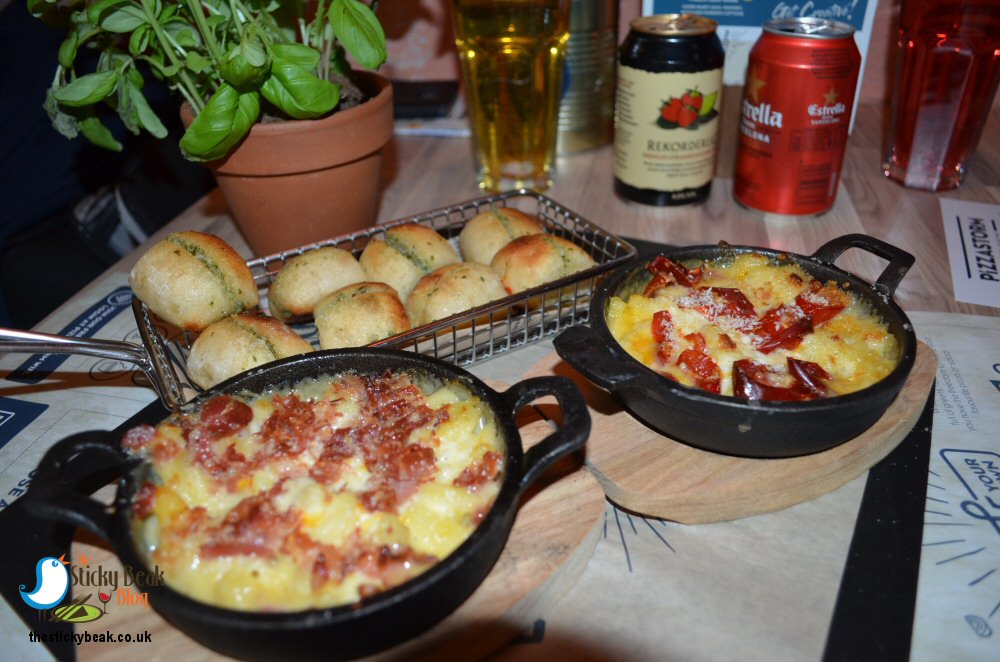 All the food looked and smelled superb, was piping hot, and was nicely presented too. As we took our first bites of Pizza our faces lit up with undisguised joy. No word of a lie, I think it's the nicest Pizza we've had (although there are a couple of close rivals); the base was thin and crisp, the toppings were incredibly flavoursome - which brings me to another point, quality.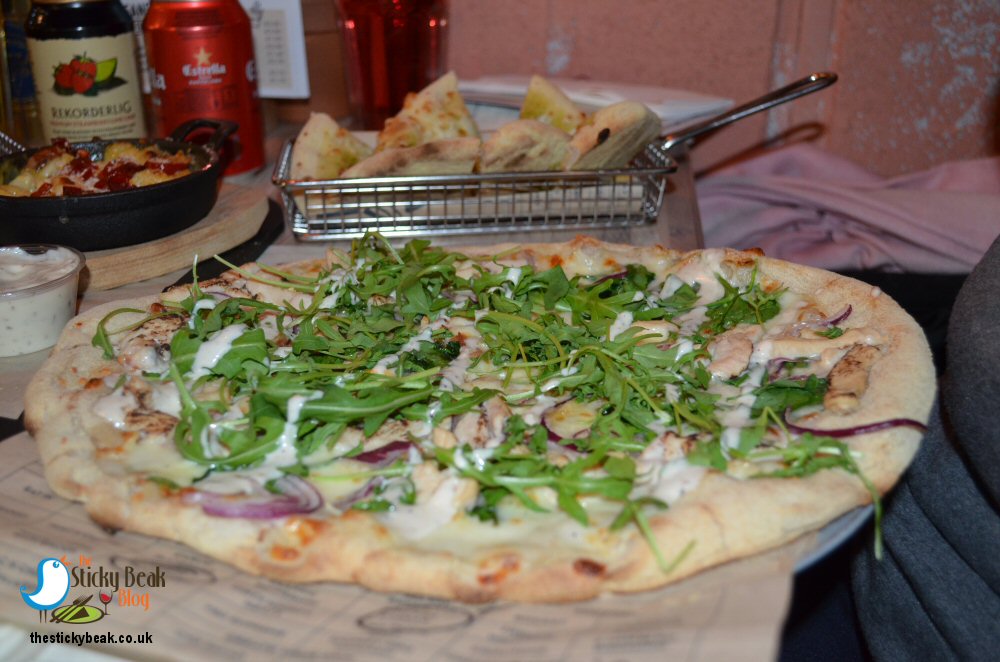 You can offer all the toppings you like, but if they aren't up to much then the end result won't be either. Luckily Paul, and restaurant manager Marta, are both passionate about the quality of ingredients used; in fact, one of the things that have changed between Inferno and Pizza Storm is the range of toppings. Die-hard Inferno customers may have spotted that the range has been condensed but the result is much higher quality of the ingredients left.


The bowls of Mac 'n' Cheese were equally delicious. We both loved the classic combo of Cheese and Bacon, and it worked really well thanks to the balance of Bacon added. Surprisingly, given the kick of the Red Jalapenos, the Mac 'n' Cheese with Jalapenos didn't have us rushing for the nearest water hydrant; make no mistake though, their heat definitely made its presence known!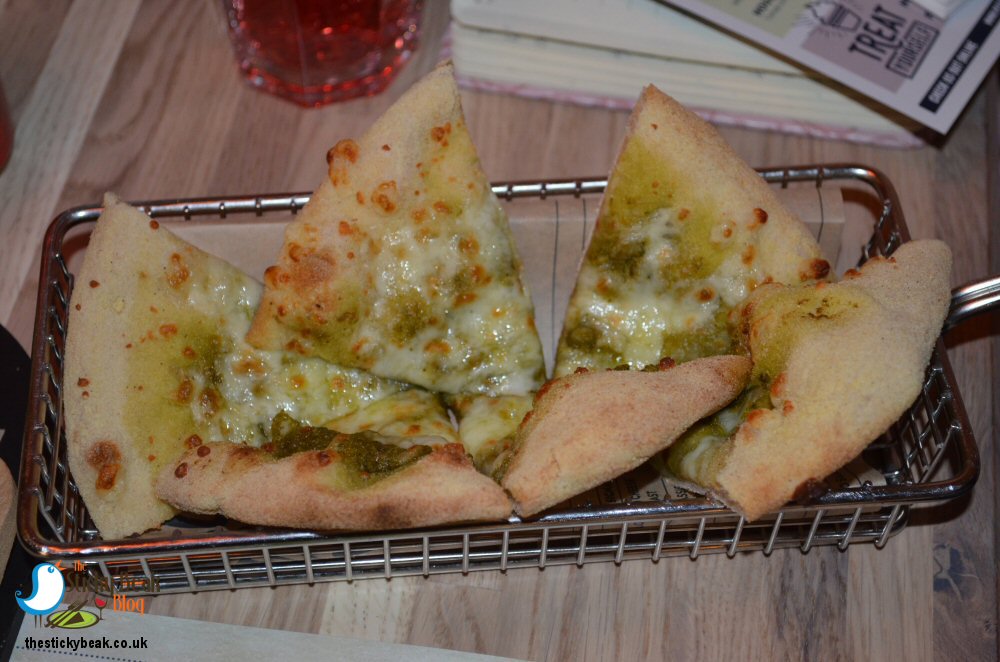 Marta brought over a pot of creamy Garlic and Herb Mayo, insisting we try it with the Ciabatta bread bites. This lady knows her stuff – it was a match made in heavenJ I could've eaten a bucket-load of it, and even dunked my pizza crust and the Pesto flatbread in to its creamy moreishness! Uber Eats and Deliveroo people were constantly in and out of Pizza Storm collecting take-out orders, and there is a nifty takeaway waiting area for those that pick up in person.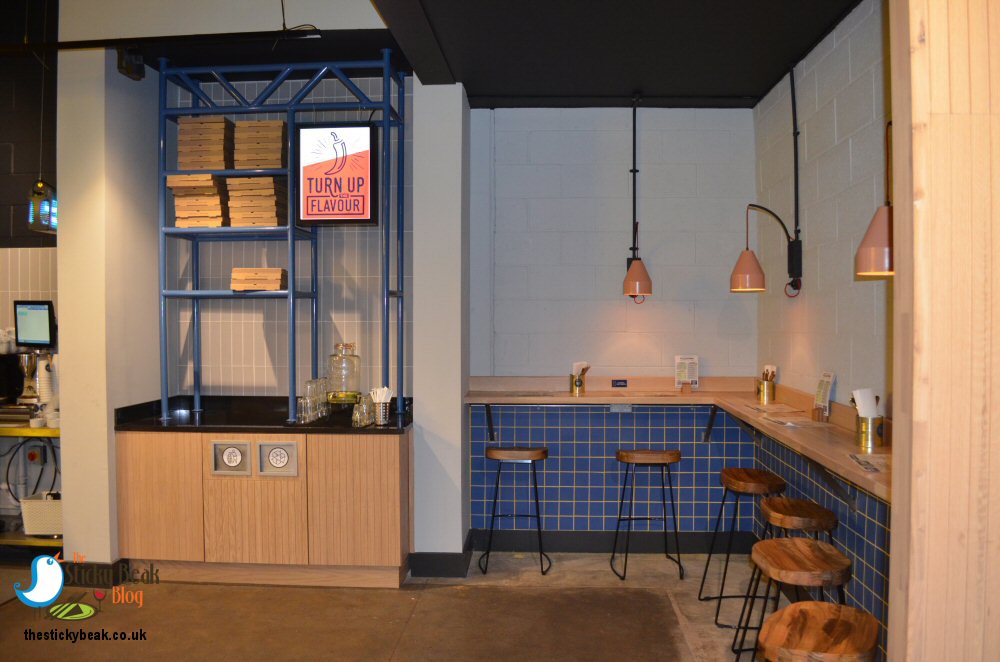 One thing that really surprised The Man Bird and I was the price of the food and drink at Pizza Storm, especially given its city centre location. Signature Pizzas are all £6, bread and salad sides are £2.25, plain Mac 'n' Cheese is £3.25 (only an extra 25p to add Bacon or Jalapenos); create your own Pizzas and Salads are priced at £7.25 and £4.95 respectively. Drinks are very reasonably priced too; softs (hot and cold) range between £1.45 - £2.75, and alcohol is available from £2.95. Not only does this make dining at Pizza Storm purse-friendly for families, it also opens the experience up to pre-work Teens as the price-point is very accessible to them.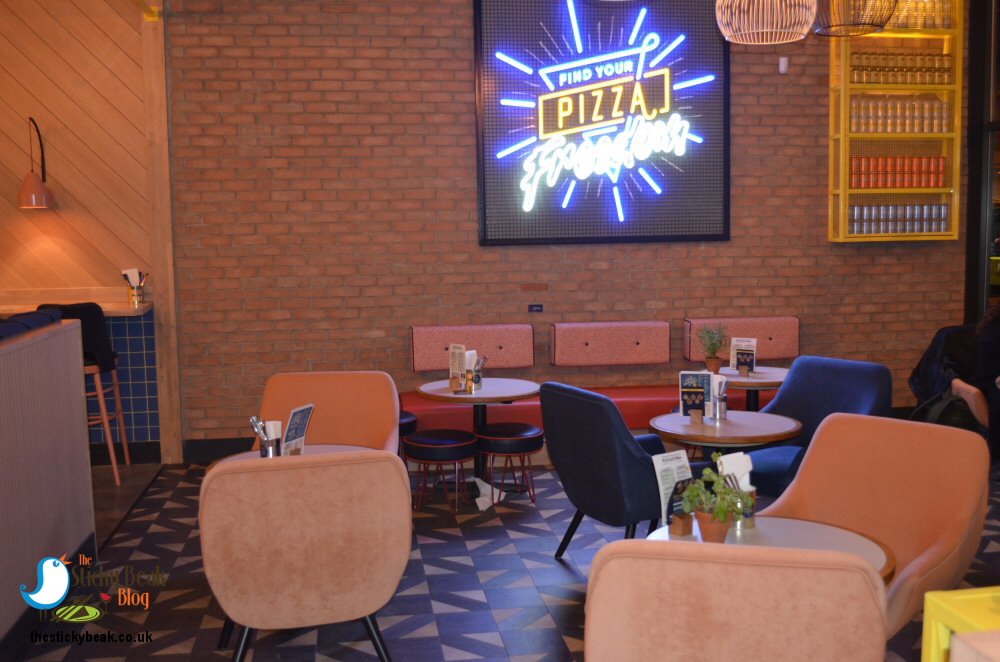 There was a real buzz about the premises and certainly no shortage of folk coming through the doors all evening, providing lots of people watching opportunities for me! Amid the conversation, His Nibs and I had been steadily chowing away on the sublime food and all that remained was a slice of flatbread and 3 Garlic Ciabatta bread bites!!
Tatiana came over to see if we wanted a sweet treat, and as we hesitated told us that she'd taken the liberty of putting a Nutella Calzone in the oven for us! I hate to waste food, and it would've been rude to say no..... *ahem*, that's my excuse and I'm sticking to it. Again, I bow to the superior wisdom of the Pizza Storm teams' product knowledge; Tatiana just knew the Nutella Calzone would go down a storm (pun intended) with us, and boy was she right!




It wasn't overly sweet thanks to the sour dough base, and it hadn't been smothered to within an inch of its life with Nutella either. As well as the popular choc and nut spread, there was a Mascarpone and icing sugar confection that lent an absolutely glorious creaminess to this morsel; just amazeballs is all I can say, especially since this only costs £2.95!! Bargain!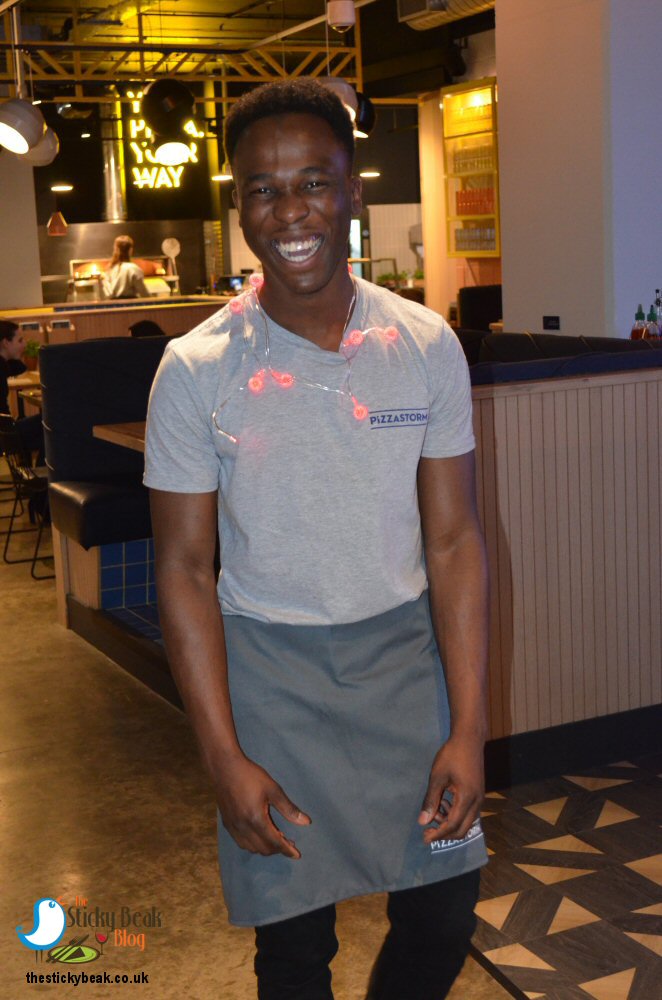 Every single crumb that passed our lips had clearly been made with passion and a commitment to quality, and I can recommend Pizza Storm without any hesitation whatsoever. Hot Wings definitely deserved. Oh and the best (non food) bit? We parked the jalopy at Trinity Square car park came out of the door and Pizza Storm was right next door on the left as we exited the car park building. A total fluke, but when Lady Luck shines, I smile and say "thank you" :)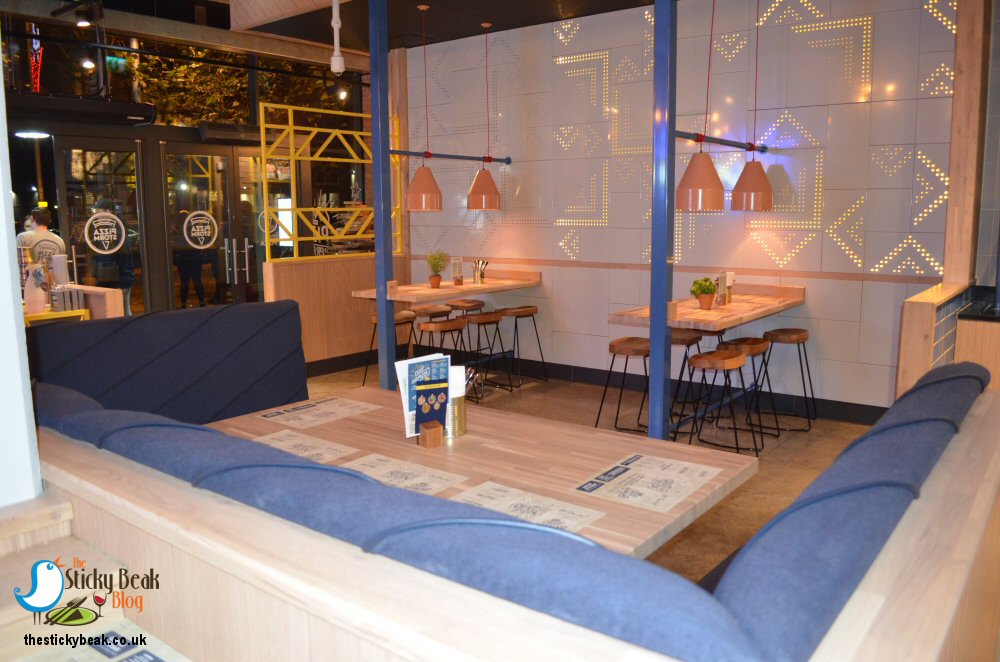 If you haven't been before, or if you visited in the Inferno days, it's well worth going and checking Pizza Storm out. And please try the Nutella Calzone – it is gorgeous!
Some form of incentive was provided to visit this venue
read more
Read Some Of Our Recent Reviews
---

Out For Dinner At The Bear Inn, Alderwasley If it's the full on, single track road, rural Derbyshire experience that gets your motor running, then the journey to The Bear Inn at Alderwasley will have you in joyous raptures. For those of you who are Read The Article

---

Lunch At The Recently Opened Chatsworth Kitchen At Peak Village, Rowsley Everyone who knows me, knows I love Chatsworth (always have, always will) so when the invitation to sample lunch at the newly opened Chatsworth Kitchen Read The Article

---

A Visit To Vietnamese Street Kitchen, Resorts World, Birmingham Way back in the day (pre-covid) Fledge had bought me and The Man Bird tickets to see Mrs Browns Boys live and finally, after a couple of false start reschedules, the day of Read The Article

---

Sunday Lunch, A Museum Tour & Painting A Piece Of Denby At Denby Pottery Village It wasn't long ago that His Nibs and I visited the Denby Pottery Village to sample the Afternoon Tea at Bourne's Coffee Shop and Bistro (it was superb Read The Article

---

Bottomless Brunch At Turtle Bay In Derby The timing of the invitation from the Turtle Bay team in Derby to go and sample their Bottomless Brunch couldn't have been better; not only was it going to be The Man Birds' birthday a couple of days later Read The Article

---

Afternoon Tea At Santo's Higham Farm Hotel & Restaurant Aaaaaarggggh, don't you love your children??!! A while back, His Nibs had spotted a great deal on Groupon (you know what a bargain hound he is!) and thought it would be Read The Article

---

Sunday Lunch At The Countryman Pub & Dining, Kirkby-in-Ashfield We finally got to visit a venue thats been on our radar for quite a while, The Countryman Pub and Dining in Kirkby-In-Ashfield! A few weeks ago we tried to book a table for dinner Read The Article

---

Dinner At The Divan Turkish Restaurant In Chesterfield Chesterfield was welcoming us back again for our latest review visit; this time to the newly opened Turkish restaurant, The Divan, on Lordsmill Street. Owner Tuncay (along with Read The Article

---

Breakfast At Marsh Green Farm Shop & Cafe, Kelstedge Ah, you've gotta love a Bank Holiday curve-ball, haven't you? His Nibs and I headed over to Mummy Birds' gaff with the intention of having a leisurely couple of hours at the Sunday Read The Article

---

Afternoon Tea at Bourne's Coffee Shop and Bistro, Denby Pottery Village You all know that The Man Bird and I do like an Afternoon Tea; I mean, who doesn't?! Just a few miles down the road from the nest is Denby, home to the world-renowned Read The Article

---