Tapas Night At Lawries Bistro & Coffee House, Dronfield
---
Published On Thursday 9 Nov 2017 by Sticky Beak
See Recent Dining Out Reviews | See All Recent Reviews


They always say that good things come in small packages, and nowhere is this truer than at Lawries Bistro and Coffee House in Dronfield; the premises themselves seat about 20 people at one time. Owner Chris Lawrie has kept the space uncluttered though, so you don't feel hemmed in and as The Man Bird and I walked through the door it has a nice, bright, and airy feel to the venue. A couple of small steps give the room some visual interest as you then look into the kitchen's pass, where chef was busy at work preparing dishes for the Tapas Night (every Friday from 5.30pm with last orders at 9pm).
Chris is himself a well versed chef with Michelin level experience, but he has recently taken on another Chef in the kitchen which will allow him some time off in the week! Most of the time the food at Lawries is informal and relaxed, but once a month there is a supper club (on the last Saturday of the month) where Chris dons his "fine dining" pinny to produce a 5 course tasting menu for £29.95pp.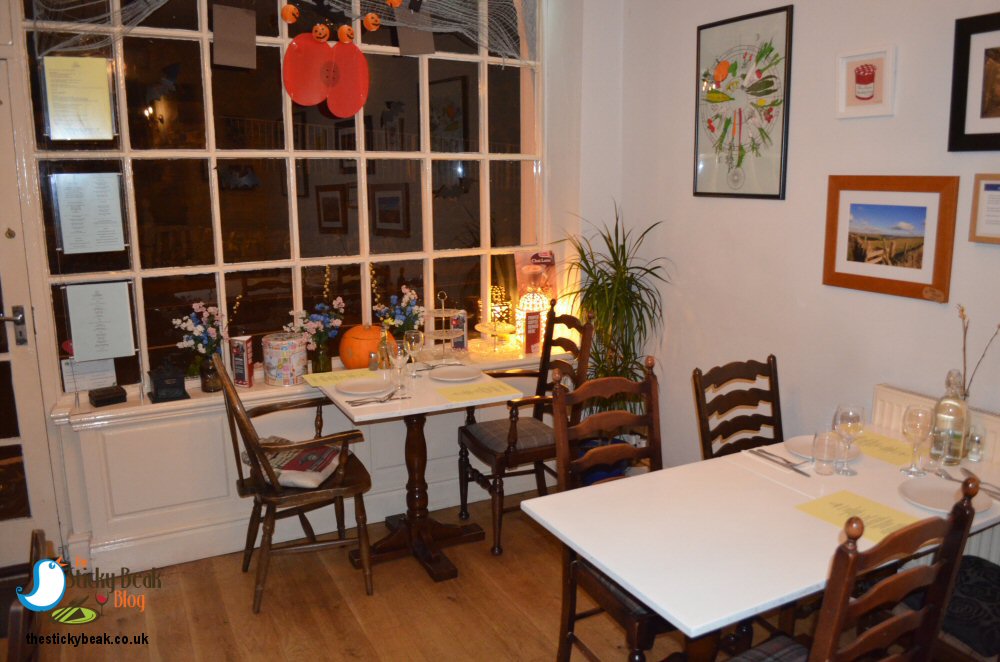 Lawries is an unlicensed Bistro so you are free to bring your own favourite tipple to enjoy with your food; His Nibs and I took a bottle of wine to savour with our Tapas. This popular Friday night theme is soon to be expanded, and will run from Wednesday – Saturday very shortly; large plates will be available, as well as small plates and Tapas. The Tapas menu dishes cost from £3 - £7 individually, or there is a set menu priced at £29.95 per couple which is what we opted to try.
Chris kicked things off for us with a platter of warmed Pitta slices with bowls of homemade Tomato Salsa, Tzatziki, and Hummus to dip them into. I loved the Hummus thanks to its wonderful garlic hit and fab creamy texture that really got my taste buds dancing. Fresh Tomatoes had been de-skinned and their flesh yielded softly in the mouth along with the fresh herbs and hint of garlic that Chris used in his Salsa. Creamy natural Greek yoghurt was paired with Cucumber strips and fresh herbs to make a delicious Tzatziki that was clean and fresh on the palate. All the dips were light and fresh in the mouth and this was a lovely first taste of the Tapas to come.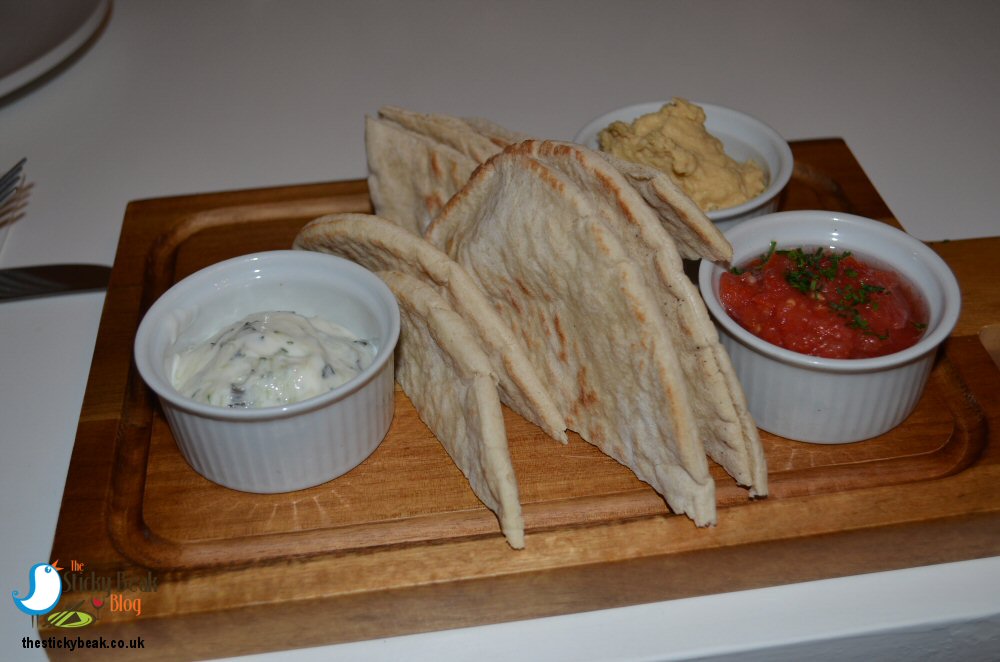 It wasn't long before we had plates of colourful, fragrant Tapas dishes filling our table and we greedily tucked in. The fabulously kicking Chilli and Garlic King Prawns came with several slices of Ciabatta so that every last bit of the warming oil could be scooped up and savoured, as well as the pile of juicy prawns. Due to The Boy Wonder not liking seafood I got this absolute beauty all to myself - aaaah, happy days :)


The Spanish beef stew with its thick, tomato based sauce, Black Olives and Red Peppers was another crowd pleaser. Sweet roasted pepper slices partnered the deep fragrant olives really nicely and the chunks of beef were huge; I think we must've eaten an entire cow between us in this dish! A lovely wodge of creamy mashed potato sat in the dish with the stew and it just melted on the tongue.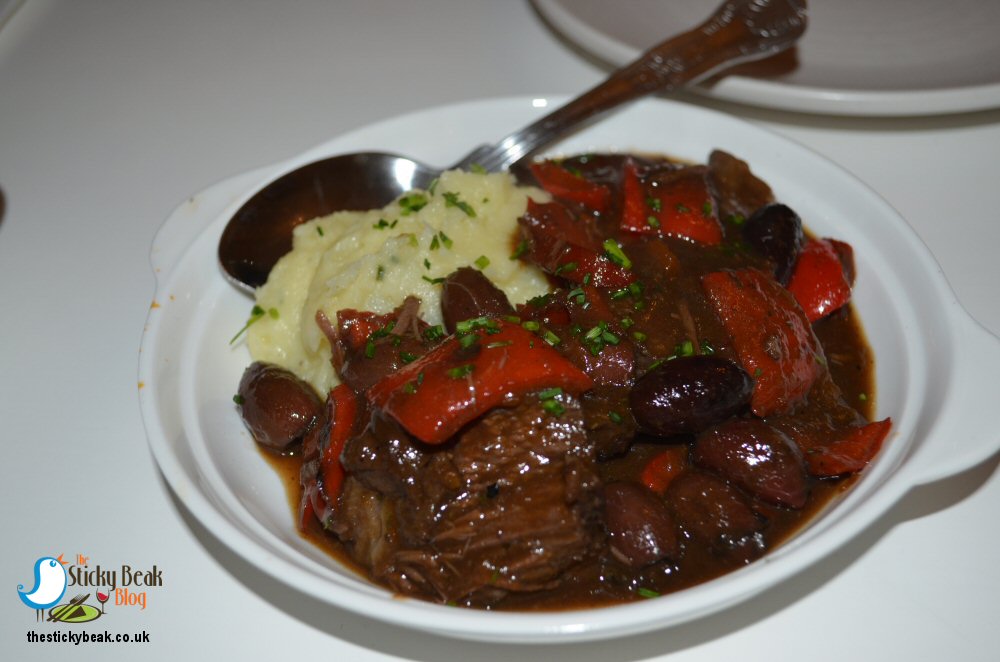 Thick slices of charred Cauliflower were the next dish we tucked into and this came with a drizzle of Truffle oil, a rich, silky cheese sauce and toasted Pumpkin seeds scattered on top. The Cauliflower was still nice and firm to the bite and I loved the wonderfully rich accent of the truffle oil; it lent a luxurious touch to the dish. A brilliant textural element was provided by the Pumpkin seeds with their crunch revealing a deep nuttiness in the mouth. A decent cheese sauce coats the mouth nicely as it is eaten and the one Chris does at Lawries hit that sweet spot right in the bulls' eye. A discernible tang came from the cheese which pleased me no end - I hate insipid cheese anyway, and definitely when it's in a sauce.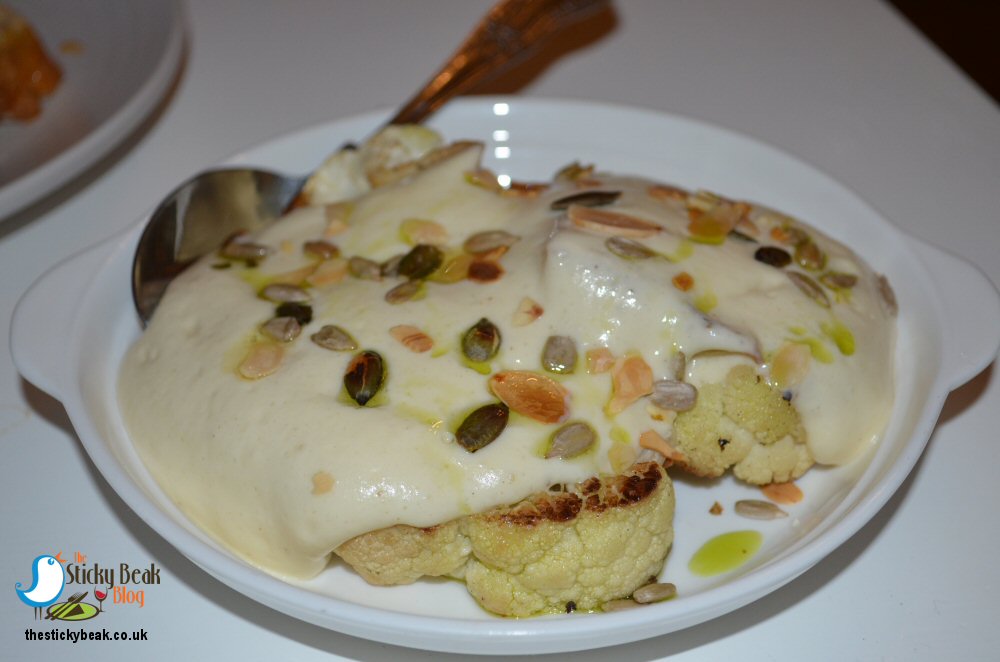 It is simply unthinkable that any Tapas diner doesn't indulge in a bowl of Patatas Bravas, so it was with much enthusiasm that His Nibs and I dug into the one served by the Chef at Lawries. The mini roast potatoes come with a spicy sauce, then topped with thick ribbons of Aioli, and they were still nice and just firm to the bite. Now I absolutely love an Aioli that could stop Dracula in his tracks, so the one Chris produces was complete heaven to me. For those dining as a romantic couple you definitely need to eat this together!


Spicy Pork belly with Korean sauce was the final dish on the set Tapas menu that passed our greedy lips and what a corker it was. At first glance we thought "oh, there's only one rib on the plate", but thank goodness it was dancing solo - it was extremely meaty. The pork belly was wonderfully tender and had a delicate creamy taste to it that provided the perfect opportunity for the punchy Korean sauce to shine.

The spicy glaze was a superbly sticky number that had to be licked from the fingers and had a delicious knack of lingering on the palate so that its heat had chance to reveal itself fully after a couple of seconds. A scattering of Sesame seeds gave a pop of nutty texture to the dish and fresh slices of Red Chilli were also served for those that revel in super-spiciness (The Man Bird on this particular evening).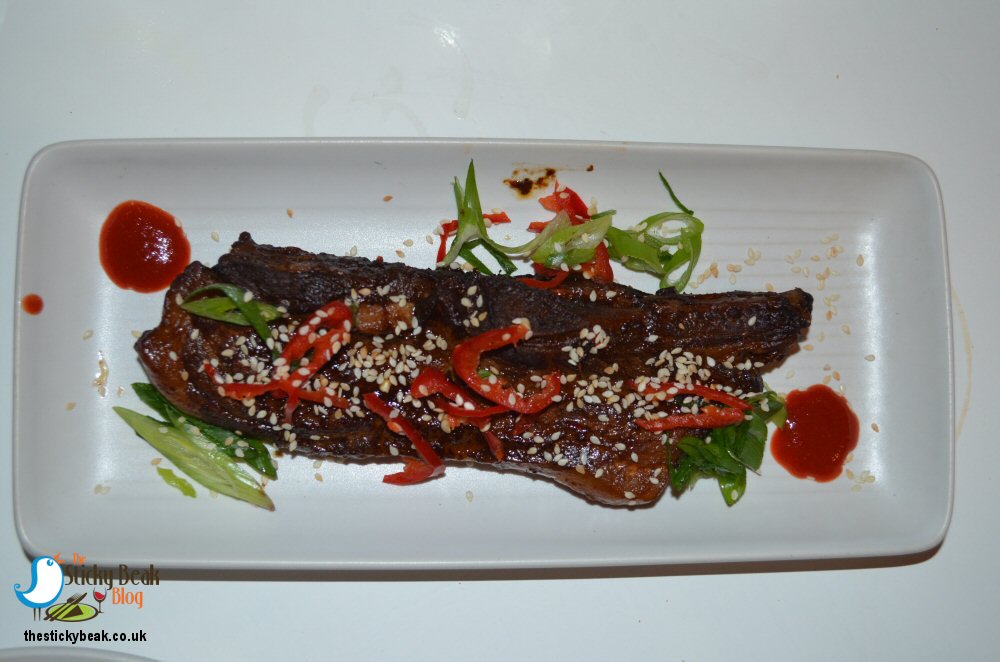 Now, I want to make it abundantly clear that our tummies were more than satisfied at this point and we had begun to think about pudding. Chris decided to come over a have a quick chat at this point, and in that way that Chefs have, he started to tell us about the other dishes on the Tapas menu that we hadn't had. I'm sure you don't need to imagine what happened; yep, my tummy rumbled in appreciation at the mention of Lamb Ragu, so Chris said that he'd cook that for us!

The ragu comes with a gentle tomato salsa sauce and pipe rigate pasta that holds on to the sauce very efficiently, making it nice and easy to savour all the components of this dish simultaneously. Personally, I could eat this by the bucket load; it was chock full of flavour, had a great heartiness to it, and epitomised good old comfort food to me. Perfect.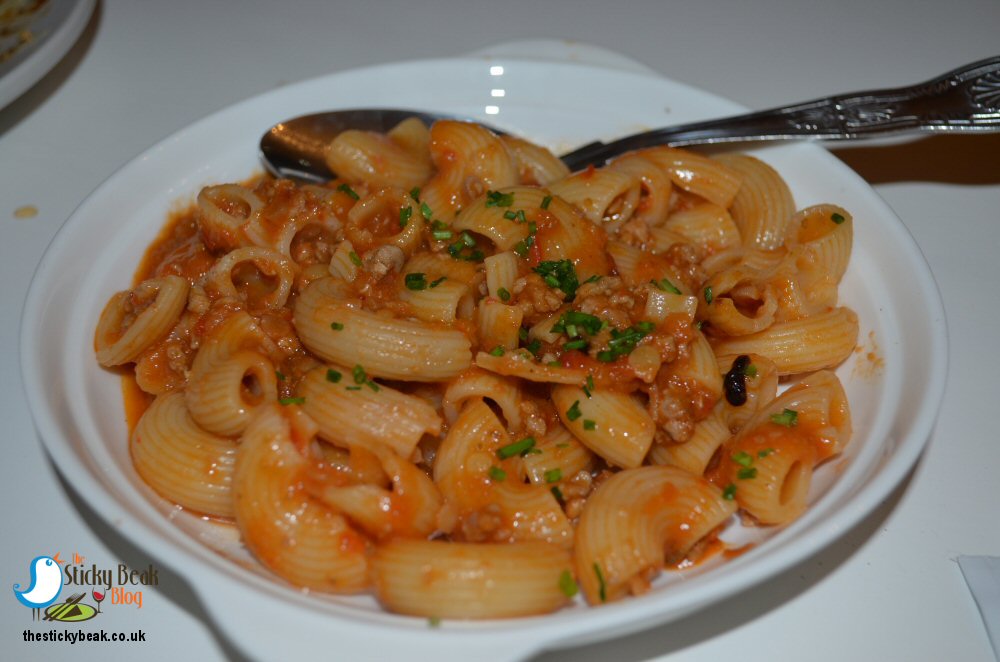 All the dishes on the set Tapas menu worked superbly together, taste and texture-wise; there was none that "jarred", so the array of dishes flowed seamlessly to provide a fantastic evening of gastronomic joy.
Our bellies were full after the set menu dishes (and even more so after the extra Lamb Ragu!), so value for money is very good in my opinion. At first glance you don't think you're going to be filled, but trust me, your appetite will be more than amply satiated. Due to its compact size it is definitely essential to book, otherwise there's a very strong chance you'll be disappointed if you just turn up.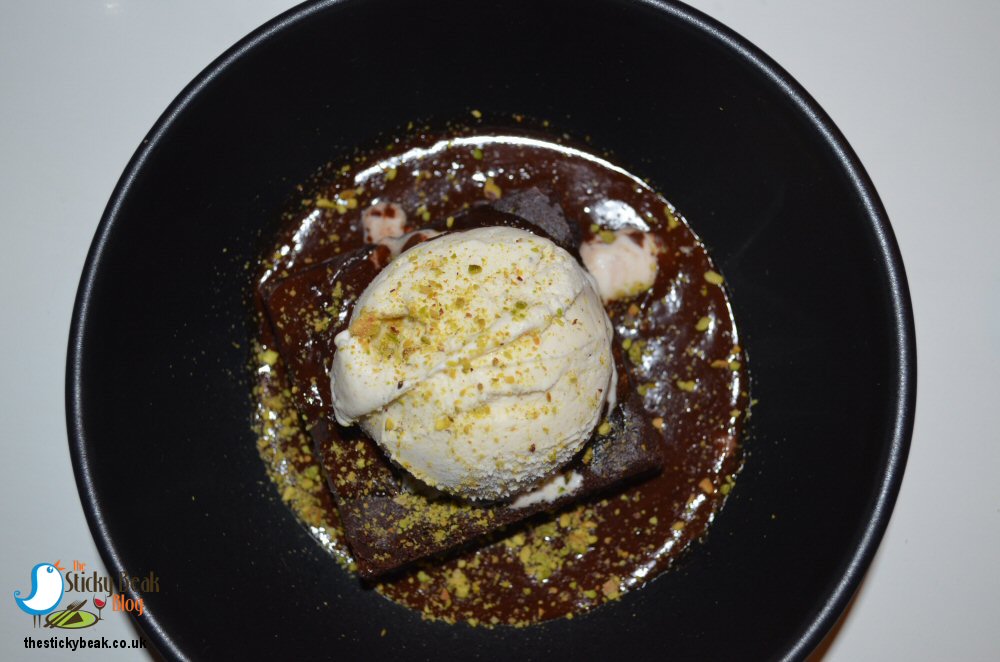 For dessert His Nibs had the double Chocolate Brownie with Vanilla cream and I had Blackberries with Cobnut crumble and Cobnut cream. For those not familiar, a Cobnut is basically a cultivated Hazelnut, rather than wild variety. To me, they always taste more robust than Hazelnuts; don't ask me why, it's more than likely psychosomatic! Anyhow, the important thing you need to know is that they partner the tart blackberry in this dish marvellously well.

As well as giving crunch to the softness of the fruit, the sweetness of the cobnut just assuages the tang of the Blackberry nicely, so that it doesn't make your face do that gurning, twisty thing when it hits your taste buds. Or is it just me that that happens to? The Cobnut cream was gentler in character than the crushed nut in the crumble element of the pud, and its rounded notes shone through more. Lovely toasted oats worked nicely with the Cobnut pieces in the crumble, and I thoroughly enjoyed my dessert.


The Boy Wonder is a fully paid up member of the chocoholics' society, but even he was blown away by the sheer brilliance of Chris Lawries' double choc Brownie. "Wowsers" was his initial reaction. Despite being possibly the chocolateiest thing on the planet, this brownie managed to avoid the trap of being stodgy. Seriously, go figure?! It was accompanied by an equally fabulous chocolate sauce and a lovely smooth Vanilla Ice Cream. The Man sat back in his chair with a large sigh of contentment after his last mouthful and just grinned at me. I think he was happy!
We visited Lawries in the evening when it wears its Bistro cape(Weds-Saturday 6pm-10pm, last orders 9pm) but it opens in the daytime too as a Coffee house, serving a variety of hot and cold dishes, Tuesday-Saturday, 8.30am-3pm. Breakfast is served every day and all through the day on Saturdays and Sundays. A selection of cakes and desserts is also available every day.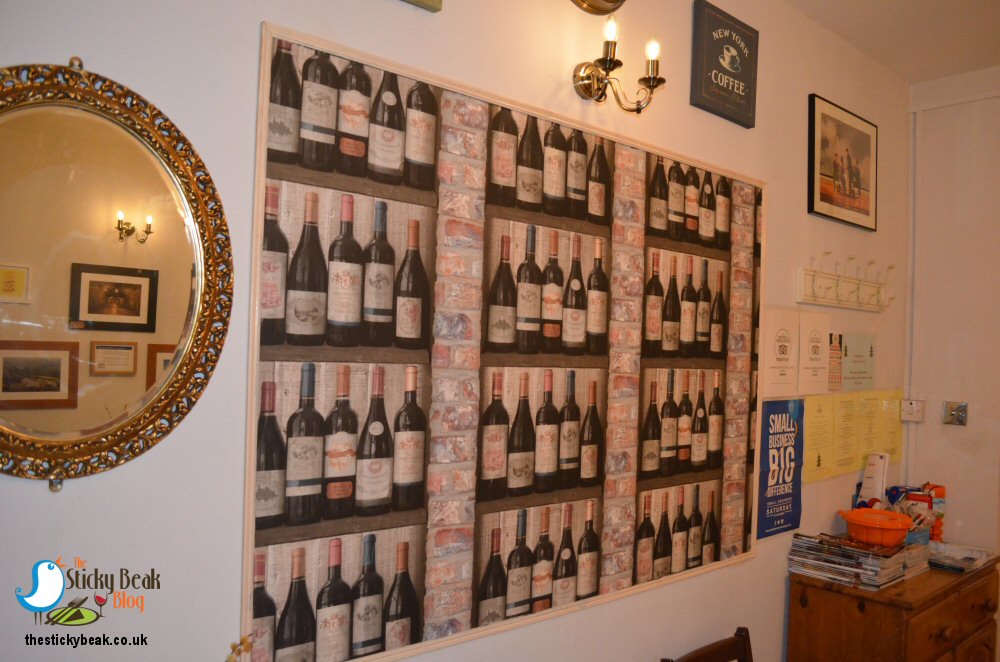 The Sunday roast is making a comeback at Lawries thanks to the new Chef coming on board; Chris used to love doing it, but found that he needed to have family time himself too, and it just wasn't possible to have it all. Lawries opens on Sundays 9.30am-3pm, making it ideal for Breakfast and lunch if you so desired (ok, that would be me!). It's easy to contact the team via the Lawries' website www.lawriesbistro.co.uk , or ring them on 01246 411803.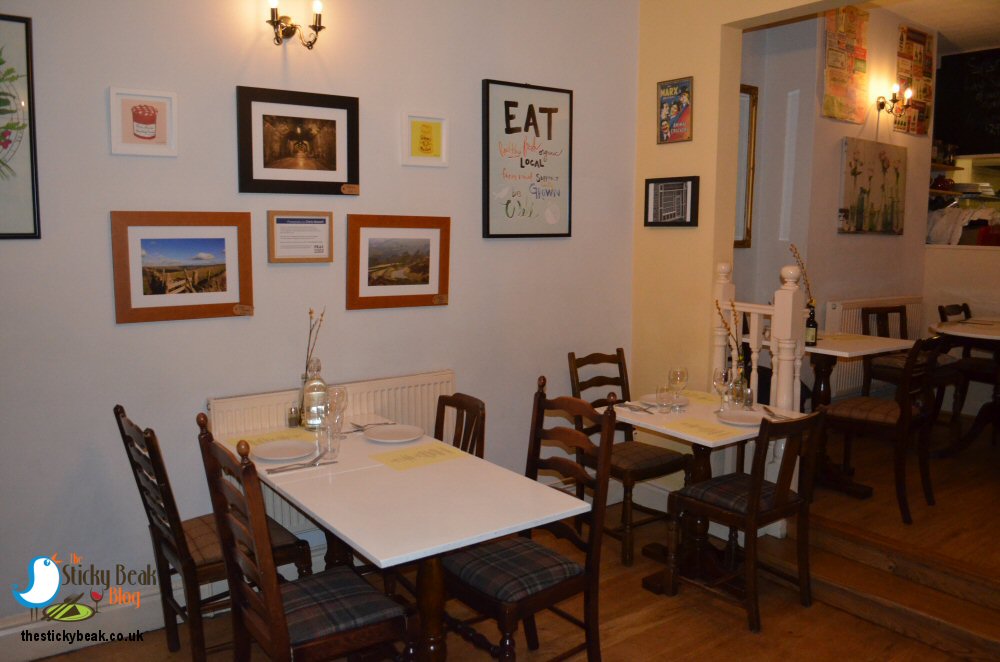 Christmas lunches are available in 2017 every Friday in December for £17.95pp and a Christmas 4 course Supper Club will run on the 2nd-, 9th-, 16th-, and 23rd of December 2017, priced at £29.95pp.If you're wondering what to do for New Years Eve then there is an 8 course tasting menu to get stuck into at £55pp.
Although Lawries doesn't have its own parking, due to being on a main road, just do what we did and park at Dronfield train station; it's only a couple of hundred yards walk away. There are also plenty of side roads to park on too :)
Hot Wings very well deserved by Chris Lawrie and his team, thank you for inviting us to experience your superb food, we had a wonderful time with you :)
Some form of incentive was provided to visit this venue
read more