The Bottomless Brunch At Revolucion De Cuba, Derby
---
Published On Sunday 24 Sep 2017 by Sticky Beak
See Recent Dining Out Reviews | See All Recent Reviews


I was born for weekends. It isn't a mere love affair with this leisurely paced 48 hour window; it is more of a total immersement in its unashamed languidity. I absolutely relish the time to do whatever I feel (normally eating, drinking, and shopping in varying ratios with The Man Bird faithfully in tow); I think it's the fact that the time is totally fluid and you can do whatever takes your fancy, without being bound by any corporate constraints.
One place that always seems to tap into this relaxed, unhurried vibe is Revolucion de Cuba; every single time His Nibs and I have been there time has seemed to stand still. I love the fact that the interior is slightly darker than outside, for some reason this in itself seems to relax me. Other than the huge lit up "Cuba" sign behind the bar and the screens showing Latino ladies dancing and laughing, there are no lurid, modern techno-things to concern yourself with. The decor is very neutral and laid back and although there are plenty of tables and chairs about, the vast space enables you to be very private.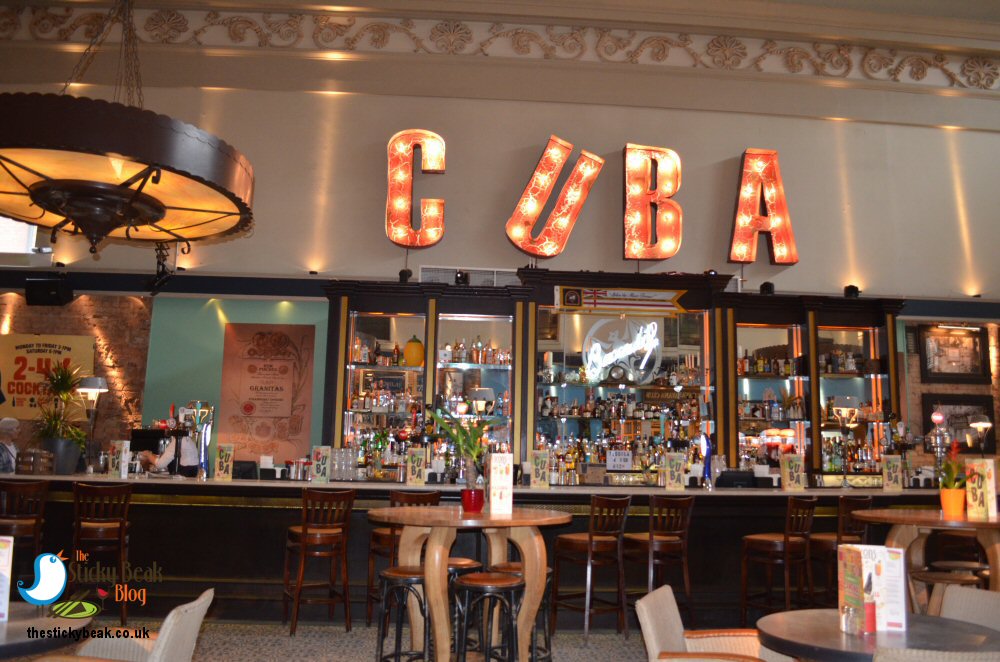 Some of the venues across the Revolucion de Cuba estate are launching a weekend only "Bottomless Brunch" for £20 per person. It is a pre-bookable only offer and for your money you get a two hour time slot in which to indulge in one of their brunch dishes and sip away to your hearts' content from a selection of drinks. Ah yes, the drinks; they deserve a separate mention. As well as Prosecco, you can slurp away at Bloody Marys, Classic Mojitos and pints of Mahou; for those that don't drink alcohol (or don't fancy drinking in the day) there's a choice of soft drinks, tea and Americano coffee to choose from.


It was thanks to the gorgeous Erin and her kind invitation that The Boy Wonder and I found ourselves sampling the delights of the Bottomless Brunch, along with several other tables of de Cuba diners. Having perched ourselves on a corner table that afforded us a great point from which to people watch we turned our attention to the dishes on offer for brunch. A very dapper young man named Michael came over to kick us off with frothy flutes of Prosecco, and due to his looks and charm he shall forever be "Magic Mike" in my head; calm yourselves ladies, not THAT kind of magic Mike!!!, the Prosecco kind of magic Mike :)
I decided to have the Huevos Rancheros which is a flour Tortilla topped with spiced Black Beans, Tomatoes and Mushroom, finished with a fried Egg and a hit of RDCs spicy Rum sauce, and served with crispy Patatas. His Nibs opted to have the scrummy sounding Brekkie Burrito; a flour Tortilla stuffed with Sausage, Chorizo, Egg, refried Beans, Jalapenos, and Cheese, all topped off with crispy Bacon.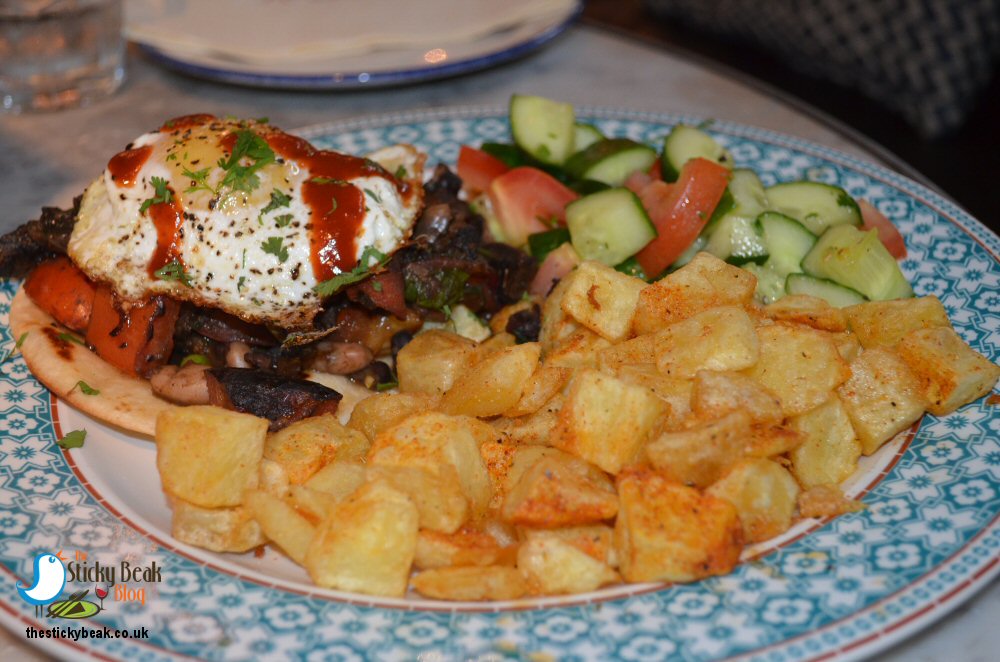 Whilst we were waiting for our plates of deliciousness we kicked back and got (even more) in the chill-zone with a classic Mojito expertly crafted by the mixologist behind the bar. Listening to the upbeat Latino music it was hard not to tap our feet along to the rhythm and imagine ourselves in Cuba.
A short while later Erin came over bearing two plates filled to bursting with fantastic smelling- and looking- food. The Man Birds Brekkie Burrito was a real plate-filler, and came with a very generous Tomato, Cucumber and Coriander salad. He eagerly cut into the thick burrito and it truly was jam-packed with filling; the Sausage was a good quality, meaty variety and stood up well next to the vibrant flavour of the Chorizo. Crispy bacon topped the burrito and it was also of a good quality so that even when crisped, the slices were still substantial to bite into. The cheese had melted nicely inside and coated the beans, egg, jalapenos and refried beans, so that each mouthful was one of those comforting, satisfying pleasures in life. His Nibs was very pleased with the temperature of the burrito too, it was lovely and hot.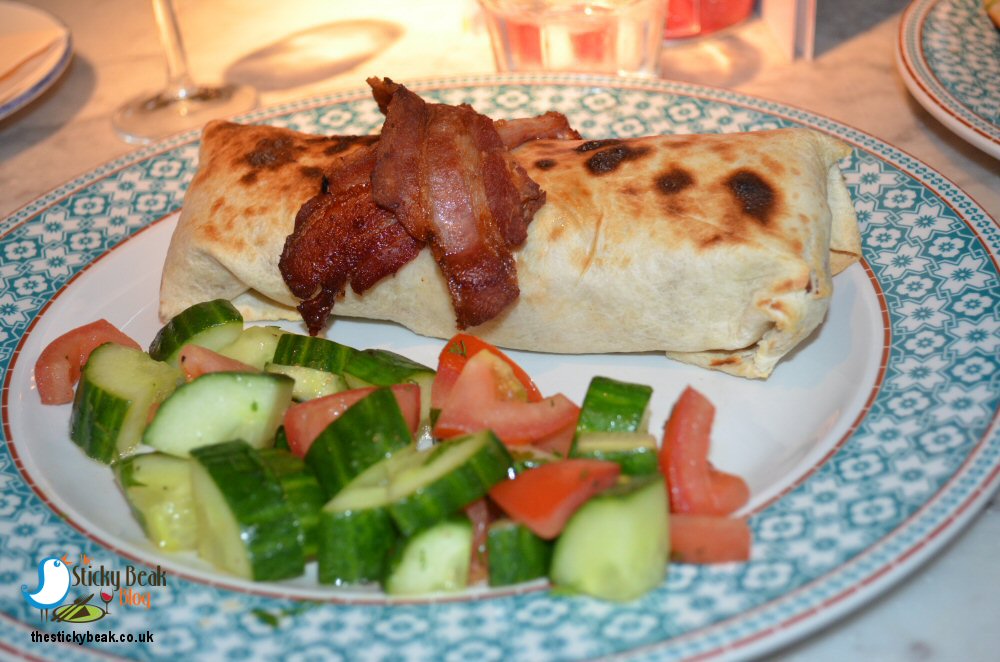 As with The Boy Wonders dish, mine came accompanied with a generous salad of Tomato, Cucumber and Coriander as well as the crispy Patatas (fried cubes of potato). The tortilla had been crisped up so that the edges were nice and crunchy and the centre was able to withstand the spicy bean mix without going completely soggy. I was pleased to discover that the mushrooms had been cut into thick slices so that they still felt substantial in my mouth as I bit into them, and the tomatoes were lovely and sweet in their softened state.
What really pleased me though, as well as the food being piping hot, was the fact that the dish was spicy but not at all in a tongue-tingling way, thanks to the judicious use of the spicy Rum sauce. The upshot was a dish full of flavour and character without any need to reach for the iced water that had been brought to our table by the dashing Michael. As I cut into my fried egg its deep yellow yolk spilled forth over the bean mix and added a lovely creamy element in the mouth, delicious.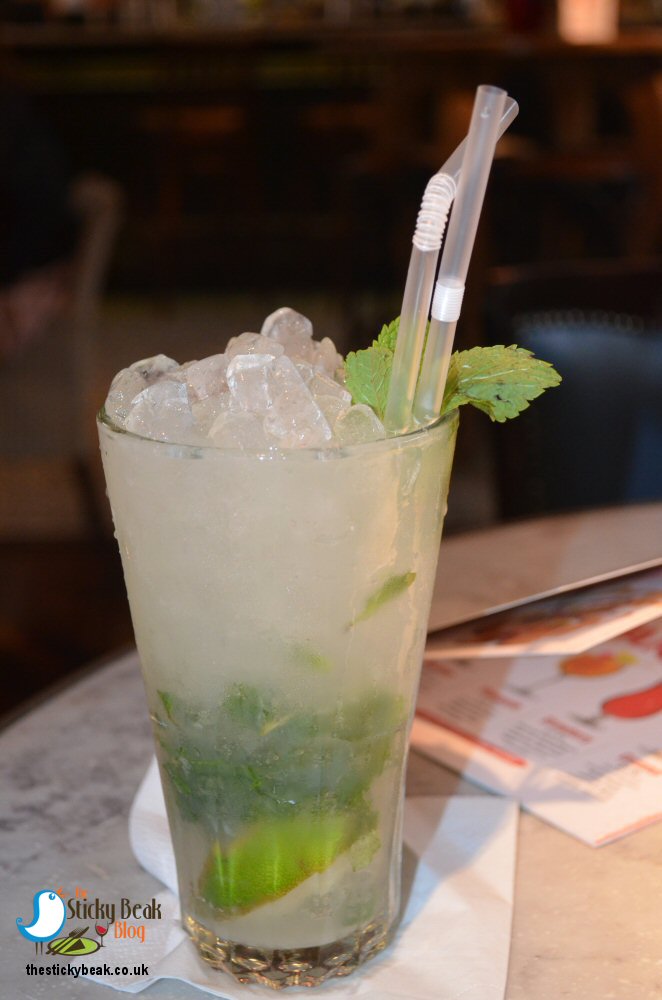 Whilst we'd been munching away at our brunch dishes Michael and Erin had kept us quietly topped up with bubbles and Mojitos as well as refreshing our carafe of iced water. It was nice just to chat to each other and reflect on the successful week, even though we'd been sat next to a bona-fide negative Nellie and her friend. As "just" a food blogger rather than the –obviously time worthy- food critics she dealt with in London (oooh, get you!), I was deemed too low-brow to converse with and her attention soon turned to the fact that she had to wait a whole minute (!) for the disabled toilet to be unlocked for her. I think she just didn't like us because we moved her crutch out of the way (back towards her, as it had obviously slipped) when we first sat at our table as we came in. LIFE IS TOO SHORT. Move on lady!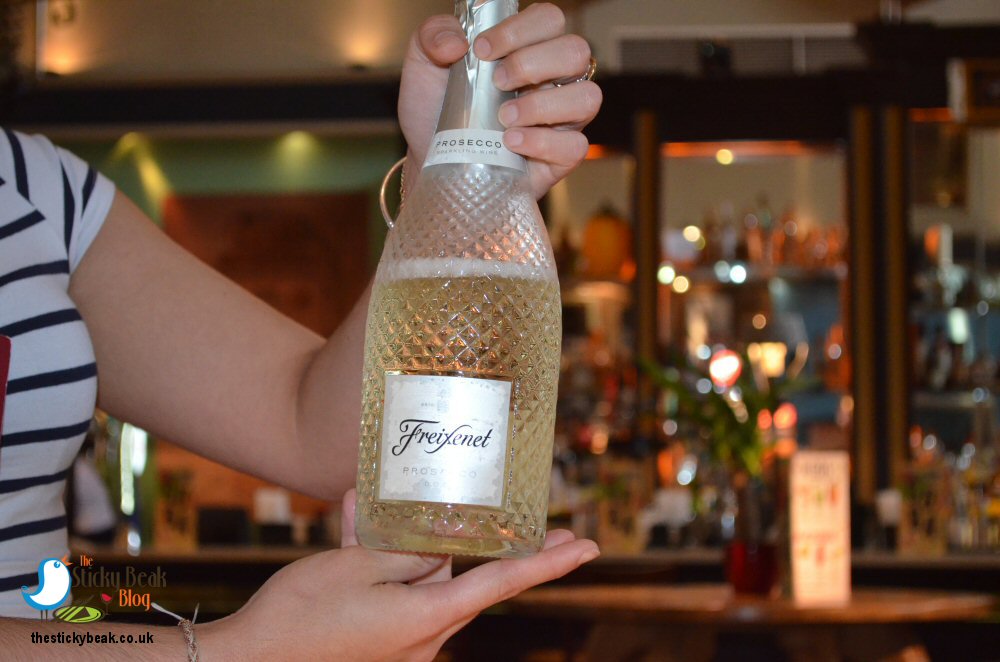 As the end of our time slot approached we ordered a couple of Americano coffees, and I had forgotten that RDC serve there beverages with THE most divine Chocolate Brownie squares. I did a little happy dance and gave a tiny squeal of delight; I know, I'm easily pleased :)


We always make a point of going and thanking our hosts for their hospitality if they're around and as we were thanking Erin, the Chef himself had come downstairs, so we took the time to thank him and asked him to pass on our regards to his kitchen team.
The food at Revolucion de Cuba is delicious anyway, so even if you can't do brunch it's well worth a visit. Remember that if you do want to do the Bottomless Brunch (and why wouldn't you?) that it is pre-bookings only, a deposit is required, and that the timeslots are at 11am, Noon, and 1pm on Saturdays and Sundays only. Hot Wings awarded again to this fantastic team, and once again thank you for your kind invitation, we had a fab time :)
Some form of incentive was provided to visit this venue
read more