Dinner At Stones Restaurant In Matlock
---
Published On Sunday 6 Aug 2017 by Sticky Beak
See Recent Dining Out Reviews | See All Recent Reviews


As the saying goes "Good things come to those who wait". We have been trying to arrange a visit to multi-award winning, and locally acclaimed, Stones restaurant in picturesque Matlock for some time. With being so busy with other commitments and our America / Canada holiday it had to be planned a while ahead, but thankfully it was worth it.
Driving into Matlock over the impressive stone bridge you get your first glimpse of Stones on your left hand side. The one drawback for Stones having such a phenomenal location on the riverbank in the centre of town is that they have no parking of their own; panic not, however, as there are several parking options close by (the one we chose only costs £1 between 6pm-8am).
I love the quirkiness of old buildings despite the fact that they often present challenges I would really rather avoid. Luckily I came well prepared for the steep steps that lead you down into the restaurant and wore flat ballet pumps rather than vertiginous heels. As you descend the steps you get a glimpse of the beautiful River Derwent; its waters were gushing by, playing a delightful summer symphony with their unbridled energy.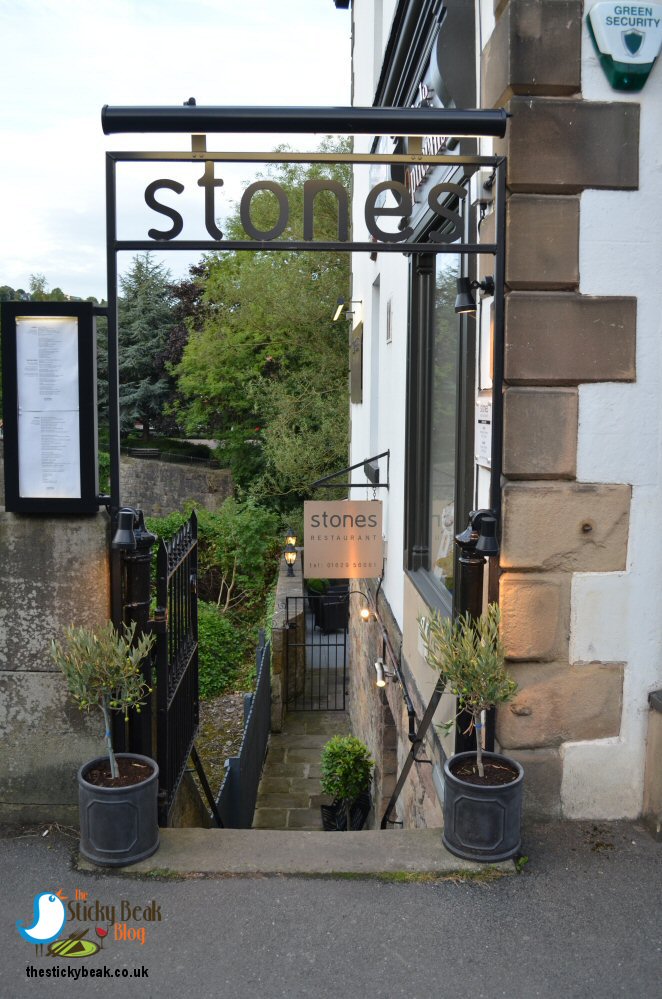 This years' Summer is being a little naughty and not delivering those warm, balmy evenings that we yearn for, so when a lovely young lady took my jacket and asked if we would like to take drinks on the terrace we politely declined and headed straight to our table. All was not lost however thanks to the marvellous "Conservatory style" area of the restaurant that we had been seated in; its crystal clear windows looked directly onto the outdoor terrace and then onto the Derwent and its verdant banks. In all honesty it felt as though we were outside (just without the chill factor and risk of getting caught in a shower).
The Conservatory itself has been decorated in a calm palate of Greys with subtle recessed lights and marvellously comfortable, sumptuously upholstered chairs. Pristine white cloths covered the tables, the glassware glistened and a shot of colour was provided by the fresh arrangement of fragrant Roses. A relaxed atmosphere gently cosseted us as we listened to a playlist of classic songs by artists such as Etta James, Bill Withers, Will Young, and Adele.


Stones just whispers about its quality and class, confident in its refinement without being stuffy or needing to bellow about it. This confidence and quality has also led to it being awarded two AA Rosettes for its culinary splendour, courtesy of Head Chef Kevin Stone and his teams' efforts to serve a modern British menu.
I sipped my Elderflower and Cucumber Collins and his Nibs savoured his Moretti Beer as we nibbled the selection of Canapés that a lovely young man had served to us: Sundried Tomato and Black Olive Palmier, Chicken Liver mousse with Pickled Plum puree on a Rye Croute and Crispy Cod Bites with fresh Tartare sauce. Truth be told, they were all delicious but highlights for me included the wickedly crumbly, butteriness of the Palmier and the super tang from the Pickled Plum puree that stopped the divinely rich Chicken Liver mousse being heavy.


One of our super-smart servers then came over with a bread basket laden with freshly baked morsels to choose from. On offer was a Dark Treacle bread, a sunshine-hued Tomato and Herb loaf, and an Onion and Cheddar variety; they all looked and smelled superb and I had the Treacle and Cheddar ones, The man Bird chose the Treacle and Tomato versions. A natural stone held two fresh pats of butter; a classic lightly salted one, and a Smoked Paprika and Cashew Nut variety.
The breads were delightfully springy and soft textured (excepting their fantastic crusts), each one showcasing its star ingredient very nicely. Thankfully our gluttony was discreetly noticed and we were offered a second round of these delightful morsels :)


Stones offer a seasonally varying set menu both at lunchtime (Wednesday-Saturday Noon-1.30pm) and in the evenings (Tuesday- Saturday 6.30-8.30pm, 2 courses £32, 3 courses £36), as well as an eight course tasting menu with additional wine pairing option and bespoke vegetarian offerings. The Boy Wonder and I had decided to try the 3 course set menu; for starters we chose the warm salad of Smoked Eel with New Potatoes, Apple, and Radish top Pesto (me) and Pressed Ham Hock with Black Pudding, Crispy Egg, and Pickled Pineapple (His Nibs).
My Eel was lovely and firm fleshed and had a gentle smokiness to it that was nicely rounded in the mouth. I like the distinct fishiness that Eel has, it appeals to me (being a fully up member of the "all things sea-borne" club) but for those of you who don't like stronger tasting flesh this is perhaps not your first choice.




Warm slices of New Potato had been lightly topped with Wholegrain Mustard dressing that danced delicately in the mouth and julienne strips of crisp green Apple added a sharp, bright note to the dish as well as supplying texture. The Radish top pesto also lent a zippy element to the dish and the crunchy, finely sliced Spring Onions supplied another textural layer to this superb starter.
His Nibs' chunky homemade Ham Hock Terrine winked invitingly at him from the plate with all its meaty cheekiness and he dived straight in. It was wonderfully meaty with a pleasingly dense texture and a respectful seasoning that allowed the quality of the Ham to shine through. The softly poached crispy egg had a marvellously rich yolk that begged to have the terrine dipped into it; The Man Bird duly obliged and the combination was stunning on the palate.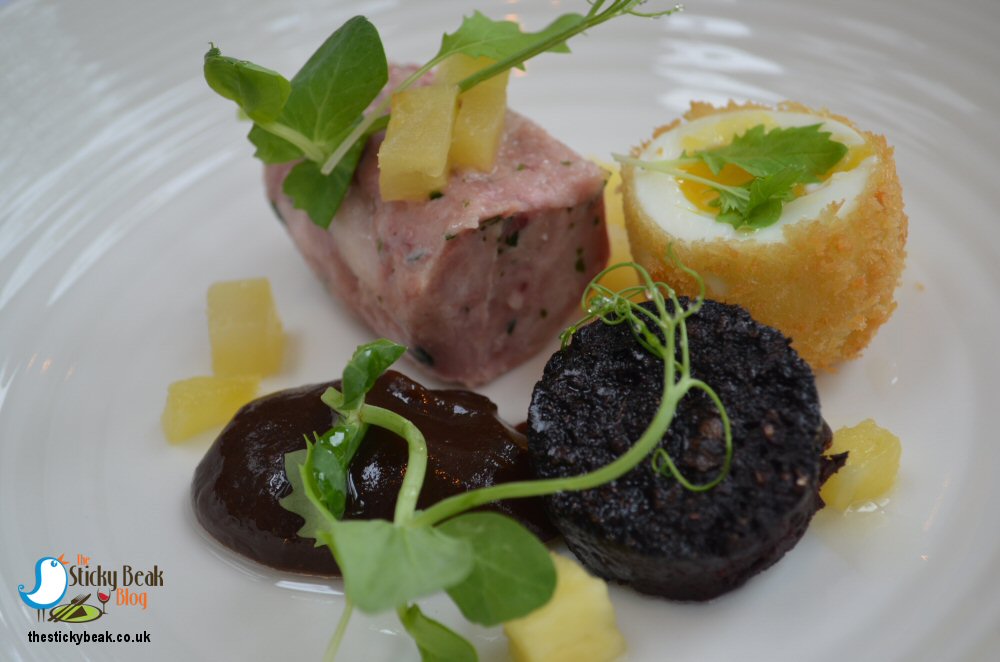 We both couldn't get over the level of crunch the uber-thin crispy coating on the egg delivered; it was one of those "inversely proportioned" thing-umi-bobs that seem to have more impact for less of it being utilised. This is why I eat the food instead of creating it; I would probably have shovelled bucket-loads of the coating on to make it crispy, but totally overwhelming the other flavours and textures of the egg in the process!
There is nothing finer than a good quality Black Pudding and I have been educating The Boy Wonder on this point for a while now, gently coaxing him to try it in dishes and to compare textures and tastes of different ones. The Stones Black Pudding had a lovely denseness to it, so it didn't crumble when cut into (The Man doesn't like it when it does this) and had a full-bodied taste to it. Again this partnered the robust Terrine very nicely.

Pickled Pineapple was the wild-card of the dish, cavorting merrily in the mouth and dispensing its jollity freely around the palate. Accompanying it was what I can only describe as the Pavarotti of the brown sauce world; classy, powerful, and quite unique.
Kevin Stone, we salute you for two bracingly good starters.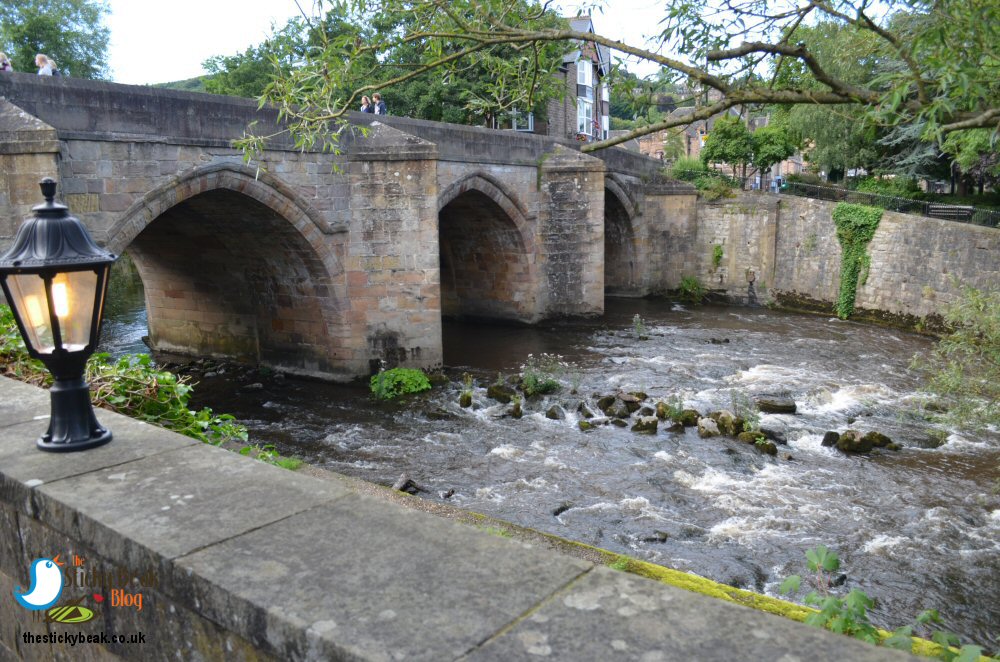 Two spotlessly clean plates were taken back to the kitchen, hopefully with our praise having been passed on to Chef Kevin and his team. Before too long our main course dishes were gently being placed in front of us. I opted for the breast of Gressingham Duck with Watermelon, Feta and Mint, and a Sherry Vinegar reduction and my companion had the Fillet of Beef with Peas, Leeks and Pancetta, and Rosti Potato (this dish carries a £4 supplement to the set menu cost).
The Duck Breast was served pink (as it should be, in my opinion) and was nestled on a bed of what turned out to be lightly Minted, finely shredded Cabbage. I absolutely loved the balance of flavour between the herb and vegetable; such a delicate pivot between the Mint drowning the Cabbage out, and Chef nailed it perfectly. My beloved Granddad used to grow Broad Beans at home and they were always so sweet to my young taste buds; the baby ones on my plate at Stones had that glorious taste to them and I couldn't help but smile.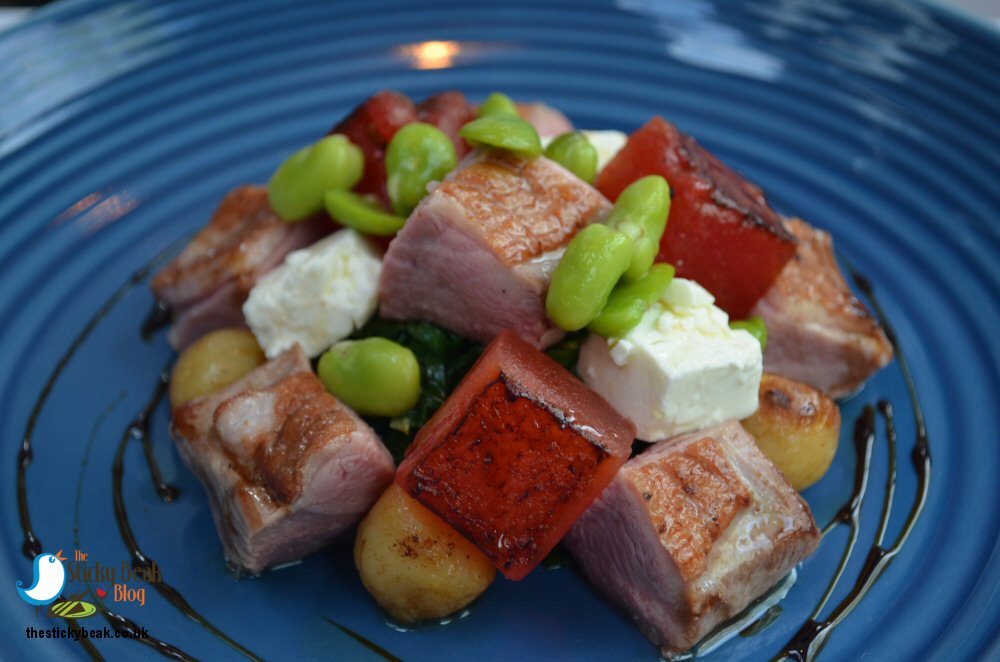 In most cases the Duck breast is served in its entirety or sliced and composed in a "whole breast" way on the plate. Yet again Stones popped their own twist on this dish by cutting the breast into large cubes and then interspersing them with warm chunks of sweet, juicy Chargrilled Watermelon and squares of salty Feta cheese. The Duck was a truly superb gem; nicely firm, bursting with flavour and wonderfully moist. Each mouthful of this dish was a textural, multi-flavoured joy to eat with everything working in balance and harmony.
The Boy Wonder was flabbergasted by the fillet of Beef he was eating; the density of the meat fibres was incredibly satisfying and the depth of flavour was superb. The steak knife glided effortlessly through the substantial piece of meat, no surprises there! His Nibs and I will have been together as a couple twenty years next month (yes, he deserves more than a medal before you say it!) so we are fairly attuned to the way the other thinks.

As soon as he looked up from taking his first mouthful of the fillet we both though the same thing "is it as good as the one he had at Joes Seafood, Prime Steak and Stone Crab restaurant in Washington D.C?". It was deemed to be within a hairs breadth but Joes just nudged it; I don't know whether there will ever be a successor to their crown, it is going to take some beating. That said, the steak at Stones was in The Man Birds' opinion the best he's had in this country for as long as he can remember. High praise indeed from a steak buff.


A round of crushed Peas, Leeks, and Pancetta provided a snug base on which the fillet of Beef sat and these provided an incredible sweet, salty, smoky combination that really was outstanding in the mouth. Piped rounds of pureed Carrot not only gave a burst of colour in contrast to the verdancy of the pea round but imparted their gently earthy note to the dish. The tender stem Broccoli had been cooked to retain all its natural flavour and firmness; personally I love Broccoli so I cheekily pinched a piece off His Nibs plate, it was delicious. Rosti Potato will take His Nibs to his special little happy place all day long and the ones at Stones were incredibly crispy on the outside with nicely soft inners.
Two impeccably clean plates winged their way back to the kitchen again and we quietly clapped our hands together in glee, eager to see what was on the dessert menu. The Boy Wonder chose the Chocolate and Butterscotch Mousse served with Salted Caramel and Popcorn Ice Cream and I fancied the Spiced Rum set Cream with Mango Mousse and Pineapple textures.
Both desserts had been thoughtfully presented in quite different ways. My pudding was decorated with edible flowers and had gossamer thin slivers of desiccated Pineapple in it.




Delicate piped rounds of Mango weaved their way in and out of Caramelised Pineapple pieces and dots of fragrant Pear puree. The Spiced Rum Set Cream sat majestically amongst all this splendour and when I had my first spoonful Stones could've almost have been in a Jamaican setting, so detectable was the Rum in it. Very often a dessert that purports to have alcohol in it disappoints in its insipidy, but once more Chef Kevin Stone has done his research and product development diligently and come up with this Caribbean inspired cracker.

The Man Birds' Chocolate and Butterscotch Mousse was equally pleasing. A rich, dense, chocolate mousse held a marvellous secret; a gooey core of Butterscotch that was quickly dubbed "the Highway to Gastro Heaven". Butterscotch and Chocolate is one of those perfect partnerships and this one was another sublime success, managing to be rich, decadent and sinfully delicious without feeling heavy on the tummy.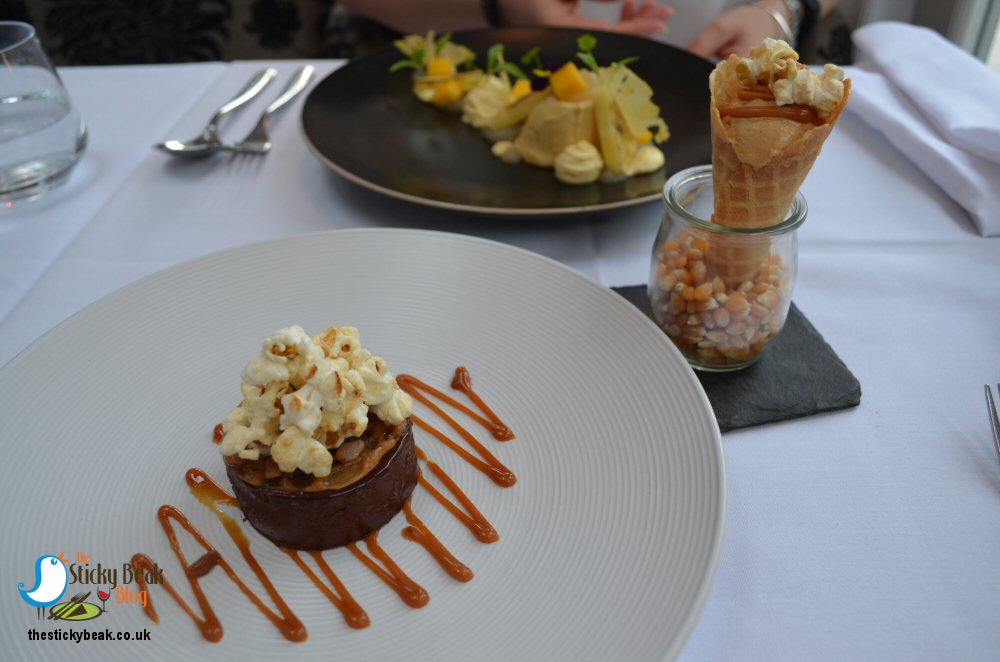 What caught the eye though was the separate glass holding a waffle cone filled with creamy Salted Caramel ice cream and freshly popped Popcorn kernels. Serving the ice cream in a separate cone serves two purposes; it stops it melting so quickly over the Mousse and also makes you feel that you're having two desserts rather than one (perfect if you're a piggy feeling Boy Wonder).
Coffee at Stones is served with homemade Petit Fours; not just three or four(s) (sorry about the pun), but a full half dozen of the rascals nestled in white cases and presented in a chilled wooden block. There was White, Milk and Dark Chocolate varieties represented as well as Fudge and Ganache, combined with a variety of partners. The Cointreau and Milk Chocolate round was a real bobby-dazzler as was the White Chocolate, Raspberry and Peppercorn variety, but in truth I couldn't pick one as an all-out favourite; they were all sublime.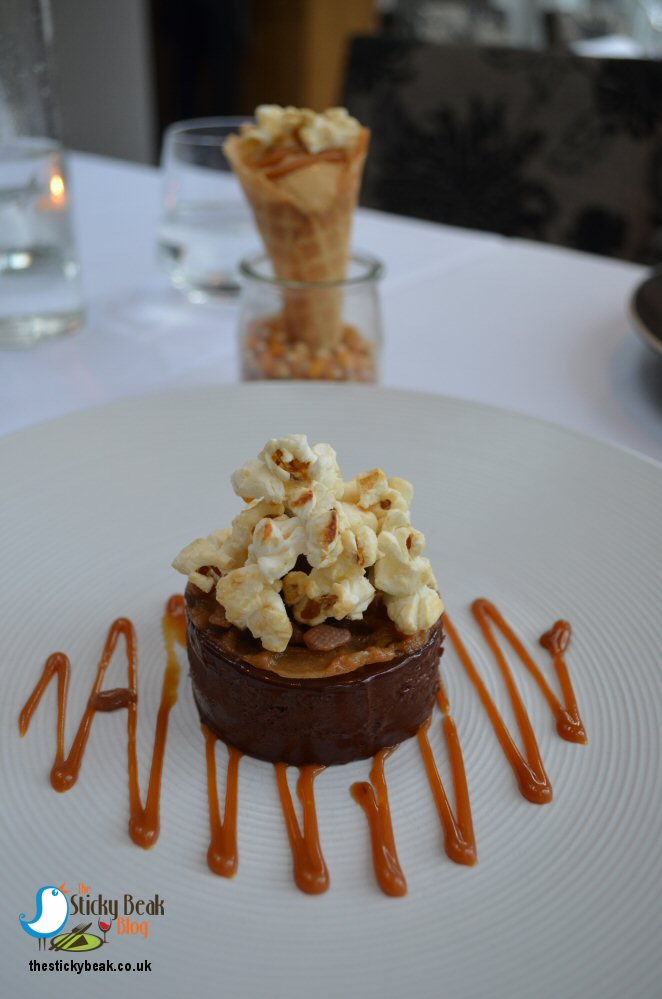 Having gone and had the Stones experience it's easy to see why it is rated as Derbyshire's number two restaurant, Matlock's premier venue, and holder of two AA Rosettes. As you may imagine Fridays and Saturdays are hugely popular so when you visit (and trust me it needs to be "when" not "if") I would urge you to ring ahead and reserve a table.
I will just point out that due to Stones location there is no access for disabled people, and I would advise caution when walking down the steep steps to the restaurant even for those with full mobility.
All that remains is for me to say "Hot Wings" to the Stones team; Head Chef Kevin Stone, his wife Jade, his sister Katie Temple, and the rest of their team. Your passion, talent and enthusiasm shines through in every aspect of your business :)
Some form of incentive was provided to visit this venue
read more