Dinner At The Bell Public House in Smalley
---
Published On Saturday 1 Jul 2017 by Sticky Beak
See Recent Dining Out Reviews | See All Recent Reviews


Finally, The Chick has finished her exams! I bet you can guess what I'm about to say next; yep, that's right, she promptly vamoosed to a mates house, leaving us poor 'rents to our own devices. It has been a stressful few weeks in the nest for us too, watching our Chick work tirelessly for her exams so we felt more than ready for a relaxing evening having a meal out.
My day-job boss had recommended The Bell at Smalley after she and her husband had a lovely meal there themselves only recently. His Nibs rang up and reserved a table for us, and off we poddled; after having done a fitness class that evening I was more than ready for some sustenance.
It was blooming lively when we walked in through the doors, lots of folks drinking and having a natter and getting the weekend started. We had a lovely welcome at the bar and explained that we'd got a table booked for food; the young lady told another member of staff we'd arrived and she took us over to the dining side, which would be the "snug" of the pub.
At this point in the blog I'm going to break with tradition and have a moan. As you know we don't do negative reviews about somewhere, you either make the grade or you don't, and this is nothing to do with The Bell itself. In the scene that follows, the staff member here deserves a medal for diplomacy, or one for courage in the face of adversity!
The table clearly had a "reserved" sign on it, along with our name and the time of our reservation but (and there's always one, we've all met them) there was a couple sat at the table having a drink. There was another table free I should just point out as well, so it wasn't as if they would be stood to finish their drinks, or be rushed out.
Anyhow, the young lady said "excuse me, this table has been reserved for food and the people have arrived"; she got the filthiest look from the woman and the bloke sat with her was channelling his inner Lily Savage given the look he gave the lass too. They pointedly looked at their watch and said "it's not time yet ". For Petes' sake people, it was 3 minutes to eight o' clock; as McEnroe would've said "you cannot be serious"! Again the young lady said that the table was reserved and she would like to seat us please, and then a performance that would put Oscar Winners to shame was given; all huffs, puffs and mutterings and poisonous stares at us. Whateva!! Rant over :)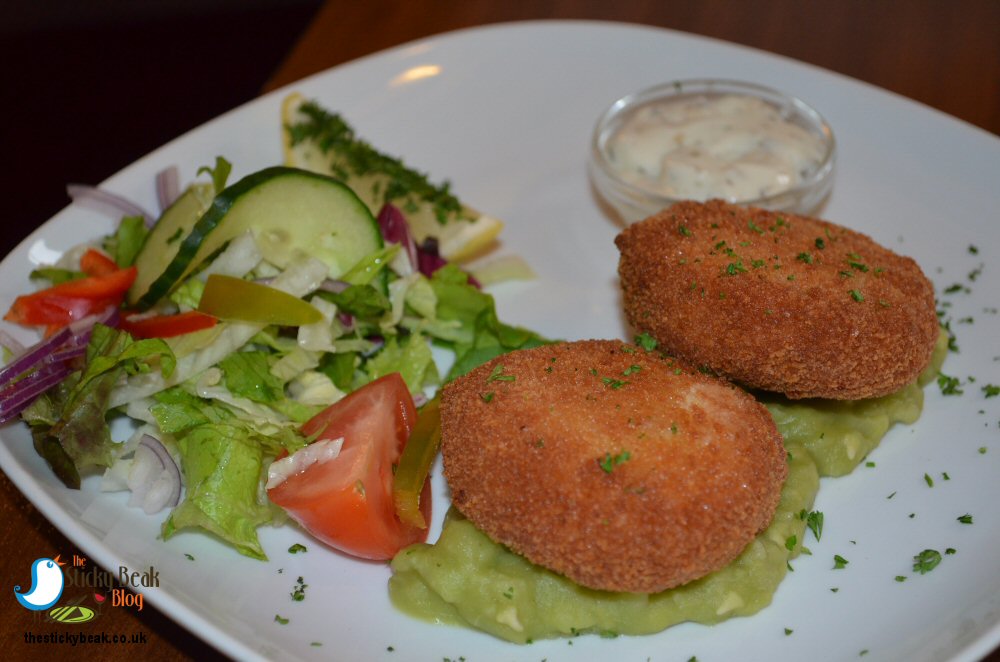 So far I liked the professionalism of the staff, it held steadfast throughout. We had a look at the menu and soon decided on the Salsa Nachos with Sour Cream, Salsa, and Guacamole (The Man Bird) and Homemade Fishcakes with a dash of Mushy Peas, Salad Garnish, and Tartare sauce (yours truly).
I took the opportunity to have a look at my surroundings; The Bell is a proper traditional pub in every sense. There were original wooden ceiling beams around, a typical red patterned carpet and various brewery artefacts on display. I loved the Copper pots and the warming pan for the bed that would've had hot ashes from the fire put in it to warm a cold bed up in winter evenings. The Pub has a clear sense of what it is and doesn't feel the need to dress itself up, it's happy in its own skin. I really love this type of village pub; you know exactly what you're getting.
Before long a lovely young lady came over with our starters and explained that it was so busy due to a Stag 'do being in full flow (not that you'd know it, they weren't rowdy at all, just happy and laughing). We tucked into our food eagerly, as we were both very hungry. The portions are very generous, and the food had been carefully put on the plates not just slapped on.


His Nibs' Nachos were piled high in the bowl and were covered with generous amounts of zingy Salsa, spicy Guacamole and thick Soured Cream. A sprinkling of Jalapeno peppers completed the ensemble, all of which soon got devoured.
My fishcakes were delicious; nice thick rounds that had crisp outers and plenty of fish inside them. They were piping hot and the filling had been nicely seasoned, so it wasn't bland and boring. There was just the perfect amount of Mushy Peas to taste, and the Tartare sauce had a fab bite to it, that complimented the Fishcakes brilliantly. As well as a Salad garnish there was a wedge of fresh Lemon to squeeze onto the Fishcakes too if desired. We were asked if everything was to our liking, which it was, and our plates were quietly cleared away when we'd finished.
Several other tables of diners were tucking into their meals too, and there weren't many crumbs going back to the kitchen let me tell you.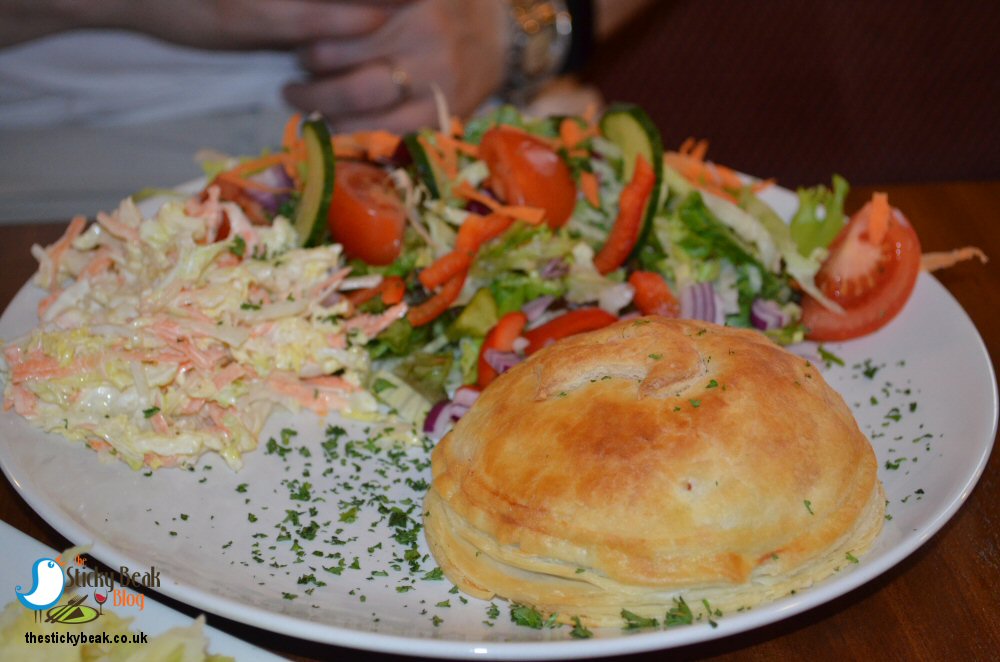 For my main course I fancied the Mushroom, Brie, and Hazelnut Wellington; it normally comes with potatoes but I asked if I could swap for Salad and fresh Vegetables instead, and they kindly said that I could. The Boy Wonder had a dish off the specials board; Homemade Meatballs with Pasta and Garlic Bread.
It wasn't long before these were winging their way over to us, and the young lady asked if she could get us any sauces etc, before leaving us to tuck in.
As I cut into my Wellington the beautiful puff pastry crumbled to reveal a deep layer of Mushroom and Hazelnut Duxelle, topped with a melted layer of creamy Brie. It smelled divine and I couldn't wait to get it into my mouth. It didn't disappoint, let me assure you dear reader. The creaminess of the Brie was offset by the crunch of the Hazelnut pieces and the Mushrooms imparted their wonderfully earthy flavour to the dish, resulting in a well rounded meal.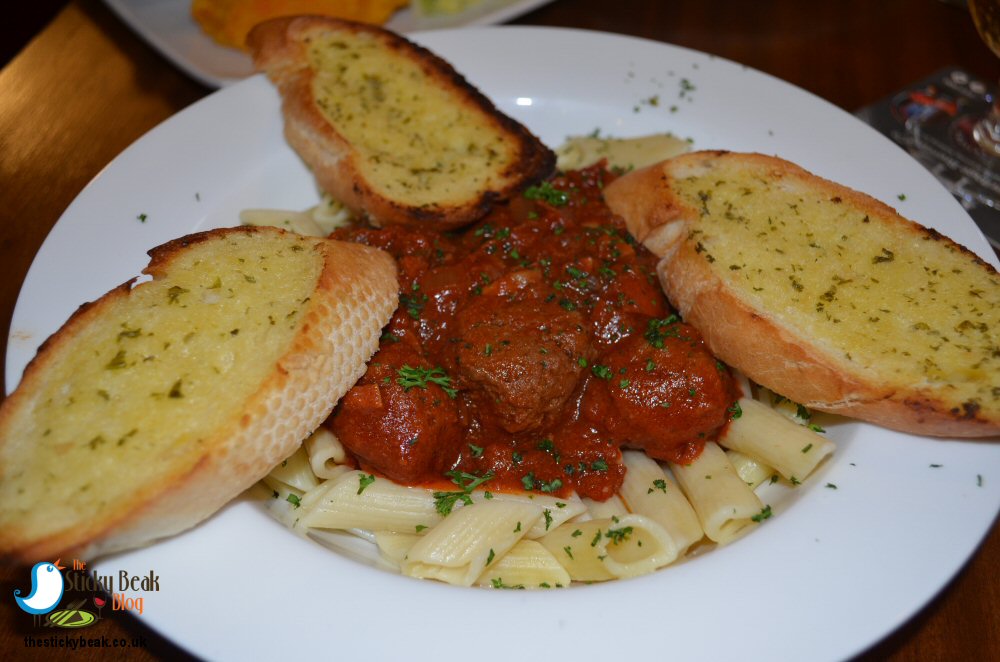 The space on my plate that wasn't occupied by the Wellington parcel was filled with a colourful salad, comprised of shredded lettuce, Red Pepper slices, Cucumber rounds and Tomato halves. Cabbage, Broccoli, and mashed Swede were served on another plate and had all been cooked superbly to retain a hint of natural firmness and their flavour shone through. I really enjoyed this meal; it wasn't fancy, just good, honest grub done well and served piping hot.
The Man Bird loved his Homemade Meatballs, they were pretty much as I do them at home; nice 1-1.5oz size, packed with seasoned meat and served with a robust Tomato sauce that coats them. There were Onions, Peppers and Mushrooms in the sauce too, so it was a good hearty partner to the Meatballs. The Pasta has been cooked perfectly al dente, so it still had a bit of firmness to it when chewed rather than being soggy and the garlic bread slices were also nicely cooked.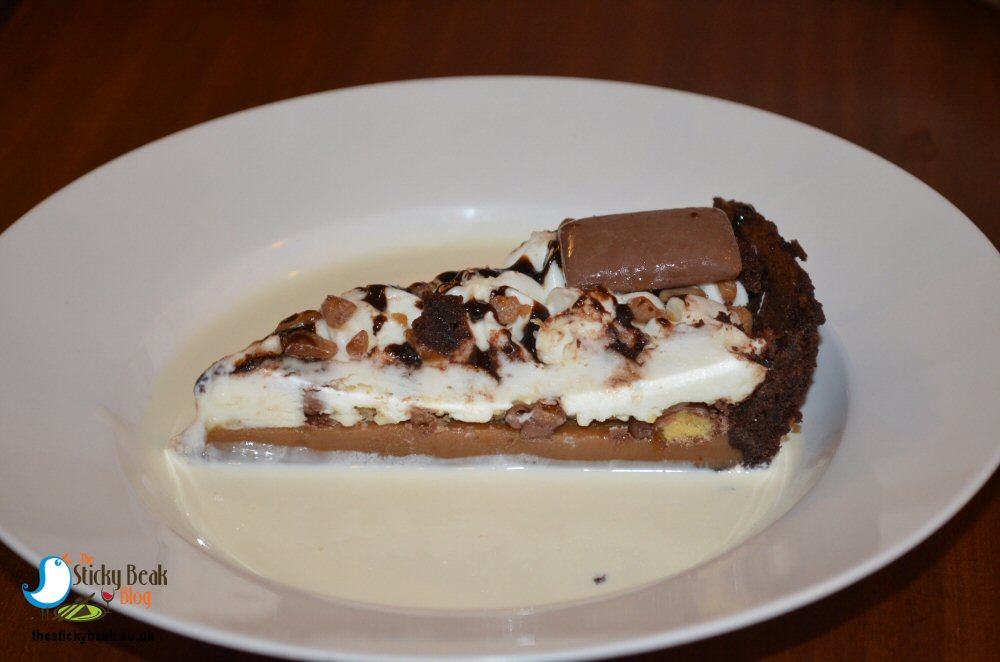 We decided to go the whole hog and have pudding too; Treacle sponge with Custard for His Nibs and Toffee Crunch Dime bar with Cream for me. Both of them were really nice and generous in size; whilst I don't think these were homemade (and they didn't say they were) they are very good quality nonetheless.


Both of us had had a lovely evening (other than the "Grumpy Twins" at the start, but they did give us a giggle) in a pub that did great food, was clean, and had a fab atmosphere. The staff members were very polite at all times, not just to us but to everybody and that always makes a difference to your experience; top marks to the team at The Bell, Smalley. Hot Wings definitely deserved here for the standard of the pub grub and the service given by the staff :)
No incentive was provided to visit this venue
read more