Dinner At The Greyhound Hotel In Cromford
---
Published On Thursday 1 Jun 2017 by Sticky Beak
See Recent Dining Out Reviews | See All Recent Reviews


You may recall that after an extensive refurbishment, The Grey Hound at Cromford had its official opening under new owners Tina and Paul in November 2016; The Man Bird and I were there on that evening and loved the place. Having found their rhythm and feet (and having nearly finished all the bedrooms!) Tina and Paul kindly invited us over to sample the menu proper.
Cromford can be difficult for parking in the evenings but we did find a spot just up a side street, and obviously you can park at Cromford Mills too which is only 5 minutes walk (charges may apply).

As we walked through the door there were several people in enjoying a drink on a lovely late Spring evening, imbuing the bar area with a pleasant hum of conversation.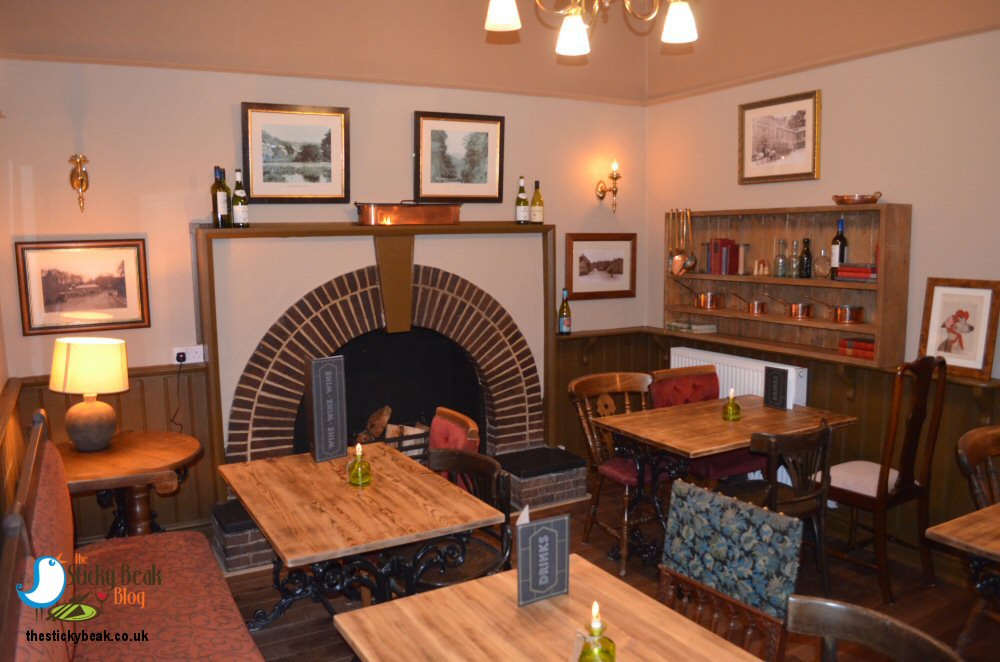 A delightful young lady came and showed us through to our table in the main dining room, taking our drinks order and handing us the menus to look at whilst she was there. We both ordered starters from the regular menu; Heritage Tomato Salad for me, Slow cooked Duck egg yolk for His Nibs.

Returning with a glass of Cabernet Sauvignon for me and a pint of Estrella for The Man, our server also brought some chilled still water for the table which I thought was a classy little touch. We couldn't help but look at the main courses that a couple of fellow diners were tucking into and remarking how good they looked.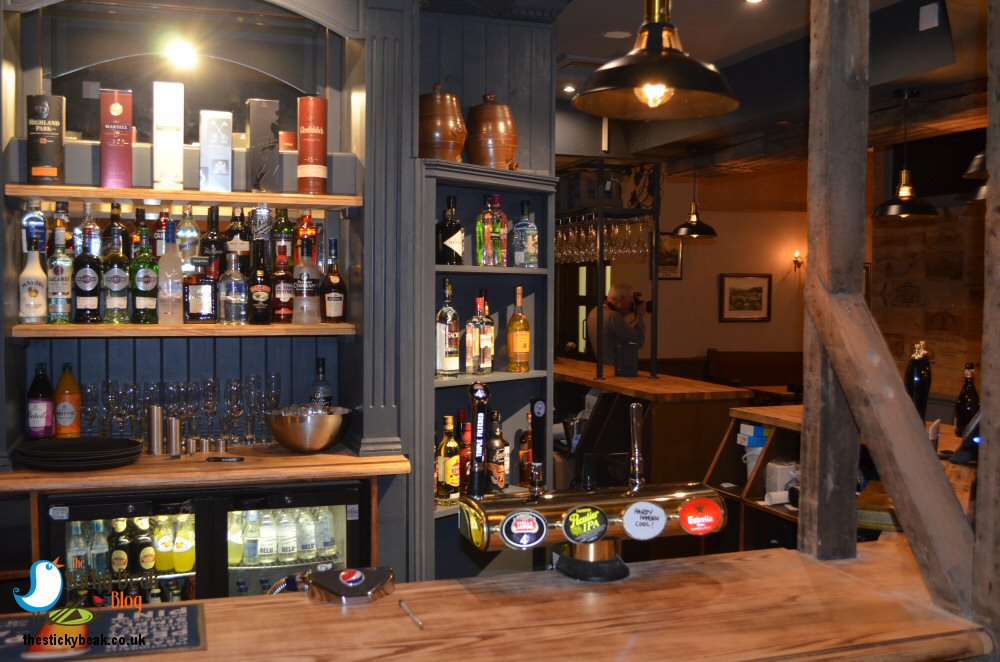 The gentleman was having the Ribeye steak from the specials menu, the lady was having the Herb Crusted Rack of Lamb from the regular menu; both of these were in serious consideration by myself for my main. The Boy Wonder had already decided he was going to chomp on the Steak Beef Burger.

After exchanging pleasantries for a few minutes with this lovely couple, our starters arrived and we all got back to the serious business of eating!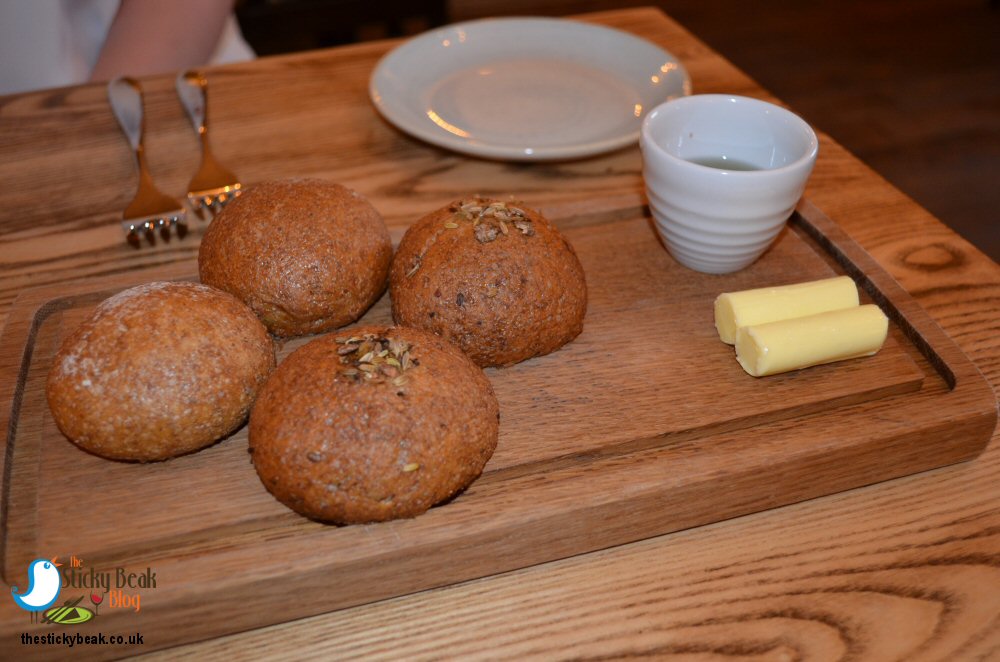 I have to say that both starters were superbly presented, although my dish naturally had the edge with regard to the rainbow of colours in it. There were Tomatoes of every size; some smooth, some ridged, and they ranged from traditional red hued versions through to yellow, orange and green ones. A lightly set consommé, Roseary Ash Goats cheese, baby herbs and flowers, and Olive Tapenade were all artfully arranged betwixt and between the jewel-like tomatoes.

As you can imagine dear reader this simple dish really was a symphony of tastes and textures, all of which danced on the tongue like a professional ballet corps. I have long extolled the virtue of life's' simple pleasures, and this one was just sublime.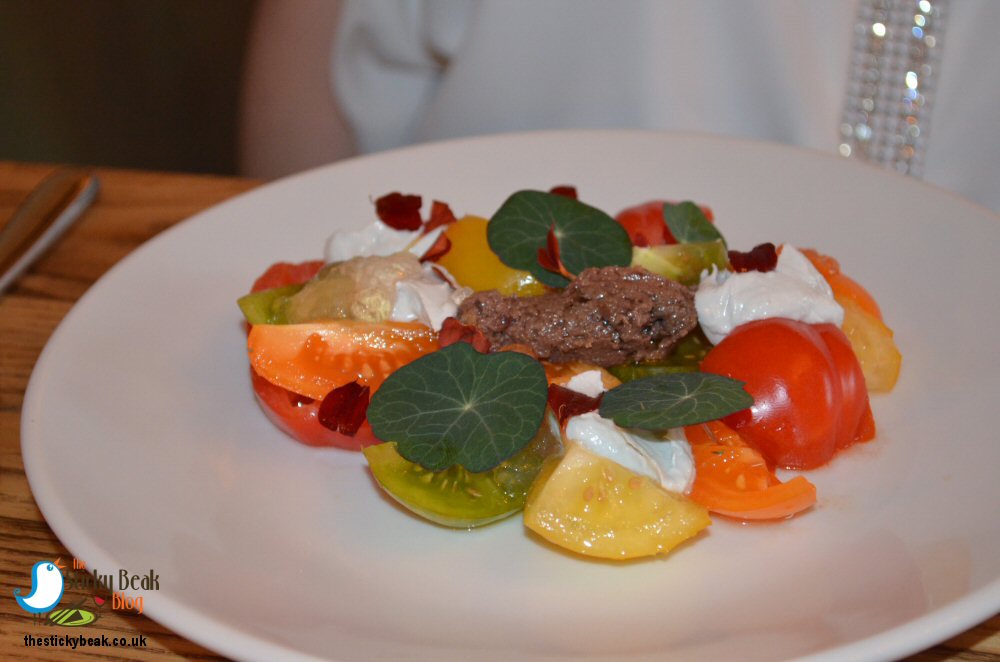 Across the table His Nibs was tucking into his slow cooked Duck egg yolk with cured Ham, Chickweed, and clear Chicken Broth with his customary gusto. Superbly crunchy croutons were scattered on the top of the dish and there were plenty of cubes of the delicious smoky tasting cured Ham to chew on.

Duck eggs are richer that their chicken counterparts and this one added a ridiculously good rich note to the broth when it was combined with it. Chef Dan had recommended the use of a teaspoon to lap this up with, and it really is a top tip. To absolutely get every last millilitre up though, the judicious use of the fresh baked bread rolls that had been brought to the table as an appetiser proved the canny move!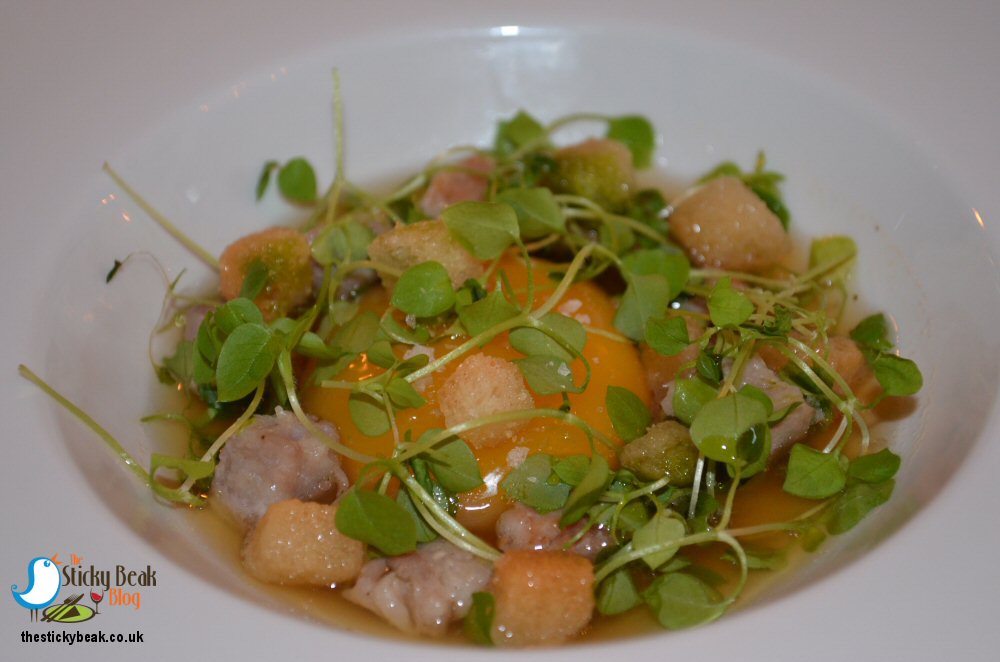 Having finished our starters we looked around and took the relaxed ambience of the dining room a little better. The Greyhound really is a lovely example of a country Inn/pub with its solid wood floors, beams and fires. Our dining area also had beautiful wood tables in it, and the walls were decorated in calming heritage shades of green that gave it a homely, inviting feel.

A short while later our main courses (both from the specials menu) were placed before us, and again the presentation was superb. My prime Derbyshire Ribeye came accompanied with Brown sauce Onions, Blue Cheese crust, Waldorf salad, and Pink Fir Potatoes.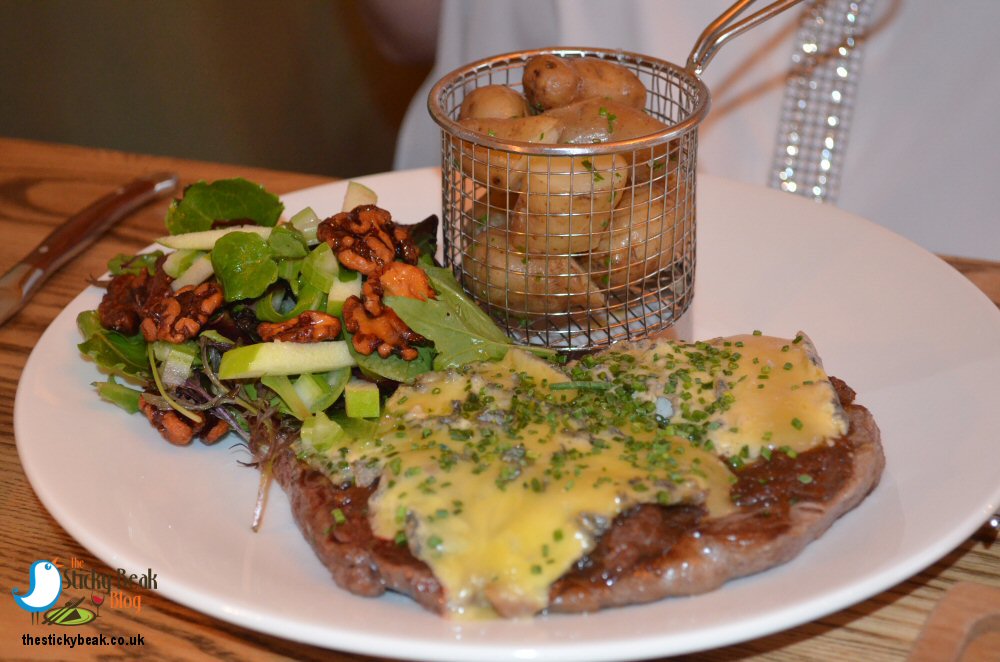 The Boy Wonder's Steak Beef Burger came with Treacle Bacon, Smoked cheese, Salad, and hand cut Chips. Chef Dan serves the burger medium rare as standard, meaning they are pink in the middle, but you can also have them well done if you prefer.

My slab of beef was delicious; the fat marbling in a Ribeye means it stays juicy and packed full of flavour anyhow, and it was gorgeous in texture too. I am firmly in the Brown sauce camp as you know (Him Indoors is a ketchup dude, so we have a divided nest on the Bacon Butty debate!) and the shoestring onion were brilliantly spiced with the twang of the brown sauce which is more than capable of holding its own against the robust blue cheese that Chef uses as a crust on this Steak dish.




The Waldorf salad was a master class in tastes and textures; the walnut halves had been caramelised to slightly sweeten and soften them so they contrasted totally against the firm, crunchy Granny Smiths apple slices. There was pleasing mix of salad leaves to munch on and the celery had been cut into tiny cubes just for a different slant visually.

Pink Fir potatoes have a slightly waxy skin that has a tiny bit of resistance against the teeth when bitten into and the flesh is firmer than some potato varieties, with a lovely sweet yet slightly nutty taste to it.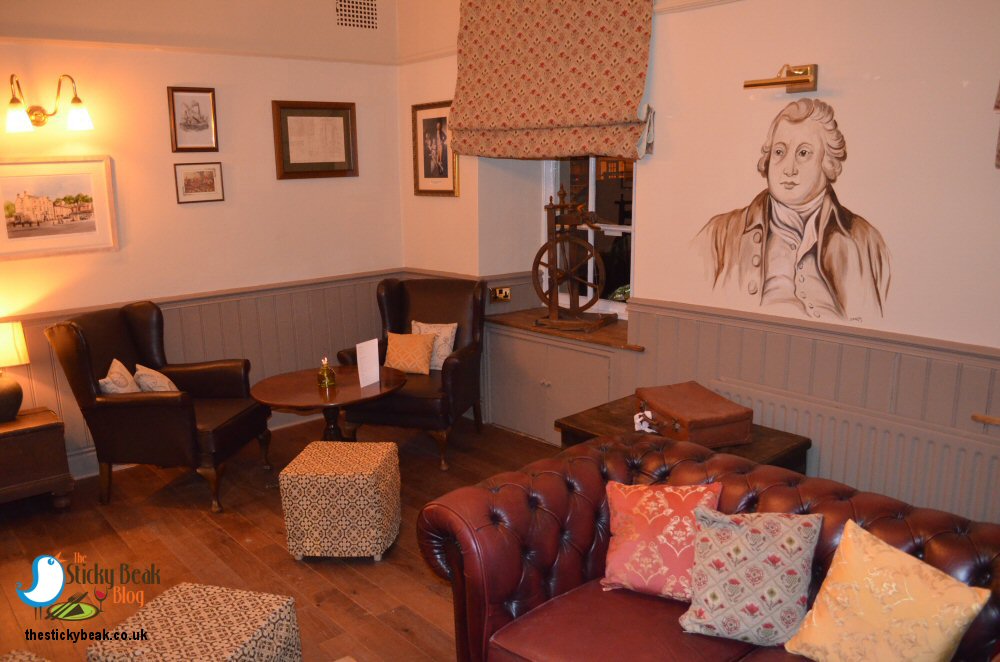 This was a very cleverly thought out dish, and one which I absolutely adored; compliments to you Chef Dan :)

Never in my life have I seen such a stupendously thick burger as the one served to His Nibs; it is ridiculously meaty (in a good way, obviously), like the double decker bus of the Burger world if you will. The patty itself was seasoned perfectly to enhance its natural character and it had a glorious texture to it. Between them, the sweet bacon and smoky cheese performed their own waltz on the palate, showcasing their contrasting-yet-complimentary notes superbly.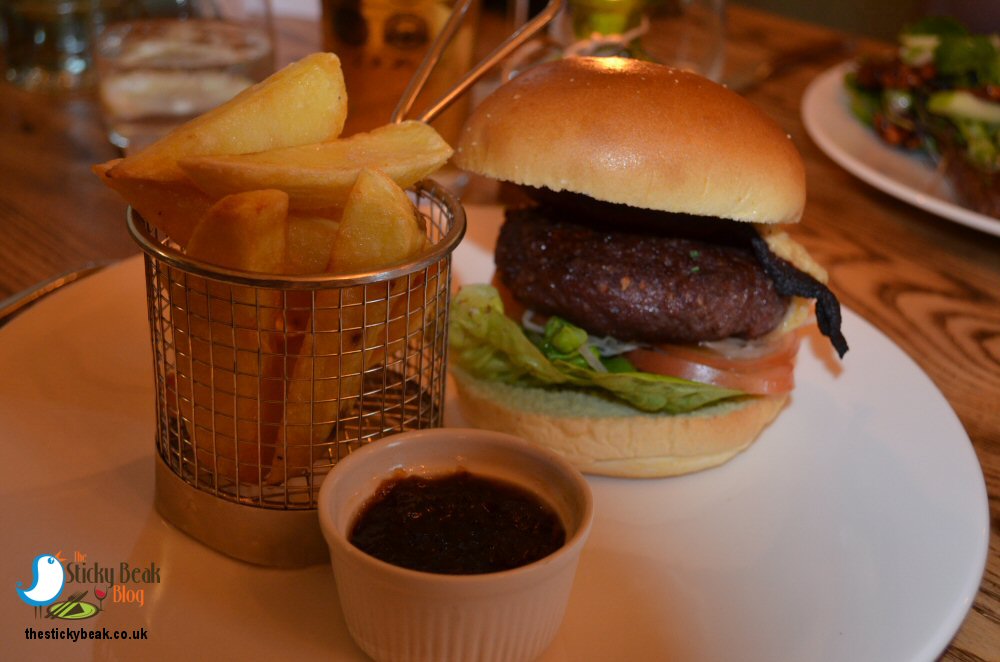 For such a magnificent burger only the best bun will do and Chef has chosen a sweet, buttery Brioche bun as the cocoon for his offering. The tangy onion relish was served in a separate little bowl allowing you to add as much or as little as wanted; His Nibs only had a smidge as he didn't want to overshadow the wonderful flavour of the other ingredients.

Some readers of a certain age may remember (I think it was voiced by Harry Enfield, although I could be wrong) an advert that described a product as an Armadillo, "crunchy on the outside, smooth on the inside". As soon as I tried one of The Mans' chips this instantly sprang to mind! But they really were delightfully crisp on the outside and superbly soft and smooth inside; "Armadillo!"




Our server had been constantly checking that we were happy with our food all evening and was getting used to grins of happiness and murmurs of appreciation from our table. She kept checking the water levels in our glasses and enquiring if we needed more drinks; her attentiveness and politeness was faultless throughout the evening, not just with us but with all the guests she encountered.

For pudding I chose the Cromford Honey and Almond Tart with Raspberry Compote and Vanilla Ice Cream, whilst The Boy Wonder opted for the Madagascan Vanilla Parfait with Poached Rhubarb, Ginger Granita, and chilled Rhubarb Soup. Again, the desserts were faultless in presentation and taste.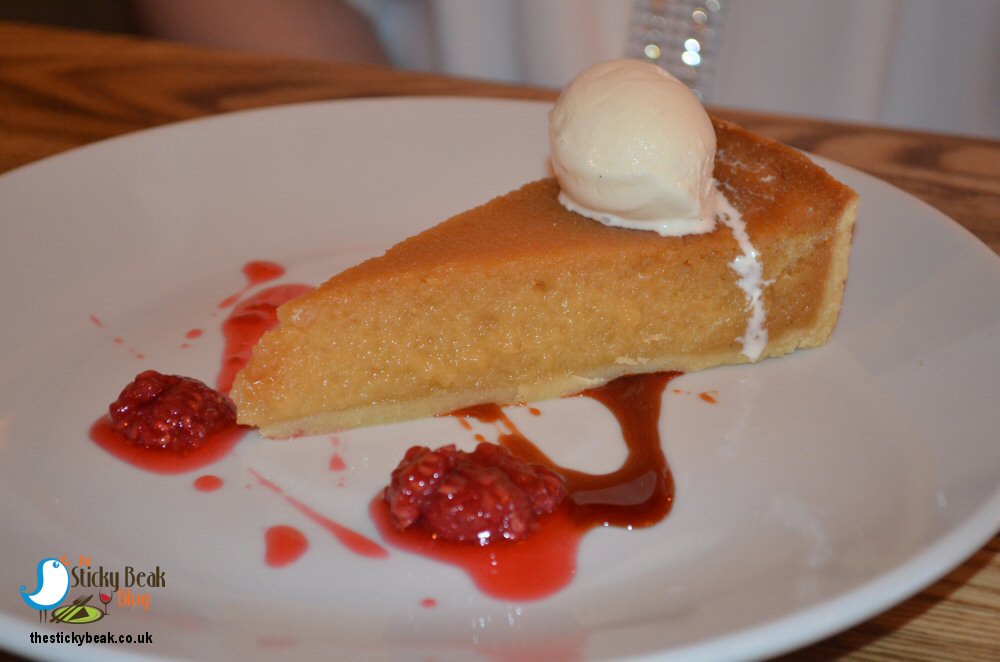 Madagascan Vanilla has a delightful rounded, smooth flavour which was superbly displayed in this parfait; paired with the clear Nightingale-song purity of Rhubarb this sublime dessert will remain in the memory of those who eat it for a very long time.

Just when you think it couldn't reach a higher pinnacle Dan had another trick up his sleeve that left the taste buds speechless. Cold Ginger granita provided the inspired juxtaposition of the spices' heat with the cold temperature of this component; total befuddlement for the brain. I suppose you could compare it to rubbing your tummy whilst simultaneously patting your head! Suffice to say that the bowl was devoid of any trace of this genius dessert when His Nibs was done with it.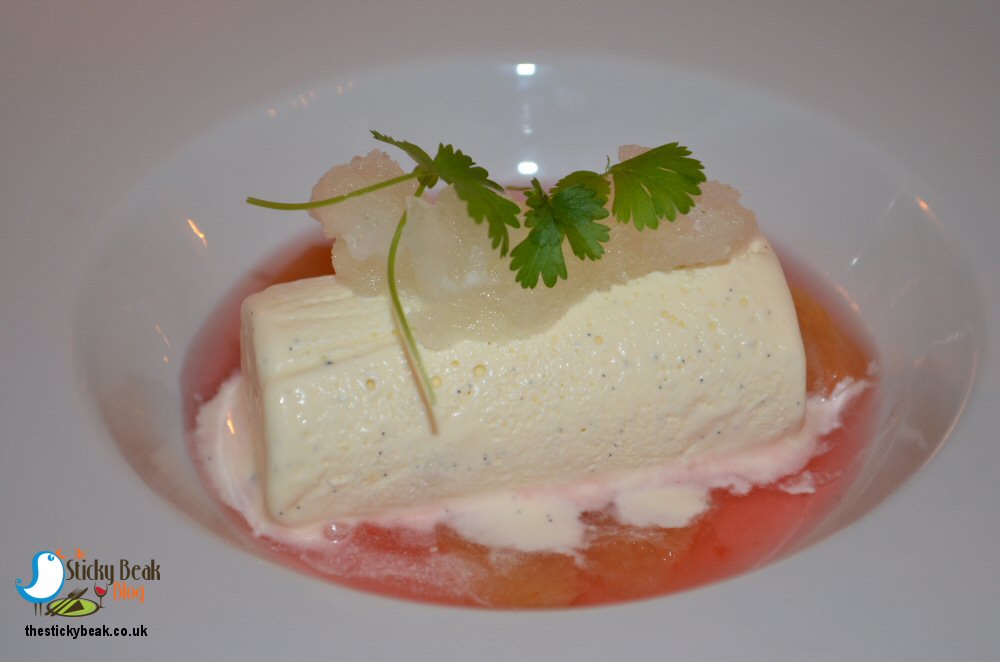 Tina and Paul are both keen to support local traders and as well as having their meat supplied by the village butcher and Petit Fours made by the village Chocolatier, they use local honey in the dessert I chose.

A thin buttery pastry case enclosed a frangipane-esque, unctuous concoction that had my taste buds swooning with delirium. It was wonderfully sweet whilst managing not to be cloying or teeth-chatteringly sugary. A nice little quenelle of top quality Vanilla Ice Cream was all that was needed to complete this treasure of a pudding; when you have a thing of beauty then let it shine is a motto definitely to be heeded in the culinary world. Top marks again Chef!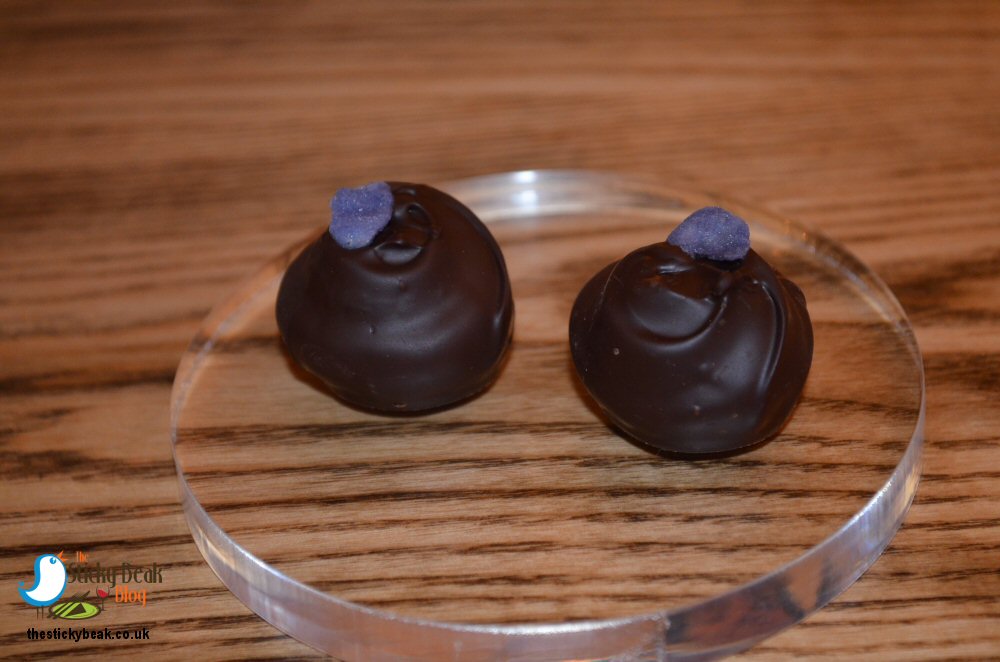 The coffee that we finished our meal with was delicious; a rich deep roast with just a hint of bitterness to cleanse the palate. However, it was the Violet Fondant Petit Fours that stole the limelight from the coffee. These little minxes had the marvellous floral note to their soft middles that complimented the thin layer of dark chocolate around them, and the tiny-yet-perfect crystallised Violet Flowers that crowned them were more intense versions of the fondant taste.

Honestly, it was a superb meal, easily on par with some rosette and starred dishes that I've eaten in my time. Chef Dan Laycock has worked with Marco Pierre White and Gordon Ramsey and you can see that he has paid close attention and learned his craft well. I expect in the not-too-distant future that he will earn The Greyhound some AA rosettes or stars, something I look forward to hearing about on the blog. If you ever need a taste-taster Dan, I'm always available; just saying :)

Hot Wings undoubtedly deserved here, you really do need to pay The Greyhound Inn at Cromford a visit sooner rather than later dear readers. Thank you Tina and Paul for inviting us to sample your fantastic menu; Tina it was so good to see you again, sorry we missed you Paul.
Some form of incentive was provided to visit this venue
read more