Dinner At The Fox & Hounds, Coxbench
---
Published On Thursday 20 Apr 2017 by Sticky Beak
See Recent Dining Out Reviews | See All Recent Reviews


In typical Fledgling style our Chick allowed us to pay for, and carry, all her clothes from Meadowhall but declined to have dinner with "the 'rents"; her preferred evening was parading her new finery to her boyfriend. Finding ourselves at a loose end we scratched our feathers as to what to do for dinner; neither of us could really be bothered to cook from scratch and our local Indian restaurant is shut on Tuesdays.
After a short while throwing several options around we decided to go to The Fox and Hounds at Coxbench, winners of best "out-of-town" venue at Marketing Derbys' Food and Drink awards in 2016.
The pub is located right at the roadside with plenty of parking available and it has lots of kerb appeal as you view it from outside. We were greeted warmly by the young lady behind the bar and informed her that we'd reserved a table as we ordered our drinks. When our drinks were sorted she came round to our side of the bar and took us to our table.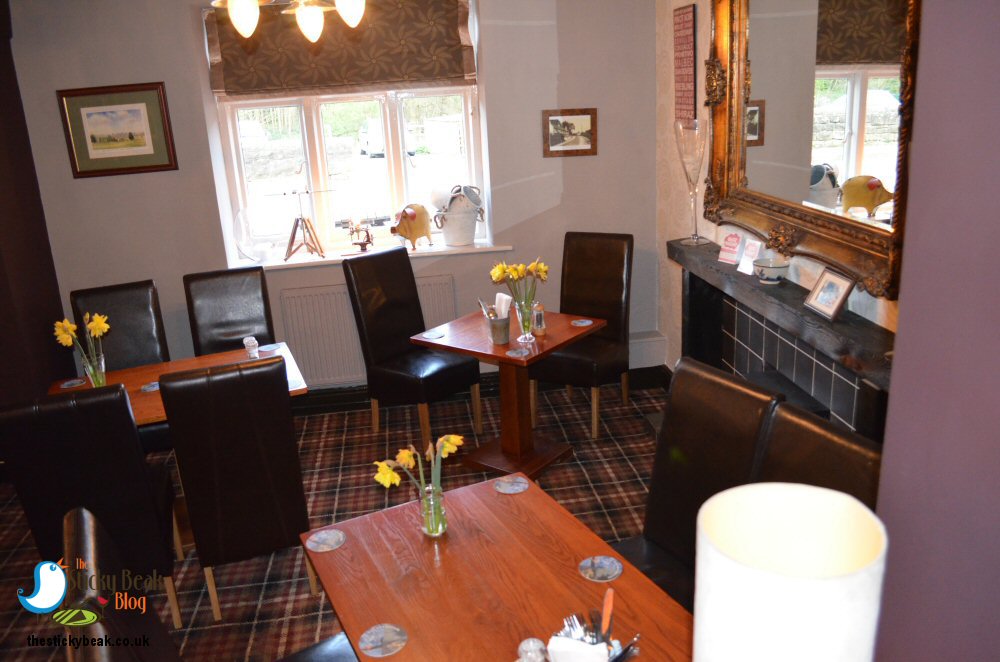 You can't beat a good old traditional pub and The Fox and Hounds is a fine example of this genre with its countryside prints on the wall and shabby chic furnishings. Several other tables were occupied with diners and the smells emanating from their tables were making our mouths water. Due to stuffing ourselves stupid at lunch time we chose to have mains and dessert only, forgoing the starter course.
The Man Bird had the Trio of Gloucester Old Spot Sausages (from Belper's Ireton Farm) with buttery Mashed Potato, Garden Peas and Gravy, and I opted for the Corn fritters with warm Avocado, sweet pickled Cucumber and Mouli pappardelle, and homemade Romesco sauce.


My Sweetcorn fritters were delicious; nicely crispy on the outside with pleasantly seasoned inners. The combination of creamy Avocado and crunchy Cucumber ribbons was a great textural mix, and the sweet and sour notes kept the palate occupied too. There is often a perception that Vegetarian dishes can be bland and unimaginative, but this most definitely wasn't the case here. I'm not a vegetarian myself, but occasionally I just fancy the veggie option, and this one sounded so lovely that I just had to try it; and I'm glad I did.
His Nibs' sausages were the biggest I've ever seen (no sniggering please ;)) and they had a delicious taste to them; not spiced at all, but seasoned so that they weren't bland. As you know dear readers, I am most particular when it comes to Sausage, but the bit I had from The Boy Wonder was gorgeous; it didn't repeat on me and I could've munched it all night long.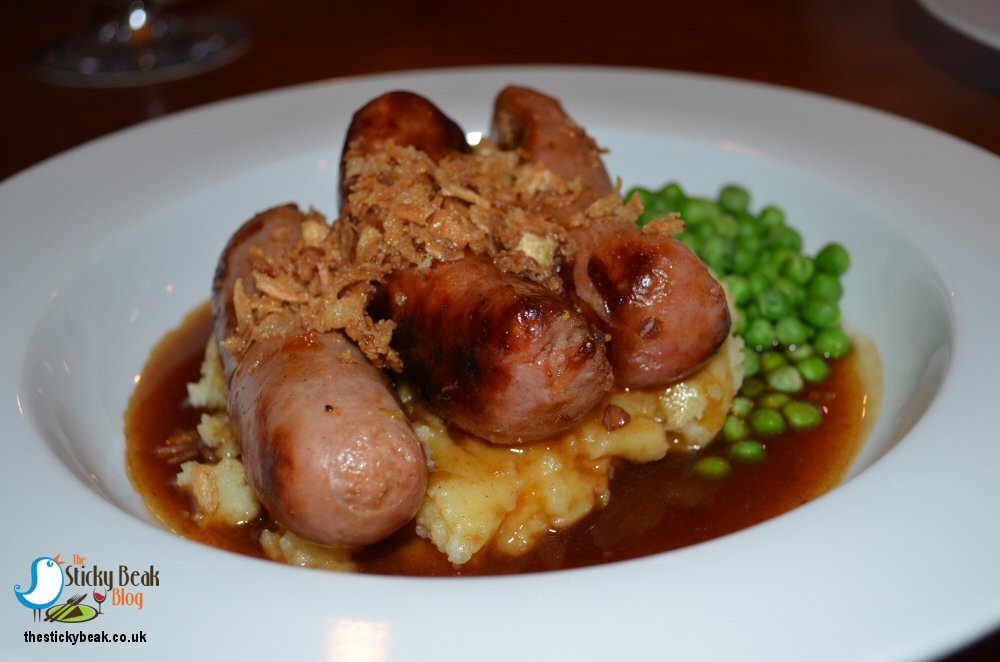 Both plates were well laden portion-wise but being the troopers we are, not a scrap went back to the kitchen much to the delight of our server.
We had our customary squizz at the dessert menu and were pleased to see that all of the puddings are made on the premises. His Nibs was instantly won over by the Sticky Date and Toffee pudding and Homemade Toffee sauce and I chose the Limoncello Trifle.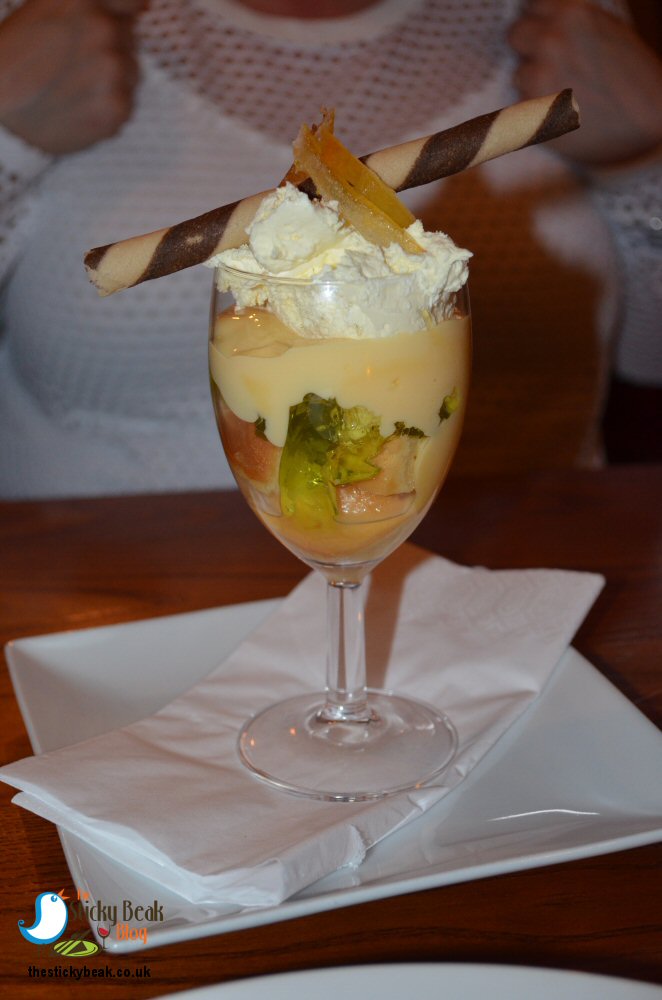 Our lovely server soon came back bearing the two puddings; mine was presented in a lovely tall glass so that all the colours shone through, the Man birds came in a bowl and smelled amazing.
As soon as I put my spoon into the trifle I got that lovely slurp/burp/trump sound that characterises a truly great specimen. The combination of flavours was delicious, personally I would've liked more Limoncello (who wouldn't?!) to really zip out against the Lime jelly, but that in no way takes anything away from the standard of the dessert. Lovely soft custard coated the mouth in that pleasing way that it has, with its hint of Vanilla coming through nicely. A fantastic dollop of whipped double Cream was the top layer of the trifle and to me, you can't beat a good cream layer, it's just one of those things that can't be skimped on. Clearly, the Chef at The Fox and Hounds is a fellow Trifle fan and knows what constitutes a cracking one :)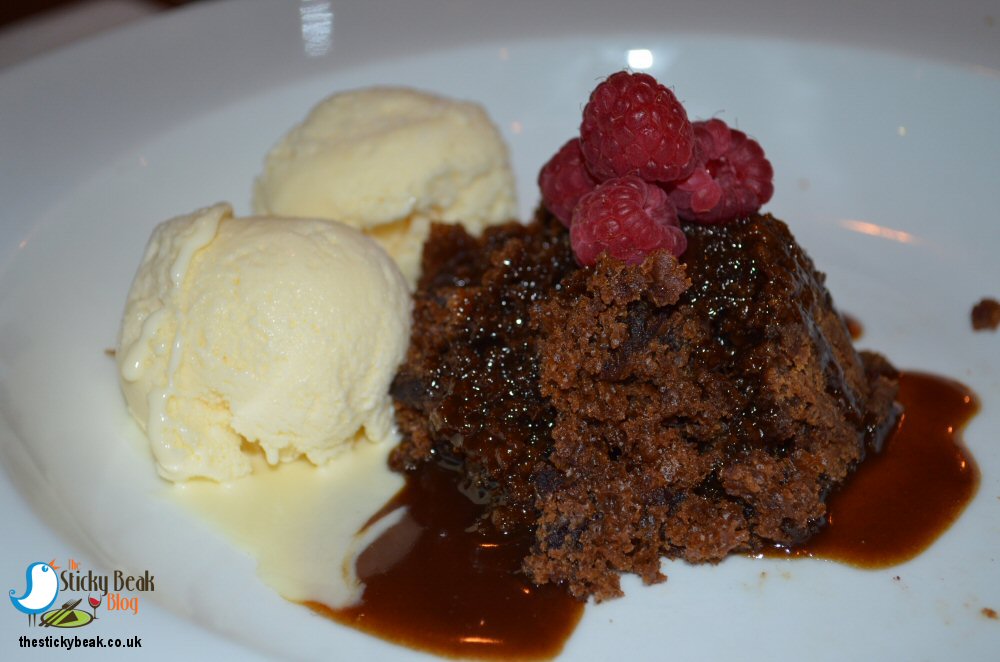 Across the table His Nibs was making his way through one of his favourite traditional puds saying how moist and sticky it was. At the Fox and Hounds they soak their dates which really makes a difference to the texture of the finished article as all the flavours have seeped into the fruit ready to be enjoyed by the fortunate diner. The sponge was nice and dense without being at all clarty and it was, as they and my Nana would say a proper "stick to your ribs" job. The Boy Wonder used his spoon to great effect, getting every last scrap of sauce and pud out of the bowl.
My Man Bird has recently discovered that he is sensitive to cow's milk, so we ordered black coffees with a jug of milk on the side for me. The Fox and Hounds use a lovely coffee that has a nice deep, but well rounded flavour to it and it finished off the meal beautifully.


If you haven't been before I can heartily recommend The Fox and Hounds at Coxbench to you, it was a fantastic experience for us. Due to it being in a pub setting I would err on the side of caution and reserve a table in advance if there is a particular time you like to dine.
Tuesday – Saturday the bar is open Noon -3pm and again from 5pm – 11pm, the kitchen closes at 2.30pm at lunchtime and 8.30pm in the evenings ; on Friday and Saturday evenings the kitchen cooks until 9pm.
A traditional Sunday roast is served from Noon – 3.30pm and the bar closes at 4pm on Sunday.
Hot Wings to the team, very well done :)
No incentive was provided to visit this venue
read more