Dinner At Viva Italian Restaurant in Matlock
---
Published On Saturday 25 Feb 2017 by Sticky Beak
See Recent Dining Out Reviews | See All Recent Reviews


Located in the bustling town of Matlock is a gem of an Italian restaurant called Viva that never fails to have a great write up whichever site you use. The Man bird and I were very kindly invited along to see for ourselves what all the fuss is about.
As you walk in the door you are afforded a fantastic view of the open kitchen and it was already bustling when we arrived; a variety of gorgeous smells wafting through the restaurant that got my mouth watering before I'd even sat down.
Both the kitchen and bar areas have red under lighting that is subtly picked up in the table napkins to give a nice cohesion to the colour scheme.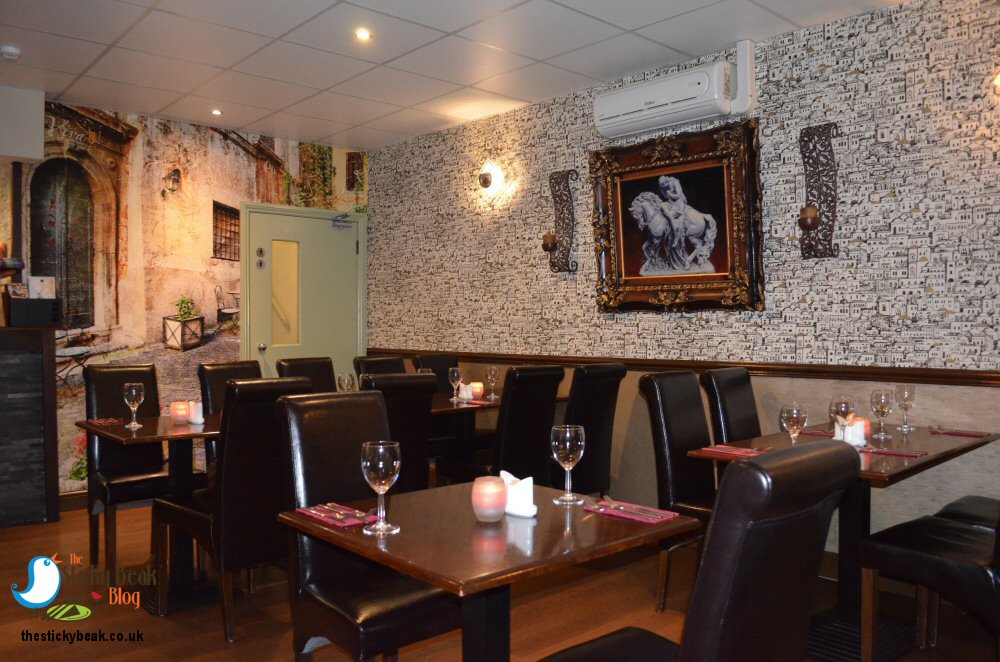 There is a feature wall of printed paper and intricately scrolled sconces and another wall that depicts a cobbled residential street so that there is plenty to please the eye as you look around. The tables themselves are dark wood with mid brown leather style seats placed at them and the windows are adorned in wooden blinds to preserve diners privacy. There is nice spacing between the tables so that any conversation remains private and you don't feel at all hemmed in.
Anyhow, we were brought our drinks over and settled back to have a look at the menu. To describe Viva's menu as extensive would be the understatement of the year; there was so much to choose from! We really liked the straight forward layout of it though; it made things very easy to navigate. Eventually I chose the Funghi al Pecorino to start and His Nibs had the Polpette Picante; if like me you're not fluent in Italian, I'll translate the dishes for you.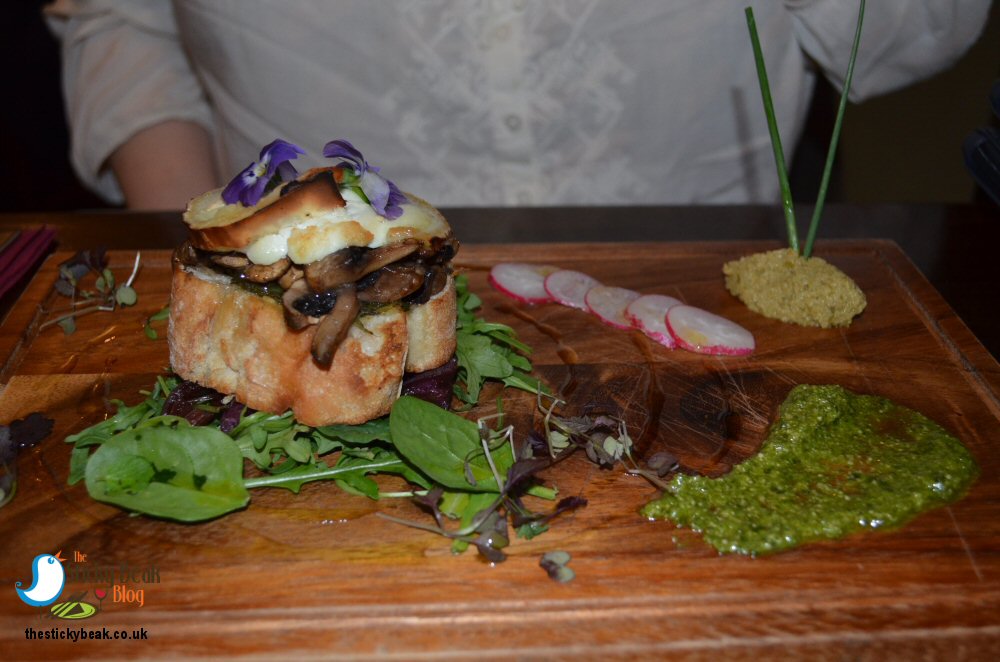 Funghi al Pecorino is sautéed Mushrooms with Garlic, Spinach and Goats cheese served on toasted Ciabatta bread with Pesto and Polpette Picante is Vivas' homemade Italian meatballs in a spicy Tomato sauce served with slices of Ciabatta.
When our starters were brought over The Man and I both did a double take; the presentation was superb making the dish almost too good to tuck into, but tuck into them we did.
My dish consisted of a toasted Ciabatta slice topped with Duxelle and slices of Mushroom, wilted spinach leaves and a grilled round of Goats Cheese. On the wooden platter there was an artistic swirl of Pesto and a miniature quenelle of green Olive tapenade with micro herbs and edible flowers also on display. Every mouthful was a joy to eat imparting its vibrant flavours to the senses with its varying tastes and textures.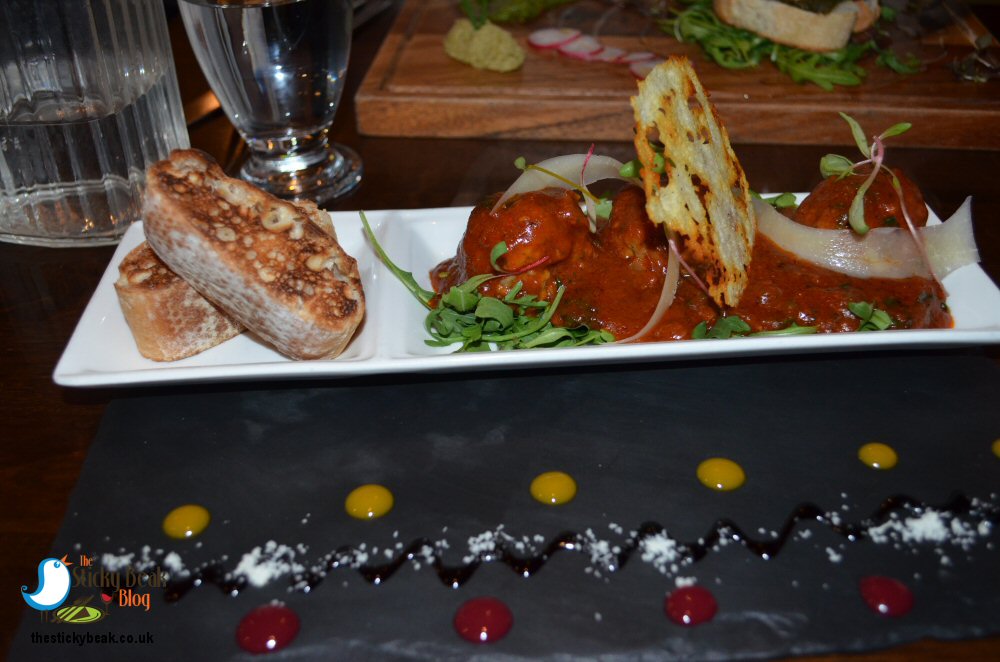 His Nibs choice came on a slate with elegant dots of varying colours garnishing one edge of it. The Meatballs were a lovely size and there were several of them too surrounded by a rich red tomato sauce. Rather thoughtfully the Ciabatta slices were in a separate little dish so that they didn't become soggy from exposure to the sauce.
The meatballs had a lovely seasoning to them that enhanced their natural full flavour and a wonderfully piquant sauce partnered them superbly. The Man said that he could taste enough chilli to get a tingle but not enough that it overwhelmed the other flavours in the dish. Needless to say he used the bread to mop up every last bit of the sauce!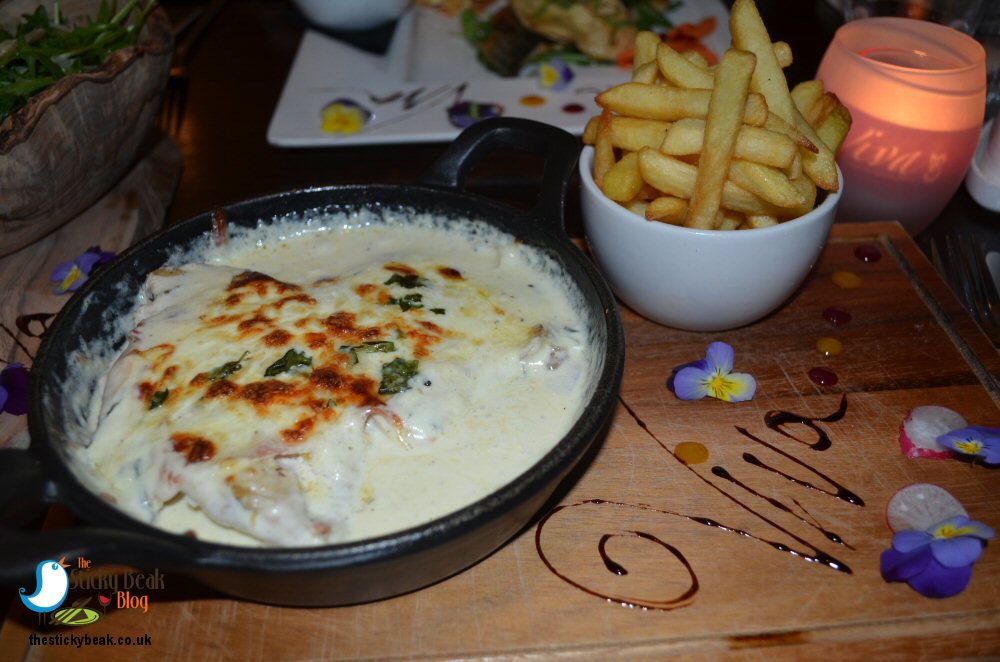 For main courses we had ordered the Pollo Sorpresa and the Branzino; served with French fries for him and rice and a Parmesan and Rocket side salad for me. That translates as Chicken breast wrapped with Parma Ham in a creamy sauce, topped with Mozzarella cheese and baked in the oven and Sea Bass fillet grilled and finished in the oven with Rosemary, Lemon and a touch of Garlic served on a bed of Rocket.
My Sea Bass came on a white square platter whose edges were decorated with edible flowers and swirls of glaze that spelled "Viva" and "enjoy". This is such a simple dish that really has no room for error because any mistake would be glaringly obvious. Luckily the head chef at Viva knows his art and all the flavours were in perfect harmony. The fish itself was lovely and moist with a nicely crisp skin and the plain rice still had a hint of bite left to it. Finishing the meal off was a substantial hand-turned wooden bowl of fresh peppery Rocket leaves and shards of distinctive tasting Parmesan; just sublime.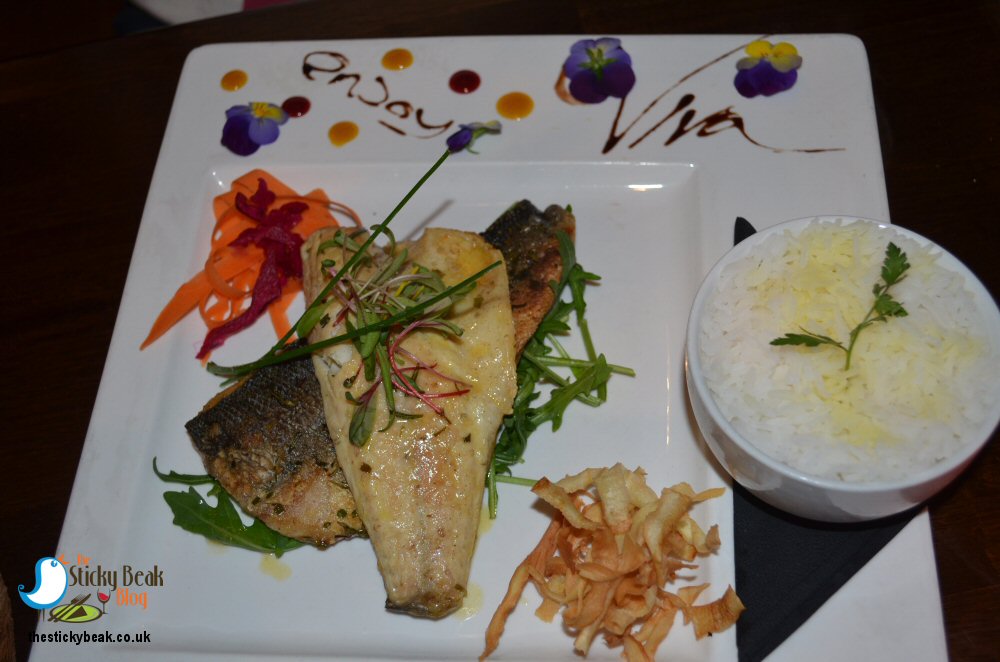 The Boy Wonders main course was also nicely presented and the chicken was in a cast iron pan on the platter. Chef had butterflied the chicken breast, wrapped the slices of Parma ham around them and covered this with a rich cream sauce before smothering it all in Mozzarella and baking it. His Nibs said how succulent the breast meat was and that the sauce was nicely herbed and seasoned rather than just being blandly creamy. I couldn't help but giggle as he turned his fries into dunking sticks to get as much sauce eaten as possible; personally I would've disgraced myself (again!) and asked for some bread to scoop it all up :)
Given the standard of the food so far there was no way on earth that we weren't going to sample the desserts! There are a dozen sweet treats on offer and no word of a lie, we both could've eaten every single one of them. I decided to see whether the Tiramisu was up to scratch with my second Mummy's (Giovanna) version and The Man was tempted by the Charline Vanilla Caramel which is Caramel and Vanilla Ice Cream covered in Caramel sauce, Almond biscuits and small cubes of Caramel.
Both desserts were on frosted glass platters and decorated with fresh fruits; Strawberry, Blueberries and Red Currants adorned my pudding and The Boy Wonder had Blueberries and Physallis on his.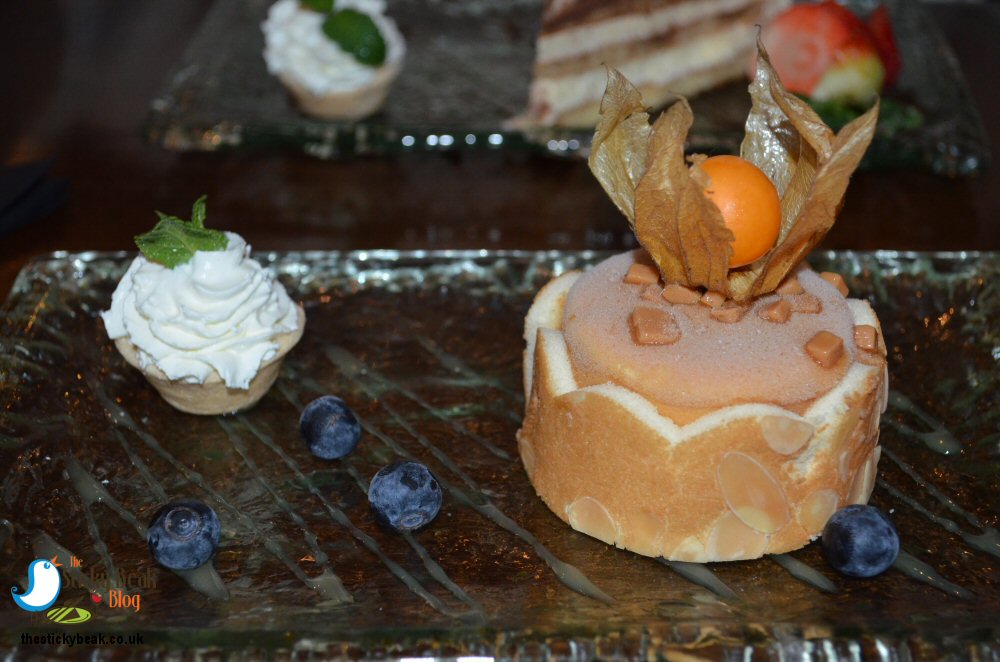 My Tiramisu was delicious, the light layers of coffee and liqueur soaked sponge had been filled with Zabaglione cream and topped with a generous dusting of Cocoa powder. Every element of this quintessentially Italian dessert was perfectly executed and it was the wonderful finale to a fantastic meal for me.
Across the table I could see that my Man was enthralled by his choice. He said that the Ice Cream was top quality, but let's face it Italians are also noted for their Gelato making talents so you wouldn't expect anything less than perfection. There was an abundance of everything, but especially the Caramel pieces, much to His Nibs delight!


Two Lattes brought the evening to a close and what a fab evening it had been. All the staff members were so pleasant and attentive and nothing was too much trouble. The highest praise though has to go to the Head Chef and his team; they worked tirelessly all evening and every dish that went to the pass had been presented to a very high end dining standard.
In fact, I'm going to stick my neck out and say that it is on par with rosette and starred establishments in terms of visual impact; I have had the pleasure of dining in many a fine establishment throughout the world over the years and Viva certainly don't disgrace themselves in comparison. So if you haven't been before I can whole-heartedly recommend you pay Viva at Matlock a visit, but I would recommend booking ahead to reserve a table. Hot Wings more than deserved here :)
Some form of incentive was provided to visit this venue
read more