Dinner At The Newly Opened Cock Inn, Mugginton
---
Published On Wednesday 14 Dec 2016 by Sticky Beak
See Recent Dining Out Reviews | See All Recent Reviews


Having known about this project since last year, and seen its progress, it was lovely to get the official invite from owner Howard to go and experience The Cock Inn at Mugginton. From pulling into the spacious car park and getting our first glance at the outside of the venue we just knew it was going to be marvellous.
The landscaped garden is, at the moment, festooned with twinkling festive lights and it looked like a magical wonderland as we walked up the pathway to the glass entrance doors. Etched on the doors are nifty little arrows; one guiding you to the Farmers Bar, the other directing you to the restaurant.
As we were a little early for our reservation time we decided to check out the Farmers Bar. This is the traditional type of bar with original red and black tiles on the floor, wooden ceiling beams and exposed brickwork. Clever lighting of the paintings on the wall and a roaring log burner ensure that there is a warm, comforting feel to the area. The focus however has got to be the sleek, streamlined bar, it looks superb.




For Gin lovers you will feel like you've entered Nirvana; the drinks menu has two whole pages devoted to various gins and premium tonics! My little wings were all a flutter, I can tell you dear reader. The Cock Inn team are very passionate about Ales too and have a superb selection of bottles, draught and keg items.
At our reservation time we walked through to the reception space and were escorted through to the main downstairs dining area, through a smaller section that housed tables to dine at. This middle zone is very cleverly designed as its decor provides the gateway between the Farmers Bar and the restaurants styles. Here you found the wooden Scandinavian style ceilings that featured in the main restaurant alongside the exposed brickwork that characterised the bar, providing a seamless transition between the two areas.
The restaurant is very open and modern with a trio of large lights suspended from the ceiling; these tremendous metal creatures were originally housed in a Czechoslovakian Industrial factory before finding their way into the more refined setting of The Cock Inn at Mugginton. A single large canvas of the restaurants namesakes, Cock Horses, dominated either wall at the end of the restaurant, providing a unique focal point.

From below, you get a glimpse of the upper mezzanine level courtesy of a sleek glass panel; Howard very kindly gave us a look upstairs after our meal had ended. As I mentioned, the ceiling in here is wooden very much in the clean, sleek Scandinavian style and it reflects the light very well, giving it a contemporary feel. Solid wood tables and very comfortable chairs complete the refined feel in here.


The menu has a range of dishes on offer, from Wagyu burgers and wok fried spicy noodles that you can add several meat options to all the way to premium Steaks and Seafood, including baked whole Cornish Crab.
For starters I had the Chicken Livers with wholegrain Mustard and Crème Fraiche with Puff pastry and His Nibs had the Gressingham Duck Pate with Port, caramelised Red Onion Chutney and toasted Peanuts.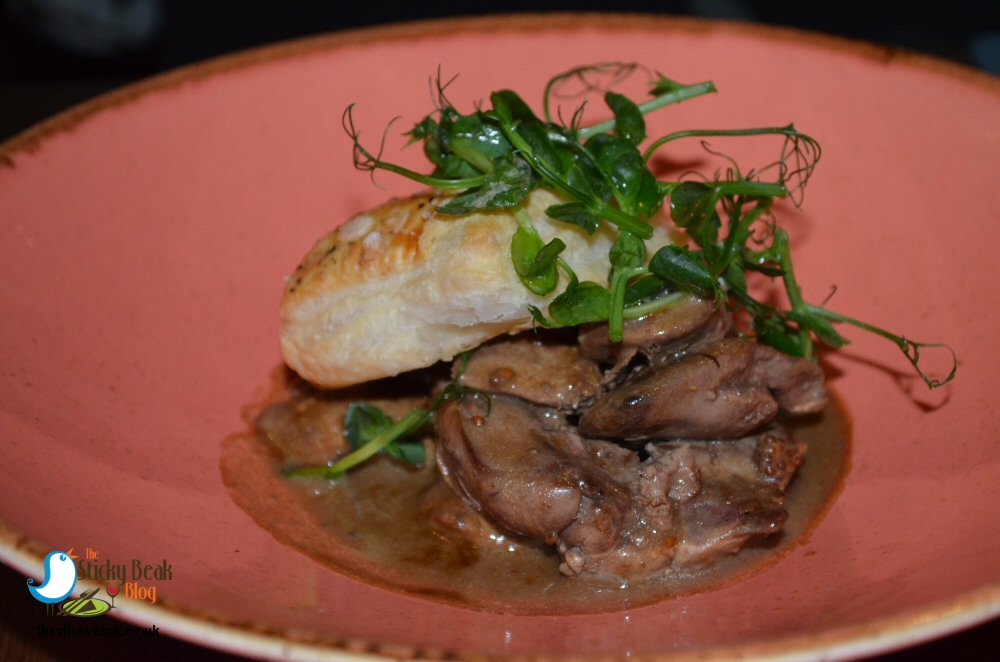 My Chicken Livers were absolutely heavenly; tender and velvety smooth on the tongue, with an intense flavour. The mustard and crème Fraiche "sauce" had just enough tang to stand up to the rich flavour of the Livers without dominating the palate and the puff pastry square was just toe-tinglingly great as it melted in the mouth. Tender Pea shoots provided not only a fresh, bright flavour, but also gave some texture to the dish.
The Man Birds Gressingham Duck Pâté was exceptionally smooth and creamy with an intensely rich flavour that left you wanting more. A rather nice subtle smoky hint was provided by the caramelised onion relish that partnered the pâté beautifully, with a third layer of flavour imparted by the Port gel.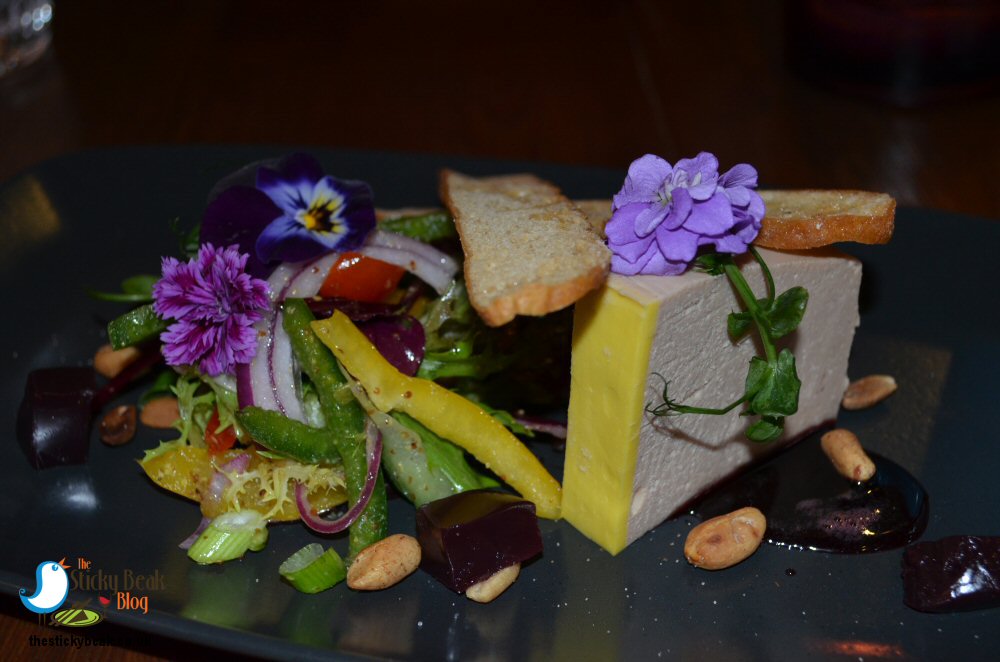 The ultra thin bread slice yielded with a fantastic crunch as it was bitten into, providing a wonderful texture to savour, as did the toasted Peanuts. Superb visual presentation made this a truly lovely starter, due in no small part to the variety of colours from the edible flowers, yellow and red tomatoes, spring and red onion, and mixed salad leaves.
Our main course choices were Braised Shoulder of Angus Beef with Red wine jus and creamy mash (with a side of Honey glazed Vichy Carrots) for The Boy Wonder and a 10oz Entrecote steak from the Robata grill section for me. I had a Roquefort sauce, Green beans and Parmesan, Broccoli with Chilli and Almonds and the Honey glazed Vichy carrots as extras.


My steak was cooked exactly as I had ordered and was a wonderfully juicy, tasty piece of meat. Put this together with a gorgeous sauce oozing with distinctive Roquefort twang and thinly sliced Shallots and you can appreciate why my taste buds were doing a Tango of bliss! The Green beans were the thinnest, tenderest specimens you could ever have the pleasure of tasting and there was a light dusting of Parmesan sharing its delightful flavour with the palate too.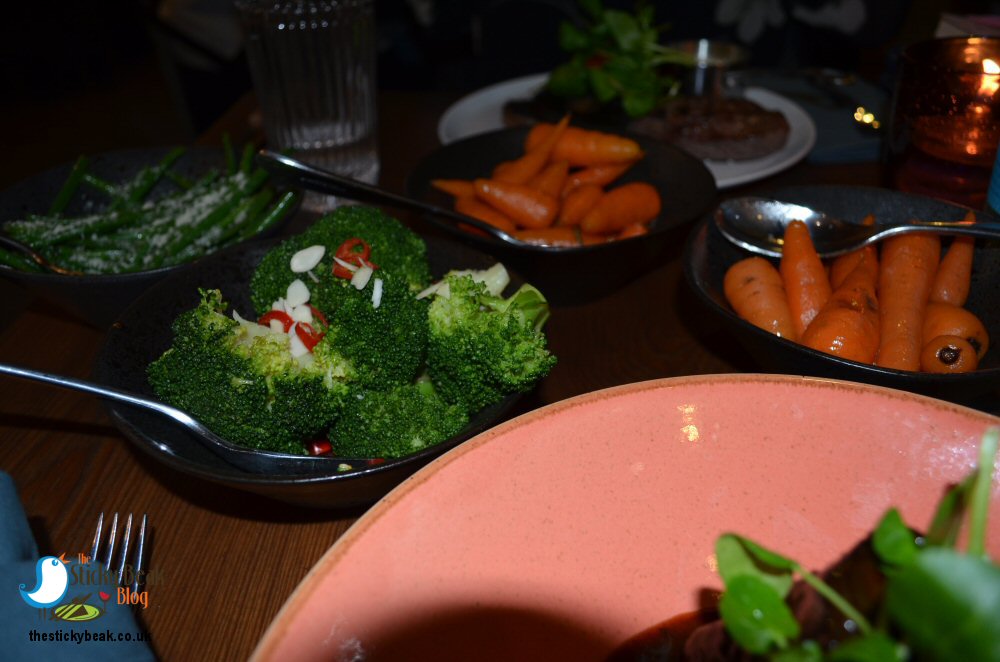 Crunchy florets of Broccoli and sweet slices of Almond provided the perfect platform on which the heat of small, fresh Red Chilli slices could shine from. Fragrant honey caressed the whole Vichy carrots very attractively to again have the taste buds swooning with joy. The whole dish was a delight to eat.


His Nibs' braised beef shoulder had a wonderful deep flavour to it and simply fell apart in ribbons when cut into and my Man declared it to be "moreish". Its natural juiciness radiated from every piece and permeated the marvellously creamy, smooth-as-glass mash. A quality piece of meat must absolutely be partnered with a first-rate sauce and thankfully the concentrated, full bodied example that came from The Cock Inns Chef lived up to expectations.
Our tummies were jolly happy by now as you can imagine, but the lure of pudding was simply too strong to resist. I ordered the Red wine Poached Pear filled with Lemon cheesecake, Hazelnut crumble and Pear Sorbet. The Man opted for the Dark Chocolate and Chilli Pave with Pistachio Praline and Vanilla Ice Cream from award winning Bluebell Dairy.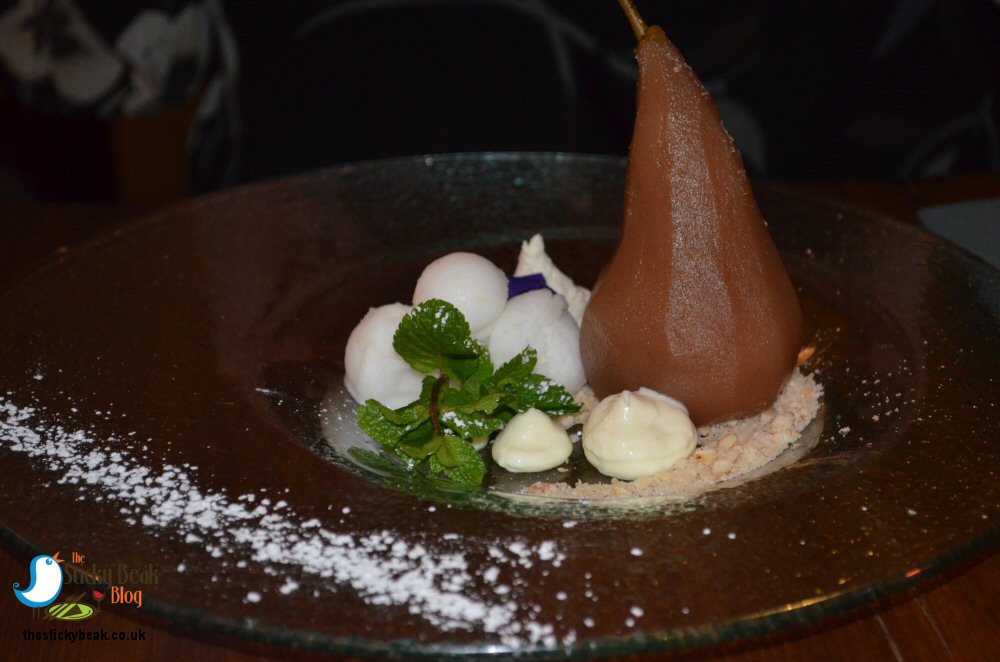 Again, presentation wise, the senses were delighted and our mouths watered in anticipation. My Pear was smooth and silky with no hint of graininess as I bit into it. I loved how the lemon cheesecake had been carefully placed into the centre of the pear and sealed at the bottom with a layer of Hazelnut crumble; it was a lovely jewel to uncover. The Pear sorbet was refreshing and clean on the palate. Any description really won't do it justice so suffice to say it was just a super, super pudding that was a lovely, light end to a wonderful meal.
A dense chocolate base topped with an indecently rich, decadent mousse was placed before His Nibs and, honestly, a Cheshire cat couldn't have had a bigger grin than his. Pistachio crumbs were sprinkled on the top and a Pistachio Praline was on the side along with a generous scoop of Bluebell dairy's Vanilla Ice Cream.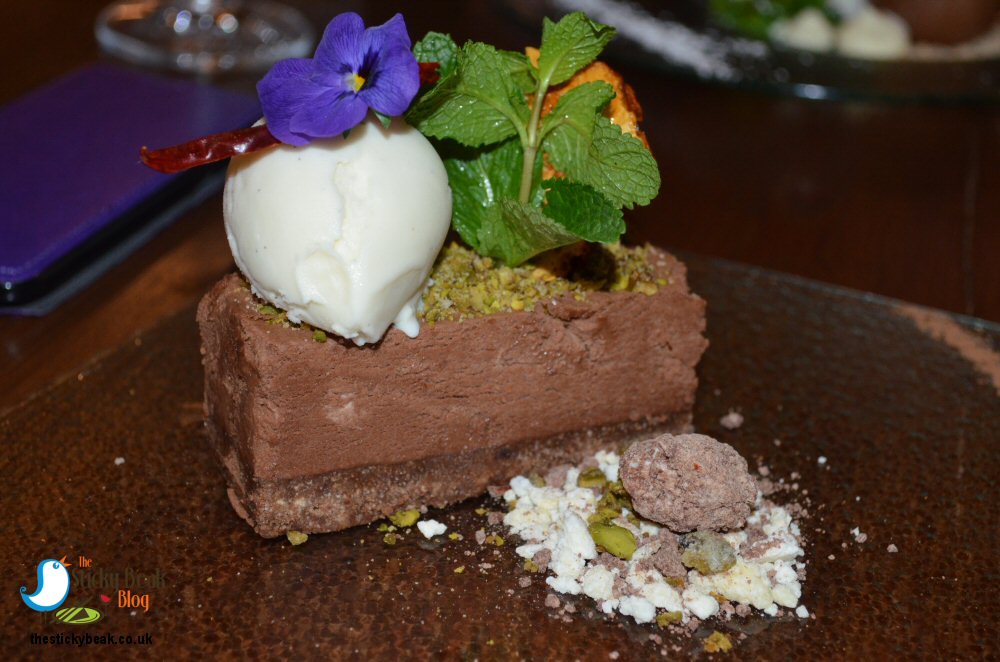 The gentle hint of Chilli warmth lulled him into a false sense of security because the praline didn't muck about with any such gentleness; it went straight onto the palate with a blooming great "ta dah!" Combined with such a rich chocolate though, and of course the cold Ice Cream, it was a superb dessert and not a single morsel was left :)
After all the excitement of this wondrous food we savoured our customary latte coffees and relaxed, feeling totally replete. The Cock Inn uses Illy coffee which has a really nice, smoothness to it. Throughout the evening the super smart, polite staff couldn't do enough for us, or the other diners, and in truth I can't single one person out, they were all fantastic.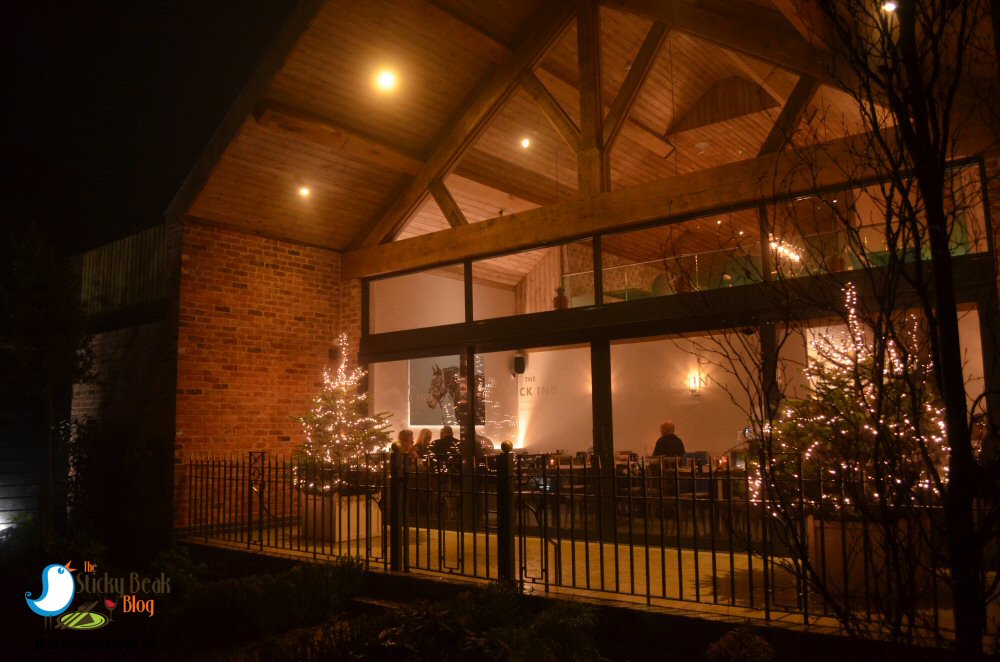 During every course of the meal, we were asked at least once if things were to our liking, or if our water glasses needed refreshing; the service was top notch.
As we approached reception to leave, Howard (the owner, and a very charming gentleman to boot) asked if we would like to take a peek upstairs; obviously we weren't going to say no! On either side of the upper dining space there were golden velvet backs to the banquet seats, in the style you get on Chesterfield sofas.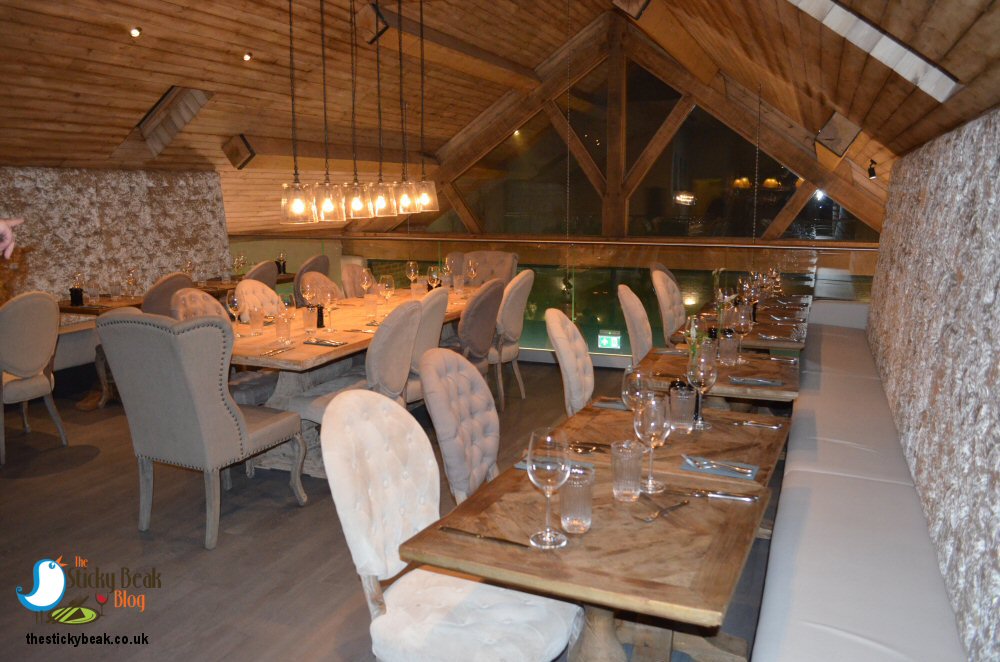 They looked so deep, I'm sure that as you sat down your back would just sink into them and then sigh with contentment. The centre of the room housed more tables and there was a central row of lights, quite modern in style rather than being ornate, and they gave a lovely warm glow to the room.

On this upper level you are afforded a fantastic view out over the garden, which was delightful on this dark night as the twinkling lights stood out vividly. I can imagine that on a bright day this will make a really lovely landscape to observe as you dine.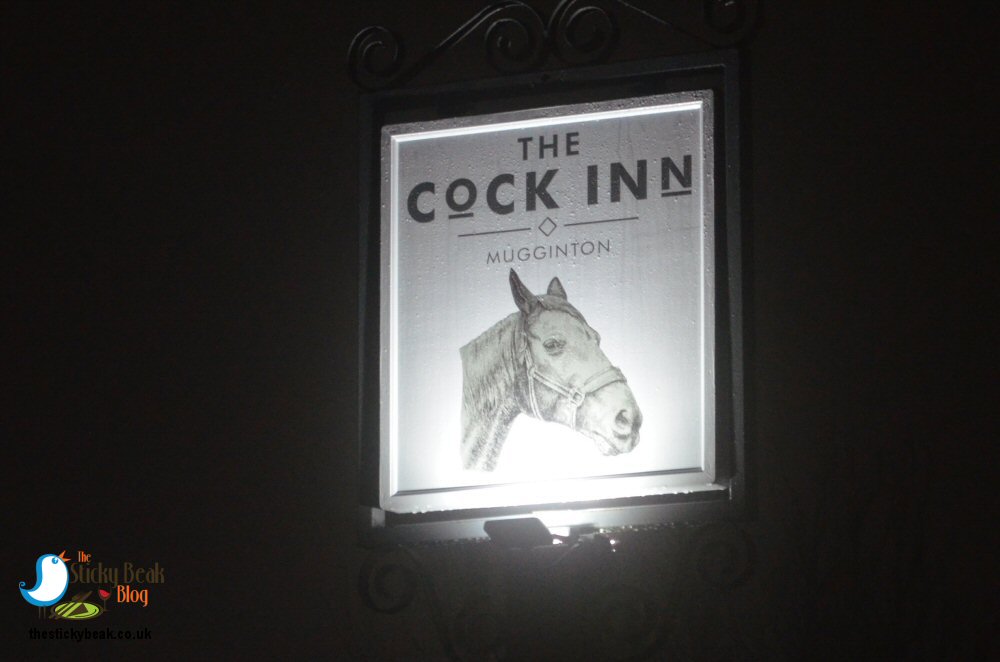 Saying "Hot Wings" doesn't seem quite enough on this occasion, but it is our trademark endorsement and definitely deserved by the team at The Cock Inn, Mugginton. I have absolutely no qualms in recommending this venue to you, being quite certain that you will have a fabulous experience.

They are child friendly; there was a family that had three children dining whilst we were there (ranging from about 7 years to mid teens I would estimate). It would certainly be advisable to book ahead, especially if you want a particular date and time.
Some form of incentive was provided to visit this venue
read more