New Menu At The Cosy Club, Derby
---
Published On Thursday 10 Nov 2016 by Sticky Beak
See Recent Dining Out Reviews | See All Recent Reviews


It's been a while since the Man Bird and I were last at The Cosy Club in Derby, in fact I don't think we've managed to get back there since their opening night!
As we walked through the doors and up the magnificent staircase and the walls adorned with imposing portraits, the impression of refined grandeur came flooding back. The regal Stags head, flanked by two Rams' heads has pride of place at the top of the stairs just as you enter the bar area.
Dominic and Jess were our servers for the evening and took very good care of us; Dominic's dry humour is second to none and just appealed to me, especially when he referred to tap water as "Chateau Severn Trent".
For starters we had three choices from the Tapas menu; Cherrybell Peppers stuffed with Goats Cheeses and crushed Smoked Almonds, Salt and Pepper Squid with Lobster Mayonnaise and Pork Belly squares with barbeque glaze.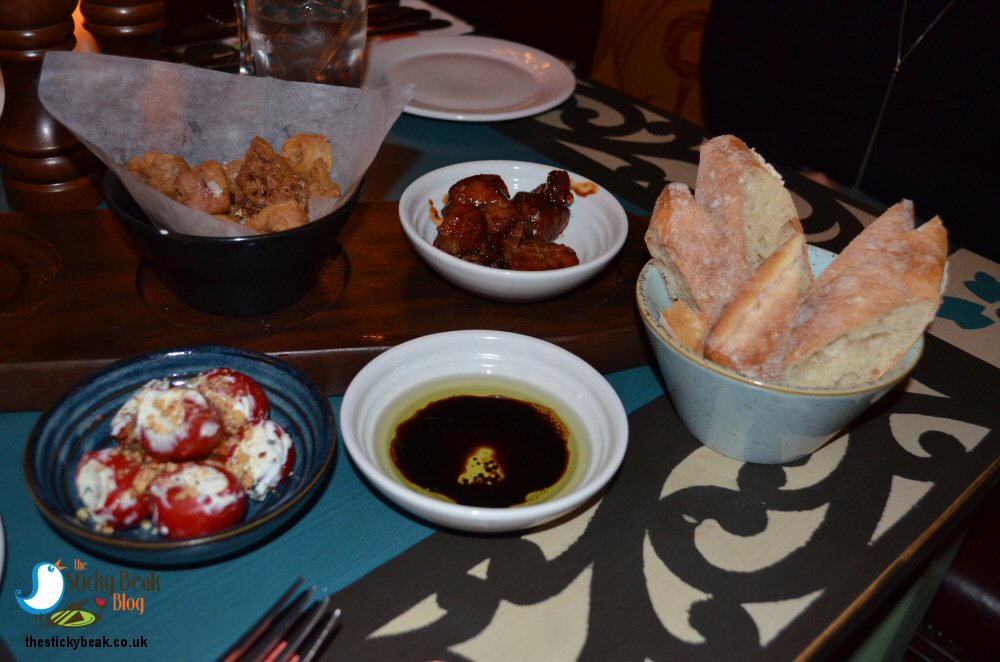 The peppers were nice and piquant to contrast against the creamy goats' cheese, and I loved the texture provided by the almond pieces. Both of us love Squid and the variety and The Cosy Club version has a lovely seasoned coating to it and it is very tender. Lobster mayo just finishes the dish off nicely with its delicate creamy flavour.

Belly Pork is one of the meat cuts currently enjoying its time in the spotlight, and when paired with a divinely rich, sticky glaze, makes a fantastic Tapas dish. Dominic was eager to garner our opinions on the Tapas, and was pleased when we said how much we were enjoying them.
Both of our main course choices are newcomers to The Cosy Club menu; Short-rib of Beef and The Major-General Burger.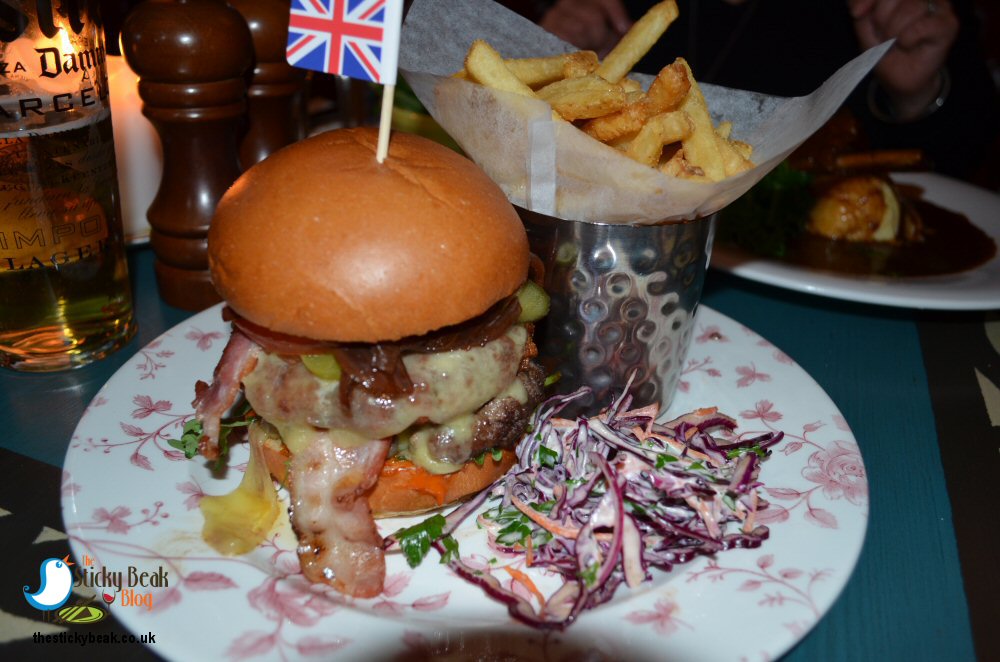 His Nibs opted for the Major-General, a meaty 6oz beef patty topped with a macaroni cheese fritter, smoked streaky bacon, mature cheddar , tomato, pickles and onion served with skin on fries and coleslaw.

In the flesh, it was no less impressive than its name suggests, not least by its size (which would fit right in in New York City), but could it deliver on the taste front too? Well, yes it could, and resoundingly so. The patty was well seasoned and chock full of flavour just as you would want and the Mac fritter was lovely too with its crisp outer and creamy, cheesy inner; add in a thick slice of bacon and a good amount of melted cheddar and you've got a formula ticking all the taste bud boxes.

There was a contrast in temperatures too provided by the warm patty and fritter and the cold tomato, gherkins and onion. The fries didn't disappoint either and I got to have the coleslaw all to myself (His Nibs isn't a fan of coleslaw) and can say how lovely it was with its crunch and herby note.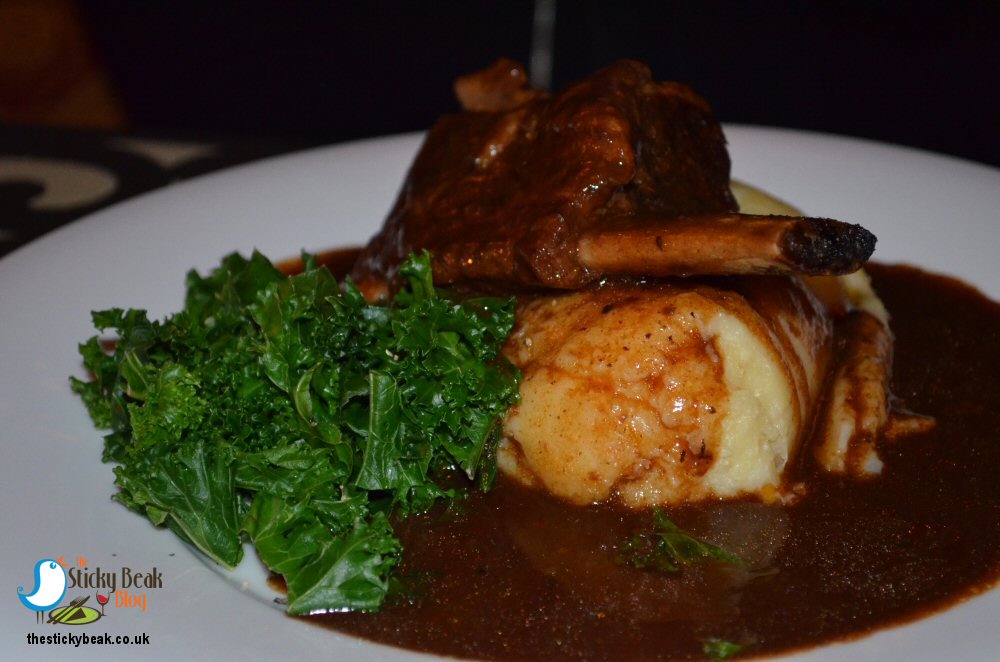 When Dominic had come over to take our orders I was sorely tempted by the Pie of the Week, Chicken and Gammon on this occasion, which I'm sure would've been brilliant, but my Short Rib of Beef was delicious, in a word.

The meat itself was superb; juicy, flavoursome and really really tender. There was a nice hint of horseradish to the mash, giving it lovely warmth on the tongue and the roast garlic gravy was most tasty.

It came with Kale and the aforementioned Horseradish mash and I also ordered some extra buttered greens, comprising Tender stem Broccoli, Fine green Beans and Sugar Snap Peas. Once I'd tucked into my meal the beef seemed to be never-ending, and I mean that in a very good way! You certainly get a lot of bang for your buck as they say.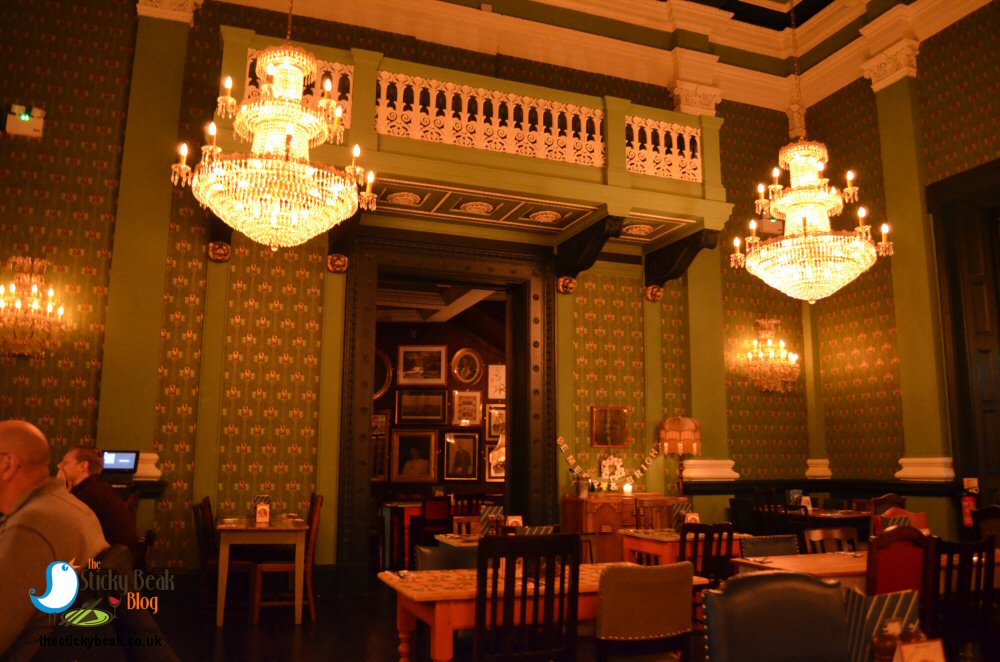 As Dominic came to take our squeaky clean plates away we were given a little time to appreciate the grandeur of the dining hall. Every single cliché you can think of applies to this room; opulent, decadent, lavish, resplendent and a whole host more.

Each side of the room there are several large chandeliers and banks of Colonnade style wall lights and you would think that this would provide quite stark light levels. Actually the effect is rather cosy and intimate, thanks to the high ceilings that are raised as tall as the New York skyline and the way they diffuse the light.

Overall, the room has an air of relaxed elegance and refinement that affords a most pleasurable experience to the diners within it.


For pudding I decided to have the Salted Caramel Cheesecake with sweet and salty popcorn and The Man Bird had his perennial favourite; Sticky toffee pudding with Clotted Cream Ice Cream and Butterscotch sauce.

My Cheesecake was presented beautifully with the Cheesecake round draped seductively with popcorn pieces then drizzled with Salted caramel sauce. I couldn't wait to tuck in and when I had that first mouthful it was wonderfully dense and creamy on the tongue with a pleasingly firm base.

Normally His Nibs can be relied upon to provide a whole raft of adjectives when asked for his opinion on his meal, so I was more than a little surprised when, upon asking for his thoughts on his dessert, he merely replied "bloody marvellous". My raised eyebrows elicited the response "well, it is! What more is there to say?" In all fairness, sometimes verbally less is more and when I tasted it for myself I was in complete agreement with him.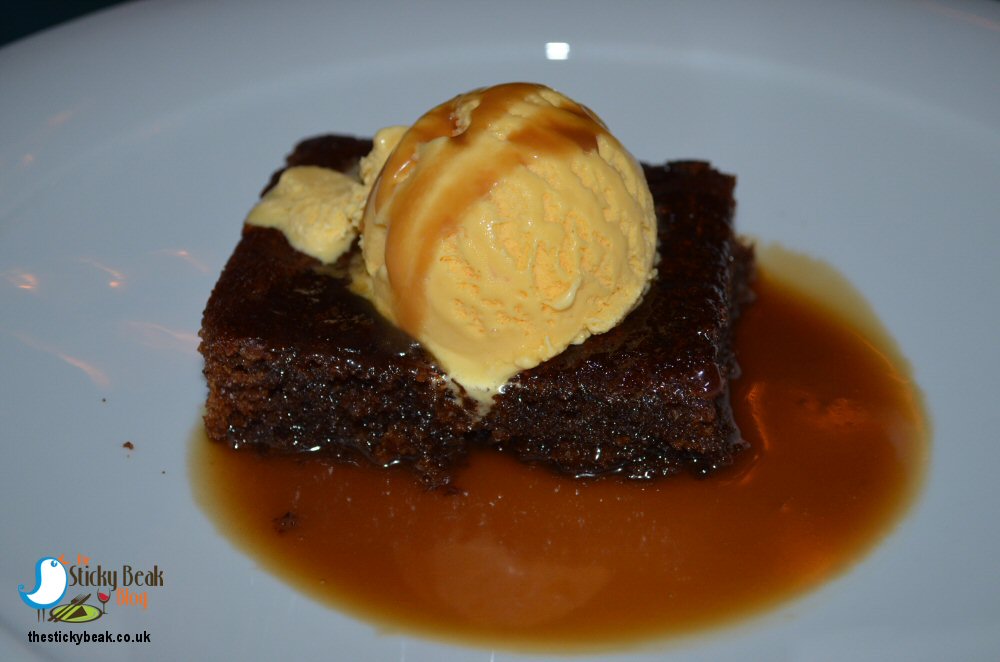 Two Latte coffees provided the perfect end to a most enjoyable evening, and as we glanced at the time we both had to look twice. Nearly two hours had passed but it had seemed like only 5 minutes.

The Cosy Club seems to have the ability to magically make time warp. When (if!) I get organised and come to Derby for Christmas shopping I may just have to pop in to The Cosy Club for either breakfast or for Elevenses as it has such a relaxed vibe about it.
As we arrived at The Cosy Club there were already tables of diners in, and throughout the evening there was a steady stream of people coming in. If you haven't been yourselves dear readers, then I can say without hesitation that you will really enjoy the whole experience; food, service and surroundings. Hot Wings on their way to The Cosy Club, Derby.
Some form of incentive was provided to visit this venue
read more