An Alternative Christmas Menu At Cosmo, Derby
---
Published On Saturday 1 Oct 2016 by Sticky Beak
See Recent Dining Out Reviews | See All Recent Reviews


It's been a fair while since The Man Bird and I last visited Cosmo in Derby, not because we haven't wanted to but because we've been a busy pair of birdies. Our Chick however has managed to go on plenty of occasions with various groups of friends, and taken great pleasure in telling us how fantastic it's been each time.
So when Sarah contacted us to say they were arranging a food bloggers evening to showcase the Christmas Menu we wasted no time accepting the kind invitation to go along. Our hosts for the evening, Sarah and Sid (the manager) took us to our table, brought us some drinks over and gave us a copy of the menu; there are some incredible dishes in store when this is officially launched and we couldn't wait to get stuck in.
There are four new starters for this Christmas Menu: Sweet Potato and Butternut Squash soup garnished with Fennel Coriander and Pumpkin seeds, Pigs in Blankets with Chocolate sauce, Classic Prawn Cocktail with a Marie Rose sauce, and Steamed Buns filled with succulent Lamb, served with Tomato Relish.


A cornerstone of any respectable (non vegetarian) Festive lunch is Pigs in Blankets; I can eat a ridiculous amount of those little sausages wrapped in streaky bacon, but I've never tried chocolate sauce with them. I have to say it makes for a fantastic combination of flavours; the chocolate seems to enhance the taste of the meat and the sausage was top quality, which is essential for this dish to work.
Another classic entree at many British tables is the Prawn Cocktail with that nice tangy Marie Rose sauce and crisp shredded iceberg Lettuce. The Cosmo version is an artfully arranged number served in a tumbler style glass that lets you appreciate the delicate layers and their colour palate; fresh green lettuce topped with rose pink, large juicy Prawns that have a deeper coloured sauce over them like a snuggle blanket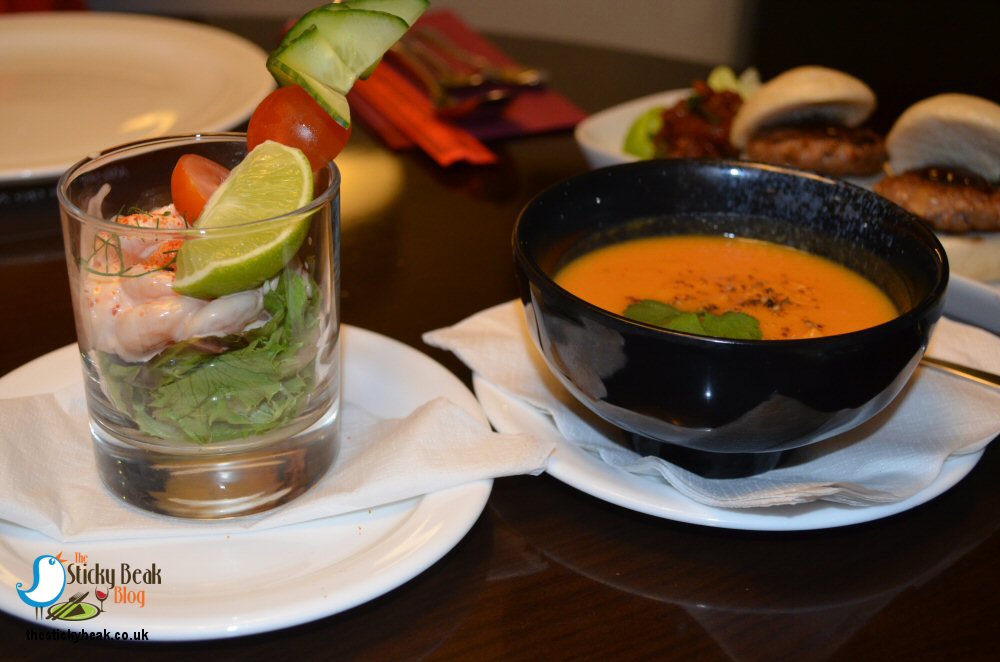 .

A little sprinkle of Paprika and posh garnish of Tomato and Cucumber finishes things off beautifully. I love Prawns so this was right up my street; all the ingredients were super fresh and there was plenty of differing textures from the smooth sauce through to the crunchy lettuce and lots of flavour too.
Sweet Potato and Squashes have been in the news lately for their health benefits; not only do they contain lots of vitamins but they provide a great source of dietary fibre which is sorely lacking in a lot of modern diets.

This version is a medium consistency soup with a mild taste that would suit all palates; it is slightly sweet in taste and a real comfort food that is super to savour. A nice little zip is provided by the Fennel and Coriander in it, and then you get just a hint of nuttiness from the Pumpkin seeds (themselves packed with nutrients). If you have someone who is very health conscious, or even on a training regime, this would be ideal for them simply because of its nutritional content.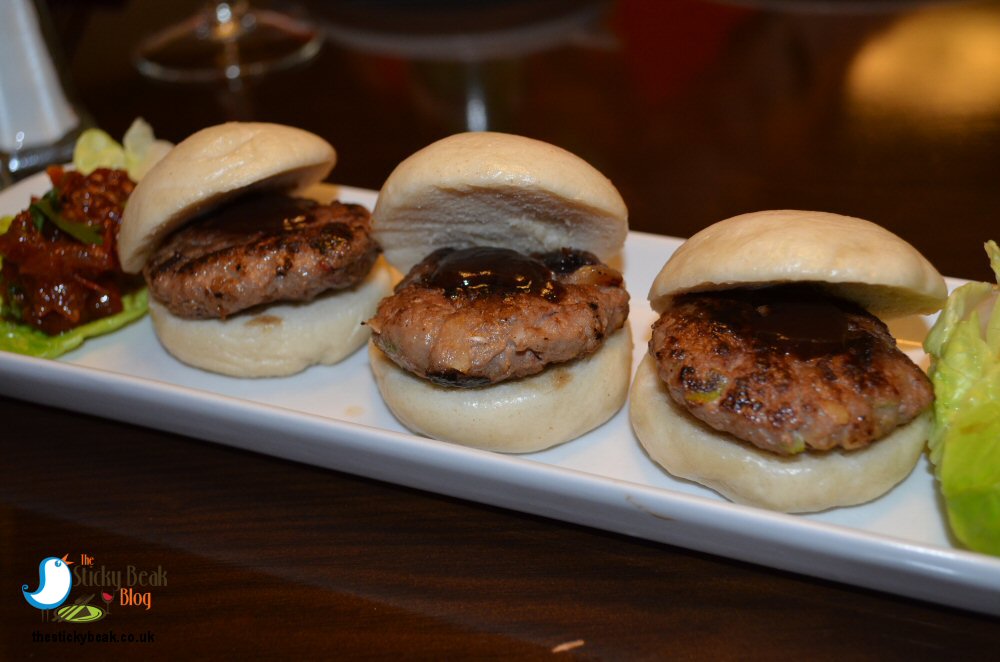 The final starter to try was Lamb filled Steamed buns. I really enjoy steamed buns I must admit, but there is no middle ground with these, they're either great or soggy, bland messes. I'm very glad to report that the team at Cosmo Derby certainly know how to make them; they were pillowy, soft and light with no stodginess in sight.

The Lamb filling was formed into a little patty that was superbly spiced and seasoned and the chunky Tomato relish was a brilliantly punchy little number that partnered the Lamb really nicely.
All of the starters had been wonderfully presented and their vibrant colours really reflect the colours of the Festive and autumn and winter seasons. Visually you are already captivated by them, and as soon as you taste them a smile appears on your face. Top marks so far for the range of starters, could the main courses match this standard?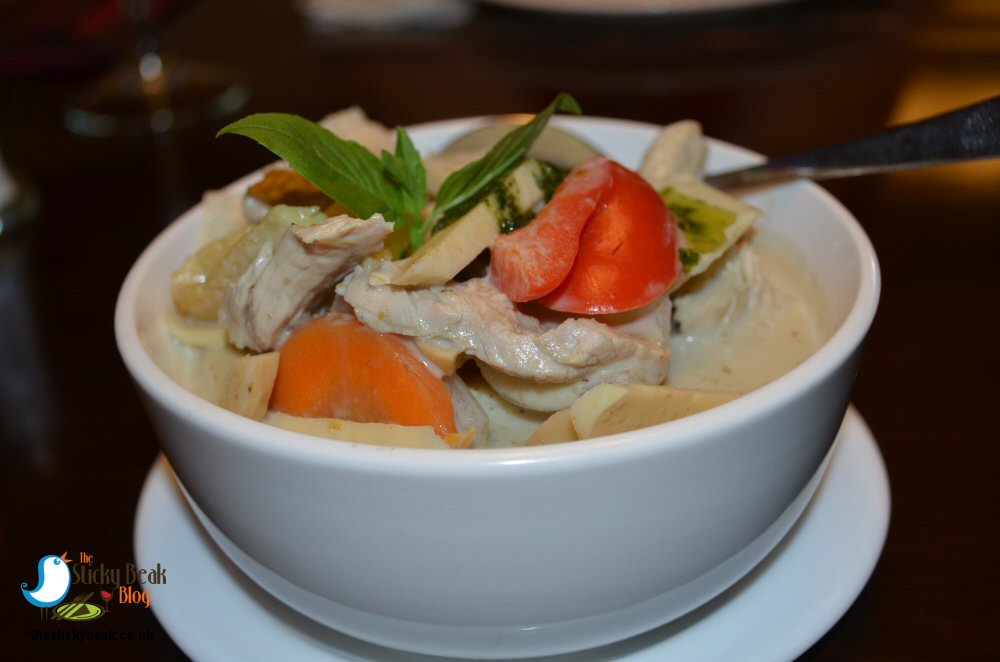 There are five Festive main courses that will be offered alongside the everyday selection of dishes, and these are: Turkey with Green Curry sauce served with fragranced Rice, Braised Beef stew with Colonial influences served with crispy Shallots, Smoked Salmon with Teriyaki sauce, Honey glazed Roast Ham with Dauphinoise Potatoes, and Chicken with fresh Orange served with a Citrus sauce.
The fragranced rice came in a large bowl for us to help ourselves to without having to leave the table, so The Boy Wonder and I put a little pile of that on our plates and topped it with the amazing smelling Green Curry. I don't know about you dear reader, but in our nest any leftover Turkey gets chucked into some Jalfrezi or Rogan Josh sauce and that's the way it's always been, so it was nice to get some inspiration from the Chefs at Cosmo Derbys restaurant.

I wouldn't normally think about putting turkey into a more Thai style sauce but it works extremely well; the result is a dish full of fresh, energetic flavours that are nice and spicy without being overpowering. There were plenty of chunky pieces of Turkey in evidence as well as onion, peppers and tender Bamboo shoots; the sauce was a great fusion of creamy coconut milk with hints of green chilli, lemongrass and coriander coming through.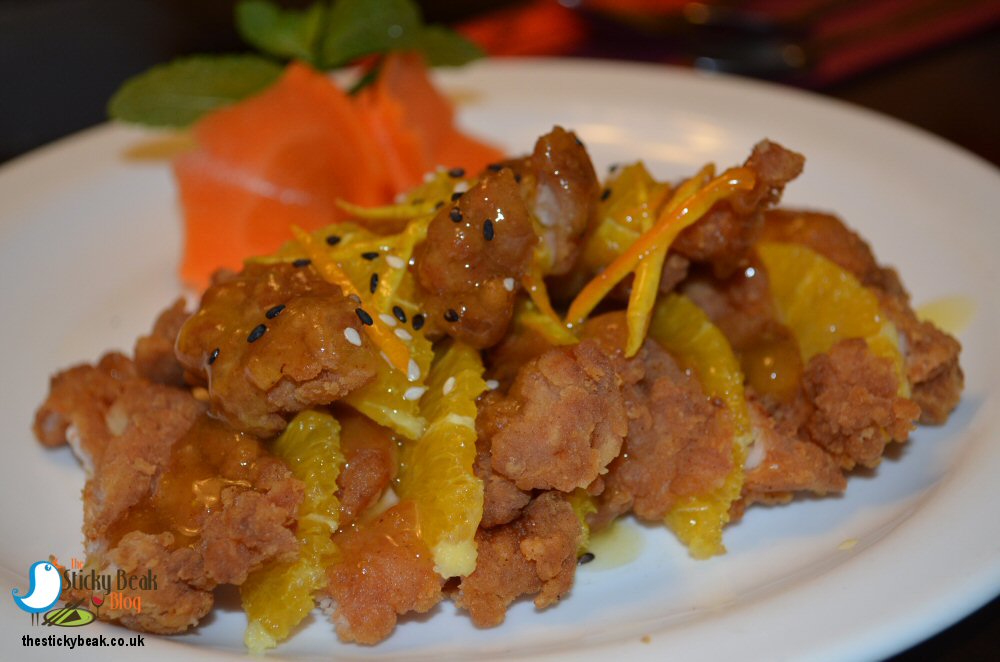 Next up we tried the Chicken with Orange. There were tender slices of breast meat in a crispy coating interspersed with thin slices of fresh Orange that had been drizzled with the Citrus sauce and decorated with delicate shreds of Orange peel. Not only did it look gorgeous on the plate, it tasted pretty amazing too. What I really liked though was the different sensory experience the fresh Orange slices gave to the mouth when combined with the other components of the dish, and the Citrus sauce had a fab tang to it that kept the taste buds on their toes.
Fish isn't His Nibs strongest point but he was tempted to have a few mouthfuls of the Teriyaki Smoked Salmon and said that he actually enjoyed it. As you know, I like fish and seafood immensely and the Salmon in this dish was moist and firm thanks to its skilful cooking. It was a large, thick fillet so the chef needed to know what he was doing in order to cook it through without drying it out, and he had done a cracking job with this little beauty.

The Teriyaki sauce was rich and smoky and it teamed marvellously well with the Smoked Salmon; combined with the rice this would again be a fairly healthy choice thanks to the omega oils in the Salmon.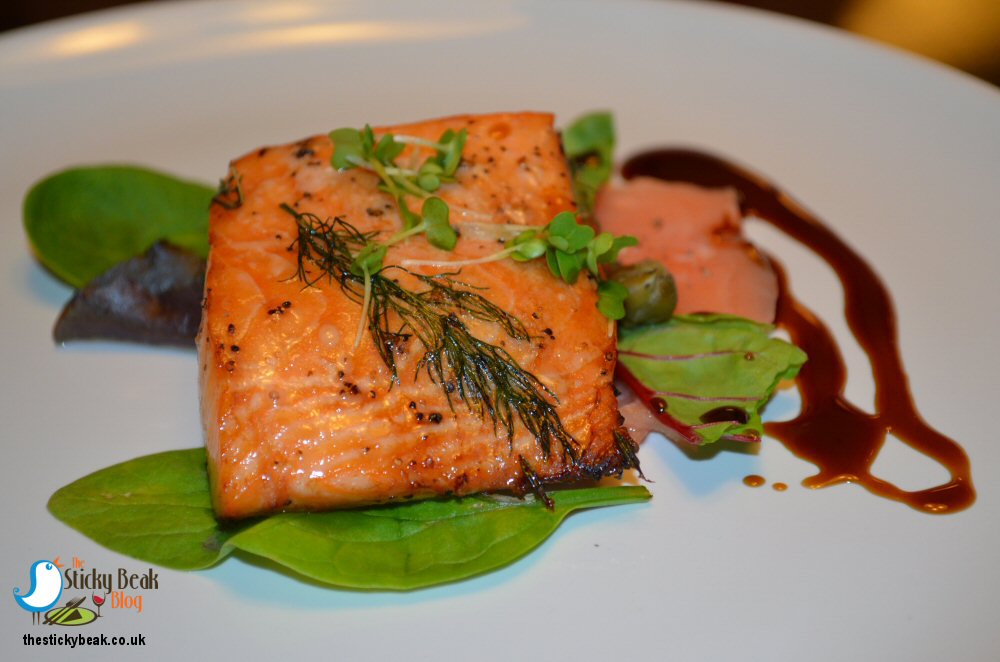 The Honey glazed Ham slices were at least half a centimetre in thickness and had a lovely flavour to them. I think most people can appreciate a good quality gammon ham, and when served in this way with the Dauphinoise potato it is again a great example of comfort food that satisfies the soul.

The potatoes themselves were layered in a herbed cream sauce and had retained their shape in the cooking process; when you bit into them you got that pleasing substance to enjoy rather than something that just disintegrated into nothingness. My Daddy Bird is a little bit of a traditionalist in his food choices and this would appeal to him hugely, which I think is a winning point of Cosmo because there really is something for everyone.


Our final main dish was the Braised beef stew with Colonial influences, a description which had intrigued me from the get go. Visually it didn't disappoint with its chunks of beef in a red tomato hued sauce, and it did smell rather good, although I couldn't put my finger on what it reminded me of at first.

Now when Britain was an empire there wasn't much of the world that we didn't take culinary bits from to be honest and this dish absolutely reflects this with its ingredients; as well as the beef there were carrots slices, onions, peppers and Bamboo shoots in the stew. The sauce itself is a conundrum of culinary styles that is very difficult to describe; there is a European tomato hint there, and a definite Indian flavour, but it (to me anyhow) tasted very similar to a hot and sour Asian soup I had once had. I would say that this is a true world kitchen dish, something that Cosmo use to describe themselves.

Both The Boy Wonder and I were bowled over by this particular dish; it went really well with the rice but it would work equally well with plain pasta, and although there is a plethora of different tastes to savour with the different spices in it, it isn't overly hot on the tongue.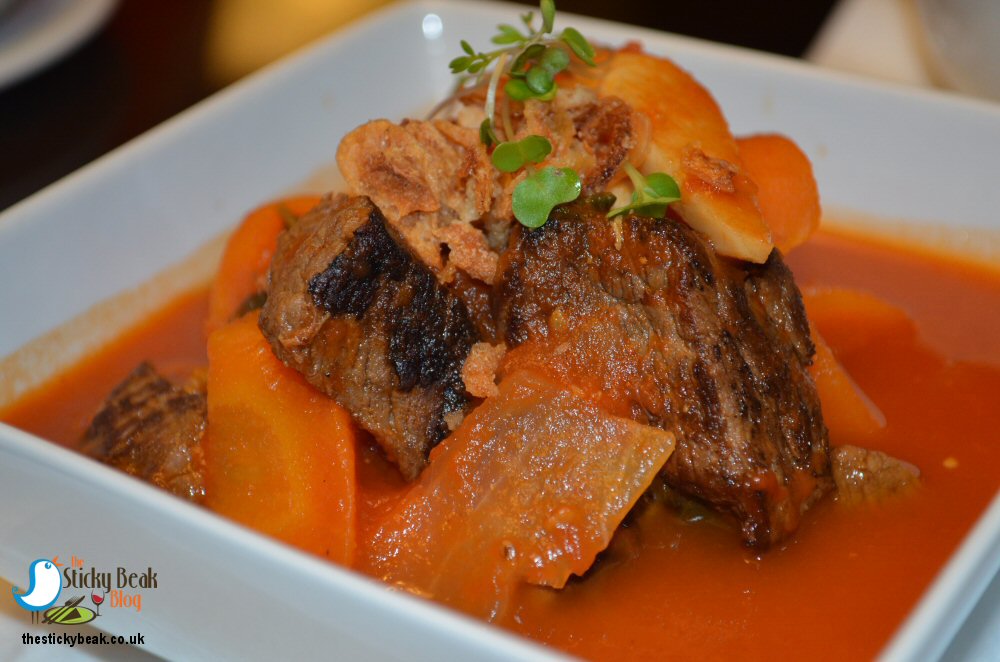 All the main courses had been delicious and you could appreciate the experience and skill of the Chefs at Cosmo, some of whom have worked in Michelin starred venues in their past. The attention to detail when cooking, the fact that food is only kept out for a maximum of 15 minutes and that everything is prepared and cooked fresh every day really is evident when you taste the food at Cosmo Derby. Sid was telling us that a lot of the dishes are only prepared in 5 portion sized batches to keep waste to a minimum and to ensure that maximum quality for the diners is maintained.
I should admit at this point that the food was so good that I think there was just a sliver of Ham left and maybe a piece each of Chicken and Salmon, and that was only because we knew that desserts were to come so we "saved a bit of room" for them. By now our little tummies were very satisfied and so we had an interlude before our puddings were brought to the table. I don't think I could've managed 4 or 5 desserts, so I was more than a little relieved to see 2 sweet treats coming our way; Crème Brulee and a Sticky Toffee Pudding.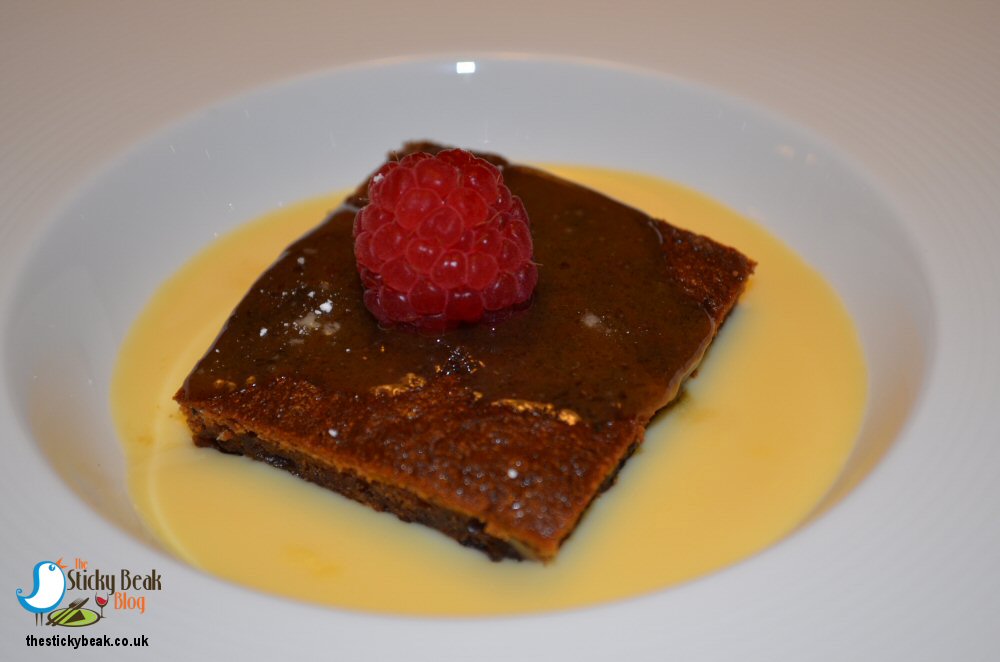 The Crème Brulee sang to me with its resounding crack when tapped with my spoon, as you know I get a real pleasure from that particular experience for some reason. The cream was very delicate and light, a total joy to eat and the sugar had just been caramelised enough to reveal that smoky burnt note in the middle with lighter toffee hints at the edge. Needless to say my pot wouldn't have needed washing afterwards; it was explored by the spoon until every last miniscule bit of it had gone!
Again, Sticky Toffee pudding is a traditional pud in many households, and the inclusion of sweet, unctuous Dates and crunchy Walnut pieces brought a Festive twist to it. The toffee pudding itself had a superb texture and deep flavour that was lightened cleverly by the sweeter, lighter characteristics of the Dates themselves. An extra textural layer was provided by the use of the Walnuts, and the custard that came with this was lovely and creamy. His Nibs loves Sticky Toffee Pudding and really savoured this version, so safe to say that the dessert course was a winner too.


Cosmo Derby are offering this Christmas cracker of a menu (sorry, couldn't resist the pun) from the 28th November until the 1st January 2017 and it will run alongside the standard menu for both lunch and dinner at the price of £14.99 Sunday – Thursday, £15.99 on Fridays and £16.99 on Saturdays.

This will appeal if you've had a skinful of office "do's" but others want to have it, and the other advantage is that you can rock up and have the festive meal you fancy on the night instead of something that you had to preorder weeks in advance if you are having your works party at Cosmo. Win-Win situation if you ask me :)
We had a wonderful night at Cosmo Derby previewing their menu, so firstly a massive thank you to them for inviting us. Secondly, I think it only right to praise all the staff in the kitchen involved in the planning and execution of this menu, it really was fantastic. It is going to have huge appeal to everyone, purely because of the range of food on offer throughout the various stations at Cosmo; I would encourage you to try the dishes out for yourselves readers, they are delicious :) Hot Wings definitely deserved for this gem of a Festive Menu.
Some form of incentive was provided to visit this venue
read more