Dinner At The Wonky Table In Derby
---
Published On Friday 9 Sep 2016 by Sticky Beak
See Recent Dining Out Reviews | See All Recent Reviews


The Boy Wonder and I were playing our favourite roles last night; secret squirrels. Our mission, and obviously we'd chosen to accept it, was to sample the food and service at The Wonky Table in Derby. We'd unfortunately had to miss the opening night of the Secret Garden a few weeks ago, so we were very much looking forward to our visit.
When you first walk in you notice the slightly faded, used effect on the furnishings, and the eclectic mix of fixtures and fittings. These all combine to give it a relaxed, almost shabby chic vibe, rather than being jarring and unsettling.

We had arrived a little ahead of time thanks to traffic being rather less than we had anticipated, but the staff took this in their stride and seated us at one of the tables for two and took our drinks order. As we relaxed and began to take in our surroundings a bit more we noticed mirrors a plenty, nice wooden tables, fancy ceiling lights and candle stands on the tables, all of which added to the relaxed, gentle aura.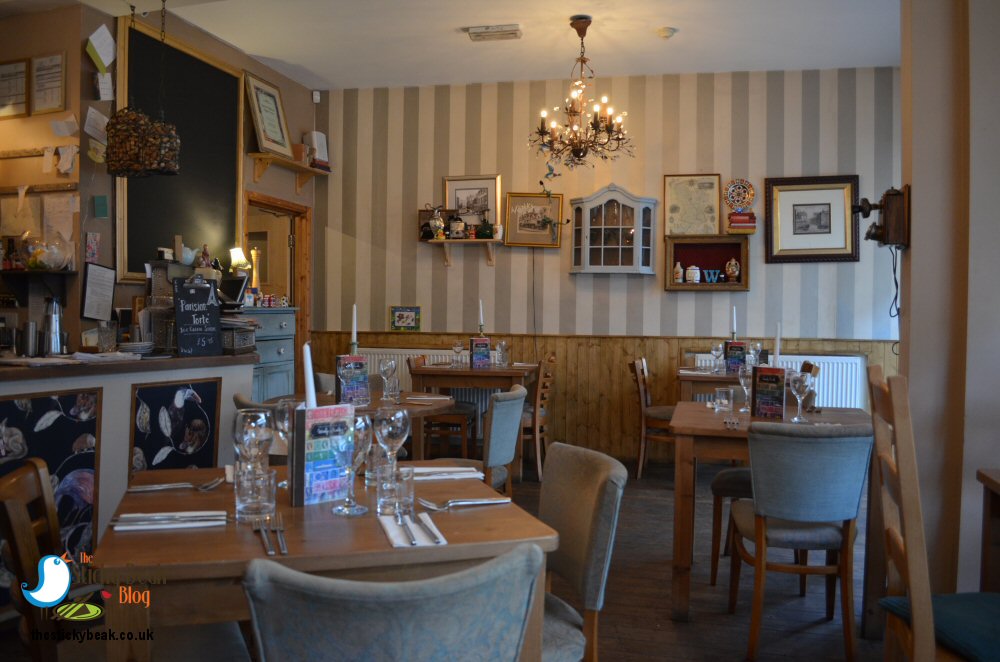 The Man Bird loved the "thrills" sign replete with multicoloured bulbs that was a feature of the bar, and I really liked the old fashioned wall mounted telephone above another of the couple's tables.
For starters we chose Artichoke, Caramelised Figs, Cherry tomatoes, Fresh herb Salad and Stilton dressing for me and Tempura battered Squid with Mango and Coriander dipping sauce for him. Their presentation was lovely and my own dish was packed with flavour, although I would personally have liked more herb content in the green salad, but that's just my preference.




His Nibs was blown away by the lovely light tempura batter that coated his perfectly cooked Squid rings and the dip was marvellously punchy, so he was jolly happy with his choice. Our lovely server came to check that we were enjoying our food so far, and we said we certainly were. Looking over at the other tables, we weren't alone in our satisfaction; there were plenty of forks being passed over tables as people tempted their companions to try the delicacies they were savouring and we could hear accompanying murmurs of appreciation.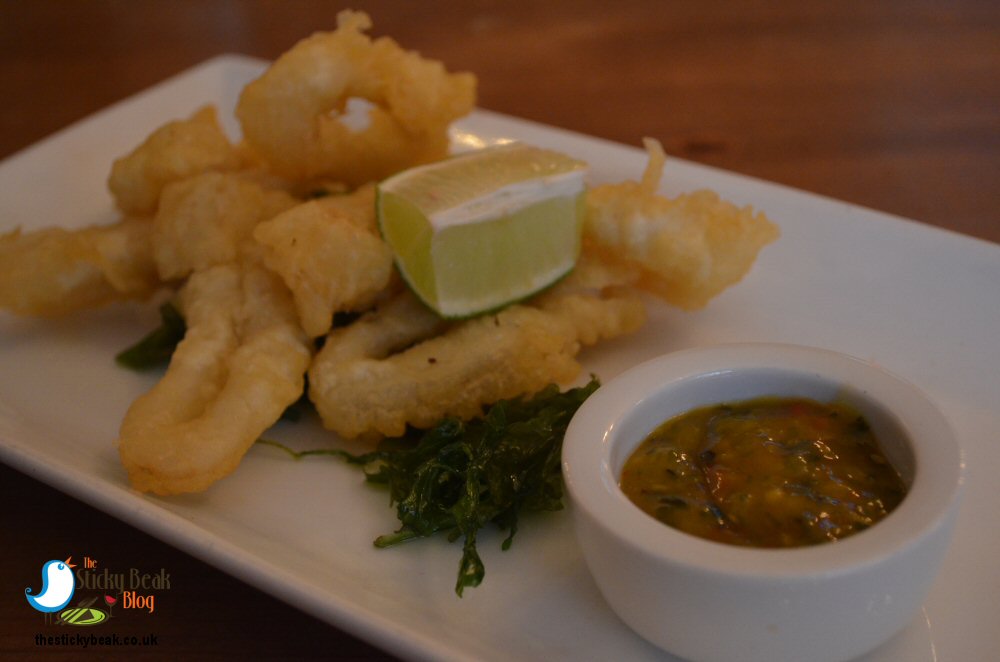 After only a short while our mains were being placed before us; Venison haunch marinated in red wine and thyme, Berry compote, roasted Pear and Summer berry sauce was my choice and The Man had chosen the Derbyshire Fillet steak, Horseradish Yorkshire pudding, Caramelised silver skinned pickled Onions, Mushrooms and Gravy.

As usual I had my meat rare and His Nibs had his steak medium, and both were done exactly as we had stipulated so no complaints on that front. All the mains at The Wonky Table come with Spiced Carrots, Wilted Greens and Dauphinoise Potatoes, as stated on the menu.

Again, the meals were presented beautifully and we tucked in with our customary enthusiasm. I thought the Pear went superbly well with the Venison as it isn't a combination you see often. The cold berry compote surprised me though; I was expecting warm compote to go with the summer berry sauce, which just goes to show you shouldn't make assumptions!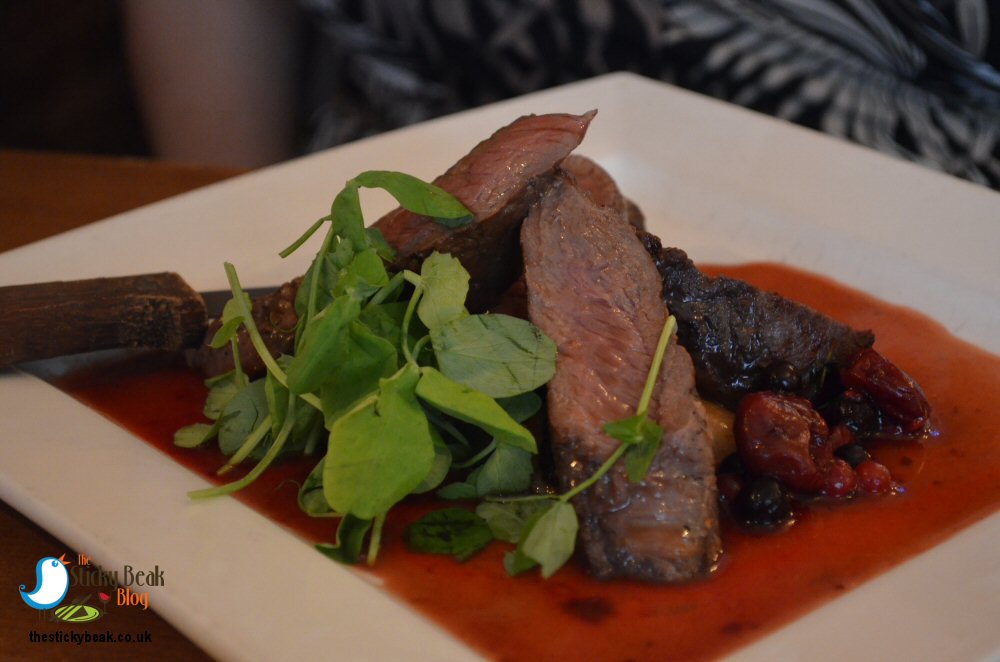 The Boy Wonder was tucking into his steak and said it was a lovely flavourful hunk of meat; tender and juicy, hardly needing any pressure from the knife to cut into it. A beautiful hint of Horseradish could be tasted in the Yorkshire pudding, and the onions were gorgeous with their double edged sweet and sour taste. The rich tasting gravy pulled the dish together very nicely indeed, so when our server came to check again, we were happy to tell her that we were enjoying the meal.

If I had to make one comment how this delicious meal could further shine, and this is again very much my personal opinion, it would be to serve a larger portion of vegetables to a table; the Dauphinoise Potatoes were ample, but I felt the carrot portion was certainly less than expected, and I do enjoy my greens so I would've liked more than a spoonful of those too. Having said that, the portion size of the meat more than satiates the appetite, so you certainly wouldn't feel you were left hungry.


I absolutely loved the heading of the dessert menu, "And something naughty to finish", it just tickled my humour. However, we all know that calories consumed on a night out don't count, so no guilt felt hereJ Needless to say, we didn't hesitate to order pudding; given the standard of the food so far we were very much looking forward to something scrumptious.

I had the very cheeky sounding Chocolate, Cherry and Amaretto Cheesecake and Him Indoors had the Parisian Torte ice cream Sundae, a wickedly tempting concoction of Chocolate and Hazelnut ice cream, Chocolate sauce, Amaretto and Black Cherry ice cream, Raspberries and chopped Almonds. No surprise by now that the presentation was beautiful, and they both tasted absolutely marvellous.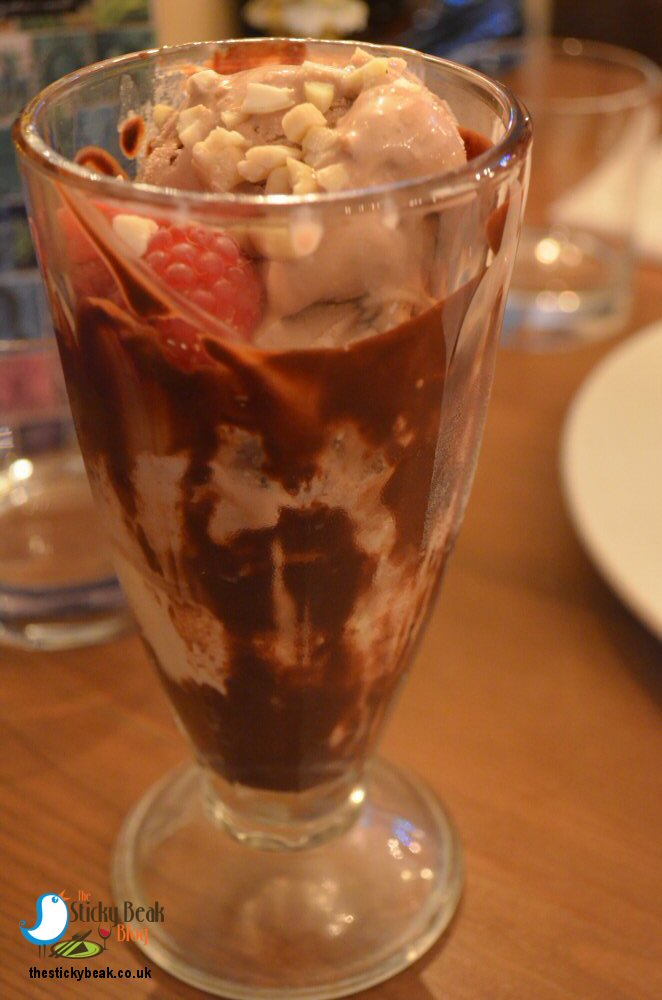 The cheesecake was gluttonously rich and divine to eat, made even more wicked by the little pot of pouring cream that just begged to be drizzled over the top of it (which I obligingly did!). Nothing remained of the ice cream Sundae either, save for a little smidge of Chocolate sauce at the corner of The Man Birds mouth, but that was soon swiftly dealt with :)
We had a couple of Latte coffees to end the superb meal as usual, reflecting on another successful evening in Derby. I would certainly recommend you make an advance booking when you come here (and why wouldn't you, it certainly warrants a visit) as there were a couple of people wanting to dine that sadly had to be turned away due to the restaurant being fully booked.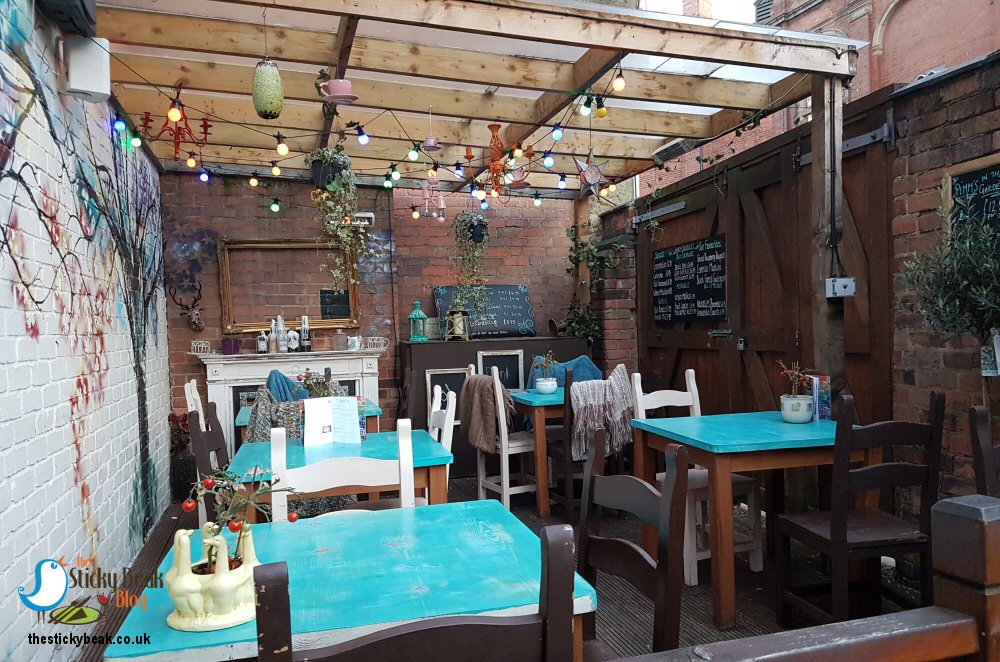 I did also manage to have a sticky beak at the Secret Garden area too and it looks absolutely stunning I must say. Hot Wings making their way to The Wonky Table team, well done guys :)
Some form of incentive was provided to visit this venue
read more