Lunch At Made @ No 18, Alfreton
---
Published On Friday 12 Aug 2016 by Sticky Beak
See Recent Dining Out Reviews | See All Recent Reviews


The Man Bird was out of the nest on business with his day job, the weather wasn't particularly inspiring, so there was only one thing for it; go out for lunch with My Chick. As you know from previous reviews, the breakfasts at Made@No.18 are always scrummy and I've had it in mind to grab a spot of lunch there for ages, so off we tootled into Alfreton having reserved a table for 12.30pm.
I regularly go to Made@No.18 with one of my girlfriends after we've hit the gym for a workout, and only remarked the other week that David hadn't been around for what seemed ages. As The Chick and I walked through the door we were greeted by David and his lovely soul-warming smile and it was really fantastic to see him again.
We ordered a large Latte coffee for me and a Hot Chocolate with all the trimmings for her highness as we perused the menu and the Daily Specials board for lunchtime inspiration. It didn't take me many seconds to spot the Crayfish tail, Smoked Salmon and Roast Asparagus salad that comes with buttered New Potatoes and Chickadee decided to have the Brunch Ciabatta; Sausages, Bacon slices, Fried Eggs and Mushrooms accompanied by a portion of homemade Chips.


The cafe itself was buzzing already with locals taking up the inside area tables and a couple of groups arrived to sit in the courtyard and stables area. A young lady also popped in to place a takeaway order, which I think is a great idea of Mades as there are several offices close by.

All the food is cooked fresh to order, so my Chicks Ciabatta fillings were piping hot as she tucked in with her customary gusto. She said that it was really tasty between mouthfuls, and I cheekily pinched a bit of her sausage and a couple of Chips just to corroborate her statementJ.

I am, as you know, a bit (ok, a lot) particular about sausage as it has a tendency to repeat on me, but these were quality specimens and they weren't spicy, so they didn't repeat at all. The Chips were nicely sized and had a nice crispiness to their outsides and lovely fluffy inners; perfect.
My own Salad was equally impressive; plenty of Crayfish tails and slice upon slice of Salmon and spears of roasted Asparagus were piled upon a bed of fresh mixed leaves and the Marie Rose sauce was thoughtfully placed in a separate pot, which allows you to put on how much you fancy.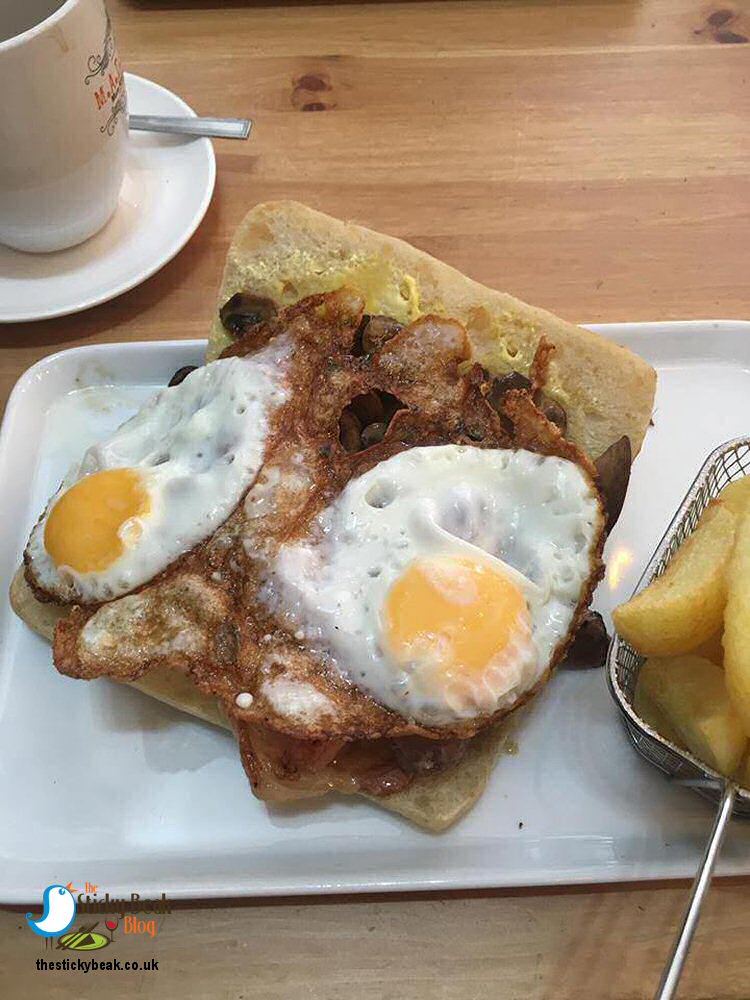 I totally enjoyed every morsel, and cleaned my plate, before I began to savour the sweet, buttery New Potatoes. I'm not a huge potato eater, but I think a pot of baby potatoes with their slightly nutty taste and soft texture work fantastically well with a salad and the ones at Made had been buttered and herbed just brilliantly.
The Chick and I didn't have any cake afterwards, although we did seriously consider it, because we had plans for the afternoon and didn't want to be craving a little nap when we really couldn't afford to have one. There was a superb choice of cakes and scones on display it must be said, so maybe I shall have to pop in another time for a cheeky elevenses visit.

So, if you haven't been to Made@No.18 in Alfreton before I can heartily recommend it for breakfast and also for lunch now. Hot Wings again for David and his wonderful team :)
No incentive was provided to visit this venue
read more