Kitchen Table Experience At The Cavendish Hotel, Baslow
---
Published On Wednesday 20 Jul 2016 by Sticky Beak
See Recent Dining Out Reviews | See All Recent Reviews


You may recall the review I did on The Devonshire Arms at Beeley last year dear reader, and its Chef Patron, Mr Alan Hill. Well Alan decided to roll up his sleeves again full time and throw himself into kitchen life at the Duke and Duchess of Devonshires establishment, The Cavendish Hotel.
Chatsworth House is the ancestral home of the Cavendish family, which we know better by their title Duke/Duchess of Devonshire, and if you have ever been inside then you know how splendid yet elegant its interior is.

This refined luxury is very much the standard in The Cavendish Hotel, as you would expect, and we were greeted most cordially by a lovely lady on reception who took our details from us before we were shown through to the Drawing Room. We settled ourselves back in to the plush chairs and before long Adrian (Adi), the Maitre D', came and brought two glasses of Champagne over on a silver salver for us to sip as we perused the wine list.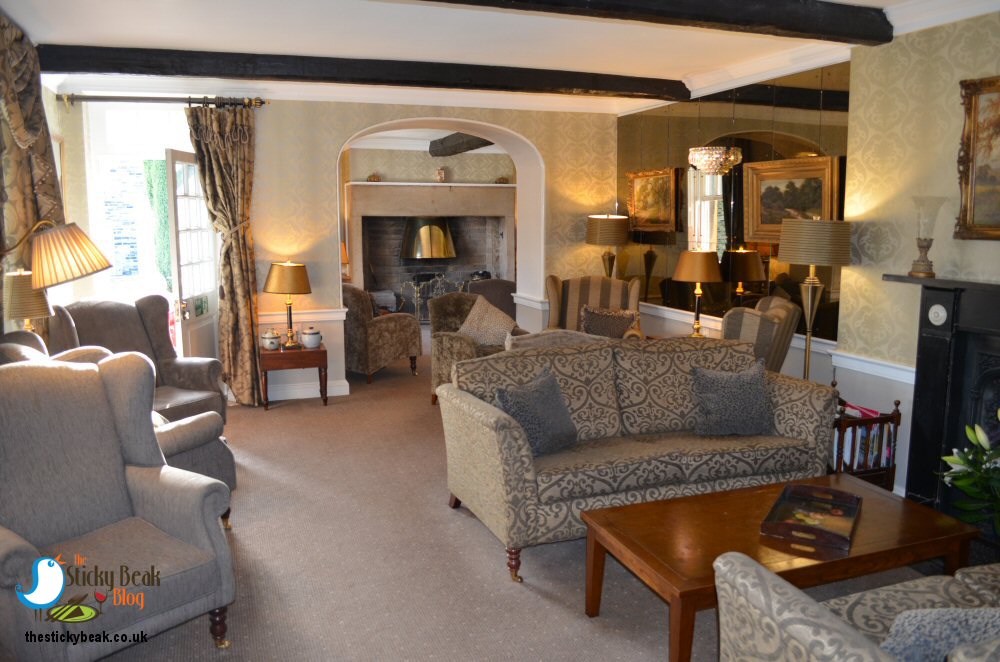 Without wanting to steal Chefs thunder we asked Adrian to make discreet enquiries as to which type of wine would be best suited to the evenings delights that lay in store for us, and we settled on an Argentinean Malbec; Melodias Trapiche Winemakers selection.
A short while later Adi returned to us bearing little shot glasses containing a blend of Vodka, Tomato juice and Cucumber; this really did its job as an aperitif and got the juices flowing nicely. We were then taken to the heart of the action and seated at "The Kitchen Table", which seats up to 4 people and is located in the top corner of the kitchen.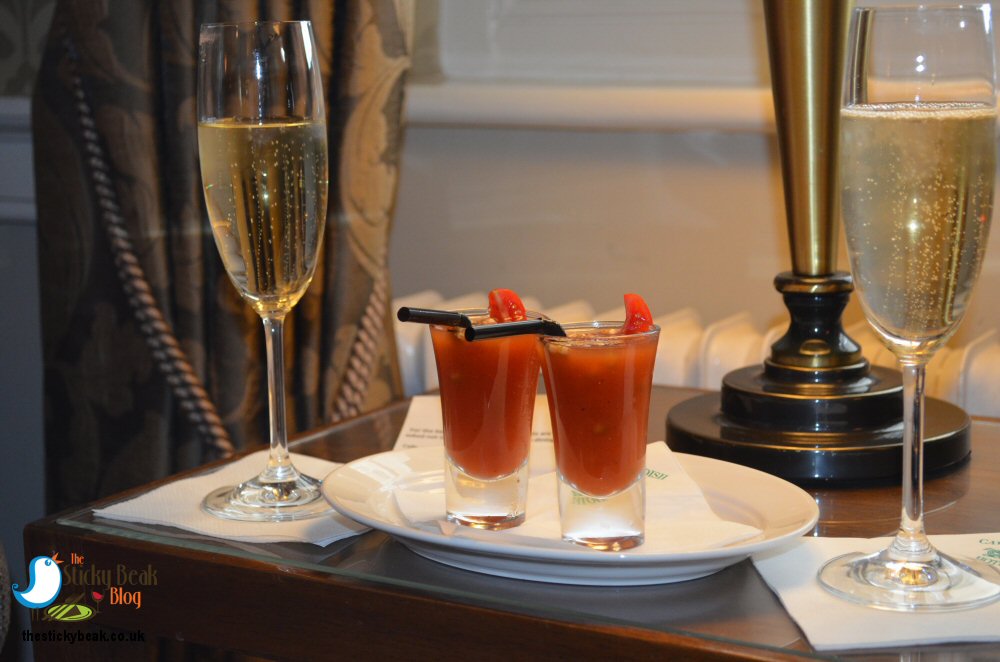 You are afforded an excellent view of the kitchen, the various stations and the pass itself which was very busy on this evening with diners in the main restaurants. One thing to consider is the fact that kitchens do get rather warm so wear lighter clothing than you would ordinarily or perhaps wear layers and remove as necessary; I wore a camisole type top and His Nibs wore a short sleeved Linen shirt which proved to be good choices.

Also, the Kitchen Table consists of six courses excluding dessert and Coffee and Petit Fours so you can expect to spend a good couple of hours in that environment at least. There is a rather nifty air conditioning above the Kitchen Table though, that does a marvellous job of keeping you comfortable.
Having settled ourselves on the very comfortable banquette seat we were soon presented with the most magnificent array of jewelled delights that comprised the crudité platter. A large Chard leaf provided the perfect natural tableau on which to display the vegetables; baby Carrots, Beetroot halves, baby Turnip tops, Runner bean slices, Cucumber Batons, Radishes and Piccolino Tomatoes.

These were interspersed with Pickled Walnuts, Candied Walnuts and Almonds and complimented with Homemade Chorizo jam, Hummus and Hazelnut Mayonnaise. You could literally taste the sunshine in the vegetables they were so fresh and crunchy; the Radish had the most wonderful subtle heat to it, and thousand times better than the mass produced supermarket varieties.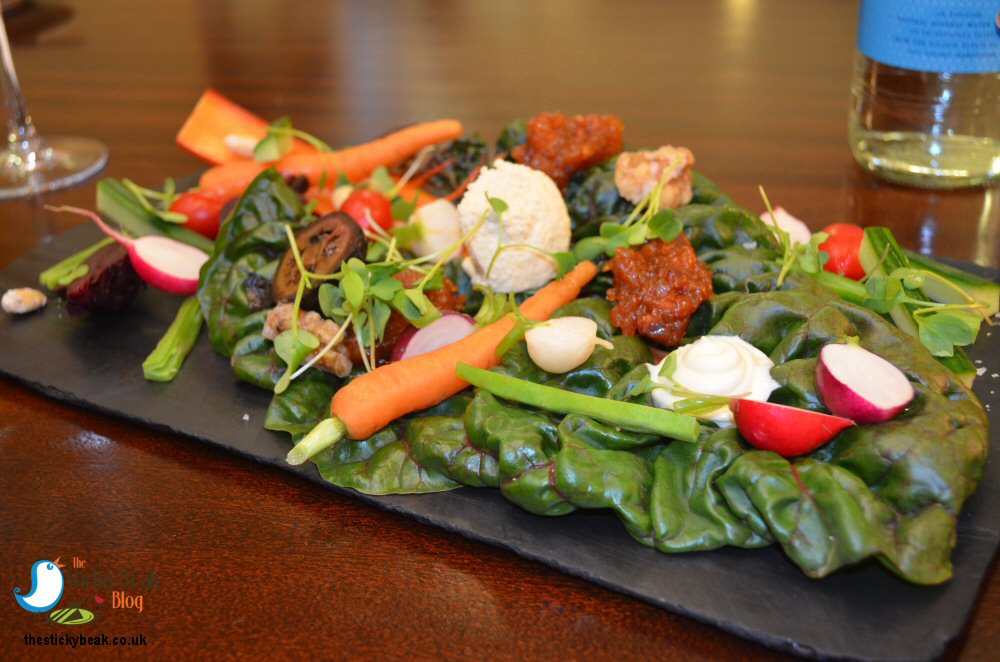 The Chorizo jam was a masterclass in how to marry sweet and smoky flavours together, it was superb and had a nice slightly chunky texture to it instead of being the usual thick, but smooth, version you normally get.
Adi came over with the bread basket to offer us a roll, but Alan had got other ideas and said that the bread was already planned, so away went Adi. I really should know by now that Mr Hill loves to develop products and have a play with recipes, but even so I wasn't expecting Roast Potato Bread; yes you have read that right – Roast Potato bread. Jolly nice it was too I must say, with its lovely light texture and hint of sweetness and whisper of Rosemary.




Alan and his team roast the potatoes and allow them to cool before mashing them down and adding this to the bread dough mixture. The result, as I say, is a deliciously soft, light almost Brioche like product that is just gorgeous; actually I missed a trick there, I should've asked for the recipe!
We were the sole guests at the Kitchen Table but there were plenty of diners in the main dining room and also out on the terrace taking advantage of the views on a glorious summers evening, so Steve (Sous Chef), Danny (Junior Sous Chef), Christian and Tom were all busy cooking and arranging other dishes and sending them out on the pass.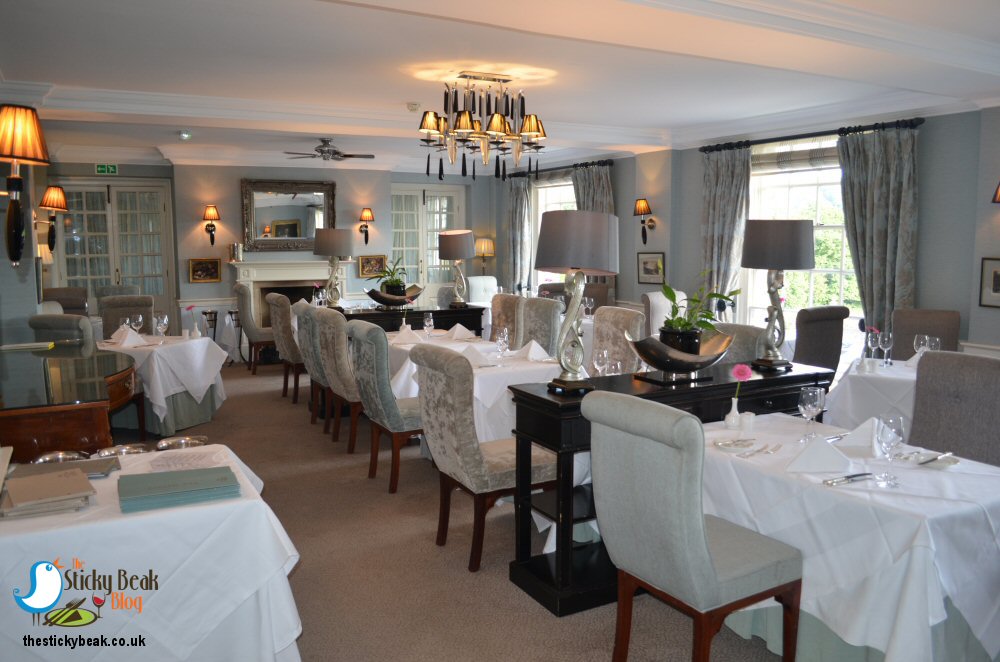 Purely from a visual point of view, the Fish and Chips looked amazing; lovely light crisp batter encased the biggest pieces of fish I think I've ever seen, so I hope their recipients had brought hearty appetites with them. The Fillet Steaks also looked ridiculously good and you could tell that they had been matured and rested properly.

I assumed they were from the Chatsworth Estate stock as Alan tries to source his food and vegetables from the estate or as locally as possible. In fact, one of Alans plans already underway is to build his own produce gardens to provide the kitchen with its own herbs and vegetables.
Anyhow, back to the matter in hand and on to course number two; Fresh hand dived Dorset Scallops, Pork and Prune bon bons with a wild Mushroom Medley and Apricot puree. All I can say is this dish was utter heaven, it really was.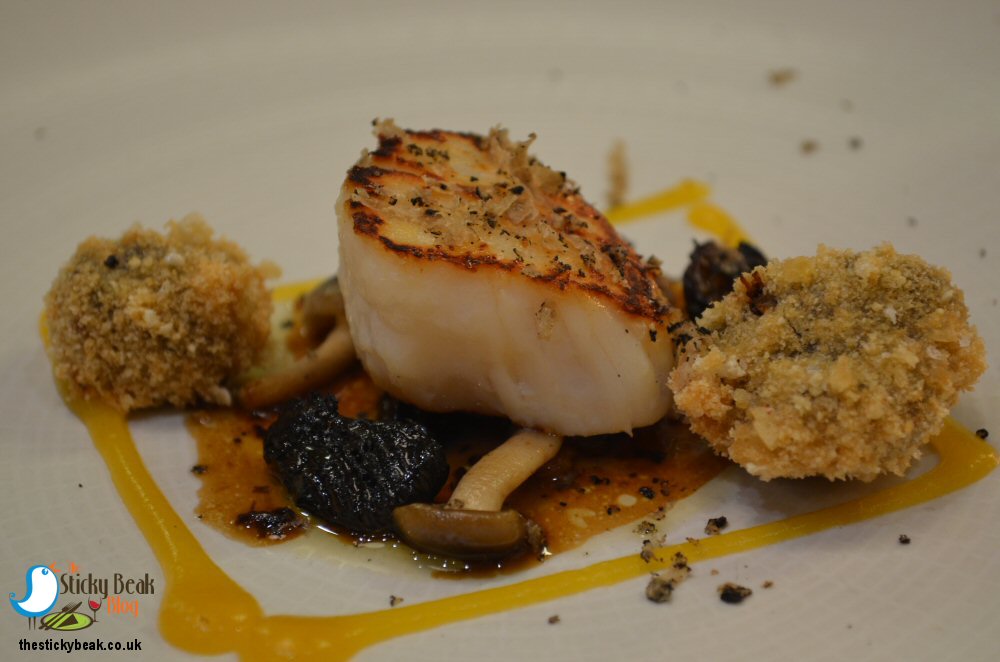 The Scallops themselves had a wonderful subtle flavour that with the addition of fresh Black truffle shavings (done by Alan himself at the table) just had the palate in raptures of delight, and the bon bons were deliciously crisp on the outside with a wonderful Pork taste that then revealed a sweet gooey Prune inner. The combination of the fruity tones from the prunes and apricots and the earthier mushroom and truffle notes really made this dish, as previously stated, utter heaven.
As we were tucking into course number two we could see preparations underway for the third experience of the evening that took some inspiration from Japanese cuisine with its Soba noodle, Miso and Fish sauce elements.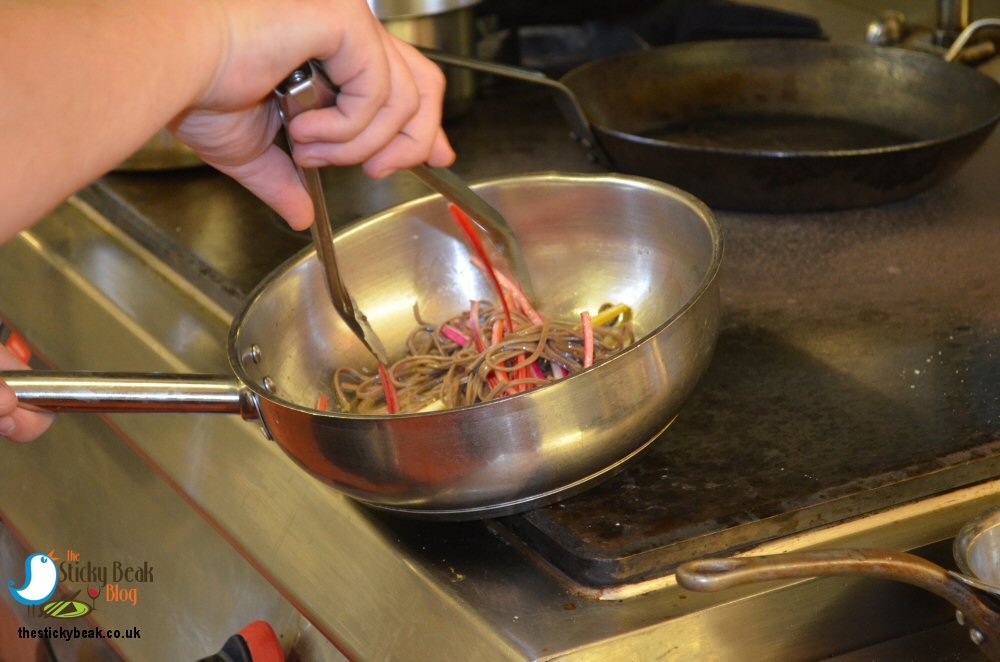 Sweet Chard was cut into thin strips and cooked with the noodles to provide a bed on which sat a soft boiled egg and Lobster knuckle skilfully layered under a slice of Ham. The sauce was aerated and poured carefully over just before it was served to us. The fusion of the sweet and sour tastes, the rich egg yolk and saltiness from the ham made the dish a complex affair on the taste buds that was a real talking point for The Man Bird and I. We both thoroughly enjoyed it, and it was in contrast to the previous course which took the palate in a totally different direction.
The beauty of the Kitchen Table experience is that you literally see a dish being cooked, seasoned, tasted, assembled and then presented to you. You really aren't ever going to get food fresher than this, there is no waiting at all.

As you sit smack bang in the middle of a professional kitchen and observe the culinary process you actually do begin to appreciate the skill and artistry involved, and whether you are a food geek or just enjoy good food you can't help but be mesmerised by the machinations of it all. The proximity of the Kitchen Table really does allow you to see close up the skill of Alans team and to become part of the process yourself, which I think is one of the unique features of The Cavendish Hotels Kitchen Table evening.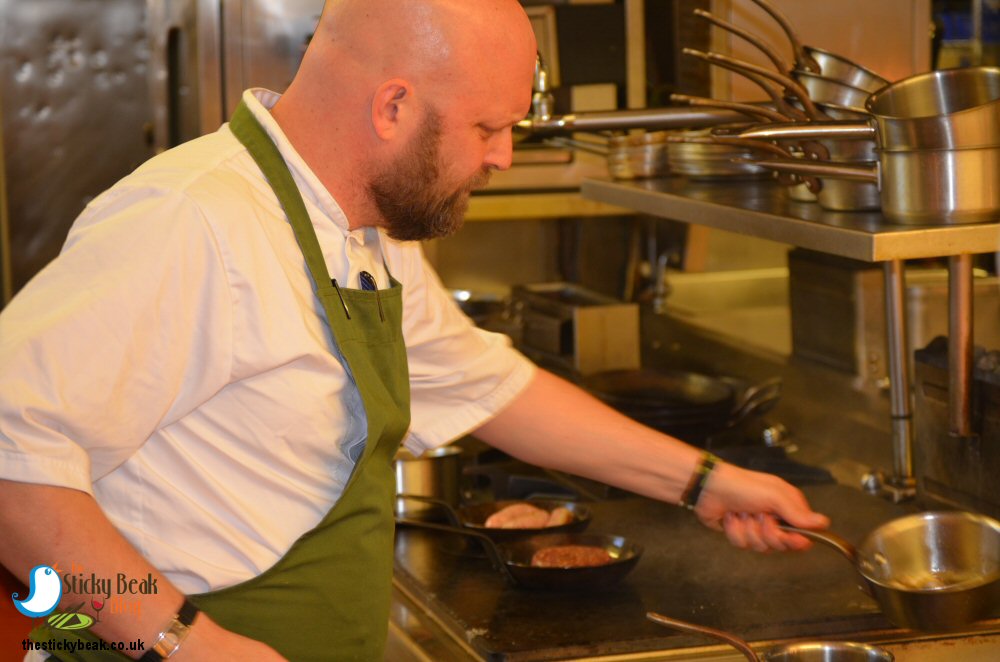 Restaurant reviews are a real pleasure for me and I consider myself truly blessed to go around see what Derbyshire Restaurants have to offer, but this was a real interactive journey to have.
So, course four was the one I thought The Boy Wonder might have an issue with, seeing as strong fish tastes and seafood are not his forte and Alan was preparing fresh Eel steak, Liquorice and Beetroot cured Salmon slices and Wild Salmon fillet. This was served with fresh Lemon Balm, Raspberries and burnt Apple puree; these simple flavours really allowed the delicate tastes of the fish and eel to shine on the palate.

I have had jellied eels before which are, obviously, totally different to their fresh cousins. This eel was very firm in texture almost like Cod or Monkfish and I really enjoyed it, but more surprisingly so did His Nibs, having talked to Alan about his reservations and putting his trust in Chefs reply. The cured Salmon slices were absolutely beautiful with just a hint of the Liquorice coming through and a nice sweet tint of the Beetroot; I'm a massive fish fan anyway so I was in my element.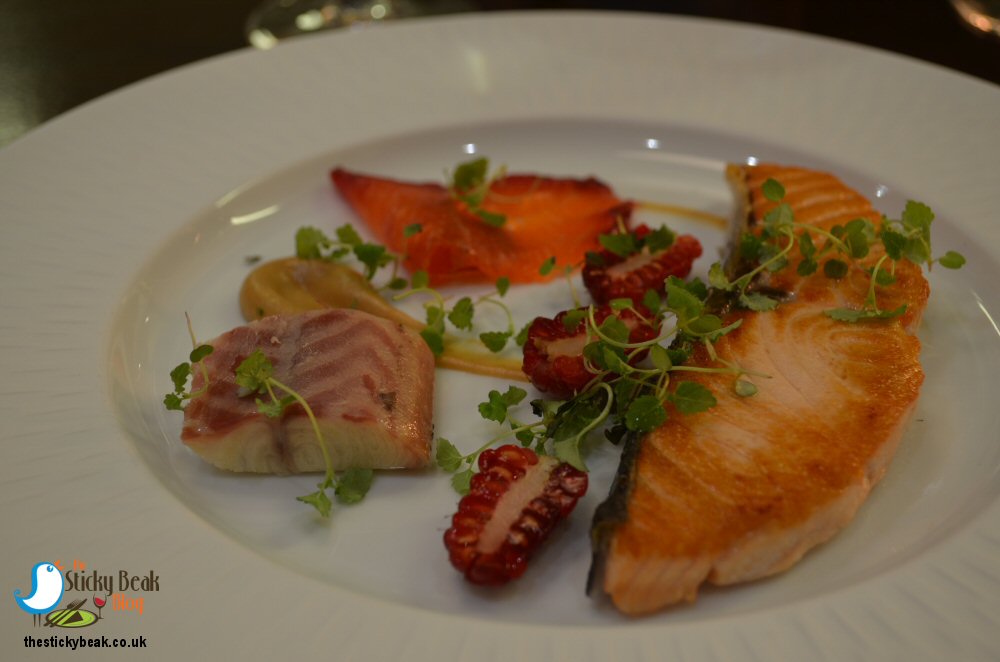 Wild Salmon has a completely different texture and taste to its farmed variety in my opinion; I don't find it to be quite as strong tasting as commercial offerings and I think it has a firmer texture too. The Man Bird tentatively tried a bit and was pleasantly surprised, and so was I, as piece after piece was popped into his mouth until it had all gone.

I loved the apple puree paired with the eel, they just seemed to be natural partners and I also liked the herb with the cured Salmon and fresh raspberry with the wild Salmon. Part of the fun with this particular restaurant review was the pairing of flavours with various partners and conducting your own personal taste experiments.
On to course number five, which steered us away from the sea and back onto land with a Pigeon Breast (served rare) accompanied by a Blue Cheese, cream and jus sauce and topped with a round of Beef dripping fried bread. I haven't had what I would class as proper fried bread for an absolute age, and it took me back to my childhood when my Grandma would buy fresh beef dripping from her local butcher and we'd have fried bread for supper.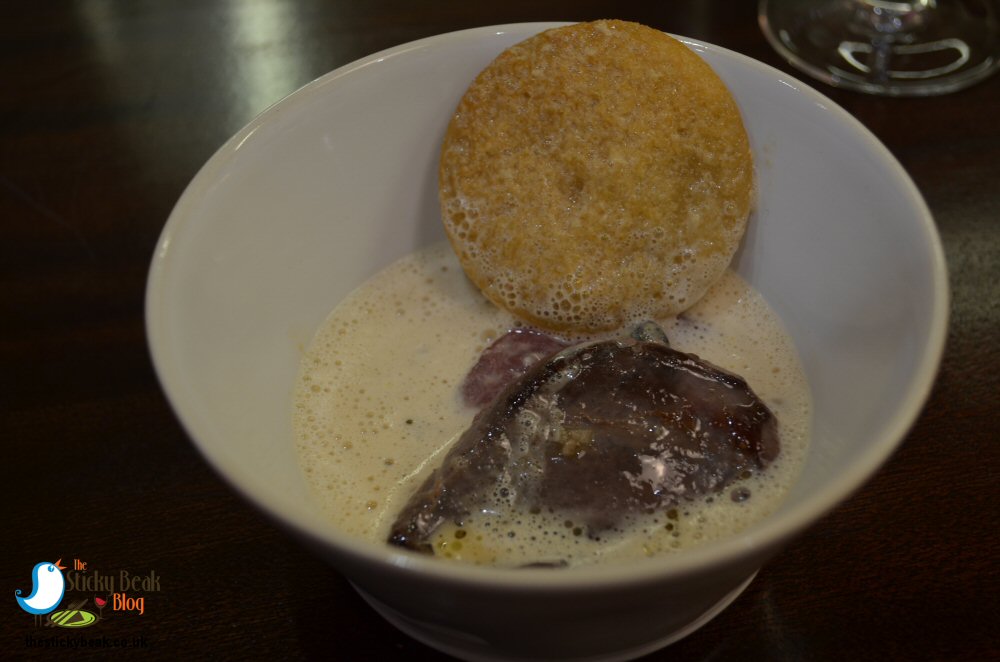 The Blue Cheese is called Stichelton and is produced just over the border at Cuckney village in Nottinghamshire, on the Welbeck Estate. I always have my meats cooked rare so am quite used to seeing a lovely pink hue smiling at me from the plate, but The Boy Wonder doesn't like bloodiness at all so he was a bit sceptical about this dish. Having tried it however, he said that although the meat was pink it wasn't "wet" as he imagined rare meat would be and there was no blood in evidence at all; and I was quietly astounded that he had cleaned his plate once again.

At this point dear reader I shall confess the full extent of my gluttonous nature and tell you that I was handed a spoon by Alan to savour every last bit of the jus (and shamefully I must admit to having The Mans sauce from his bowl too). I am shameless I must admit, but I did refrain from being totally brazen and asking for some more of the simply divine roast potato bread to dip into the juices.
The sixth course kept the meat theme as it was Chatsworth Estate Lamb rump marinated in Black Treacle and Apple juice with Kipper mash, Broad beans and Peas. The Lamb itself was just incredible, bursting with flavour, and the marinade had pervaded the fat on its outer, to impart a deep, sweet, earthy note; this paired fantastically well with the smoky hint of the Kipper mash (which, by the way, I could eat for breakfast, lunch, tea , dinner and supper as it's that good).




Baby broad beans and sweet fresh peas imparted their sweet flavour so that the whole dish was wonderfully balanced and a joy to eat. His Nibs again ate all the dish, which, given that kipper is a strong tasting fish, surprised me yet again; The Boy certainly throws some googlies in when it comes to dining out that is for sure!
Our culinary journey for this particular restaurant review was reaching its sunset with the Dessert course next on the agenda; but what a marvellous pudding for summer: Blackberry parfait, Blackberry Ice Cream, White chocolate and Blackberry bonbon and Chocolate soil.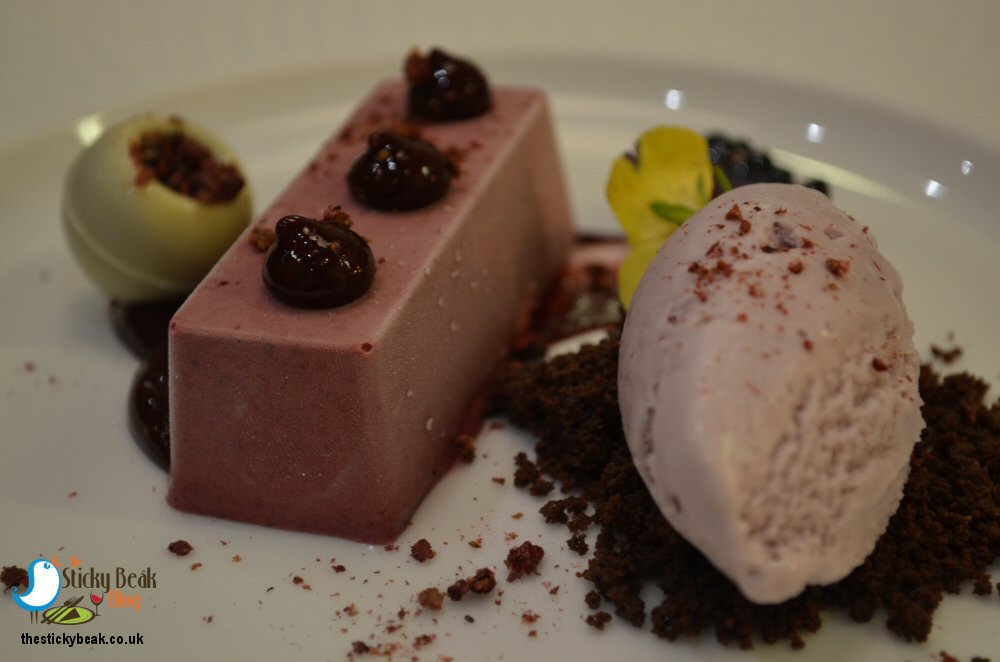 The more common, obvious pairing is Cherry and Chocolate but the combination of Blackberry and Chocolate is equally delightful with its juxtaposition of sharp, tangy notes and smooth, mellow shades. The smooth parfait and ice cream textures are opposed really well by the crunch of the chocolate soil to entice and intrigue the palate, and the result is a dessert that delivers in all aspects.
One aspect that The Man Bird and I thought was great was that Head Chef Alan came and talked in depth about each course as it was being served, it elevated the already superb experience to a whole other level.

Alan told us that The Kitchen Table at the Cavendish Hotel is not a set menu; he will decide on an individual booking by booking basis what produce is freshest and most suitable on the day (taking into consideration allergies etc) and plan his menu accordingly.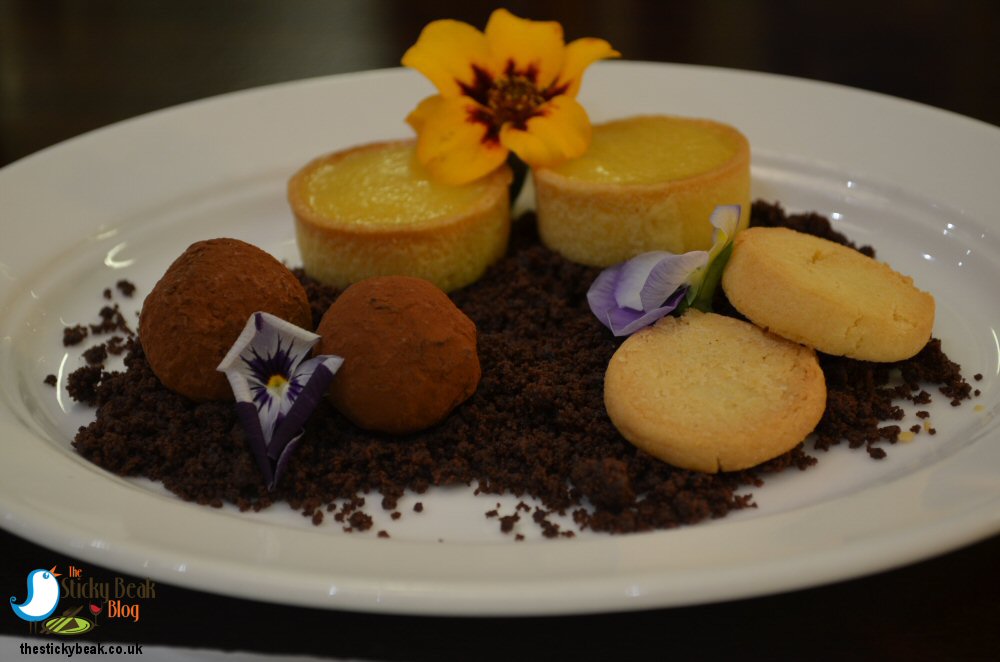 Last, but not at all least, fresh Coffee and Petit Fours were served to us. Danny Box, the Junior Sous Chef, had made an exquisite assortment of sweet delights; mini Lemon Tarts, Chocolate truffles and Shortbread rounds. These were simply delightful, from the instantly melting buttery shortbreads, to the fresh clean lemon tart and ending with the rich lingering truffles.

If you asked me to choose a stand out course, I honestly, hand on heart, could not pick one; they were all extraordinary.
The Kitchen Table costs £85 per head, excluding wine or wine pairing, and truthfully is worth every single penny. From the moment you enter the Hotel car park your experience starts with the picturesque views over the Chatsworth estate and Derbyshire countryside, which is breath taking in its own right, but is certainly matched by the Hotel, its decor and staff, and Head Chef Alan Hill and his very talented team in the kitchens.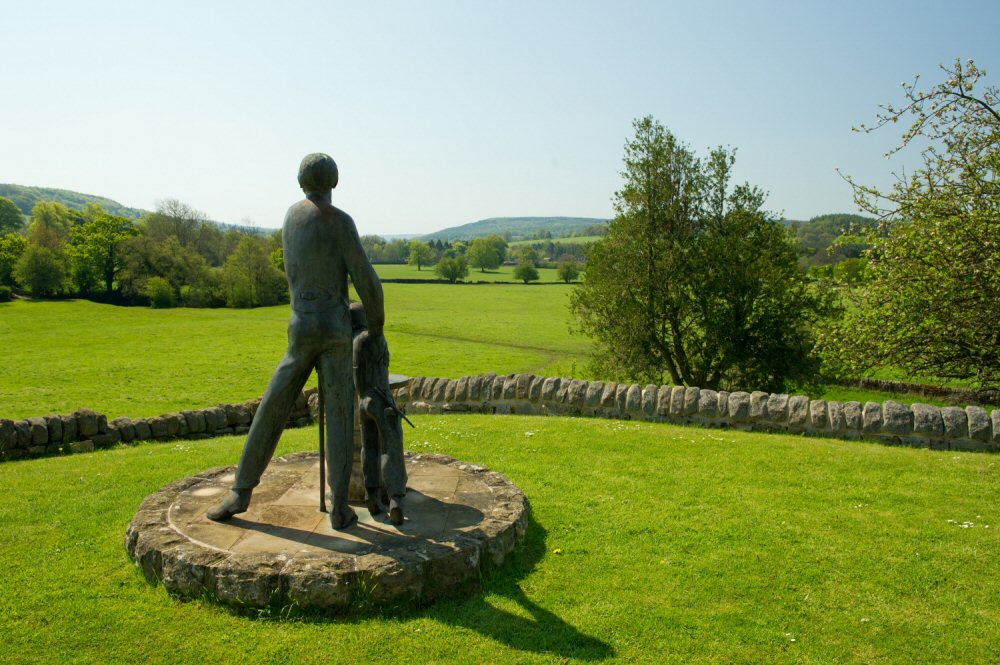 I can, without reservation or hesitation, recommend this fantastic experience to you dear reader. It seems somehow inadequate to say "Hot Wings" on this occasion, it just doesn't seem to do the Chefs hard work any kind of justice, but seeing as this is The Sticky Beak Blogs highest accolade, "Hot Wings" it must be :)
I should also point out, seeing as I mentioned them earlier in the review, that there are two other rather splendid dining options to further savour Chef Alans gourmet delights; fine dining in The Gallery Restaurant and relaxed home cooking in The Garden Room, with Alans signature Crab Salad and Mrs Hills Lemon Tart both on the menu.


Some form of incentive was provided to visit this venue
read more