Breakfast At Made @ No 18, Alfreton
---
Published On Saturday 25 Jun 2016 by Sticky Beak
See Recent Dining Out Reviews | See All Recent Reviews


We love weekends at our nest, as you know, but things have been a bit subdued lately due to The Boy Wonder having a bad back. We have carried on as normally as we could but, bless him, he got a little bit down about not being able to do much.
It's never nice feeling in the doldrums and they do say that the way to a mans heart is through his stomach, so I had a little trick up my sleeve to brighten his spirits.

Before long I pulled up outside Made at No.18 and said that I would meet him inside once I had parked the car on a nearby street. You always get a warm welcome from the Made team and it wasn't long before we had ordered two large lattes and a Breakfast Ciabatta for Him Indoors and Chorizo, Avocado and Poached Eggs on toast for me.

There were several tables occupied with other like minded diners waiting to enjoy a lazy weekend breakfast too and the quiet hum of chatter provided a little atmosphere to the premises.
My breakfast was delicious with plenty of Chorizo and Avocado on the plate, and I loved how the smoky spicy oil from the sausage had soaked into the toast to soften it slightly. The eggs were beautifully rich in taste and had been poached to perfection so that they easily relinquished their golden yolk when cut into. I thoroughly enjoyed my choice and it really filled me up too; for £6.50 it is great value for money I think, both in terms of quality and quantity.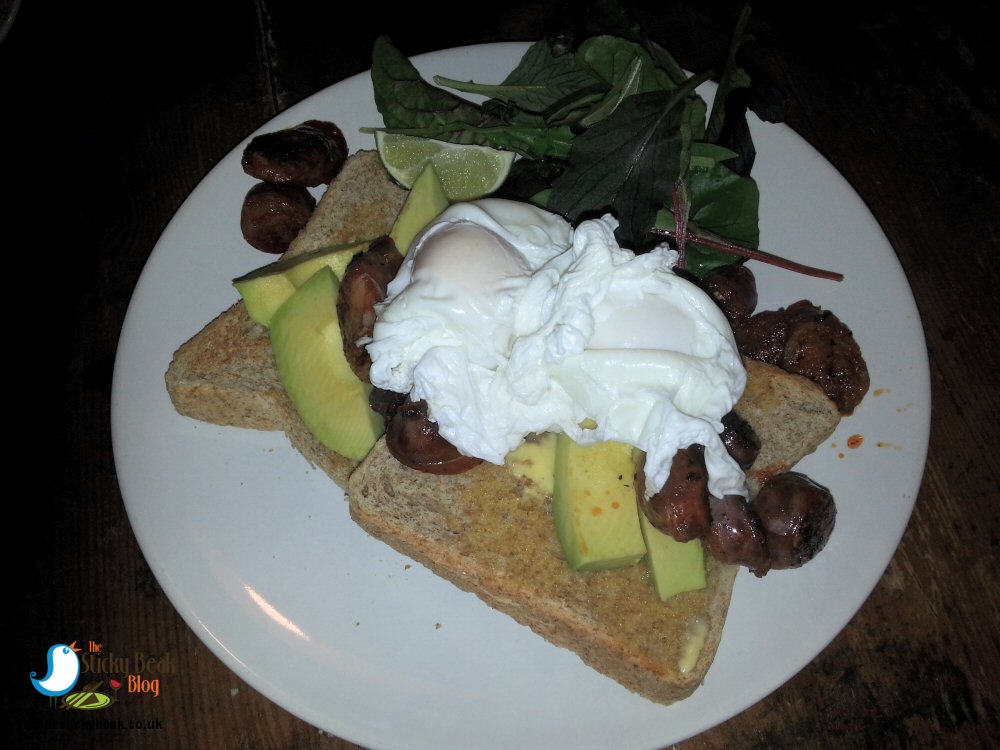 My Man had the Breakfast Ciabatta for a change, rather than his usual full Derbyshire Breakfast. This beauty was a Ciabatta baton filled with 2 rashers of bacon, 2 sausages and 2 fried eggs; it normally has Mushrooms in too, but His Nibs thinks Mushrooms are yucky, so he asked if he could swap them for some sautéed potatoes, which they very obligingly agreed to.

Again, every element was top quality with nice sweet bacon and firm meaty sausages soon tucked into with gusto.

The Breakfast Ciabatta is again a fantastically priced morsel, costing £6, and we both agreed that lunch would not be needed in our nest today due to our tummies being full.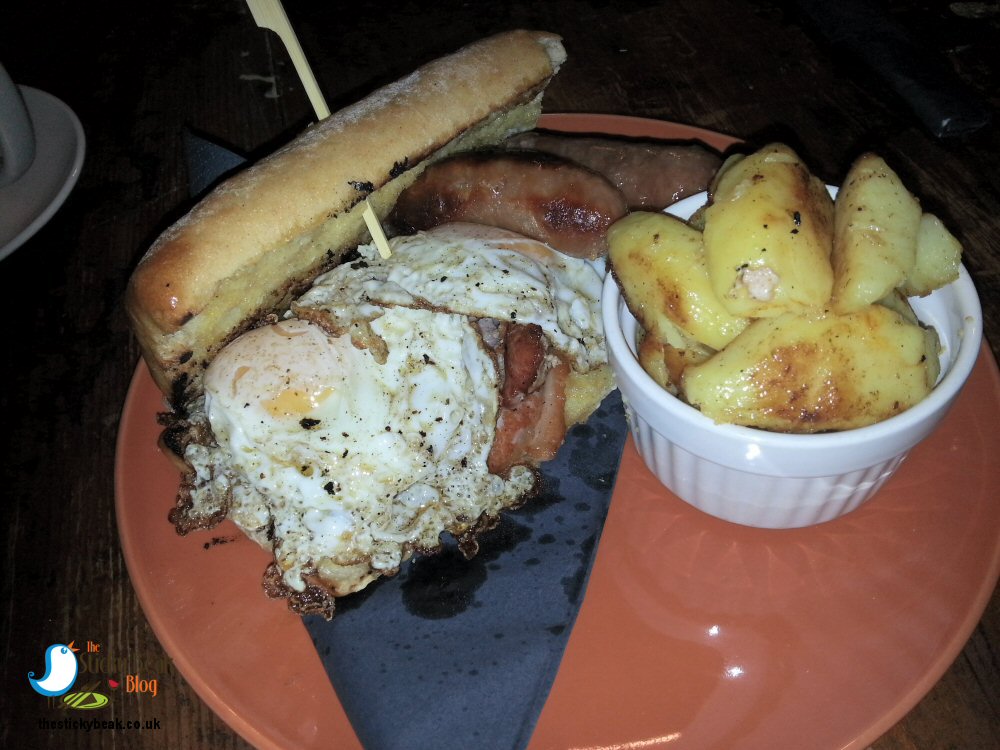 Both plates were squeaky clean and had been totally savoured, but the best thing for me was seeing a contented smile back on my Mans face.
When he's recovered I have said that we'll go back for a relaxed lunchtime treat as they offer a varied lunch menu at Made at No.18. If you haven't been before, you really do need this place in your life, trust me.

They also do Bistro evenings, craft fairs, creative writing courses and art competitions, just go and have a gander at their website (www.madetheatre.co.uk) and Facebook pages for the latest information :)
No incentive was provided to visit this venue
read more
Read Some Of Our Recent Reviews
---

Lunch At The Recently Opened Chatsworth Kitchen At Peak Village, Rowsley Everyone who knows me, knows I love Chatsworth (always have, always will) so when the invitation to sample lunch at the newly opened Chatsworth Kitchen Read The Article

---

A Visit To Vietnamese Street Kitchen, Resorts World, Birmingham Way back in the day (pre-covid) Fledge had bought me and The Man Bird tickets to see Mrs Browns Boys live and finally, after a couple of false start reschedules, the day of Read The Article

---

Sunday Lunch, A Museum Tour & Painting A Piece Of Denby At Denby Pottery Village It wasn't long ago that His Nibs and I visited the Denby Pottery Village to sample the Afternoon Tea at Bourne's Coffee Shop and Bistro (it was superb Read The Article

---

Bottomless Brunch At Turtle Bay In Derby The timing of the invitation from the Turtle Bay team in Derby to go and sample their Bottomless Brunch couldn't have been better; not only was it going to be The Man Birds' birthday a couple of days later Read The Article

---

Afternoon Tea At Santo's Higham Farm Hotel & Restaurant Aaaaaarggggh, don't you love your children??!! A while back, His Nibs had spotted a great deal on Groupon (you know what a bargain hound he is!) and thought it would be Read The Article

---

Sunday Lunch At The Countryman Pub & Dining, Kirkby-in-Ashfield We finally got to visit a venue thats been on our radar for quite a while, The Countryman Pub and Dining in Kirkby-In-Ashfield! A few weeks ago we tried to book a table for dinner Read The Article

---

Dinner At The Divan Turkish Restaurant In Chesterfield Chesterfield was welcoming us back again for our latest review visit; this time to the newly opened Turkish restaurant, The Divan, on Lordsmill Street. Owner Tuncay (along with Read The Article

---

Breakfast At Marsh Green Farm Shop & Cafe, Kelstedge Ah, you've gotta love a Bank Holiday curve-ball, haven't you? His Nibs and I headed over to Mummy Birds' gaff with the intention of having a leisurely couple of hours at the Sunday Read The Article

---

Afternoon Tea at Bourne's Coffee Shop and Bistro, Denby Pottery Village You all know that The Man Bird and I do like an Afternoon Tea; I mean, who doesn't?! Just a few miles down the road from the nest is Denby, home to the world-renowned Read The Article

---

All You Can Eat At The River Garden Cantonese Restaurant In Belper As is the seemingly never-ending pattern of our weekends at the moment, The Man Bird and I had been busy gardening/re-seeding/pruning/digging, so when it came to sorting Read The Article

---