Breakfast At The Cool River Cafe, Matlock
---
Published On Friday 3 Jun 2016 by Sticky Beak
See Recent Dining Out Reviews | See All Recent Reviews


Saturday morning went a bit Pete Tong (wrong) as they say, but never ones to sit and twiddle with our feathers the Boy Wonder and I flew off for a leisurely Breakfast at Cool River Cafe as we'd had such a great experience at their Bistro evening a few weeks ago.
We got there early doors, about 9.30, and it was already buzzing with folks chatting and eating. A lovely server brought the menu over for us and we ordered two large Lattes whilst we browsed through the choices; I opted for my favourite, Eggs Benedict, and the Man Bird had his usual Full English Breakfast.
It wasn't long before our food was brought to us and we tucked in with much enthusiasm. His Nibs Brekkie had both White and Black Pudding slices, and they were both cooked to just have that little bit of softness left whilst being cooked through properly.




The Bacon was great quality, as was the egg with its beautiful rich yolk that just begged to have the toast dipped into it. I had the mushroom as He just will not entertain them, but seeing as I absolutely love them I'm more than happy with his aversion.

The sliced potatoes were nicely sautéed, not overdone and not greasy either, and the tomatoes on the vine were nice and sweet from being roasted. This was a really pleasing plateful of deliciousness and The Boy Wonder enjoyed each and every morsel.
My own Eggs Benedict were equally scrumptious; the muffin had been toasted enough to give it taste without being too done that it would detract from the subtle flavours of the Egg, Ham and Hollandaise sauce.

The Hollandaise sauce is made by the chefs at Cool River; it had a slight gloss to it and a great rich buttery taste that just partnered the egg marvellously. Nice thick slices of Ham added another dimension to this classic taste equation and my little Beak was fair chattering with culinary happiness.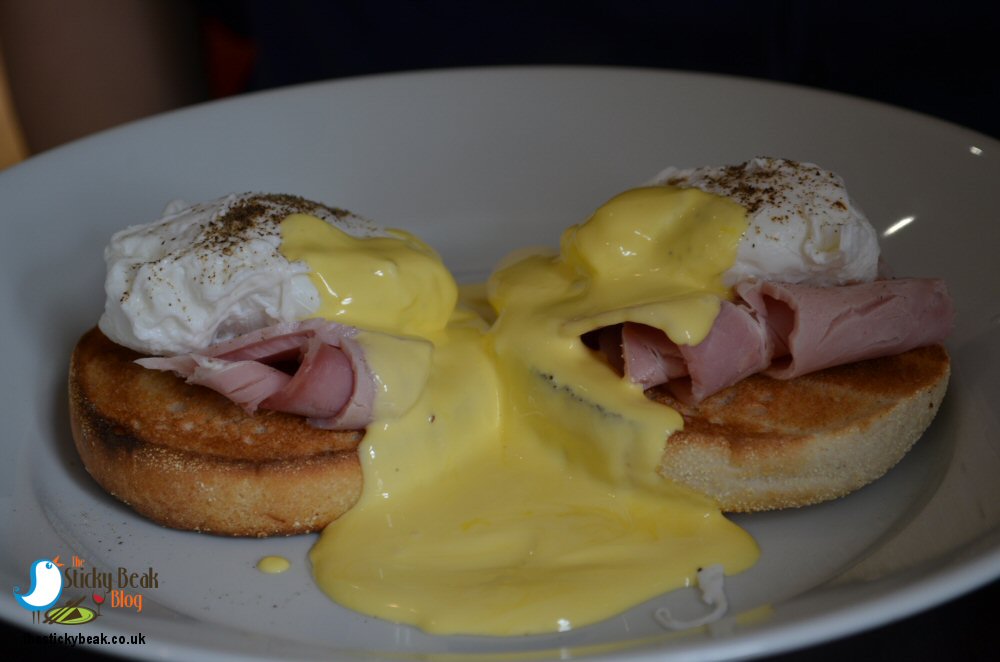 The two squeaky clean plates that our server cleared away told their own tale of how much their contents had been relished, and we had told our server how much we were enjoying the food when she had come and checked back on us earlier.
My little flock were having a film night in the nest that night and I just couldn't resist the delights on offer from Phil and his amazing team in the Patisserie counter. A Lemon Tart and a Chocolate Tart were given a very good home; let me assure you dear reader!
If you haven't been to Cool River Cafe in Matlock before I can heartily recommend both the Breakfast Fayre and the Bistro delights. There is a car park literally next to the Cafe too, so no faffing about having to walk ages, bonus :)
No incentive was provided to visit this venue
read more
Read Some Of Our Recent Reviews
---

A Family Dinner At Thai Thai Restaurant In Chesterfield Thanks to the weather being kind, it had been all hands on deck at Mummy Birds gaff and so we hadn't quite got around to organising Sunday Lunch! There was no way in hell Read The Article

---

Burger and Beer Mondays At The Railway Inn, Shottle It wasn't long ago that we had a Flock outing for Sunday lunch at The Railway Inn at Shottle (and really enjoyed it) so when we were invited to try out their newest offering Read The Article

---

A Visit To The Seafood And Champagne Terrace At The Cavendish Hotel, Baslow I know The Man and I must seem calm and collected to a lot of you, so let me shatter that bubble right now by describing what happened when a certain invite Read The Article

---

Dinner At The Red Lion At The Peak Edge Hotel Sometimes you visit somewhere that is already wonderful but, when you know that there is more to come, gives you that shiver of excitement up and down your spine. This is exactly the feeling Read The Article

---

A Tasty Lunch At The Vegan Revelation Cafe, Belper Vegans, you have got an absolute bobby dazzler of a cafe here; non-vegans prepare to have your taste buds bowled over and have your 'no meat' notions over-turned - and I do include myself Read The Article

---

Dinner At The Recently Refurbished Bay Leaf Indian Restaurant, Heanor Can you believe we were out again with Mummy Bird; she's becoming quite the social Tribal Elder! The last time she'd seen Faz was at his previous restaurant (Nirvana) Read The Article

---

Dinner At The George At Hathersage You can't fail to be impressed by The George at Hathersage when you first clap eyes on it; the huge stone building commands your attention with its imposing beauty. It has its own car park too Read The Article

---

Dinner At The Seafood Cave and Grill, Matlock Bath I love seafood (yes, even cockles and winkles!) so I was beyond excited to receive an invite from the owner of The Seafood Cave and Grill in Matlock Bath, Ian McGhie, to sample the food Read The Article

---

Sunday Lunch At The Spanker, Nether Heage As many of you lovely peeps are aware, we recently did a poll on the blogs Facebook page asking for your favourite venues to have Sunday Roasts at. Well, you all certainly got involved, voting for Read The Article

---

Burgers And Loaded Fries At Cravings Street Food Bistro, Sutton-in-Ashfield Boyf Birds' parents had been to a local eaterie recently that they felt would be right up our street (food), so we decided to pay said venue - Cravings Street Food Read The Article

---